Sony RX100 IV Review: A Mirrorless Camera for Professionals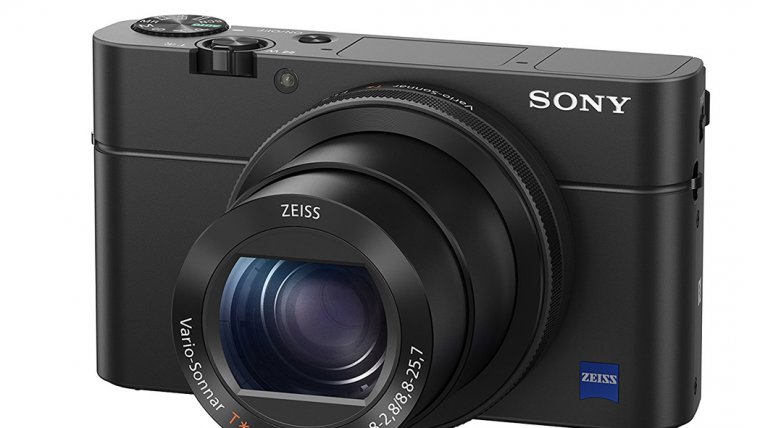 Sony RX100 IV Review: A Mirrorless Camera for Professionals
www.sleeklens.com
From the very days, they became popular to their constant battle with mirrorless systems compact cameras have always been an interesting topic to talk about. They were once considered to be the cameras for beginners, casual photographers and those with a very tight budget, but now, the trend has changed and we are seeing a lot more advanced and more expensive compact cameras that are painting a better picture for this type of cameras and making them more attractive to much more people. One of the companies that had the biggest role in starting this trend has to be Sony with their RX100 lineup of cameras.
From the very first camera in the series to the fourth model we are reviewing today, they've always managed to attract a lot of attention and for the good reason. They offer better image quality than your average mirrorless compact camera, higher quality lenses, durable bodies, better performance and all of that without any noticeable detriment to portability. Now, we just have to find out if the story is the same with the RX100 IV and is it still a camera that will reach the pockets of many photographers or is Sony's reign slowly coming to an end. Let's see.
The first thing that sets the RX100 IV and similarly priced cameras from your average compact camera is the image sensor. Here we find the 20-megapixel stacked CMOS sensor coupled with a powerful Bionz X processor. This combo should ensure both good image quality and great performance in all occasions.
Pros
Built-in WiFi
NFC Connectivity
Light Body
Image Stabilization
Articulating Screen
RAW Shooting
Built-in ND Filter
Selfie Friendly LCD Screen
Remote Smartphone Trigger
Cons
No Weather Sealing
No Panorama Mode
Low Battery Life
No Touchscreen
Poor Zoom
Click to read the full Review
The lens sitting atop that sensor is a versatile 24-70 mm equivalent Zeiss Vario-Sonnar lens with a widest aperture of f1.8 – f2.8. Judging by the Zeiss branding, it should be sharp enough to let the sensor in the RX100 IV really shine and show what it can do. It's also optically stabilized, making it even more useful for shooting in low light conditions or when recording video. When it comes to video, you get a lot of options here. You can either record at 4K resolution with a very high bitrate of 100 Mbps, or drop down to a lower resolution and record a slow-motion footage at 1000 fps. There's also the option to record both 17-megapixel images and 1080p video at 30 fps at the same time thanks to the Dual recording technology.

The fastest burst rate of 16 fps also serves as a showcase of how the RX100 IV is able to perform at a high level. The focusing system built into the camera is a contrast detect one with 25 focus points and you can shoot at a maximum shutter speed of 1/32000 sec thanks to the electronic shutter. Another thing that sets apart a regular compact camera from the more advanced one has to be the viewfinder and the RX100 IV doesn't disappoint here either. It comes with an electronic viewfinder with a resolution of 2,359,296 dots and a magnification of 0.59x. You won't be disappointed with the screen on the back either as it's a 3-inch WhiteMagic TFT LCD unit with a respectable resolution of 1,228,800 dots. If you need more light in your shots, the RX100 IV also comes with a pop-up flash unit with a range of 10.20 meters and the ability to shoot at an ISO value as high as 12800 (expanded to 25600). In regard to different ports, you won't find that many because of size limitations.

You do get a fast USB port and a micro-HDMI port that can output uncompressed 4K footage. There's also a built-in Wi-Fi + NFC if you like to perform most of your communication wirelessly. For your storage needs, Sony included a card reader that accepts both your traditional SD cards and Sony's proprietary Memory Stick Pro Duo cards.

So, we can all agree that the Sony RX100 IV sounds mighty impressive on paper for a compact camera. Now it's time to put it through its paces and see how it performs when it actually being used instead of only being admired.
Body and handling
The RX100 IV's body immediately stands out with its design and it takes only a second to recognize that it's a Sony camera. It's also virtually unchanged from its successor, the RX100 V so you'll have to look at the top of the camera and seek the model name to differentiate the two. This actually isn't a bad thing, as it's a design that is already known to work well for most people and there's no need to change something just for the sake of change. It may take a few days for people with bigger hands to adjust to its small size, but even them will find it comfortable to use afterward. The design of the camera itself is rather understated, but smooth at the same time. This is largely due to not many unnecessary details found on the camera and the black brushed magnesium alloy being used to craft the body. To counter the slippery nature of brushed metal there's a textured thumb rest on the back of the camera that will give it a better grip. After we've got all of that out of the way, it's time to take a closer look at the camera.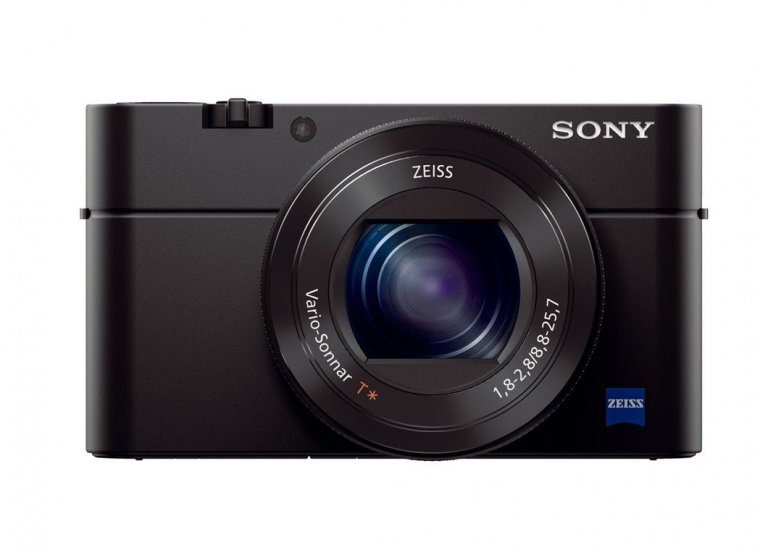 Let's start with the front. Aside from Sony and Zeiss branding and the lens itself, it's perfectly clean and only the focus assist light can be found on top. The same can be said about the sides of the cameras. The left side holds the NFC contact point, while the right only holds the flaps that hold the micro-HDMI and USB ports. Before moving further, we do have to mention that the lens itself comes with a control ring that can be programmed to do a myriad of thing like to work as a manual focus or step zoom ring or to adjust things like exposure or ISO. The top of the camera certainly has a lot more to it as this is where you'll first find the EVF and the pop-up flash, both neatly tucked inside the camera body and activated only when you need them. The EVF is released electronically and the flash is raised with the switch also found on the top of the camera. Moving further to the right reveals the power on button, main mode dial and the shutter button that also has a zoom lever equipped to it. Lastly, let's see what the rear of the camera holds. As is the tradition with many compact cameras, the back of the camera is almost completely covered by the screen and all the controls are moved to the right of the camera. Right under the thumb rest sits the Movie button and it enables you to start recording video just by tapping it. The other four buttons are positioned around the navigation wheel and these are the Fn, Menu, Playback and C buttons. Both the Fn and the C button are customizable. The navigation wheel is also clickable and gives you a quick access to display options, timer, flash control or exposure compensation. The C button also doubles as the Delete button when you're in playback mode.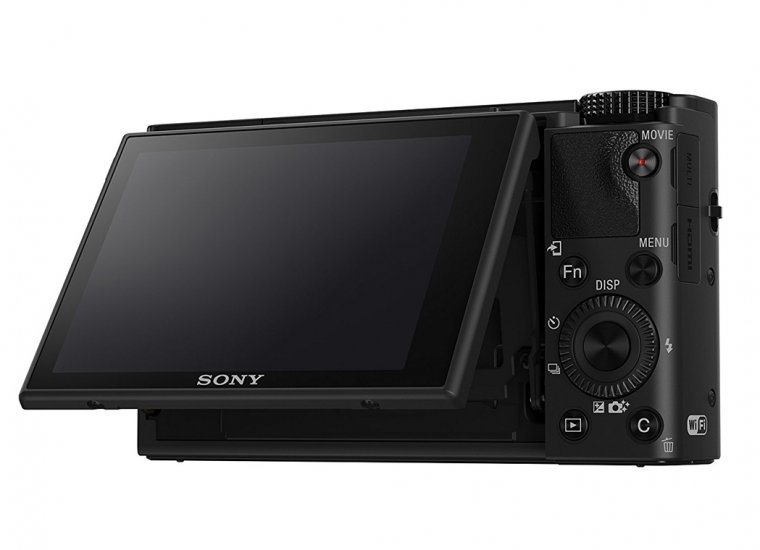 So, while we wish that the Sony RX100 IV had maybe an additional dial or two to allow for an easier adjustment of aperture and shutter speed, it still has enough physical controls to it to satisfy most of the users out there. We also wish that Sony made the LCD screen touch sensitive like many manufacturers do on today's cameras, but besides that, it's still an excellent screen and one of the best you can find on a compact camera to this day. The same can be said about the EVF, which is almost state of the art and a pleasure to use. The menu system and the user interface on the RX100 IV is another small improvement over its predecessor, but it's still not as good as it should be. While it's not difficult to find the most important settings and features, the more advanced ones are often buried inside the menus and require too much button presses to reach. Luckily, most of them can be assigned to the custom C button and even the left, right and center buttons. There are too much of these options to be mentioned in a review, but lets at least mention a few of them: Picture effects and Creative styles, Zebra patterns, Grid line, ND filter, White balance, Focus magnifier and so on. There's also a separate custom menu activated by pressing the Fn button. It puts two rows of icons on your screen, to a maximum of 12 icons and these can be set to functions such as Drive mode, Metering mode, Smile/Face detection, Auto Dual Recording, SteadyShot for both video and stills and so on.White balance, Focus magnifier and so on. There's also a separate custom menu activated by pressing the Fn button. It puts two rows of icons on your screen, to a maximum of 12 icons and these can be set to functions such as Drive mode, Metering mode, Smile/Face detection, Auto Dual Recording, SteadyShot for both video and stills and so on.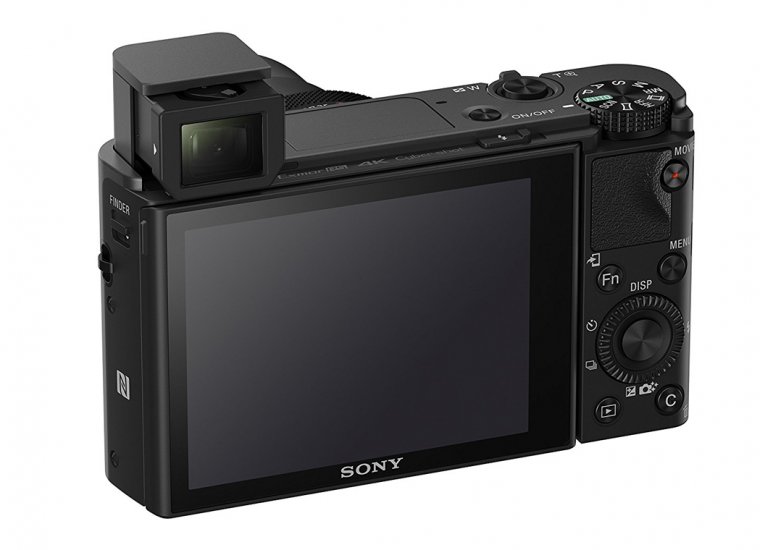 One interesting feature that's carried away from Sony's mirrorless cameras are the applications which can be downloaded with the help of the PlayMemories Camera application. Some of the more common ones available are the Time-lapse, Direct Upload (allows you to send photos to PlayMemories Online or to Facebook), Smart Remote Control or Photo Retouch, but you can also download some more unique ones like Light Painting, Motion Shot (takes a sequence of photos and merges them into one), Sound Photo (captures short audio clips before and after you've taken your shot) or Touchless shutter which enables you to take a photo just by covering the eye sensor. These apps also tie in with the Wi-Fi functionality, meaning you'll mostly be working with them instead of something found in the camera's menus to do anything Wi-Fi related. We should also mention the built-in NFC, which gives you the option to effortlessly pair your Android device with the RX100 IV just by tapping them together. The concept of applications can be a rather pricey way to gain more features (some applications cost as much as 10 dollars), but it's still great that Sony gave their users a choice between keeping their camera simple or making it more advanced than it is out of the box.
There really isn't too much to complain about the RX100 IV in terms of usability or handling. It would be great to see a touchscreen or a menu system that's a little easier to use, but these are certainly minor complaints and they don't degrade the overall positive impression we received from this camera.
Autofocus and performance
While the body itself hasn't received many upgrades over the RX100 III aside from the better EVF, the AF system exhibits a noticeably better performance. It's impressive how far the contrast detect AF system came and how close they've become in regard to the speed of operation in comparison to phase detect systems. The one in the RX100 IV is one of the best you'll find in a compact camera and it works very well even in demanding situations like in low light or when it has to track a moving subject. There's also an impressive number of different focus area modes and these are the Wide, Center, Expand Flexible Spot, Flexible Spot and Lock-on AF. There's also the Face Detection mode and the new Eye AF mode. Both of them work surprisingly well and also serve as a good showcase of how capable the AF system in the RX100 IV really is. The most impressive improvement over its predecessor certainly has to be in continuous AF performance. If you decide to use the center AF point it's very accurate and only results in a few out of focus frames here and there. When the other autofocus points are in play, then the performance does drop noticeably and generally provides you with a little more than half of your shots that are in sharp focus. It's still a commendable performance for a contrast detect system and a step in the right direction, but it can certainly be improved in some areas to reach the speed of the phase detect AF systems.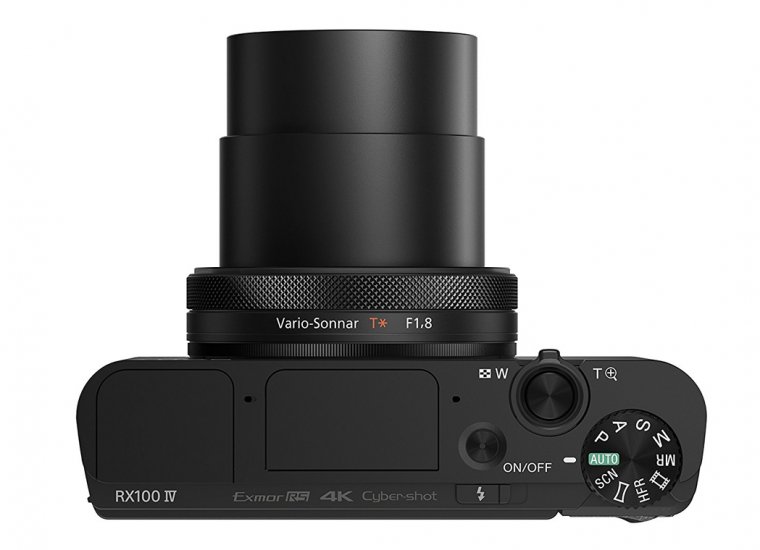 The overall performance of the RX100 IV is simply outstanding due to Bionz X processor powering even Sony's far more expensive models, let alone a small compact camera like this one. When it comes to burst rate, there are two modes: regular 5.5fps with continuous AF enabled and a speed priority mode which gives out 16 fps when you're taking JPEGs and 8.5 fps in RAW. We'll be focusing on the speed priority mode for this review. The buffer size is very impressive in that mode and allows you to take up to 40 JPEGs, 28 RAW files or 24 RAW+JPEG files. It does take a significant amount of time for the buffer to clear and can last as long as 20 seconds in some occasions, but it's still a reasonable performance for a compact camera. Battery life is nothing to write home about, but it will be acceptable for most people. You'll get around 280 shots when shooting through the LCD and around 230 when using the EVF. You also get the ability to charge the camera via the USB port aside from the traditional way of taking out the battery and putting it into an external charger. So, we can easily conclude that the RX100 IV is no slouch in terms of performance and certainly doesn't disappoint in this regard. A few tweaks could be made to subject tracking performance and battery life, but there has to be something left for the next generation of this camera, right?
Video features and quality
An area that received the biggest amount of improvement over the RX100 III has to be the video recording and its accompanying features. The biggest one is the inclusion of 4K video recording and higher maximum bit-rate now sitting at 100 Mbps instead of 50 Mbps. The RX100 IV also received an improvement in speed of recorded videos and can now record 1080p video at 120 fps, 1824 x 1026 video at 250 fps, 1676 x 566 video at 500 fps and 1136 x 384 video at 1000 fps. The resolutions listed are for 250 fps modes and higher are for 2-second-long recordings. They do drop a little in resolution if you wish to record for longer than that (4 seconds). There are also different Picture Profiles available for video and one of the most important ones is the S-Log2 profile. Those that plan to post process their videos later on their computers will greatly benefit from this profiles as it will give them the best dynamic range possible and also the ability to fine tune the colors to their liking. Image stabilization (or SteadyShot, how Sony calls it) is also very effective in the video. It combines both the stabilization built into the lens with a digital stabilization to provide the best results possible. It does crop out a little part of the image frame, but not enough to become a problem. Rolling shutter effect is also well controlled, but do keep in mind that it's more noticeable when shooting 4K video than in 1080p mode. The quality of recorded videos is excellent and you'll only notice a drop in quality in extreme low light conditions when the noise begins to creep in and the color accuracy is reduced, but that's to be expected from any camera, let alone a compact camera with a small sensor. Audio recorded with the included stereo microphones is also very good, something that can't be said for many cameras in this category. The RX100 IV has certainly become a very capable tool for recording videos and far outweighs the capabilities of many other cameras it competes with.
Image quality
Just like video quality, the image quality is also very high on the RX100 IV. While the 20-megapixel 1-inch sensor alone is perfectly capable of creating good quality images, it's the lens here that makes the most out of it. The 24 – 70 mm lens is the same as on the RX100 III, meaning it's very sharp on all focal lengths, even wide open.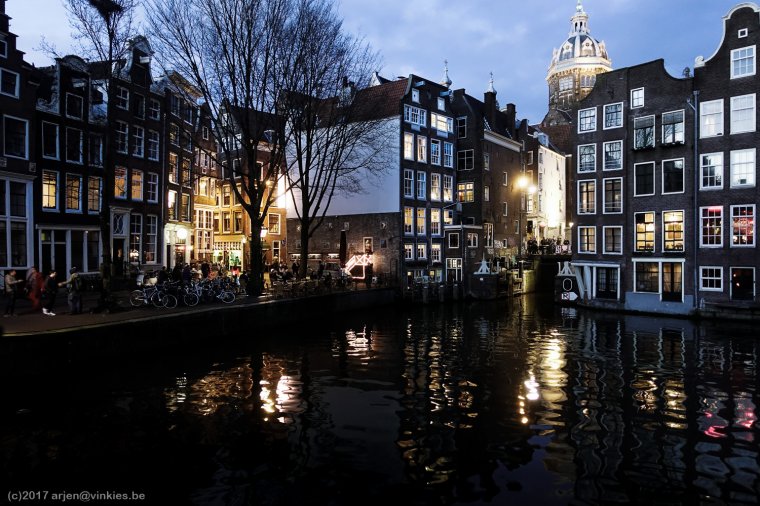 It really makes us happy to see a camera manufacturer that decided to implement such a high-quality piece of glass on a compact camera, instead of mediocre one like many other manufacturers. Dynamic range and noise performance are also top notch for a compact camera and the JPEG algorithms aren't bad either. Of course, switching to RAW will yield even better results, but it's not a necessity on this camera since the JPEGs themselves are good enough.
Conclusion
Well, it became rather easy to recommend a camera from the RX100 lineup, since they get better and better with each generation and they've reached the point where there's not much room for improvement and by getting one you're getting one of the best compact cameras around. You really can't go wrong with the RX100 IV either, since it provides a lot of upgrades over its predecessor and is a noticeable better camera by itself. You get a better viewfinder, 4K video recording and more video features in general, better AF performance and burst rate, Dual Recording, and S-Log2 profile.
If you're primarily taking photos, you don't have that much reason to upgrade if you were previously satisfied with the speed of the RX100 III, but if you're shooting video, then it's really a no-brainer to go for the RX100 IV. If you aren't upgrading from a previous model and you're looking at this camera as a standalone offering, then you'll be getting a high-quality compact camera with little to no flaws and the ability to perform well at any task and in any situation. The RX100 IV is certainly one of the best compact cameras money can buy.
The following two tabs change content below.
An amateur photographer, songwriter, musician, computer and technology geek and an occasional comedian, I'm a little bit of everything. I always aim to pursue things I'm passonate about and try to look on the positive side of things whenever I can. My mission is to wrap my articles in that aura of positive energy and keep a healthy balance between being serious about my work and spicing things up with a little fun now and than. After all, life's a game and there's always a different way to play it.