Sony Cyber-shot RX1R II Review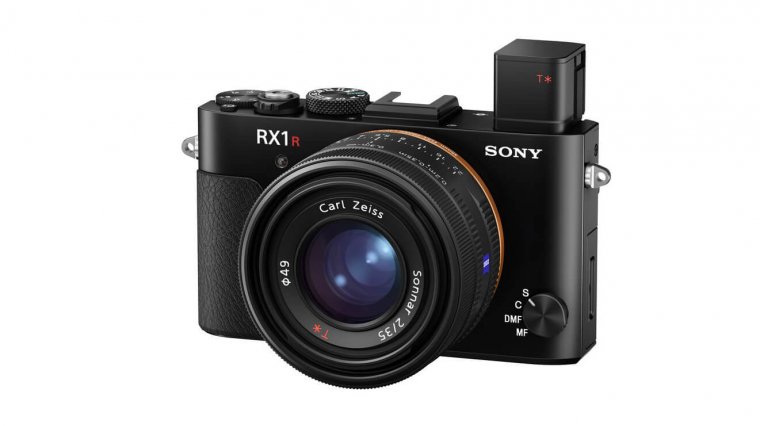 Sony Cyber-shot RX1R II Review
www.sleeklens.com
Despite the popular beliefs of many people, compact cameras are still far from becoming obsolete and entirely replaced by our smartphones or mirrorless cameras and the constant flow of interesting devices coming our way with each passing year serves as proof that camera manufacturers haven't given up on them just yet. While there has been some decline in the number of entry-level and budget-friendly compact cameras that are being released, the mid-range and flagship segment is still going strong and bringing as fascinating products. This time we've got the chance to look at one of the best compact cameras money can buy, the Sony RX1R II and it's always exciting to review a camera that was created to bring all of its competition down and appease to any photographer that will accept nothing but the best.
It features the same full frame sensor built inside one of Sony's most impressive mirrorless cameras, the A7R II, excellent build quality, sharp and bright wide-angle Zeiss lens, one of the best EVF and LCD screen combos you'll be able to find on any compact camera, an advanced Hybrid AF system, extensive video capabilities and a lot more features that we will mention in a lot more detailed in the very next section of this review.
It's only real flaw that will be noticed by every professional videographer is the lack of 4K recording, which is certainly a strange omission to see on a camera of this class and seems like Sony didn't want the RX1R II to compete with their own mirrorless cameras, or they were worried that its smaller body wouldn't be able to withstand all the heat that would be generated while the camera is recording in 4K. Still, if you're mainly interested in taking photos and you're fine with shooting 1080p videos, you'll surely appreciate the fact that the RX1R II is one of the smallest full frame cameras on the market and is extremely portable and easy to lug around. It's even more impressive when you take into account that its sensor is one of the most capable ones on the market, even among the most expensive mirrorless cameras and DSLRs. Of course, being a compact camera the Sony RX1R II won't give you the ability to put on a different lens and expand your reach, but since it is a premium compact Sony have equipped it with a high-quality lens that was designed to make the most out of its high-resolution sensor and thus getting photos that are as sharp as ones were taken with an interchangeable lens cameras like Fujifilm's X A-2, shouldn't be an issue.
So, let us embark on an exciting journey of discovering the capabilities of one of the best compact cameras that you can currently get and see how far the technology has brought us when it comes to making very portable full frame cameras that can easily rival any bigger camera and be a part of your life and shooting habits every single day.
While compact cameras aren't usually renowned for their image quality (at least when compared to many higher tier mirrorless cameras and DSLRs) and are instead praised because of their flexibility, size and other features, the RX1R II is a unique beast in that regard and that is because it manages to offer a full-frame 42-megapixel BSI-CMOS sensor that is almost the same as the one built inside of Sony's A7R and A7R II cameras and thus is able to compete with any other professional camera when it comes to its capabilities.
Pros
Built-in WiFi
NFC Connectivity
Articulating Screen
External Flash Shoe
FullHD Max Video Resolution
Electronic Built-in Viewfinder
RAW Shooting
Face Detection Focusing
Anti Alias Filter Simulator
Remote control with a smartphone
Good Low Light ISO
Cons
No Image Stabilization
No Touch Screen
Low Battery Life
Heavy Body
No Environmental Sealing
Click to read the full Review
Despite offering an obviously high resolution, it also manages to bring almost 14 stops of dynamic range and very good low light performance but also brings some innovation as well in the form of its variable low-pass filter. What's great about that particular feature is that you'll be able to adapt to keep it turned off for most situations and maximized the sharpness, but also enable it for those cases where more intricate patterns appear in your photos, reduce the risk of moiré or eliminate it in its entirety, but with a little cost to the amount of detail captured.

Now, every capable sensor needs an equally capable lens to fulfil its full potential, and the one featured inside the RX1R II certainly offers a high-quality optical formula that can make use of that impressive resolution. It's a 35mm f2 lens that bears Carl Zeiss branding and is exactly what you would expect to find on a professional Sony camera. It doesn't offer optical image stabilization and instead includes a digital-based SteadyShot solution that works quite well when it comes to keeping the recorded videos smooth and free of the shake caused by handheld shooting, but sadly that same stabilization doesn't work when it comes to taking stills. Luckily enough, the fast aperture of f2 and the generally excellent noise performance will be able to make up for the absence of optical stabilization for most use cases, and many photographers will still be able to get great looking photos in low light conditions.

When it comes to macro capabilities, the lens will allow you to focus as close as 24 cm while in normal shooting mode and 14 cm when the Macro mode is enabled, which is an excellent focusing distance for a 35mm lens. As for controlling your exposure, the RX1R II can shoot at ISO values of up to 25600 (expandable to 102400 at the high and 50 at the low end), shutter speed from 30 to 1/4000 sec and can also sync your flashes at the speed of up to 1/2000 sec, which is very impressive indeed for a compact camera. That feature alone more than makes up for the lack of the built-in flash unit. Of course, shooting in RAW is also available, but also using the more advanced 14-bit files thanks to Sony's proprietary ARW format, which should give you slightly more room when it comes to adjusting your colors in post-processing.

The Sony RX1R II is also well-equipped when it comes to performance. It features a powerful Bioniz X processor, which will ensure smooth operation at all times and will allow the camera to get ready for shooting as quickly as it can from the moment it's powered on. There's also the 399-point Hybrid AF system which should be able to handle even the most demanding tasks such as subject tracking (at least according to our previous experiences with Sony's mirrorless and compact cameras). Despite having to work with very demanding 42-megapixel files (which require a lot of processing power), the RX1R still manages to offer a very decent burst rate of 5 fps. If the buffer size can hold up, such shooting speed should be more than sufficient for things like taking photos of your family or even street photography. Since video recording has been one of the more stronger suits of Sony's cameras for many years now, it's no wonder that we also see traces of company's enthusiasm on this device as well.

While it doesn't offer 4K recording, you will be able to shoot high-quality full HD footage thanks to the support for the XAVC S codec and a maximum bitrate of 50 Mbps. You'll also be able to play around with slow-motion effects thanks to the inclusion of the 720p 120 fps mode. While there's no headphone jack on board, you'll still be getting an external microphone jack, as well as a pair of built-in stereo microphones. As you would expect from a flagship compact camera, the Sony RX1R II also sports excellent build quality thanks to its magnesium alloy construction but also manages to stay relatively light for a full-frame compact camera thanks to its weight of 507 grams. While it does offer a comfortable design, very good control scheme, great LCD screen and viewfinder units (most of the things an enthusiast would want to see on their camera) it sadly fails to complete the package with the addition of weather sealing, which is a strange omission to see on a camera at its price point. So, while it's made up to the highest standards, it shouldn't be a camera of choice for those photographers working in very extreme conditions.

To continue with the positives (which far outweigh any negatives that could be said about the RX1R II), we should mention both the LCD screen and the EVF which are an essential part of the experience that this camera aims to offer. While not being a touchscreen, the TFT LCD unit itself is very sharp thanks to its resolution of 1,228,800 dots and can also be articulated, while the EVF is even more impressive with a magnification of 0.74x, 100% accuracy and a resolution of 2,359,296 dots. While you'll be able to find sharper screens or viewfinders on some the other top end cameras, you'd have a hard time finding something better on another compact camera.

Wireless communications are also covered well on the RX1R since both the Wi-Fi 802.11b/g/n and NFC are on board and you'll also be able to view your photos and videos on a large TV screen or use an external video recorder thanks to the included micro-HDMI port.

So, there's no denying the fact that some compromises were made to allow for this camera to come into existence, but they aren't enough to ruin the premium feel that radiates from the RX1R II and to stop it from topping any charts that consist of any kind of compact cameras.
Body and handling
Now, there are three things anyone would expect out of a premium compact camera, and its body and these are: great build quality, comfortable form factor and ultimate portability. The Sony Cyber-Shot RX1R II manages to cover all of these aspects very well and leaves us with not much to criticize or complain about. It just feels right in the hand. It's neither too heavy or too light. Mind you it's not the lightest compact camera on the market, but considering it boasts a full frame sensor and all kinds of impressive hardware we couldn't expect for it to weigh any less. It features a magnesium alloy body that makes it feel quite durable and cool to the touch, but it also sports some grippy materials on its front and the back that would prevent it from feeling too slippery and reduce any chance of you accidentally dropping it. It may not have most protruding front grip, but thanks to its overall smaller size its still not a problem to grip it securely. We also like the fact that Sony has managed to fit in a pop-up EVF into its body, which is super useful to have and it's great that you can put it away after you're done using it and protect it from things like dust, moisture or scratches. We did lose a pop-up flash unit in the process, but considering the fact that this is a professional camera most of its potential users will want to use an external flash anyway, so it's not something that could be called a problem. What we would like to see is a touchscreen, but Sony has just started to adopt such functionality on a much larger scale on some of their mirrorless and compact cameras, so it's no wonder that its missing from one that was released in 2016. Still, we hope that the RX1R II will remedy the lack of such feature with the well-balanced user interface and one that can make use of all of its available physical controls (and there's a lot of them for a compact camera) and offer a nice shooting experience.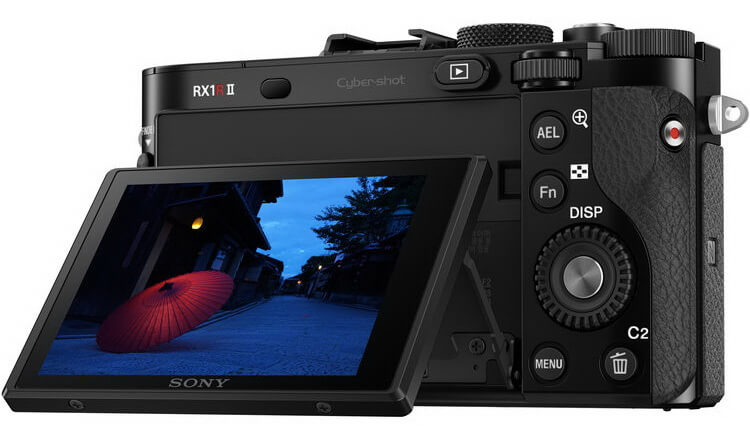 When it comes to those controls, all of them are positioned very nicely and can be accessed quickly at any given time, and the camera's portable size certainly plays a big part in making it possible. Lastly, something that may be a deal breaker for some enthusiast is the lack of weather sealing, and it's certainly a shame that Sony didn't manage to include it on the RX1R II. It's something you should take note of it you're used to shooting in more demanding conditions, but otherwise, it shouldn't present itself as something that you couldn't live without.
So, now that we've given you a sneak peek of how this camera feels in the hand and after we've concluded that it should be a pleasure to use for most users, it's time that we take a closer look at its body and identify all of the available controls, ports and all the rest of the hardware aspects. Starting from the front side, you'll find the AF illuminator/Self-timer lamp, the focus mode dial and one very well-equipped lens that comes with three different rings (focusing, aperture and macro switching).
The left side of the RX1R II features all the available ports (micro-HDMI, microphone and micro-USB) and the viewfinder pop-up switch, while the right side only features the NFC contact point. The card slot/battery compartment and the tripod socket hole are located at the bottom. The top of the camera holds the pop-up EVF and its compartment, the multi-interface shoe, the main mode dial, the on/off power switch with the shutter button located on top of it, the C1 custom button and lastly, the exposure compensation dial. Lastly, looking at the back of the camera reveals the eye sensor, the Playback button and the rear control dial, AEL/Enlarge and Fn/Image index buttons, the Movie button, the control wheel/four-way navigation controller with a button inside of it and in the end, there are the Menu and the C2/Delete buttons. So, the RX1R II certainly has one of the best control schemes we've ever seen on a compact camera and its enthusiast-oriented nature certainly doesn't diminish in this case.
The user interface though will take some time to get used to, especially if you've never owned a Sony camera before. That's not to say that it's bad, as all the basic information and the most important settings can be accessed very easily (thanks to the Quick Navi screen), but more advanced options can often be found in less logical places and cannot be accessed as quickly, which won't be ideal for a lot of professionals who like to make the most of their cameras and every available feature. Luckily enough, the RX1R II offers a decent amount of room for customization, which will certainly help you to make the camera operate to your specific needs. The first important item worth mentioning is the Function (Fn) button which is used to pull up a screen consisting of up to 12 different user-selectable options, and these hold things like ISO, White Balance, Shoot mode, Zebra, Audio Level Display, Creative Style and many more. It's a great way of having the option to quickly use those functions that don't have a dedicated button assigned to them.
When it comes to customizable buttons that can hold single functions the RX1R II offers plenty of them. Besides being able to use the dedicated custom buttons (like the C1 and C2 buttons) for such functionality, you'll also be able to remap the functions of the AEL button and all the directional buttons found on the four-way navigation controller. And of course, one of the best things about this camera is that it features an aperture and focus adjustment rings right on its lens barrel, which is a much more elegant solution than having to fiddle with different control dials and more reminiscent of a mirrorless camera or a DSLR, than a compact. While we prefer to see a touchscreen included on any of the modern cameras, this is one of those rare occasions where we really don't miss it that much and where the physical buttons do a fine job of covering everything that needs to be covered for the camera to function as one reliable system.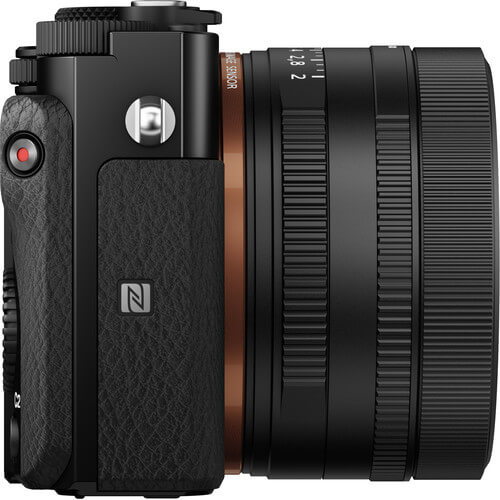 In the end, let us see what Sony have managed to include regarding wireless and wired communications and does it the RX1R II offer enough of those features to retain its premium camera identity. The wireless functions are separated into four main categories: sending your photos to your computer, sending them to an iOS or an Android smartphone, remotely controlling the camera using one of those devices and lastly, viewing the captured content on a Wi-Fi enabled TV set. You'll need to install the PlayMemories Mobile application to gain all the functionality related to smartphones and the optional Smart Remote Control application to be able remotely to control the RX1R II with the help of your smart device.
The great thing about this camera is that its functionality doesn't just end on the most basic features, but also manages to expand on them and offer things like manual control over exposure during the remote operation or the access to all the different shooting and scene modes, uploading photos to social networks and other services, recording location information using your smartphone and lastly, add even more optional features with the PlayMemories Mobile Camera Apps. In regard to the wired connectivity, you'll be given the option to import your images or videos to your computer and do things like view them on a calendar, burn your recorded clips to a compact disc so you can easily view them on other devices or upload your content to many different network services (keep in mind that you'll need to install the PlayMemories Home application before being able to access those features). You'll also be able to remotely control the camera using your computer and a micro-USB cable, which is a great feature to have if your shooting in a work environment like a studio where it will be much more convenient to see what's going on using the larger computer screen then your smartphone or a tablet.
All in all, Sony have certainly done a very good job when it comes to the RX1R II and its build quality, handling, usability and all of the features related to smartphone and computer communication. There's just one thing that could require some improvement, and that's the user interface, which could benefit from a slight overhaul and won't be very straightforward to use if you've never worked with a flagship-grade camera before. Still, professionals will learn to work around its quirks and enjoy the camera for all the other positive things it has to offer.
Autofocus and performance
From the moment we've heard about the release of the Sony Cyber-Shot RX1R II we've had high expectations for its focusing performance. A 399-point Hybrid AF sounds like it means some serious business (at least on paper) and we were very curious to see if Sony will manage to make the best use out of such a system and really make the RX1R II stand out from its competition and become one of the most capable compact cameras in regard to focusing capabilities. Well, it turns out that they didn't disappoint us in any meaningful way and that this camera managed to meet our expectations and present itself as one of the best performing compact cameras we've ever head the pleasure of putting through its paces and writing a review about.
For your normal shooting needs and where subject tracking is not needed, you can expect to get consistent performance 100% of the time, even if low light situations. This is also where none of the special focusing modes will be needed, and thus you won't have to think about choosing different modes to adapt to different types of shooting. The RX1R II is also capable of providing very good tracking performance, but how good it will really be will depend on the mode being used and interestingly enough, the Lock-on AF mode (which is one of those that you should be in when it comes to moving subjects) doesn't yield better results than your traditional C-AF mode, meaning that Sony has some work to do on optimizing all of their focus modes and making them equally reliable and easier to understand. So, the story is similar to the story of this camera's user interface; it brings a lot of different functions and is highly capable of covering the needs of many types of photographers, but still requires some time to understand how it works fully and to adjust to the way it operates.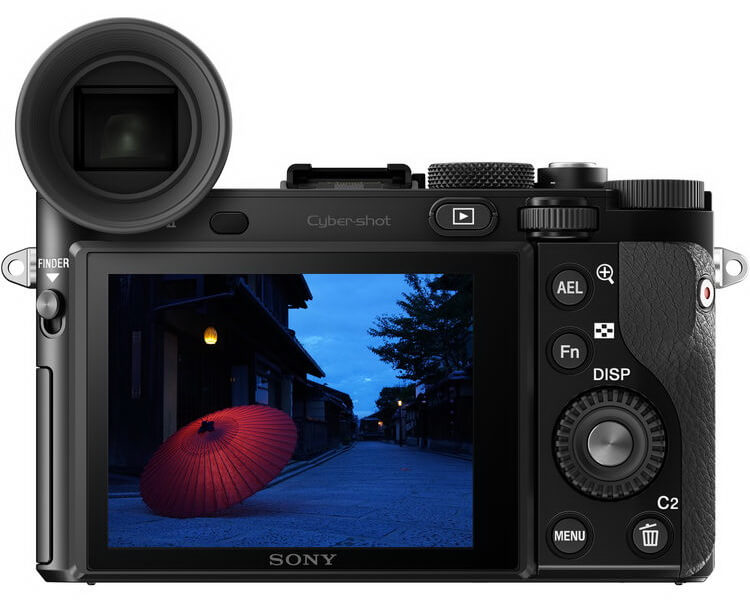 So, now that we've begun to talk about all of the focusing modes, let us see what those really are before moving on to the other aspects of this camera's performance. First, you'll need to pick one of the four main focusing modes; Single-shot AF (best suited for still subjects), Continuous AF (the mode that will search for focus as long as you keep the shutter button pressed halfway), DMF (same as the Single-shot AF, but with the added ability of being able to manually fine tune the focus after the initial focus acquisition) and lastly, the MF or the manual focus. After that, you'll be able to decide which Focus Area to use. There are five of them; Wide (uses all of the available focus points to focus on a subject that can be positioned anywhere with in the image frame), Center (uses all of the available focus points to focus on a subject that is in the center of your frame), Flexible Spot (allows you to choose your own position of the AF range frame and also to adjust its size using the main control wheel), Expand Flexible Spot (works in a similar way to the normal Flexible Spot area, but also uses the focus points around the AF range frame to help with focusing accuracy) and the Lock-on AF (tracks your subjects with in any of the other Focus Areas for as long as you keep the shutter button pressed halfway). Additionally, you can also use the special Eye-AF mode which will make it easier to detect people's faces and to focus on their nearest eye or just switch to manual focus and use the nicely implemented focus peaking to acquire focus in almost any situation quickly.
When it comes to overall performance, the RX1R II isn't the fastest camera around, but it does the job when it comes to providing reliable experience. You'll need to wait around a second for it to power on, around half a second to take your first shot, around 0.3 seconds for the AF to do its thing and approximately 0.6 seconds between each shot as the camera does take some time to save its large images. We highly recommend that you use a fast SD card with the RX1R II to eliminate any possible bottlenecks that could hurt its performance. That especially holds true for shooting bursts of images, since they are one of the more taxing things for this camera and you will have for it to take its time and clear the buffer. Luckily, the buffer itself can hold a pretty decent number of images before it will need to empty itself or drop the shooting speed. You'll be able to take around 24 JPEG or 23 compressed RAW files before noticing any drop in performance, which isn't something we would consider to be the level of the faster cameras out there, but still pretty decent for a compact camera that has to work with a demanding 42-megapixel sensor.
Now, sadly, one thing about the RX1R II manages to put a smudge on its performance, and that is battery life. Now, we know that Sony had to deal with some space constraints when creating this camera and that it was somewhat of a challenge to include so much great functionality in such a portable body, but unfortunately, they weren't able to figure out how to fit in a larger battery pack or optimize it to improve the endurance and as such the RX1R II will only be able to provide you with around 220 shots before calling it quits. Even if you don't consider yourself to be a heavy user, we would still recommend you to invest in an additional battery pack or use an external battery (connected to camera's micro-USB port) for the duration of your shooting. Despite its weak endurance (which can, fortunately, be easily solved), the Sony RX1R II still manages to prove its worth in terms of performance, especially when it comes to focusing.
Video features and quality
We have all gotten used to expecting great things from Sony's flagship cameras when it comes to their video capabilities, and thus the same was expected out of the RX1R II. In a way, it manages to bring most of the important features that will be appreciated by almost every videographer out there, but on the other hand, it's still missing a few things that stop it from becoming an excellent video recording tool and instead make it only into a good one.
Now, being a good camera for this type of a job would still be acceptable for a lot of devices (and is acceptable in the case of the RX1R II as well), but since this is a Sony camera, we do have to put the same weight on the bad things as well as the good ones. Let us start by laying down all of the most important features. You may not be getting the 4K recording, but full HD 60 fps mode is available and is also using the XAVC S HD codec, which means higher bitrate and thus, better image quality. And that certainly holds true, as the videos captured with the RX1R II do look very good and exhibit a lot a lot of detail, almost no compression artefacts and very little noise (even when it comes to shooting in low light and at higher ISO values).
The recorded audio is decent, but you'll also be able to connect an external microphone for even better sound quality and monitor your audio levels while recording as well. Sadly, it seems that there was no room to include a headphone jack for more precise monitoring of audio levels, but compromises like these do happen in case of compact cameras which are limited by their small size and don't allow for much functionality to fit inside of them. Still, the list of the positive aspects continues with the focusing system, which thanks to its 399 phase detect focus points manages to exhibit very good performance while recording and with very few and occasional hunting (mostly in low light). We also like that focus peaking is enabled for recording (and so are the zebra patterns), but this is the only time when we've wished for a touchscreen unit to be included on the RX1R II, as having Touch AF capability is very important for many videographers in today's times. Now, let's move on to another useful feature that comes with this camera, and that's the SteadyShot image stabilization.
Since it's entirely digital, it doesn't work as well as hardware-based solutions (and also applies some crop to your footage), but surprisingly enough it does a better job than we've expected and really does manage to reduce a lot of the effects caused by shaky hands and keep the recorded videos decently smooth. So, the entire story of the Sony RX1R II is marked by many positive aspects that aren't being used to their full potential and are moving it further away from its competition, instead of making it the leader of the pack. If learn to work around some of its shortcomings, you'll be able to get very good 1080p footage out of it, but otherwise, considering its price point, there are better solutions out there for serious videographers than the RX1R II.
Image quality
As you would expect from a camera that's equipped with Sony's venerable 42-megapixel full frame sensor, the RX1R II is more than capable of producing photos that are of excellent quality and that you'll be proud to share with others. Having a camera that has so much resolution at its disposal and also good enough hardware to make use of it is a seriously useful thing when it comes to getting very detailed photos and a lot of room to crop them in post-processing. The built-in 35mm f2 lens does a very good job of providing excellent center sharpness (especially when stopped down) and decent corner sharpness when the aperture is set to f5.6 or f8. It's very close to taking full advantage of that demanding sensor, but those averagely good corners are holding it back a bit. The good thing is that Sony has managed to fine tune their JPEG algorithms, so they apply just the right amount of sharpening to bring you detailed images that are a pleasure to look at.
The same can be said for the amount of saturation, contrast and noise reduction that is being applied as none of them ever go overboard and ruin the image quality instead of improving it (as is the case with many cameras out there that lack any kind of mature JPEG processing). Still, the Sony RX1R II isn't a great compact camera just because of its resolution; it is also because it brings the dynamic range and the noise performance that can easily rival the best cameras on the market (let alone the ones that fall into the compact category). This means two things: you'll be able to heavily adjust your exposure in post-processing with very little cost to image quality and also get very usable images up to ISO values around 6400 and 12800, which when combined with the bright maximum aperture of f2 opens up a lot of options when it comes to low light photography.
While the JPEG files coming out of the RX1R II are very good, you'll still need to make use of the included 14-bit uncompressed RAW support to make the most out of your photos. As is the case with any other camera, the Sony RX1R II also manages to offer a lot regarding different filters and effects. We won't go in too much detail when it comes to those, but you should know that you'll be getting the usual effects such as the Toy Camera, Pop Color, Minature, Watercolor and on. More serious photographers out there will likely spend more time using the included Creative Styles, which will enable them to quickly change the look of their photos without having to spend any time in image editing programs. You'll be getting many different Styles such as the Vivid, Deep, Portrait, Landscape, Night Scene, Sepia and more. You'll also be able to adjust things like contrast, saturation and sharpness for each of those Styles, which means that you'll really get a lot of control over the look your images even without unloading them off the camera and changing them up in post-processing.
All in all, there's really nothing to complain about the still quality that can be achieved with the RX1R as it certainly manages to live to its promise of providing class-leading photos in a small and portable package.
Conclusion
Once again, we've got the chance to review yet another of those flagship cameras that manage to do most of the things right and without as much compromise as possible. What's different this time is that we've got a compact camera on our hands, instead of the mirrorless camera or a DSLR (which are usually those that fall into the category of high-end devices) and that it's one of those very rare cameras that can compete with almost any bigger device that's also targeted at the enthusiast side of the market. It offers a highly capable full-frame sensor, a sharp lens with useful focal length and bright aperture, excellent build quality with a nice control scheme, very good shooting experience thanks to the advanced LCD screen and EVF units, great overall performance, one of the best AF systems around, very respectable burst rate, 1080p 60 fps recording of great quality, effective SteadyShot stabilization system, a microphone jack, Wi-Fi and NFC and more. It does lack functionality such as the touch-enabled screen, dual SD card slots or the built-in flash unit (both of those shouldn't be a big problem for most users), but where it does drop the ball for a moment is when it comes to video recording because of the lack of 4K recording, the headphone jack and any kind of hardware-based stabilization.
So, taken as a whole, the Sony Cyber-Shot RX1R II is an excellent compact camera that offers a lot of functionality that a professional photographer (not videographer) would need from their camera, but in a package that can easily become something that they can carry with them at all times and that aligns perfectly with that saying that the best camera is the one that you have on you and you really can't do a lot better than this when it comes to something that's easy to carry, instead of requiring you to decide to pick it up every time you decide to nurture your photography needs or not pick it up at all because of all the additional heft (especially in the case of a full frame camera).
The following two tabs change content below.
An amateur photographer, songwriter, musician, computer and technology geek and an occasional comedian, I'm a little bit of everything. I always aim to pursue things I'm passonate about and try to look on the positive side of things whenever I can. My mission is to wrap my articles in that aura of positive energy and keep a healthy balance between being serious about my work and spicing things up with a little fun now and than. After all, life's a game and there's always a different way to play it.