Sony Cyber-shot RX100 II Review: Second Edition of a Classic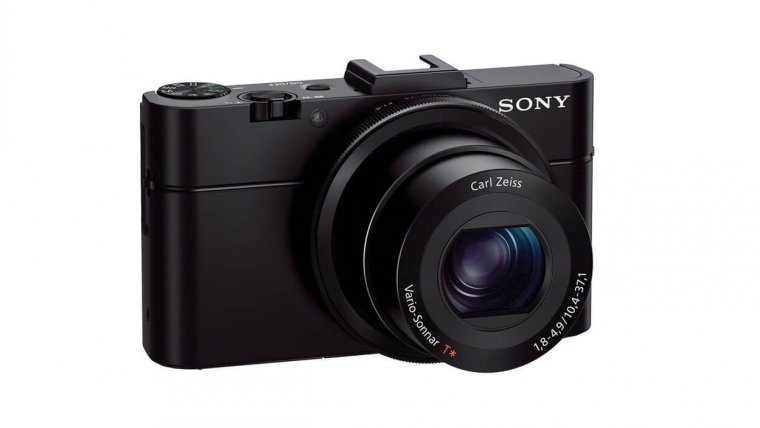 Sony Cyber-shot RX100 II Review: Second Edition of a Classic
www.sleeklens.com
It's always expected from of us reviewers to take a look at nothing but the newest products on the market and writing an article about an older camera seems strange to a lot of readers out there. Still, we have a very good reason to do so since many people will always look at the older models instead of, the newer ones because they still tend to be very capable products despite their age and now they also come at a noticeably lower price than they had on them of their release.
Today, we have a perfect example of such a camera. The Sony RX100 II was released in 2013, three years before the release of Leica TL2 but is still one of the best compact cameras money can buy, despite being replaced by no less than three other models from the RX100 series. It comes with a very capable 1-inch sensor, a well-built and stylish body, a lens with a useful range and faster than average aperture, speedy performance and a video mode that in some aspects can be compared with some of the much more expensive cameras currently available on the market. No matter the way you look at it, it's still a full-fledged RX100 camera and in some way, it will always be and that says a lot about the legacy that these types of cameras have created for themselves. All right, enough with the introductions, let's cut to the chase and take a look at its specifications in more detail, so you can really see what kind of the camera we are dealing with here.
As you already may know, the main thing that all of the RX100 cameras share and are built around is a 20-megapixel 1-inch sensor, and the story is the same with the Mark II. It's an Exmor R sensor that is also backlit, meaning that low light performance should be pretty respectable. Another aspect of the camera that will certainly affect noise reduction, as well as performance, in general, has to be a capable Bioniz processor, despite not coming in the more powerful X variation.
Pros
Built-in WiFi
NFC Connectivity
RAW Shooting
FullHD Max Video Resolution
Image Stabilization
Articulating Screen
External Flash Shoe
Manual Focusing
Manual Exposure
Long Battery Life
Light Body
Cons
No EVF
No Touch Screen
No Environmental Sealing
Click to read the full Review
Continuing with the rest of the specifications, you'll also notice the maximum supported ISO of 25600, as well as RAW support. As we've already mentioned at the beginning of this review, the RX100 II comes with quite a capable lens. It's a 28 – 100 mm equivalent unit that sports optical image stabilization and a maximum aperture that sits at f1.8 at its widest angle and f4.9 at a focal length of 100 mm. It also has a macro mode that allows it to focus as close as 5 cm, something that certainly ups its flexibility to a certain level. When it comes to focusing, the RX100 II comes equipped with a very decent 25-point contrast detect AF system that supports all the necessary focusing modes like Multi-area, Center, Tracking, Single and Continuous. Speed-wise, you also get the ability to shoot at shutter speeds ranging from 30 secs to 1/2000 sec and at a burst rate of 10 fps. Body-wise, the RX100 II is built up to the highest standards thanks to its all-metal construction and simple, but well-executed control scheme.

Taking a quick look at it you'll be able to find an integrated pop-up flash unit with an excellent reach of 15 meters with Auto ISO enabled, a 3 inch Xtra Fine WhiteMagic TFT LCD with a high resolution of 1,229,000 dots, a micro-HDMI port, an SD card slot which supports both the standard SD cards and Sony's proprietary Memory Stick Duo cards, as well as a pair of stereo microphones. There's also some important hardware that can be found on the inside of the body and it serves to enable the Wi-Fi and the NFC functionality. While the lack of a proper microphone and headphone jacks isn't a surprise even on a premium compact camera, the lack of a viewfinder somehow is. Luckily, Sony gives you the option to connect an external EVF unit to the camera itself and manages to solve that problem for those willing to invest extra money into getting one.

Lastly, considering its age, you won't find any 4K support on the RX100 II, but you will get a pretty good 1080p 60 fps mode, which should satisfy anyone but the most demanding users out there. So, there's really not much to complain about this camera and there's no denying that it's still a very compelling product even for 2017 standards and even before officially starting our in-depth review we are sure that it will become an easy recommendation for anyone looking for a capable compact camera, but doesn't want to pay a premium price for it and can live without having all the latest features and upgrades that come with the newer cameras.
Body and handling
It's hard to overlook the fact that the Sony RX100 II is one neatly designed camera and in a way, the main theme surrounding its design can be stated as simplicity done in the right way. While the camera itself does bare a lot of advanced functionality that's usually not found on the lower tier compact cameras, it still aims to retain the ease of use that's also expected from a point-and-shoot. Since a lot of potential buyers of this camera are surely looking to get something that is light, portable and easy to use, but which also brings good image quality and a respectable feature set, it makes a lot of sense that Sony went in this direction and didn't equip the RX100 II with a large number of different buttons and dials. Thanks to its aluminum construction the camera feels very smooth to the touch and also quite rugged despite its low weight of 281 grams. All the buttons and dials also give out a nice feel when being used and are positioned in a way you would expect from a camera of this type, so there are no unwanted surprises here.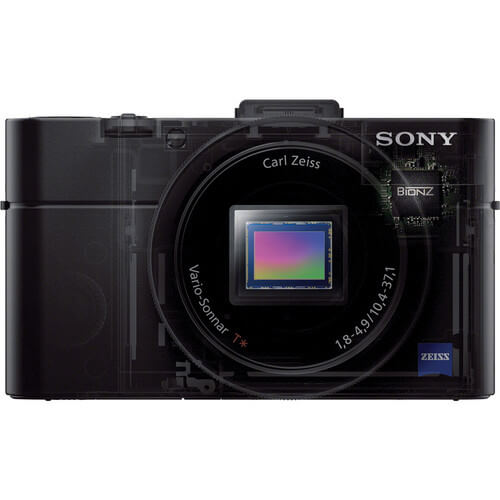 So, before going into more detail about how this camera operates on a daily basis, let's take a quick look at each of its sides and give you a better impression of what you can expect to get with it regarding all the controls and expansion options. As usual, let's start with the front of the camera. Except for the lens itself, you'll find the obligatory focus assist lamp, as well as something very useful; a lens control ring. It can be sad to adjust things like Exposure Compensation, ISO, Aperture, White Balance and Shutter Speed or to act as a manual focus ring. Thanks to it being very smooth and also click less it's great to use when focusing manually, especially for video recording since it's silent and its movements won't be captured by the camera's microphones. The right side of the camera holds all the necessary ports, while the left side has the NFC contact point. Memory card and the battery compartment, as well as the tripod socket, can all be found on the bottom of the camera. Looking at the top reveals the pop-up flash unit, the accessory port on which you can mount the optional EVF, the Power button, the shutter button that also comes equipped with a zoom lever and lastly, the main mode dial which will allow you to access all of the camera's different shooting modes, including the Manual mode and a dedicated Panorama mode. This only leaves us with the look on the back of the camera. The first thing you'll notice is that the RX100 comes with a tilting screen, something that is quite unusual to see on a compact camera. Aside from having good picture quality even in direct sunlight, it can also be rotated up to 84 degrees up and 45 degrees down, making it quite useful when you're shooting at some unconventional angles. The Movie button is located right on the thumb rest, while the rest of the controls are located right underneath, and these are the Fn, Menu, Playback and Delete buttons, as well as the control wheel with a confirmation button inside of it. The wheel itself can also act as a four-way navigation controller and also to grant you quick access to features such as the Timer, Exposure Compensation, Display options and Flash modes.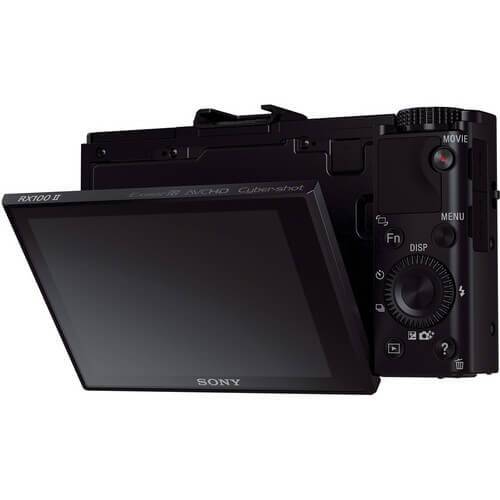 Since the RX100 II doesn't come with a touchscreen, we were a little worried that the user interface won't be intuitive enough to be simple to use (since Sony's record isn't the best around when it comes to creating a good user interface), but luckily, it's not bad at all. There are a few items here and there that are still buried inside hard to reach menus, but overall, all the basic functionality is well-covered and easy to access. The Fn button is also a very useful addition that improves the camera's usability. When pressed, it opens up a customizable menu which can hold up to 7 user selectable items. Some of those are the ISO, White Balance, DRO/Auto HDR, Picture Effect, Quality and Focus Mode. While it's not an ideal workaround for those enthusiasts who still prefer to have physical controls for some of those functions, it is still good enough to be very useful for most of the users. In the end, let's see what the RX100 II offers regarding Wi-Fi functionality and what useful features come included in such a tiny package. Well, there's nothing unusual to speak of, but for a compact camera, the feature set is pretty decent. You can either connect the RX100 II to your smartphone via Wi-Fi or do it faster with NFC if your Android device supports it. You'll also need the PlayMemories Mobile application to gain access to all the available features, and the app itself can be downloaded for free either in the iOS or the Android store.
The available features and the app itself can be downloaded for free either in the iOS or the Android store.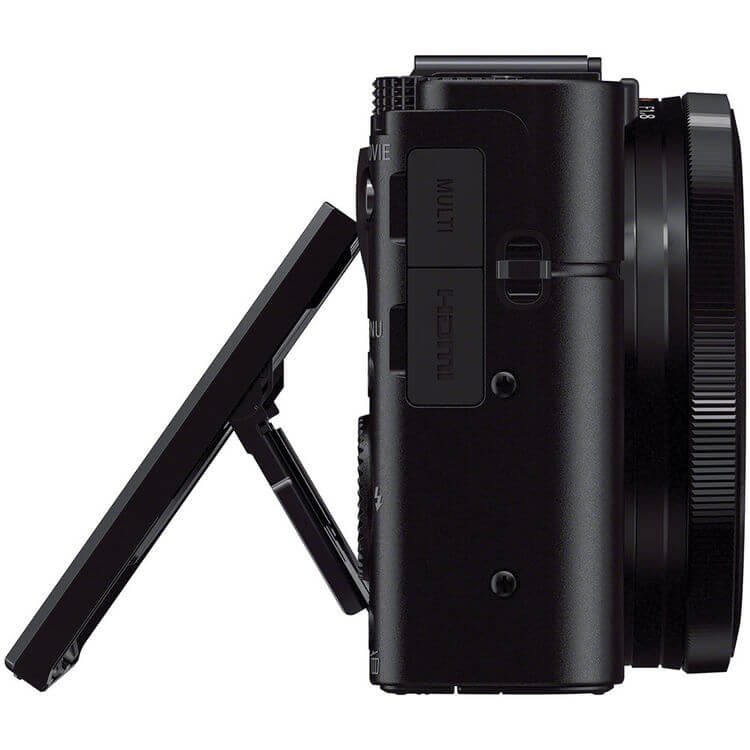 You can also connect the camera to your PC via the PlayMemories Home application, and that's certainly a nice bonus. After you've connected the RX100 II either to your smartphone or a computer you can send your photos or videos to them and back them up that way. You can also remotely control the camera via your smart device and control things like zoom, shutter, self-timer and the flash. Sadly, you can't focus by tapping on your smartphone's screen like you would expect and you'll need to leave it to the camera to choose the best focus point for you. In addition to taking stills, you can also record videos this way, which will surely be of use to some people. So, all in all, it's a rather simple Wi-Fi implementation, but a very functional one and we couldn't expect much more from a compact camera, even if it's the more advanced one. Regarding its body and all the functionality closely tied to it, we aren't left with much to complain about. Our only gripe with the RX100 II would be the lack of an integrated viewfinder and thus leaving you with the necessity to purchase a rather pricey external EVF just to gain that functionality. Other than that, it's a nicely done package that does everything right and is perfectly optimized for the type of users that will be interested in such a product.
Autofocus and performance
The Sony RX100 II comes equipped with a pretty humble sounding 25-point contrast detect AF system, but we were quite surprised with how well it performed during our testing. You can expect to get very fast focusing times in almost all situations, except when it comes to tracking fast moving subjects or in extremely low light. Still, even in those demanding situations, the AF system exhibits better than average performance when compared to other compact cameras, which makes the RX100 II a really good overall performer in this case. What also rounds up its great focusing performance is the fact that the focus speed slows down only by a small fraction when you compare it when shooting at wide angles and telephoto, which is another thing that can't be said for many compact cameras out there. Regarding main focusing modes, you are given a total of four at your disposal: AF-S (Single-shot AF), AF-C (Continuous AF), DMF (allows you to combine the auto and manual focus) and MF (Manual Focus, which also benefits from the included focus peaking feature). Focus areas are split into three parts: Multi (Which automatically chooses the position of the focus box for you and tries to lock on to people's faces if Face Detection AF is active), Center (Focuses on the subject in the center of your frame) and Flexible Spot (A mode in which you can move the focus box by yourself and place it anywhere you want). Lastly, there's also the special Tracking focus mode which can be activated by pressing the center button on the control wheel. After it's enabled, it will continue to change focus depending on the movement of your subject until you deactivate it by pressing the same button again. In reality, it worked quite well with subjects that aren't moving too fast but don't expect miracles out of it.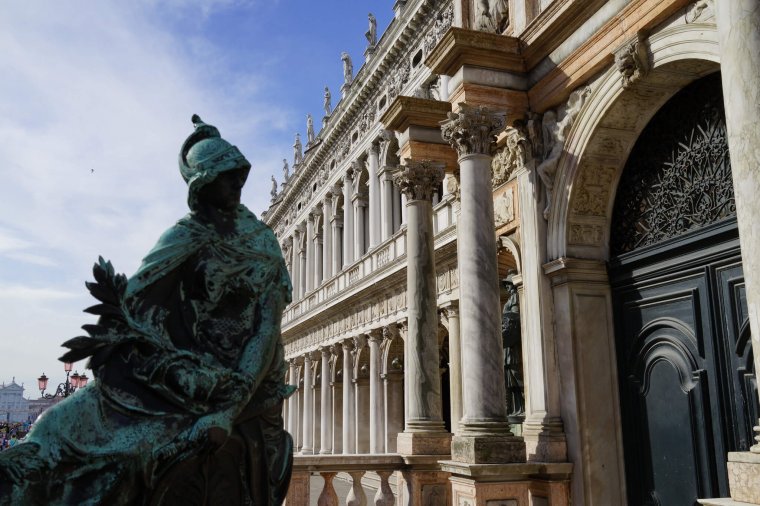 The RX100 II is no slouch when it comes to performance in general either. Shot to shot times hovered around 0.5 seconds (0.6 for RAW files) and the time it took to view the photo after its capture was around 1 second. The only case in which the camera has shown somewhat of an uninspiring performance was in the time it took it to power on and off, for which it took around 2 seconds at average. In contrast, we were quite happy with the burst rate performance. The RX100 II managed to shoot at a frame rate of 10 fps for about 13 JPEGs (at 4.9 fps for RAW files) before slowing down to around 1.4 fps, which is a respectable performance for a compact camera. Battery life is also above average with a maximum endurance of around 350 shots per charge. This means that you should have no problem with shooting for an entire day and not having to worry about running out of juice. So, in conclusion, other than slowest power on times, there's nothing else to complain about regarding performance on the RX100 II. Sony has really done an excellent job of keeping the overall performance in balance and not leaving any loose ends in doing so.
Video features and quality
We may not have the most advanced and feature packed video recording tool on our hands, but the RX100 II is still capable in that regard nonetheless. You won't get features such as 4K recording or the microphone and headphone jacks, but you will get a pair of capable stereo microphones and support for 1080p recording at a faster than average frame rate of 60 fps. This means that you'll be able to record smooth and high-quality videos without having to deal with the very large file sizes brought on by 4K recording. Although continuous AF is supported and working pretty ok, you'll still be able to achieve better results by using the focus peaking function and a very useful control ring located on the camera lens. Optical image stabilization is also supported thanks to Sony's SteadyShot technology and you get two different modes at your disposal; a Standard mode which only uses the hardware stabilization and the Active mode which adds in digital stabilization and crops into your image frame to reduce the effects of camera shake even further. We would advise you to use the Active mode (if you don't mind the slightly reduced field of view) since it's certainly more efficient than the Standard one. Unlike most of the point-and-shoot cameras, the RX100 II also gives you full manual control over exposure while recording and you can shoot videos in any of the shooting modes which are selectable from the main mode dial. Most importantly, aside from all the available features, the RX100 II records very good-looking videos, even in conditions where there's not enough light available, and the ISO values have to be pushed higher to allow for satisfactory exposure. They still don't look as good as 4K footage, but for a camera that was released in 2013, it's great to see that its videos are still more than usable for a lot of different applications.
Image quality
As you would expect from a premium compact camera, the RX100 II is up there with the best on the market regarding image quality. No matter if you're shooting JPEGs or RAW files you should be very satisfied with the results. Thanks to the 20-megapixel resolution and large sensor size, there's a lot of detail to be found at lower ISO values and also at higher ISOs to a certain point. Photos look great up to an ISO of 800 and will also look good at 1600 and 3200 with some tasteful processing of RAW files. Anything above that is only suitable for posting to social networks or anywhere else on the web and certainly not for making prints.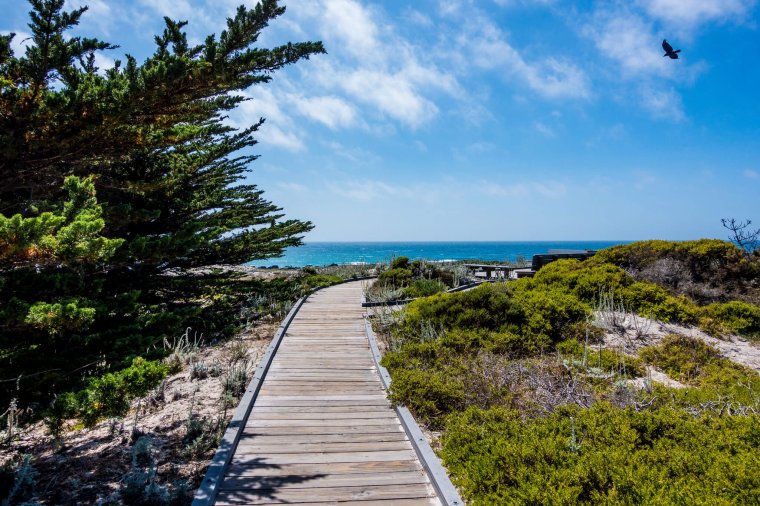 Photo courtesy of Randy Herring
The dynamic range you'll get with the RX100 II is also way above average for a compact camera and will give you enough room to gain accurate exposure in demanding conditions or when adjusting shadows or highlights in post processing. If you're inclined to only shoot JPEGs, then you can also make use of a number of different Creative Styles and Picture Effects included on the camera. Some of those available methods are Vivid, Portrait, Landscape, and Sunset, while the effects range from Toy Camera and Color Pop to something like HDR Painting or Miniature. You're really given a lot to play around with. If you'd like to zoom in beyond the native range of the lens and you don't want to use the traditional digital zoom, then you can enable Clear Image Zoom which effectively crops your image and reduced resolution, but without the nasty artifacts brought by the digital zoom itself.
Conclusion
Simply put, the Sony RX100 II is a very capable compact camera, despite its age. You're getting a lightweight and polished camera that offers a versatile image stabilized lens, good image quality on all fronts, a flexible and useful video mode, good battery life, an abundance of different shooting modes, filters and effects, a capable AF system that's backed up by focus peaking when you're focusing manually and a very respectable 10 fps burst rate. If we were to directly compare it with its competitors that were released at a later date, it's only missing 4K video recording, an integrated viewfinder (though an external one is available) and a more refined AF system with better subject tracking performance. Considering it now costs less than all of those cameras, it looks like a type of compromise a lot of potential buyers should have no trouble accepting since they are still getting a competent camera and one that still no regular camera can touch regarding its features. The Sony RX100 II comes highly recommended. Looking for best mirrorless cameras? Click here.
The following two tabs change content below.
An amateur photographer, songwriter, musician, computer and technology geek and an occasional comedian, I'm a little bit of everything. I always aim to pursue things I'm passonate about and try to look on the positive side of things whenever I can. My mission is to wrap my articles in that aura of positive energy and keep a healthy balance between being serious about my work and spicing things up with a little fun now and than. After all, life's a game and there's always a different way to play it.