Sony Cyber-Shot RX10 IV Review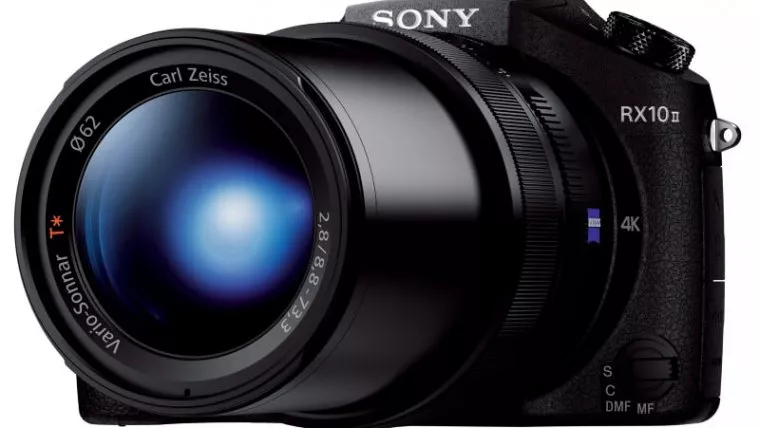 Sony Cyber-Shot RX10 IV Review
www.sleeklens.com
We often get the chance to review many unique and highly regarded cameras in all of the available classes and types, but it's very rare to find one that seemingly has no apparent flaws and sounds like an ultimate device that is about to set the new standards and change up the entire market. Only this time, it's not a mirrorless camera or a DSLR, but something in between, a premium bridge camera that was made to appease both to those that want a capable all-in-one device to act as a backup camera to their main ones and those that don't feel the need for a camera that has the ability to switch lenses or has a very big sensor. This is where our camera of the day comes in and we are talking about the Sony Cyber-shot RX10 IV.
It's an immediate successor to the previous RX10 III model and brings a lot of noticeable improvements, the biggest one being the speed. While you can expect to get a very similar, but still great image quality to its predecessor, where the RX10 IV really shines is when it comes to its performance, namely the AF speed and the burst rate capabilities. It also brings another noteworthy change to the table and that's the inclusion of a new higher resolution touchscreen, which is a first for the RX10 series of cameras and is still rare to find on a lot of Sony's cameras. This will mean that the RX10 IV should be a pleasure to use, especially if you're used to controlling your cameras via the touch input.
Other than that, the other great aspects of the RX10 series are also featured on this new model like the 1-inch 20-megapixel sensor, 4K video recording, an electronic shutter, a very good EVF unit, a long, bright, versatile and optically stabilized lens, respectable slow-motion capabilities, weather sealing and so on. There is a little catch though and that's the new price point, which makes the Sony RX10 IV the most expensive camera so far that has been released as a part of the RX10 line up, but it doesn't change the fact that you're in for a quite a treat if you're looking for a DSLR-style camera that will be able to cover many different types of photography and videography but without the need of any additional investments and upgrades.
If you're truly interested in such a device, then scroll on some more as we're about to examine and list off all of its most important features.
There's certainly a lot to say about the Sony RX10 IV, but let us start with its sensor. At 1 inches it's of the same size as those found in previous RX10 models and Sony's RX100 series of compact cameras, but it is the best the company has made up to this date.
Pros
Built-in WiFi
Bluetooth Connectivity
NFC Connectivity
Image Stabilization
Articulating Screen
External Flash Shoe
4K Max Video Resolution
Touch Screen
Electronic Built-in Viewfinder
RAW Shooting
Long Battery Life
Environmental Sealing
Selfie Friendly LCD Screen
Dual-axis Electronic Level
Remote control with a smartphone
Click to read the full Review
Aside from offering very good image quality both for stills and video recording, it's also backlit (meaning better low light performance) and features Sony's trademark stacked design, which improves the camera's shooting speed by a lot when compared with the more traditionally designed sensors.

Most of you will be satisfied with the JPEGs coming out of this camera, but for those that like a little more room when it comes to tweaking the images their own way will certainly enjoy the included RAW support. Now, a capable sensor would mean nothing with an equally good lens sitting on top of it and thus the RX10 IV features a 24-600mm Vario-Sonnar Zeiss lens with a maximum aperture of f2.4 at 24mm and f4 at 600mm. Such a versatile zoom range and bright maximum aperture would already be impressive by themselves, but the lens itself also brings another important feature and that's the image stabilization rated to 4.5 stops of correction. This will help a lot when shooting at the telephoto end of the lens (both in good and low light) and also when doing handheld video work. The lens itself proved to be quite a sharp unit when used on the RX10 III and we believe that things will remain unchanged in the case of the RX10 IV as well. On top of all of that, it also manages to bring quite a compelling macro performance thanks to its minimum focusing distance of only 3 cm.

When it comes gaining the perfect exposure, the RX10 IV also has enough tools to satisfy any photographer; an ISO range of 100 – 12800 (expandable to 64 and 25600), nine different white balance presents and the ability to adjust it manually and lastly, shutter speeds that can go as high as 1/2000 sec (1/32000 with the use of an electronic shutter) and as low as 30 seconds. Add to that your usual shooting modes including the Aperture and Shutter priority and full manual mode, and you should have no problems getting properly exposed photos in all lighting conditions.

Now, since the highest priority in the case of the RX10 IV was to improve its performance over its predecessor, let us introduce you with all of the improvements that have found its way on this camera. First, there's the new AF system. It's the same one found in Sony's RX100 V and we really liked how it performs during our testing of that particular camera. While the lens on the RX10 IV will certainly be a bigger challenge to work with, we still believe that Sony has optimized the AF system in a way that there should be no noticeable drop in focusing speed and accuracy. Another great thing about the said AF system is that it will bring an enormous difference in focusing capabilities for video work over the older contrast detect solution and should work especially well with the added touchscreen.

The second area in which noticeable improvement has been made is in the speed of the burst rate, which now sits at 24 fps instead of the 14 fps of the older model. That is a huge difference in shooting speed and combined with the new phase detect focusing system will certainly yield the kind of performance that will satisfy even the more demanding photographers. There's also an under the hood feature that enables the RX10 IV to provide such an impressive performance and that is the addition of the variant of the Bioniz X processor that is used to power Sony's fastest full frame camera, the Alpha a9 and that certainly says a lot about the company's commitment to making this camera as cutting edge as possible. Since we have gotten used to Sony's cameras being the market leaders in terms of their video recording proves, it's no surprise that the RX10 IV has a lot of useful features to keep Sony's reputation intact. It can record 4K footage at 30 fps, full HD at up to 120 fps and also comes equipped with dedicated slow-motion modes that will allow you to shoot videos up to a framerate of 960 fps. We've already mentioned the in-body image stabilization, but you should also know that you'll be getting a great audio experience as well thanks to the included stereo microphones and the required ports to connect an external microphone and the headphones to monitor your audio while recording.

Now, let's talk about its hardware in more detail. As you would expect from a camera at its price point it brings excellent build quality and ruggedness thanks to its body that's made out of a combination of magnesium alloy and composite materials and also due to the addition of weather sealing. Aside from a control scheme that closely resembles the one you'll be getting on your traditional DSLR, the RX10 IV also features both the 3-inch articulating TFT LCD touchscreen with a resolution of 1,440,000 dots and the electronic viewfinder with a resolution of 2,359,296 dots, 100% accuracy and a magnification of 0.7x. A very capable flash unit with a maximum range of 10.8 meters and the support for things like fill-flash, slow sync and rear sync is also included and so is the ability to connect an external one via a hotshoe port on top of the camera.

The RX10 also brings a single SD card slot which supports both the regular SD card standard and Sony's own proprietary Memory Stick Duo cards, a micro-HDMI and USB ports, Wi-Fi, NFC and Bluetooth and also the orientation sensor. There's no GPS on board, but we would expect for it to find its way on less and less cameras as the years go by and that's simply because you can easily use the location data gathered by your smartphone instead and save some of your camera's battery in the process. When it comes to battery, the one included with the RX10 IV bears the NP-FW50 mark and promises an endurance of around 400 shots.

It certainly looks like Sony has put a lot of effort into creating this camera and its high price point surely proves that fact, but even the highest price point can be justified if the camera performs within or above our expectations and that what we aim to find out through this review. But first, let's start with an in-depth look at the camera body, user interface and wireless capabilities.
Body and handling
The body of the Sony RX10 IV is nearly identical to its predecessor with only noticeable changes being the inclusion of a touchscreen unit, the focus limiter switch, and a slightly increased weight. It's still heavy, but a durable camera and we love it because of that. This certainly won't be the camera of choice for anyone that likes to travel light, but to those that want the usability and the flexibility similar to a DSLR, but don't feel the need to have the ability to switch lenses.
When you hold the camera in your hand, you will certainly feel its heft, but you should also feel its excellent grip thanks to its ergonomic shape and grippy texture materials that are put on all of the strategic places to ensure that you won't drop the camera under any circumstances, even if it's raining outside or if your palms are sweaty. Since the RX10 IV is weatherproof, you'll be able to carry it with you to any place in the world and never worry that it won't be able to handle some moisture, dust, heat or cold.
We are also very pleased with the control scheme and its layout, which again makes the camera look as any other advanced DSLR camera and thus easy to use and also to gain access to any available button, dial or switch. We also believe that we shouldn't waste time on mentioning how good is it to have a good EVF on your camera as we believe that it's obvious in case of a pricey piece of gear like the RX10 IV. So, now that we've praised its design, let's examine it more closely. Starting with the front you'll find the Self-timer lamp/AF illuminator, the built-in lens unit with three different control rings on it (front, rear and Aperture), Focus hold button and the Focus range limiter switch and also the Focus mode dial that will allow you to switch between S, A, C, DMF and MF focusing modes.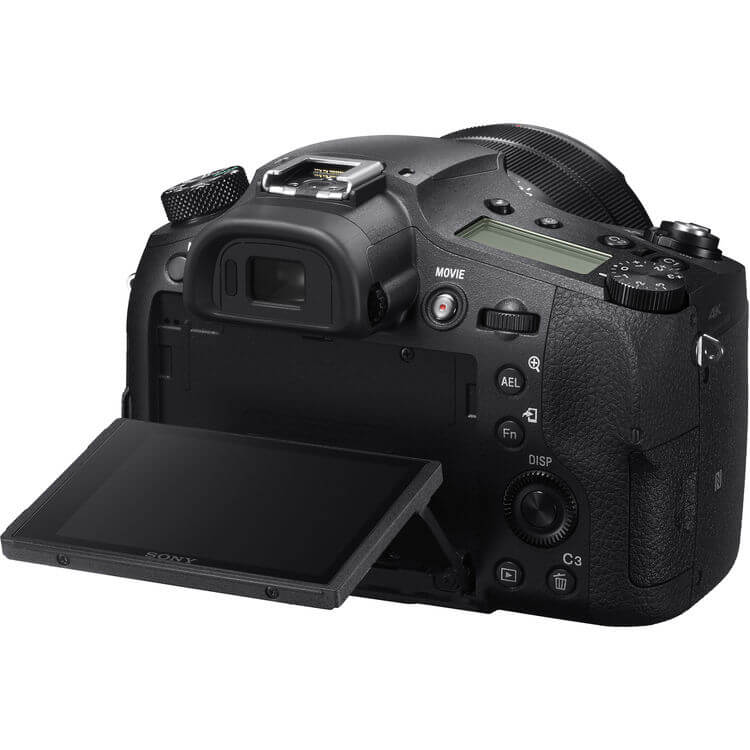 The left side of the Sony RX10 IV holds all the available ports (microphone and headphone jacks and the micro-USB and micro-HDMI ports), while the right side holds the memory card slot and the NFC contact point. The battery compartment and the universal tripod socket are located on the bottom of the camera. Looking at the camera from the top reveals the main mode dial, the included stereo microphones, a hot shoe connector, the Flash pop-up, Display panel illumination, C1 and C2 buttons, the top plate information LCD, the shutter button that's combined with the power and zoom levers and lastly, the exposure compensation dial. Let us finish this tour of the camera body by examining what's left to be found on its back. Here you'll find the Menu button, a mono speaker, one command dial, AEL/Playback zoom, C3/Delete and Playback buttons as well as the rear control wheel/four-way navigation controller with a center button inside of it and the access to Display options mapped to its upper direction.
If you didn't believe us that the Sony RX10 IV acts just like a mid-range DSLR in terms of its controls and handling, you'll certainly be able to conclude that by yourself after you've witnessed the sheer number of different controls we've just mentioned. Now, while Sony has always been doing a splendid job when it came to making great hardware for their cameras, they've struggled with creating good enough software to support it. While improvements have been made with every new generation of their products, 2017 marks the year of bigger changes and it really shows with the RX10 IV. While its user interface and menu system still resemble the look of its predecessor, they have also taken inspiration from one of Sony's newest mirrorless cameras, the a9 and thus its much cleaner and easier to navigate this time around. Still, Sony has missed the opportunity to improve things even more with the included touchscreen, but for some reason that didn't allow for it to be used to navigate around the camera, only for controlling the AF or zooming in and out of your pictures while in Playback mode. So, the RX10 IV is still a much more intuitive camera than its predecessor, but we do wish that Sony goes one step further in the case of its successor and enables the full functionality of the touchscreen.
When it comes to customization, the RX10 IV can be put right up there with the more capable cameras catered to advanced users and professionals. You've got the things like the My Menu option which allows you to save different settings, the Function menu that does the similar thing, but is more suited for specific functions that can be adjusted more quickly and then there's the large number of options available to let you customize the included C1, C2, and C3 buttons as well as some other ones. You can also save your current shooting settings to a custom key of your choice and access them later at any time. Lastly, there's also the option to switch the default functions of the Front and Rear lens rings and choose which one will act as a focusing ring and which one will be used for zooming operations.
Now, before ending this section of the review we'll need to discuss the networking capabilities. The first major functionality is the communication between the camera and your smartphone and this is done by establishing the connection either via Wi-Fi, NFC or Bluetooth and installing and setting up the PlayMemories Mobile application. After you've done those steps then you can easily send your photos, videos (even the slow-motion ones) to your smartphone, remotely control the RX10 IV and even use the PlayMemories Mobile application to collect the location data that's gathered by your smartphone's GPS system and send it over via Bluetooth.
You can also send your images wirelessly to your computer or a notebook or display them on your TV screen. So, aside from a rather half-baked touchscreen implementation, Sony has done an excellent job in designing the RX10 IV and making it work as a premium bridge-style camera should, leaving no loose ends or unpolished corners. This is certainly the type of a camera that will equally be enjoyed by those great out-of-the-box shooting experience and those who like to tinker with their cameras and adjust everything that can be adjusted. Now, let's see how its performance holds up and does it deteriorate the value of well-engineered hardware in any meaningful way.
Autofocus and performance
We certainly love when camera manufacturers upgrade their models from time to time, but there's no better feeling when the new model easily outperforms its predecessor by a large margin in any of their aspects and that's what happened here with the Sony RX10 IV and its new hybrid AF system which sports 315 phase detect and 25 contrast detect points that manage to cover a 65% of sensor's area. It wouldn't be a surprise to anyone if the new system performed better in the less demanding tasks like shooting still subjects, landscapes or even searching for people's faces to focus on, but that's not where the improvements coming with the RX10 IV end.
The new hybrid AF system really shines when moving subjects or low light shooting come into play. No matter the mode you're in, you can expect for the camera to provide you with shots that are in perfect focus for a majority of time as there's only a slight possibility that you'll end up with a few photos that aren't focused properly, but that can be said for most cameras out there where they're faced with extreme working conditions. So, there's not a lot of reasons why a lot of people won't be able to use the Sony RX10 IV as their main camera for shooting in those kinds of conditions, but there is one that may bother some photographers and that's its inability to keep your subjects in focus while you're changing your focal length as it needs to reacquire focus every time that happens. Thus, we hope that Sony will remove that illimitation on their future products as their new focusing system brings a lot of potential for those photographers that want to have an all-in-one solution for shooting sports or action. Now, let's see what the RX10 IV brings in terms of focusing modes.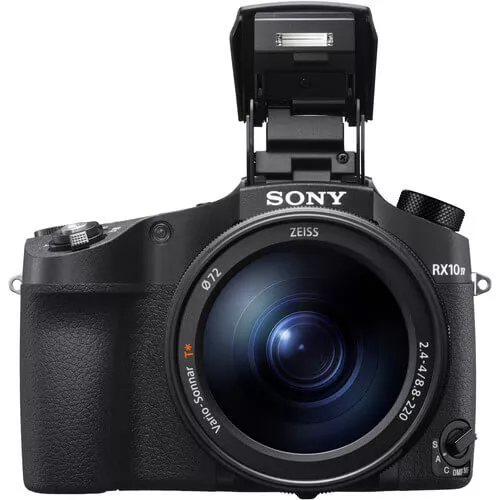 The main ones to choose from are Auto (which uses Single AF by default and switches to Continuous AF if it detects a moving subject), Single (your regular mode of shooting still subjects), Continuous (the opposite of Single and is the best mode to be in when shooting wildlife, sports or action), DMF (a combination of Manual and Autofocus that lets you fine-tune your focus after the camera has focused automatically) and lastly, there's the traditional Manual mode. Then there's the selection of different Focus Areas to choose from: Wide Area lets you focus on large subjects that cover a large portion of your frame, Center Area focuses only on subjects that are located in the center of your frame and can also be used with the focus-lock function and enable you to track that subject, Flexible Spot Area let's you move a focusing box around the frame and also adjust its size, Expand Flexible Spot Area is a more precise variety of the previous mode which uses additional focus points around your area of choice to help you focus on more demanding subjects and lastly, there's the Lock-on AF option which works for all of the aforementioned Focus Areas and will allow you to track your subject just by pressing the shutter button halfway.
There are also some additional useful features like the ability to automatically adjust the Focus Area according to your camera's orientation, the AF On feature that will allow you to use one of the customizable buttons for focusing instead on the shutter button, the Eye AF option which tries to keep your subject's eyes in focus, the ability to program the button of your choice to perform a Focus Hold operation, Pre-AF feature that when enabled adjusts your focus before you press the shutter button halfway and many more. The Sony RX10 IV also well-equipped for manual focusing thanks to the inclusion of assist tools like focusing scale, the magnify option or the focus peaking.
So, unless you are one of those users that require perfect working conditions to shoot things like sports or action you should have no problems thoroughly enjoying everything this camera has to offer in terms of its focusing capabilities. The same can be said when it comes to performance in general, which is another area in which the RX10 IV manages to show its worth. Navigating through the interface was very smooth during our testing, start-up times less than 1.5 seconds, AF acquisition times well beneath 0.1 seconds both at the wide and the telephoto end of the zoom range and shot to shot times were less than 0.3 seconds. All of it is a very good performance for a demanding bridge-style camera like the RX10 IV and are also a noticeable improvement over its predecessor, the RX10 III. Still, the biggest improvement that can be observed in the latest model (aside from the AF performance) is when it comes to shooting bursts of images.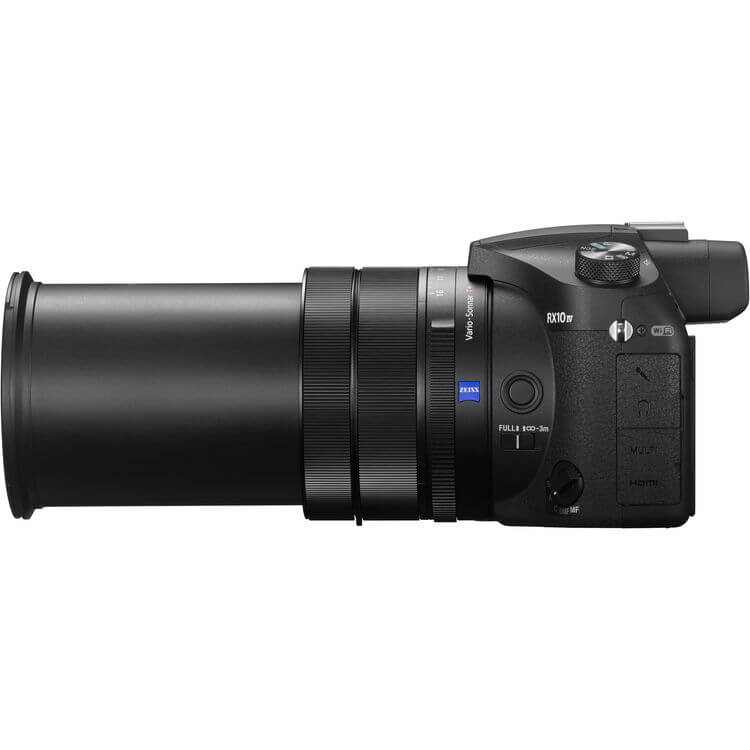 The RX10 IV now brings an impressive burst rate of 24 fps which also supports continuous autofocus. That speed in itself is a great achievement for any type of camera, but it wouldn't be complete without a deep enough buffer to really let it shine and the one on the RX10 certainly gives you a lot of room to shoot for long periods of time. With the use of a plenty fast SD card, you can expect to get around 210 JPEG images or 110 RAW files before you notice that the buffer is filling up and the camera is slowing down. That's is an extremely good performance and it means that you should have no problems capturing event the fastest moving subjects and get the shots that you need. Now, when it comes to battery, there are two sides to how good it is. If you're mainly shooting stills, then you'll be able to get a pretty good endurance of around 400 shots, but if you're primarily interested in recording videos than you should probably carry a spare battery pack on you, especially if you're only working with the 4K footage. Still, that's too be expected for most cameras out there, since video recording is always extra demanding on battery life.
The great thing about the RX10 IV, in particular, is that it supports USB charging, meaning that you'll be able to connect an external battery pack to the camera and keep it up and running for as long as you want. The Sony RX10 IV still hasn't managed to produce anything but great results in all of our test are still doing a good job of trying to defend its high price point and prove itself as a worthy upgrade over its predecessor. Let's see if it can keep this up when it comes to its video recording capabilities.
Video features and quality
What's interesting about the Sony RX10 IV is that it imposes itself as a very good alternative for professional video work if you want an all-in-one solution and you don't the improved low light performance you would get with a bigger sensor and a brighter lens. The video quality that you'll be able to produce with this camera in those conditions where there's enough light available will be great and there are two things to thank for such performance; the high-quality lens and the oversampling. You can expect to get very pleasing footage no matter if you're shooting for 4K or full HD resolution. Both modes will give you the option to shoot at a bitrate as high as 100 Mbps, with a framerate that tops out at 30 fps at 4K and 120 fps at 1080p resolution. We were very pleased with the look of the footage produced with the RX10 IV; it is very sharp, free of artifacts and has very little noise at base ISO levels. You'll also be able to get respectable video quality in low light, but going above the ISO of 3200 will result in noticeably softer and grainier footage and show the limitations of the smaller sensor. Still, let's continue with the positives as there are very little negative things to talk about.
The RX10 IV brings a sophisticated image stabilization solution which uses both the hardware and software to provide you with shake-free videos. It's up to you to decide if you can work with only the hardware stabilization and be free of any cropping or you want to enable the software-based stabilization on top of it and get smoother videos, but at the cost of cropping that can apply a crop factor that ranges from 1.09x to 1.30x. The audio side of things is also well represented on this camera. The built-in stereo microphones themselves already do a decent job of recording quite pleasing sound, but more advanced users will surely make use of the included headphone jack to connect a more sophisticated external microphone. They will also be able to get perfect audio levels at any time thanks to the built-in headphone jack. A lot of improvement has also been made to focusing speed and accuracy during video recording and that's mostly because of the addition of phase detection system into the mix, which does a far better job of keeping the focus snappy when compared to the more traditional contrast-detect AF systems. It comes very close to Canon's Dual Pixel AF technology, which means that you won't have to resort to focusing manually very often, even when you're shooting moving subjects or dealing with dimly lit conditions.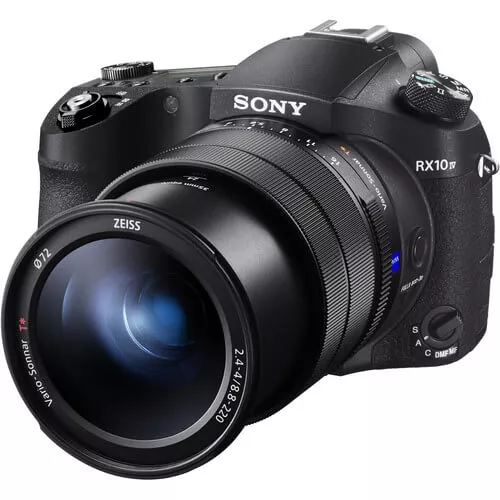 When it comes with additional options for video shooting the RX10 IV certainly offers a plenty; you can choose between three different recording formats (XAVC S 4K, XAVC S HD, and AVCHD), use Zebra patterns for easier exposure adjustment and Focus peaking for more accurate manual focusing, record slow-motion videos at a three different framerates (240, 480 and 960 fps), capture still images while recording thanks to the Dual Rec feature (or even enable the Auto Dual Rec to let the camera do it for you at certain intervals), record lower-quality Proxy videos, enable Wind Noise reduction, choose different Picture Profiles that will allow you to adjust things like color, saturation, gradation, detail, black levels and more and also choose the traditional S-Log profile that will allow you to process your videos much easier in your favorite software, adjust the responsiveness of the autofocus while recording and also tracking sensitivity, view Time Code (TC) and User Bit (UB) information, enable or disable the display of markers and more.
The Sony RX10 IV is certainly one of the most feature-packed bridge-style cameras we've ever seen, especially when it comes to video recording options. Once again, there's really not much to criticize here as Sony has done a fantastic job of making the RX10 IV as serious video recording tool as it's possible for this type of a camera and it's only limitation is the video quality that still can't match the best APS-C and full frame cameras, but we believe that a lot of videographers will be able to accept it for the huge benefit of having all of this technology built into one camera body and available anytime you carry the camera with you.
Image quality
You could conclude that the Sony RX10 IV is essentially the RX100 V camera in a much bigger body and with a much more versatile lens and you wouldn't be wrong. Since both of them share the same 1-inch 20-megapixel sensor, their stills image quality is very comparable. This means that you are getting a camera that is able to produce photos of very nice quality and can hold its own well even in low light conditions. No matter if you choose to shoot in JPEG or RAW, you will be getting the full benefit of that 20 megapixels of resolution thanks to the included 24-600mm lens being of very good quality and dealing with the sensor beneath it with relative ease.
What's also great is that we didn't observe a lot of difference between sharpness at the widest and the longest and of the lens, meaning that even the images shot at 600mm look very good and sports lots of detail. This is a huge plus for the RX10 IV since the majority of superzoom cameras come equipped with lenses that can't handle shooting at longer focal length as well as shooting in the wide-angle range and thus give out noticeably softer images when zoomed in. Another great benefit of the RX10 IV is that is lens still remains respectably bright when at 600m thanks to the maximum aperture of f4 and thus you should have no problems with shooting in low light or to get dramatic photos with subjects in sharp focus and background blurred behind them.
We like what Sony has done with the processing engine when JPEGs come into play as they've found a good balance between color saturation, contrast, sharpening and noise reduction and we've never felt that the photos looked over processed in any way. The RX10 IV also dose fairly well when it comes to shooting at higher ISO values and manages to produce very usable images up to an ISO value of 6400, which is not a bad performance at all for a relatively small 1-inch sensor (at least when compared to 4/3, APS-C or full frame sensors).
So, while you won't be able to compare the image quality coming out of the Sony RX10 IV with more advanced mirrorless cameras or DSLRs when they're equipped with lenses of good quality, it's still able to produce photos that will please even the more demanding users out there and are one of the best you'll be able to get out of an all-in-one camera.
Conclusion
So, the story about the Sony RX10 IV goes like this; if you've got used to the image quality that you've been able to produce with your expensive DSLR or a mirrorless camera, then making the switch to this camera won't be so easy for you and this may not be a worthy investment despite all of its other benefits. However, if you need a camera that will provide you with very respectable videos and photos, but also give you the ability to record at 4K resolution, shoot slow-motion videos at up to 960 fps, use a lot of manual controls and gain the option to customize them to your liking, carry the camera around you even in more extreme conditions, have the power of a bright, sharp and stabilized 24-600mm at your disposal everywhere you go, shoot using both the excellent LCD screen and the EVF unit, give you the ability to use your external microphone and headphones to record high-quality audio, use your external flashes or the very capable built-in pop-up flash unit and much more, than you'll certainly like using the RX10 IV as your main camera.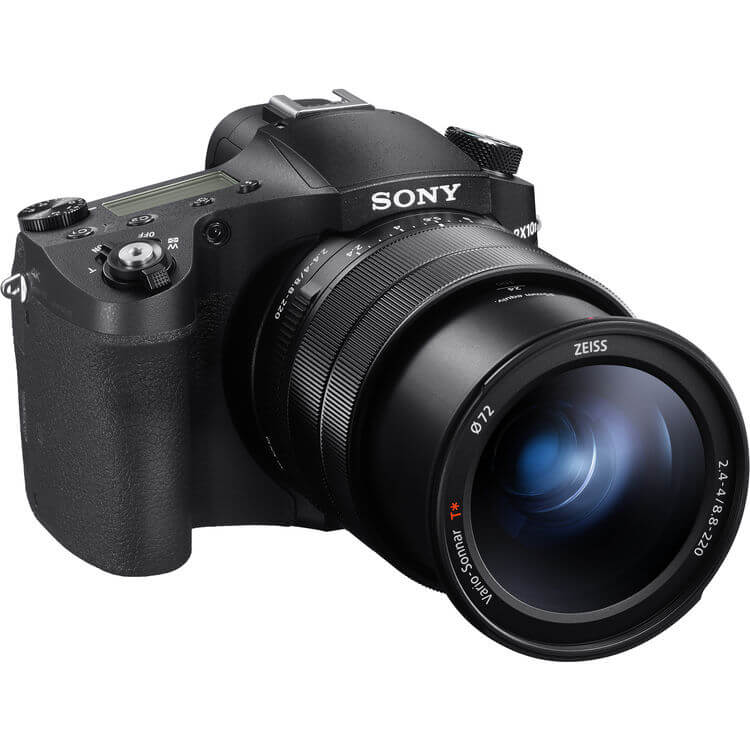 In a nutshell, if you have the money to spend and you want a fully-featured camera that will allow you to enjoy the process of taking photos or recording videos anywhere you go and without the need to make any additional investments, then the Sony Cyber-shot RX10 should find its way on the top of your list.
SaveSave
The following two tabs change content below.
An amateur photographer, songwriter, musician, computer and technology geek and an occasional comedian, I'm a little bit of everything. I always aim to pursue things I'm passonate about and try to look on the positive side of things whenever I can. My mission is to wrap my articles in that aura of positive energy and keep a healthy balance between being serious about my work and spicing things up with a little fun now and than. After all, life's a game and there's always a different way to play it.