Sony Cyber-shot DSC RX100 VI Review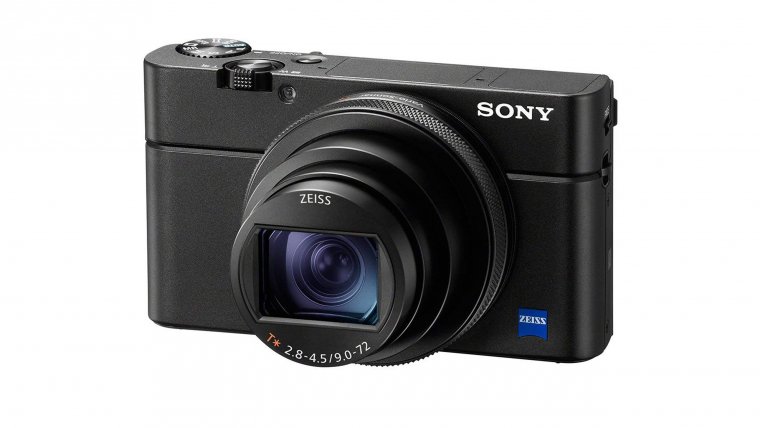 Sony Cyber-shot DSC RX100 VI Review
www.sleeklens.com
We all know that the popularity of point-and-shoot (or compact cameras as some tend to call them) is at an all-time low since a lot of people started regarding their smartphones as good enough cameras that also have a huge benefit of being the device that they carry with them at all times. For this reason alone there is rarely any new entry-level compact camera worth mentioning that has reached any kind of mainstream success in the last couple of years and the only part of the market still left unconquered by smartphones is the one that carries more advanced devices like superzooms and those with bigger sensors, like 1-inch or micro 4/3.
While smartphones are more capable than ever in terms of the image quality they are able to produce, but also the flexibility of having multiple sensors and lenses (usually short telephoto or wide angle) they are still handily beat by compact and bridge cameras in that regard, since no amount of software processing is enough to beat more complex optical designs and hardware in general. Still, among a lot of different things, only one stands out as the reason for the rebirth of compact cameras and that is the arrival of first 1-inch sensors, which tend to strike a very nice balance between compelling image quality and the ability to add versatile zoom lenses on top of them without having to sacrifice the camera body size too much.
One of the first manufactures that started the trend of powerful compact cameras is Sony with their RX100 line up of devices and they are still the most popular choice among advanced photographers even to this day. This time we're taking a look at the sixth iteration of those products, the Sony RX100 VI and as is always the case with new models, it improves on many aspects of its predecessor (which certainly isn't a trivial thing to do, considering the RX100 V is an already great camera in its own right and by any modern standards). Still, since technology is moving forward at a rapid pace, camera manufacturers always have to think ahead of time and try their best to anticipate the newest upcoming trends and cater to al the demands any photographers could have (while there's still a lot of them who only care about basic functionality and reliability, the number of those that require very specific feature sets is increasing). Long ago, the only thing people had to worry about their cameras was the lens choice and getting the correct focus and exposure, but now you can't even hope to release a widely successful camera without including as many bells and whistles and possible and filling the list of features with as many items as you can (even if some of them won't be used by the majority of photographers).
Sony has decided to find a nice balance between making a quality product and bringing a rich feature set with the RX100 VI (as we're about to see in the very next section of this review), but there is one interesting question we would like to find the answer for after we've concluded this article and that is the question of image quality limits that the current 1-inch sensors have already reached by now (while the bigger sensors are constantly evolving). Are the imaging capabilities still good enough when compared to that of current mirrorless cameras just to get all the benefits in portability or are the premium compact cameras in dire need of some new advances in sensor technology to keep up with rest of the market? Let us look at one of the best 1-inch cameras out there and finally satisfy our curiosity about the current state of such devices.
Just like the camera that came before it the RX100 VI also includes Sony's trademark 20-megapixel 1-inch stacked CMOS sensor and will produce results that are very similar to its predecessor (at least when it comes to shooting in RAW).
Pros
Built-in WiFi
NFC Connectivity
Image Stabilization
Articulating Screen
4K Max Video Resolution
Touch Screen
Electronic Built-in Viewfinder
RAW Shooting
Face Detection Focusing
Manual Focusing
Manual Exposure
Timelapse via optional app
Panorama Shooting
Selfie Friendly LCD Screen
Remote control with a smartphone
Cons
Low Battery Life
Heavy Body
No Environmental Sealing
Click to read the full Review
JPEG algorithms should be improved and more optimized, which means that you will be getting more balanced images and more usable ones while shooting at higher ISO (since applying the right amount of noise reduction is always something the camera manufacturers have to battle with and the RX100 VI is no exception to this rule). So, you certainly won't be upgrading to this newer model to get slightly improved image quality, but you could for the entirely new lens that comes with it. Sony went with a very different approach with this camera when compared to the rest of the devices in the RX100 line up and that's increasing the zoom range but reducing the maximum available aperture. Thus, you'll be getting a 35 equivalent focal length of 24 to 200mm (a pretty flexible range for such a portable camera, especially when you consider that it's optically stabilized) and the fastest available aperture of f2.8 at the wide and f4.5 at the telephoto end.

Once again, that kind of a lens won't please everyone as some will like the much better zoom range but miss the low light capabilities found on the RX100 V (the story was similar before, with some photographers not liking the rather short zoom range). If you want our subjective opinion, we like Sony's decision of going with zoom over maximum aperture since the longest focal length of 70mm found on the older model still wasn't enough to capture photos of any kind of distance subjects and shooting at 200mm will certainly rectify that particular issue. The lens itself also has a minimum focusing distance of 8 cm (making it a great choice for doing macro photography) and also works in tandem with the 3.8x digital zoom, which is good for those people that can accept some drop in image quality to get more closer to their subject.

That kind of a zoom range will go perfectly with Sony's advanced on-sensor 315-point phase-detection AF system (which has been performing wonderfully on the RX100 V and it shouldn't be any different this time around). Couple that with a powerful Bioniz X processor, an eye-watering burst rate of 24 fps and a very fast shutter speed of 1/32000 sec (thanks to the included electronic shutter) and the RX100 VI suddenly seems like a decent backup camera for shooting sports, action or wildlife (something its predecessor wasn't capable of simply because of its limited lens). While the viewfinder on this camera is the same as the one on the previous model (an OLED unit of very good quality, resolution of 2,360,000 dots and a 0.59x magnification), the tilting 3-inch 1,228,800 dot LCD has received a massive upgrade; it's now touch-sensitive, a first for any of the RX100 series of cameras.

We really don't know why it took so long for Sony to include a feature that has been present on a lot of cameras released in the last three or four years, but it is certainly good to finally see it included on a high-end compact camera such as the RX100 VI (it is quite silly that it was missing on the older models, considering the fact that they were also considered flagship compacts in their own time). The RX100 VI retains the very small and pocketable dimensions that graced each of its predecessor, making it one of the smallest enthusiast cameras among its competition (it's even smaller and lighter if you compare it to any mirrorless ILC out there, let alone a DSLR), but also one of them that gives out the most premium feel when being held in the hand (thanks to the precision crafting done to its aluminum body and the feel of its controls). While it does not include microphone and headphone jacks, nor the standard hotshoe port that would allow you to connect an external flash (we're not surprised by their absence considering the very little amount of room Sony had to work with while designing the RX100 VI).

Still, it does feature important functions like Wi-Fi 802.11b/g/n, NFC, micro-HDMI port (it supports uncompressed 4K 30 fps output), micro-USB port, a single SD Card slot that supports both the SD and the Sony's proprietary Memory Stick Pro Duo cards, stereo microphones, a built-in flash with a range of 5.9 meters when the ISO is set to Auto and a lithium-ion battery rated at 240 shots and compatible with USB in-camera charging. Besides being a favorite stills tool for many photographers that like to travel light, the RX100 models are also quite popular among the video recording crowd thanks to including things like no-crop 4K recording, good continuous AF performance, 1080p 120 fps slow-motion capture, zebra exposure patterns, focus peaking, Log modes (yes, more than one) and also a couple of features that we will keep to ourselves until we reach the section of this review dedicated to video recording (it wouldn't be an interesting review if we spill the beans about every feature of any camera right at the beginning, wouldn't it?).

So, we can already conclude that the RX100 VI isn't a camera that will satisfy the tastes of every photographer and videographer out there, but it could be a dream camera for those that value portability over anything else, but still aren't prepared to sacrifice a lot of image quality to get a device that will easily fit in their pockets.
Body and handling
The Sony RX100 VI doesn't bring a lot of changes in its design when you compare it to its predecessor and the rest of the series, but it does look as iconic and as recognizable as all of them do. It's made out aluminum, making it durable and lightweight at the same time (weighing only 301 grams together with the battery) and looks very sleek thanks to its sleek lines and the lens that is nicely tucked into the body without protruding too much. It's still not as comfortable to hold as most of the mirrorless cameras and DSLRs since it doesn't have any kind of front grip and because of its narrow dimensions (people with bigger hands should probably look at a different type of device), but on the flip side it is one of the most portable compact cameras out there and its small size is even more impressive when you take into account that it packs a large 1-inch sensor inside of its body.
Its buttons and dials are also on the small side when compared to larger devices, but also made with precision and give a very pleasant feedback when being used. A big part of the Sony RX100 VI's design and identity are certainly its EVF (something that is still very rare to find on a compact camera of any type) and an articulating TFT LCD touchscreen that will be perfect for taking self portraits or shooting vlogs (which is one the biggest reasons why you would want to buy a camera like this one). Another good thing about the RX100 VI is that it even the beginner photographers will be able to enjoy using it since Sony decided not to include too many buttons and dials (just the right number of them to allow you to access some of the more important features) and instead give you the option to play around with more advanced options using the touchscreen (which works perfectly well for any kind of input) or to dive deeper into the menus to spend some time customizing the camera. If there is one thing left for Sony to include on the next iteration of their RX100 cameras it has to be the environmental sealing but considering all the moving parts the camera has (especially the pop-up flash and the EVF), it will certainly take a lot of brain power to come up with a solution to that problem, so you shouldn't hold your breath to wait for its arrival.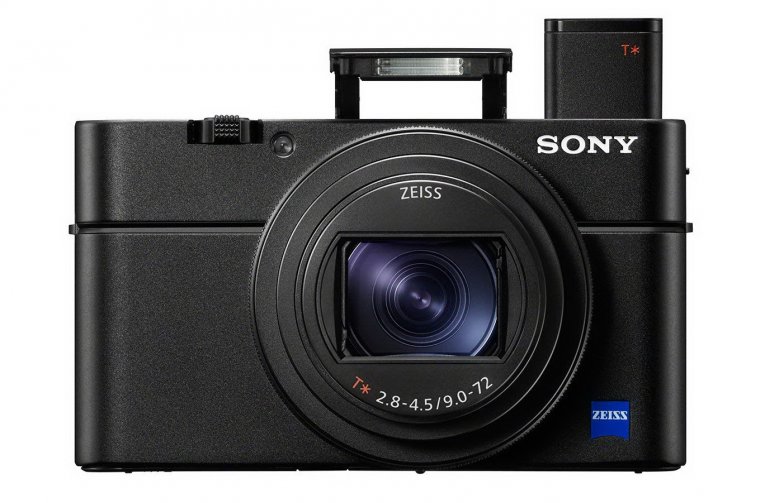 All in all, we are very pleased with everything Sony has done here as it seems that they've left no stone unturned and have managed to bring a fine balance between usability and portability. Now, let us see what exact thing you'll be able to find on the RX100 VI when you take it in your hands and play with it for the very first time. Since the camera's trademark design is most apparent from its front, it's only natural that we start our little tour of the RX100 VI right there. Besides the lens and its control ring, you will find nothing else but the self-timer lamp/AF illuminator and the camera's distinctively clean design. The left side is where the viewfinder pop-up switch and the N mark lie (this particular spot is where you'll have to touch the camera and your Android device to initiate the pairing via NFC), while the right side houses the micro-HDMI and the micro-HDMI jacks and also the Wi-Fi/Bluetooth antenna.
The bottom of the camera is where you'll find the tripod socket hole and the compartment which contains both the NP-BX1 lithium-ion battery pack and the SD/Memory Stick Pro Duo compatible memory card slot. By looking at the top of the RX100 VI from left to right you will immediately find one of the most unique aspects of this camera and the rest of the series, the pop-up EVF (it's certainly a nice thought out solution that will enable you to feel more involved when taking photos and a better shooting experience than using the LCD screen) as well as a lot of other things including the pop-up flash, the eye sensor, the flash pop-up switch, a pair of stereo microphones, the On/Off and the shutter button equipped with a zoom lever and lastly, the main mode dial (which includes the Auto, Program Auto, Aperture Priority, Shutter Priority, Manual Exposure, Memory recall, Movie, High Frame Rate, Sweep Panorama and the Scene Selection modes). All that is left is to take a look at the back of the RX100 VI and see if the rest of the included controls are enough to successfully complete its entire package. The large portion of the back is dominated by the tilting touchscreen, while the rest of the available area is occupied by the Fn/Send to Smartphone and Movie buttons, the Menu button, the control wheel with a single button placed inside of its center and also the Playback and the Custom/Delete buttons. The control wheel itself also acts as a four-way navigation controller and by default, it will allow you to quickly access the Display Setting, Exposure Compensation, Self-timer/Drive mode and the Flash Mode function.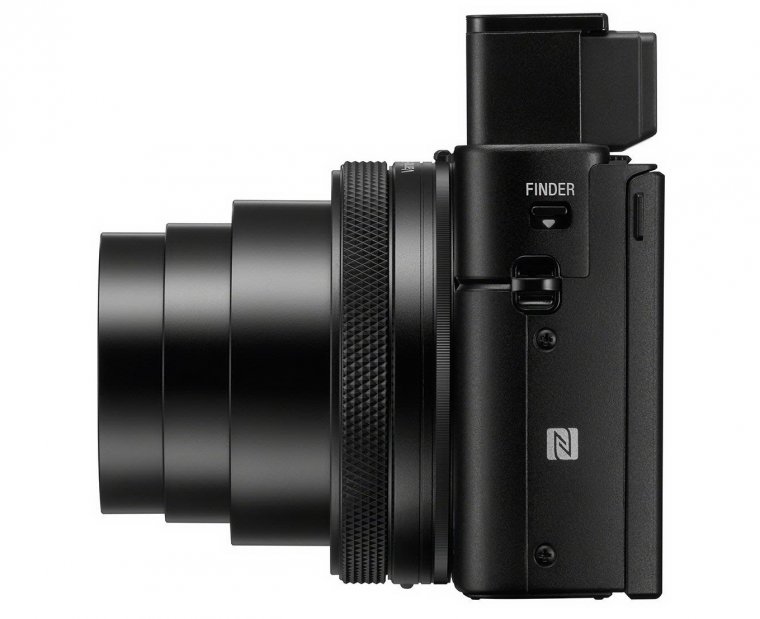 Well, we can safely conclude that the control scheme on the Sony RX100 VI won't awake any particular excitement in more demanding or professional users, but it certainly works well in tandem with the included touch screen and things like the pop-up flash and electronic viewfinder units and will enable you to use it either as a point-and-shoot (always left in its Auto mode) or a fully controllable compact camera with relative ease and without having to waste a lot of time adjusting to its capabilities. There are a few things that will make your life easier while using the RX100 VI and allow you to have more control over the camera without having to spend time going through the menus or having to press too many buttons.
The first is the important thing to take note of is the lens control ring and it will let you change different sets of settings depending on the mode you're in, in addition to giving you the ability to customize its behavior. Then there's the Fn button accompanied by the Function menu. Just pressing it once will bring up a special overlay over your screen that can be populated by up to 12 different functions of your choice (it also won't interfere with your composition since its transparent and located at the very bottom of the screen). The Quick Navi screen is also a very important addition and was especially optimized for being used while you're looking through the viewfinder (a big benefit of having an EVF over a regular optical viewfinder) and will allow you to adjust things like Shutter speed, ISO, Aperture, Exposure compensation and more, but also provide useful information such as the Histogram, your currently selected Aspect Ratio and also the Virtual horizon.
Now, let us also mention a few interesting features that could also help your workflow or allow you to have more fun with your new camera. These are the Recall feature (which will allow you to quickly bring up some of your most often-used settings or modes just by using the left or the right side of the control wheel), the High Frame Rate Mode (as the name implies, it will give you the ability to record movies at very high frame rates and thus capture motion in a more artistic manner), the My Menu (it can contain up to 30 different items and is a great feature for gaining quicker access to less-used functions that will otherwise take a lot longer to find in the menus), Superior Auto mode (a more advanced version of the regular Auto mode since it will allow you to get properly exposed photos of backlit subjects or in low light condition since it will instruct the camera to take multiple images into one higher quality one), Smart Teleconverter (it will allow you to magnify and crop you're your image as much as you desire and assign those exact parameters to one of the available custom keys), Dual Rec (very useful feature which will enable you to capture still images while you're recording a video and without having to stop or pause the recording) and many more other features that we don't have the room to mention as it would take a very long review to unite them all under one article.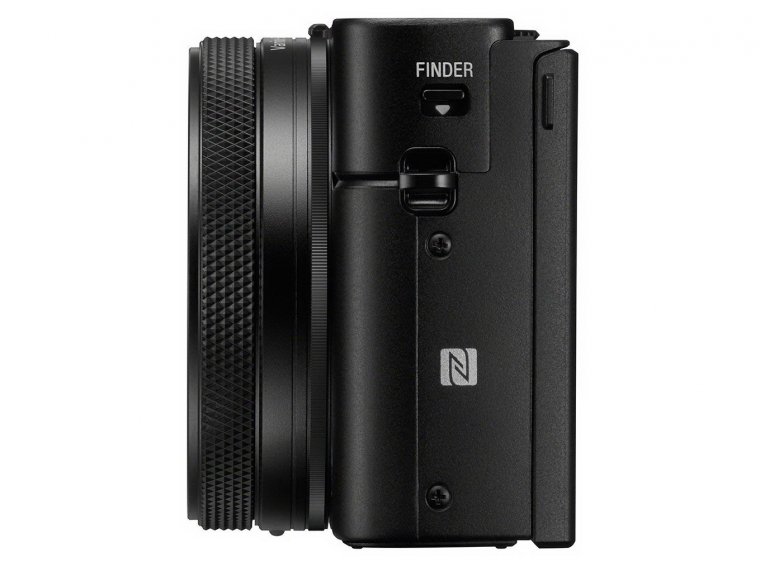 Lastly, as is customary for this part of our camera reviews, we will be looking at how to wheel the RX100 VI copes with regard to many different types of communications. Most of you would want to connect the camera to one of your smart devices (like an Android or iOS phone or a tablet) and the only thing needed to do that will be your devices and the free PlayMemories Mobile application. You'll be able to form one of the three methods of connecting the RX100 VI to your smart device (NFC One-touch remote, QR Code or the SSID, but do keep in mind that NFC pairing is only supported with Android devices as the iOS ones don't support it). Besides using your smartphone or a tablet as a remote viewfinder, you'll also be able to transfer your photos and also read the location data gathered by your Android or iOS devices. Additionally, Sony has also a number of different options when it comes to choosing the file size of your images and videos before sending them on another device (for photos, there are the Original, 2-megapixel and VGA sizes and for videos there's a choice of Proxy or Original videos, with the Proxy footage acting as a backup lower resolution files to your primary recorded videos). The RX 100 VI will also allow you to send your images to a computer or a laptop connected to the same wireless access point as the camera (you will only be required to install the PlayMemories Home program before being able to access this functionality) and view them on a Wi-Fi enabled TV set.
Well, Sony has really taken wireless communication seriously, since their new compact camera can literally connect to any sensible device with Wi-Fi you could imagine and do it so in a simple and straightforward manner. All of this goes very well together with its excellent build quality, useful pop-up EVF, customization options, 180-degree articulating touch screen nicely suited for selfies and lastly, the very compact size that not many cameras with large 1-inch can boast about. Sony is once again proving that the camera doesn't necessarily mean to be big in size to hold big features inside of it.
Autofocus and performance
The Sony RX100 VI includes the company's top of the line 315-point Hybrid AF system for compact cameras and its performance and pedigree show right from the moment you take the first photo. It covers approximately 65% of the image area and mostly consists out of fast phase-detect focus points (the 315 of them) and 25 additional contrast-detect points that which are slower, but more accurate and will help with more precise focusing when it comes to still subjects or low light photography. And this camera's focusing system isn't just pure marketing and tech talk, since it really does provide excellent performance in the real world and we've got the numbers to prove it; shutter response times of well under 0.2 seconds (the time it took for the camera to focus and take a picture, both at the wide-angle and the telephoto range), shot to shot times of under 0.1 seconds while the focus is locked or set manually and an average time between each RAW photo of exactly 0.5 seconds.
These are all very respectable numbers for this class of cameras and Sony certainly wasn't blowing smoke when marketing the RX100 VI as one of the fastest devices of its type in 2018. They are also positioning this camera as a portable backup body to dedicated sports and action photographers, which is certainly the role it will be able to fulfil if its longest focal length of 200mm is enough of a reach for you (yes, it's AF system is really that capable of keeping track of even fast moving subjects).
Photo courtesy of mikeselsewhere
Since we are talking about an advanced compact camera it is only natural that it includes a plethora of focusing modes and their accompanying settings, so let's check them out. There are five main modes to choose from: Single-shot AF (your standard mode for shooting still subjects like architecture, landscapes, products and so on), Continuous AF (this mode allows the camera to focus continuously as long you're keeping the shutter button halfway and is best for shooting any kind of moving subjects be it people, wildlife or vehicles), Automatic AF (this mode automatically switches between the AF-S and AF-C subjects when it detects the conditions you're shooting in), Direct Manual Focus (this one combines the AF and MF by giving you the ability to manually fine-tune your focus after the camera has focused on your subject automatically) and the obligatory Manual Focus.
There's also a great choice of available Focus Areas available and these are the Wide (covers the whole range of the screen when looking for subjects to focus on), Zone (uses a smaller frame box that can moved around the frame a put on a relatively larger targets), Center (this mode is best to be used when something is in the middle of your frame), Flexible Spot (this one will allow you to focus precisely on very small subjects and also to change the size of the focus box with the use of the control wheel), Expand Flexible Spot (the extended version of the standard Flexible Spot mode which adds a second layer of focus points around the existing focus frame) and lastly, the Lock-on AF (as the name implies this is the mode you should be in if you need to track any kind of a moving subject). Of course, you will also be able to focus on any part of your frame using the Touch AF option and also enable the Eye AF feature while shooting portraits since it will allow the camera to precisely detect people's faces and keep them in perfect focus. As expected, manual focus is also available and so is a healthy number of useful functions that go with it like the Focus Magnifier, Focus Peaking and the MF Assist.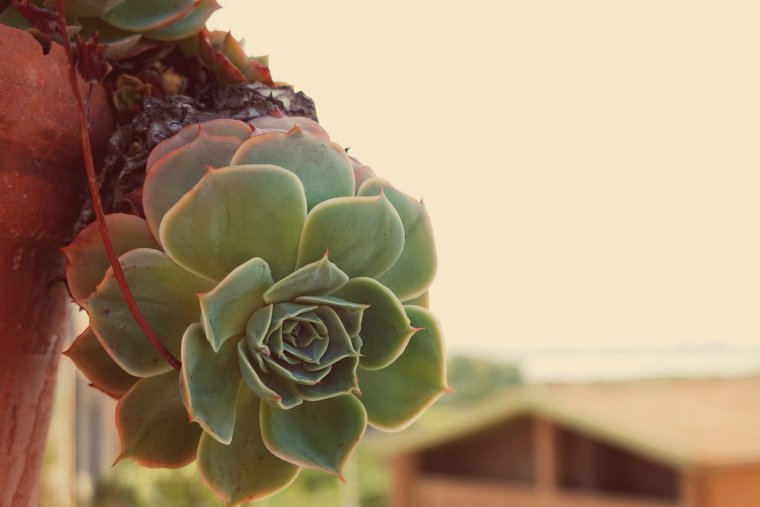 Photo courtesy of Jessica Piludu
If there was one aspect of the RX100 V's performance that could be immediately noticeable just with a quick glance at its specs sheet, it was certainly the impressive 24 fps burst rate (something that still can't be found on any mirrorless camera or a DSLR to this day) and the RX100 VI improves on that performance by bringing a deeper buffer and allowing for more images to be shot in rapid succession. The caveat is that the 24 fps mode only works together with the electronic shutter, but that won't be something that will bother too many people (the mechanical shutter still supports a very fast framerate of 10 fps). At the highest shooting speed, you can expect to get around 110 RAW or 230 JPEG frames and even more if you switch to the 10 fps mode with around 120 RAW or 280 JPEGs. There's also a third and the slowest 3 fps burst rate available, but we didn't bother with testing it since the other two are so good in their own right and you'll never feel the necessity to use any other mode. You will, however, feel the need to recharge the camera often or carry around a spare battery pack if you're the more demanding type of user.
The Sony RX100 VI's endurance rating of 240 images is standard for such a small and demanding device, but is still below the battery life of today's mirrorless cameras and DSLRs and even the more energy efficient (but much less capable) compact cameras out there and thus our advice would be to immediately put a second battery in your shopping cart while ordering the RX100 VI or to keep a power bank in the other pocket or a backpack because this camera also supports USB charging for topping up its battery while it remains in its compartment.
Video features and quality
The Sony RX100 VI has to be one of the most capable compact cameras on the market in terms of its video recording capabilities and the amount of attention that Sony has been putting in recent years into making devices that are equally good in recording videos as they are in producing photos shows even with the smallest of them all. You may not find things like microphone and headphone jacks or the built-in ND filter with this one, but you'll be surprised how the rest of the RX100 VI looks like considering the fact that it's a device that is as easy to carry around with you like your modern smartphone.
As is to be expected, this camera does capture 4K footage of very high-quality thanks to all the processing and oversampling that's being done behind the scenes, but it's also capable of producing 1080p videos at up to 120 fps and lower resolution ones that can go all the way to 960 fps (this means that the fans of slow-motion movies will have a lot of fun with the RX100 VI and all of its modes). Optical image stabilization (or SteadyShot, how Sony likes to call it) is also included and is very effective at smoothing out any effects of handshake (especially if you enable some of the additional stabilization modes that apply a slight crop to your footage and eliminate the shaky frames around it).
More advanced video features like the Zebra warnings, Focus peaking, Log profiles (S-Log3 and the Hybrid Log-Gamma), manual audio adjustment are also included and so is the ability to enable Continuous AF that can even track your subjects (although the AF system works noticeably better in stills than the video mode). So, the only Achilles heel of the RX100 VI and the rest of its series remains and that is the audio recording. While the lack of a headphone jack isn't something we would ever expect to find on a camera like this one, it would be really nice if Sony has managed to include any kind of an external microphone jack (even if it's of the smaller 2.5mm variety).
The quality of the audio recorded by the built-in stereo microphones will be good enough for most users out there (it's far from being bad and unusable), but Sony has still missed their chance when it comes to creating an ultimate pocketable video camera and crushing the competition without mercy and the inclusion of a microphone jack would certainly be enough for them to achieve exactly that. Well, let's hope that they'll be more determined with the next iteration of the RX100 series when it comes to pushing the mark in terms of video recording.
Image quality
Now, among many reasons, you would have for deciding to check out the camera like the Sony RX100 VI your top priority certainly has to be the image quality benefits you would get over more basic compact cameras and any kind of smartphones that many people use as their main devices for taking photos. If it really is your most requested thing out of any pocketable camera, then you're in luck, since Sony has managed to retain the impressive stills quality found on the older models even if the RX100 VI is somewhat of a different beast when compared to all of them.
While the 20-megapixel 1-inch sensor is everything you would expect it to be (it's well known to be able to hold its own when it comes to high contrast scenes or low light), but the more important factor here is the new lens that sits on top of it. Many of you would expect a drop in optical quality due to increased zoom range and more complex design, but we are happy to report that the RX100 VI produces photos that are as sharp as does capture with its predecessor and that Sony has done a fantastic job of keeping the lens quality at the very high level. The only real differentiating factor between the older and the newest members of the RX100 will be the low light performance.
The reason for that is the lower maximum aperture that the RX100 VI offers because of its longer zoom lens, the higher ISO values you'll have to use while shooting at night and the increased amount of noise you'll get in your pictures. That is something that will bother all the image quality purists out there, but we stand by our opinion that the tradeoff in noise performance is totally worth it getting the option to shoot at focal lengths above 70mm (it makes the camera a lot more flexible and suited for many different types of uses that require a telephoto lens).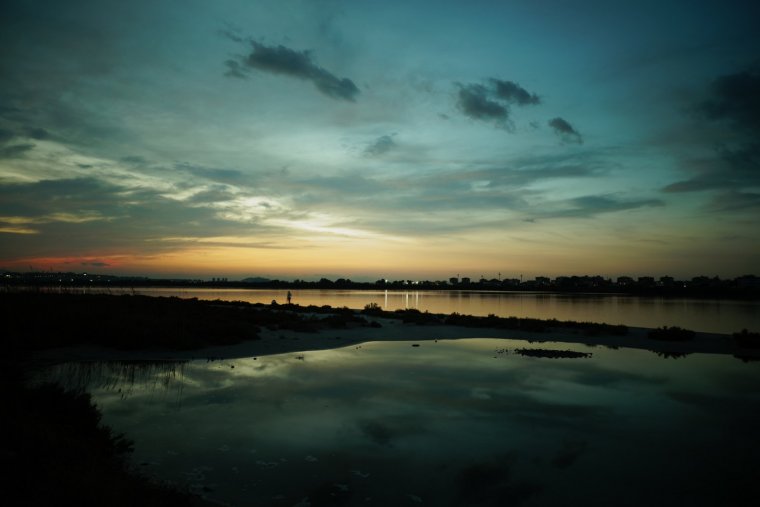 Photo courtesy of Jessica Piludu
As is the custom with any of today's modern cameras, the RX100 VI also comes equipped with many options you'd be able to play around with to change to look of your photos without having to edit them on another device. These are the Creative Styles (Standard, Vivid, Neutral, Clear, Deep, Light, Portrait, Landscape, Sunset, Night Scene, Autumn leaves, Black & White, Sepia and the six Style Boxes that can contain custom ones), Picture Effects (Toy Camera, Pop Color, Posterization, Retro Photo, Soft High-key, Partial Color, High Contrast Mono, Soft Focus, HDR Painting, Rich-tone Mono, Minature, Watercolor and Illustration), the Soft Skin Effect (it will smooth out the skin of your subjects) and lastly, the Auto Obj. Framing (this mode will automatically detect a subject in your frame that stands out the most and crop your photo to create a potentially better composition).
Conclusion
Once again we are met with one of Sony's finest products from a family of cameras that are getting more capable and more powerful with each new generation and are slowly eating away at the competition. The Cyber-shot RX100 VI is yet another prime example of company's strategy to be the best in this class of cameras and the success of their attempt shows no matter how you decide to look at this device and how interested you are to have one in your pocket. It shows us what exactly can be done with a lot of investment in new technologies and the perseverance to keep up with the same plan until you perfect the product you are working on.
The RX100 VI is not only an attractive piece of sleek aluminum, but also a great stills and video camera coupled with a very fast AF system, extremely fast shooting speeds, highly customizable user interface, an EVF that neatly tucks into the camera body when not in use, a touchscreen that can also be used for self-portraits, USB charging, class-leading set of Wi-Fi related features, high-quality 4K recording and a plethora of high framerate modes and lastly, a lens that extends the zoom range of the RX100 as much as it extends the overall flexibility and adaptability of the RX100 VI as a potential tool for sports and wildlife photographers.
The same lens also brought some critique from the die-hard fans of the series since low light capabilities had to be sacrificed because of its inclusion and those types of photographers should certainly look elsewhere for a new compact camera, but the majority of them will certainly be happy with all the improvements and a lot of things that were left unchanged because they were already as polished as they can be. We can't wait what kind of innovation Sony will bring to the next model that reaches the market, but for now, the RX100 VI remains at the top of the list for best compact cameras in 2018.
The following two tabs change content below.
An amateur photographer, songwriter, musician, computer and technology geek and an occasional comedian, I'm a little bit of everything. I always aim to pursue things I'm passonate about and try to look on the positive side of things whenever I can. My mission is to wrap my articles in that aura of positive energy and keep a healthy balance between being serious about my work and spicing things up with a little fun now and than. After all, life's a game and there's always a different way to play it.