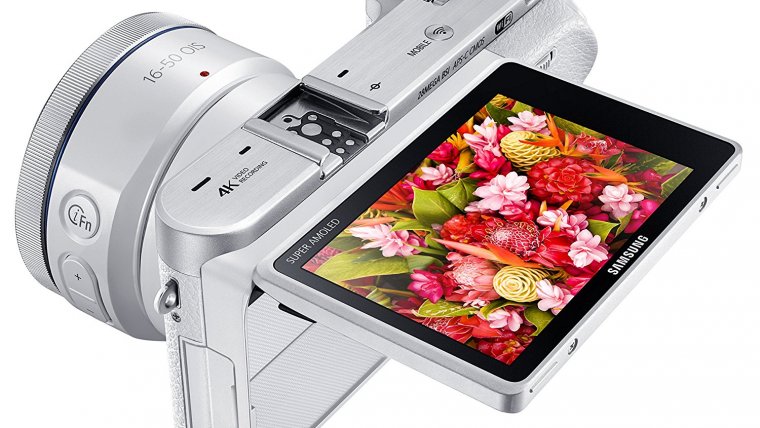 Samsung NX500 Review
www.sleeklens.com
Another day, another mirrorless camera to review. This time it's coming from a brand who doesn't have a very strong presence on the market anymore, but they've still made quality cameras over the years and made a lot of users happy. Of course, we are talking about Samsung, specifically one of their flagship mirrorless cameras, the NX500. In a way, this camera is a smaller NX1, thanks to both of them having the same sensor and that's a good thing since we all know how well regarded the NX1 is in the camera world.
This camera seemingly has it all and aims to battle the very best mirrorless cameras available. Just looking at its specs sheet shouldn't leave you indifferent and lots of you will actually be excited at a prospect of owning such a camera. While you can't judge the camera solely on its specifications, we do believe that the NX500 really has a lot going for it, no matter if some of its features turn out not to be as good as everyone hoped. So, let's see if it's good enough to find a place in your camera bag and is it still worth buying a Samsung mirrorless camera when they aren't as popular as they used to be.
The NX500's headlining feature certainly has to be its sensor. Samsung have really done something special in this regard since they've managed to create the highest resolution APS-C sensor up to this date. It's a 28 megapixel BSI CMOS sensor, the same one found in company's flagship camera, the NX1.
Pros
Built-in WiFi
Bluetooth Connectivity
NFC Connectivity
Articulating Screen
Smart Camera
4K Video Recording
Touch Screen
Face Detection Focusing
Timelapse Recording
Light Body
Remote control with a smartphone
Cons
No Image Stabilization
No Built-in Viewfinder
No External Viewfinder Option
Low Battery Life
No Environmental Sealing
Click to read the full Review
Now, what's most impressive about it, aside from its resolution, has to be that it doesn't have much impact on noise performance like you would expect in this case. We will analyze its performance further in the review, so stick around. What that sensor also brings is the native ISO range of 100 – 25600 (expandable to 51200) and the ability to record 4K videos at 30 fps and 1080p videos at 60 fps. So, far so good.

The AF system in the NX500 is also quite an advanced one. It's a hybrid AF system consisting of both phase and contrast detect focus points and you get 209 of them in total. This really does sound like a potentially very capable AF system and when combined with a burst rate of 9 fps makes the NX500 sound like a respectably fast camera. We can't wait to put it through its paces. Taking a look around its body also reveals a few interesting things. First, there's no built-in flash and instead you get an external unit that mounts to the hotshoe. There's also no viewfinder, which is the biggest gripe we have with the NX500. It may not be sold at the price point of some other mirrorless cameras that have a viewfinder, but it's a shame that such an overall impressive camera has to have such a flaw to it. It seems that Samsung needed to give the potential buyers a reason more to buy the more expensive NX1.

Luckily, no cuts were made when it comes to NX500's screen. You get a high-quality Super AMOLED touchscreen with the resolution of 1,036,000 dots and the ability to be tilted upwards up to 180 degrees, something that many of you that are keen on taking selfies or doing video blogs will surely appreciate. Other built-in things include the micro-HDMI port, Wi-Fi and even Bluetooth. Based on our previous reviews of Samsung's cameras, we believe that the Wi-Fi functionality will be top notch. It's up to you to decide if the NX500 has anything that excites you as a photographer and a potential buyer, but to us, it sounds like a very compelling camera for the asking price and very competitive when compared to what the competition has to offer. Now, it's time to see what kind of a camera body your hard earned money gets you.
Body and handling
The Samsung NX500 is a surprisingly well-built camera, especially when you take into account its price. While most of the cameras in its price range are made of plastic, the NX500 also throws some metal elements to further improve the construction. It also does that while looking very sleek and being comfortable to hold in the hand. This is thanks to the grippy, but stylish faux leather that surrounds the camera. You can even choose the color of that leather part to give the camera even more oomph. The grip on the front is also deep enough to enable you to safely hold the camera in one hand without the fear of dropping it. The NX500 is also quite light for a camera that's made of premium materials as it weighs only 287 grams together with the battery but much heavier than Canon PowerShot S120 which weighs 217 grams only . This means that it won't be cumbersome to carry it around with you and you shouldn't hesitate to take it with you as often as you can. It doesn't disappoint when it comes to physical controls either. At first glance, there's enough buttons and dials to satisfy almost every user out there and they are all located in their logical places.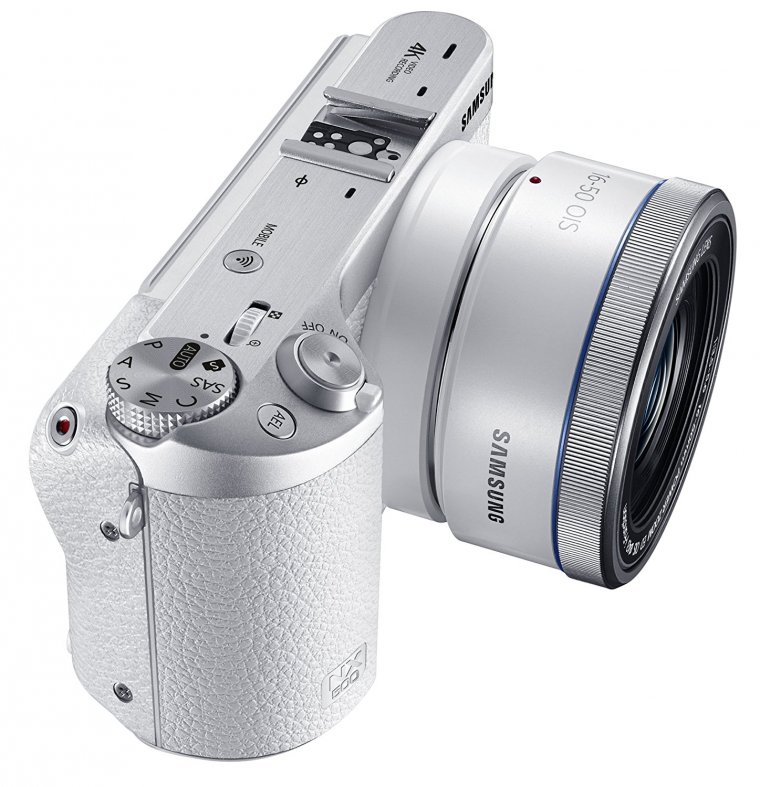 Now, let's see what those are and are they enough to make this camera easy to use. As usual, we'll start with the front of the camera. Other than featuring the focus assist light and the lens release button, it's perfectly clean and void of any controls or dials. The same can be said for both sides of the camera, which also hold nothing else but the flaps for all the included ports. Looking at the top reveals the stereo microphones, a hot shoe which is the key to having a flash unit on the NX500 since it doesn't have an integrated one, Mobile button which serves as a quick access to the Wi-Fi features, a command dial, a shutter button that also has a lever on it for powering on the camera, AEL button and lastly the main mode dial. Also, looking at the camera this way you can also make out the Movie record button which sits right under the main mode dial. At last, let's look at the back of the NX500. What you'll notice immediately is that the larger portion of the camera is covered by the touchscreen and that's because of the mechanism that was needed to give the screen the ability to be tilted upwards. Naturally, all of the controls are located on the right side. First, there's the rear command dial and the Exposure compensation button right under it. After that, we find the usual control layout that consists of the four-way navigation controller which is surrounded by four different buttons. These are the Menu, Fn, Playback and Delete buttons. Aside from serving as a way to navigate through the menus and adjust different settings, the navigation controller also holds shortcuts to the Timer/Drive, AF, ISO and Display functions.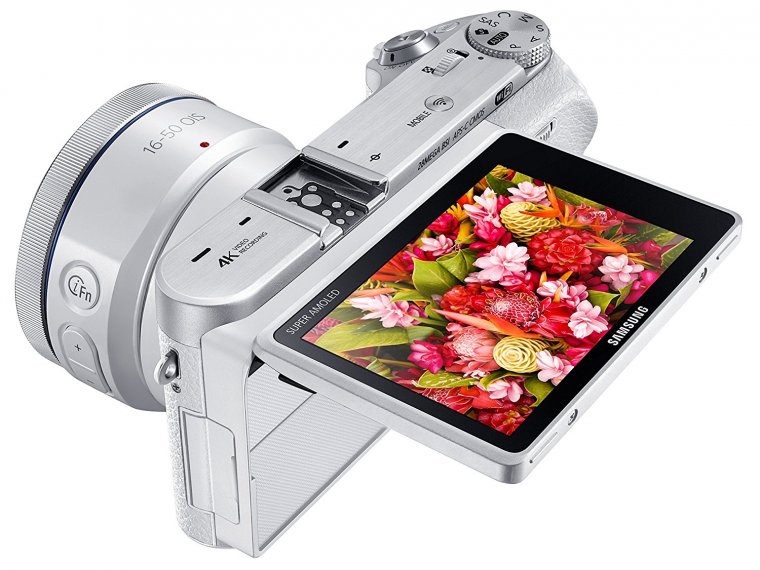 So, even before taking a look at the user interface and the amount of control you get when it comes to customizing the NX500, it already looks very impressive for a mirrorless camera in this regard. Samsung has really done a good job in deciding what to put on this camera and where. Yes, we still miss not having a viewfinder, but unfortunately, that's how the camera market functions and Samsung really haven't done something that many other manufacturers haven't done on their cameras in this price range. Luckily, they've really mastered the art of making a proper camera interface and it really shows on the NX500. The whole UI looks sleek, modern and very polished. Every setting and feature are easy to distinguish from another and there are no unnecessary menus with important settings and features buried deep inside of them. The touch input also works with no problems and further improves the whole experience. It's up to you do decide if you will rely on touch controls or the physical ones; both are very effective. Now, on to customization. First, you get one customizable mode selectable via the main mode dial and it allows you to save a separate set of settings that are saved in the memory and can be accessed anytime. Then there's the Fn button which is used to access a customizable menu which can hold up to 12 different items. You can choose which ones to put inside of it, move them around easily via the touchscreen and use them either with navigation buttons or the touchscreen itself. Lastly, the Delete button also doubles as a customizable button, which can be used to either to activate Depth of Field Preview, One Touch White Balance or the One Touch RAW+ function.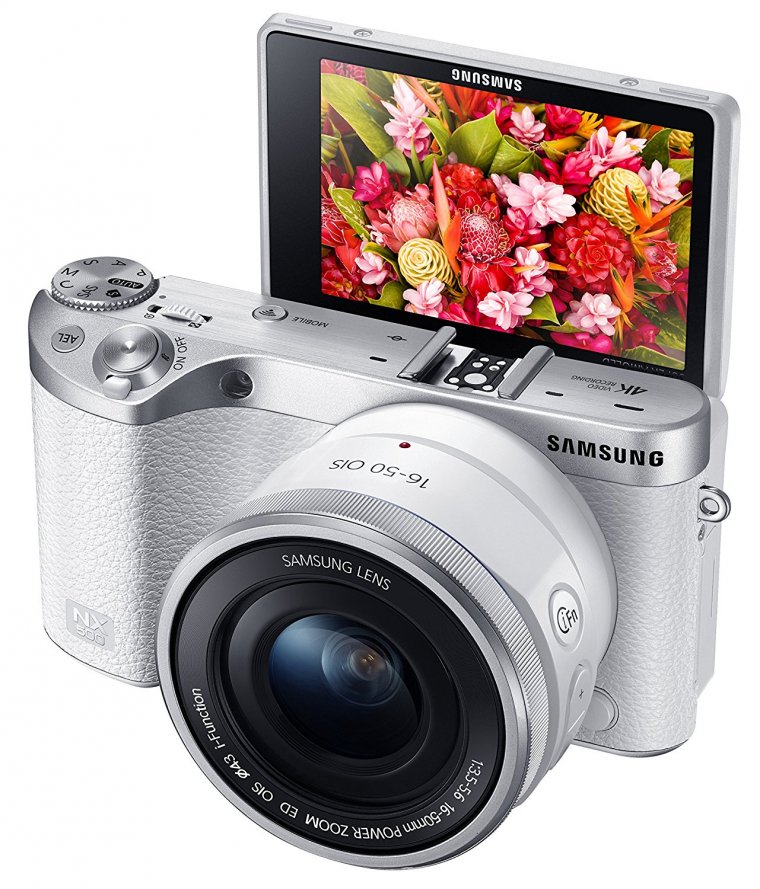 So, while the NX500 may not be the most customizable camera around it still gives you enough control that you shouldn't feel limited in any way while using it. As always, the last part of the review is reserved for Wi-Fi functionality and we are happy to say that it's one of the strong points of this camera. First, you can connect the camera to your phone over the NFC, Bluetooth and of course, Wi-Fi. The first two are limited to Android devices since the iOS still doesn't support this type of connectivity. After you've downloaded all the necessary applications, you will be greeted with more functionality than you'll probably ever need. You can back up your photos, send them directly via e-mail or post them to social networks. Remote control functionality is also quite extensive and offers an entire range of manual controls and options, the only limitation is that you can't take RAW photos or shoot 4K video this way. There's also the Quick Transfer option, which sends lower resolution photos to your photos and lets you decide which one of them you'd like to also have a full resolution version. This is helpful for those occasions where having a large photo isn't a desirable thing and you only wish to post them to social networks where lower resolution files will be perfectly fine. In the end, you can transfer up to 1000 photos directly to your PC via the PC Auto Backup software. All in all, the NX500 really impressed us in a lot of ways in regard to its body and the feature set that surrounds it. It may not have a viewfinder, but apart from that, everything else is well-done and made to the highest standards.
Autofocus and performance
From the moment we've heard about the NX500 and its specifications, we were very curious about how its 209-point hybrid AF system will perform and now, it's time put everything out on the open and reveal our final impressions. The first thing you should now that it's the same system built into company's flagship camera, the NX1, meaning that Samsung went all out the NX500 and decided to equip it with the best AF system they've got. In the real word, it performs very well, no matter if you're shooting static or moving subjects and that's thanks to having a lot of fast phases detect AF point at its disposal and also for the reason that 153 of those of the cross-type variety. Subject tracking worked most reliably when we first locked the AF on the subject and then left it to the camera to keep it in focus and track it around the frame. If you choose continuous AF when you let the camera decide and pick the subject to focus one, the results are a little less consistent, but still not bad or unusable. You also get a plethora of different focusing modes like Single-point AF, Face Detection, Touch AF, Multi-area and so on. So, there's no denying that Samsung has done an amazing job in regards to the NX500 with its focusing capabilities which is way ahead of Canon PowerShot G16 and every potential buyer of this camera will be more than pleased with its performance.
The same can be said about the NX500's performance while it's being used. It shows no noticeable lag from the moment you turn it on, take a shot, scroll through the menus and turn it off. It won't leave you hanging or waiting too long for something to be finished, except for the buffer to clear after a burst of images, which can be said about every camera out there. The NX500 also comes with a very respectable burst rate of 8 fps, but it's only great if you're shooting JPEGs. In that case, your buffer size will be around 38 shots, where or RAW it's a lot less, around 6 images. So, it's a similar story line with many mirrorless cameras at this price point and great buffer when shooting RAW is still reserved for the more expensive cameras. On top of that, you also get the low-resolution burst mode, which takes 7 megapixel JPEG images at three different rates: 30 images in one second, 15 images each second for the duration of 2 seconds and 10 images each second for a total duration of 3 seconds. This is a useful mode to have if you don't mind the drop in resolution and you really have to capture that right moment. The NX500 also has a decent battery life. The rated endurance of around 370 shots is above average for a mirrorless camera. You also get the option to charge the battery via included USB without removing it from the camera or charge it the traditional way with an optional external charger. So, the story is similar to the one about its body, there isn't really anything to complain about here and the NX500 is a solid performer in every way. Let's see if the same can also be said about its video recording capabilities.
Video features and quality
One of NX500's headline features, besides its sensor, has to be its 4K video capability. Still, there's one caveat to 4K recording and that's the fact that the footage is cropped from the part of the image sensor rather than from the whole area. This means three things. Your wide-angle lenses won't be very wide anymore, your longer lenses will have even more reach and low light performance will be reduced over the non-cropped 1080p mode. So, in a nutshell, 4K recording on the NX500 is only great for those occasions where you don't need to fit a lot of things in your frame or when you're planning to shoot sports or wildlife where the extra reach will be a good thing to have. Despite being cropped, the 4K footage looks great in all shooting conditions except for those when you're forced to use very high ISO values.
That's where the noise starts to rear its ugly head and the noise reduction algorithms are working extra hard to smooth out the footage leaving you with some noticeable artifacts and reduction in detail. The 1080p footage is better in this regard, while still being of good quality. The sound in those videos is also quite good, which is important since the NX500 doesn't have a microphone jack. Another interesting fact is that it uses the newer H.265 codec instead of the older H.264 one. This essentially means smaller file sizes without any loss in quality. Lastly, it's time to talk about the AF performance. It's surprisingly good, thanks to that hybrid AF system and even comes close to what you'll get out of Canon's Dual Pixel AF technology, which is still one of the best examples of great AF performance in live view to this date. So, the NX500 may not be the ultimate camera for recording videos, but it's a pretty good one, especially for what you're getting for not much money.
Image quality
This brings us to the all-important topic for any camera and that's its image quality. The story is not much different than with the NX1, the NX500 is also a great performer. The 28-megapixel sensor built inside of it is still one of the best APS-C sensors we've ever seen on a camera. Samsung really did an amazing thing as they've managed to make a sensor that puts a lot of detail in your photos, but without a noticeable hit in noise performance or dynamic range. Actually, it also excels at both of these things as well. So, if you're buying a mirrorless camera solely for its image quality, then you shouldn't feel the need to look any further than from the NX500. Except if you want a full frame camera, but that's a different and a lot more expensive option.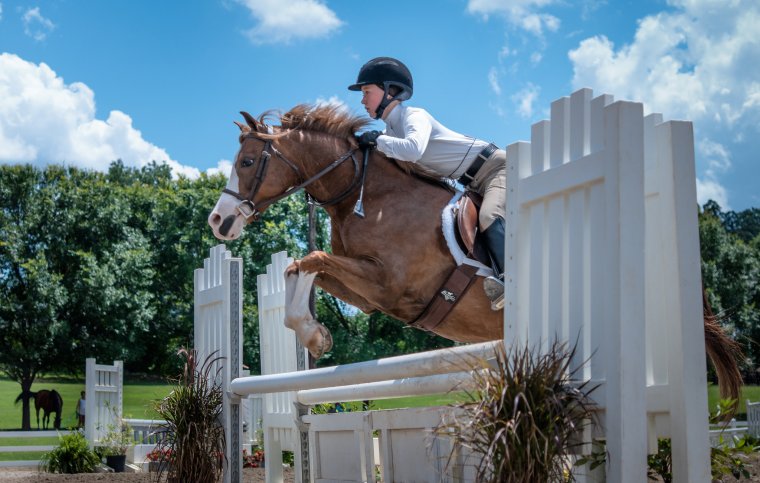 Photo courtesy of Paul Peterson
Conclusion
We are really impressed with what Samsung has achieved over the years and how much improvement they've made when it comes to making a better and more compelling compact camera. The NX500 is a direct result of their efforts and the best mirrorless camera they've ever created (after the NX1, which is more a DSLR than a mirrorless camera). It may lack a viewfinder and the 4K footage it creates has limited use with it being cropped, but other than that, it's a great camera. Build quality, handling and usability are on a high level, performance is great with very advanced AF system and a respectable burst rate, video and image quality are excellent thanks to the innovative 28-megapixel APS-C sensor borrowed from the NX1 and the NX500 also last quite long with an above average battery life. So, if you aren't already stuck with a particular manufacturer and are on a lookout for a mirrorless camera that offers a lot at a very reasonable price then the NX500 is one of the best choices available and you really can't go wrong with this camera.
The following two tabs change content below.
An amateur photographer, songwriter, musician, computer and technology geek and an occasional comedian, I'm a little bit of everything. I always aim to pursue things I'm passonate about and try to look on the positive side of things whenever I can. My mission is to wrap my articles in that aura of positive energy and keep a healthy balance between being serious about my work and spicing things up with a little fun now and than. After all, life's a game and there's always a different way to play it.