Samsung Galaxy Camera 2: A Complete Review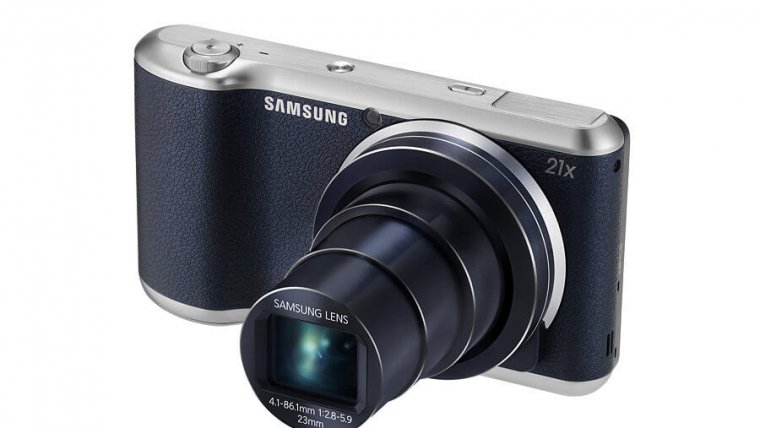 Samsung Galaxy Camera 2: A Complete Review
www.sleeklens.com
Here we have something quite different. If you're someone who enjoys taking photos and videos with your smartphone and you like to use different camera applications, image editors, filters and you like posting your shots on social media, then you'll surely find the Samsung Galaxy Camera 2 an interesting product. When you take a look at its specifications, it seems like a perfect blend of between a compact camera with a wide zoom range and everything that Android and its applications bring to improve your photography or just make it more fun. It sure seems good on paper, but as with all our reviews, we will sure test every aspect of it until the truth comes out, no matter if it's positive or not. Let's see if Samsung managed to make a successful product out of such an ambitious idea.
Because this is a combination of a smartphone (albeit without mobile data and a sim slot) and a compact camera, this will be a slightly different review than usual and you'll notice that we mention some specifications or features that we usually don't have the need to talk about in our regular camera reviews, so you'll need to pay a little more attention here.
Pros
Huge 4.8-inch display
Supports several photography Android apps
21x zoom lens
Wi-Fi, NFC, and Bluetooth support.
Cons
Works under Android
Old Android Version with no update
Tends to get several bugs
Omits traditional controls
No LTE support
Click to read the full Review
Let's first focus on the camera aspects of the Galaxy Camera 2. The sensor used in it is a 16 megapixel 1/2.3 inch BSI-CMOS unit and it's coupled together with the 23 – 483 mm equivalent lens with a maximum aperture of f2.8 - f5.9. The zoom ratio of this lens equals to about 21x which is very impressive for a compact camera of this size. The lens also sports a lens-shift image stabilization which is a necessity for such a long zoom lens. Normal focusing range is 80 cm and 10 cm when using the macro mode. Besides taking 16 megapixel photos it also records 1080p 30 fps video with mono sound. You can shoot at a maximum ISO of 3200 and with shutter speeds ranging from 16 - 1/2000 sec.

The screen on the back is one of the most interesting aspects of this camera. It's a 4.8-inch touchscreen with a resolution of 1280 x 720 pixels (which equals to 1,036,800 dots in camera display terms). That's probably the largest screen you can find on any camera up to date and makes everything from shooting photos and videos to viewing them a whole different experience.

There's no viewfinder on board, but that's to be expected for a camera that aims to work as closely as possible as your smartphone. That slowly leads us to the smart aspects of this camera. Specifications wise you get Quad-Core 1.6 GHz Exynos 4412 processor, Android 4.3 Jelly Bean, 2 GB of RAM, Wi-Fi 802.11 a/b/g/n, Bluetooth 4.0, NFC and GPS. It may not have the most up to date specifications when it comes to the processor, Android version and amount of RAM, but they are actually good enough to provide the smooth experience, which we will discuss more in the Performance section.
Body and handling
The body of the Galaxy Camera 2 is made out of a combination of plastic and metal so it means that it doesn't feel cheaply built and feels comfortable to hold in the hand. The design of the camera looks quite stylish and modern which is always a nice touch to make you love your gear even more.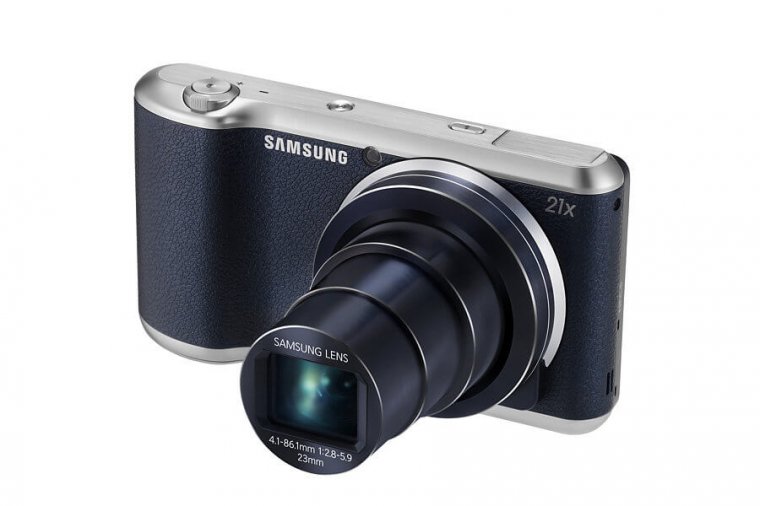 Since the whole experience is centered around using the touchscreen to control most of the things there aren't many buttons or controls on its body. You only get a physical two-stage shutter button that doubles as a zoom control switch, a power button, and a button to enable the pop-up flash and that's basically it. When it comes to different ports you get stereo headphone jack (but sadly no microphone port), USB port and an HDMI port which you can find from other cameras like the Nikon Coolpix AW130.
All the content is stored on a micro-SD card instead of the regular SD card and you also get 8 GB of integrated storage (which is mostly used by the Android OS itself and leaves you with about 2.8 GB of free space). The included battery has a capacity of 2000 mAh and will give you a battery life of about 400 shots.
When it comes to using the Galaxy Camera 2it's a similar experience to using a Samsung smartphone. When you aren't spending time on shooting you can use it as any other Android smartphone and surf web, download applications or games, watch YouTube, browse Facebook, and so on. You'll need to be connected to a Wi-Fi if you want to make the most out of it and that can easily be solved by making a hotspot on your smartphone and using its mobile connection. While we are talking about apps, they are one of the strong points of this camera. You can get many great photo and video editing applications from the Play Store and edit your content right from the camera and immediately send them to a social network of your choice, to a cloud service or send them to someone via email or Bluetooth. There are so many different options in this regard that we could almost make a separate article for all those usage scenarios. All you need to know is that this is one really flexible camera.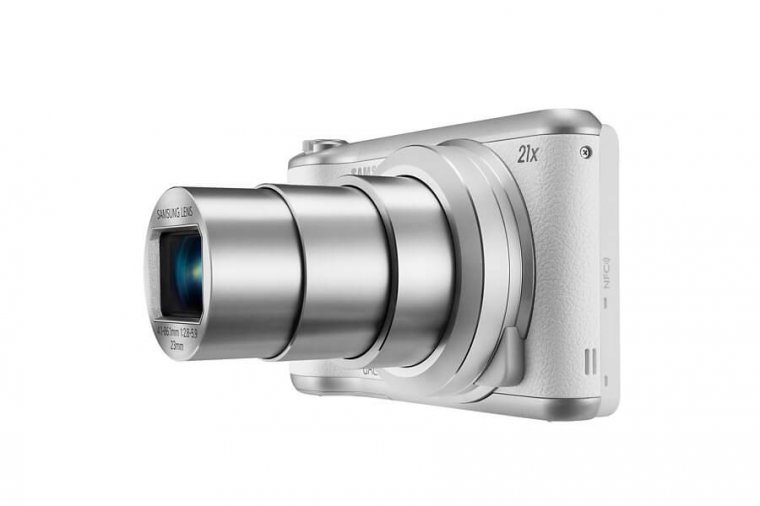 The app situation also spreads to the camera application itself. If you don't like what Samsung has done with the app or you feel it's missing some features, just download another one from the Play Store and you're all set. There are many different options in this regard, just like with editing applications. In all honesty, most of you won't feel the need to do it because the camera app itself is well made and feature packed. The UI mimics the look of physical dials and buttons like on other cameras and you won't have much problems using any of its options and setting them to your liking. Just like on a regular camera you get familiar P/A/S/M modes as well as the ability to set ISO, shutter speed, aperture, WB, exposure compensation and so on. You also get a ton of different scene modes and effects to choose from like Panorama, Macro, Drama, Eraser, Sound & shot, Interval, Animated photo and many more. In a way, some of them are just gimmicks that you'll probably use once or twice but there are some useful ones, so we don't feel the need to complain much here. One interesting thing offered in the camera app is the ability to set the autofocus point and exposure separately. This means that instead of letting the camera take exposure metering from the part of the scene you focused on you can get a separate square that looks just like the AF one, drag it anywhere on the screen and take meter the exposure on the part of the scene of your choice. This is a very useful feature indeed and it would be interesting to see something like that implemented in other cameras that come with a touchscreen.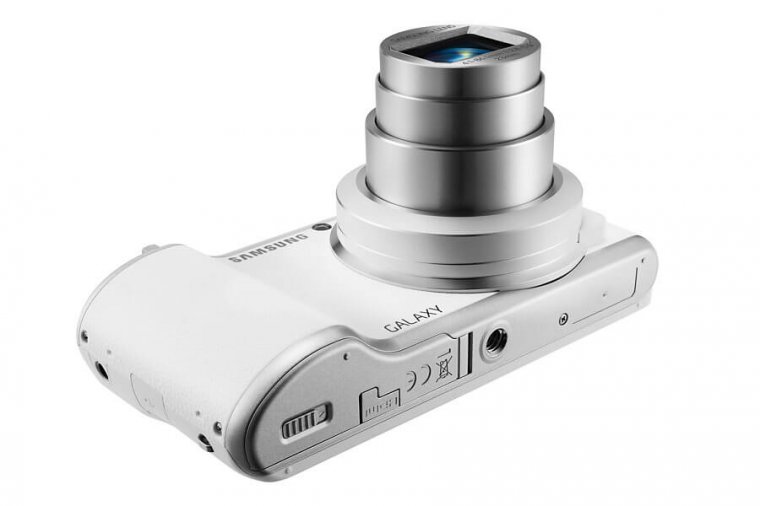 We should also mention that the lens zooms in and out pretty smooth and quietly, but the operation does slow down a little in video recording to avoid those jarring and sudden zoom changes. The experience surrounding the Wi-Fi capabilities is somewhat basic but it covers most of the things you'll need like the ability to remotely control the camera or share your images directly to social networks. NFC is a really useful addition in this case because it allows for an easy way to connect to a compatible phone simply by tapping on it.
Performance and autofocus
The Galaxy Camera 2 feels and performs just like a flagship Android smartphone from a few years back. This means you should have no problems with it no matter if you're using it as a camera or as a smartphone. It could perform even better if Samsung decided to update it with a more recent version of Android but at least the version on it is compatible with most of the apps from the store and even most of the new ones. It does take a longer time to boot up than the regular camera because of Android so it's better you never turn it off and just keep it locked or in "sleep" mode just like any other smartphone.
When it comes to autofocus you get the usual array of modes like Center AF, Continuous AF, Multi AF and Face Detection AF. The AF speed is average but still good for a camera that has to move that much glass around. The accuracy is pretty good, even in low light conditions. The maximum burst rate you can get out of Galaxy Camera 2 sits around 4.1 fps which is pretty respectable for a compact camera with such a long zoom range. There's also no buffer limit meaning you can shoot as long as you like or until you fill up the memory card.
Battery life is kind of a mixed ba g. It really depends on how you use the camera and for how long. If you keep the Wi-Fi turned on most of the time and often use it as you would normally use a smartphone it will drain pretty fast. On the other hand, if you keep the Wi-Fi turned off, screen brightness on a moderate amount and you have enough self-control to not tinker around with too many things other than taking photos and videos, that your battery life will be pretty ok and at around a maximum of 400 shots per charge. Also, keep a number of installed apps to only those you really need, because having too many apps could result in having too many background processes slowly draining your battery life away even when the camera is not in use.
Video features and quality
The video recording on the Galaxy Camera 2 is pretty basic like on the most compact cameras that don't fall into the category of being made for advanced users in mind. There are no manual controls to speak of as videos are always recorded in auto mode. Also, the sound is only recorded in mono, which is a shame. Continuous autofocus is enabled by default and it works ok most of the time with some hunting occurring here and there. You can also pause the video recording and continue recording it at a later time, which is something very rarely found on any camera.
As an added value, Samsung bundled with it a pretty good application for video editing which lets you combine both the video, photos and audio together as one video file. You can also add different effects, transitions, sound effects and narration to those videos. The videos themselves can be recorded at a maximum resolution of 1080p, at a framerate of 30 fps and a bitrate of around 17 Mbps. These specifications fall in line with the basic nature of video on this camera. Quality is also average at best, usable for casual videos, but not good enough for doing any serious work.
Image quality
The story about the image quality is almost the same as with video quality; ok for the average user, but not good enough for anyone who considers themselves an advanced photographer. In a way, this is to be expected from a camera with a smallish sensor and a long zoom range; it's very hard to find a camera with those specifications that have high image quality without carrying a high price tag at the same time. Colors and contrast are usually pretty good and result in punchy and colorful images in most of the conditions. Sharpness isn't great, but interestingly enough the lens is sharper at its longer end than on wide angles, which is opposite of what you'll find on most compact cameras. You can get some sharpness by stopping down, but don't expect any miracles here. Noise performance also isn't something to write home about and you should stay clear from ISO values higher than 800.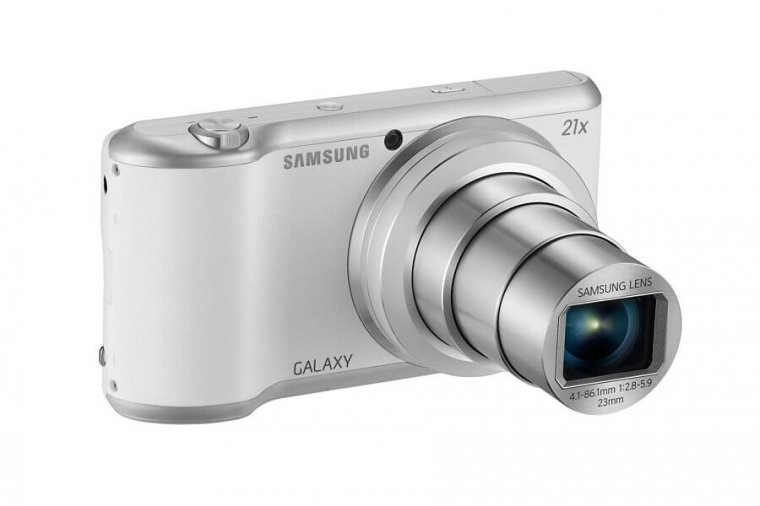 Dynamic range also doesn't leave much room for correcting under or overexposed images, so you should be careful with your exposure. Sadly, the lack of RAW support doesn't make this situation look any better. It's clear that this camera wasn't made with printing images in mind or viewing them at a magnification of 100%, but rather for posting them on social networks or showing them to your friends on the family on a computer or TV screen. Don't get us wrong, not being the best doesn't mean that you can't get some usable images out of this camera because you can.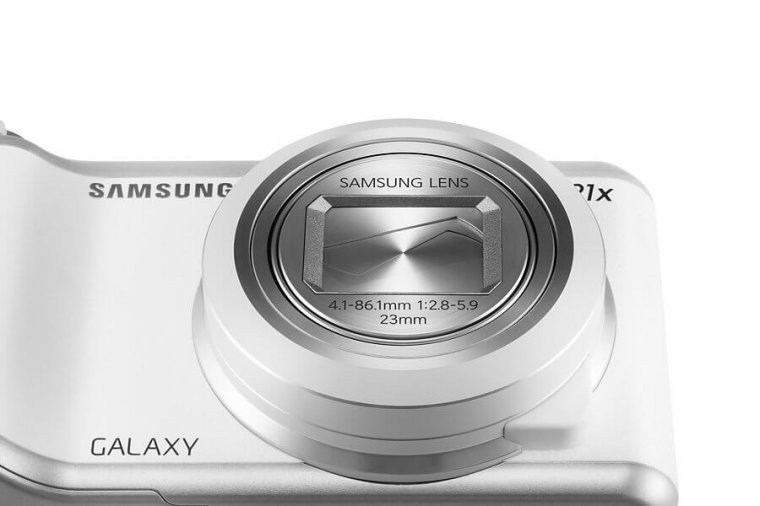 On other note, if Samsung opted for the higher quality lens on Galaxy Camera 2 it would raise the price significantly as it could come close in price to some lot more advanced cameras that also have bigger sensors in them and that's not where this camera belongs on the market. It is meant to be a simple and fun camera to use that is also a lot more versatile than the camera on your smartphone and it is all those things. So, in our opinion, we can't really blame Samsung because the Galaxy Camera 2 doesn't have the best image quality, a decision merely had to be made between the price and the features and some compromise needed to be made.
Conclusion
So, to wrap things up, what are the main selling points of Samsung Galaxy Camera 2 that justify its existence? Firstly, it's the interesting and pretty seamless combination of features shared between a point-and-shoot camera and a smartphone. On the smartphone side, you get the flexibility of having many different options when it comes to camera and editing apps, easy sharing on the web or social networks, a very large and responsive touchscreen and a camera that can be a backup to your smartphone and in a way act as a mini tablet.
On the camera side, you get a nice looking and shaped camera body, physical shutter button, Xenon flash, incredible zoom range, OIS and proper manual controls. You won't get the best image and video quality around due to a smaller sensor, a mediocre lens or the lack of RAW support, but you'll still get a pretty feature packed camera that's unlike anything else on the market. If you don't care about all the smart features and Android, then this camera clearly isn't for you, but if you're used to shooting photos and videos on your smartphone and you like that experience and decided you want to take it to the next level, then you will love the Galaxy Camera 2 and be very happy with it. So in conclusion, advanced photographers should look somewhere else and all the other users should really check this camera out and make their photography that much more fun and unique because life and photography likewise aren't always supposed to be serious but also relaxing and light-hearted as well.
Thus, if you're looking for a best point and shoot android camera, click here.
The following two tabs change content below.
An amateur photographer, songwriter, musician, computer and technology geek and an occasional comedian, I'm a little bit of everything. I always aim to pursue things I'm passonate about and try to look on the positive side of things whenever I can. My mission is to wrap my articles in that aura of positive energy and keep a healthy balance between being serious about my work and spicing things up with a little fun now and than. After all, life's a game and there's always a different way to play it.