Panasonic Lumix DC-GH5 Review: A New Flagship of Mirrorless Camera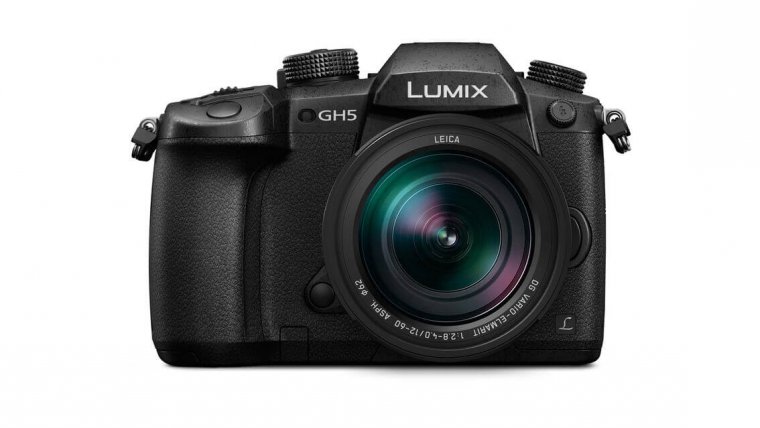 Panasonic Lumix DC-GH5 Review: A New Flagship of Mirrorless Camera
www.sleeklens.com
Well, it's a mighty fine day for a review and for a good one if we might add. We got a very capable mirrorless camera on our hands and one that will pique the interest of many photographers and videographers. While we certainly got used to cameras with large full frame and APS-C sensors, the one we have today is the proof that 4/3 sensors still have a lot of fight left in them and that the cameras build around them are capable of offering enough interesting features and functionality to still be considered very relevant on the market.
The mirrorless camera we are about to review is a different kind of beast when compared to other more portable flagship offerings like the Nikon 1 J5, Sony A7R II, Fujifilm X-T2 or Olympus OM-D E-M1 Mark II and presents a hybrid between a mirrorless camera and a DSLR (when it comes to its design). We are of course talking about the Panasonic Lumix DC-GH5, the most advanced camera that the company has to offer at this point in time. It brings the latest and greatest 20-megapixel 4/3 sensor, but in a package that aims to make the most out of it and push it to its limits.
The GH5 is a flagship camera through and through with its great build quality, excellent combination of an EVF and the articulated touchscreen, plenty of manual controls, image stabilization, 4K recording supported by a lot of advanced features, Wi-Fi, dual SD card slots and so on. Now, there's no denying the fact that the GH5 is a camera that will surely be a more interesting purchase for those that are interested in video creation than those who are professional photographers, since the 4/3 sensor won't be able to compete with a lot of larger sensors in terms of stills quality, but that doesn't necessarily mean that you won't be able to take high-quality photos with it and we will surely test the camera thoroughly to find a definitive answer to that "riddle".
Now, let's start with a look at the GH5's specifications and there's a lot to say in that regard.
Now that we've introduced to you to the Panasonic GH5 and given you a small preview of what you can expect to get out of it, let's examine all of its most important features and shed more light on its existence.
Click to read the full Review
The first thing we should talk about is its sensor and the image quality it will be able to produce. It's an already well known 20-megapixel 4/3 sensor, but this time coupled with a very powerful Venus Engine 10 processor, which should enable better noise performance and improved shooting speeds when compared to some other cameras sporting the same sensor.

You can certainly expect better stills quality over the older GH4 model and one that is also on par with some cameras that come with larger APS-C sensors. It still won't reach the full frame territory, but since the GH5 is very much focused on shooting video, we didn't expect it to get that far. The ISO range you'll be able to shoot at is pretty standard and goes from 100 to 25600, but the available shutter speeds are a lot more optimized for a flagship camera and will allow you to take noise-free photos in low light with a shutter speed that can go as low as 60 seconds and capture the motion of moving subjects with the shutter speed of up to 1/8000 sec (1/16000 if you enable the electronic shutter).

This camera is also well equipped when it comes to focusing hardware, as it brings a 225-point AF system with Panasonic's trademark Depth From Defocus technology and thus it should allow for admirable performance both for stills and video. It should also do a decent job of backing up the GH5's 9 fps burst rate (12 fps when the focus is locked). While this is certainly not a camera made for professional sports photographers it's still great to see that Panasonic still decided to bump up the burst rate and put it on a very respectable level. It's also great to see that the trend of in-body image stabilization also continues with the GH5 and that it comes equipped with a 5-axis stabilization which also supports Dual IS 2 technology (an advanced feature that will allow you to combine both the in-body stabilization and the one built inside your lens). This is yet another feature that will be especially useful to those videographers that like to do a lot of handheld shooting. Now, let's talk about all of the features you'll get with the GH5 in terms of its video recording prowess.

The first thing that stands out the most is, of course, the 4K capabilities, but this time they are even more powerful than before thanks to the inclusion of 60 fps mode and the insanely high 400 Mbps bit rate mode. This means that you can either choose to shoot smooth 4K footage of very high quality or the normal 30 fps footage of even better quality. There's even a full HD mode that records at up to 60 fps and with a bit rate of 200 Mbps. So, we certainly won't be very shocked if the videos coming out from the Panasonic GH5 turn out to be one of the best we've seen from any mirrorless camera on the market. Add to all that the high-quality 4K 60p external recording support, slow-motion 1080p 180 fps recording, the new and improved 4:2:2 color mode, the addition of a Log Gamma profile (as a separate purchase), video scopes, focus peaking, zebra patterns, built-in stereo microphones and the ability to connect both the external microphone and headphones, Touch AF capability and many more features and you can clearly see why the GH5 is regarded by many as one of the best buy video cameras for professional video work.

Now, a flagship camera couldn't be called flagship if its body wasn't built to the very highest standards and that makes it for another area in which the manages to shine. It brings a very ergonomic DSLR-style body that's made out of magnesium alloy, has enough physical controls to satisfy even the most demanding users and is also weather sealed. On top of that, it also brings both an excellent LCD screen and an equally good, if not better, EVF unit. The screen itself is 3.2 inches in size, fully articulated, touch-enabled and also very sharp thanks to its resolution of 1,620,000 dots. The included EVF is a piece of art by itself; it has a 100% coverage, huge 1.52x magnification and a mind-blowing resolution of 3,680,000 dots. Those of you that were sticking with optical viewfinders up until now (and you certainly had good reasons to do so) can now safely embrace the future and start using an EVF as you most certainly won't regret it in the case of the Panasonic GH5.

Other hardware aspects on this camera consist of the 1/250 flash X sync speed (there's no built-in flash unit and you'll need to invest in an external one if you require such functionality), dual SD card slots (compatible with the UHS-II technology), USB 3.1 and HDMI ports, Wi-Fi 802.11b/g/n/ac, Bluetooth 4.2 and lastly, the orientation sensor. The Panasonic GH5 certainly manages to follow the newest technological trends and manages to improve the data speeds for both the SD cards, USB and Wi-Fi connection. We believe that we've given you a good enough introduction to the GH5 and most of the important features it brings to the table to compete with the best cameras on the market and now it's time to dissect it piece by piece and we will start with its body, controls, user interface and Wi-Fi capabilities.
Body and handling
So, how good does the Panasonic GH5 feel in the hand and is it a comfortable camera to use? If you aren't a stranger to handling more substantial cameras that have some heft to them, you should have no problems in using it on a daily basis and even during some longer sessions. You'll only notice the camera's weight if you're coming from a more traditional mirrorless or a compact camera, but that's the moral of the story when we're talking about such a professional piece of gear. It's nearly impossible to create a well-made body that will satisfy the needs of advanced users and also be able to handle all the heat that is generated while recording 4K videos for a prolonged period of time, but that is also very portable and can fit in your pocket.
The GH5 isn't trying to be portable and instead focuses entirely on build quality and ergonomics. Thanks to the very large front grip you'll be able to grab the camera with utmost confidence that it won't slip out of your hands by accident and a lot of textured accents that can be found all around the camera also help in this regard. We also like the fact that the control scheme is well-balanced, and a lot of attention has been put in creating buttons and dials that leave a very satisfying tactile feedback when being used. Now, let's see what those physical controls really are and how well are they positioned, together with some of the other hardware aspects such as the different ports and connectors. The front of the GH5 sports a Self-timer indicator/AF Assist Lamp, a Preview/Fn6 button, the Flash synchro socket and the lens release button. All of the ports are located on the left side of the camera (microphone and headphone jacks, HDMI and USB sockets, as well as the cable holder mounts), while the right side holds the dual SD card slots.
The bottom of the camera contains the tripod mount, the battery grip connector and the battery compartment itself. The battery pack included with the Panasonic GH5 is a DMW-BLF19 lithium-ion pack with a capacity of 1860 mAh and rated at around 410 shots. Now, let's move to the top of the camera. Here you'll find the drive mode dial, the stereo microphones, the hot shoe connector, the main mode dial with a lock button and a power lever, the front control dial, the shutter button and lastly, an array of five different buttons (WB, ISO, Exposure compensation, Fn1 and Motion picture). Interestingly enough, the little top LCD that can be found on many advanced DSLRs is missing here, but we guess the reason for that was the lack of available space on the camera body. In the end, let's see what kind of functionality does the back of the camera hold. Besides from the LCD screen and the EVF, you'll also find the Touchscreen/monitor and Playback buttons, a mono speaker, the eye sensor, the diopter adjustment dial, a joystick/function button (Fn12 to Fn16), the AF/AE lock button, the focus mode lever, the rear command dial, the Q Menu/Fn2 and the Auto Focus Mode/Fn3 buttons, the four-way navigation controller/function button (Fn17 to Fn20) and lastly, the Delete/Cancel/Fn4 button.
The only fault that we could pin on the Panasonic GH5 in this regard is that it made this section of the article very boring to read because of so much stuff we had to discover and so many buttons and dials that had to be mentioned for the sake of us being as thorough as we can. This camera is as filled with manual controls as its humanly possible before it would become an unusable and confusing mess. Less advanced users will have to deal with a slight learning curve, but professionals will feel right at home. Thankfully, the user interface on this camera is crafted so well that it's easy to navigate through it, view all the important shooting parameters and change or adjust any of the available functions and settings. Now, you may have noticed that the GH5 comes with a lot of Function (Fn) buttons and thus, you can already conclude that customization will be one of its biggest strengths. Those buttons can also be of virtual variety, meaning that will be positioned on the main your main shooting screen.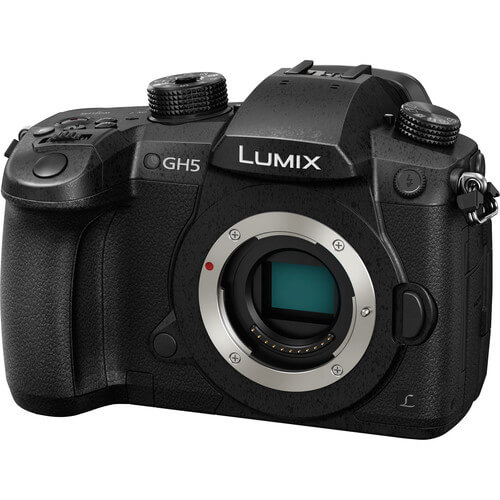 The list of functions that can be assigned to them is too long for this review, but you should know that these can range from basic stuff like the Wi-Fi, Photo Style, Aspect Ratio and Quality to more specific functions like Post Focus, Wireless Flash Setup, Silent Mode and Peaking. A lot of those are also catered specifically to advanced videographers like the 4K Live Cropping, Color Bars, Variable Frame Rate, Time Code Display and so on. We'll talk more about some of those features later in the review. Then there's the Quick Menu option which can be easily accessed with its dedicated button and also customized to hold a lot of different settings and functions which are nicely arranged in a tiled interface. You can also put all of your most frequently used menus into a separate section called My Menu and thus avoid having to dig around when looking for those menus that can be hard to access on the fly.
Now, let's see what the Panasonic GH5 brings to the table in terms of wireless functions. As we've already mentioned, the GH5 supports both the fast 802.11ac Wi-Fi and the low-power consumption Bluetooth 4.2 standards and this means that you'll be able to use Wi-Fi to get fast transfer speeds and Bluetooth for the less demanding stuff that requires constant connection between the camera and the device of your choice, but will consume lot less power than if only Wi-Fi was being used. The main functionality you would expect to get out of the GH5 when it comes to wireless communications is smartphone-related features (sending images, remotely controlling the camera, recording location information, synchronizing the camera's clock and so on), viewing your photos on a wireless-enabled TV screen, printing your images wirelessly via a printer, sending them to a AV device or a computer or uploading them to different web services.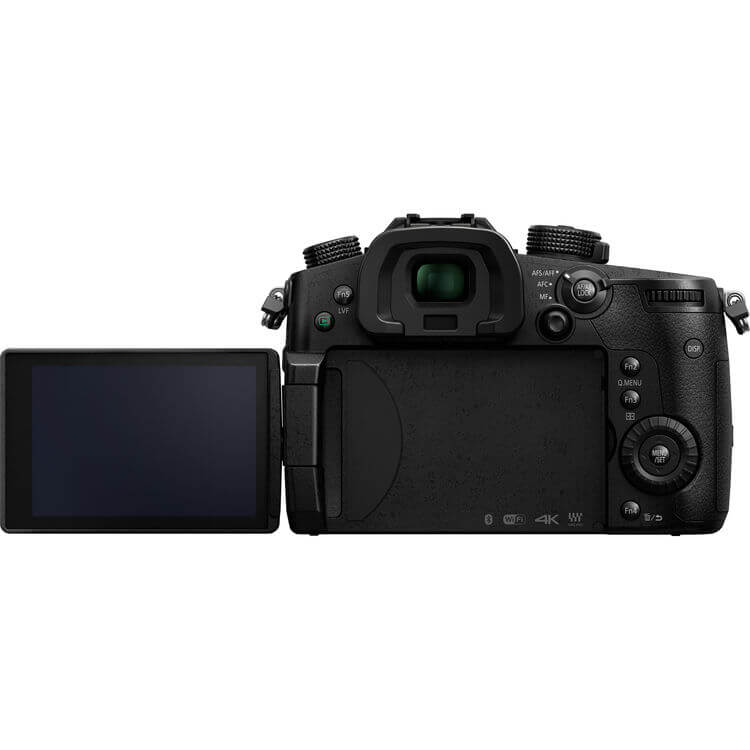 To connect the camera to your smartphone you'll need to download the free Panasonic Image App from the Android or iOS store and connect the GH5 to your phone via Bluetooth and then you'll need to complete the required Wi-Fi setup to establish the connection. After that you'll be able to make use of all the features we've already mentioned and also some additional ones like the ability to turn on/off your camera wirelessly, perform the same operations while in remote control mode that you'd normally be able to perform with cameras control dials, activate a jump shot feature (takes a photo when it detects that you're jumping with your smartphone in your hands), view the images stored on your camera before uploading them on your smartphone or social media sites and back up your photos automatically with the help of the Auto Cloud Backup feature.
So, the Panasonic GH5 certainly features a big collection of very useful features (and a gimmick or two) and even manages to give a lot of other flagship cameras on the market a run for their money with the amount of functionality that it manages to bring to the table. Let's see if we'll be able to say the same about its AF system and performance.
Autofocus and performance
While the Panasonic GH4 was overall a very good camera, it didn't have the best AF system around and the company aims to fix that omission with the GH5. It now comes with a new 225-point system which also works together with Panasonic's Depth From Defocus optimizations. It may be based on the contrast detect technology, but it's one of the best of its kind and it performed very well during our testing. We like that it's fast and accurate in all lighting conditions, even in the dark.
If you aren't shooting sports, action or anything that requires very reliable tracking performance, you should have no problems enjoying the GH5 as a stills camera. Still, the more demanding users out there will surely notice that the continuous AF performance (while very respectable for this type of an AF system) isn't the best we've seen from a flagship camera. You will be able to get more than 50% of your shot in perfect focus during those situations where are moving subjects in your frame but don't expect it ever get close to an excellent performance of 80% or more.
The GH5's burst rate may indicate that it has the potential to be a decent stills camera for action events, but its AF performance states otherwise. Still, we can't say that we're unhappy with the results in general and the GH5 is certainly one very usable camera when it comes to photography. The available focusing modes also back up that statement, so let's have a quick round-up of all that is given at your disposal. As is the case with most cameras, there are three main focusing modes available on the GH5; AFS/AFF (Both of these modes require the user to press the shutter button hallway, the only difference being that the AFS will focus once with each press and the AFF will start to focus continuously as long as the shutter button remains pressed and the camera detects a moving subject), AFC (a mode similar to AFF, the difference being that it will refocus your shots even if there are no moving subjects) and MF (manual focus).
After choosing one of these modes, you'll also be able to adjust things like AF Sensitivity, AF Area Switching Sensitivity and Moving object prediction. Then we come to more specialized and specific modes; Face/Eye Detection (automatically looks for people's eyes and faces, tries to keep them in focus and adjusts the exposure according to their faces), Tracking (focuses on a subject of your choice and balances the exposure according to the changes in movement), 225-Area (uses all of the available focus points to help you focus on subjects that aren't located in the center of the frame and are closer to its edges), Custom Multi (lets you set a custom Focus Area shape), 1-Area (uses a small focus box to focus on any part of your frame that you've placed it on) and lastly, there's the Pinpoint mode (similar to the 1-Area, but with a lot smaller focusing frame and is best to be used for achieving perfect focus on the smaller subjects that can't be correctly focused on with the help of any other method). Now, in regard to the Custom Multi focusing modes, you'll be able to choose from three predefined AF zones (Horizontal, Vertical and Central patterns), but also create three different ones of your own by picking the area's position by touching your screen and changing its size using one of the control dials.
Now, having this much control may be a little too much for some users, but it just goes to show how much effort Panasonic decided to invest into making the GH5 as an advanced camera as possible. So, this means that we weren't surprised to see that much attention has also been put on giving the users a great manual focusing experience. You can focus more precisely either with the traditional MF assist magnify feature (which will also let you move the magnified area around your frame and enlarge it even more with a pinch to zoom gesture), Focus peaking (which will put colored highlights on the parts of your frame that are in focus) and also by using the MF guide feature which will help you determine if your point of focus is to the near side or to the far side.
While the Panasonic GH5 may not be a focusing champion when it comes to shooting moving subject, it certainly makes up for it with a great performance in every other aspect and with a large number of focusing modes. The Panasonic's new flagship camera also doesn't disappoint when it comes to its performance during normal use. It will only take you a second to power it on and take the first shot, around 0.3 seconds to take the next one and around 0.1 seconds to focus on ideal lighting conditions. The GH5 is a really serious performer in this regard, that's for sure.
When it comes to its burst rate, the fastest one you'll get is the Continuous High mode which sits at a comfortable 12 fps. If you're a JPEG shooter, then you'll be able to enjoy an unlimited buffer size (meaning that you'll be able to shoot as long as there's enough room left on your SD card) and shooting in RAW will give you a buffer depth of around 65 shots and after that the camera will drop the burst rate to around 2.7 fps and again, work until it runs out of space. That is certainly a very admirable performance for a camera that wasn't created with sports photography in mind. The GH5 is also a solid performer when it comes to its battery life. Its battery life is rated at around 400 shots per charge (interestingly enough, the number is the same both for shooting through the EVF or for using the LCD screen on the back), which is a decent endurance but could be a little better considering the size of the GH5's body.
Where this camera really shines in terms of battery life is while recording videos as you'll be able to record more than 3 hours of footage on one battery pack, which is certainly a very respectable performance. So, the moral of the story is; only the professional sports and action photographers won't find the GH5 to be their best possible investment and everyone else should be quite satisfied with everything it has to offer performance-wise.
Video features and quality
Now, the Panasonic Lumix GH5 may be a very capable camera that will suit many different types of users, but it's hard to overlook the fact that it will be appreciated the most by those who focus mostly on creating video content, especially for professional use. Before we dwell on some of its more advanced features, let's look at it from a perspective of a traditional flagship mirrorless camera. One of the main selling pointies of this camera has to be its 4K 60 fps video mode which will enable to capture incredibly smooth and high-quality content. If you can incorporate full HD video into your workflow then you'll able to make use of the very fast 180 fps mode and create slow-motion videos that will really make them stand out from the crowd.
To make sure that the audio quality doesn't lag behind the impressive video quality Panasonic has also included both the microphone and headphone jacks, so you have as much control over your audio as possible. The GH5 also includes an advanced stabilization system that works very well by itself, but can also work together with the stabilization system built inside of your lens to provide you with incredibly smooth footage at any given time. While the new AF system is certainly an improvement over the one found in the GH4 it still shows the limitation of contrast detect system when they are being used for video recording and thus is not reliable enough for most types of professional use.
If you are mostly shooting static subjects, then you should find its performance to be adequate for that kind of use, but any kind of moving subjects could easily prove to be too demanding for the said AF system and should be handled by focusing manually, which in all honesty shouldn't be a problem on the GH5 because of the included focus peaking technology. As you would expect from a flagship device, this camera also brings full manual control over exposure including the zebra patterns which should help you more easily determine the perfect exposure for your shadow and highlight areas.
So, if you're a semi-professional user that just wants control over the basic functions you should have no problems in creating high-quality footage with little to no hassle at all, but since we are talking about a camera that also offers specific set of advanced features that will be used only be the more serious videographers, we should also cover some of the more important ones that have made its way on this interesting piece of gear.
The first one we should mention is the addition of the Log Gamma profile. This is essentially a special color profile that will enable you to shoot very flat looking videos that contain as much information as possible and that will give you a lot of room in post-processing to adjust the colors and exposure of your videos exactly to your liking, which is something a lot of professional videographers can't live without and it's great to see it included on the Panasonic GH5 as well. You'll also be able to capture many accurate colors than before with the addition of the 4:2:2 recording option and even play around with Anamorphic shooting which is a mode suited for special super-wide lenses that will give out a very unique and dramatic look to your videos. We are sure that many users out there are familiar with the term rolling shutter and will be glad to know the Panasonic who made noticeable improvements on the GH5 to make the said affect a lot less pronounced in your recordings.
Noise performance has also been improved and brings the camera much closer in performance to its competitors which bear physically larger camera sensors, but still not on the same level as the best of the market. It doesn't mean that the Panasonic Lumix GH5 is incapable of recording good quality videos in low light, you will just need to keep your ISO levels do around 6400 at the maximum to keep the noise from degrading the look of your footage in any big way.
Overall, if you're looking for very capable video recording tool, but are unable to afford the very expensive professional video cameras then the GH5 certainly presents itself as an extremely good alternative because it offers most of the important features that did those cameras have or can gain a lot of them by way of different accessories that can be connected to its body. It also manages to bring great image quality despite its smaller sensor and comes with all the benefits of many available lenses that were created for the micro 4/3 system of cameras. Now, let's see how well it handles when it comes to taking stills.
Image quality
While the GH5 may not immediately present itself as the first choice for many photographers because of the much bigger focus it has on videography, it doesn't necessarily mean that it can't produce pleasing photos in most shooting conditions. If you pair it with a decent lens and there's enough light in your scene then getting detailed shots should be no issue at all and the twenty megapixels for resolution should prove just about enough for mid-size prints and especially for posting them on different web services. We like what the Panasonic has done with JPEG engine and how will they have optimized it does produce clean images with just the right amount of contrast and vivid and eye-pleasing colors.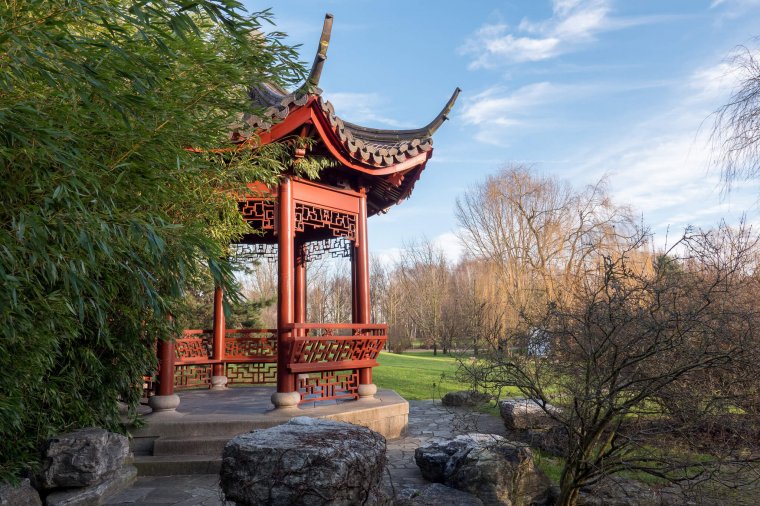 The Sharpening noise reduction has also been improved over the older model giving the images more natural look to them, even in low light conditions. No matter if you're shooting JPEGs or trying to take advantage of the processing potential behind RAW files you should be able to get very usable results at ISO values of up to 6400 and even at 12800 if you can deal with some reduction in the overall detail. When it comes to dynamic range the GH5 is able to hold its own very well and managed to produce balanced exposure in most of our tests, but naturally it's unable to beat some of the more well-known cameras in the market that is renowned for the dynamic range performance, but that is to be expected considering that most of them sport noticeably larger camera sensors and physics is something that still can't be beaten when it comes to raw possibilities.
Still, if you're a professional photographer who knows how to properly set up their camera and has invested in some good quality lenses then getting very good photographs with the Panasonic GH5 shouldn't prove even the slightest challenge for the most of you.
Conclusion
We knew what to expect out of the Panasonic Lumix GH5 from the very beginning of this review and it's good to see that we've discovered no unpleasant surprises during the course of our testing and that all of its most important aspects proved to work flawlessly and with no issues.
We like the magnesium alloy and the weather sealed body, the incredibly advanced video mode with all the bells and whistles you would expect from any kind of professional camera that's focused on video creation and the quality that is hard to beat in that is easily comparable with the very best cameras out there, the battery life that will allow you to record for a long time while being far away from a charger, the user interface that is simple to use, but yet powerful enough to allow for extreme amounts of customization, one of the best touchscreen and view finder combos you'd be able to find any professional camera and lastly, the very respectable still quality that can be compared even to some cameras with noticeably bigger image sensors.
There's certainly no denying the fact that the Panasonic GH5 was created to be a very successful product and that all of the technology that brings the table puts it high on the list of the best cameras of 2017 and will certainly help it find its way in the bags many of many videographers and photographers as well. Panasonic has certainly done a fantastic job with this one, but have also priced it accordingly, which means that you'll have to pay somewhat of a premium to get the GH5, but it's still well worth it in our opinion and you really can't go wrong with this camera no matter how you look at it.
SaveSave
The following two tabs change content below.
An amateur photographer, songwriter, musician, computer and technology geek and an occasional comedian, I'm a little bit of everything. I always aim to pursue things I'm passonate about and try to look on the positive side of things whenever I can. My mission is to wrap my articles in that aura of positive energy and keep a healthy balance between being serious about my work and spicing things up with a little fun now and than. After all, life's a game and there's always a different way to play it.