Ricoh GR II Camera Review: Expecting the Unexpected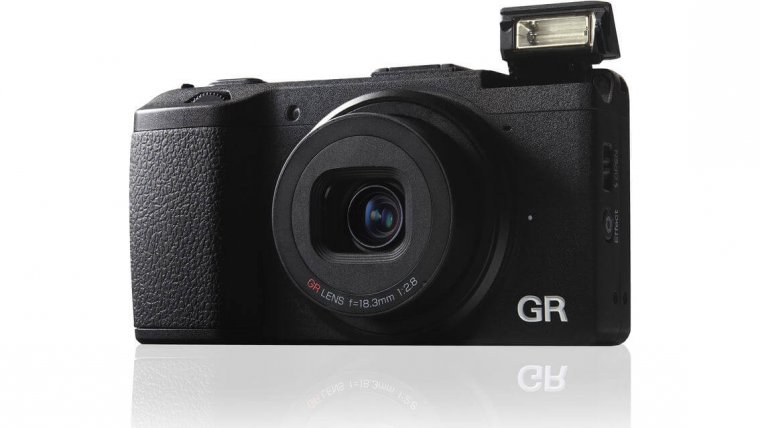 Ricoh GR II Camera Review: Expecting the Unexpected
www.sleeklens.com
With mirrorless cameras becoming all the rage these days, it's becoming increasingly harder imagining that interesting and unique products in the form of compact cameras will ever reach the market again and attract a lot of attention. While there are some of them that have managed to push through, like Sony's RX100 series, Sony Cyber-Shot DSC-RX100, Canon's G1 X cameras and others, it's still not easy to find something that stands out even more, and that will create a lot of buzz amongst photographers. Well, leave it to a company like Ricoh to make a great attempt at creating something slightly different, and that camera is the simply named Ricoh GR II.
While it looks a little understated in terms of its design, it's a camera that is aimed at more advanced users who want a compact camera that will be able to rival their DSLR or a mirrorless camera in terms of image quality and specifications, but also be very simple to use and easy to carry around with you at the same time. It features a fixed prime lens (much like Fuji's X100 cameras) and one that is deemed to be very sharp, a large 16-megapixel APS-C sensor, a magnesium-alloy construction that makes it feels very rugged in the hand, but also very light, a very high-resolution screen, full manual control over exposure and a lot of options to customize its behavior, RAW support, fast AF system and more. Still, it won't be a perfect choice for every type of users, mainly those who like to shoot sports or action and also videographers.
The reasons for that its slower burst rate and also the lack of 4K recording and the microphone and headphone jacks. It's pretty obvious that Ricoh has decided to focus mainly on the aspect of image quality and usability and decided to market the GR II to those users who are only interested in taking high-quality photos and aren't working on any type of photography that requires the capture of any fast-moving subject.
So, right from the get-go, it could be considered somewhat of a niche product, but still, an interesting one that seems to have enough compelling features to leave its mark on the camera market. Let us if a special camera like the Ricoh GR II does its job well enough to appeal to serious photographers looking for a more pocketable alternative or does it even bring enough functionality to attract the attention of a more mainstream audience.
As is the case with every digital camera out there, its story begins with its sensor and the one built inside the Ricoh GR II is certainly a very capable one.
Pros
Built-in WiFi
NFC Connectivity
External Flash Shoe
FullHD Max Video Resolution
RAW Shooting
Face Detection Focusing
Long Battery Life
Built-in ND Filter
Remote control with a smartphone
Light Body
Cons
No Image Stabilization
No Articulating Screen
No Touch Screen
No Environmental Sealing
Click to read the full Review
While it's true that a 16-megapixel APS-C sensor doesn't sound very exciting for 2017 standards, there's a lot more to it than its resolution. First, those megapixels will be fully utilized thanks to the lack of an AA filter, which is a very nice touch for a compact camera. Secondly, the said sensor can provide almost 14 stops of dynamic range and shoot very clean photos up to an ISO of 3200, and both of these things are the signs of a quality APS-C sensor. But, there's an additional aspect of the GR II that enables it to produce sharp and clean images in almost all conditions, and that's its lens. It's a 28mm equivalent unit with a maximum aperture of f2.8. It does not feature image stabilization, but thanks to being wide-angle and having very decent aperture you should have no problems getting usable handheld photos with it even in low light conditions.

The said lens will also be great for many different types of photography (especially when it comes to street shooting, an area in which the Ricoh GR II really shines) and can even be used a decent macro lens thanks to its minimum focusing distance of 10 cm. When it comes to controlling the exposure of your images, you'll be able to use ISO values of up to 25600 and shoot at shutter speeds ranging from pretty standard 1/4000 sec to the very impressive shutter speed of 300 sec.

You'll also be able to gain even more control over your exposure with the help of the built-in ND filter, especially when shooting in very bright situations or when you want to force the camera to use slower shutter speeds to get motion blur effects. The GR II becomes quite an interesting beast when you take a look at its focusing system. On the surface, it sounds like a very simple and possibly underperforming 9-point contrast detects AF system, but Ricoh state that they've deliberately chosen a system with fewer focus points and instead decided to optimize it more for speed and accuracy.

Considering that the GR's predecessor performed very well in this regard, we are inclined to believe them also when it comes to the GR II, and we can't wait to see if it manages to exhibit similar or even better performance. The maximum shooting speed of 4 fps is undoubtfully slower than most of the mirrorless and compact cameras that could be compared with the GR II, but we still believe that it will make up for what it lacks in raw speed with a deeper than average buffer size. If there's one area in which this camera doesn't try hard to compete with the rest of the devices that share its price point, it's the video recording capabilities. While most of today's cameras are capable of recording in 4K resolution (or at least shoot at 1080p resolution, but at a higher framerate), the GR II features none of those options and instead offers a bog standard 1080p 30 fps movie mode.

We really can't comment on the quality of videos you can expect to get before performing our usual testing, we don't believe that they will be anything special or good enough to stand out from the more capable cameras out there. The lack of headphone and microphone jacks further cements this camera's positions as stills tool rather than being a good option for any serious videographers. And that's perfectly fine, since not every user out there is interested in working with videos, but a lot of them are always on the lookout for a camera that will enable them to take high-quality photos and thus, there's certainly a place for the Ricoh GR II on the camera market despite its underwhelming video capabilities.

Now, let us see what it has to offer regarding its body, design, controls and other hardware aspects. The GR II is one of those rare cameras that manages to hold a large APS-C sensor in a small, light and very well-built body. It weighs only 251 grams (with the batteries included) and also manages to be made out of premium materials at the same time (out of magnesium alloy, to be more precise). That's a great achievement for Ricoh since you'll rarely see a camera that's so light, but isn't made out of plastic. The only thing lacking here is weather sealing, but we can't fault the GR II for not including it because its build quality is excellent even without it.

There's certainly one controversial thing about its body, and that's the lack of a built-in viewfinder. Since it was created to be a very interesting proposition for more advanced photographers, it's certainly a little strange that Ricoh decided not to equip the GR II with either an optical or an electronic viewfinder. One redeeming aspect of such a design choice is that the camera could become more portable (which it is) and that you do have the option to purchase and connect an external optical viewfinder to a hotshoe connector on the top of the camera. While the unit itself isn't the best viewfinder around (and can be quite pricey as well), it is still good to have as an option if you really need such functionality. The good thing is that the LCD screen on the back of the GR II is a very good unit in its own right. It may not support touch input, but it does come with a pretty high resolution of 1,230,000 dots and can get decently bright when viewed outdoors, meaning that you shouldn't have any problems with using it even in direct sunlight. It would be nice if it were a touchscreen, but considering that Ricoh is well known for being able to equip their cameras with a great user interface and menu systems, we believe that using the GR II without one shouldn't be an issue to any photographer.

Other hardware aspects of this camera include a small built-in pop-up flash unit with a maximum range 3 meters (and support for many flash modes like the Flash Synchro, Manual Flash, Wireless and so on), a single SD card slot, stereo microphones, Wi-Fi + NFC and also an orientation sensor.

So, we believe that you've already got a feel for the GR II and maybe even decided if it's the right camera you should get to fit all of your needs, but either way, we encourage you to keep on reading as we're about the exam all of its aspects in a lot more detail and knowing as much as you can about your potential purchase is certainly something you should strive for no matter if you're undecided or not.
Body and handling
There's no denying the fact that the Ricoh GR II is one interestingly designed camera and that it's able to stand out with its design despite only coming in black color and having no special design elements that would attract the attention of those that care about the looks of their cameras. There are other aspects of it camera body that make it a very different compact camera from the rest of the competition. It's more reminiscent of a mirrorless camera than a compact, and that's because of its large and quite pronounced front grip and a healthy number of manual controls.
On the flip side, it manages to inherit two important design aspects from something like a compact camera and that is its overall size and weight. It's incredibly light, and you will feel it immediately when you take the GR II in your hands and start using it. It's one of those cameras that you'll be able to shoot with the entire day and never feel any fatigue. This is certainly helped by its diminutive dimensions, which makes gripping securely very easy and you should never drop it while you're holding it. But, if you do, then the last and maybe the most important design aspect of the GR II comes into play, and that's its build quality. While you can make a camera that's made out of plastic and still make it feel quite solid, you really can't beat something like magnesium alloy or other premium materials. This also holds true in case of the GR II, and despite it being lightweight it still feels like a substantial camera that will be able to hold up very well to any mishaps, drops, scratches and so on. So, while we aren't getting a product that will attract the attention of everyone around you because of its modern or stylish looks, we are getting one that has been optimized for usability, handling and quality and decided to look very stealthy and unobtrusive in the process, which makes it a perfect camera for those that want to take nice-looking photos, but without being noticed or having to shove a large camera in someone's face.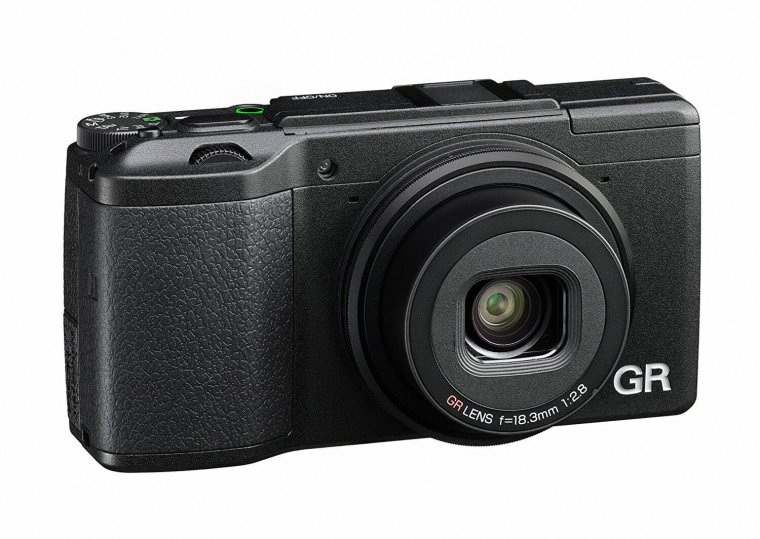 So, now that we've told you how it feels to use the Ricoh GR II, let us move on to proving you with more insight about everything that can be spotted on its body, especially the physical controls. As always, we'll start things up by looking at the front of the camera. Here you'll find nothing else but the AF auxiliary light, the stereo microphones and the lens itself with one control ring on its barrel. The left side of the GR II features the flash pop-up switch and the Wi-Fi/Effect button (that can also be customized to perform other functions), while the right side has the NFC mark USB and HDMI ports. As is the tradition with most compact cameras out there, the battery compartment and the SD card slot are located on the bottom and so is the universal tripod socket.
The top of the GR II holds the pop-up flash unit, the hotshoe connector, the Power and the shutter buttons, the main mode dial which also features a locking mechanism and also one control dial. To finish off this little tour around the camera body, let us look at its back. This is where you'll find a little mono speaker unit, the ISO adjustment lever, the AF button and its accompanying lever that will allow you to switch to C-AF mode or lock the focus altogether, the Exposure compensation/magnification adjustment buttons, the Fn2/Self-timer/Delete and the Display buttons, as well as the four-way navigation controller with four different functions mapped to each of its directions (Macro, Flash, Fn1 and White Balance).
So, the GR II certainly doesn't disappoint in terms of all the controls it has to offer, but we especially like how Ricoh decided to think outside the box and replace something like a traditional Exposure compensation dial with two plus and minus buttons or use a dedicated control dial for ISO adjustments. Then there's also the Effect button on its left side that can also be used for different things and one of the function buttons being mapped on the navigation controller itself.
Now, while such design choices may not be something groundbreaking, it's still great to see that there are some camera manufacturers out there that are brave enough to break away from the mould and try something different with their cameras and we certainly appreciate such decisions. Furthermore, the Ricoh GR II offers a very nice user interface that can tie in all of its controls into one consistent and reliable entity, which makes this camera a joy to use no matter if you're a professional photographer or a beginner. Some would criticize the lack of a touchscreen for navigation purposes, but we don't feel that it's necessary on a camera like the GR II, because it controls just fine with the use of traditional physical controls. Now, there's yet another positive aspect of this camera that is related both to the user interface and controls, and that is customization. First, you'd be able to choose what information will be available to you on the main shooting screen and save those settings into one of the three separate profiles. You'll be able to do the same with your main shooting settings like the Aperture, Shutter speed, Self-timer, Macro and so on. These can also be saved inside one of the three different profiles (MY1, MY2 or the MY3) and called upon at any time.
Well, let's talk about customizing the behavior of all the available controls. First, there's the adjustment lever, which can be programmed to change the Picture size, Aspect Ratio, adjust the focus, change the metering mode, enable the Dynamic Range Compensation and so on. Secondly, you'll be able to change the behavior of the Fn1, Fn2 and the Effect buttons. These can hold similar functions as the adjustment lever but with the addition of things like the different AF modes, crop factors, image formats and more. Lastly, which may not be entirely related to the customization of the available controls, you'll be able to choose how the GR II sounds in operation and most importantly, disable the shutter sound which will help you immensely for shooting in very quiet environments or for a more stealthy approach to street photography.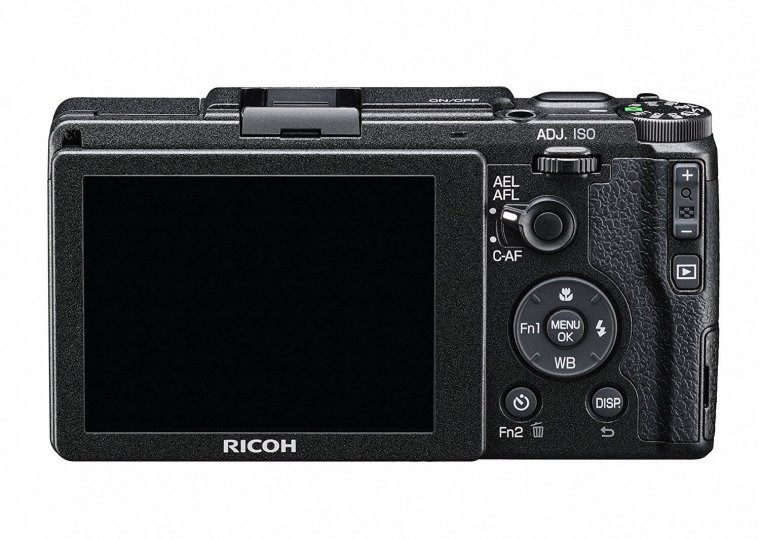 In the end, let's see what kind of functionality can you expect to get regarding wireless communications. Well, the entire experience is focused around connecting the camera to your smartphone, which is the something that most people would be interested in. You'll be getting the usual functions like backing up your photos, including the GPS data gathered by your smartphone into their EXIF info and remote shooting, but the most focus been put on the last one. It's not often that you'll see a compact camera that will enable you to not only to use your smartphone as a remote viewfinder but also to adjust things like the shooting mode, Aperture, Shutter speed and more. This is where the serious nature of the Ricoh GR II really shines through and where it's becoming clear that this camera was made to appeal to more demanding users out there.
The lack of the built-in viewfinder (although an external one is available) may not sound like something that the enthusiasts will appreciate, but considering how much the GR II manages to offer in all of its other aspects, we don't believe that it will act as a barrier that many users won't be able to cross and that will stop them from enjoying this camera. All in all, good job Ricoh for creating one of the more advanced compact cameras out there, but now it's time to see if its performance will be able to back up its impressive hardware.
Autofocus and performance
The 9-point contrast detect AF system built inside of the Ricoh GR II may not sound like anything special at the first glance since no not many photographers would expect much from a system featuring a generally slower contrast detect technology and such a small number of focus in points in a world where a lot of cameras have hundreds of them (at least the more advanced ones). While those two things would certainly be enough to cast some doubt around its capabilities, this is one of those rare cases where they couldn't be any more misleading and where the truth is quite different.
While it's certainly no champion when it comes to tracking moving subjects, it was perfectly capable of dealing with focusing quickly and accurately in any given situation, even in low light. Lots of reviewers think of the GR II as one of the best cameras you can get for street photography and we certainly agree. You should have no problems taking quick snaps of people without them even noticing and get photos that are in perfect focus most of the time.
Now, while we don't condone you go around and take pictures of everyone without their consent, we've just wanted to point out at one of the more demanding shooting conditions for any camera and inform you of how well the Ricoh GR II handles in such situations. Since it's not suitable for sports and action anyway because of its wide-angle lens, any other types of photography should be a breeze for this camera. We don't know how exactly they've achieved such performance from a seemingly inferior AF system, but Ricoh has really proven their expertise in the camera industry with the GR II terms of its focusing capabilities. Now, since the speed focusing isn't everything, it's time we take a look at all of the available focusing modes and see if there are any special features that the GR II has hidden up its sleeve. Here, the usual focusing modes and focus areas are all gathered into one section called the focusing methods and those that are available are: Multi AF (uses all of the available focus points and is enabled by default), Spot AF (uses the center of the frame as a point of interest), Pinpoint AF (most precise mode available that allows you to focus on very precise details and smaller subjects), Subject Tracking (enables to you track moving subjects as long as you keep the shutter button pressed halfway), Snap (focuses on a predefined distance), Infinity (a fixed focus option that is best used for subjects that are too far away to be focused on using any traditional methods) and lastly, there's the MF or the Manual Focus. The Snap mode is a really interesting addition and perfect for those occasions where you know the focus distance you'll be shooting at and will allow you to focus almost instantaneously every time you press the shutter button all the way. You'll also be given the option to customize the behavior of the AF and AE lock functionality and combine both of them with varying results. There are also a lot of helpers and focus assist included for those of you that like to focus manually. You'll be able to magnify a part of your display area and change its size and magnification factor, enable focus peaking and make it either emphasize the edges or the outline of your subject and more.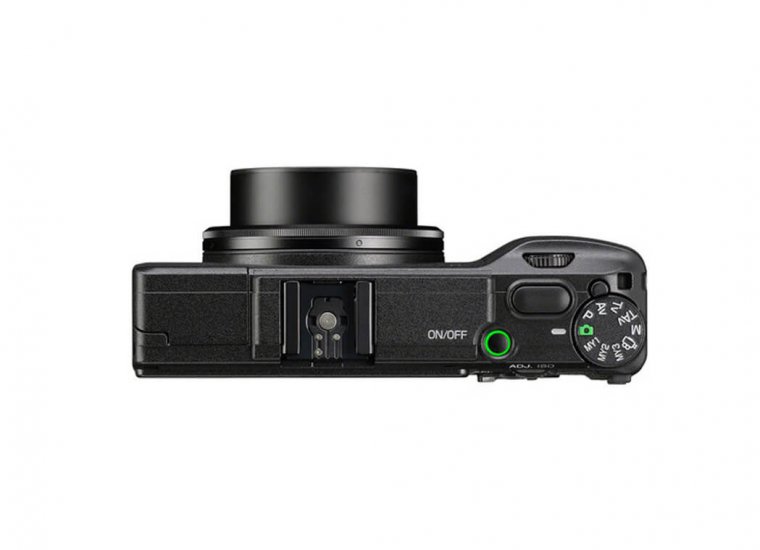 There's no denying the fact that the GR II offers a powerful package consisting out of capable focusing system and a myriad of options to adjust its behavior, but how well does its performance hold up during regular use? Very well, actually. We've measured startup times of less than a second, AF response times and shot to shot times for around 0.3 seconds at average and around 0.4 seconds when for RAW+JPEG shooting. This is certainly one of the fastest compact cameras on the market and even manages to nip at the heels of some of the more expensive mirrorless cameras and DSLRs in terms of its overall responsiveness and consistency. Now, despite having a slower maximum burst rate of only 4 fps (which certainly isn't as fast as most of today's modern cameras), it did manage to perform well in one area, and that is retaining that shooting speed for a decent amount of time. Now, while the same can't be said for shooting in RAW (which will only allow you take around 10 images before you'd start to notice any slowdown), it can certainly be said for taking photos in JPEG format as you'll be given a practically unlimited buffer depth and your only constraint will be the size of your SD card (and of course its speed as you'll certainly need a very fast SD card to make use of such feature).
The battery life of the Ricoh GR II also doesn't disappoint and manages to be as good as we've expected it to be. While some mirrorless cameras bearing the same sensor size will be able to offer better endurance, getting around 320 shots from such a small, but powerful camera as the GR II certainly isn't bad at all and in line with a lot of other compact cameras that are far less advanced. In conclusion, our statement at the beginning of this review still holds; the Ricoh GR II managed to provide us with great performance at every step of the way and has never put us in a position where we were left wanting for anything more out of it. You really should have no issues with getting all kinds of different shots with this camera and get them fast.
Video features and quality
There's no way of sugarcoating; the Ricoh GR II is certainly not a camera anyone should to primarily use it for video recording, simple as that. But for more casual work and for capturing a clip or two when taking a photo isn't enough, it will do just fine. So, let us elaborate. The first thing we need to look at is what kind of resolution and framerate combinations can you expect to get with the GR II.
There are three different resolutions: 1080p, 720p and 480p and all of them support the standard framerate of 30 fps. If you wish to record smoother footage and play around with some slow-motion effects, you'll only be able to do so by recording in 720p. Most of the serious videographers would require at least 1080p 60 fps recording, but 720p will do you just fine if you don't consider yourself to be a demanding user. When it comes to controlling exposure, the GR II will act as the simplest point-and-shoot camera and won't allow you to make any adjustments while recording, which is really a shame for a camera that otherwise offers a lot of control over each of its functions and features. At least the ability to lock the exposure during recording is available. Those of you looking to have some fun in the movie mode will appreciate the ability to apply different picture effects and change the look of their footage without having to know anything about video editing or post-processing.
The GR II does have the ability to focus continuously during video recording, but don't expect any impressive performance since its contrast detect system has been optimized far more for stills shooting than for video. You'd be able to get away with it for less serious work or where there aren't many changes in movement that would require the camera to constantly search for focus, but most of the time you'll need to resort to focusing manually if you want to get videos that are enjoyable to look at. Since the GR II lacks the ability to connect an external microphone, you're have made use of the integrated stereo microphones for your audio needs and luckily, they do a very decent job of providing usable sound quality. Sadly, any kind of image stabilization is also missing. While its absence isn't a big problem when it comes to taking stills, you will notice that your videos aren't as smooth as they should be because of it not being included. You'll be able to easily record stable videos with the help of a tripod, gimble or something else, but all of these still aren't very straightforward alternatives to having image stabilization built into the body or the lens.
When it comes to the quality of videos recorded with the GR II, there actually isn't a lot to complain about. They certainly aren't on the same level as those of more capable compact or mirrorless cameras (especially those that support 4K recording), but they are still fairly good coming from a camera that isn't focused on shooting videos at all and many different users will find them more than pleasing to look at, especially if most of them will end up on some social networks or video sharing sites.
Image quality
Now, after we've talked about one of the weakest points of the GR II it's time to do a 180-degree turn and talk about one of its strongest points, and that is its photo quality. Don't let the lower than average resolution fool you, the 16-megapixel APS-C sensor build inside this camera has plenty of power to produce crisp and detailed images, and there are two reasons why that was made possible. The first one is the lack of an AA filter, something that is usually find on most digital cameras to counter the effects of moiré, but since it has become a less of a problem on more modern devices a lot of manufactures decide not to include it in their products just to maximize the amount of sharpness the sensor can produce.
Secondly, the lens on the GR II is incredibly sharp from corner to corner and even manages bring detailed images when its aperture is wide open. It's great to see that Ricoh has done all they can to squeeze out as much performance as possible form the included sensor. However, its benefits don't end there; it also sports very good dynamic range and quite respectable noise performance. You should have no problems pulling a lot of information out of your bright and dark areas while working with RAW files and you'll even be able to get photos that resemble HDR processing but without the need of combining multiple exposures.
When it comes to low light shooting, the GR II manages to capture very usable images up to an ISO of 3200 and also at 6400, if you're shooting in RAW and you've nailed your exposure. The JPEG files coming straight out of the camera manage to bring a lot of punch, with colors that are more saturated, stronger contrast and nicely applied sharpening. If you prefer a different look to your photos and you don't want to shoot in RAW then you'll be able to save two different sets of Image Settings and adjust the saturation, contrast, sharpness and vignetting.
There's also a large number of different Effects that can be applied to your photos, like the Black & White, Cross Process, Retro, Miniaturize, Clarity, HDR Tone and so on. All in all, the photo quality is optimized so well on the Ricoh GR II that we weren't given any reason for any kind of criticism and there's nothing better than you could hear about any camera when reading about it.
Conclusion
So, what is left to be said about the Ricoh GR II? Who is this camera for and does it deserve its place on the market even if it is somewhat of a specialist item? Well, indeed it does. To put it in simple terms; if you're looking into buying a compact camera and image quality is your highest priority, then you'll hardly be able to find one that can beat the GR II at its price point. It's noticeably better in this regard than your usual compact cameras that sport 1-inch or 4/3 sensors and comes close to many other mirrorless cameras or DSLR that also sport APS-C sensors. Still, image quality is not its only strength as it also has a very well-built body that is easy to handle, excellent menu system with a lot of room for customization, a capable AF system, sharp and bright LCD screen, the option to connect an external optical viewfinder, decently fast burst rate, respectable battery life, great performance in use and a few others.
The only area in which it drops the ball is when it comes to video recording. Despite being able to produce full HD footage of decent quality, its lack of things like manual control of exposure, 4K recording, headphone and microphone jacks make it less than the ideal package for serious video shooters, and those types of users will not find the GR II to be a very exciting camera. The story changes dramatically in case of dedicated photographers (except for those whose main job is to shoot things like sports or action), as that is the type of audience at which Ricoh has decided to focus their efforts when designing the GR II.
So, if you're in love with photography and you want a portable and reasonably priced compact camera that will enable you to get photos of excellent quality no matter what you decide to do with it then the Ricoh GR II sounds like an excellent choice for you.
SaveSave
The following two tabs change content below.
An amateur photographer, songwriter, musician, computer and technology geek and an occasional comedian, I'm a little bit of everything. I always aim to pursue things I'm passonate about and try to look on the positive side of things whenever I can. My mission is to wrap my articles in that aura of positive energy and keep a healthy balance between being serious about my work and spicing things up with a little fun now and than. After all, life's a game and there's always a different way to play it.