Olympus Tough TG-5 Review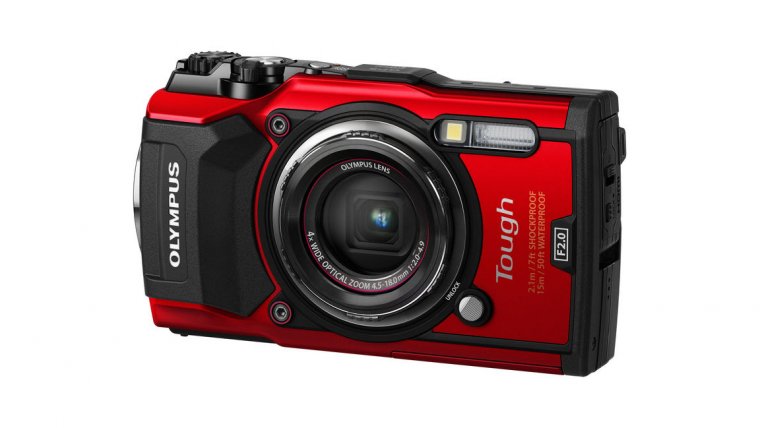 Olympus Tough TG-5 Review
www.sleeklens.com
While the mirrorless cameras have certainly started to overtake the market step by step, it's still good to see other products that don't fall into their categories to reach the same market and attract some attention. Sometimes it's a DSLR, other time it may be the newest flagship smartphone that claims tries to put itself head to head with a lot of dedicated cameras and other times it's something completely else like a VR or a 360 camera. So, all of those that are worried that the market will become overrun with very similar types of products that will become harder and harder to distinguish from one another doesn't need to worry about it just yet and the camera we get to test this time proves that there is still room for different types of devices to become successful products.
We're talking about the Olympus TG-5, which you could have already guessed by its name is another product in the line of rugged compact cameras that the company has been making for some time now (and with decent success if we might add). The main selling point of the TG-5 is its weatherproof, shockproof and crushproof body that was specially made to withstand any kind of troubles that a camera might be faced with in the harshest of environments. So, if you're used to shooting in places of extreme temperatures, moisture, rain (even shooting underwater) or you often visit places where it's not an uncommon thing to drop your camera, then this device should certainly be of a very big interest to you.
Now, it certainly won't bring you the most impressive specifications, neither will it allow you to capture photos or videos that can rival the best cameras out there, but judging by everything it has to offer, it should be to far from the best of smartphones on the market in regard to its imaging capabilities and thus we still wouldn't write it away from being capable of getting you pictures that can be proudly showcased to anyone. The Olympus TG-5 also manages to bring some additional features that make it a more interesting compact camera in general like built-in image stabilization, 4K recording, RAW shooting, Wi-Fi, GPS, a host of different sensors like the manometer, thermometer and a compass, fast burst rate and so on. Also, on the flip side, the nature of its design does bring the lack of a touchscreen, microphone and headphone jacks, less impressive zoom range (at least in the compact camera world) and no viewfinder, but that's how things are in the camera world and in the case of specialized products like the TG-5. All of those compromises are much easier to accept when you take into account the fact that we're talking about a very competitively priced camera and as such we really can't expect it to have all the features found in more expensive models. All of that is fine, since the TG-5 still looks like quite a capable camera overall, as you'll probably be able to see it for yourself after going through this review.
It's time to examine the TG-5's specifications and we'll start with each of its aspects that will directly impact the image quality it will be able to produce. A built-in sensor is a 1/2.3-inch unit with a resolution of 12 megapixels (which is lower than a lot of other compact cameras on the market but will certainly result in better low light performance, so you won't see us complaining).
Pros
Water Proof down to 15m
Shock Proof up to 2.1m
Crush Proof up to 100kgf
Freeze Proof down to -10C
Built-in WiFi
Image Stabilization
4K Max Video Resolution
RAW Shooting
Face Detection Focusing
Long Battery Life
Light Body
Manual Focusing
Environmental Sealing
Timelapse Recording
Remote control with a smartphone
UHS-I Memory Card Support
Cons
No Articulating Screen
No Touch Screen
No Built-in Viewfinder
Low Resolution Sensor
Click to read the full Review
While the sensor size is certainly nothing to write home about, it's not unreasonable to see it implemented on a portable and fairly affordable camera like this one and its size shouldn't stop you from getting good images anyway (especially if take into account that shooting in RAW format is supported on the TG-T). It's powered by the same TruePic VIII processor found in the Olympus OM-D E-M1 Mark II (one of the company's flagship cameras) and having enough power to provide the TG-5 with fast shooting speeds and well-balanced JPEG algorithms shouldn't be an issue at all. The sensor itself is also optically stabilized (providing up to 2.5 stops of stabilization) and a feature like that will certainly come in handy for shooting at night or for video recording. Since we are talking about a compact camera, we are obligated to mention the lens that's fixed to its body and we're certainly dealing with an interesting one. It's a 25-100mm equivalent unit with the fastest aperture of f2 at its wide and f4.9 at the long end (it also has zooms in internally, which is certainly a nice touch for any kind of a camera). Despite the slowish aperture of f4.9 when fully zoomed in, since we are talking about a 100mm focal length we believe that even shooting in low light shouldn't be much of an issue thanks to the image stabilization, bigger pixels of the 12-megapixel sensor and also the available maximum ISO value of 12800.

Since most people will spend their time shooting at 25mm, we love the fact that it features a nice bright aperture of f2, which opens up a lot of room for shooting in all kinds of condition and even getting creative with your depth of field (if you're close enough to your subject, of course). And you certainly will be getting close, thanks to the large amount of macro-related features that are included on the Olympus TG-5. We'll talk about those in a lot more detail later in the review, but you should now that you'll be able to focus as close as 1 cm to your subject with this camera, which is very close indeed. Although it's not easy to focus manually with the TG-5 due to its lack of focusing ring or a touchscreen, the built-in 25-point contrast detect AF system should do a decent job in coping with all of your focusing needs, but we wouldn't expect any miracles out of it (like doing a great job in low light or when it comes to capturing fast moving subjects). We would like to see a bit more control over the shutter speed; having the ability to shoot at speeds ranging from 4 to 1/2000 sec is usable but will be slightly limiting when shooting at night with a tripod or at the f2 aperture when there's a lot of bright lights in the scene.

Still, there is one aspect of the TG-5 related to performance that does sound impressive and that's its burst rate. Thanks to that powerful processor, it has the ability to shoot as fast as 20 fps (or at 5 fps in the lower speed mode) and also with an unlimited buffer for JPEG files. We believe that a lot of photographers will be very happy to get such a useful burst rate on a camera of this type and we are too. There still aren't a lot of cameras on the market that can offer unlimited buffer size, especially not at this price point. The battery life of 340 shots may not sound like anything special when compared to something like a DSLR but considering how portable the TG-5 is we are quite happy with such endurance (although things like Wi-Fi and GPS will hammer the battery really hard if you tend to use them very often).

One last thing we would like to mention before saying a couple words about the TG-5's body are its video recording capabilities. There are two resolution/framerate combinations that are able to stand out the most and that is the 4K 30 fps mode and 1080p 120 fps mode. So, in a nutshell, you'll be able to choose between capturing as much detail as possible or between getting very effective slow-motion videos (those will be especially useful if you're shooting any kind of action and the ultra-wide-angle action cameras just don't cut it in terms of their limited focal length and often stabilization capabilities as well).

Now, while we're about to examine the TG-5's body in a lot more detail in the very next section of this review, let us mention some of the most important points surrounding it. First, there's all the built-in hardware; the 3-inch TFT LCD display with a resolution of 460,000 dots, built-in flash unit, stereo microphones, micro-USB and micro-HDMI ports and also, the orientation sensor on top of the others we've already mentioned during the introduction. The more unique features start popping out when we touch on the body protection; simply put, no matter if you use this camera underwater, drop it from a reasonable height, put it through its paces under winter conditions or accidentally drop something heavy on it, there's always a good chance that it will survive and be able to tell the tale. We also like that Olympus has included something they call the dual-pane protective glass, which protects the lens from fogging up from constant changes in temperature. Also, despite all of that included protection, the TG-5 is also an incredibly light camera, which will be a match made in heaven for those that want to carry around a durable camera in tough to navigate places and don't to be burdened by its weight (you certainly won't see a lot of people who travel a lot with huge backpacks to store all their supplies carry yet another backpack for all their heavy camera gear to be used with their DSLRs or even mirrorless cameras).

All in all, while the Olympus TG-5 itself is nothing particularly new in the world of rugged portable cameras, it does indeed sound like the best bang for your back in terms of included features and its price point. Now, that we've finally ended this quick rundown of some of its most important specifications, it's time to get to some real work and discuss each of the noteworthy aspects of its body, construction, handling and also some of the included wireless technologies.
Body and handling
It's not rare to see a camera that manages to attract a lot of people's attention solely because of its looks and a design that manages to intrigue those of us who really care about their style, but the Olympus TG-5 tells a different story. Instead of sporting the looks that talk beauty or extravagance, two words are written all over its design and these are: durability and confidence. From the very first time you see this camera to the time you get the chance to play with it your mind will constantly be saying: "Well, this is something else!" and you'll have a very reassuring feeling while holding the TG-5 in your hand. While it certainly feels very light with a weight of 250 grams, it's also quite chunky and screams of ruggedness and the ability to withstand a lot of abuse from many different sources.
There's where the all-important numbers come in; waterproof up to 15 meters of depth, shockproof from a height of around 2 meters, freezeproof to a minimum of -10 degrees and crushproof for up to 100 kg. Still, despite some of its larger parameters, the Olympus TG-5 doesn't feel uncomfortable to use and there are various reasons for that being the case. One of those is the strategically placed textured materials found on the front grip and the thumb rest area, as well as all of the controls being placed in the right places and also ergonomically shaped (like all of the dials also having a unique texture placed around them and the part of the main navigation controller being slightly recessed and thus all of them giving out a noticeably better feel when being used rather than having a standard flat design). In a way, it's rather impressive how much thought has been put in making the TG-5 look just about right considering for how much money the company is selling it and we've certainly seen much more expensive cameras where not nearly enough attention to detail has been placed when defining their overall looks.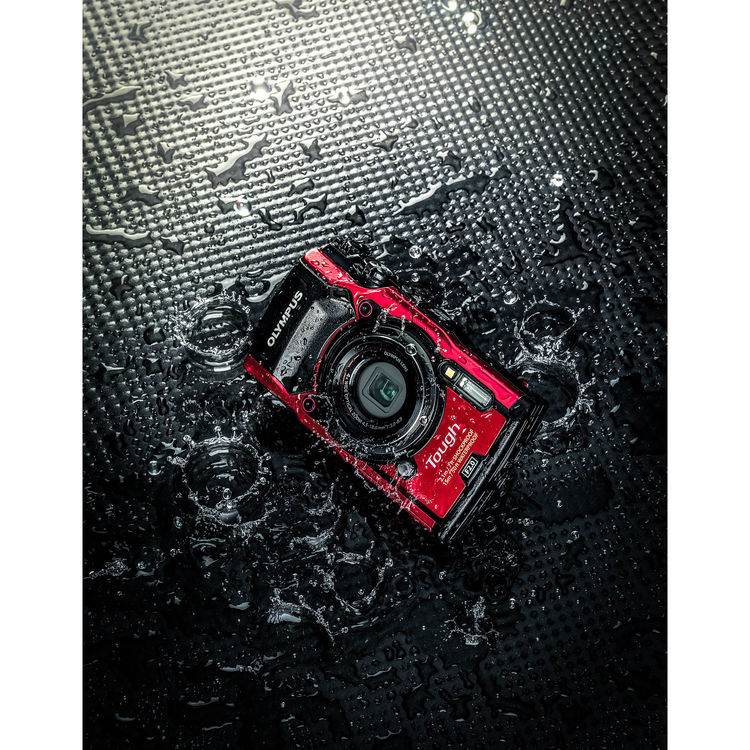 With that out of the way, let us take a look at that sweet body from every possible corner and identify all of its most important parts. On the front of the camera, you'll find a little LED light which will act as a self-timer indicator or an AF focus assist light, the Xenon flash unit and lastly, the lens ring release button. That button on the front is used to release any of the attachments that can be mounted on top of the lens like the macro LED light or the flash diffuser and even lens attachments that can give you a fish-eye effect or even an increased zoom range (although with some toll in image quality, naturally). It's really neat to see a compact camera with so much flexibility, despite the fact that those attachments might not be useful to everyone.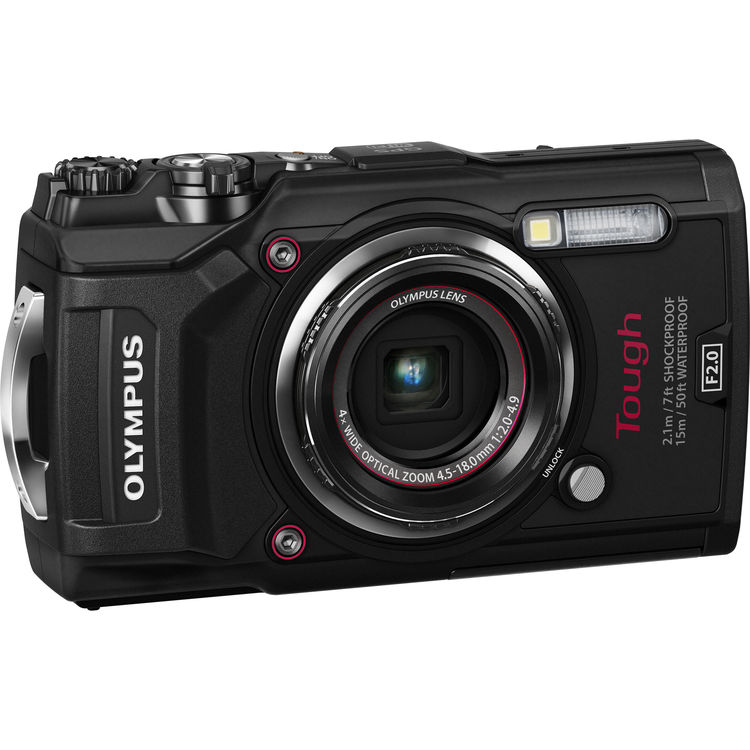 The right side of the TG-5 features a large and robust metal strap eyelet, while the left side holds the micro-USB and the micro-HDMI ports (all protected with a connector cover featuring a very well-thought-out locking mechanism to prevent any unnecessary dust or moisture reaching those ports). On the top of the camera you'll be able to find the stereo microphones, a LOG switch (which essentially turns on the GPS and lets the camera collect all the necessary sensor data), the housing for the GPS antenna, the On/Off button, the shutter button with a zoom lever positioned on its front and lastly, one control dial. At the bottom of the TG-5, you'll find the usual suspects like the tripod socket and the battery compartment (also protected by the same locking mechanism as the connector cover). In the end, let us look at the back of the camera.
Aside from the LCD screen, you should also notice the Info, Movie/Select, Menu/Wi-Fi and the OK buttons as well as the mode dial (neatly placed right under the thumb rest to allow for very quick switching through all the available shooting modes) and the four-way navigation controller (which also has four different functions mapped to each of its directions; Exposure compensation, Flash, Sequential shooting/Self-timer and the Mode function). Well, there's not much to complain about when it comes to the design of the Olympus TG-5. Everything seems to be in the right place and works as advertised. We especially like the position of the mode dial and the ability to add different attachments at the top of the lens ring. Like many of you would agree, it would be nice to see either a touchscreen or a viewfinder included, but we have to agree on the fact that both of them would be heavily underutilized on a product like this one and thus not including them at all certainly made sense from a usability standpoint and also to allow for the price of the camera to remain competitive and more attracted to a wider variety of potential buyers.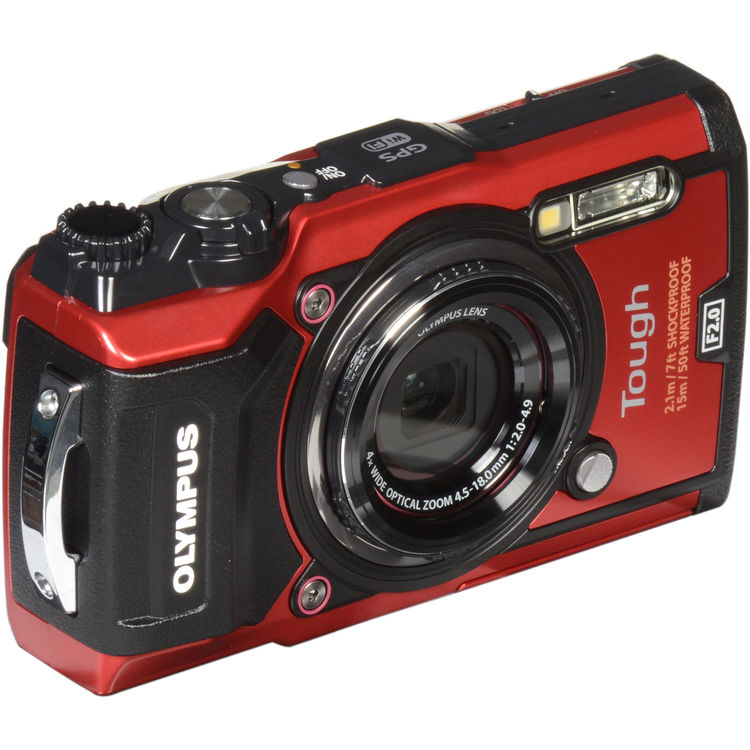 When it comes to user interface, Olympus has done a fairly good job in designing it and make it easy to navigate. It may look a little bit dated and less flashy than one some mirrorless cameras or DSLRs, but it's a pretty standard affair when it comes to affordable compacts. All of the items are correctly labelled and it's not hard at all to access any of the usual functions and neither some of the more advanced ones that are often buried deep in the menu system on a couple of other cameras we got to review. When it comes to the available shooting modes, we like the fact that besides some of the traditional ones there are also two Custom modes and also the Underwater and Microscope modes. The Underwater mode will optimize your settings and image processing to make the best out of the camera while you're shooting underwater subjects, allow you to take better macro shots and also to activate the HDR functionality. The Microscope mode is one you should be in to make the most out of TG-5's close-up capabilities as it offers increased magnification and Focus bracketing (which will take a number of images each focused slightly differently and combine them into one image with larger depth of field). There's also an additional mode we'd like to mention and that's the Pro Capture Mode. It will be of great use in those occasions when you want to be sure that you don't miss an important moment since it will start taking photos from the moment you press the shutter button halfway and after you've pressed it fully and save all of them after you're done shooting. Yet another feature worth mentioning is the Live Composite, which helpful for those cases when you're taking multiple images of stationary subjects and there are different light sources of varying intensity in your frame. It will make sure to retain the same exposure of the stronger light and capture the weaker one, without overexposing the first (as is often the case when you're normally shooting at very long shutter speeds).
Ok, before moving on the performance of the Olympus TG-5, let us talk about everything the wireless technologies built into this camera have to offer. Two are given at your disposal (Wi-Fi and GPS), so let us start with the first one. You'll be using the OI.Share application to connect the camera to your smartphone and gain a full array of different functions you'll be able to perform; image transfer to a smart device, remote shooting, applying different filters before sharing your photos and adding GPS tags gathered by your smartphone. On the other hand, the built-in GPS module and the OI.Track application will also allow you to gather location data (if you don't want to use your smartphone) and also some additional information about the latitude and longitude. Unfortunately, the built-in Wi-Fi functionality won't allow you to connect wirelessly to your computer or a printer and it those cases you'll have to rely on your standard USB connection (certainly not a deal breaker, but still something you should keep in mind when considering this camera as your next purchase).
So, to close out this section of our review we can only say that we weren't disappointed with anything the Olympus TG-5 had to offer in terms of the way it handled in use and how good its build quality was. If you try to compare it with other cameras, then sure, it may not sound like the most feature-packed device out there, but if you put it in the right context of cameras made to be simple and durable, the TG-5 looks like one of the most well-executed products out there and that's all that matters.
Autofocus and performance
In truth, not a lot of people would expect very good focusing performance from a camera like the TG-5 and neither did we (we didn't expect it to be particularly bad either) and also, a 25-point contrast detect AF system doesn't sound anywhere near as technologically advanced as some of today's systems using hundreds of focus points and combining both the phase and contrast detect focusing methods, so we approached this review in a more down-to-earth manner. Still, the TG-5 really managed to surprise us when it comes to its focusing speed, which is comparable even to a lot of mirrorless cameras (that TruePic VIII processor seems to be doing a really good job). Focus accuracy was also quite high as long as there was enough light in the scene, but in low light, both the speed and the accuracy weren't as impressive, and we did notice some focus hunting more often than we would like. So, if you are used to shooting in less than ideal lighting conditions on a regular basis, than the TG-5 might become an exercise in frustration for you (unless you don't mind using manual focus for more critical shots).
Shooting moving subjects also weren't easy with this camera, but that's to be expected (just use the built-in flash as often as you can, and you should fine). Other than that, we are quite pleased with the responsiveness of the TG-5's AF system (despite it not being the best performer in low light conditions) and we believe that most people shouldn't find it too troublesome to get correctly focused images most of the time. Now, before we move on to some real numbers we got out of this camera to let us get a feel of all the available focusing modes it has to offer. Well, there's not a whole lot to say, you can only choose between the Auto and Manual focus. While you're using AF, you can do multiple things: adjust your focus area by pressing the Ok button and moving the AF target around with the navigation buttons or automatically engage the continuous AF option while pressing the shutter button hallway and also pressing the Ok button. More advanced users will surely miss having more control over the AF behavior, but those of you that like to keep things simple and focus more on taking the photo than setting it up will like this kind of approach to focusing. Still, on the more positive side, the TG-5 does bring two manual focus assist methods (a way to magnify a portion of your screen to get a better view of the subject you're focusing on and also Focus peaking which displays colored outlines around the parts of your subjects that are currently in focus).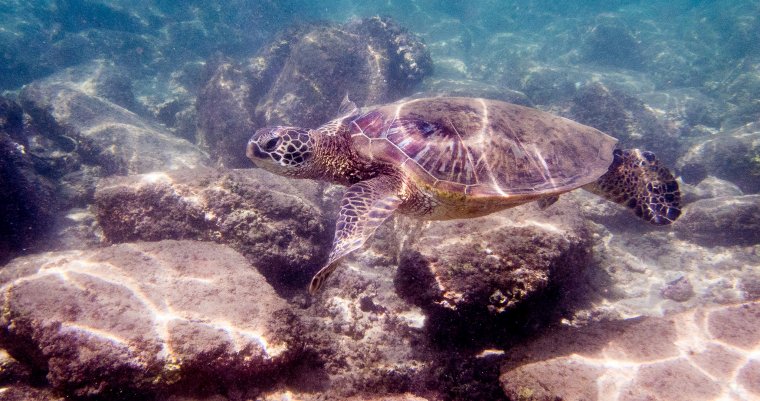 Photo courtesy of Ken Gilbertsen
Now, let us see what happens when that powerful TruePic processor really gets the chance to shine. No matter what you do with this camera you won't ever feel any slowdowns or subpar performance (not counting the buffer clearing times, which is something that every camera out there has to deal with). The lightly designed user interface simply flies as you scroll through the menus or adjust any of the settings. The same can be said for the speed of power on times; it took us less than 1.5 seconds to turn the TG-5 on and take a picture, which is a great behavior for any compact camera. Shot to shot times were also very quick, sitting around 0.17 sec at the wide angle and 0.185 sec with the lens fully zoomed in (they increase to around 0.3 sec when the flash is being used, which still results in pretty good performance). This also brings us to the available continuous shooting options. You'll get to choose between the speeds of 20 or 5 fps and the choice between to two will mostly be between getting more RAW files shot at once than anything else (since the buffer size for JPEGs is only limited by the remaining memory on your SD card at both of those speeds).
So, shooting in RAW will yield you around 18 shots at 20 fps or 40 shots at 5 fps, which are both reasonable considering the respective speeds they're tied in with and especially considering the fact that the Olympus TG-5 is not a camera that was made to replace a more expensive one that's strictly made for shooting anything that moves fast. All of those results go together very well with the TG-5's endurance rating of 340 shots since such battery life is also pretty decent for such a camera. More demanding photographers and videographers should still invest in an extra battery or a USB compatible external battery pack (since the TG-5 does support charging over USB) if they plan to spend a long time away from any power source, but that shouldn't be an issue to any of them nor a very pricey investment. So, we've only managed to find one noticeable flaw in this camera's performance and that's its average focusing capabilities in low light conditions. Everything else about it turned out to be within or above our expectations.
It's up to you to decide if you're the type of person that spends more time shooting in conditions with less then ideal lighting or you more an outdoors shooter during daylight and that decision will help you find out if the Olympus TG-5 is the right camera to fit your needs. Still, we would suggest that you delay your final decision and leave it for the time after looking at the rest of this review because more interesting things are certainly coming right now.
Video features and quality
It doesn't happen very often that you'd be able to find a more budget-oriented camera that has very compelling video recording capabilities (especially if it's mainly oriented on one specific thing, like protection from the elements, as is the case of the TG-5), but this camera is certainly one of those rare cameras that manage to bring a compelling feature or two surprises even the more demanding videographers out there. If there's one of those features that manages to stand out the most when it has to be the sheer choice of different resolutions, compression ratios, and framerates that you'll have at your disposal.
The 4K footage itself is always recorded at the highest available quality and tops out at 30 fps but switching to 1080p will give you the option to shoot at a fast frame rate of 120 fps and choosing the 720p resolution will double that speed to 240 fps (both of those resolutions offer three different compression strengths). There's even the option to record movies at 480 fps, but since they are only recorded at a 360p resolution they don't look very good and are only here for bragging rights when comparing the TG-5 with some of the other compact cameras that can't even record 120 fps footage. So, recording slow-motion videos effectively is of no problem to the TG-5 and the same holds true for its ability to produce high-quality videos. Shooting in 1080p will yield decent looking footage, but only the 4K option is good enough to be usable for a lot of different applications, even for some semi-professional or amateur work. So, if you've always wanted to get a compact camera that can record in 4K, but you don't want to invest a lot of money, then the TG-5 immediately presents itself a very compelling choice. Just make sure to get at least a Class 10 SD card to be able to record 1080p or UHS-I Speed Class 3 card to record 4K footage. The addition of image stabilization also adds more value to the TG-5 as a video camera and does a pretty decent job of keeping things still as possible (although not as good as some of the more advanced IS systems found in a lot of mirrorless cameras or some of the lenses).
Recorded audio quality is usable, but nothing overly inspiring and is also captured in stereo (as you would expect from a modern camera). Sadly, there are no microphone or headphone jacks, but we weren't expecting to find them on a camera of this type and that's something you'll have to live with. Continuous AF is available and enabled by default and works as advertised, but not very reliable and as quick as we've gotten used to on a lot of cameras with phase detect AF systems. You'll probably gain better results by focusing manually, but you'll only need to resort to that if there's a lot of moving subjects in your scene.
Lastly, we'd like to mention one additional (and quite a fun feature) that is available on the TG-5 and that is the ability to apply a lot odd different Art Filters to your videos, just like you would on your photos.Since there are no special profiles available that are suitable for color grading in post-processing, these that are included (like the Pop Art, Grainy Film, Gentle Sepia, Dramatic Tone, Vintage and so on) should serve you just fine if you want to quickly and effectively change up the look of your videos and give them a fresh coat of paint without needing to do any extra work besides selecting the one you want to use. After all that's been said, you've probably gotten an impression of what the Olympus TG-5 can do for your video production needs and its actually quite a lot if you aren't doing any serious and professional work. Recording vlogs or cool slow-motion videos catered for online consumption is the best use case scenario for this camera in regard to its video capabilities.
Image quality
Now, there's only one matter of business that needs to be taken care of before we're able to conclude this already lengthy review and that is to reveal all of our findings that are directly related to the TG-5's ability (or inability) to produce images of satisfactory quality. Well, the limitations of a smaller 1/2.3-inch sensor are certainly showing here as well as with every other camera on the market that bears the same sensor size, but they are not as noticeable as on a lot of those cameras. A very well-balanced image processing is doing a very good job of keeping the noise as low as possible and retaining as much detail as it can without making the photos look overly processed and unnatural.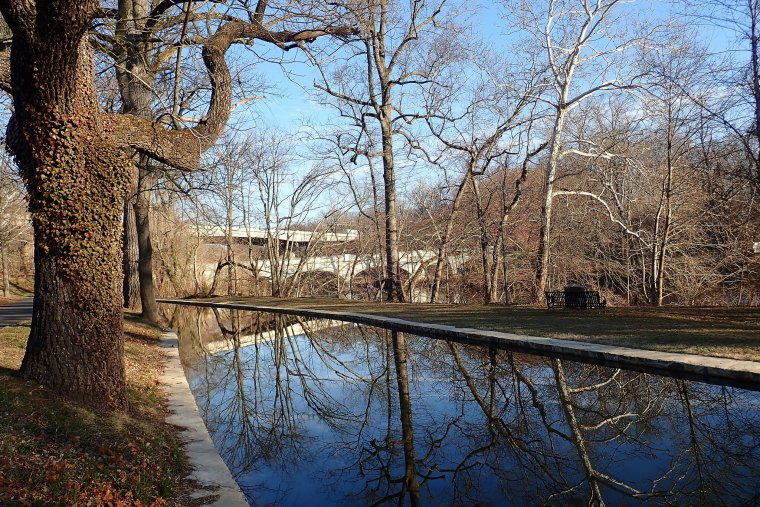 The smaller 12-megapixel resolution also helps to increase the amount of gathered light, so less processing is required to make the most of the photos produced with the TG-5. It also brings increased dynamic range, something that is certainly noticeable when shooting high contrast scenes (especially if you decide to shoot in RAW and balance out the shadows and the highlights even more in post-processing). Low light performance doesn't seem anything special when compared to a lot of cameras with larger sensors that a lot of us where grown accustomed to, but is perfectly in line with something like a flagship smartphone or a more advanced camera also sporting the same 1/2.3-inch sensor size, meaning that you'll be able to get very usable images up to an ISO of 1600 and also at 3200 if you aren't planning to do any large prints and you can accept some noticeable drop in image quality.
Luckily, you will rarely use ISO values above those that we've mentioned because of the decently good built-in image stabilization, which will allow you to drop your shutter speeds and use lower ISO, thus retaining more detail and reducing the overall noise levels. Your best bet is to stay at the widest focal length of 25mm for as much as you can when faced with most demanding conditions since the maximum aperture of f2 will help you a lot when it comes to retaining good image quality. Now, despite the RAW support being included on the TG-5, a lot of people still like to apply different filters on top of their images and aren't interested in processing their photos on their computers or laptops and for that reason it's great to see that Olympus has included a wide variety of different Picture Modes to play around with. Let us just mention a few to give you a feel of which ones are available; Vivid, Monochrome, e-Portrait (for getting smoother skin tones), Pop Art, Diorama, i-Enhance (adds even more processing to the image depending on the scene) and so on. In the end, the Olympus TG-5 performed as expected in the image quality department and only the more demanding users out there will find themselves wanting something better, which is perfectly fine considering the fact that this camera isn't targeted at those types of users.
Conclusion
Well, we certainly love those times when we get the chance to review slightly different types of cameras that stand out from the crowd with some unique feature or two and the Olympus Tough TG-5 certainly didn't disappoint in that area. While rugged weatherproof cameras aren't anything we've never seen before, the TG-5 still manages to build upon such design language and present itself as quite a capable little camera in its own right.
Yes, its body may be its biggest selling point, but there are more reasons than that one to purchase this camera. It features quite a capable sensor (despite its small size), very fast AF system (at least in good lighting conditions), a very impressive burst rate, good battery life (and the ability to charge via USB), very intuitive control scheme, low weight (making it quite portable, despite its larger dimensions), 4K recording (in addition to all the useful higher framerate modes), sensor-shift image stabilization and one of the most impressive macro capabilities that will be hard to beat by any compact camera on the market.
You can also try Canon PowerShot ELPH 360 if you're looking for a more lightweight camera. But, if you're on the lookout for a point-and-shoot camera that can withstand almost any type of abuse and you want as little compromise as possible for that durability to be achieved, then you should seriously consider the Olympus Tough TG-5 as one of your main candidates.
The following two tabs change content below.
An amateur photographer, songwriter, musician, computer and technology geek and an occasional comedian, I'm a little bit of everything. I always aim to pursue things I'm passonate about and try to look on the positive side of things whenever I can. My mission is to wrap my articles in that aura of positive energy and keep a healthy balance between being serious about my work and spicing things up with a little fun now and than. After all, life's a game and there's always a different way to play it.