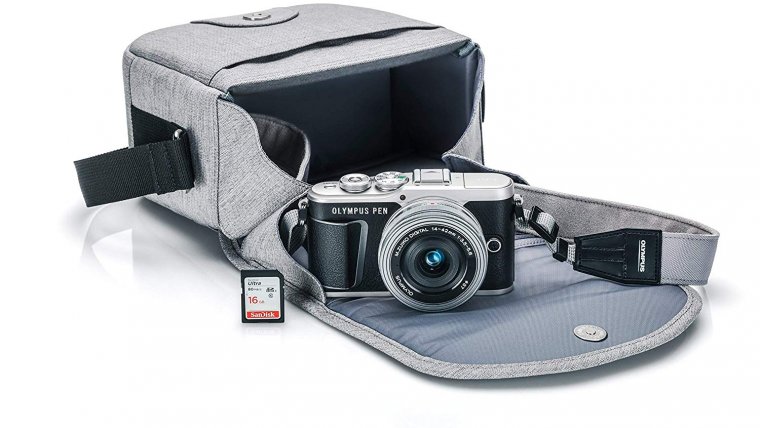 Olympus PEN E-PL9 Review
www.sleeklens.com
There's no denying the fact that the mirrorless cameras market is currently in full bloom with the amount of different offerings coming from every major manufacturers on the globe, ranging from entry-level devices aimed at beginner photographers and also those that are trying to fulfill the desires and the needs of the most demanding users out there and with the slow decline in popularity for compact cameras and DSLRs, a lot of room has been made for many different companies to spread their wings and try to attack every part of the market with more compelling offerings with each passing year. Still, one of the busiest and most competitive parts of the camera market has to be the entry-level segment, since it's the only one faced with the high threat of current modern smartphones and their often very good imaging capabilities (making it hard to convince a lot of users to buy and carry a separate device with them when their smartphones are already covering a majority of their needs, including those related to taking photos and recording videos).
Luckily, for all the manufacturers out there, the need for dedicated devices (even at the consumer and mainstream level) still exists thanks to the superior image quality and flexibility brought on by mirrorless cameras that yet has to be matched by the modern smartphone (even though some of them have started experimenting with larger than average sensors, advanced image stacking techniques and multiple lenses of different focal lengths). For all those reasons, the Olympus PEN E-PL9 presents itself as a very compelling camera to those who want to do more with their photography than what is currently offered by their phones and their limitations.
The E-PL9 will certainly be more comfortable to hold after longer periods of shooting, easier to control thanks to its physical buttons and dials, more versatile thanks to its interchangeable lens nature (you can forget having to rely on digital zoom, portrait modes and any kind of software tricks to be able to get closer to your subject or separate it from the background) and in the end, bring better endurance and save your phone's battery (which could easily be depleted with its camera is in constant use). Thus, it all depends on your general interest in photography and the curiosity of discovering what else lies beyond your smartphone's screen and we believe that the Olympus PEN E-PL9 offers enough features at a very competitive price point to attract anyone interested in a portable device that will allow them to take better quality photos of those moments and memories that they want to keep a record of.
Even though we already have a general idea of what kind of a device the E-PL9 really is (at least judging it by its specs and the overall history of the PEN line up), we still have to examine it in as much detail as possible to fully form our honest opinion about its possibility of being the next candidate for a new addition in your pocket or a camera bag and for that reason we would like to encourage you to keep on reading and join us in our discovery of many different capabilities that this modern entry-level mirrorless camera aims to bring to the table.
Starting with its sensor, the Olympus PEN E-PL9 brings a very familiar and an already proven 16-megapixel Four Thirds sensor backed up by a powerful TruePic VIII processor and in return will give any kind of a photographer the ability to take photos of very good quality in almost all lighting conditions (especially if you decide to pair it with an optically good lens). You can expect to get decent sharpness, pleasing colors and contrast, good noise performance in low light (very clean images up to an ISO of 3200) and more than usable dynamic range to help you deal with more demanding scenes that won't be easy to properly expose and achieve a perfect balance of dark and light areas. On top of all of that, the E-PL9's sensor is also stabilized with the help of a 3-axis sensor-shift system with an effectiveness rating of 3.5 stops. So, it's not as effective as the 5-axis solutions found in more expensive and advanced mirrorless cameras, but it will still allow you to drop your shutter speeds while shooting at night (to get more light in and also less noise) and get smoother videos while recording them handheld. (the advantage of being able to stabilize any lens that you decide to mount on the camera still remains and is still one of the most compelling reasons to have a camera with in-body image stabilization).
Pros
Built-in WiFi
Bluetooth Connectivity
Image Stabilization
Articulating Screen 4K Max Video Resolution
Touch Screen
Face Detection Focusing
Light Body
Timelapse Recording
Remote control with a smartphone
Cons
No Built-in Viewfinder
No External Viewfinder Option
No Environmental Sealing
Low Battery Life
Click to read the full Review
With the image quality being covered by the 16-megapixel Four Thirds sensor the next important thing that had to be incorporated into this camera for it to be able to compete at a high level is a capable AF system and things are certainly looking good for the E-PL9 in that regard. While it may not bring an advanced Hybrid AF system autofocus system found on pricier mirrorless cameras it still includes quite a capable 121-point contrast detect AF system that should coupe rather nicely with anything you decide to throw at it (even if it's subject tracking or working in low light). It's certainly a nice increase from the 81 focus points found on its predecessor and the focus points themselves are also nicely spread around the image frame to allow for the camera to more easily focus on those subjects not being strictly in the center of the frame.

The only area in which the contrast detect system used to noticeably suffer in the past is in the case of continuous AF during video recording, but we believe that the E-PL9 will be able to produce decent performance even in that particular use case scenario (the AF systems on mirrorless cameras have come a long way in the last couple of years and have become more capable than ever before). Still, some further testing will be required for us to see if the E-PL9 does indeed bring significant advancements in that particular area, but we are already having very high expectations about its potential performance. It also promises to deliver the goods in regard to its shooting speed; a burst rate of 8.6 fps and the fastest shutter speed of 1/16000 sec (thanks to its electronic shutter) should really give you plenty of room when it comes to capturing fast moving subjects, especially when you take into account the built-in image stabilization and the wide-spread focus points.

The native ISO range of 200-6400 (expandable to 25600) will also allow you to easily fine tune your exposure and so will the built-in flash unit with its respectable range of 7.6 meters and features like slow sync, fill-in, red-eye reduction and more. A traditional hotshoe mount is also available for those of you that would like to use more powerful and more advanced flashes. Design-wise, the E-PL9 is quite a simple camera that will mostly appeal to those not interested in complicated control schemes and having a lot of different ports at their disposal. It offers just the necessary buttons and dials you would expect to find on a portable mirrorless camera and arranges them in a very traditional way. It also lacks things like headphone and microphone jacks and environmental sealing, but it does include a pair of stereo microphones, Wi-Fi, Bluetooth 4.0 LE and a UHS-I compatible SD card slot. A viewfinder is also nowhere to be found (which is quite expected for this class of cameras), but the included 3-inch articulated touch sensitive TFT LCD with a resolution of 1,040,000 will more than makes up for it and will allow you to have a pretty good shooting experience when it comes to framing your photos and videos and also controlling the camera in tandem with its physical controls.

What stands out the most about the E-PL9 in terms of its exterior has to be its stylish design, which will certainly attract anyone wanting their camera to be a capable production tool as well as a fashion statement and is indeed one of E-PL9's biggest appeals considering its relatively low price point. Still, for more dedicated users, that selling point could easily be the included 4K 30 fps recording option, something that will enable you to capture stunning video footage in almost all lighting conditions. While 1080p recording is still an acceptable option for most beginners and casual videographers, it's still great to see that even the entry-level cameras are slowly catching up to the 4K trend as even our smartphones have reached that goal even a couple of years ago from now (as it's certainly somewhat of a game changer and not a just a marketing gimmicks as some people will lead you to believe).

All in all, the Olympus E-PL9 does let off a very positive vibe in regard to its existence as a camera that you'll be able to carry with you anywhere, get photos and videos that will beat those produced by your regular point-and-shoot camera or a smartphone and learn more about photography in general (manual exposure settings, lens choices, flash photography and more).
Body and handling
As we've already mentioned, the Olympus PEN E-PL9 is certainly one stylish attention-grabbing camera (as was the case with many previous PEN models before it). Its combination of silver accents, faux leather materials (available in four different colors), simple button arrangement and compact size certainly does make it stand out from a lot of cameras within its price bracket and makes it look more expensive and premium than it really is. Holding it in your hand will tell a different story about its overall ruggedness and build quality, but we still wouldn't go as far as calling it a product that feels cheaply made or will fall apart at the first serious drop. It may not have what it takes to withstand the elements or be thrown around a lot, but you will be able to keep it in pristine condition for a long time if you're at least somewhat careful with it and you don't use and abuse it too much. The E-PL9's weight of only 380 grams (including the batteries) will allow anyone to put it in a small bag or a backpack and keep it with them at all times (especially if you decide to pair it with a smaller prime or a pancake lens). Its decently large hand and thumb grips will allow you to hold it very securely in your hands without being afraid of the possibility of dropping it and the flexible tilting screen will give you the ability to easily take self-portraits or record vlogging videos (another area this camera will be able to cover well if audio quality is not your utmost priority). It is very much handy compared to Olympus OM-D EM1 that weighs almost 500 grams.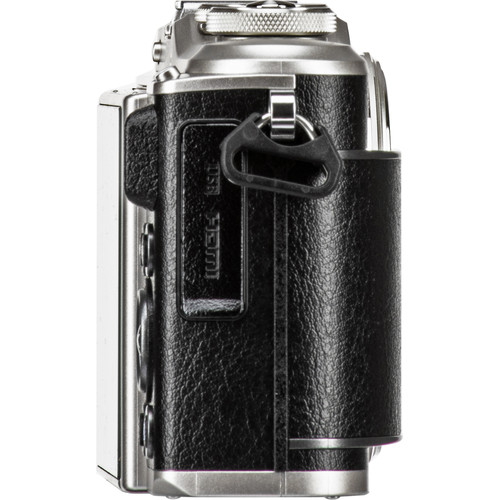 We also do like the fact that Panasonic have managed to cram all the components necessary for seamless Wi-Fi and Bluetooth communication between your smartphone and other devices into the E-PL9's small camera body and thus allowing those users who like to post their photos on social networks or immediately share them via any of the popular online services to do it quickly and without much hassle when it comes to the initial setup. The addition of a viewfinder would be a very nice addition, there's no denying that fact, but we do understand the reasons behind the decision Olympus have made to not include it on this model and that's because of two major factors; price and ease of use. While the E-PL9 may appeal to a few advanced photographers, most of them will be making the upgrade from their smartphones or compact cameras and most of them rely on using their respective screens as main methods of looking through their lenses or navigating their user interfaces, so we certainly won't consider the lack of a viewfinder on the E-PL9 as something potential buyers should have to worry about.
Now, as is the case with most of our camera reviews, it is the time to take a short tour around the camera body and decide if the product at our hands has enough going for it to be considered a device that is easy to use or get a grasp of. Starting with the front of the Olympus PEN E-PL9 you will find the usual things like the focus assist lamp, slightly protruding hand grip, lens release button and the lens mount itself. What does stand out is a clearly visible Olympus PEN logo, but of course it's nothing more than a small artistic touch brought on by camera's designers. Both sides of the camera include the necessary connectors for attaching a carrying strap with only the left side being void of any kind of ports and expansion slots and the left side being the one that features the obligatory USB and HDMI ports. The battery/SD card combo compartment and the tripod mount are located at the bottom of the camera (the battery unit itself is of lithium-ion variety, is rated at an endurance of 350 shots per charge and holds a model number BLS-50).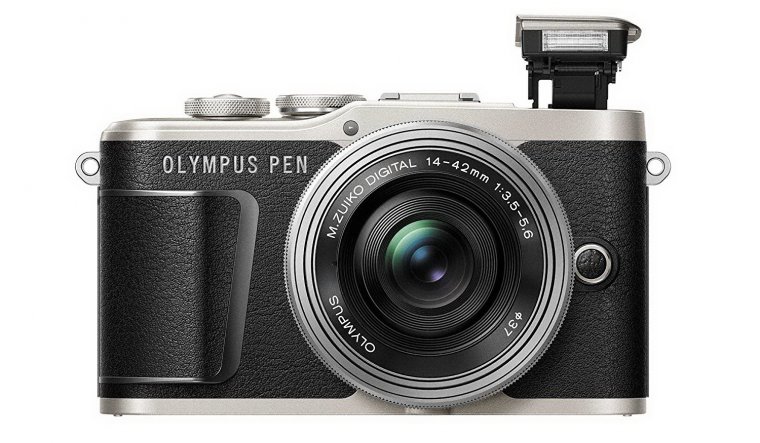 The top of the Olympus PEN E-PL9 features the pop-up flash unit, a standard hotshoe mount, stereo microphones, the main model dial containing everything from the Program, Auto and Scene modes to the dedicated Manual mode, a dedicated control dial with the shutter button on top of it and an On/Off button. The back of the camera features the flash pop-up button, a small mono speaker, the articulating touch screen, the Shortcut/Index playback and the Fn/Magnify buttons, the Movie/Share, Menu and Info buttons, the four-way navigation controller with the Ok button located in its center (the controller itself will also allow you to quickly access four different functions: Exposure compensation, AF target, Sequential shooting/Self-timer and the all of the Flash related options).
The last two buttons located right beneath the navigation controller are the Delete and Playback buttons and together with the rest of the included controls nicely round up the E-PL9's control scheme (which fits in perfectly within the expectations we would have for a camera at its price range). Things like dual control dials and a few buttons dedicated to a few specific functions are missing and you'll have to rely on the touch screen to gain access to them and handle them quickly enough. This shouldn't be a problem to anyone but the more demanding photographers since Olympus done a pretty good job of optimizing the user interface to react well to touch inputs and also making it a non-issue to navigate even if you've never used an Olympus or a mirrorless camera before. You will always have the option to stick with the very helpful Auto mode before tackling the more advanced features and thus the transition between using a simple point-and-shoot camera and a more powerful photographic tool won't be too jarring and too much of a chore.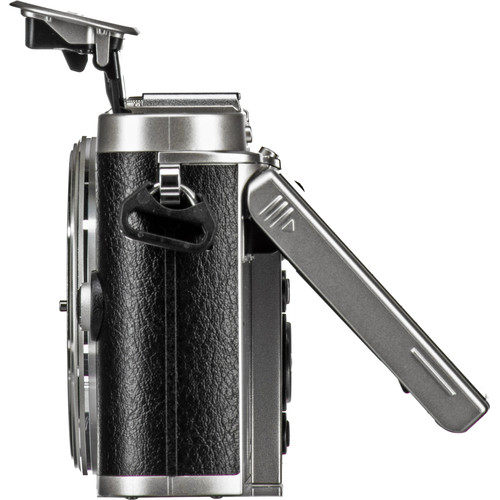 Now let us see what the E-PL9 offers in terms of customization and all the necessary tools that would allow you to set up your camera the way you want to. First, there are different shooting options. You'll be able to two switches between four different information displays (Basic, Image Only, Level Gauge display and Histogram display), use more mode-specific Displays like the Live Guide, Scene mode, Advanced photo mode and the LV super control panel (a special screen that holds the majority of important settings and functions you would usually work with on a daily basis)or play around with advanced features such as Panorama, HDR, Live Time, Keystone Compensation, AE Bracketing, Focus Bracketing and more.
When it comes to customization, in general, you'll be able to change the functions of Fn and the Record buttons, choose a particular zoom speed at which your electronic zoom lenses could work with, choose processing options inside the Picture Mode, improve focusing performance in dimly lit condition by enabling the AF illuminator feature and access a plethora of different sub-menus including the AF/MF, Button/Dial (used to change the function of buttons and dials), Disp/PC (Control Settings, Info Settings, Live View Boost, Flicker reduction, Displayed Grid, Peaking Color and more), Exp/ISO/Bulb (Exposure Shift, ISO-Auto Set, Noise Filter, Noise Reduction, Live Bulb and so on), Custom (X-Sync, Slow Limit, Flash + Exposure compensation and + WB), WB/Color, Record and lastly, the Utility (Pixel Mapping, Level Adjust, Touchscreen Settings, Sleep, Eye-Fi and Certification) menus. So, the E-PL9 may not be the customizable powerhouse we are used to seeing from more expensive mid-range or flagship cameras, but it does manage to offer just the right amount of functionality and useful features to make it a very usable device to those people looking for something simple, but still advanced enough to give them the control over most of the important aspects surrounding any dedicated camera.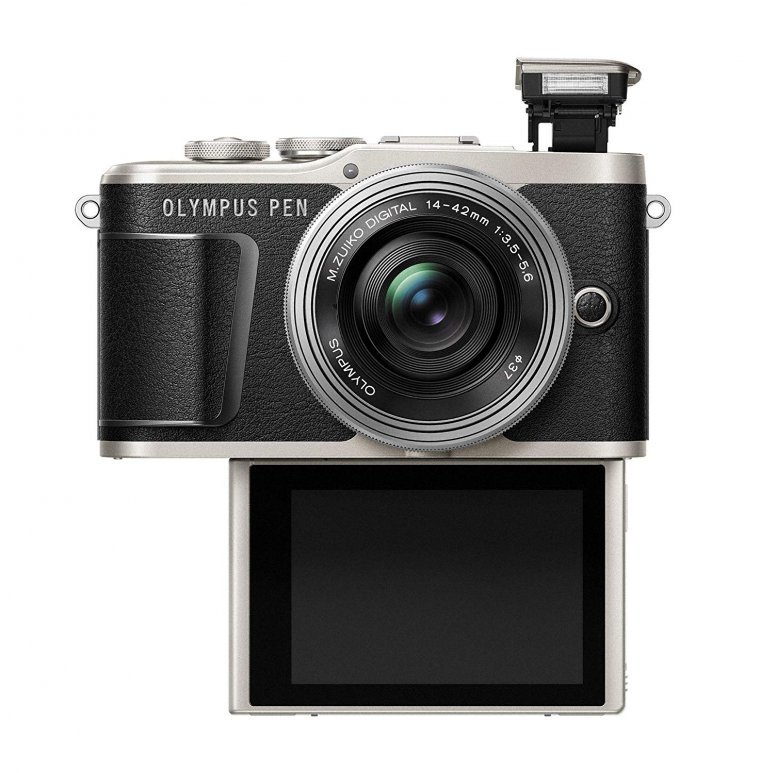 In the end, let us see what it manages to offer in terms of wireless communications and if any significant sacrifices had to be made for it to reach its competitive price point. All of the Wi-Fi functions are closely tied in with smartphone use (as is to be expected from a modern mainstream-oriented camera) and are split between three different applications: Olympus Image Share, Image Palette and Image Track. The first application will allow you to send the images from your camera to your smartphone or a tablet and use the remote shooting function (using your smartphone's screen to control the E-PL9 from distance), the Olympus Image Palette is here to give you the option to apply picture effects to your photos the moment they are sent to your smart device's memory and lastly, the third app is here to fulfil all of your GPS and location tagging needs.
If, however, you decide to connect the E-PL9 to any of the compatible devices via either the USB and the HDMI cable you will also be able to pair it with your PC to transfer your photos or update the camera's firmware, with a printer and use Direct printing via the PictBridge option or simply connect it to an HD TV set and easily share your photos and videos with your family, friends or co-workers. After we put all the information we've gathered about the Olympus PEN E-PL9 and its usability, design, shooting options, helpful features and wireless communication capabilities together we get a clear picture about a camera that may not be the most advanced piece of technology out there, but is certainly the one that manages to hold its own against its competition and offer a package that is as functional as it is pretty to look at.
Autofocus and performance
We've already mentioned that we had high hopes for Olympus E-P9's performance from the very beginning considering its upgraded 121-point contrast detect AF system and a powerful processor also found in more expensive and advanced cameras such as the E-M1 Mark II and we are happy to say that this initial testing and findings have revealed the exact kind of performance we were hoping to find. Shooting still subjects wasn't a chore the E-PL9 and it even faired well when it came to subject tracking and low light photography. Its accuracy and speed in those demanding conditions were pretty decent and even very good if you compare it to other cameras it tries to compete with. It wouldn't be our top pick for shooting sports or action, but it will do just fine for shooting pictures of your family, friends, pets and so on. This especially holds true if you learn your way around all the focusing modes the camera offers, as some of them will certainly help you achieve better results if you're aware of the type of photography you are going after in any specific situation.
So, let us dive into those features and modes Olympus have decided to include on the E-PL9 and see how much control it will give you over its AF behavior. You will get five main focusing modes to choose from: Single AF (this mode is best suited for shooting still subjects), Continuous AF (best used for shooting moving subjects as it will allow the camera to constantly reacquire focus as long as the shutter button is being pressed halfway), Manual Focus (for those demanding occasions where the use of AF isn't recommended, such as macro photography or working in very dark conditions), Simultaneous use of Single AF and the MF mode (this mode will allow you to fine-tune your focus even after the camera has confirmed that it has focused on your subject) and lastly, the AF tracking (the improved version of the Continuous AF mode that will give you the option to pick one subject and try to keep it in focus even if it's moving around the frame).
Now, no modern mirrorless camera would be complete without having a few additional focusing features and the E-PL9 is no different in this regard. The Super Spot AF is here to allow you to zoom on the part of your frame while you're adjusting focus and thus you'll be able to focus on very small subjects or very specific details, while the Face-priority AF/Eye priority AF features will prove very useful to portrait photographers since they will instruct the camera to focus on people's faces or more specifically, one their eyes (these kinds of modes are still one of the most compelling reasons for owning a mirrorless camera). The Olympus E-PL9 will also allow you to pick your AF targets and select between three of them: All Targets (the camera will automatically pick which focus points to use), Single Target (you will be given the option to move one focus point around the frame making this method the most accurate out of the three) and the 9-Target Group (which is similar to the Single target mode but adds 8 additional focus points to allow you to focus on slightly larger area). In the end, there are all the different manual focus assists that we're used to finding on most of today's mirrorless cameras: focus peaking, scale focusing and also the magnify option (all of them especially helpful to those of you that like to use legacy manual lenses with their micro 4/3 cameras since a lot of them are easily adaptable using dead simple adapters). The E-PL9 brings a very respectable burst rate of 8.6 fps (a slight increase over 8 fps found on its predecessor), but it's effectiveness sorely depends on the type of image format you're shooting with; if you decide to go with RAW you will be able to get a maximum of 20 frames before any slowdown occurs, but switching to JPEG dramatically improves things by giving you an unlimited buffer size and it's far from being a bad thing considering the fact that we're dealing with an entry-level camera whose users will stick with shooting JPEGs most of the time anyways.
The last thing we need to talk about is the battery life and it is yet another area in which the E-PL9 manages to provide a satisfying performance. This camera will provide you with around 350 shots before the need arises to charge or swap its battery and that is certainly plenty of endurance to get you through a couple days of taking photos (assuming that you're not one of the more heavier users out there and if that was the case than the E-PL9 certainly won't be the camera to fulfil your needs). Do keep in mind that your battery life could also vary depending on your usage of Wi-Fi and Bluetooth technologies and thus, using them in moderation will be the keep of keeping the battery alive for longer periods of shooting. So, as was the case with the previous part of our article we've found no particular faults that could be attributed to the Olympus PEN E-PL9 and its performance-related feature set and results during our testing proved to be above or within the margins of an entry-level mirrorless camera.
Video features and quality
A common trait shared among many beginner-friendly cameras has always been: good imaging capabilities, but only decent or subpar video recording and that trend have been reemerging for many years now with these types of cameras. Still, one important factor has influenced camera manufacturers to take video capabilities more seriously and that has been the arrival of a modern smartphone. Despite having rather small sensors when compared with bigger cameras, a lot of them have been more than capable of producing videos of very high quality and even in 4K resolution and at 60 fps. While 1080p recording is still widely accepted by many users as "good enough", it was only a matter of time before camera manufacturers had to take things more seriously and equip their less advanced models with features that should put it on the same or higher level than that of any flagship smartphone.
The E-PL9 is a prime example of that policy being applied to a mainstream mirrorless camera, as it does bring the obligatory 4K recording to the table (captured at a very respectable bitrate of 102 Mbps as well). Full HD 60 fps and 720p 120 fps recording are also here to give you even more flexibility of choosing between image quality and shooting speed (you will certainly be able to produce very pleasant slow-motion footage). Microphone and headphone jacks aren't included, but a pair of decent stereo microphones is, and you should have no problems recording any kind of events with the E-PL9. The same can be said about using the continuous AF option (or Touch AF for that matter). Unless you are planning to shoot very fast subjects, the autofocus system will be able to keep up with anything you decide to throw at it and you will only experience a few hiccups and focus hunting here and there (mostly in low light conditions, where the focusing speed does noticeably slow down).
We also like the fact that Olympus has allowed the use of many effects available for stills to be applied to movies as well as it is certainly a very straightforward and intuitive way of giving your videos many different kinds of specific looks without having to go through often tedious process of creating them yourself in any of the available post-processing software. In the end, one final feature worth mentioning has to be the in-body sensor shift 3-axis image stabilization. There's no denying the fact that it helps a lot when it comes to stabilizing video footage and the difference between having it turned on and off was very noticeable in our testing (even if the implementation itself is not the best we've ever seen on a mirrorless camera, but something like that is to be expected on a product with such aggressive price point).
All in all, anyone from casual users to occasional vloggers should be very happy with everything the Olympus E-PL9 has to offer with its video recording and that is exactly what we were hoping to see on a camera of its caliber.
Image quality
While the E-PL9 has managed to surprise us on a couple occasions with its solid feature set and performance, its stills image quality ended up being as predictable as possible (which isn't necessarily a bad thing). Everyone in the photographic community is already well aware of the capabilities of the type of 16-megapixel Four Thirds sensor found inside this camera as it has been featured in many others in the last couple of years. It's still a decently capable sensor by modern standards with everything from its resolution, dynamic range, color reproduction and noise performance holding up nicely against what the competition has to offer, but its maximum potential has already been reached by all the technological developments that have happened since the first camera featuring that same sensor has reached the market.
We would certainly like to see the newer 20-megapixel Four Thirds sensor appearing on the E-PL9, but at least we can report that Olympus have perfected the JPEG algorithms and processing with the inclusion of one of its flagship-grade processors with very nicely saturated colors and a fine balance between noise reduction and sharpening, which makes this one of the best entry-level mirrorless cameras on the market for those that aren't interested in playing around with RAW files and putting the time necessary for editing them themselves. For this reason alone, E-PL9 brings a number of different picture styles and effects including the Color Filters (Yellow, Orange, Red and Green), Monochrome Color (Sepia, Blue, Purple and Green) and also, the Picture Modes (i-Enhance, Vivid, e-Portrait, Grainy Film, Vintage and many more). Of course, you will also get the option to create custom profiles and make fine adjustments to things like Sharpness, Contrast and Gradation, all within the camera's user interface and without having to transfer your photos on a PC or any other type of a device.
Conclusion
As it is accustomed for our reviews it is time to say a few last few words about every camera and summarize our findings in hopes of giving you a balanced mixture of pros and cons and finally, an objective opinion as possible, all to help you make an educated purchasing decision. The Olympus PEN E-PL9 is certainly a camera catered to a specific type of audience and one that will not attract a lot of interest from those with more serious and professional tendencies, but will instead appeal to more casual users who are in the process of learning about photography, moving away from their smartphones or point and shoots or want an affordable, but still stylish camera that will go well with their sense of fashion.
Despite its low price point, the E-PL9 doesn't bring any meaningful sacrifices that would bother its targeted audience and instead manages to create a nice mix of good image and video quality, intuitive controls, powerful connectivity, reliable performance, lots of useful features (image stabilization, articulating touchscreen, wide array of available filters and picture styles, pop-up flash and more) and an eye-catching design. It's a very good contender for being one of the best budget-oriented mirrorless cameras on the market in 2018 and that's certainly saying a lot about Olympus as a company and their ability to deliver the goods even at the lower price tier of cameras. Look here for more of the best mirrorless camera in the market.
The following two tabs change content below.
An amateur photographer, songwriter, musician, computer and technology geek and an occasional comedian, I'm a little bit of everything. I always aim to pursue things I'm passonate about and try to look on the positive side of things whenever I can. My mission is to wrap my articles in that aura of positive energy and keep a healthy balance between being serious about my work and spicing things up with a little fun now and than. After all, life's a game and there's always a different way to play it.