Olympus OM-D E-M1 Mark II Review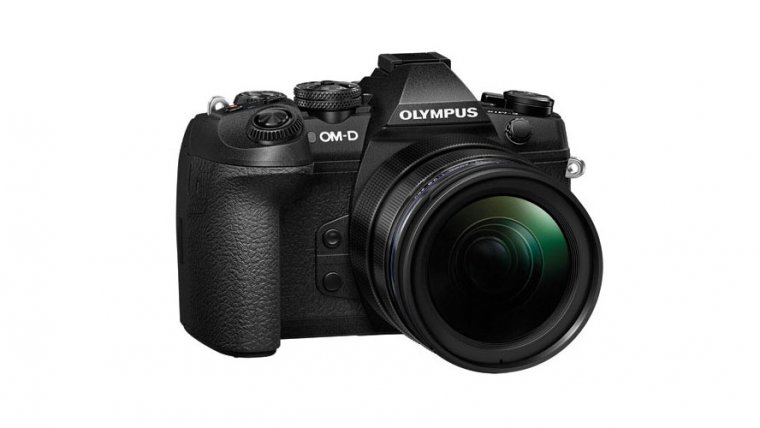 Olympus OM-D E-M1 Mark II Review
www.sleeklens.com
It has become a very common practice to review mirrorless cameras since they've blown up on the market in the last couple of years and thus we've got the chance to see each and every camera manufacturer fight for their place in the sun with many different types of products. Thus, we've seen those that concentrate on resolution, those that are more oriented to low light performance, speed demons that are all about getting as many images with a click of the shutter button, mirrorless cameras that are all about portability, devices that try hard to replace camcorders and dedicated video cameras, premium products that try to offer the best build quality and that are also aiming to showcase your social status and so on. So, if you're interested in getting a mirrorless camera, there are certainly plenty of different options to choose from, but very few of them manage to hit the right spot and offer a truly ground-breaking package of well-polished features as most of them will require you to accept some sort of compromise (either the higher price point or the sacrifice of some functionality) to allow you to get the right feature set.
It's no wonder that the camera that we get to review this time has made us very excited as it's exactly the type of a mirrorless camera(click here) that is trying to be a jack of all trades and offer as many features as it can at a pretty reasonable price point (for a flagship device at least). We're talking about the Olympus OM-D E-M1 Mark II, which at the time of writing this review is the best mirrorless camera the company has to offer and thus has very big shoes to fill. It aims to tick a lot of boxes that will be appreciated by all types of photographers and videographers; the latest 4/3 sensor, advanced image stabilization, fast and accurate AF system, impressively fast burst rate, mechanical and electronic shutter, 4K video recording, great viewfinder and screen units, very good build quality with the addition of weather sealing, respectable battery life and so on.
Even having a quick glance at the specifications of this camera will support the fact that Olympus have thrown everything they've had at the E-M1 Mark II and all with the clear mission of competing with the very best mirrorless cameras on the market. While there's no denying that the competition is very fierce and that the E-M1 Mark II may already come with one possible disadvantage when compared to other premium cameras (and that's its smaller 4/3 sensor like that of Panasonic LUMIX DMC-GM5 ) it still looks like a camera that means serious business and is trying to cover its shortcoming with a list of features that would put many cameras to shame.
So, in a nutshell, the Olympus E-M1 Mark II is a serious professional camera that should appeal to any user that doesn't require ultimate image quality but does want every other aspect of its camera to be covered as well as it can be. Now that you know what to expect out of this camera, let us examine its specs list more closely and see if it really manages to bring such a wide variety of features and are all of them implemented as well as you would expect out of a premium camera.
There's no denying the fact that the Olympus OMD E-M1 Mark II is trying is to bring as much modern and up-to-date technology as possible, so it's no wonder that things are already looking good starting with its imaging capabilities. It's true that 4/3 sensors still aren't able to reach the capabilities of better APS-C and full frame sensors, but the 20-megapixel sensor built inside of this camera is as capable as it gets in the micro 4/3 world, meaning that it will still allow you to capture very nice photos in any kind of conditions. There's also no optical low pass filter on board, which means that getting sharp pictures shouldn't be an issue for anyone and that the only limiting factor in play would be the lens of your choice. And there's plenty to choose from in the 4/3 world (both the modern and the legacy ones that can be adopted via an appropriate adapter) and that's certainly one of the strengths of this camera.
Pros
Built-in WiFi
Image Stabilization
Articulating Screen
4096 x 2060 Max Video Resolution
Touch Screen
Electronic Built-in Viewfinder
Face Detection Focusing
Light Body
External Microphone Port
External Headphone Port
Environmental Sealing
Timelapse Recording
UHS-II Memory Card Support
Focus Bracketing
Focus Stacking
Remote control with a smartphone
Selfie Friendly LCD Screen
2 Storage Slots
Click to read the full Review
The EM-1 Mark II also brings a nice amount of flexibility when it comes to control overexposure with its ISO range of 64-25600, slowest shutter speed of 60 seconds and fastest of 1/8000 seconds (1/32000 while the electronic shutter is being used). One important factor that will surely have a big impact on your image quality (especially when you're shooting in low light or while recording videos) is the built-in 5-axis sensor-shift image stabilization which promises to bring up to 5.5 stops of shake reductions, which is an amazing performance for a stabilization system that can be found in a camera body rather than in a lens.

When it comes to performance in general, the E-M1 Mark II certainly looks like a powerhouse of a camera. It features a very powerful TruePic VIII processor (it features not one, but two quad-core processors) which will ensure that you get the smooth operation when it comes to performing any kind of tasks that you decide to throw at the camera. But, more importantly, it enables one of the camera's main selling points, its burst rate. Its speed will largely depend on the type of shutter being used or if the continuous AF is enabled, but you'll certainly be getting the best performance if you choose the electronic shutter. In that case, you'll be able to shoot at 18 fps with the autofocus being enabled and at an even more impressive speed of 60 fps when the focus locked on the first shot. If the buffer on the E-M1 Mark II manages to be good enough to sustain such speeds, then we are certainly having one uniquely fast camera in our hands.

Now, a fast camera wouldn't be truly complete if it didn't come with an AF system that can keep up with its performance and the 121-point Hybrid AF system built inside of the E-M1 Mark II surely shows a lot of promise considering it's the company's newest creation and has one of two quad-core processors included in the camera assigned just to its operation. It should also adapt well to all sorts of different shooting situations thanks to its hybrid nature and the ability to switch between phase and contrast detect points at will. There's also focus peaking on board, which will be useful to anyone who prefers to focus manually or is used to using some of the legacy manual focus lenses with their 4/3 cameras. Besides its performance, the Olympus OM-D E-M1 Mark II has yet another important factor to its name and that the video recording capabilities.

You'll be getting a large number of different framerate, resolution and bitrate combinations to choose from, but the most impressive one is the DCI Cinema 4K mode which will give you the ability to record videos of very impressive quality thanks to its high bitrate of 237 Mbps. On top of that, there's also a high bitrate 202 Mbps 1080p 30 fps mode that will be suited for those users that still aren't ready to move to a 4K workflow, but want to record good-looking 1080p videos. Still, these aren't the only reasons why a serious videographer should consider buying the E-M1 Mark III as the inclusion of both the headphone and microphone jacks, flat picture profile, the ability to output uncompressed 4:2:2 footage over HDMI and that awesome image stabilization are surely something that every professional photographer has on their list of mandatory features.

Lastly, we've got yet another important topic to talk about and that's the camera body and all the other features that are built inside of it or that can be observed by looking at its exterior. The first thing to take note of has to be the overall build quality and the Olympus E-M1 Mark II certainly looks like it can hold its own in this aspect. Its body is made out of magnesium alloy and is also environmentally sealed (which is a nice professional touch for any type of a camera). This means that you should have no problems using this camera even in the most extreme conditions. Such a great build quality does impact the weight of the E-M1 Mark II and it brings it closer to a smaller DSLR or a DSLR-like mirrorless camera in that regard and you'll certainly feel the extra weight if you compared it to lighter mirrorless cameras out there.

Still, its still a lot more portable than a DSLR size-wise, so its job of being a camera that's not hard to carry around for longer periods of time certainly remains fulfilled. The E-M1 Mark II also tries to retain a very similar retro-like look of its predecessor and move away as far as a possible form more modernly designed cameras. Like any camera that's catered to more advanced users, it also tries to give as much control as possible to the user by including a large number of different physical controls, but we'll talk about that in a lot more detail in the very next section of this review. But there is one area in which it closely follows every other modern flagship camera and that's about bringing excellent screen and viewfinder units. The TFT LCD screen on the back features a resolution of 1,037,000 dots, the ability to be fully articulated and is also touch sensitive (something that will be especially appreciated by those photographers and videographers that like to use tap to focus functionality).

While the Olympus OM-D E-M1 does indeed put a lot of focus on video recording, the included EVF surely proves that it's not planning to leave any photographer not taken care of. It sports a very high resolution of 2,360,000 dots (though not as high as a few other flagship cameras on the market), 100% accuracy, a magnification of 1.48x (which translates to about 0.74x in full frame terms), 120 fps refresh rate and a barely noticeable 0.005 second display time lag. The E-M1 Mark II does not feature a built-in flash unit, but it does come with one included in its box (it's the FL-ME3 unit with a maximum range of 9.1m at an ISO of 100). It can also use flash units at a very fast sync speed of 1/250 sec and also features useful flash modes like the Redeye, Slow sync (1st and 2nd curtain), Fill-in and more.

We also like the fact that Olympus has decided to include dual SD card slots (the first one supports the UHS-II standard, while the second one can only take the UHS-I compatible SD cards), something that's become increasingly rare to find on cameras these days (unless they are the very expensive kind). This will give a lot of photographers a piece of mind of being able to backup their photos at any given time for those occasions where their memory cards fail on them and make them lose all their important work. Additionally, you'll be able to use the fast USB 3.0 compatible port to quickly transfer all of your images and 4K footage to your computer, which will be noticeably faster than using the more traditional USB 2.0 connection.

On top of that there are also features like the micro-HDMI port, Wi-Fi, stereo microphones and an orientation sensor included and there doesn't seem that any important functionality is missing on this camera. It's perfectly clear that Olympus had a very ambitious vision when designing the E-M1 Mark II as this is one of the most well-rounded cameras we've got the chance to review lately and certainly brings a plethora of features that will be of interest to both the professional photographers and videographers, which is something that can't be said for a lot of cameras out there. This immediately makes it one of the most exciting mirrorless cameras money can buy and we can't wait to put it through its paces and see how well it holds up during the testing period.
Body and handling
So, as we've already mentioned, the Olympus OM-D E-M1 Mark II is one very durable camera and it certainly feels like one while it is being held or operated. The heft of its magnesium alloy body really shows, even before you attach any kind of a lens and that's certainly something you would expect out of a camera at its price point. It may not feel as refined as something like a Leica TL2, but on the flip side its much more catered to more extreme use case scenarios thanks to its weather sealing and feels more like a workhorse of camera than one that's trying to offer a unique shooting experience thanks to the addition of a plethora of physical controls. It's a camera that was meant to be used by demanding professionals who want something that is rugged and functional at the same time.
The E-M1 Mark II is also easy to hold thanks to its bigger than average front grip and the textured non-slippery material that surrounds a large part of its body. We certainly love the addition of the fully articulated touchscreen, which is a mandatory addition for any camera if you want to make it as flexible as possible and make it appreciated by everyone from macro photographers to videographers. Also, having the ability to touch to focus will help you get through a lot of situations where focusing using the shutter button wouldn't be very helpful or as convenient. So, we believe that we've mentioned all of our important observations in regard to the build quality and the handling of the Olympus E-M1 Mark II, but as always, it's time to take a short tour around its body and identify all of its parts and comment on those that need an additional explanation of their role on the camera.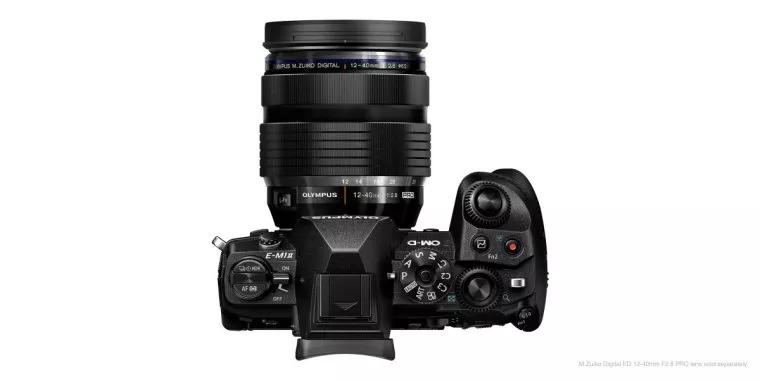 Let's start with the front. Aside from featuring standard stuff like the Self-timer lamp/AF illuminator and the lens release button, the front also comes equipped with the external flash terminal, the One-touch white balance button and the Preview button. The left side of the E-M1 holds the microphone and headphone jacks, as well as the micro-HDMI and USB type-C connectors, while the right side remote cable terminal and the dual SD card slots. As is ordinary with most mirrorless cameras, the battery compartment is located at the bottom and so is the obligatory tripod socket. Things became a lot more interesting the moment you look at the camera from its top. Here you'll find a raised area holding the power switch as well as the two large buttons (the top one is used to enable the HDR and the included bracketing modes or to choose your Drive mode, while the bottom one is lets you pick your metering type or the main focus mode (S-AF, C-AF, MF or the S-AF+MF), the hotshoe connector and the stereo microphones located at each of its sides, the main mode dial with its locking mechanism, the rear control dial, Fn2 and the Movie buttons and lastly, the shutter button with a the front control dial surrounding it. Now, all that is left is to see what the back of the E-M1 Mark II holds.
Besides the EVF (accompanied by the diopter adjustment dial and the LV button) and the articulating touchscreen you'll also be able to find the Fn lever with the AEL/AFL button in its center, the Info and the Fn1 buttons, the four-way navigation controller with the OK button inside of it and in the end, three additional buttons (Erase, Menu and the Playback buttons). We hope we didn't miss anything, as it sure would be easy to do such it thing with the camera like the Olympus E-M1 Mark II and its enthusiast-oriented control scheme. Still, having as many physical controls as possible is only half of the story as it's also important to bring a software that's powerful enough to tie all of them together and also bring additional functionality in terms of customizing their behavior. This is certainly an area in which this camera shines, but also does so at the cost of slightly less than ideal usability. The only reason why that is the case is that the user interface on the E-M1 Mark II is too complex for its own good. While it's very feature reach in terms of customization, it could also be more user-friendly towards those users that have never used an Olympus camera or such an advanced piece of gear in general. So, if you fall in any of those groups of people, then be prepared to spend some time to learn all the ropes before feeling comfortable and confident of knowing everything that is to be learned about the E-M1 Mark II.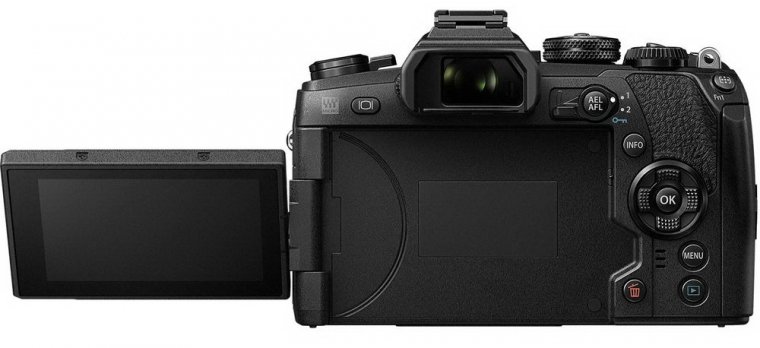 Now, let us dwell into some of those customizable parts of the entire experience. There are 12 buttons and dials in total that can be customized: Fn1, Fn2, Movie, AEL/AFL, Display, HDR and Metering buttons, all the buttons located on the navigation controller as well as the front and the rear control dials. Aside from the HDR and Metering buttons, all of these can hold the same types of functions like the AF stop, Raw toggle, Custom WB; ISO front or rear dial, Peaking, IS Mode, Flash mode and many more. You can also assign something called a Multi-function to one of the buttons and access more than one function with it just by holding it and using one of the control dials to scroll through the list of available items. These are the Highlight & Shadow control, Color Creator, ISO front/WB rear dial, WB front/ISO rear dial, Magnify, Aspect ratio, S-OVF and Peaking. There's also the feature called 2×2 operation which will allow you to reconfigure the function of the control dials with just one flick of the Fn lever. The dials can be reprogrammed to adjust the exposure compensation, ISO, color temperature, white balance and more.
The last things we would like to mention is the Super Control panel (a dedicated menu that holds an extensive amount of settings that can be adjusted easily and quickly) and the Custom menu which forms a list of user-picked functions and features and categorizes them using a combination of capital letters and numbers. There are a lot more things to mention in terms of customization and helpful features, but it's too many things to put into a single review, so to put it all into perspective; if you highly appreciate having a camera that will let you reconfigure almost anything you can imagine, then the Olympus E-M1 Mark II is certainly one that will be hard to beat in terms of everything it has to offer in this regard. Now, before we move on to covering all the performance-related topics, let us see how the E-M1 handles communicating with other devices wirelessly.
There are no advanced connectivity options on board, like Bluetooth or NFC, but that still didn't stop Olympus from including all of the most important features. You can't connect wirelessly to a computer, but pairing it with a smartphone or a tablet shouldn't be an issue thanks to the Olympus Image Share application (available both for iOS and Android). After you've installed it and connected the E-M1 Mark II to your smart device you'll be able to transfer your images, shoot remotely by using your smartphone as a viewfinder, apply different art filters and stamps before sending out your photos and add GPS tags to them with the use of the location data gathered by your smart device. To connect the camera to a computer or a printer, you will need to use a wired connection, which certainly won't be a deal breaker for a lot of people, but it does determinate the modern nature of this camera at least a little. So, to simplify things, in case of the E-M1 Mark II, when you think of Wi-Fi, think about your smartphone or a tablet and that's it.
The conclusion of this section is; if you're an advanced photographer or a seasoned Olympus user you'll feel right at home with this camera and quickly get to grips with everything it has to offer, but if you're neither of those, then be prepared to spend some time getting used to its menu system before you'll be able to make use of its extensive set of customization options.
Autofocus and performance
One of the most attention-grabbing aspects of the Olympus OM-D E-M1 Mark II has to be focus on performance, as it's certainly quite rare to find a micro 4/3 camera that tries too hard to compete with the likes of sports-oriented DLSRs and mirrorless cameras which usually sport larger sensors. The first ordeal of business that needs taking care of is looking at the behavior and capabilities of its AF system. There's a lot of technical details behind the said 121-point Hybrid AF system publicly available (which will be perfect for those that are really interested in how it operates), but for the sake of this review we will strictly focus on providing our personal experiences in regard to its performance and providing you with the information of all the available modes and settings that will allow you to set it up for every possible occasion. Unsurprisingly, the E-M1 Mark II is a beast when it comes to focusing capabilities. No matter if you're shooting still or moving subject, you can expect to get excellent performance and accuracy for the majority of the time and really rely on the AF system to do its job.
Moving to low light will yield slightly reduced performance but at no expense to the precision thanks to the hybrid nature of the said system (it can easily switch from phase detect to contrast detect points if it decides that the autofocus accuracy needs to be prioritized over the overall speed). So, there are no complaints to be made about the E-M1 Mark II and its focusing performance, but now it's time to see what kind of focus modes are available and is there enough of them to push the AF system to even higher levels of usability. First, there are as many as six main focus modes: S-AF (Single AF mode that's best used for still subjects), C-AF (your regular continuous AF mode suited for moving subjects), S-AF+MF (the mode that will allow you to fine-tune your focus manually as long as you're keeping the shutter button pressed halfway), C-AF+TR (the same as the C-AF mode, but with the added ability to track the subject that's in focus) and lastly, MF or the manual focus mode. These are of course followed by the different focus area modes (or AF target modes, how Olympus likes to call them). There's four of those: All Targets (lets the camera pick any of the 121 available focus points depending on your shooting conditions), Single Target (gives you the option to pick one focus point), 5-Target Group (splits the available focus point array into five sections and allows you to choose one of them) and lastly, the 9-Target Group is the same as the previous one, but with nine different focusing zones given at your disposal. You'll also be able to make use of some additional modes like the Face priority AF/Eye priority AF which are your best bet when shooting nothing but people or the Zoom frame AF/Zoom AF which will let you magnify the part of your frame and create an even more precise Single Target mode that will be perfectly suited for shooting close subjects or picking out any details on something that is too far away to be focused on using the normal methods. In the end, manual focusing experience is also enhanced by the all the usual assists including the all-important focus peaking. There's also a lot of options available when it comes to adjusting the responsiveness of the AF tracking, but you should refer to a product manual to find more about those.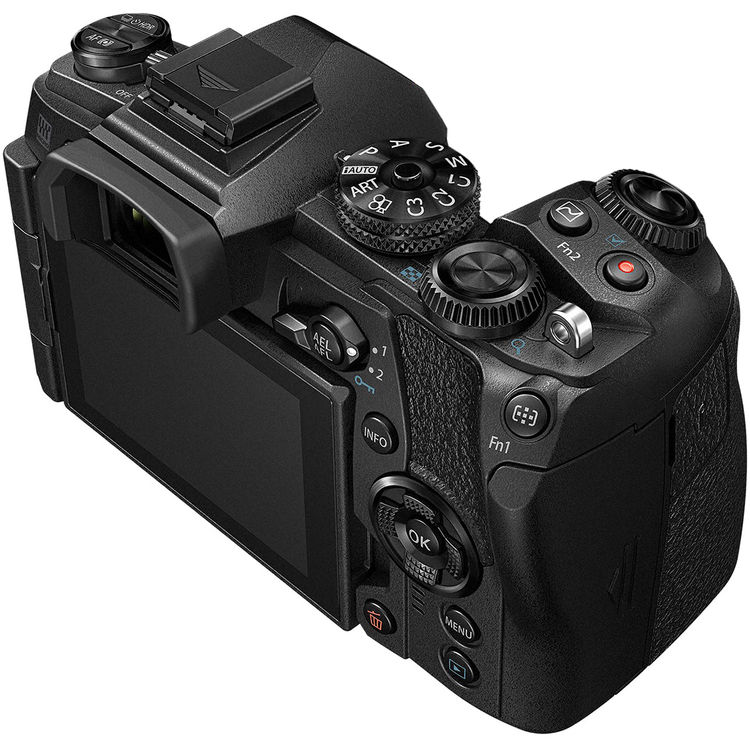 Now, let's move on to performance in general. We've already mentioned that the E-M1 Mark II comes equipped with two quad-core processors (one assigned to the AF system and one to everything else) and were certainly enough to make this one of the fastest mirrorless cameras we've ever used. It took less than a second for the camera to power on and take its first shot, around 0.1 second for it to focus using the center focus point and take the next shot and less than 0.1 second to take the same shot when the manual focus is enabled. Truly an excellent performance for any type of a camera. The very good news is that it continues to be as impressive when the burst rate comes into play. No matter if you choose the slowest 10 fps speed or the 60 fps one, you can expect to get very respectable buffer sizes. Shooting at 60 fps will get you around 48 RAW or JPEG images, 77 RAW files or 105 at 18 fps, 84 RAW or 117 photos at 15 fps and lastly, as much as 148 RAW files or an unlimited number of JPEG images (meaning that you'll be able to take photos as long as there's enough room on your memory card). Do keep in mind that you'll need the fastest available SD card to make use of such speeds and that the continuous AF can only be enabled at 18 fps for electronic and 10 fps for the mechanical shutter.
A high performing camera would be nothing without the battery life to back it up, so the Olympus E-M1 Mark II is also covered in that regard as well. In normal use, you can expect to get around 440 shots on one battery pack, which is an above average endurance for a mirrorless camera, but you can also enable the Quick Sleep mode that can extend that endurance to very impressive 950 shots, but with the cost of relying more on shooting through the viewfinder than using live view (we'll sure that a lot of photographers will be able to live with such compromise).
All in all, the E-M1 Mark II manages to fulfil its promise of being one of the fastest cameras on the market and that certainly shows in case of its focusing capabilities, overall speed, burst rate performance and battery life, as each of these categories are well-balanced and polished as well as it was possible for a camera like this one. Great job Olympus!
Video features and quality
While the Olympus OM-D E-M1 Mark II may be the camera that's catered mostly to users who want the fastest mirrorless camera money can buy, it still has enough useful features to become a very good choice to anyone seriously interested in video recording. The first important thing is the camera's ability to record high-quality 4K footage thanks to being able to utilize bitrates as high as 237 Mbps and also due to support for wider color range when using an external monitor while recording. There's also the support for high-bitrate full HD recording (202 Mbps) when using the ALL-Intra codec, which is great for those videographers that still haven't incorporated 4K footage into their workflow and are fine with recording in 1080p resolution.
Now, we wouldn't be able to talk about the E-M1 Mark II and its video capabilities without mentioning its revolutionary 5-axis image stabilization system. Besides being one of the most effective stabilization systems on the market, it's also pretty special for the sheer amount of different modes it supports (you can opt in to only use the sensor-shift stabilization alone or combine it either with the additional electronic stabilization or the one built inside your lens. No matter which one of those options you choose you'll surely end up with very smooth footage and that's all we've wanted out of the stabilization system.
The audio side of things is also well covered by the inclusion of both the headphone and microphone jacks and the comprehensive audio monitoring interface (the built-in stereo microphones aren't half bad either). Those that are used to color grading their footage in post-processing will be happy to know that Flat mode is included and will give them plenty of room to adjust color, contrast, shadows and highlights after they've finished recording. When it comes to focusing in videos, you'll get the option to either uses the tap to focus feature to place your AF frame anywhere you want it and let the camera track your subject or focus manually with the help of focus peaking. Both methods are quite reliable and while the E-M1 Mark II is not the best camera we've ever in terms of its ability to focus during video recording, it's still very good by any standards.
In the end, the Olympus E-M1 Mark II isn't something we would call an ultimate mirrorless solution for serious videographers, but it still offers so much functionality related to video recording for a camera that was primarily made to be a fast stills shooter that it's nevertheless a very impressive movie-making tool that will find its way in a bag of many different users interested in this type of work.
Image quality
Finally, we've reached the topic that most of you are certainly most interested as it's time to comment on the image quality of the Olympus E-M1 Mark II. Considering it's the same 20-megapixel sensor found in the likes of something like the Panasonic GH5 it wouldn't be wrong to expect very similar imaging capabilities. And it's true, if you switch to shooting in RAW the image quality it is very hard to distinguish one camera from the other, meaning that you'll be getting detailed photos when using a decent lens, good (but not groundbreaking) dynamic range and very respectable noise performance that will allow you to get quite usable images up to an ISO of 6400 (which is a performance that can easily be compared to a lot of cameras bearing larger APS-C sensors). We've also observed no issues when it comes to JPEG processing. The E-M1 Mark II produces very pleasant and vibrant colors and doesn't go overboard when it comes to sharpening and noise reduction.
Although it is not the most refined processing we've ever seen, it's still pretty good and will be satisfactory for most photographers. If, however, you want to give your images a completely different look, but without having to work with RAW files than you'll be able to make use out of many different Picture modes like the Portrait, Monochrome, Pop Art, Soft Focus, Vintage and more (and also create a custom profile by adjusting the sharpness, contrast, saturation and graduation). The last thing we need to mention before closing out this review is the High Res Shot feature. In this mode you'll be able to take 50-megapixel images that are stitched together by eight regular images that are captured by the sensor's movement and luckily, it's not something we would call a gimmick.
It really does improve the overall image quality, but of course, the only limitation being that you'll need to set the camera on a tripod and only shoot still subjects, even though the TruePic VIII processor does try to fix the blurriness caused by movement using some clever algorithms.
Conclusion
So, what is left to be said about the Olympus OM-D E-M1 Mark II? Who is this camera for and does it succeed to bring a great all-around premium experience that would justify its high asking price? Well, it does in our books. The only area in which it doesn't perform as good as some of its competitors is stills image quality (although it's still pretty good) and that's it.
So, if you'll happy to get photos that are comparable to a lot of APS-C cameras on the market, then you'll be able to enjoy other things like excellent 4K recording quality, headphone and microphone jacks, flat profile, impressively good image stabilization system, rugged camera body that's also weather sealed, great control scheme that it as customizable as it gets, very capable AF system, groundbreaking burst rate that goes up to 60 fps, very decent battery life, great touchscreen and EVF combination and more. This means that your choice should be quite simple when it comes to the Olympus E-M1 Mark II. If your workflow requires everything but the ultimate stills quality, then this is the camera for you, period.
The following two tabs change content below.
An amateur photographer, songwriter, musician, computer and technology geek and an occasional comedian, I'm a little bit of everything. I always aim to pursue things I'm passonate about and try to look on the positive side of things whenever I can. My mission is to wrap my articles in that aura of positive energy and keep a healthy balance between being serious about my work and spicing things up with a little fun now and than. After all, life's a game and there's always a different way to play it.