Nikon Coolpix P7800 Review: Taking a look at 2013's flagship
Nikon Coolpix P7800 Review: Taking a look at 2013's flagship
www.sleeklens.com
Reviewing an older camera may not always be a very exciting thing to do, but still, it's great to get a chance to look at the cameras from a few years back in a different light and from another perspective. This is especially interesting when we're taking a look at a product that was a flagship offering when it was released as it's often the case that these cameras attract the attention of many buyers that didn't feel the need to upgrade and pay the price for a new product and can now take advantage of its reduced price after its left the spotlight and its popularity has faded.
Today, we're taking a look at Nikon's flagship compact camera from 2013, the Coolpix P7800. Our mission is to establish if it's still a relevant camera in 2017 and can it really be considered a good purchase now that's it's not fresh and new anymore. We wouldn't be surprised if it turns to be true since digital cameras are one of few products from the sphere of technology that can last you many years like Canon PowerShot N100 before they begin to feel outdated and before the need arises for an upgrade. So, the P7800 has a good chance to be one of those cameras. Let's see how its specifications hold up before we dig a little deeper. Can they make it to the list of Nikon's best? Look here.
The first thing that sets apart a regular compact camera from a more advanced one has to be the sensor inside of it. This also holds true with the P7800. It sports a 12 megapixel 1/1.7 inch sensor, that is also backlit for improved low-light performance and sensitivity. Some may argue that having 12 megapixels on an advanced camera isn't very exciting in 2017, but we believe that this resolution is actually a sweet spot for a sensor of this size.

Pros
Articulated LCD
7.1x zoom range
Hot shoe and EVF
Multiple physical controls
Sharp Lens
Microphone input
RAW Support
Slow-motion video.
Cons
No Built-In WiFi
No Touch Screen
Slower to focus in low light and in macro mode
Click to read the full Review

The lens on the P7800 is also an interesting one. It's a 28-200mm lens (in full frame terms) with a maximum aperture that ranges from f2 at its widest to f4 at its longest end. It's also optically stabilized and has the ability to focus as close as 50 cm in normal use and 5 cm when you switch to its macro mode. It's a great lens to see on a compact camera, even for today's standards. What we yet have to see is how good is its optical performance and we'll check it out in the part of this review when we discuss the image quality. The P7800 can also shoot at a highest ISO value of 6400 and as expected, it also comes with RAW support. It doesn't seem to be lacking in performance either, as it sports a 99-point contrast detect AF system and the fastest burst rate of 8 fps.

While it doesn't have a touchscreen, it does have an LCD screen with a decent resolution of 921,000 and the ability to be articulated. It also has an electronic viewfinder that has 100% accuracy, but the resolution of 921,000 dots isn't that impressive for an EVF. Body-wise, you also get a pop-up flash with a respectable range of 10 meters, mini-HDMI port and the ability to connect an optional Wi-Fi unit. It's a shame that Wi-Fi isn't built into the body itself, but at least you aren't completely out of options if you need this functionality. The P7800 doesn't seem like a video recording powerhouse as its only able to record footage in 1080p resolution and at the modest frame rate of 30 fps. There's no 4K recording, since it wasn't really a mainstream thing when it was released, so we can't really complain about that.

All in all, while it does seem to show its age in one area or two, it still looks like it has a lot of life left in it judging by some of its other specifications, especially its sensor and its lens. But, before we reach the topic of image quality, we need to take a look at its body and how it stood the test of time.
Body and handling
The benefit of buying a flagship camera, even the one of older date is that you'll always get a product that has great build quality and that's something that will remain to be one of the positive sides of that camera no matter how much it lags behind in other things. The same can be said about the Nikon P7800. It has a body made out of magnesium alloy and you immediately feel that it's a serious piece of gear the moment you take it in your hand. It also has a nicely shaped grip for a compact camera, so it can be held securely in one hand with ease. It doesn't disappoint in the sheer amount of control it gives you, as it has enough dials and buttons that should satisfy almost any user out there, no matter how demanding they are.
The layout is also your standard affair, so everything fits nicely in its place. There's really a lot of stuff crammed inside this camera and it really shows us all of that gives it a weight that surpasses most of the other compact cameras. At 399 grams, it almost weights as an entry-level DSLR, but that just showcases it's build quality even further and supports the fact that Nikon invested a lot of effort into making a camera that will last you a long time.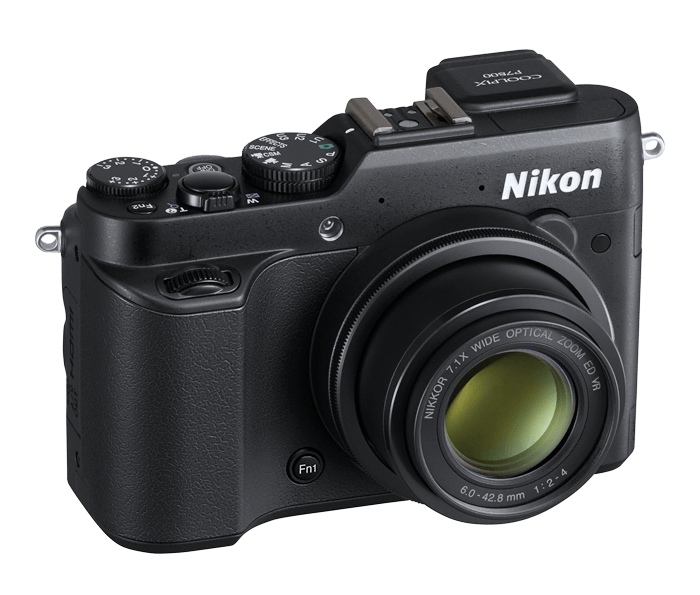 So, let's finally take a tour around its body and see what it has to offer. As usual, let's start with the front of the camera. Aside from the usual things like the focus assist light and the lens itself, there also a function button and the front control dial to be found, which is already a great start for the P7800. Taking a look at the both sides of the camera reveals only the necessary compartments that hold all the available ports. The battery door and the SD card slot are both located at the bottom of the camera.
Now, let's see what's to be found on the top of the camera. Moving from left to right the find the pop-up flash that is tucked neatly inside the camera when not in use, the hot-shoe, main mode dial that also has three customizable modes, a shutter button that also has a zoom lever on it, On/Off and Fn2 buttons as well as the exposure compensation dial that can adjust exposure from -3 to +3 EV. Lastly, it's time to look at the back of the camera. On the top portion, you'll find the flash switch, the EVF with diopter adjustment, live view and Quality/ISO/WB buttons as well as the rear control dial. So, as any other camera that's catered to more advanced and professional users, the P7800 features two dials that allow you to control your main exposure parameters more easily. As with most cameras, the back is dominated by the LCD screen and the rest of the controls are located on its right side. These consist of four different buttons (excluding the OK button) and the navigation wheel that can also be pressed in four directions and used as a quick way to access functions like the timer, Macro mode or flash settings. The other four buttons we've mentioned are the AE-L/AF-L, Playback, Menu and Delete buttons.
So, we can easily conclude that the Nikon P7800 indeed features the body quality and all the physical controls necessary that it deserves to sit together with other advanced compact cameras of the modern age and even surpasses some of them. Now, let's see how its menu system and the entire interface looks like and how customizable it and all the controls around the camera really are. We really have no complaints in regard to the UI, it's clean, well-organized and fluent; these are all the things we would expect from a good camera interface. Due to all the available controls and the intuitive user interface, we never felt that we missed the lack of a touchscreen.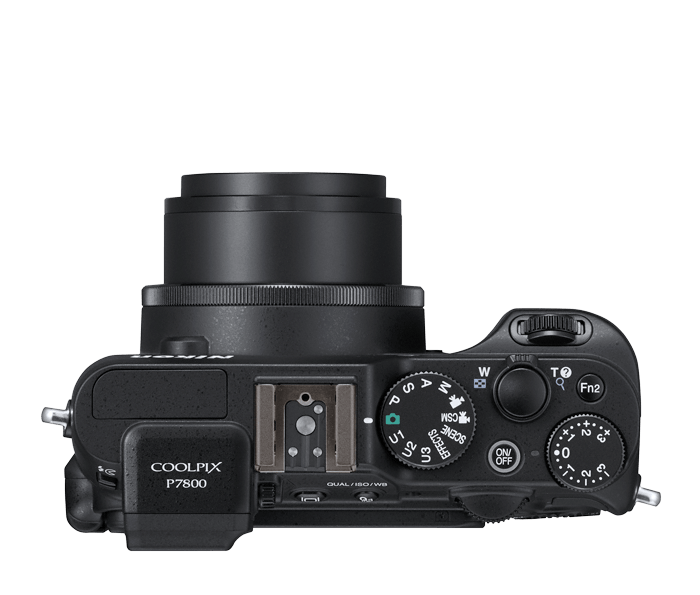 Although we do like the Touch AF functionality you gain by having a touchscreen, we are still very satisfied with the P7800's usability despite not having one. Then there's the topic of customization. The Fn1 button can be programmed to access things like ISO, metering or white balance and the Fn2 button holds different types of options like the ability to turn on/off the display info in live view, to control the ND filter or to enable the virtual horizon. Then there are the three custom shooting modes (U1, U2, and U3) that allow you to have complete sets of unique settings and switch seamlessly between them. The P7800 also has one unique feature to it and that's the Zoom Memory function. It features 7 different focal lengths that correspond to the usual prime lenses you would get with a DSLR or a mirrorless camera and allows you to quickly switch between them without having to zoom in yourself. It's a neat way of giving you an experience similar to actually having one of those lenses, which is something that some photographers will surely appreciate.
Now, there is one downside to the P7800 in regard to its body and that's the lack of built-in Wi-Fi. It wasn't uncommon to see it being featured in some cameras from its time, so we are surprised that Nikon decided not to include it on one of their flagship compact cameras. Luckily, you can connect an external Wi-Fi unit via a compatible port and gain most of the functionality you would expect to have, but that still isn't as convenient of having such functionality built into the camera itself. Other than that, the P7800 really held its own in regard to usability, body quality, and all the included features.
Autofocus and performance
The 99-point AF system in the P7800 may sound like it will perform better the systems with a lot fewer focus points found in some other advanced compact cameras, but that's not entirely true. If you're shooting still subjects, you will get decent performance and the camera will focus accurately 99% of the time. It also focuses quite well in low light due to contrast detect systems being more accurate in these kinds of conditions, but on the flip side, the focusing speed does take a noticeable hit. The focusing speed is also affected by the focal length you are currently shooting at, meaning that its fastest at the wide angle and slowest at the telephoto end. Subject tracking performance isn't the best around despite all of those focus points. It's partly due to the fact that we're talking about contrast detect based AF system, which rarely performs as good as phase-detect ones, but you should also take into account that this is an older camera and the advancements had yet to be made to contrast detect systems in compact cameras to even come close in subject tracking performance. So, if you're seriously considering a new camera for shootings sports, action on any sort of photography that fits in those categories, then you should probably look elsewhere. If on the other hand, you need camera with decent AF system that won't let you down in your everyday shooting or in those occasions where you don't need to take photos of anything that moves fast, then the P7800 won't disappoint you.
Video courtesy of Brian Thomsen
The same can be said for its general performance. It performed every task we threw at it with ease and navigating around the interface is also smooth and shows no problems at all. When it comes to shooting bursts of images, you get a lot of options with the P7800. First, if you need the continuous AF while shooting, you can either shoot at 8, 4 or 1 fps speed. The buffer size isn't very impressive in these modes as you can only take a few JPEGs before it needs to clear. There are also faster modes, like the 120 fps and 60 fps modes which continuously take images at the shutter speed of 1/125 or 1/60 seconds. There's also the BSS or Best Shot Selector mode which allows you to take a burst of images and decide to keep the best one among them.
So, the P7800 may not be the camera to buy for its burst rate capabilities, but it still offers some fun and useful features that will certainly appeal to some users. Still, you could buy it for its endurance, since it offers a pretty good battery life for a compact camera. Rated at around 350 shots, it's a performance you would expect from a mirrorless and not a compact camera, so Nikon has really done a good job in this regard. So, we can conclude that the P7800 doesn't really impress in terms of performance, but it really doesn't disappoint in any major way. It's not the fastest camera around, but it's still perfectly usable as a compact camera. Just don't expect to be shooting any kind of fast movement with it if you're relying solely on autofocus for those kinds of occasions.
Video features and quality
The Nikon P7800 may not seem like a video recording powerhouse when you take into account that it only records 1080p videos at 30 fps, but you'd be surprised to see how many interesting features it has in this area. You do get the option to record at a higher framerate; 60 fps in 720p mode and even 120 fps in 480p mode. The quality of those videos isn't bad at all when you take into account the reduced resolution and many users will certainly find some uses for them. Most importantly, the 1080p footage looks even better and is on par with another compact camera in this class. When you take into account the fact that a few years ago Nikon cameras often didn't offer the best video quality on their cameras, the P7800 exhibits a really satisfying performance. Now, onto the features. The most important one is the CSM or Custom Shooting Mode. It's essentially a fancy name for manual exposure mode which allows you to adjust both the aperture and the shutter speed as well as exposure compensation via the dedicated dial.
The CSM mode does offer one additional thing and that's the ability to apply different filters and effects to your videos like for example Sepia, High and Low key, Selective Color, Panting and so on. Continuous AF is also available during recording and it performs better than we thought for a contrast detect based AF system. It's still not good enough for professional use, but it does the job for those situations when you don't have the luxury to focus manually. Audio recording is also quite decent thanks to the integrated stereo microphones. There's also an integrated wind filter and the ability to connect an external microphone via the microphone jack. We are really impressed that Nikon managed to include a microphone jack on a compact camera, something that is almost unheard of in the camera world. So, the P7800 may not offer the most advanced features or 4K recording, but it's still quite a capable camera to record videos with and good looking ones too. Let's see if the same can be said for its stills quality.
Image quality
Despite its age, the image quality on the P7800 is easily a step above the image quality you would find on your average compact camera. Even with a limited number of pixels at its disposal it still manages to produce detailed images across its zoom range. The output is a little softer when you reach the telephoto end, but still not bad at all and can easily get sharper after you stop down the aperture. Noise performance is also respectable for a camera with a comparatively small sensor.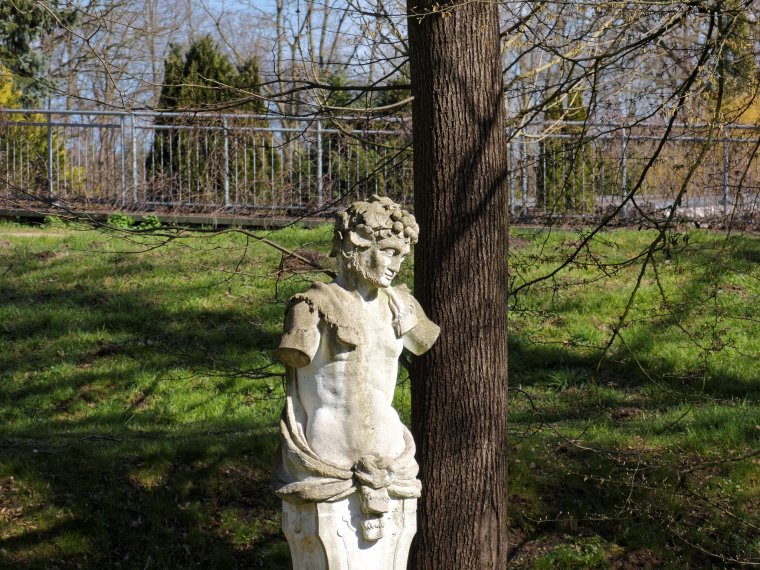 Photo courtesy of strongestlight
You can get noise-free images up until the ISO of 800 and usable results at an ISO of 1600. Going above that will require some quality noise reduction (if you're shooting in RAW) and the resulting images will be best used for publishing on the web or for very small prints. Dynamic range is nothing to write home about but is still decent unless your exposure is way off and requires heavy amounts of adjustment in post-processing. So, the P7800 still holds pretty well in regards to its image quality, even when compared to more modern compact cameras, which is the most important observation you can make when taking a look at an older camera.
Photo courtesy of Breezer58Red
Conclusions
In the end, we are left with another camera that was released a couple years ago but still manages to hold its own in 2017. The P7800 is still a great choice for people who primarily need a compact camera that will provide them with better image quality than their smartphones and will also give them a lot more flexibility in terms of control and usability. If you don't need the fastest subject tracking performance or 4K video recording then you'll certainly be able to get some nice quality stills and videos from this camera. Find out more about compact cameras, click here.
SaveSave
The following two tabs change content below.
An amateur photographer, songwriter, musician, computer and technology geek and an occasional comedian, I'm a little bit of everything. I always aim to pursue things I'm passonate about and try to look on the positive side of things whenever I can. My mission is to wrap my articles in that aura of positive energy and keep a healthy balance between being serious about my work and spicing things up with a little fun now and than. After all, life's a game and there's always a different way to play it.