Nikon 1 J5 Detailed Review: A High Tech Mirrorless Camera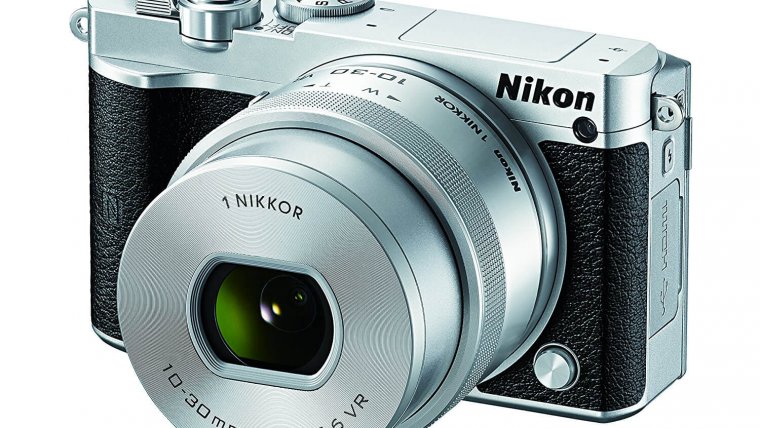 Nikon 1 J5 Detailed Review: A High Tech Mirrorless Camera
www.sleeklens.com
Everyone who knows what's happening in the camera market and which products get released is surely aware of Nikon's little venture in the mirrorless camera world. A lot of people believed that Nikon didn't put enough effort in their mirrorless cameras to create a serious push and compete like such a company should, but we don't agree. In our books, the decision to create an interchangeable lens camera with such a compact size was a brave one and really a kind of product that is yet to be seen coming from any other company. While it's yet uncertain if we will see a new camera from the Nikon 1 lineup, we are left with taking a look at the best one that is available at this moment, the Nikon 1 J5.
While it was released in 2015 and isn't as fresh and new as it used to be, it still has a lot going for it to become an interesting purchase for anyone looking for a simple, powerful and flexible compact camera that also comes with the unique ability to change lenses. So, we have a tough job ahead of us as we need to find out if it's still worth investing in a camera like the J5 or was Nikon's attempt to compete in the mirrorless camera market really nothing more than a failed experiment. As with every review, we'll examine the specifications before taking a detailed look at every aspect of the camera.
Let's start this little roundup of all the most important feature with the camera sensor and the thing that guilty of all the critique that J5 and the rest of Nikon 1 cameras received from a lot of reviewers. It was expected for a company like Nikon to produce a mirrorless camera with a large APS-C sensor and almost no one expected them to make a completely different move and opt in for a smaller 1 inch sensor instead (20.8 megapixel one in case of the J5). Still, we think it was a bold move since it made Nikon 1 cameras stand out more form the already overcrowded market filled with cameras bearing similar specifications and sensor sizes.
Pros
Built-in WiFi
NFC Connectivity
Articulating Screen
4K Max Video Resolution
Light Body
Touch Screen
Face Detection Focusing
Timelapse Recording
Selfie-Friendly LCD Screen
Remote control with a smartphone
Cons
Poor Low Light Performance
No Image Stabilization
No External Flash Shoe
No Built-in Viewfinder
No External Viewfinder Option
Low Battery Life
No Environmental Sealing
Click to read the full Review
Having a 1 inch sensor still gives you a lot of possibilities for taking some great looking images and we believe that the story won't be any different with the J5. There's a new Expeed 5A processor on board which helps the J5 retain the impressive burst rate featured on its predecessor and also promises to improve noise performance. This means that you still get a 20 fps burst rate with enabled continuous autofocus and 60 fps with it locked at the first frame.

The AF system is a hybrid one and consists of 171 focus points of which 105 are phase-detection points. We are really curious to see how such an interesting combination of fast burst rate and a hybrid AF system will perform when it comes to more demanding tasks like subject tracking. The body of the J5 is made out of metal and looks premium from every angle. In regard to hardware, you get a pop-up flash with a range of 5 meters and a 1/60 sync speed, stereo microphones, a 3 inch TFT LCD 1.037,000 dot touchscreen that can flip-up to a maximum of 180 degrees, both the mechanical and electronic shutter (1/16000 shutter speed), micro-HDMI port, Wi-Fi with NFC and lastly an orientation sensor.

Being a compact camera more than a mirrorless one the J5 does lack a microphone and a headphone jack, as well as a viewfinder. Despite its impressive specifications, the lack a of a viewfinder isn't a surprise since the J5 wasn't designed to be a high-end compact camera, but rather one that is priced more competitively to compete with the more affordable offerings on the market. It's video capabilities also raised some questions. You get both the 1080p 60 fps and 4K recording, but the latter is only limited to 15 fps. This means that you'll still be able to reap the benefits of 4K resolution and the increase in detail that comes with it, but it will be of very limited use with such a low frame rate. Well, now that we've given you a little introduction of the Nikon J5, you can certainly tell that it sounds like a very capable camera, despite a few of its flaws and it's certainly of no surprise to us. It's time to dig a little deeper now and really see what the J5 is all about and we will start by examining its body and all the functionality and features that decide how usable it really is.
Body and handling
In this extensive Nikon 1 J5 review, we can claim for sure that the Nikon 1 J5 Mirrorless Digital Camera sports the same impressive build quality as its predecessor. It's made mostly of metal with very nice faux leather material found on the front and on the thumb rest to provide for a great feel in the hand. It also has a pronounced handgrip on the front, which also helps you to hold it very securely and tightly without any fear of dropping it. Nikon also managed to keep the weight down as the J5 only weighs 231 grams with the battery inside of it. If you pair with a nice and slim lens you will get a very portable package that will be easy to carry around with you every day. The available physical controls are also well-made and offer a nice and satisfying feedback when being used. While they aren't as numerous as on some more advanced cameras, there's still plenty of them to offer a satisfying shooting experience when used in conjunction with the touchscreen. They are also nicely laid out in a way you would expect from a compact camera, so usability wise you should have no problems with the J5 in this regard.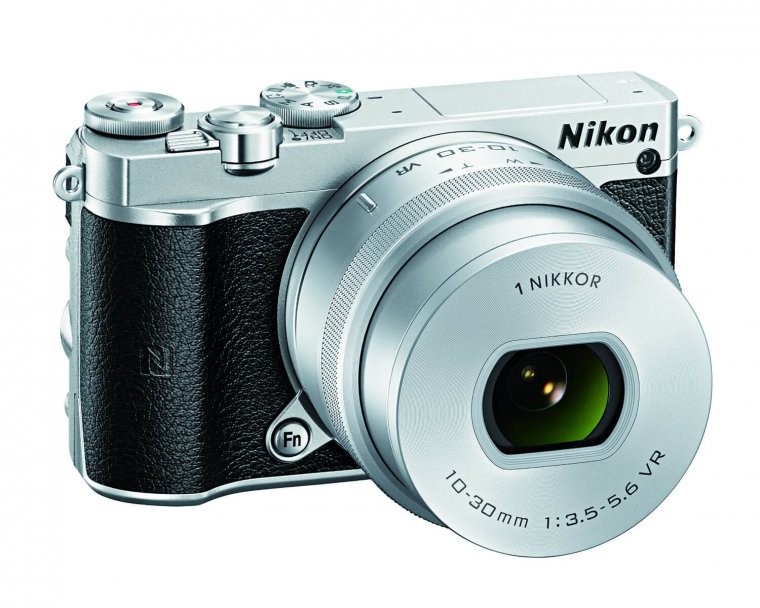 So, as we do with every camera we get to Nikon 1 J5 review, it's time to take a tour around the body and see what are its major features. Right from the beginning and the front of the mirrorless digital camera we start to see interesting things; aside from featuring traditional functions like the focus assist light and the lens release button, the J5 also features a customizable Fn button on the other side of the lens mount and a little a logo on the hand grip that marks the position of the NFC antenna. The left side holds the HDMI and the USB connectors and also the Flash pop-up button while the right side only holds the power connector as an optional way to provide power to the camera. As is the case with almost any other camera out there, the tripod socket as well as the battery/memory card slot chamber can be found on the bottom. On the top of the camera, we find two stereo microphones located at each side of the flash compartment, the main mode dial, a shutter button with the power switch on it and a lastly, a command dial that also holds the Movie-record button. Almost the entire back of the camera is covered by the large 3-inch touchscreen and thus, the rest of the controls are located on its right, just under the thumb rest. Four buttons are placed around the main navigation wheel (Playback, Menu, Wi-Fi and Delete), but the wheel itself also acts as a four-way navigation controller when it's used to navigate around the interface or to access functions such as the Feature Menu, Exposure Compensation, Flash Mode or Continuous Shooting/Self-Timer. It also features an OK button inside of it which is used to confirm your selection or current adjustment you've made to any of the settings.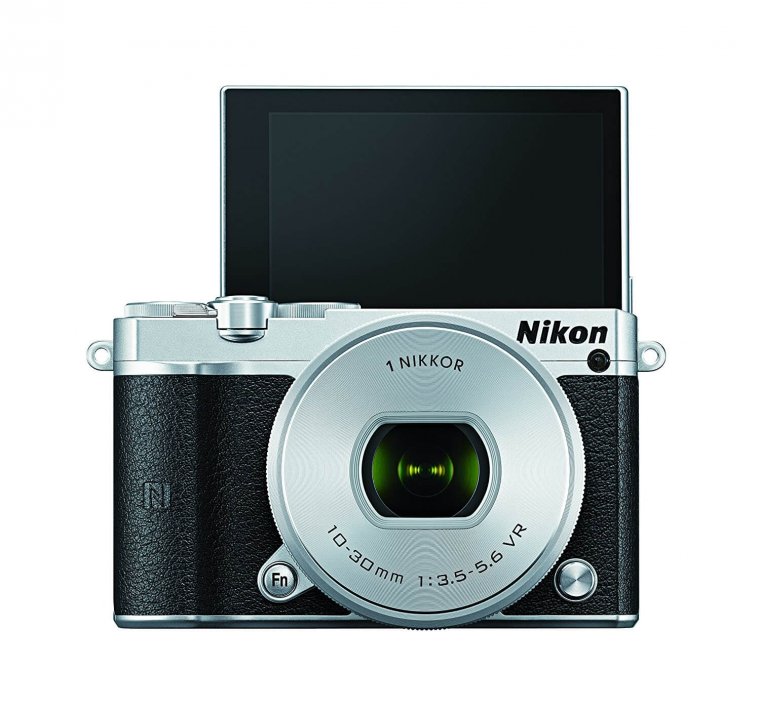 So, we can see that there's a decent number of controls available on the Nikon 1 J5 Mirrorless Digital Camera, but how well do they tie in with the user interface. Very well, actually. No matter if your choice of navigation is physical buttons or the touchscreen, you will have a great experience. Nikon managed to make the user interface as simple and as clean as possible, so you should have no problems in learning your way around it and access all of the features and functions very quickly. The first thing that makes the overall experience so positive is the Feature Menu, which can be brought up just by pressing the F button located on the navigation wheel. It gives you a fast way to access and adjust all of the most important settings like ISO, Shutter speed, Aperture, Exposure compensation and so on. The second one has to be the Creative Mode, which is found on the main mode dial. It contains a myriad of different filters, effects, scene modes and other features. You can use it to change up the colors in your image (Pop, Retro, Nostalgic sepia), create a very wide shot with Easy Panorama, apply different effects (Miniature effect, Selective color, Fisheye) or just bring up a set of optimized settings for a particular scene (Night Landscape, Close-up, Portrait). Do keep in mind that we've only given you examples of you can get in this mode and the total number of different items in this menu is actually 19, so there's a lot more going on here. We should also mention that it's very easy to adjust exposure on the J5 while you're in Manual mode because of the fact that you can use the top command dial to change the aperture and the navigation wheel to adjust the aperture, which is something that many professional and advanced users will certainly appreciate. They will also appreciate the Fn button on the front of the mirrorless digital camera which can be programmed to perform a lot of different functions.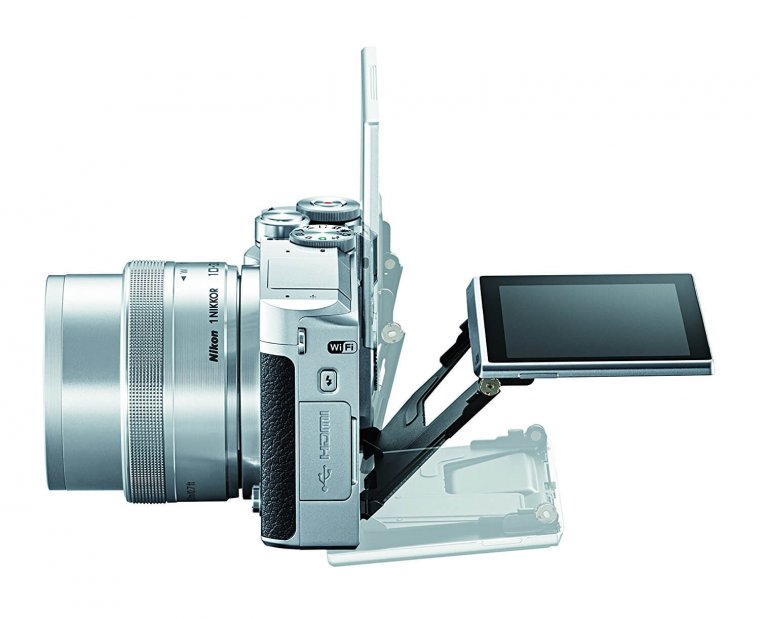 Now, that we've covered all the most important aspects of Nikon J5's body, we are only left with taking a look at its Wi-Fi capabilities. Before you plan to perform any Wi-Fi related operations you'll have to download Nikon's Wireless Mobile Utility application and connect the J5 to your smart device through it. If you own an Android device with an NFC chip inside of it, you'll be able to connect to the camera just by tapping the two devices together, which is certainly very convenient. After that, you can either decide to send photos to your smart device (one at a time or more of them) or to edit and retouch your images before uploading them to a social network of your choice. You can also use the same application to remotely control the J5 and move around your focus point just by tapping anywhere on the screen. Overall, there's not much to complain about in regard to how the Nikon 1 J5 Mirrorless Digital Camera handles during daily use. It's certainly a well-built camera with good ergonomics and enough features to give you a lot of control over it and allow you to use it just the way you want to. We should only mention the lack of a touchscreen as something that will bother a lot of people, but considering the J5's price point we really can't say that we're surprised that it's missing and the included high-resolution touchscreen will certainly be a decent alternative to those users at which this camera is targeted at.
Autofocus and performance
There's no denying that the focusing system in the J5 sounds very promising for many different reasons. 171 focus points certainly sound like a lot and should give a camera a lot of flexibility to adapt to different shooting situations and that also certainly holds true with the J5. Nikon had very bold claims about its focusing performance when it was released and we can confirm that it performs admirably most of the time. When there's enough light in your scene, the camera will use the phase detection part of the AF system and this means it will focus fast and accurately, even on moving subjects. When the light levels drop, that's when the contrast detection AF comes into play to keep the accuracy as high as possible, but with reduced focusing speed. That's how a hybrid AF system should theoretically perform, but it also does so in real-world usage on the J5. No matter if you look at the J5 as a compact or a mirrorless camera, the AF performance sits right up there with the best Nikon cameras in its class and even beyond that. You get the option to choose between the regular AF and MF modes, as well as the AF-A (which automatically switches between the AF-S and the AF-C modes depending on the situation), AF-S (Single-Servo AF), AF-C (Continuous-Servo) and AF-F (Full-time Servo). There are also a couple of different AF area modes available: Single-point AF, 171-point, Auto Area AF, 41-point, Subject tracking and Face-priority AF. So, aside from excellent AF performance, you also get the option to choose many different focusing modes, so you can more easily adapt every situation and make sure that the focusing always performs at the highest possible level. We only wish that manual focusing was done in a different manner. There are some focus assist tools, but there's no focus peaking and more importantly, the Nikon 1 mount lenses don't have manual focus rings, so it feels rather awkward having to focus using the camera buttons. It's good that the AF itself performs so well, so you rarely ever need to focus manually.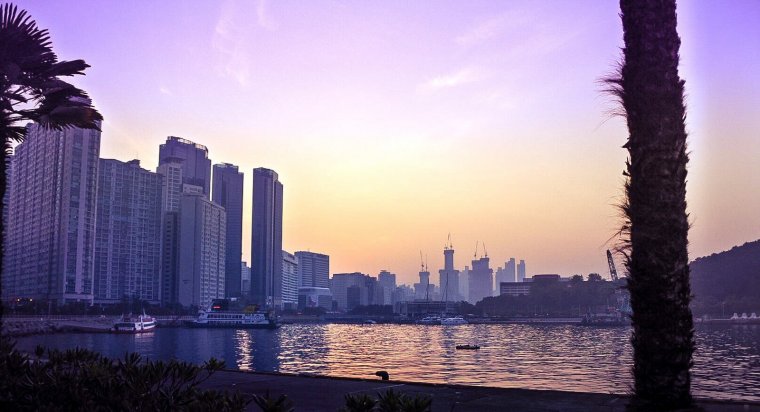 Photo courtesy of Kaitlyn Baldree
When it comes to performance, in general, we didn't encounter any major problems with the J5. The Expeed 5A processor inside of it made sure that the camera carried out most of the tasks we've thrown at it with ease and no hesitation at all. The only times when the camera felt slightly slower than usual was when it was being powered on or when we had to wait for the buffer to clear out after a burst of images. The latter doesn't come as a surprise, since the J5 is able to shoot at an incredibly fast speed of 60 fps with locked AF and 20 with continuous AF. In 60 fps mode, the buffer size was always around 20 images no matter if we were taking JPEGs or RAW files, which is quite an interesting phenomena to say at least. We do need to mention that you'll need a very fast SD card to be able to fulfill the whole potential of the J5, so make sure you invest in one if you need the best burst rate performance. You should also invest in an extra battery since the J5 doesn't really shine when it comes to battery life. The endurance of 250 shots per charge which is 50 shots below from Canon EOS RP, is certainly nothing to write home about and will require you to carry around a spare battery if you're planning to take pictures or videos for a longer period of time. So, while the J5 does have a few shortcomings in terms of battery life and longer than average start up time, it has shown excellent performance in terms of AF speed and accuracy, its burst rate and also performance during general use, so overall, we consider this to be a very good balance for a camera with such a competitive price.
Video features and quality
Despite being an entry-level camera and not sporting important hardware features such as a microphone or headphone jack, the J5 still has a lot going for it in regards to video recording. The first and possibly the most marketed thing has to be the addition of 4K recording. While the quality of the 4K footage is excellent, with lots of detail and low noise at normal ISO values, the fastest available frame rate of 15 fps isn't. This doesn't render having 4K resolution unusable, but it does mean that you won't be using it for every single video your make because of that frame rate limitation. All is not lost because the J5 also has a very good 1080p 60 fps mode and it's still not such a bad thing to record in 1080p most of the time.
You also get a lot of flexibility when shooting videos with the J5. In addition to the regular movie mode, you can also record inside the Creative mode and apply many different filters and effects or switch to Advanced movie mode and get full control over Shutter speed and Aperture or the ability to record at different resolution or frame rate. The latter mode also gives you the ability to record Slow Motion (400 fps), Fast motion (four times faster than the normal speed) or Jumpcut footage (silent jump-cut movies that create a drop-frame effect). While we do miss the lack of in-body image stabilization, we do like the AF performance during recording. No matter if you let the camera focus for you or if you pick a focus point by yourself just by tapping on the screen, the results will be great most of the time. Still not as good as renowned Dual Pixel technology on some Canon cameras, but very close indeed. We do wish that Nikon went one step further and added a 30 fps 4K option on the, but despite that omission, we still like the J5 as a video recording tool. While it may not be suited for professional use, the less demanding users will certainly get a lot of enjoyment out of it.
Image quality
We've finally reached the last section of this Nikon 1 j5 review and the most popular one for sure. We know that all of you interested in the Nikon 1 J5 are very curious about its image quality and how it compares to all the cameras it tries to compete with. Well, we can certainly say that it's generally pretty good, even in demanding conditions such as low light or high contrast scenes where a good dynamic range is a necessity. There are also no issues with JPEG algorithms as both the noise reduction and sharpening are well balanced for most of the time, meaning that you won't end up with images that look too artificial, but rather natural.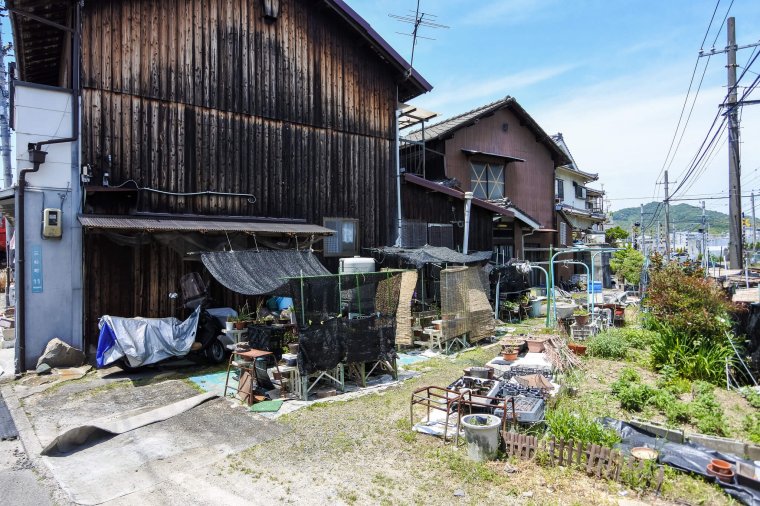 Now to finally address the elephant in the room; is having a smaller 1-inch sensor on an interchangeable lens camera a bad thing and does it even make sense when all the other cameras at least come with larger 4/3 sensors? Well, in the case of the J5 it certainly does. It's true that the image quality isn't on par with other mirrorless cameras bearing larger image sensors, but on the other hand, the J5 is a lot smaller and more compact than those cameras and that puts it in a league of its own. It all comes down to how much you are willing to sacrifice to retain the ability to change lenses and at the same time maximize the portability. Despite having a smaller sensor, the J5 is still perfectly capable of taking good looking photos and video and it's up to you to decide how good of an image quality you really need. In our opinion, the Nikon 1 J5 offers a really good balance of raw power and compactness and that is something a lot of people are looking for in a camera.
Conclusion
Whether you like the idea that comes with the Nikon 1 J5 or not, you have to admit that it's certainly an interesting one. Creating a small and light, but well-built camera and giving it the ability to swap lenses, a decently sized high-megapixel sensor, lots of controls and features, great AF system and burst rate and respectable movie mode does sound like the right way of thinking when trying to stand out from the crowd and we have to applaud Nikon for deciding to create something different that could almost be considered a new type of a camera.
Now, shortcomings like limited 4K mode, lack of a viewfinder and unimpressive battery life will certainly be a turn off for some people, but we strongly believe that the J5 still has enough going for it to found its place in hands of many photographers, even the more demanding ones. In a world where portability and competitive price are becoming more important to users with each passing day, the Nikon 1 J5 certainly follows the right philosophy to become a very successful piece of gear.
The following two tabs change content below.
An amateur photographer, songwriter, musician, computer and technology geek and an occasional comedian, I'm a little bit of everything. I always aim to pursue things I'm passonate about and try to look on the positive side of things whenever I can. My mission is to wrap my articles in that aura of positive energy and keep a healthy balance between being serious about my work and spicing things up with a little fun now and than. After all, life's a game and there's always a different way to play it.