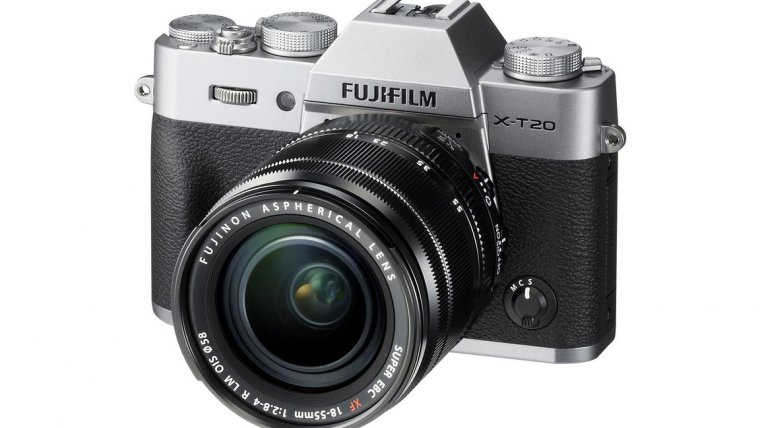 Fujifilm X-T20 Review
www.sleeklens.com
Another review, another mirrorless camera, but this time, one that has already attracted a lot of attention from many different types of photographers. It certainly doesn't come as much of a surprise considering it's coming from a very reputable brand, has a really compelling feature set and is priced very competitively when compared to all the other mirrorless cameras in its class. We're talking about the Fujifilm X-T20, which is the company's latest and greatest mid-range offering and one that is aimed at those that whish to upgrade from their lower tier cameras or simply want a very capable camera that shares most of the important aspects with Fuji's higher end cahigher-endexpected, it offers a familiar X-Trans APS-C sensor, which will surely provide all the potential buyers with great photos in all lighting conditions but will also bring much improved video quality (something that hasn't always been a strong suit of X-Trans sensors, but it seems that things are finally going in the positive directions when it comes to Fujifilm cameras). Of course, since we're talking about a device aimed at many different types of audience, it's also bound to bring lot more useful boons than just its image quality, and this certainly holds true with the X-T20.
We're talking great build quality and the traditionally iconic Fuji design, reliable and flexible AF system, decent shooting speed, Wi-Fi support, an electronic shutter, quality shooting experience thanks to the quality-made EVF and LCD and so on. The X-T20 also presents itself as a very good solution for dedicated street photographer thanks to all the mentioned positives that can be said about it and also all the large selection of prime lenses available for the X-mount, which can make the camera very easy to carry around and a lot less inconspicuous than using it with a bigger zoom lens. Even at the very beginning of this review, we can already tell that the Fujifilm X-T20 will end up being a successful camera and become yet another jewel in Fuji's crown of a well-thought-out mirrorless camera with interchangeable lens like the Sony Alpha A7RII. But still, we will reserve our final thoughts when the times comes to share our conclusions as there are many things left to test before we can be sure that the X-T20 really is the camera it tries to be.
As is the case with every camera that reaches the market, the first question that comes to mind for most photographers out there is the type of image quality it can produce. Since we are dealing with a mid-range camera, the X-T20 is expected to handle very well when it comes to taking photos and it certainly should judging solely by the hardware built inside of it.
Pros
Built-in WiFi
Articulating Screen
4K Max Video Resolution
Touch Screen
Electronic Built-in Viewfinder
Face Detection Focusing
UHS-II Memory Card Support
Light Body
Timelapse Recording
Remote control with a smartphone
Cons
No Image Stabilization
Low Battery Life
No Environmental Sealing
Click to read the full Review
While we are sure that the post-processing and JPEG algorithms will surely have an impact on image quality, the first and foremost thing that will affect it the most is the sensor. The one found in the Fujifilm X-T20 is their latest X-Trans III sensor, which retains the 24-megapixel resolution and promises improved low light performance, dynamic range and most importantly, better video quality (something that was certainly a necessary improvement for Fuji's mirrorless cameras). Pair it with one of many Fuji's lenses that are already known to make use of that resolution, and you certainly couldn't go wrong with a camera like this one if you're on the lookout for a mirrorless camera with an APS-C sensor.

Getting the right exposure even in the most demanding conditions also shouldn't be a problem thanks to the ISO range of 200-12800 (boosted to 100 at the low and 51200 at the high end of the range) and shutter speeds that that can get as low as 30 sec or as high as 1/4000 sec (up to 1/32000 if you enable the electronic shutter). The built-in flash, while not the most powerful around thanks to its maximum range of 5 meters, should provide enough power for shooting at closer distances in all lighting conditions and the flash sync speed of 1/180 sec will also enable you to make fine use of an external flash you decide to mount on top of the camera.

Now, let us talk about performance since it's certainly yet another of those important reasons to purchase a more advanced camera over an entry-level model. The Fujifilm X-T20 manages to bring a powerful X-Processor Pro2 chip, a 325-point Hybrid AF system (169 of those focus points are of the phase detect variety), a burst rate of 8 fps (which drops to 5 fps when shooting in live view) and an endurance of 350 shots per charge. Taken as a whole, all of these aspects of the X-T20 perfectly fit in with its nature of a camera that's suited both to amateur photographers and professionals looking for a backup body to their main cameras.

While we have yet to see how it really performs in those tasks where performance really matters, we can already say that the battery life of 350 shots isn't bad at all for a mirrorless camera and that an extra battery pack will only be necessary for those occasions where you'll really be pushing the X-T20 and using it relentlessly. The 325-point AF system should also provide balanced performance for all types of situations, even when it comes to more demanding ones like shooting sports or action (those phases detect focus points really help for such tasks).

Now, let us touch on the camera's hardware a bit more. The Fujifilm X-T20 retains the familiar design of its predecessor and of most of Fuji's mirrorless cameras that have seen the light of day in the recent years. It tries to find a perfect blend of the looks and the control schemes found on a lot of film cameras back in the day and combine it with more modern features that will complement the overall design and make the camera as intuitive to use as possible. This means that you'll be getting all the necessary physical controls in the form of dials and buttons, but also an additional input method thanks to the inclusion of a touchscreen.

The touchscreen itself sports a resolution of 1,040,000 dots, your traditional TFT LCD screen technology and it can also be conveniently tilted out of the camera body to enable you to take high or low angle shots with more ease or help you for with video recording as well (yes, you'll also be able to take hassle-free selfies, but we're trying to be serious over here). Build quality was also another thing on Fuji's agenda when they were designing the X-T20 as it's made out of magnesium alloy, something that will surely let you abuse it at least a little bit if you're one of those people that don't take care of their cameras or are just naturally clumsier than others.

Sadly, one thing is missing from the whole package, and that is weather sealing, something that would really round up the entire experience this camera is trying to achieve, and that is to bring excellent body design and quality to more photographers. It seems that Fuji is still determined to only implement this feature on their most expensive cameras and we sure hope they'll change their mind when it comes to the future iterations of their mid-range cameras.

Now, since design and build quality certainly aren't all the factors that come into play when creating a camera, let's see what else the X-T20 has to offer. Since it is a mirrorless camera catered to more advanced users, it's no surprise that it includes an electronic viewfinder and a very decent one if we might add. It has a 100% accuracy, an above average magnification of 0.93x and a pretty high resolution which sits at 2,360,000 dots. It's nothing groundbreaking, but still perfectly good for a camera at this price point. Aside from expected things like the SD card slot (compatible with the UHS-I cards), USB and HDMI ports, Wi-Fi and integrated stereo microphones, it does come with one very useful feature, and that's the microphone jack, which is something quintessential for any serious videographer out there.

Sadly, there's no headphone jack on board, but an omission like that is easily forgotten when you take into account that the X-T20 can record videos at 4K resolution and even smooth 60 fps videos when the resolution is dropped down to 1080p. This certainly puts the X-T20 in a very interesting place, especially for those people that need uncompromised stills quality and decent video capabilities all in the same camera body. Well, we have yet to test the behaviour of the movie mode, but we certainly have high hopes when it comes to its performance, and the same can be said for the Fujifilm X-T20 as a whole. Now, as always, let us start this review by taking a very detailed look at the camera body, controls, handling, usability and wireless capabilities.
Body and handling
Like you would expect from a more advanced camera coming from a renowned manufacturer like Fujifilm, the X-T20 also follows an almost no-compromise design philosophy and only the most demanding users out there will be able to find a flaw or two in the generally very well constructed product. While some may be bothered by the lack of traditional shooting modes on the main dial (they are accessed differently on the X-T20), we believe that most important thing that enthusiast photographers and videographers will miss on this camera is the lack of any weather sealing. So, if you're used to shooting in more exotic environments or in a bad weather, than you should probably look elsewhere when looking for a new camera or put the X-T20 in something like a protective weather resistant bag for those shooting occasions.
Everyone else will surely thoroughly enjoy everything that is offered by this camera. The rather attractive and lightweight (383 grams) body manages to bring a very nice blend of great build quality, portability and excellent feel in hand. The magnesium alloy is here to improve the camera's durability over the prolonged periods of use or during accidental drops, where the grippy leather-like material that covers a large portion of the body is here to prevent those accidental drops from becoming too common by making the X-T20 easier to hold (the mildly pronounced grip on the front is also here for that same reason and does a good job as well).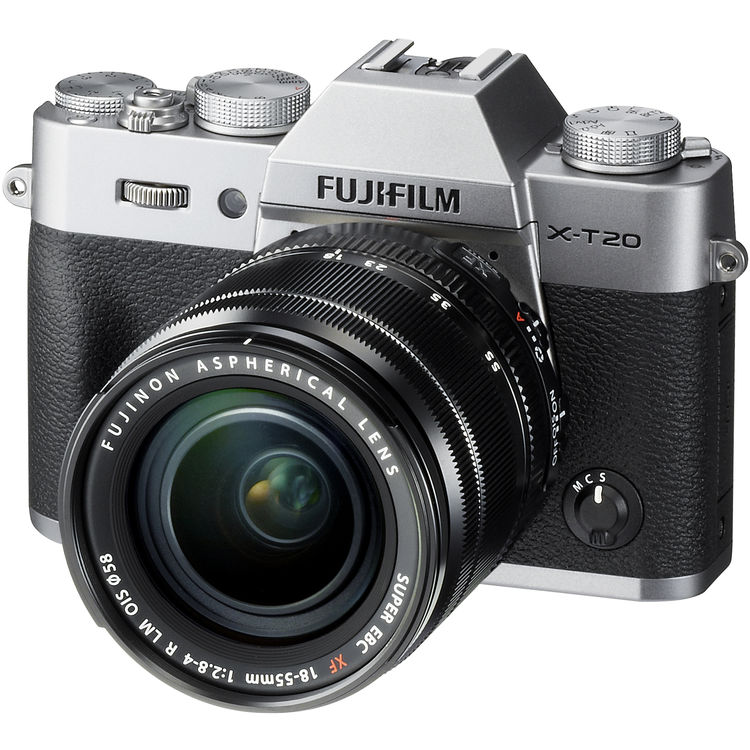 What's interesting about the X-T20 is that most of its physical controls are situated on the top portion of the camera, while the back of the camera features only the navigation controller and three buttons. In our opinion, this is a great choice design-wise as it will require the user to spend less time moving the camera from their eye when the time comes to adjust some of the important settings as most of them can be easily accessed even without removing yourself from the composition. Not all of the controls are made out of metal (some of them are plastic), but they generally feel quite good when being used and offer a decent tactile feedback. Some of the buttons could be larger, but that's certainly a minor complaint and nothing that can ruin an overall great experience when it comes to usability.
Now, let us take a quick look at the camera body and see what it exactly holds. Starting with the front you'll find the front command dial, the AF-assist illuminator/Self-timer lamp, a pair of microphones (it's good to see them located on the front of the camera, rather than on its top) the lens release button and also the focus mode selector (which will allow you to quickly switch between Single AF, Continuous AF or Manual focus modes). The left side of the X-T20 holds the microphone/remote release, micro-HDMI, and micro-USB ports, while the right side of the camera is completely void of any features except for the strap eyelet, which can also be found on left side itself. Now the top of the camera is where things really start to get interesting, and the mid-range nature of the X-T20 finally starts to show.
Looking from left to the right you'll find the drive dial and the flash pop-up lever, the flash compartment and the hot shoe connector, the shutter speed dial, the Auto mode selector lever (which is great for those situations where you don't have the time to properly adjust your settings, and you just need to take those important shots at any cost), the shutter button and the On/Off switch combo and lastly, the Fn1 button and the exposure compensation dial. As if this much control weren't enough, we are bound to found more on the camera's back. The top section features the Delete, Playback, View Mode, AE-L and the AF-L buttons, as well as the diopter adjustment control and the rear command dials, while the rest of the back holds the touchscreen unit, three additional buttons (Q, Menu/Ok and Disp/Back) and also the four-way navigation controller.
Now, it would be hard to argue with the fact that this is one of the most impressive control schemes you'll be able to find on a camera of this caliber, but how well do they actually work? How does the user interface hold up and does it manage to fulfill their potential and allow you to customize them in many different ways? Well, the user interface itself isn't very different from the rest of Fujifilm's mirrorless cameras; it's not the most intuitive interface out there, and sadly, it can't be navigated via the touchscreen (we can't imagine why any manufacturer would leave such functionality form a camera released in 2017), but it's still one of the most powerful ones you'll see on any camera. If having as much control over your camera and being able to customize almost anything that comes to mind is of great importance to you, then you'll certainly feel right at home when it comes to the X-T20.
Before changing the behavior of many of the available controls, you'll certainly want to take a look at the Q Menu and everything it has to offer. It is a separate menu that can be accessed just by pressing the Q button and can hold up to 16 user-selectable items which are neatly represented by easily distinguishable icons (they also provide additional info for each of the different functions). Some of the functions that you'll be able to choose from are the ISO, Dynamic Range, White Balance, Film Simulation, Flash Function Setting and more. On top of that, there's yet another menu called My Menu which can also be populated with many functions and settings which are organized in one least instead of a group of icons like in the Q Menu. The second part of the story about the customization has to be the 7 reprogrammable buttons (Fn1 to Fn5, AE-L, and AF-L), together with the rear command dial. The items that can be bound to each of those controls include all of those already available in the Q Menu, but also some additional ones like AF-On, Preview Pic. The effect, Aperture Setting, Preview Depth of Field and so on. While not directly related to customizing all of the camera's control, we should also mention the option to select which items will appear on your shooting screen while you're in live view and the number of items that can be turned on and off is simply staggering, meaning that you can make the screen look nice and tidy with minimum amount of stuff featured on it or go all out and get all kinds of additional information that may or may not be useful to everyone.
So, there is a slight learning curve to X-T20's user interface, but it remains as powerful as we're used to seeing on Fuji's mirrorless cameras. Now, to round up this section of the review, we are left with examining all of the features that are directly related to wireless communications (something that has become increasingly important in today's world of easily accessible internet and social networks). The main wireless functionality is spread into three main categories; connecting the camera to your smartphone or a tablet, to your computer or to an Instax SHARE printer. To pair the X-T20 with your smart device, you'll need to download and install the FUJIFILM Camera remote application. After you've done so and completed the initial setup you'll be able to do things like browsing the images stored on your camera and copy them to your smartphone, control the camera remotely (with a really nice variety of functions you'll be able to control including the focus and the exposure) and also take the location information gathered by your smart device and add it to the EXIF data of your photos.
Aside from connecting the X-T20 to an Instax SHARE printer (which is self-explanatory) you'll also be able to upload your photos directly to your computer with the help of the FUJIFILM PC AutoSave application, which will be very hand for those of you that don't like to fiddle with cables or removing their SD card from their cameras every time they want to transfer their photos to their PC. All in all, there's isn't a lot of negative things that can be said about the Fujifilm X-T20 and its characteristics in regard to its body, usability, and Wi-Fi related features. Aside from the lack of weather sealing and the ability to navigate the user interface with the use of your fingers tapping on the screen, the package we are faced with is as complete as it can be for a competent mid-range mirrorless camera. We hope that two of the quirks we've mentioned will be addressed with the next iteration of this camera, but as it stands on its own, the X-T20 is still one of the most functional and powerful Fujifilm cameras up to this date, and thus, it gets the thumbs up from us.
Autofocus and performance
While it wouldn't be very realistic to expect the same level of performance out of the Fujifilm X-T20 as you would get with a flagship mirrorless camera, we can say that we were pleasantly surprised with how good it handled everything we've managed to throw at it. There are good things to be said about its performance right from its 325 Hybrid AF system and its capabilities. Due to its hybrid nature, you can be sure that it will be able to adjust itself to many different shooting conditions even without any intervention from the user. So, you can expect to get very good focusing speed, and accuracy both in conditions with an abundance of light and also on those occasions where there's isn't a lot of it available (although some drop in performance will be noticeable for such cases, that is sure to be expected).
Now, we all know that most of today's cameras tend to do a commendable job of shooting still subjects, but what separates a decent camera from a very good one is its subject tracking capabilities. Thanks to having plenty of fast phases detect focus points given at its disposal and many different options to customize the behavior of the AF system to suit all kinds of different shooting scenarios (even when it comes to continuous AF shooting), the X-T20 managed to produce above average performance in our tests of tracking sensitivity and accuracy and we couldn't ask any more than that from a mid-pack camera. Paired with the right type of the lens (since the AF speed is noticeably better with some of Fuji's newer lenses), the X-T20 will provide you with constant and reliable results if you're shooting subjects that aren't moving too fast or have unpredictable patterns in their movement and averagely good performance for the more demanding ones (you will still be left with a couple of sharply focused keepers even for those occasions).
So, let us dig deeper into all of the available focusing modes and the ways to customize their behavior. As expected, the three of the main modes are Single AF (stationary subject mode), Continuous AF(the mode you should be in when shooting moving subjects) and of course, there's also the Manual focus mode (things like the Manual Focus Indicator, Focus Zoom, Focus Peaking and Digital Split Image are all here to help you achieve perfect focus for those occasions where you're unable to get satisfactory results using the autofocus). Both the Focus Mode S (AF-S) and the Focus Mode (AF-C) are split into three sub-modes (Single Point, Zone, and Wide-Tracking), but they do exhibit different behavior depending on the focus mode you are currently in. So, for example, in both of the main modes, the Single Point mode will let you choose one of the available focus points and place it anywhere on your subject, with the difference being that only in the AF-C mode the camera will track that subject around the frame. Additionally, the Zone mode will allow you to choose from three different zones (7×7, 5×5 or 3×3), while the Wide/Tracking modes will automatically select the appropriate focus points for you depending on the size and the placement of your subject. As a showcase of its advanced nature, the X-T20 also features five sets of settings created to fine tune the AF-C behavior and give you a helping hand when it becomes tough to keep your subject in focus with the default settings.
It's certainly of no surprise that the Fujifilm X-T20 turned out to be a very good performer regarding such tasks as power on and shot to shot times as well as the performance when it comes to navigating through its user interface. It takes less than 1.5 seconds for it to power on and take a photo, around 0.2 seconds (and sometimes less) to acquire focus with its central focus point and close to 0.3 seconds to take a shot after shot (all of those are very respectable numbers indeed and nothing to complain about). The same can be said for camera's ability to shoot a lot of images in a rapid succession.
There are two shooting speeds available; 8 fps for mechanical shutter and 14 fps for electronic shutter use. Shooting at 14 fps will give you buffer sizes of around 30 shots for JPEGs and 25 for RAW files, while the 8 fps mode yields slightly better results with the ability to take almost 50 JPEG images or 30 RAW files before you'd be able to notice any slowdown and a drop in shooting speed. These certainly aren't the numbers that could be compared with the likes of more expensive mirrorless cameras or DSLRs, but perfectly fine for the class of cameras the X-T20 resides in. Its endurance is exactly the same story. You shouldn't feel any noticeable difference in battery life when shooting through the EVF or the LCD monitor (both cases should yield around 350 shots per charge), but you certainly will if you enable the special High-Performance mode, which will make the camera feel noticeably snappier, but will also drop the endurance to a rating of 260 shots (so, from good battery life to below average).
Our advice would be to invest in an additional battery pack if you consider yourself to be a heavy user or you're planning to spend a lot of time inside the High-Performance mode. There's also the option to charge the battery using with the use of a USB cable and something like an external power bank, which is always a useful feature to have, especially if you're recording a lot of videos.
All in all, we are quite satisfied with the performance we were able to get out of the Fujifilm X-T20, and it certainly didn't manage to disappoint us in any way whatsoever, something that is a great achievement even for a mid-range camera where some compromise is expected as with a more affordable one. Still, we've found no traces of any kind of compromise, but we aren't so confident that we will be able to say the same about the X-T20's movie mode (which we're about the exam in the very next section of this review). So, let us see if Fuji are finally onto something with this camera when it comes to high-quality video recording or will it become yet another product from Fujifilm with movie making being pushed into a second plan in favor of stills photography.
Video features and quality
There's no denying the fact that the X-T20 isn't as capable as its bigger brother (the X-T2) when it comes to video recording, but that doesn't mean that it still doesn't come with a lot of useful features itself (and even some that can't be found on the more expensive model). There are two main video modes you'll be working with most of your time, and that's 4K video recording at 30 fps and at a decently high bitrate of 100 Mbps and 1080p recording at double the framerate, but naturally lower bitrate (36 Mbps) and lower image quality. So, it will be up to you to balance between the two and decide which is best for each situation.
The recorded 4K footage itself retains a healthy amount of details, but it's not on the same level as on the X-T2 (which uses oversampling to improve sharpness). Still, it does so with a caveat, and that's by adding additional crop factor on top of that brought on by the APS-C sensor and thus reducing the field of view of any lens being used. This means that those who a Fuji mirrorless camera to shoot 4K footage of landscapes, narrow streets, interiors or anything that benefits from wide-angle lenses will be better served by the X-T20 than its bigger brother (despite the lower video quality). Aside from the 4K recording and the included microphone jack we've already mentioned, there's more interesting stuff brought to the table including the Focus Peaking, full manual control over exposure, microphone level adjustments, Auto ISO mode, touch-to-focus ability and also Face Detection feature (though only available in 1080p mode). Sadly things like zebra patterns, histogram, the headphone jack and any kind of advanced picture profiles that would help with post processing are missing from the specs list, but we were expecting some cost-saving measures to be implemented with the X-T20 and we are glad that not many of those that were made fall in the category of build quality, performance or stills quality (which you will be able to see in a moment).
While we wouldn't recommend this camera as a main tool for the most demanding and serious videographers, it could be of very good use to rest of the people who don't need the ultimate picture quality or all the advanced features and that's still a very positive thing considering the fact that not a long time ago it was hard to recommend any of Fuji's cameras to anyone slightly interested in video recording. It's good to see that the times are finally changing for the better and that the company has found the way to become competitive in this segment of the camera market.
Image quality
Well, as was the case with almost every Fujifilm mirrorless camera we've encountered in this decade, the X-T20 also manages to present itself as one of the most capable portable cameras money can buy if photo quality is your main priority.
The new 24-megapixel APS-C sensor manages to score highly in each of the categories you would take into account when examining the image quality of any device. There's no lack sharpness, colors are vivid and beautiful to look at, noise is kept at bay even up to the highest ISO levels, and the available dynamic range will give you plenty of room to get perfectly exposed photos or to recover a lot of lost detail by editing your RAW files in post-processing. We also like the JPEG algorithms that Fuji have implemented with the X-T20; sharpening never feels overdone and never reaches untasteful levels (and neither the colors) and noise reduction (while not the best we've seen) does manage to keep a really decent balance between retaining as much detail as possible and keeping the noise under control.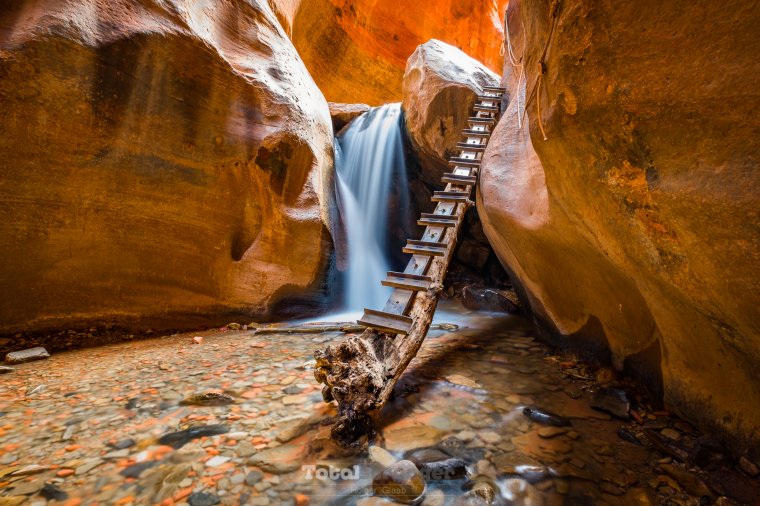 Photo courtesy of Holger Glaab
Fuji's trademark Film Simulation modes are also available here to let you make the most out of your JPEG images and help you make them stand out without spending much time editing them yourself. Also, if you're a RAW shooter, you should have no problems getting very usable images even at an ISO level as high as 6400, which is a kind of performance that still can't be attributed to a lot of cameras with APS-C sensors, let alone a couple of years back. In conclusion, the Fujifilm X-T20 is the closest you'll get to getting the excellent image quality from a camera with a sensor smaller than full frame for a price that potentially won't break the bank and make you spend more than you've wanted just to be able to get expert-level quality photos.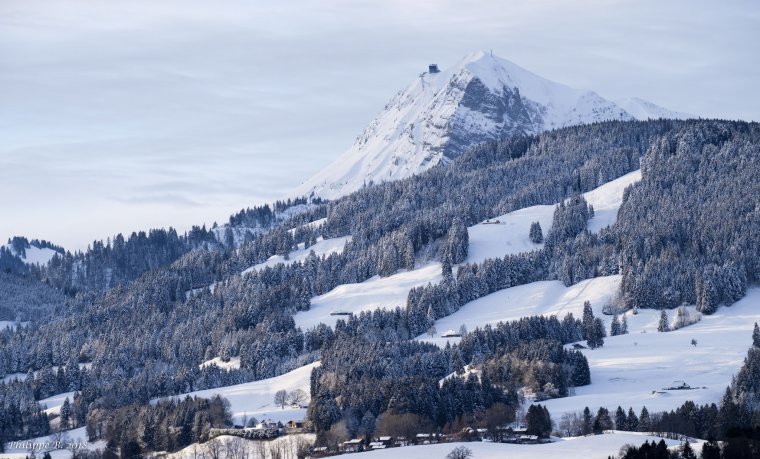 Conclusion
Well, most of you have probably expected it even before reading our review, and you were right; the Fujifilm X-T20 is one of the best cameras the company has ever produced and is one of the most serious contenders for the best mid-range mirrorless camera of 2017. You are certainly getting a lot for your money; great design and build quality, high levels of customization and a control scheme that could satisfy even the most demanding photographers out there, respectable performance, a very good Hybrid AF system, good battery life, sharp and easy to work with LCD screen and the EVF combination, 4K video recording (of good quality and without the annoying cropping), an excellent APS-C sensor and more.
The only thing that's missing are some of the more advanced features related to video recording (like the zebra patterns, a headphone jack, and in-body image stabilization) and thus the X-T20 doesn't present itself as a perfect choice for serious video junkies, but you could still get away with recording very decent footage with it if you learn to work around some of its limitations. If you're mainly looking for a mirrorless camera to take photos with and you aren't prepared to spend a large sum of money to get a flagship-grade product, then the Fujifilm X-T20 is a camera you should thoroughly enjoy, no matter the type of photography you are interested in.
Once again Fujifilm is showing their process in creating a camera that will be able to appeal to many different users and without selling it at an outrageous price point (although they potentially could, that's how good the X-T20 really is).
The following two tabs change content below.
An amateur photographer, songwriter, musician, computer and technology geek and an occasional comedian, I'm a little bit of everything. I always aim to pursue things I'm passonate about and try to look on the positive side of things whenever I can. My mission is to wrap my articles in that aura of positive energy and keep a healthy balance between being serious about my work and spicing things up with a little fun now and than. After all, life's a game and there's always a different way to play it.