Fujifilm GFX 50S Review: Fuji's Best Shot on Medium Format Cameras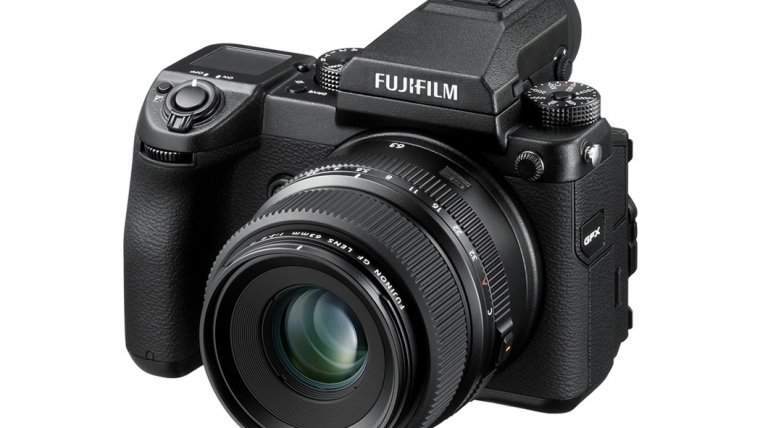 Fujifilm GFX 50S Review: Fuji's Best Shot on Medium Format Cameras
www.sleeklens.com
If you take a quick glance at the camera market at this moment, you'll surely notice that the mirrorless cameras are the future and that it's inevitable that they will slowly replace every other type of cameras as they get better and better with improvement in technology.
For a professional, having a bulky camera used to be a perfectly normal thing and there was no alternative in a smaller form factor, but things have changed significantly over the last few years. Having a more lot more portable, but still, a professional camera is entirely possible in this day and age. Now, we see all types of different sensors crammed in those portable bodies (4/3, APS-C and even full frame), but there's one type of sensor that took the longest time to begin following the minimization trend and that's medium format.
It's no secret that the medium format cameras were always the largest cameras on the entire market (and in a way, they still are), but it was just a matter of time before the first mirrorless medium format camera came to be and we get the chance to obtain a device that will make for a lot more usable and portable camera. At this moment, you don't have a lot of options to choose from (only two cameras), but they are both great devices in their own right.
The first one is the Hasselblad X1D-50c and the second one and the one we'll be reviewing this time is the Fujifilm GFX 50S. Now, both of these cameras do share a few similarities, but are also centered around entirely different philosophies and will be suited for different types of users. We advise you to also check our review of the Hasselblad X1D-50c if you wish to get a better understanding of both cameras and make a more educated decision of which one is the right for you. So, without prolonging this introduction any further, let's kick off this review with a summarization of GFX 50S's specifications.
So, what can you expect to get for your hard-earned money with the purchase of the Fujifilm GFX 50S? Well, a lot of things actually. It's biggest selling point (aside from its size when compared to more traditional medium format cameras) has to be its sensor. After all, that's the reason you would choose such a camera over the already capable full frame and even APS-C cameras.
Pros
Built-in WiFi
Articulating Screen
FullHD Max Video Resolution
Touch Screen
Electronic Built-in Viewfinder
Face Detection Focusing
UHS-II Memory Card Support
External Microphone Port
External Headphone Port
Environmental Sealing
Timelapse Recording
Remote control with a smartphone
Cons
No Image Stabilization
Low Battery Life
Heavy Body
Click to read the full Review
The GFX 50S comes equipped with a very capable 51-megapixel 44x33mm medium format sensor coupled with the X Pro Processor to give it fast image processing and advanced noise reduction algorithms. Since it's a sensor very similar to one found in its main competitor, the Hasselblad X1D-50c we expect it to exhibit similarly impressive performance, but we'll have to test it more thoroughly to confirm that it indeed performs like a medium format camera should. To help you gain more control over your exposure Fuji have enabled ISO range that starts at 100 and goes all the way to 12800 (boosted to 102400) and a shutter speed range that goes from 6 minutes to 1/4000 sec (1/16000 sec when the electronic shutter is being used).

The AF system built inside of the GFX 50S also shows a lot of promise, consisting of 117 focus points and bearing the contrast detect technology. Now, realistically speaking, we don't expect it to perform as some of the best sports-oriented cameras in terms of subject tracking, but we do believe that it will perform respectably well for the rest of possible shooting scenarios (landscape, portraiture and even street photography). It's also interesting to note that those 117 points can be split into 425 smaller ones and give you, even more, precision while focusing. We aren't sure what to think about such a mode, so we'll wait for a chance to test it more thoroughly before forming an opinion about it.

The burst rate of 3 fps, while not very fast by any means, will surely help you capture some of the more decisive moments and is a very respectable speed indeed when you consider the large file sizes the camera has to chew through while you're shooting them in rapid succession. When it comes to file sizes and file types it's also good to know that the GFX 50S also supports TIFF files in addition to the more traditional RAW and JPEG formats. A lot of attention has been made to creating the body of this camera and Fuji have managed to make it sturdy (due to magnesium alloy and weather sealing) construction and also very light at only 740 grams (which is a weight you would expect to see from a lot of mid-sized DSLRs). While it may not sport a built-in flash unit, the GFX 50S is filled with a lot of important features and technologies like the stereo microphones, USB 3.0 and micro-HDMI ports, microphone and headphone jacks, dual SD slots (with support for UHS-II), Wi-Fi 802.11b/g/n and also an orientation sensor.

You won't find NFC or GPS here, but those are just minor omissions in a sea of other more important features. There's also no disappointment to be found in regard to the included viewfinder and screen combination. They are both of extremely good quality. The display itself sports an OLED technology (which is more vibrant than the traditional LCD screens found on most cameras), a very high resolution of 2,360,000 dots, is touch sensitive and can also be articulated to a certain degree. It's one of the best displays we've ever seen on a camera. The very same can be said about the included EVF. It has a magnification of 0.85x, 100% accuracy and an eye-popping resolution of 3,690,000 dots. While looking through the viewfinder such as this one, it's not hard to imagine that the electronic viewfinders will replace the optical ones in the near future.

The only thing left discussing before we move on to the other sections of this review is the GFX 50S's video capabilities. While we've already mentioned the important aspects such as the addition of both the microphone and headphone jacks, we are a little puzzled that the camera only supports 1080p recording at 30 fps and there's no 60 fps or 4K support to be seen anywhere. While it's entirely possible that the recorded footage will be of a very good quality, the said resolution and framerate combo will be a limiting factor for a lot of videographers who were thinking of trying out a camera like this for their work. But first, let's see how the GFX 50S really performs when it comes to video recording before determining the type of audience this camera is best suited for. As always, let's start with a close examination of its body and all of the notable features we can find that will affect its usability and handling.
Body and handling
We really can't say anything but positive things about the Fujifilm GFX 50S's body as the company has surely decided to focus a lot of their efforts in creating something that will instantly appeal to those users looking for this type of a camera.
First, we should commend its build quality; the combination of magnesium alloy, weather resistance, and noticeable (but not unbearable) heft because of its weight of 740 grams really makes for a camera that feels very solid in the hand and like a piece of hardware that could handle all kinds of abuse and harsh conditions.
Then there's EVF and the tilting touchscreen, which are both one of the highest quality units you can find on any camera, let alone one that sports a medium format sensor. There's also one bonus feature here and that is the ability to tilt the viewfinder upwards or detach it all together. It's true that the Fujifilm GFX 50S may not be the most beautiful camera around, but it is very comfortable to hold thanks to its unique shape and large hand grip on its front. We also like its control scheme which should appeal even to the most demanding users out there as you'll get a lot of different dials and dedicated buttons for many functions and features. The secondary LCD on the top is also a nice touch since it's easy to read your current exposure adjustments and other settings of it with just a quick glance, even in low light if you turn on its backlight.
So, now that we've provided you with a few of our findings in regard to the camera body, let's examine it in a lot more detail and see what kind of controls and functionalities it really holds. Let's start with the front of the camera. Here we find the front command dial, the Fn2 and the lens release buttons and the sync terminal. Looking at the camera from its left side reveals the many different ports covered with protective flaps (micro-HDMI and remote release connectors and also the microphone and headphone jacks) and the battery compartment, while on the right side we see dual SD card slots. We like the fact that Fuji has decided to put the battery compartment on the side of the camera as it will enable you to hot swap your battery much faster if the need arises. The top of the camera showcases more of the impressive hardware features; the secondary LCD monitor accompanied by a dedicated button which activates its backlight, Drive button, focus mode selector, shutter speed dial with a dial lock release, a hot shoe, Delete and Playback buttons, a pair of stereo microphones and lastly, the ISO sensitivity dial that can also be locked to prevent any accidental changes. It's certainly interesting to see a dedicated ISO dial and it makes for quite an involving experience when it comes to adjusting your exposure. Now, all that's left is to look at the back of the camera. Here we find the main LCD screen, three additional customizable buttons (Fn3, Fn4 and Fn5), the Q or quick menu button, the focus stick, a mono speaker, the Disp/Back button, the rear command dial and also the four-way navigation controller with the Menu/Ok button placed inside of it.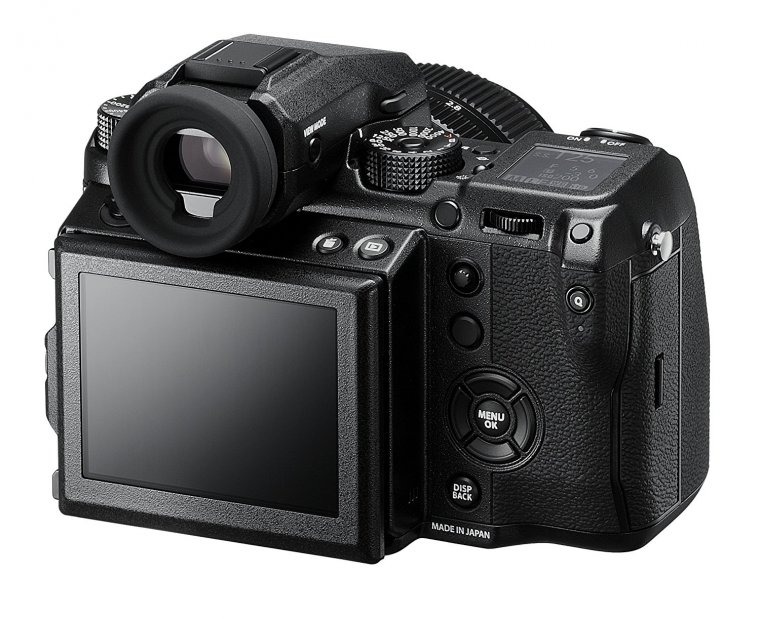 Well, there's no denying the fact that Fuji has managed to produce one impressive camera when it comes to the hardware that we have in front of us. There's plenty of manual controls on board, but the thing we like the most is the number of available function buttons and the variety of different functions that can be assigned to them. You can assign any of the available functions to each of those buttons and they can range from things like Film Simulation, White Balance, Self-timer to Wireless communication, AF Mode and Shutter type. You can also switch the functions of the two command dials and choose which one you'll use to adjust the shutter speed and which one adjust the aperture. To further improve your options in regards to customization Fuji have also included a My Menu feature which lets you create an entirely personalized menu with almost any setting or function you like. You can also decide which items will appear on your main shooting display and thus decide if you want a more clean and unobtrusive look or one that will give you as much information as possible.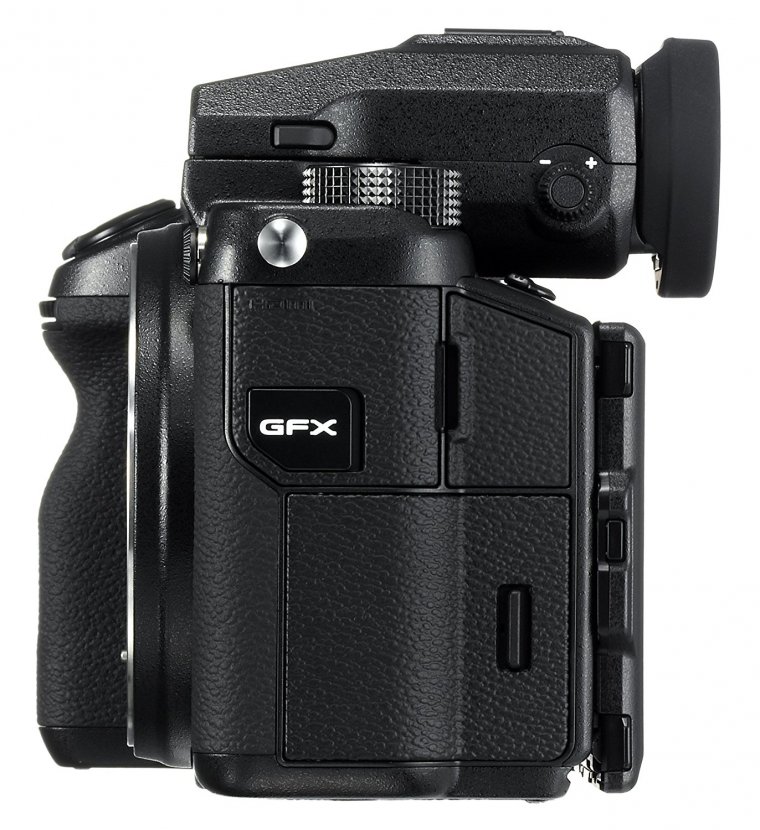 Now, to finish off this part of the review, let's talk about wireless and wired capabilities. The first thing you'll certainly want to do is to connect the Fujifilm GFX 50S to your smartphone or a tablet device and that can easily be done via the FUJIFILM Camera remote application available either for iOS or Android operating system. This application will allow you to send images to your smart device, remotely control the camera itself or copy the location data gathered by your smartphone or a tablet. While the camera is being remotely controlled you'll also be able to adjust things like Exposure compensation, ISO or focus and also switch to video mode. Remote shooting is also available when the GFX 50S is connected to a computer via USB. You can also make use of the wireless capabilities to connect the camera to a compatible Instax SHARE printer and easily print your photos. We also want to get on the topic of wired connectivity and commend Fujifilm for equipping the camera with the USB 3.0 standard. Since the photos coming out of this camera (especially if you're shooting in RAW) sport very large file sizes, it's good to know that you can also transfer them quickly over the cable and not be required to use a card reader every single time. So, in conclusion, there's really nothing to complain about the Fujifilm GFX 50S regard to its body and everything that surrounds it. You'll get great build quality, a very comprehensive control scheme, one of the best viewfinders and LCD screens on the market, very well executed user interface that works well for both physical and touch input, a great deal of customization in regard to the operation of all the physical controls and also the software itself and lastly, very compelling feature set both for wireless and wired connectivity. So, there are no compromises to be found here.
Autofocus and performance
The Fujifilm GFX 50S certainly comes equipped with quite an interesting focusing system. It's based on contrast detection technology and consists out of 117 focus points. During our testing, it performed very consistently and was very accurate for most of the time. In those conditions where there's an abundance of available light, you can expect to get excellent performance and fast focusing times. In low light, the AF system did slow down noticeably and some hunting did occur, but it still held up quite in those conditions and enabled us to get a lot more photos that were in perfect focus than those that weren't.
Subject tracking performance was average at best because of the limitations imposed by the contrast detect technology and a very demanding sensor. If you were on a lookout for a medium format camera to shoot sports or action with, then you'll have to wait a bit longer for one to come into existence.
Now, let's move on to different focusing modes and options that you'll get at your disposal with the GFX 50S. They are split into three main modes: AF-S, AF-C, and Manual focus. Both the Single and Continuous AF modes sport the same three sub-modes (Single Point, Zone, and Wide/Tracking), but they all work differently because of the different nature of the two main modes (not including the Manual focus). In simple terminology, the Single Point mode uses a single focus point to focus on your subject, the Zone AF mode uses one a collection of focus points to more easily identify a moving subject and try to keep it in focus, while the Wide/Tracking mode allows the camera to automatically focus on high-contrast subjects, which can make it a lot easier to look for and focus on subject that isn't exactly near the center of your frame or is moving in a more unpredictable fashion.
Choosing your desired focus point or a frame size on the Fujifilm GFX 50S couldn't be any easier. You'll be using the focus stick to move your focus point around all the available positions (you can also press the stick to revert to the center point) and the rear command dial to pick your frame size (it can also be pressed to restore the original frame size). We also like the fact that you can choose a 425-point focus mode instead of the default one if you need smaller and more precise focus points. We should also mention the addition of things like Rapid AF that increases focus times but at the cost of display quality or the Pre-AF which will allow the camera to focus continually even when the shutter button isn't pressed in halfway down. Fuji has also included a lot of focus assist methods if you are more inclined to focusing manually. You'll get a manual focus indicator that will show you the current focus distance, Focus Zoom which will allow you to automatically zoom on the area you wish to focus the moment you rotate the focusing ring on your lens and lastly, and most importantly, you'll get Focus Peaking which will put a colored high-contrast outline on the edge of your subject and let you judge your focus more easily on those situations when the Focus Zoom technology is not an option.
We really can't complain about the overall performance of the Fujifilm GFX 50S in any way. It takes a little more than a second for it to power on to capture the first shot, less than half a second to acquire focus in most conditions and about 0.1 seconds to take the shot after you've used manual focus. All of that is a pretty good performance for a camera of this type. We also can't say that we're unhappy with its burst rate performance, even when you do take into account that it shots a lot slower than your traditional mirrorless camera or a DSLR. We were able to retain the maximum shooting speed of 3 fps (when using a very fast SD card mind you) for as long as 40 JPEG frames or 21 of those shot in RAW format. These are very respectable buffer sizes for a camera that has to work with large 50-megapixel images. You'll also have the ability to keep shooting at a reduced speed of around 1.6 fps even when the buffer is full, which isn't such a big reduction in speed over the native 3 fps.
Lastly, let's talk battery life. This is yet another thing which pleasantly surprised us when it comes to the Fujifilm GFX 50S as it is able to handle around 400 shots before its battery is depleted. This may not be the best endurance we've ever seen on a camera, but it is pretty good for a medium format camera that was meant to be carried around with you and used outside the more controlled shooting environments, like a photography studio. All in all, we consider ourselves very pleased with everything we've been able to find out about the GFX 50S performance-wise. It certainly fulfills its purpose and performs very reliably and quickly for those applications it was made for. You may not be getting a camera that will do a great job for shooting sports, but it will do just fine for more predictable subjects and it will also be able to do it for a very long time thanks to its above average battery life.
Video features and quality
Now, what can be said about the Fujifilm GFX 50S and its video capabilities? Well, it depends on what you're looking for in a camera you want to do serious work with. If you want a 4K shooter or the ability to choose higher framerates than the GFX 50S won't be a camera that will satisfy your particular needs as it only offers 1080p recording at a traditional framerate of 30 fps. If such a "limitation" isn't very problematic for you than you may be surprised to see that there's a good number of important features available here other than the higher resolution or faster framerate.
First, the important thing to note is that you'll get full manual control over exposure, meaning that you'll be able to control the ISO, aperture, shutter speed and even the exposure compensation (from -2 to +2 EV). Continuous AF is also available in both the AF-C and AF-S modes (you will need to enable the Intelligent Face Detection option for it to work in AF-S). The focusing performance in such usage scenario was pretty decent and somewhat reliable, but we still wouldn't be using the autofocus during video recording for any project that requires perfect focusing (which isn't a big problem on the GFX 50S since it does offer Focus Peaking). Additionally, you can also use Touch AF, which should also help a great deal.
If you want to give your videos a special kind of look, but you're not very interesting in color grading the footage on your own, then you should be happy to know that the Film Simulation modes also work for video recording as well and they will provide you with a lot of options to make your videos stand out more. The addition of a headphone and a microphone jack and also the ability to make audio level adjustments (in 20 different increments) are certain things that will be of value to any serious videographer just as much as the included full manual exposure mode. And that's basically it when it comes to features that will impact anyone's use of this camera as a video recording tool. Sure, there aren't many advanced things on board like a Log profile or Zebra patterns, but more traditional video shooters out there will be able to work even without such features.
Now, you may be wondering what kind of video quality can you expect out of the Fujifilm GFX 50S? Well, it won't produce the best-looking videos around, but they are certainly up to par with most of its full-frame competitors. They have a very nice amount of detail (even if they're only slightly over sharpened), great colors and dynamic range and also quite low amounts of noise up to ISO values of around 3200. So, once again, it solely depends on your needs if you'll like the GFX 50S for its video capabilities, but in our own opinion, it's a very solid option for anyone that has already set their mind on owning a medium format camera.
Image quality
After such an extensive review (wouldn't you agree?) we've finally reached the section in which we can properly talk about the image quality you can expect to get out of the Fujifilm GFX 50S and we really can't say anything but positive things in this case. Despite its reduced size and the philosophy of increased portability that surrounds it, the GFX 50S is indeed a pure medium format camera that will bring you all the benefits you'd want to get with such a device.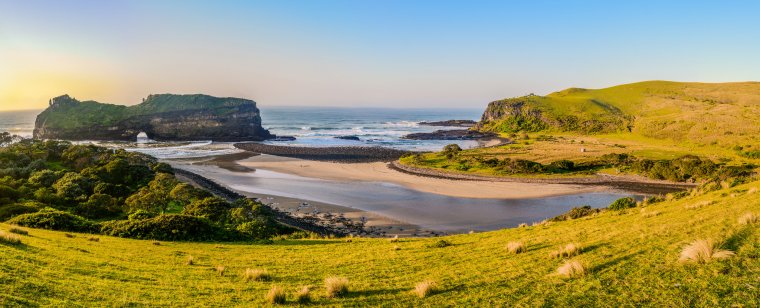 The 50-megapixel images it produces show a lot of fine detail and is perfectly good for making large prints or moderate amount of cropping without any big drop in quality. Dynamic range is also very good, which is very significant for those planning to use the GFX 50S to take photos of landscapes or anything that requires tricky adjusting of exposure. You'll also notice that there isn't a lot of noise to be found in shadows if you pull them up in post-processing and there's not a lot of noise in images in general u to a certain ISO value. You should have no problems in getting usable photos up to an ISO of 6400, which is a great performance for a camera with such a high megapixel count. Anything above that and the noise will become a lot more noticeable, but the resulting images may still be ok for some small prints or posting to web services.
We also like the JPEG processing on the GFX 50S as it gives the images a very sharp and punchy look without them ever feeling over processed or too artificial. Film Simulation modes are also here if you don't like the default processing and you want to give your photos a unique look that's better suited to your particular situation. All in all, some of the today's full-frame cameras may have come close to performing as well as those with a medium format sensor, but none of them can replace the unique look and the depth of field brought on by such a large sensor and the story is the same in case of the Fujifilm GFX 50S.
Conclusion
So, what is left to be said about the Fujifilm GFX 50S? Well, not a lot, as we've covered all of its important aspects during this review, but for those looking for a conclusion, here is one; if you have the money to spend and you really want to purchase a medium format camera then there's no reason you shouldn't seriously consider the GFX 50S as device of choice.
It offers everything you would expect from a camera of this type, but in a lot more portable body and with a few benefits over some of the other medium format cameras. You'll get an excellent viewfinder, a high-quality screen, good performance and battery life, decent movie mode and extensive features when it comes to wireless and wired connectivity. Still, there's a price to be paid for such a device and that's the price itself. It still costs more than your average full frame camera and that's something you should consider before deciding if you should purchase it. Again, it all depends if you need a medium format camera or you don't. The good thing about the Fujifilm GFX 50S is that you'll be getting an excellent camera even if you neglect the fact that it has a medium format sensor and put all of its benefits at one side for a moment.
There are only two types of users that won't find the GFX 50S very interesting and those are the sports photographers and professional videographers that need 4K support. If you don't belong under any of those two types of users, then the Fujifilm GFX 50S could certainly become a camera worth owning (if you can afford it). And if you're still looking for a perfect mirrorless camera that's handy, you may try Canon EOS M3.
SaveSave
The following two tabs change content below.
An amateur photographer, songwriter, musician, computer and technology geek and an occasional comedian, I'm a little bit of everything. I always aim to pursue things I'm passonate about and try to look on the positive side of things whenever I can. My mission is to wrap my articles in that aura of positive energy and keep a healthy balance between being serious about my work and spicing things up with a little fun now and than. After all, life's a game and there's always a different way to play it.