Quntis LED Monitor Light Review: An Alternative to the BenQ Screenbar?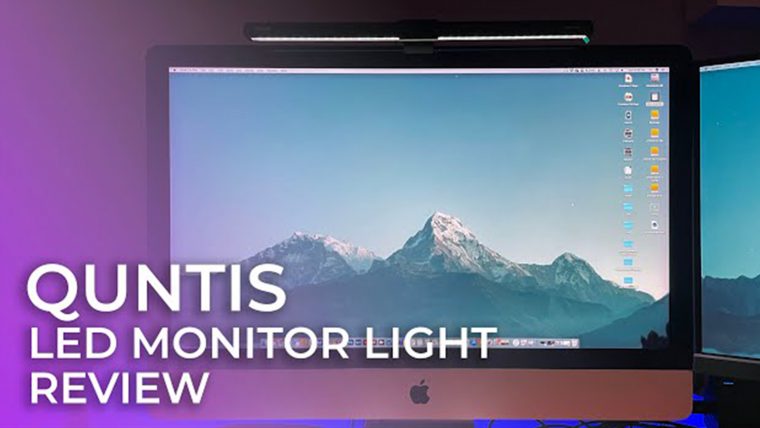 Quntis LED Monitor Light Review: An Alternative to the BenQ Screenbar?
www.sleeklens.com
Hi y'all! In today's post we'll discuss in detail why you should consider buying the Quntis LED Monitor Light – one of the newest solutions for screenbars in the market. But first, let's cover some basic stuff.
Why should you buy a screenbar?
When looking for creating the perfect workspace area, one of the often-overlooked elements is proper lighting setup. This has multiple long-term effects, the most recognizable one being the gradual loss in visual acuity thanks to visual strain, but also migraines, poor back posture, and many other aspects that considerably damage your health and lifestyle can be linked to poor work lighting conditions.
For this reason, you should always count on one general light for the room – diffuse, and an accent light on your desk area for those tasks that require extra focus. The light should be practical to be placed wherever is needed, and it would be a plus if you can dim it to match the lux requirements for each task. Another element to consider are glares – hence the reason why desk placement is so important, the incidence of natural lighting into our computer's screen, and also any kind of specular reflection coming from either light sources or other screens – as it's commonly seen in those home offices that also host entertainment areas such as a TV.
BenQ has been the leading solution in the market so far with the innovative creation of their BenQ ScreenBar a couple of years ago, and its revised version, the BenQ ScreenBar Plus. The advantages that screenbars offer in contrast with common table lighting fixtures is that you don't need any extra space to host them: they sit right on top of your computer screen (and yes, that also applies for laptops depending on the size of the laptop itself and the screenbar model you buy). Such a comfortable solution for increasing the available light in your work area also boosts a minimalist workspace where you don't need to bother about wiring mess and many other setbacks commonly associated with office life.
Is glare going to be an issue?
In most cases not, again this depends on the built of the screenbar you buy. For the Quntis LED Monitor Light, its 54 LED modules are not only strong enough to cover your work light area but also ensure that the lighting angle doesn't directly bounce off your display, and for that reason, glare won't happen (a blessing for those of us who suffer from long-term screen exposure).
Yet still, a word of advice: don't try to point the light source directly to your eyes. 54 LEDs are serious business and you could end up damaging your eyes by "experimenting" with the said scenario.
Quntis LED Monitor Light Overview
This lamp, unlike some other cheap options in the market, has a strong built meant to last for many years, but the mounting solutions for the monitor are an entirely different issue we want to address later on.
This lamp has great pricing for the value it offers – being about $100 less or more than the price you have to pay to afford the BenQ models, but it does have some limitations that are expected for such a cheap price.
For the lighting angles, this screenbar can be tilted up to 45 degrees, which means you can cover your entire keyboard without any issues. Even up to said angle, the light won't bounce and you see a very clear light trajectory upon your desk.
Its connection interface is USB-A, making it compatible with any laptop available in the market and also outdated models that don't count with USB-C ports. Don't try to use it with a USB hub or USB extender as the light won't turn on, as we have seen with the BenQ models. The physical switch is quite handy if you don't want to be touching the buttons on the bar itself – which, we should add – are extremely sensitive to input.
What we don't like about the Quntis LED Monitor Light
You can't ask a budget screenbar to behave like a top-tier product, but still, some aspects should be revised by Quntis for upcoming versions.
The first drawback of this screenbar is the mount. It can work well with laptops, but for some monitors is somewhat of a nightmare. We tested it with a 27" iMac and the result was horrible as the mount kept moving, and whenever you reached for the controllers on top of the bar the mount kept changing the bar position as it wasn't nested as it should be. The same scenario happened with an LG Ultra-widescreen monitor, so we have to assume that the mount isn't designed for monitors with big curved parts on their back.
The position of this mount didn't help the in-built webcam that the iMac has, so the option was to either aim to move it a bit above to be able to host web conferences, or simply remove it, which is not the intention when you buy a screenbar. It's not as distractable as a clip-on webcam, but you need to get used to its position, which can take a while.
Finally, the second setback we found was that the lighting setups for color temperature were limited. Either you could get a really cool blue, a neutral white, or a very warm light instead of being able to explore the full light spectrum as we have seen with both BenQ models. More versatility could really help users to find their sweet spot for using the screenbar according to their room color and mood, instead of lighting setup configs that mostly resemble presets for lighting instead of a fully customizable experience.
Conclusion
All in all, if you are looking for a budget solution or if you work in a pretty much-restricted work area, this is a good option to experience the screenbar hype (and take some cool photos for your social media).
If you are looking for performance without minding the money spent, go with the BenQ models, but do keep in mind their short cable – something that Quntis did right with their cable length to connect this lamp.
The following two tabs change content below.
Pia Lopez is a self-taught photographer, graphic designer and ArchViz artist. As Content Director of Sleeklens.com, her work is driven by her two biggest passions: technology and art.