BenQ ScreenBar LED Computer Monitor Lamp Review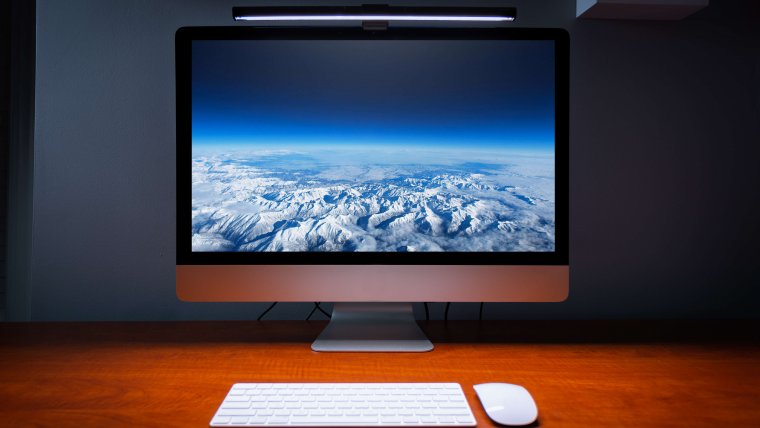 BenQ ScreenBar LED Computer Monitor Lamp Review
www.sleeklens.com
How many times do we suffer from irritating reflective glare during night work? If you can relate to the group of work owls, then you are obviously aware that inadequate lighting layout in your office can lead to eye strain and unwanted reflections over your working surface, especially when talking about screens and monitors by a desk lamp. This is why architects suggest to their clients to place furniture accordingly to a carefully planned lighting layout; yet somehow, we still manage to find ourselves in situations where the outcome is either: a) rearrange the furniture/lighting or b) deal with it the screen glare.
You can say then: yes, of course, I can change the lighting or move the furniture to improve the computer screen lighting. That's not always the best option for some when working in reduced spaces, or if you have fixed luminaries in your office. Deal with it? Better no, as continuous exposure to bad lighting situations can accentuate eyesight strain, leading to a huge list of side effects ranging from constant headaches while working to requiring prescription glasses to work.
So, how can we solve that kind of situation if our work depends exclusively on digital imaging? BenQ seems to have found the answer to that question with their latest innovation to the monitor light market: The BenQ ScreenBar.
For those unaware of what we are talking about, BenQ has managed to arrange a kit of LEDs of 800lx intensity in an 18-inch wide aluminum tube, whose section is ¾" in diameter. That interesting LED tube is held by a counter-weight mounting system that has to be attached to our monitor or display, and also allows a slight tilting for this bar to improve the lighting conditions of the user whenever needed.
Sounds interesting? Let's keep discussing some cool features about this new gadget!
Design Highlights
The BenQ Screenbar stands out not just for being an innovative answer from a leading brand in the industry, but also for its minimalistic design. The bar will show up a bit on top of your monitor as it was the best way to allow the tilting angle for the bar to be put in action, and that very clawish system used to hold the bar is placed at the centre of the screen bar itself.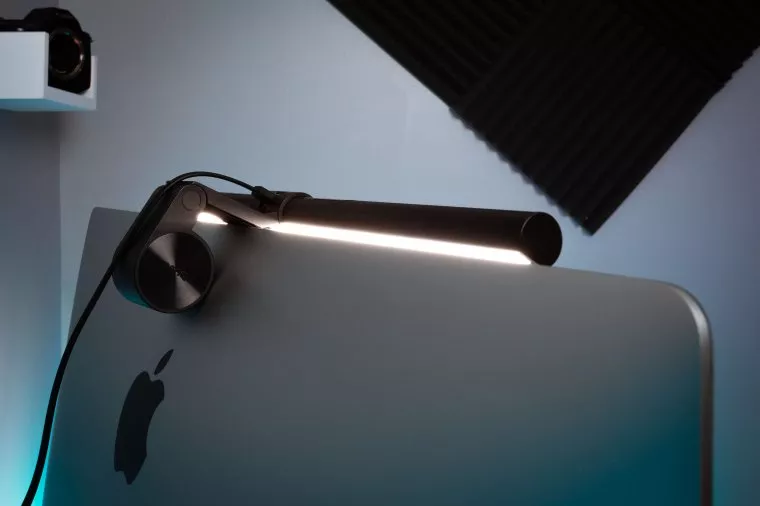 From behind, the USB power cable is plugged at the rear part of the connection between the mount and the lightbar, setting the cable direction to be placed on top of the mount and going under until it reaches the most proximal USB outlet to be powered. The cable length is 60-inch long, with a MicroUSB to USB-A connection.
Though the Screenbar does not come preassembled with the monitor mount, users have to do it manually. Do not fret as the process is absolutely simple and guided with clear instructions; it won't take more than some seconds to get everything to work.
The aluminium alloy finish comes as an added value, as one can expect this kind of product to be produced in a glossy plastic finish, which, fortunately, isn't the case. Not only it's easier to clean it with the usual electronic appliances cleaners, but also adds in what resistance respects – this is a product to be used for long-term and also targeted for those users who value design above all things thanks to its minimalistic profile.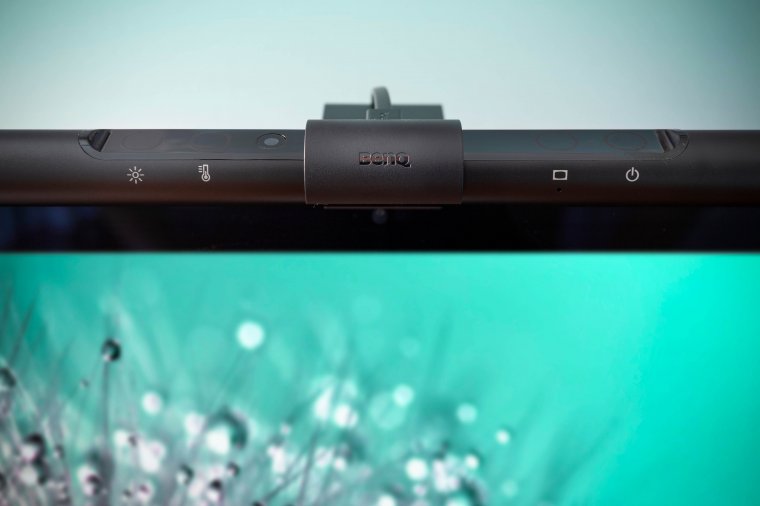 Performance
First and foremost, you need to take into account the size. By being 18-inch long, this screen bar is best suited for monitors of 23" size onwards. It won't fit your laptop's 15" display, and for those using 17.3" laptops, it would look somewhat odd, as the bar will go further than the display's size. Actually, this is a product intended for a bulky desktop computer monitor that can also support the added weight of the bar – which isn't that much, a bit over one pound. It does work for a curved monitor, but overall, it won't stick just to what's in front of your display but also cast direct illumination over your desk space – something that we just loved! It's so much better than a traditional desk lamp.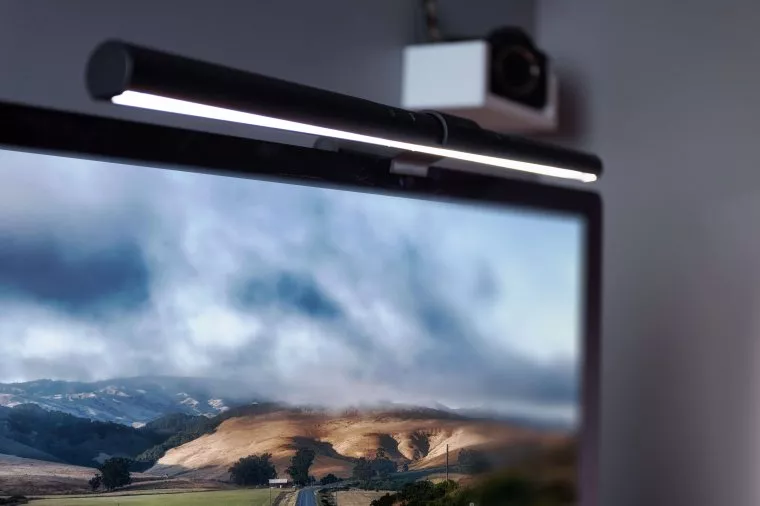 There are four buttons on top of it, easy to access as there is a pronounced bezel around the area, plus that part comes flat unlike the rest of the bar. The buttons are a manual dimmer, hue adjustment, auto dimmer and, obviously, the power button. These buttons are touch-sensitive, and to enable the hue adjustment mode or to dim the brightness you just have to tap and hold the button for a brief moment.
There's an auto dim button as we mentioned, which works with the ambient lighting sensor paired with this unit. When enabled, the auto dim button will set the brightness and a green LED will power on below the button to let the users know that the auto dimmer mode is turned on.
Another cool feature of this ScreenBar monitor light is the glare free ambient light sensor, which by using the aforementioned sensor will adjust the brightness and color temperature accordingly to your room's condition to reduce eyes strain from prolonged computer use – by far much better than sticking to third-party software to reduce blue light emission. The ambient light is limited to a 500lx.
The ScreenBar, thanks to its mount, allows a tilting angle of 20º either backwards or forward. By tuning-in your preferred angle, the ScreenBar can easily replace your usual lighting layout as, believe us, the light intensity provided by this bar is considerable.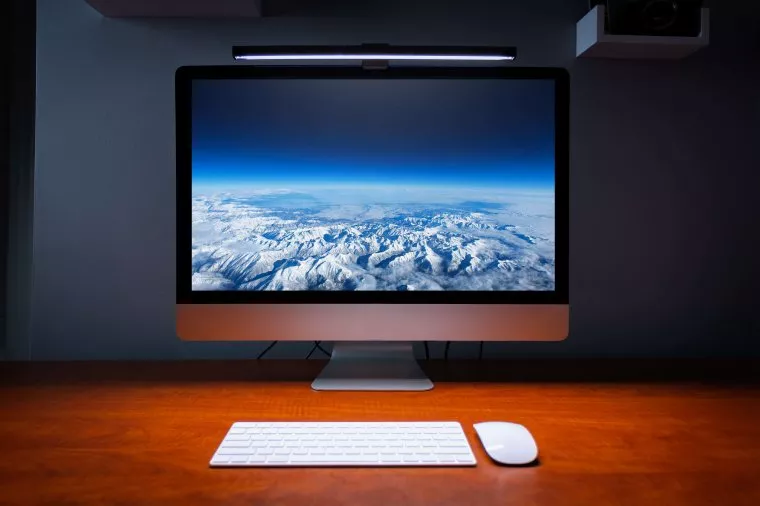 We can also adjust the lighting temperature for the emitted light thanks to being built with two types of LED lighting: cold light and warm light. The color temperature range can vary from 2700K to 6500K; and if you prefer to go to one extreme, let's say 6500K cold lighting, the warm light LED is turned off to avoid wasting energy and overheating. For a device that works with a 5V USB Port connection with a power consumption of 5W, it's quite impressive as it's extremely cost-benefit for us users to stick to it. If, in turn, you desire to set a custom value in lighting temperature, both types of LED lighting will mix to give you the desired white balance you prefer.
Conclusions
For us, this was a truly pleasurable product to test. Overall, it does what it promises and much more; you can easily get accustomed to the lighting it emits, and for prolonged use, it's best to pair it with dedicated computer glasses as it's the case of Gunnar Optiks eyewear products or similar if your intention is to reduce eyesight strain and end eye irritation symptoms.
The weight is something to take in consideration if working with multiple monitors, or if you already own a very bulky unit with a not-so-reliable mount. With a BenQ monitor, it's fair to say that you won't experience any issue at all as it was designed with their usage in mind, but it can perfectly fit other units as we tested with an iMac Retina 5K 27″ display. Similar BenQ Screen bar products include the BenQ Screenbar Lite, Screenbar Plus, and Screenbar Halo,
All in all, it's a gadget worth acquiring if you are either a professional working in photography/videography or computer graphics with long nights of work to put ahead, or if you are a college student that requires long hours of studying and note-taking. This light bar certainly improves the experience and gives an well-spread lighting for your working area.
We hope you've liked this product and see you next time for upcoming gear reviews!
The following two tabs change content below.
Pia Lopez is a self-taught photographer, graphic designer and ArchViz artist. As Content Director of Sleeklens.com, her work is driven by her two biggest passions: technology and art.