Best 10 Scanners For Your Photography Studio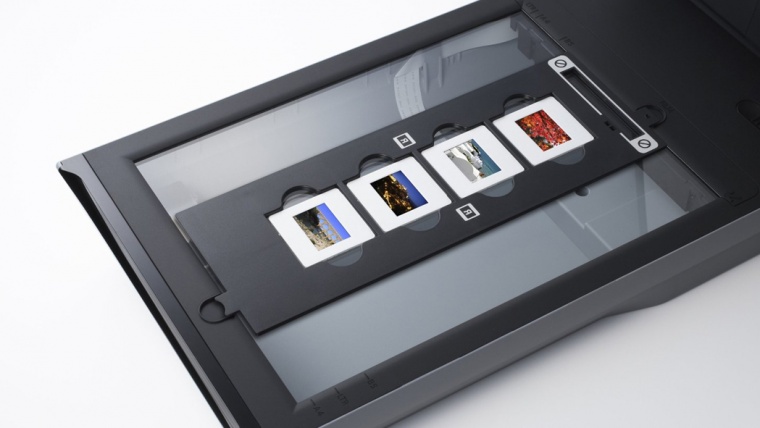 Best 10 Scanners For Your Photography Studio
www.sleeklens.com
In this guide, we'll be looking at some of the best scanners for 2017. Prior to explaining each model in detail, we want to talk more about the different aspects and uses of a scanner, besides simply scanning or copying an image.
Despite the development of smartphones and even the further improvements in cameras, there are certain tasks that we cannot carry out without the accuracy offered by a scanner. For example, You can't just snap a pic of an old photograph, expecting to get a quality digital image. You need a scanner to do it right. Why? Well, mainly because there is a loss of quality in the process of capturing the image (which is controllable and minimizable by applying control over the DPI), and also because it allows us to perform a lot of operations that otherwise would not have been possible: scanning negatives, images damaged by the passing of the years or even small objects such as flowers or coins.
That brings us to the question of, what kind of scanner would best serve the purposes of photographers? We already know that there are different types of scanners, Handheld, and Flatbeds. However, for tasks that require more precision, we probably want to lean more in the direction of using the Flatbed. Even though hand scanners have the practicality of being portable, it requires a precise stroke to digitize images without altering the final result.
Does DPI matter? Without a doubt! In the majority of cases the conventional user will not have to use settings greater than 150 DPI for office work; However, the photographer, for their work, usually needs to process images with resolutions higher than 300 DPI, which not all "domestic" scanners are capable of providing. For example, if you need to scan a negative, it would be necessary to work at resolutions higher than 2000 DPI to ensure that, during the process of increasing the size of the image, it won't lose quality.
So, let's go through this list of the best 10 scanners available on the 2016 market that will make your work much easier!
10 Best Scanners For Photography
Designed as a high-end consumer level scanner, the CanoScan 9000F stands out from its competitors as it would be the Epson Perfection V600 Photo or even its close relative, the CanoScan 8800F, but being less impressive for film.
Pros
Fast
High quality scans
LED lit
Built-in correction software for improving color
Cons
Bulky
Software can be troublesome
Takes a long time to scan negatives
Click to read the full Review
This scanner can serve as a general-purpose scanner designed both for documents and photos. Despite having OCR (Optical Character Recognition technology) its performance isn't as desirable when we talk about a high-end scanner device; however, it does a remarkable job for restoring faded colors and digitally removing dust and grain.

Its film scanning capabilities are limited to a maximum of four slides or two strips of 35mm at once, or just one strip of 120-220mm - which ends up telling us that this is a device mostly meant for the casual scanning and not for heavy digitalizing work.

Install Procedure and Setup

Like most flatbed scanners these days, you just need to execute the software included in the package, set the scanner in place and plug the power cord as well as the USB cable.

Its included software for scanning is disappointingly simple, with not as many options as what an Epson scanner would provide. The bundle also includes Arcsoft PhotoStudio 6 and Adobe Photoshop Elements 8, which despites being outdated it isn't bad for its price.

Scanning

The scanner provides seven buttons: Copy, Email, four PDF-related buttons (color, black and white, custom setting and finish) and of course the Auto Scan button; which automatically identifies the type of document we want to scan, and then saves the file with factory-default settings depending on the type of document or photo that it handled.

If you want a more precise control of the scanning interface, you should work with the Twain driver, as it gives you the ability to adjust color, restore color-faded photos, remove dust, remove grain, correcting backlight, etc.

Scanning Quality

The scanning quality is really good for film photography, being its max resolution 9600 DPI; however, you may encounter yourself experiencing issues such as images not being entirely scanned or backlight problems, which are mostly caused by its software.

Sometimes preview mode and the actually scanned file tend to show different results, which can become immensely frustrating and this should be an aspect that Canon should work on.

For non-film purposes, you can work with a max resolution of 4800 DPI, but given its price, I would recommend you to get a much less expensive model if you don't want to explore the film photography scanning features.

Its scanning speed is somewhat fast - taking up to 13 seconds for scanning a common sized photo at 300 DPI resolution. whereas it takes like a minute and a half for scanning film strips.
This is a top-choice scanner for any photography studio. Ready to scan either film, photographs or documents, you won't find a better quality scanner around - although be ready to spend a good amount of money for it.
Pros
Amazing high quality
Allows batch scanning
Full Auto-scan mode or completely manual
Cons
Really expensive
Bulky
Doesn't come with a photo editor
Click to read the full Review
Featuring an impressive 6400 DPI optical resolution, this scanner is a much-promised upgrade from the Epson Perfection V700 Photo - essentially by changing its light source for a LED setting, eliminating the warm-up time, which translates into a faster, high-quality scanning performance.

Installing Procedure and Setup

Compatible with most OS these days, you just need to run the included install software, then place the device and plug both power cord and USB cable in order to operate it.

Epson made sure to include Epson Scan - its own scan utility, and SilverFast Ai Studio 8; however, it does not include any other software, unlike previous releases.

Scanning

Epson supplies with this model four film holders: up to hold 35mm slides, 35mm strips of film, 120-220 mm film and 4x5 inch film. If you want to scan film all you need to do is to insert the slides or film in the appropriate holder and position it on the flatbed. Then, launch Epson Scan or your desired application to scan the files.

We can work with three different modes: Full Auto, where the software will handle all the settings for you (designed for beginners or for quick scan sessions), Home Mode, where we can access some few options like brightness and contrast, plus get a preview mode; and finally Professional Mode, where we can control the entire set of options available to tweak, like color balance, saturation, tonal curve, etc.

Despite featuring these three models, Epson always offer automatic color restoration of faded images when working with either Home or Professional modes.

Scan Quality

Its resolution can be defined as 2400 DPI for scan resolution and a maximum optical resolution of 6400 DPI. This scanner is quite capable of handling both light and dark areas with superb detail.

Digital ICE - its hardware-based tool for dust and scratch removal - certainly makes a difference from other models in the market, which will set a before and after in your workflow if you happen to work with image restoration in your studio.

Speaking of its speed performance, 35 seconds for scanning one slide at 2400 DPI image quality and up to two and a half minute for four slides under the same quality.
Considered as an upgrade of the Canon CanoScan 8600F, its boosted image quality and newly implemented LED light source will guarantee a fast and effective scanning experience for photographic prints.
Pros
High-quality scans
Backlight correction
LED light source
Cons
Not noticeable scratch removal
Limited amount of slides to scan
Click to read the full Review
Given its upgrade from the previous 8600F, Canon sets its bet on offering a faster interface for the high-end targeted market, even if this product doesn't lift the scan capabilities limitations, as it's established for scanning only four slides of 35mm film at the time.

Installing Procedure and Setup

The install procedure works as with most scanners these days: an included software, power cord, and USB cable; but this bundle also offers ArcSoft PhotoStuido and Photoshop Elements software - in outdated versions, but it's possible to upgrade them without spending too much money. In addition to that, it also includes NewSoft's Presto! PageManager and ScanSoft OmniPage SE 4.0 for converting your scanned documents into editable text.

We might experience some issues when working under Windows 10, as it's a relatively old scanner device, however, Canon is doing a good job in updating its drivers for both Windows and Mac latest OSs.

Scanning

You can either use Canon's scan utility, which won't offer many inconveniences for most users or just work your way with the buttons included in the device: Copy, Email, Photo/Film and three PDF buttons (color, black and white, and custom). For PDF files, pressing the same button repeatedly keeps adding pages to your current document, and by pressing the Finish button you'll end the process.

The Twain driver can work in Simple and Advanced Mode; with obvious differences between both, as Simple Mode is meant for beginners, without many features to be able to tweak.

Scanning Quality

With the help of the Twain driver, you can access to special features like backlight correction, fixing any illumination inconvenience with just a click and bringing details into the foreground. The other special feature you can access is a smart color correction tool, which won't make necessary to tweak channels in order to achieve the desired effect - you will work under CMYK mode, but also you can choose between 19 variations of your current color mapping and select the one that suits your needs the most.

Color restoration in faded looking images is also accessible via software, as well as the dust and scratch removal, the latter one handled by the Digital ICE system.

Its speed performance is of 8-12 seconds for scanning a 4x6 image at 300 DPI, and for film strips, it can take as much as 1.1 minutes to scan a file under 2400 DPI resolution.
A cheap and portable scanner that can help us when travelling or for quick jobs that don't need as much precision.
Pros
Portable
Cheap
Doesn't require electricity
Cons
Not high quality performance
Batteries run out quickly
Slow to scan
Click to read the full Review
This product offers a JPEG/PDF/DPI button that allows us to change between scanning documents and images, for either JPEG or PDF format. The DPI settings can be only adjusted between High/Medium/Low.

With two LED indicators labeled as SCAN and ERR, this device is really easy to use. Simply insert the two AA batteries and the Micro SD Card, and start scanning away!. You need to plug the USB cable into your PC in order to visualize what the device is scanning.

The quality isn't as expected from a professional scanner but given its price and portability, it can fit our work if we happen to be at reduced workstations or if we travel a lot and need to digitalize either documents or photographs in a hurry.
This compact document scanner can work either with SD Cards, Pendrives or Wirelessly through our WiFi network. Easy to use at the office, and practically for a reduced environment.
Pros
WiFi connectivity
Single pass allows two-sided scan
Touchscreen interface
Cons
Expensive
Compact but not portable
Can give us some trouble for scanning multi-page documents
Click to read the full Review
With an easy to use touchscreen interface, this scanner may strike us as a portable device, however, this scanner is a reduce-sized desktop product. Even if it can't scan large sized documents (its limit is 20 pages), this device can manage those smaller documents in a rather quick time.

One of the advantages of this device is the fact that we can either work with the SD Card, Pendrive or scan via WiFi; where not only we can save the file, but also share it with Apps like Google Drive, OneNote, OneDrive, Box, Evernote, Dropbox, Facebook, Picasa, Flickr and much more without needing a PC for such process.

Also, it allows us to scan common formats such as photos, documents or PDF files, but also PowerPoint, Excel or Word editable documents.

Its scanning resolution can hold up for a maximum of 600 DPI, which is more than acceptable for documents and can work in a great quality output for photographs, but not for films or damaged images that need resizing (not to mention that we cannot scan film since there is any tray for holding it).
This kind of scanner is mostly meant for office use, with an ADF (automatic document feeder) apt to hold 75 pages and able to scan 40 pages per minute.
Pros
Duplex scanning
75-sheet capacity
Features OCR
Cons
Expensive
Really big sized (like a multifunction printer)
Click to read the full Review
The Kodak i2420 is meant to be considered as a competitor of the Canon imageFormula DR-C240 and the Epson WorkForce DS-760 when we talk about its scanning capability and work volume; which makes it the ideal choice as an office scanner as it's intended for heavy-duty use while keeping a somewhat normal price for its quality.

Install Procedure and Setup

Just install the software from the disc included in the bundle, connect the supplied USB cord and the power cord, and that's all. You need to rotate the body from its vertical position so it can be able to open its trays.

This device includes the Kodak Alaris app for managing the scanner, as well as Nuance PaperPort 14 for document management and OmniPage 18 for OCR. Twain, ISIS, and WIA drivers also work with this unit, so you can use this scanner with any Windows/Mac software that is compatible with such technology.

Also, it includes options for scanning directly to SharePoint, Evernote, Google Drive and Box; which reinforces the ideal of an office intended product.

Scanning

We can scan either single sided or double sided (duplex) documents in a relatively short time; whose top time can be defined as 22 pages per minute for common documents and up to one and a half minute for photographs.

The top resolution is 600 DPI, which isn't bad for office use and can certainly work for most photographs that need to be scanned in a hurry.
When looking for a portable scanner, there's no better option than the Epson WorkForce DS-40, designed to work with or without a computer.
Pros
Wi-Fi connectivity
Scans directly to mobile devices
Powered via AA batteries or USB cable
Cons
Single-sided scan only
Manual feed
Non OCR
Click to read the full Review
Because of being a PC-free scanner, this device is an on-the-go option for any professional, ideal for traveling and working at the same time. You can visualize the scanned documents either on your laptop, smartphone or tablet if needed, while you can also upload it to the cloud using a mobile device without needing to plug in your PC or Laptop.

Install Procedure and Setup

This device operates with batteries, included in the bundle, without needing to worry about plugging the USB cable elsewhere, unless you have a heavy file to scan or if you run out of batteries and want to work on USB-powered mode.

In order to visualize your data either on the phone or tablet, you need to download Epson's scan app to your device and turn on the scanner. Then, slide the WiFi access point switch, following the included instructions to create the bridge connection via WiFi.

The provided software for your PC is the Epson's Document Capture Pro scan utility as well as Abbyy FineReader 9.0 Sprint for OCR, and NewSoft Presto BizCard 5 for business cards.

Scanning

The scanning procedure is quite simple; all you need to do is to manually input your documents into the front slot for the feed mechanism and press the Scan button or use the Scan command at the app. After it finishes, the app will display the scanned page, allowing you to add another document or finish the scanning session.

The battery life of this device allows us to approximately scan up to 250 letter-sized pages on a set of batteries, which is really great for most users.

Scanning Quality

The maximum resolution is established in 300 DPI for either PDF or JPEG format. While it may seem good, this device tends to have some issues when working with small sized documents (for typefaces under 10 points).

Also, don't expect an impressive performance when scanning business cards - it may be practical to manage them under an app, but it takes a considerable amount of time to scan them given the fact that we need to insert them manually, one by one and also takes up to 2 minutes to scan each file depending on how much detail does the card have.
A cheap solution that despite not being able to scan film or even being labeled as low-end photo scanner, it still allow us to work under 4800 DPI resolution with some cool extras like OCR and automatic color restoration for faded photographs.
Pros
High quality scan
Color restore mode
Dust and scratch removal
Cheap
Cons
Limited software
Easy to get confused with buttons
Click to read the full Review
Set as a common-user scanner from Canon, this device has plenty tools to offer for the conventional photographer and even for professionals.

Install Procedure and Setup

Works in the same fashion as we have seen with the other flatbed scanner devices, with no other editing program or application included besides Canon's own scan control app.

Even if it offers a built-in OCR for PDF format, the editable text capability is limited, due software, to scan to Notepad, where all the formatting information about the file is lost.

Twain and WIA drivers are compatible with this device, so you can run it while using any Windows/Mac software compatible with the Scan Command.

Scanning

Despite the somewhat messy interface of buttons, which for some users may feel a bit intimidating, this Canon scanner is quite easy to use after you familiarize yourself with the interface.

You can simply choose the AutoScan function by pressing its button on the front of the scanner - the device will analyze the image and save the file for either JPEG image or editable PDF.

Scanning Quality

Despite being a low-end device, Canon offers us some interesting tools to work with after switching to Advanced Mode, such as color-restore option, scratch removal, dust removal and controls over resolution, contrast, brightness and much more.

Overall, this is a budget minded option for when we need to scan some images and our printer isn't a multifunction device, or if we don't want to make such an investment as we don't handle film strips.
If you need a good heavy-duty solution for your office scanning tasks and you don't mind spending some extra bucks in the process, then get this powerful scanner by Epson.
Pros
ADF capable
Fast
Excelent document recognition
OCR
Cons
Doesn't include software
Expensive
Click to read the full Review
Intended to be a scanner for a medium to a large workgroup, you have to consider this scanner as an investment rather than a common purchase, given the fact that is meant to last for a long while and will pay its price over time and usage.

In comparison with its predecessor, both models share physical similarities, and even include the very same software; however, the scan speed increase is as noticeable as 45% more than the Epson WorkForce DS-760 and an increase in its lifespan from 4.500 sheets to 6.000 ends up renovating this model for the most exigent operators.

Install Procedure and Setup

Installing works as usual: plug in the power cord, run the included software at the disc and plug in the USB cable to your PC. You won't experience any compatibility issues if you're running the latest Windows/Mac OSs.

Just like the Epson DS-760, it works with the Document Capture Pro scan utility, that let us work either in Auto Mode or with an Advanced Mode where we can tweak the settings prior scanning and afterward.

Also, this model is compatible with Twain, WIA, and ISIS drivers. Abbyy FineReader 9.0 Sprint is included as well in this bundle.

Scanning

We can scan up to 146 pages per minute in duplex mode and 73 pages per minute in one-sided scan mode; mostly impressive for a scanning machine.

The maximum resolution is set at 600 DPI, which is acceptable for any kind of photography work, with its performance time estimated at 1.1 seconds at the full quality scan.
The very definition of a heavy-duty scanning machine thanks to Panasonic. Apt to scan 200 sheets thanks to its ADF system, with 100 programmable scan destinations and superb document scan quality.
Pros
200-sheet ADF
USB 3.0 speed
High-quality scan
Cons
Amazingly expensive
Propense to get paper jams
Click to read the full Review
Despite its mind blowing price, the scan speed that this machine provides is unbeatable. Think of this product as a huge investment for your company, mostly meant for scanning large bulks of documents and contracts rather than photographs; even if it has enough quality to work perfectly for the demands of a high-end photographer.

Install Procedure and Setup

Setting aside the common install procedure, we need to make sure to leave enough space for this model to operate given the ADF capabilities, which makes a vertical U-turn and exits into the output tray at the top front section. Besides large amounts of paperwork to scan, this model is also apt to scan thicker documents such as booklets or passports, as well as delicate ones without damaging the original file.

Auto Preview creates nine versions of the scanned document and displays them in thumbnail format - there, you need to select the most suitable image and apply further adjustments if you feel it's needed.

Despite its system for preventing paper jams, we can find from time to time some warning about this issue, mostly if we work with thick paper or glossy one.

It includes Panasonic's Image Capture Plus utility, as well as being capable of operating under Twain and ISIS drivers. No other software is provided, which considering the price we're paying, at least we should get a more advanced PDF processor such as Adobe Acrobat.

Scanning

Its scan speed ranks up to 85 pages per minute in the single-side scan and an impressive 170 pages per minute in duplex mode - NB: Panasonic considers duplex mode as image scanning, being each side treated as an independent image file.

The average time span for scanning a file in full quality resolution (300 DPI) is estimated in 40 seconds, being able to scale up to 1:01 minute if we treat high-quality images with tons of details.
Selection Criteria
What did we consider for making this selection of products? There are several factors we would like to talk in detail.
Type of Scanner: As we can see with this list, there are many different layouts for scanning machines that we consider prior making a purchase. For some users, low-end scanners would do the job if the scanning tray matches the needed input size of the file to scan. However, if we talk about portability, we cannot include a desktop-intended scanner: many smartphone apps can work as a Scanner with the camera, although handheld scanners are the future to be seen within the next 15 years.
Input/Output Size: This refers to the kind of documents we need to scan and print later on. For some users, a handy desktop scanner would suffice; however, CAD drawings, advertisement prints, large format photos may require larger scanning sizes than the usual A4 layout.
Documents Characteristics: It will not be the same to work exclusively with Black & White prints to scan than to work with fully coloured photos. It's all about balance, as some documents may come in glossy paper fashion or include hues that need to be rendered as precise as possible.
Price: Obviously we desire to get the best scanning device for 1/4 part of what everyone else plans to do it. You know well the answer to that, the images won't be catching enough with the cheapest model if we compare the jpeg conversion made in comparison with high-end products available per brand.
Weight: For Scanners, the overall weight of the scanning unit does matter due to the area we need to leave for it to work properly, not to mention that some scanners prove to be portable enough to carry them around when required.
Brand Reputation: Without a doubt, Canon takes the leading role in this regard, although it has a close competitor in Epson models these days.
FAQs
Does it matter to count with USB 3.0 connection?
For faster transfer data to our computer, yes, it's a valuable asset to add to our workflow.
Can wireless scanners handle heavy scanned files?
This entirely depends on your overall internet speed at your workplace. I'd strongly refrain from this method if your current internet speed is lower than 10 Mbps.
I'd like to work with negative film from analog cameras, which scanner would you recommend me for such purpose?
Both the Canon CanoScan 9000F Mark II and the Epson Perfection V800 Photo are capable of performing this task, although Canon's one takes ages to process these files due to their high-quality output. Weigh the pros and cons on quality vs scan speed for making your choice.
Is it extremely important to count with a Photo Editor Software in our scanner?
Given the fact that most users work with Photoshop I'd say no, but don't neglect the possibility of getting advanced scanner controls if available.
What's the best way to scan multi-page documents?
Without a doubt, through an ADF-compatible scanner (ADF stands for Automatic Document Feeder)
What should I buy if I need to scan documents or photos with a size bigger than A3?
If that's the case, get the services of a print shop for scanning the file, as buying a multi-function plotter won't prove to be rentable unless you print tons of files per day.
We hope you enjoyed this guide and catch up next time for another gear review guide!
The following two tabs change content below.
Pia Lopez is a self-taught photographer, graphic designer and ArchViz artist. As Content Director of Sleeklens.com, her work is driven by her two biggest passions: technology and art.