Pixpa: A new concept in website builders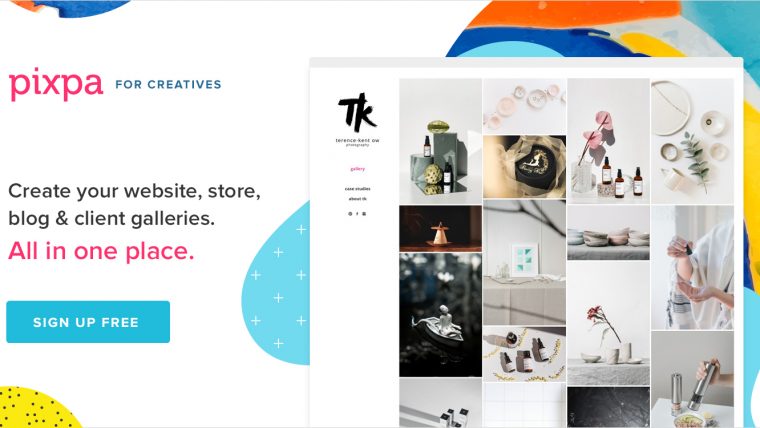 Pixpa: A new concept in website builders
www.sleeklens.com
If you've been in the photography industry for a while, most likely you came across Pixpa. Among website builders, this particular site offers a tool tailored for photographers, making the website crafting process an easy ride. Today, we'll discuss in detail why should you consider Pixpa if your goal is to build a website under budget. The best part? You don't require any coding experience to get started.
Custom Sites vs Website Builders
Website builders differ from custom sites since the experience is not made "from scratch". Instead of hiring a team of developers, or even attempting to do the entire process yourself, website builders pack everything for you. The appearance of your website is the result of a picked template and the building blocks from the site, depending on your needs.
Popular website builders are Elementor or Squarespace, to which we recommend checking great online content on how to work with said platforms here.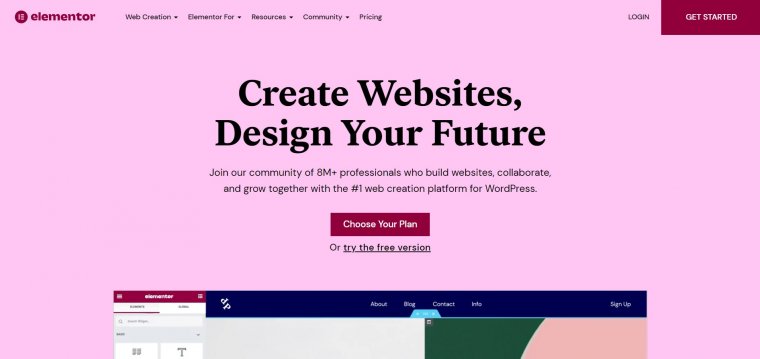 My experience with Elementor, I must confess, is not the best one since I found it to be limited from its free version. Many elements, like carousel sliders, don't work as they should due to CSS configs that aren't easy to access. Or worse, you require a Premium version of Elementor to even check if said website block would work for you.
Pixpa is made with the budget in mind, by creatives for creatives. You can build an entire portfolio site in a couple of hours with a very straightforward process, or even allow e-commerce capabilities on it.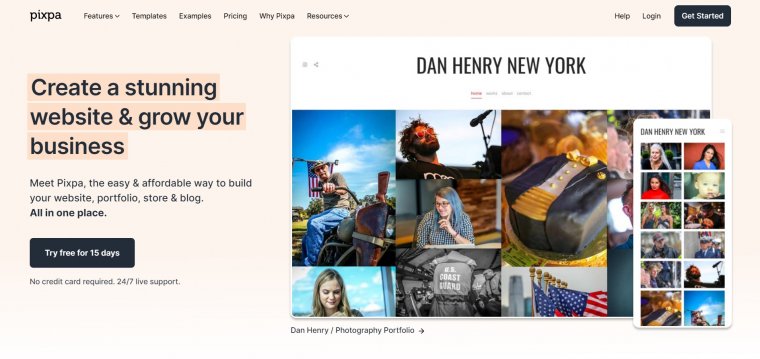 Picking a Plan
Pixpa offers a variety of plans. Its most basic tier limits us to creating just 15 galleries or pages, which for some may be plenty, but reality tells us otherwise.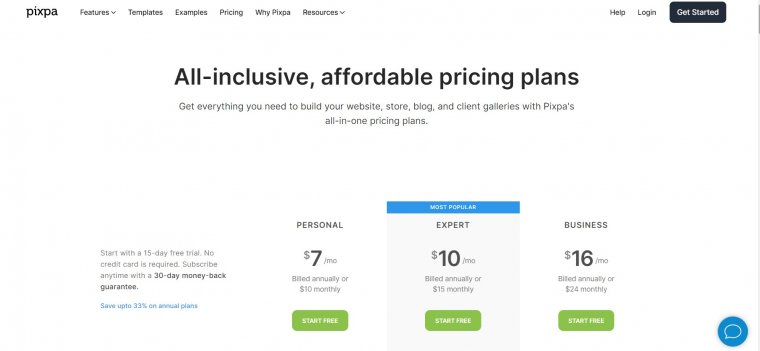 It's worth to notice the differences between these plans:
Personal Plan
1GB storage
15 galleries available
No custom photo app
Only 5 products available for sale
No customer accounts
No inventory management
Lacks payment forms
Basic mailing lists (meaning you can only email one list of gathered emails)
No marketing popups
200 images in galleries
SSL certificate
Custom HTML & CSS Editing
Domain & Hosting
The Personal Plan is intended for those new photographers that just require a website to promote their hobby/professional job but won't be bringing an influx of e-commerce transactions.
Expert Plan
10GB storage
All features included in Personal Plan
25 Custom photo apps
Up to 25 products available for sale
Free Website Setup Service
Create segmented mailing lists
Announcement Bar
Basic Marketing Popups
Unlimited Galleries
Unlimited photos per gallery
This plan is meant for those users with already established photography businesses. Ideal for scheduling sessions, reaching customers via email marketing, or even sell products on a larger scale.
Business Plan
50GB storage
All features included in Expert Plan
Unlimited Custom photo apps
Up to 1000 products available for sale (way more than the average e-commerce site needs!)
Payment forms
Advanced marketing popups
Customer accounts
Cart abandonment follow up
Inventory management
This is the all-you-can-get plan from Pixpa, and definitely not much pricier than the Expert Plan.
Without a doubt, it's a plan for professional photo studios or photographers that exclusively make a living out of their craft. You should keep in mind this plan is also mixed with some cool features from MailChimp geared to customer retention. For that very reason, the extra price is so much worth being paid if you intend to scale your business and recover potential customers.
Building up your website with Pixpa
The first aspect to consider, if you're fairly new to this, is that Pixpa solves the hosting issue for us. They have a deal of a 1-year free of any charge domain and hosting, which is handled by Hover. After that year, you can renew your domain by checking the account data in Hover.
AWS is the cloud-based hosting used by Pixpa, so you can be certain your data is safely stored and accessible at any time. That also tears down another headache-inducing problem as protecting customer's data, emails stored, or even databases of your sessions.
Let's say now we want to start working with Pixpa! You start by picking which Theme you like the most.
The image shown above is from the Burst Theme, a popular choice in many sites built with Pixpa. At first glance, it instantly gives the feeling of an Architectural Studio website, so it's perfect for any Real Estate Photographer.
Depending on the style you pick from, the galleries and homepage can get different feelings. You can opt for a minimal style with Burst, Glow, Grand, Indus or Ohio themes. If instead, your style resonates more with full-sized photo banners on top, then your options are Aspect, Scale, Show, Point, or Contrast themes.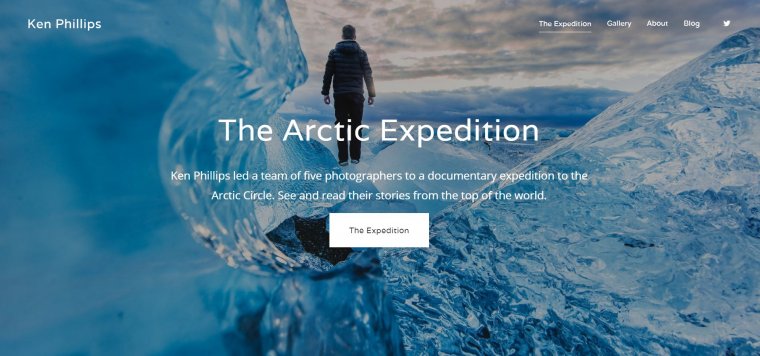 Pixpa's Aspect theme
As we are talking about a website builder, the galleries, blog, e-commerce features are entirely customisable. My advice here is: if you intend to rely on e-commerce for your site as your main revenue stream, opt instead for a ready-made Shop template from their selection. It can save a great deal of time in regards to the store setup and also prevent any mistake on first-time website build.
Pixpa Galleries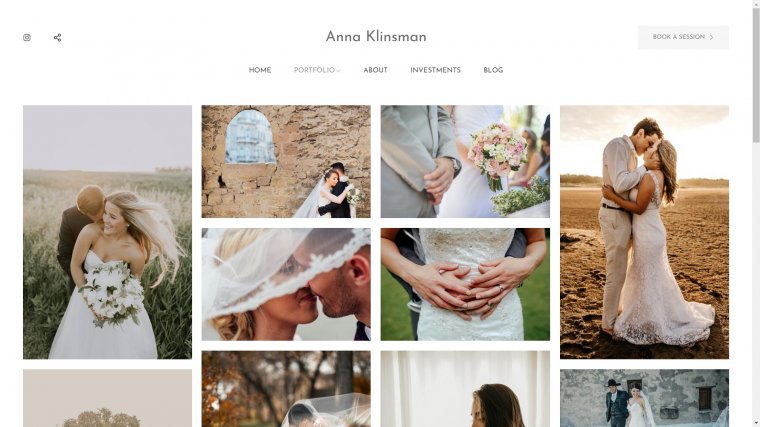 One great feature about Pixpa is that you can arrange the hierarchy of your gallery by tweaking the order, aspect ratio, and orientation of the elements, thus you're not restricted to a rigid grid.
In case you prefer a rigid design with all-equal white space, there's an option to create an equal-sized layout with fillers for the different aspect ratio as shown below.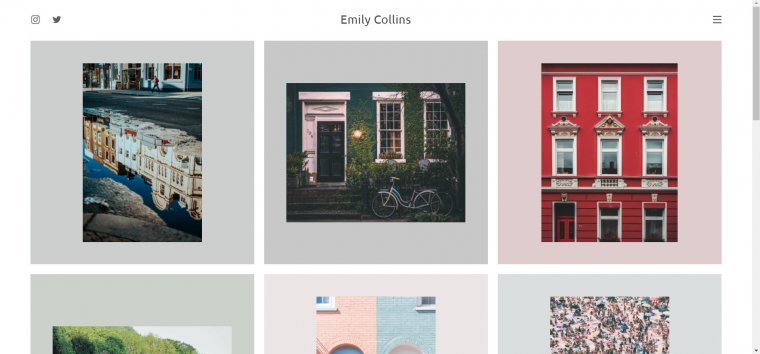 e-Commerce, Forms & Checkout
As I mentioned before, Pixpa is capable of managing your online store for products. Below you can see an example of how store inventories look like.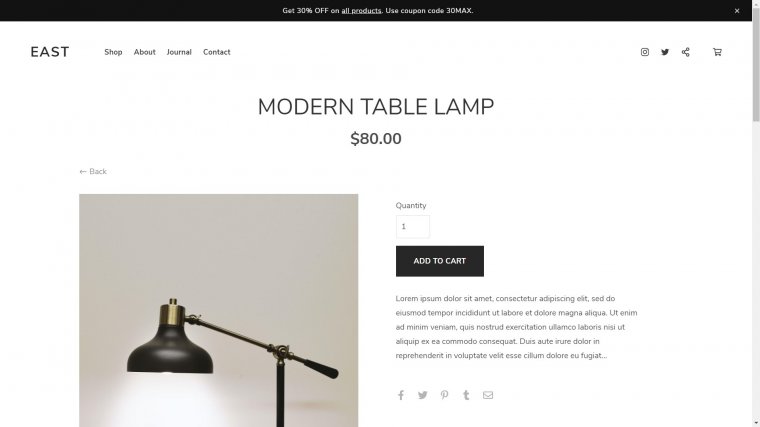 For that very template, the preview images are too big, hence they require you to scroll down to fully appreciate the size. The overall design is clear, helping sales funnels to work as they should, and they bring tools to share content via social media or email.
The Add-to-Cart and Cart Preview stages are pretty straightforward. You won't see any messy menus or even pop-ups (unless you opt to create those for marketing strategies).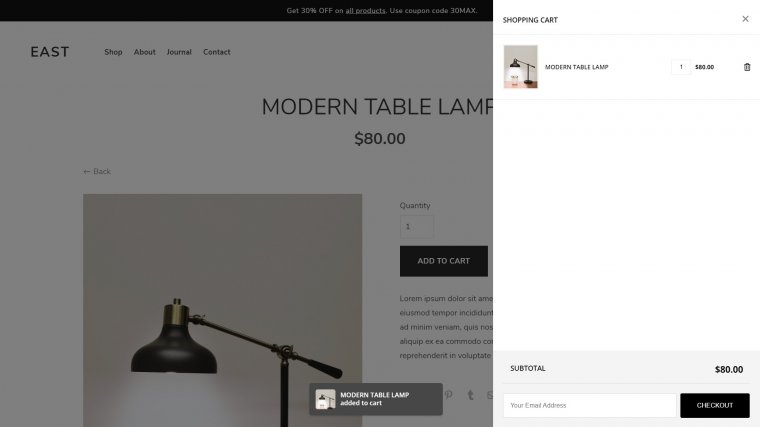 In this case, I get a requirement to fill the email field prior to checkout, which is both a method to gather emails for marketing mailing and also to avoid spam purchases by bots.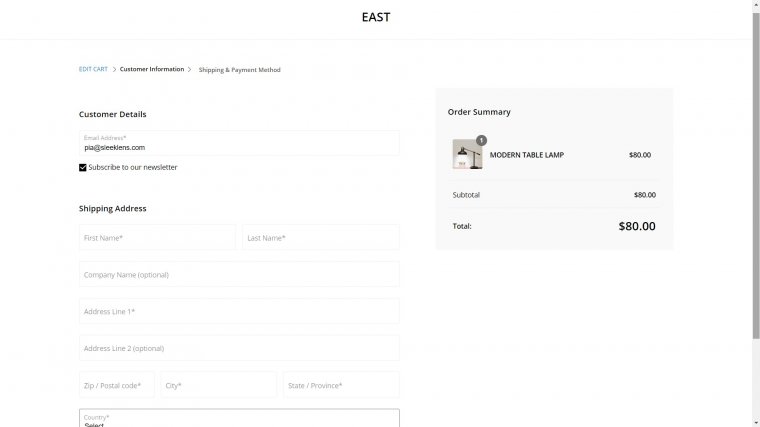 Again I'm surprised with the clean layout for the Checkout Form. Its native integration with Shopify and MailChimp not only help customers to proceed without issues but also to get customers back via email marketing contact – one of the strongest points of MailChimp against other email marketing providers.
Instead of needing 3-4 plugins to set up a proper WooCommerce shop, with all the form processes and plugin compatibility, Pixpa makes it easy for the site owner. The CMS used is somewhat similar to the WordPress backend (the WP-Admin), but cleaner.
Conclusion
If I have to give it a score, Pixpa lands 8/10 for website creation purposes. It's a drawback the fact they don't accept PayPal as a payment method for buying your own website, and also the domain purchase could be offered for a longer time instead of just one year and requiring the user to extend it. Other vendors offer domains with up to 3 years plans, something that takes the investment to a next level considering how big the discounts can be.
The CMS interface is clean. No issues or bugs as you can get with WordPress sometimes due to faulty plugins. The instant integration with MailChimp also helps considering you don't need to acquire extra services to run a smooth email marketing campaign. Do also keep in mind that MailChimp outranks other email senders like Sendgrid, Drip, Autopilot, AWeber, etc.
All in all, you're making a small investment and getting a fully functional, responsive website that can boost your exposure as a photography business.
The following two tabs change content below.
Pia Lopez is a self-taught photographer, graphic designer and ArchViz artist. As Content Director of Sleeklens.com, her work is driven by her two biggest passions: technology and art.