Best 2022 WordPress Themes for Your Very Own Photography Website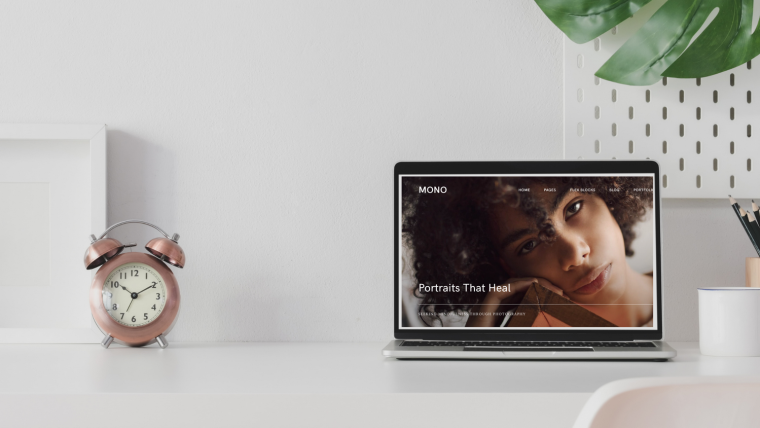 Best 2022 WordPress Themes for Your Very Own Photography Website
www.sleeklens.com
We have discussed many times throughout these years the importance to count with a digital portfolio to showcase your craft. Businesses and networking are all on the cloud these days, so the question still remains on: how to start your photography business?
Instagram and dedicated portfolio websites as Behance, Flickr, 500px, and many other alternatives you can find online are viable options for beginner photographers – and certainly, you want to broadcast your work over there to maximize your chances of success. However, we tend to neglect the visual impact that a professional-made website can have for the ROI of our business: it speaks dedication, professionalism, and mostly authority.
Let's cover some basic questions on why you should build your photography business website first, and then we can move on to what we consider the best themes available in WordPress to suit a photographer's needs.
#1 – I already have social media accounts – why do I need a website?
Again, the answer to that question is strictly linked to your authority as a brand. Yes, you may say your name is your business, but once you decide to get cash out of your name, your name becomes a brand. As a brand, you should care a lot about your reputation; therefore, social media exposure won't be enough if – said – you want to share your work with a potential customer.
Scenarios that you have to be ready to experience with social media-based portfolios:
Spam comments. You need to curate the audience engagement you get there. That's basic and can save you a lot of trouble considering the countless bots you can find on platforms like Instagram.
Stealing your work. Yes, experienced users can "borrow" your photos if you're not careful enough and claim your work as "theirs". Websites can add extra layers of protection by using right-click blocking code. That's the fastest way to ensure your images are protected, though screenshots can still happen – we'll cover that later on.
Platform crash. Remember that social media profiles are basically content being uploaded on an app, which is server-hosted, and often the target of hackers. You can also say that your website may endure the same threats but that's not accurate. We've seen many security breaches being targeted to social media networks like Facebook, Twitter and Instagram because – often – users add their credit card data to pay for services (and that's what hackers are after in, roughly, 80% of the cases).
So, imagine you're about to meet with the customer of your dreams – yes, that very project you've been idealizing and manifesting since day zero – and by a bad luck scenario you end up with no content to display because the Instagram app is not refreshing content as it should because of a glitch. That's not the way you want your pitch to start, right?
#2 – Websites are meant for devs and software engineers. I don't have funds to pay for a professional website.
Well, that's not entirely true. Anyone can learn how to code these days; it just depends on which venue you wish to explore and the amount of patience/time you're open to investing in it. But let me tell you a big disclaimer here: you don't need to know how to code to build your own WordPress/Wix site. You just need to have good taste in design – which you already have considering the fact you're a photographer (grins). Themes are previously made designs that you can customize to a great deal, and the options are really broad in 2020. Any industry can feel the benefits of professionally-designed themes that are ready to use, and in case you don't consider everything is as it should be for the requirements of your site you can always outsource freelancers or agencies to fix those small issues (in most cases users complain about CSS-related issues that can be quickly sorted out).
Also, by buying a theme you're not limited to the version you purchased. You get updates from the creators, and you can add your input to the theme if you're experienced enough with code. It's a time-saver for elegant solutions, and potentially a life-long partner for your business.
#3 – Why WordPress and not Wix?
This is a question I get asked many times. Wix is a pretty much intuitive website builder that has in-built features that remind me often of Elementor. The reason why people opt for WordPress instead of Wix is mostly because of these two big elements:
e-Commerce services: Wix has interactions with its own e-Commerce manager, Wix Stores, but it's not as proficient as the industry leaders WooCommerce and Shopify. The Amazon affiliate system is also poorly managed; hence you won't get as much 'juice' as you would with a WordPress site.
SEO: The answer to all businesses in the digital era. Businesses need to be browsable from web search engines, so SEO is the lord in that venture. Wix has an awful performance from an SEO perspective as many elements are code-locked. You cannot edit on the backend while using Wix, so elements like Schema and many other vital plugins cannot be used.
One thing here: I don't wish to be misunderstood. If you already count with a Wix website, congrats! You're one step ahead to improving your business, and certainly, it can make a difference. However, if you're in the limbo between those two options, give yourself a moment to consider the flexibility that WordPress offers (yeah, the headaches as well), as in long-term it will certainly pay the effort.
The Best 2021 WordPress Themes for Photographers
Well, time to review our choices. Our criteria for selecting these following themes is:
Ease of use: One key element of a WordPress theme is to be user-friendly for those who are not familiar with code but cannot afford a developer at this current moment. Considering the situation with the pandemic, we want to give you resources that are fast, efficient and, mostly, easy to use despite having zero knowledge on how to use WordPress prior to this point.
e-Commerce capabilities: Maybe for some of you, having an easy-access platform to convert your viewers into potential customers is a must. For others, the website just applies as a portfolio. For this very reason, we want to include themes that also offer the possibility of setting up an e-commerce store, and which also offer very catchy contact forms.
Design & Speed: There's no point in building your own website if it doesn't look professionally crafted, and also speed matters a lot for the SEO rankings. A good theme not only offers a quality design but also doesn't fill unnecessary CSS and JS elements that only increase dramatically the loading time. We'll also explain in the FAQs the importance of the image sizes to upload when it comes to site speed.
#1 – PhotoMe by ThemeGoods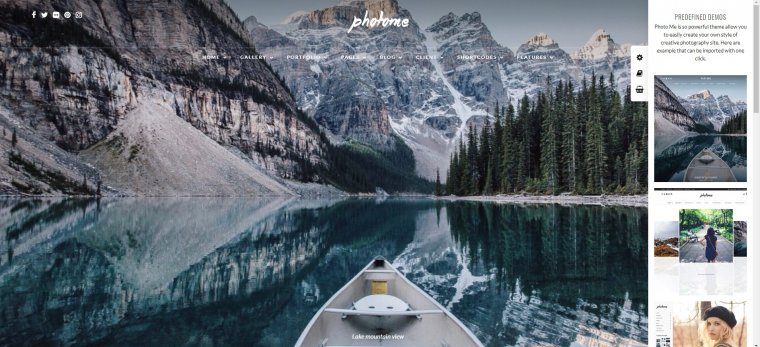 If I were to create a website from scratch to promote my photography business, certainly this would be my pick. Not only it gives you the possibility to use a high-quality photo to cover the entire site on your main landing page, but also you can configure the behaviour of the top header to only match the image when required – that way you can lift your galleries from that crowded effect and opt for a minimalistic take.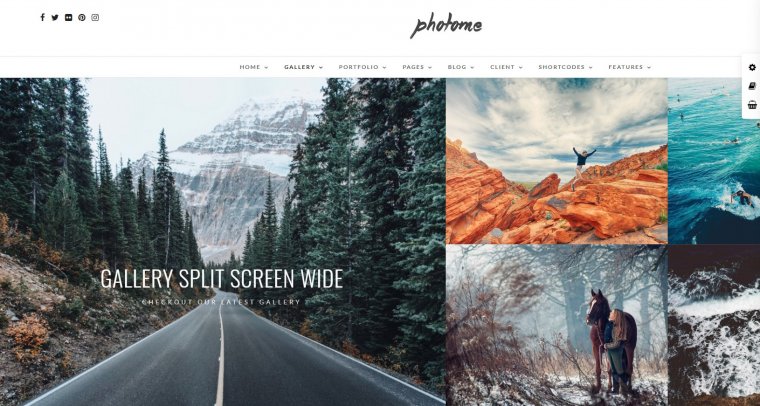 The site is fully responsive – you can use the menu ribbon on top to arrange it for the different pages to be displayed, or opt for a side menu. The homepage doesn't necessarily have to be a full-sized photo, you can use boxed layouts, a blog-inspired approach, the ever-popular kenburns animated style, among other options.
Overall, the main features to highlight with this theme are:
Live customizer
6 blog templates
Translation Support
Plugins & integrations allowed (Woocommerce ready to set up your store)
SEO friendly
Responsive theme & retina ready (a must for 4K/5K monitors available in the market)
Passed marks on Google Mobile-Friendly test
#2 – The Gem by CodexThemes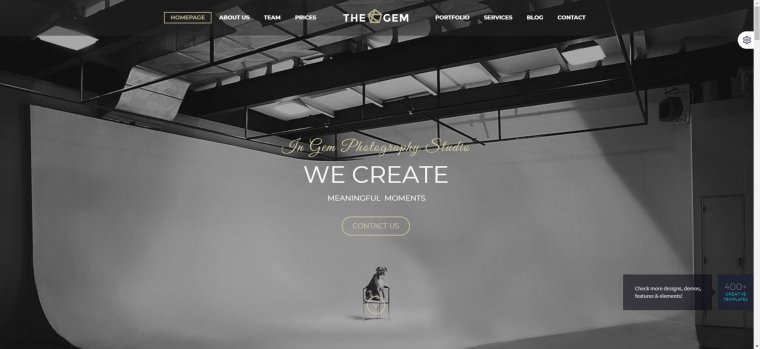 TheGem is intended to work as a multi-purpose theme, meaning you can fully edit its layout to create a website to book events, to sell stock photos, to sell prints or merchandising, presets, anything you can imagine in simple, easy-to-apply steps. The best part of this theme is that it's fully intended to be used with page builders as Elementor or WPBakery, expanding the options for creating unique layouts.
With some simple setup changes, you can fully change that style above to match a fully-functional online magazine website as shown below.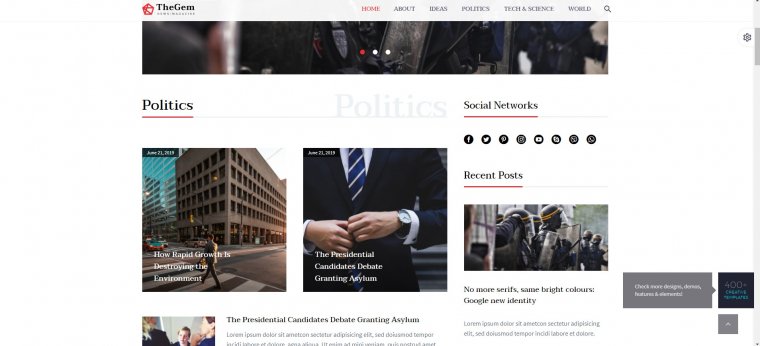 You don't need to have any experience in coding, nor to pay the services of a developer to create a beautiful website out of this theme. 400 templates available to explore, but let's detail its main features:
More than 30 blog styles
More than 20 different portfolio styles
Over 2.5k icons included – customizable
Video and parallax sections
GDPR ready
Page speed optimization settings
SEO-friendly
Plugin compatibility available, as well as plenty widgets to use
Responsive website
In the past, we've reviewed FloThemes high-quality products with their Cannes Theme, which we considered the best 2020 WordPress Theme for photographers. This time, FloThemes does not disappoint by featuring a theme that combines the classy serif fonts with a minimalistic, clean design.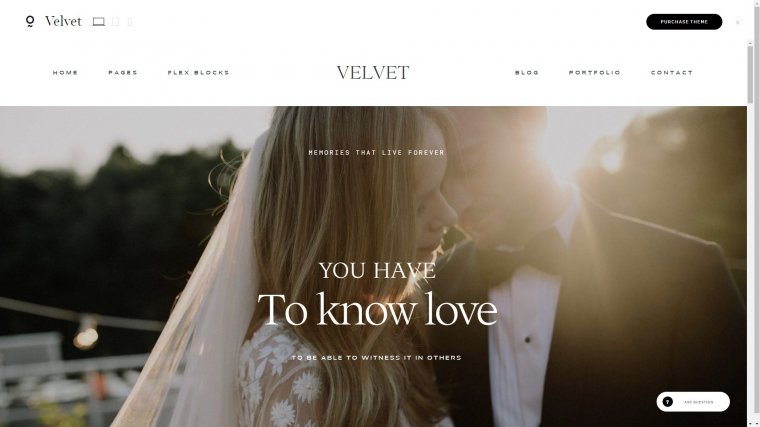 The main features to highlight with this theme are:
Fully customisable
Plugins & integrations allowed
SEO friendly
Responsive theme & retina ready
By accessing https://demo.flothemes.com/?theme=velvet you can appreciate in real-time how the menus, pages, media elements, and content interact (and we loved the fact that it showcases a wedding photographer's website!). Options for desktop, tablet, and mobile are available to check as well, so you can appreciate how the blocks will display for different devices.
The area where the VELVET sign is displayed is where your logo should be placed – keep in mind that scheme may differ in case you opt for a different header layout (as placing the logo on the left or right corner), or if you opt for a full-sized cover photo, with the header menu being displayed without a solid colour background but rather as part of the photo itself. There are some examples at the product page itself with different logo placements due to the options this theme offers.
With this theme, you will get 17-page templates with 90+ FlexBlocks and 30+ WP base Blocks. Keep in mind that by buying a theme from FloThemes you get the FlexBlock interactive page editor for free.
One theme, two totally opposite colour schemes. Novo Photography, another theme by the acclaimed ThemeForest author ypromo, is the solution for those who don't seem convinced enough for one colour option or another and wish to test what the potential outcome could be for their site.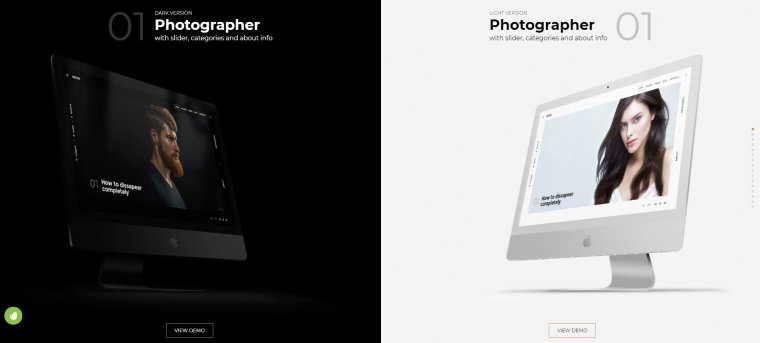 Besides the obvious difference in inverted colour schemes, this theme really packs everything a photographer needs to build a quality website. The first aspect I'd like to highlight is the in-built photo optimization included. It's a fantastic feature, really commonly neglected that have a crucial impact on site speed. The demo-images show a compression from 1MB to 333kb out of a photo, in lossless quality. Say we put it into numbers and that's a 60% loading speed increase for the photo; again, a crucial feature for an online website portfolio.
The other vital feature is the right-click protection for your content. You don't need to add extra plugins as it's part of the package you are getting. Depending on how sensitive your data is, the theme also offers an option for password-protected content on live display, meaning that to access the photo you have to introduce a previously given password – truly outstanding feature if you want to create exclusive sneak peeks of your content for a selected audience.
With this theme there are several display options for banners – the default scheme for the homepage are full-page banners with side-bar menus for the different categories; a button to display the main menu with all the options is on the left corner of the header menu. Social media icons are displayed as side elements as well instead of taking part of a footer – which is actually a solid colour element stripped of any text – enhancing the minimalistic and clean approach the designer embossed this theme with.
One aspect to consider is the animation whenever the user changes between categories. It takes extra time to display it while it covers the loading process for the page. For some it may seem a nuisance, but it can be removed by accessing the settings.
Creating your own shop is a reality with the shop manager for this theme. It's a jaw-dropping display aesthetic that not just focuses on the media files but also conveys the written elements in a visually-appealing, easy to browse method for any potential customer. If that weren't enough, you can display before/afters for your work with an interactive slider included with the theme.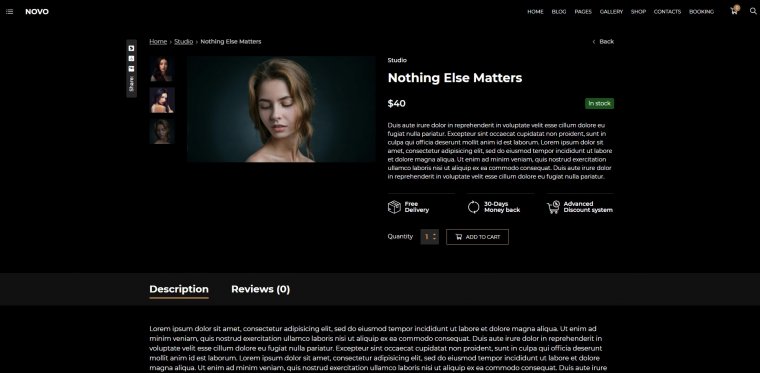 Overall, these are the features that make Novo Photography a theme you need to consider in 2020:
Clean-interface
Professional design for a media artist
SEO friendly
GDPR ready
In-built photo optimizer
Several security layers for your photographs
Visual composer with no coding knowledge required
High-speed responsive theme and retina ready
This is a theme meant to be used with Elementor – don't worry, it's amazingly easy to get used to Elementor, and you can find great tutors for free like Ferdy Korpershoek on YouTube. Instead of the average designed theme, what Photography Aurel offers is a compendium of Elementor themes that range from the grid, ribbons, split screens, etc.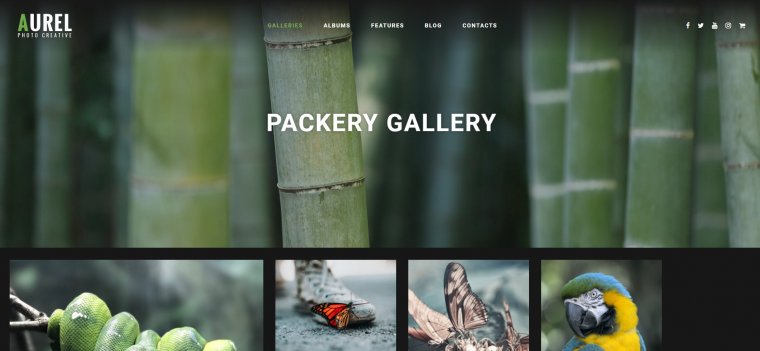 With light and dark theme options as we've seen on the Novo Photography theme, you can work your way with the interactive page builder. As you don't need any knowledge on backend, Elementor allows you to preview the changes in real-time, or even opt for a live view of the changes applied.
This theme has WooCommerce integration, meaning you can also create an online store for selling your photography services, digital goods, and even physical products as photo albums, templates – you name it! WooCommerce is an easy-to-use e-commerce merchant that also gives room for different payment methods as credit cards, Google Pay/Apple Pay, PayPal/Skrill/Payoneer… you get the point.
One outstanding feature is the possibility to create video galleries inside your website – which certainly fits the needs of videographers around – but also to include demo reels of the kind of photography services you offer (i.e.: portrait photography, wedding photography, photo editing services, etc.). Either video or photo galleries can be locked via password-protected access to protect your content from unwanted visitors or create exclusive-access content.
All-in-all, you get these features as the part of this WordPress premium theme:
160+ predesigned pages including galleries and albums (editable with Elementor)
Bulk image upload
SEO friendly
Custom CSS & JS
Contact Form 7 plugin support
Password-protected content
Custom-designed 404 Page
650+ Google Fonts
AJAX for loading items
And so much more!
#6 – KingSize Fullscreen Photography Theme by OWMLabs
We switch styles when it comes to this theme in contrast to what we've seen before. The first thing you will notice with the KingSize Fullscreen Photography Theme is that the menu is organised in the vertical ribbon, offering many options as well as instant social media network placement.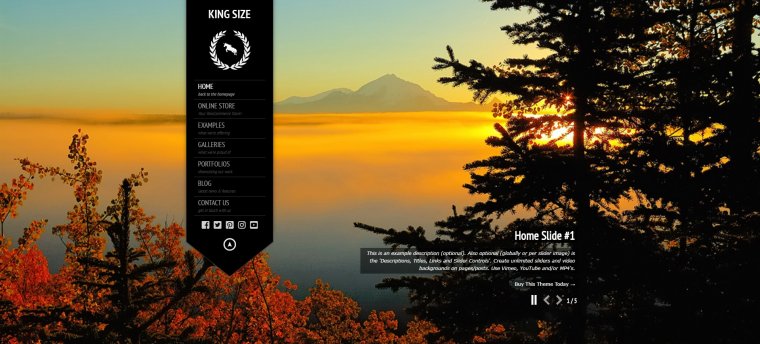 The background image can remain static or become a slider for the homepage, however, it does become static for the rest of the browsable areas of the site, switching the layout to be instead of full-screen to a container element with a fixed width size. Galleries can be arranged in 2, 3 or 4 columns, or you can opt for a grid layout display if your portfolio is big enough to this point. Personally, I prefer the 3-column layout style as images feel big enough to be previewed, so customers can click on them to access the larger-sized display.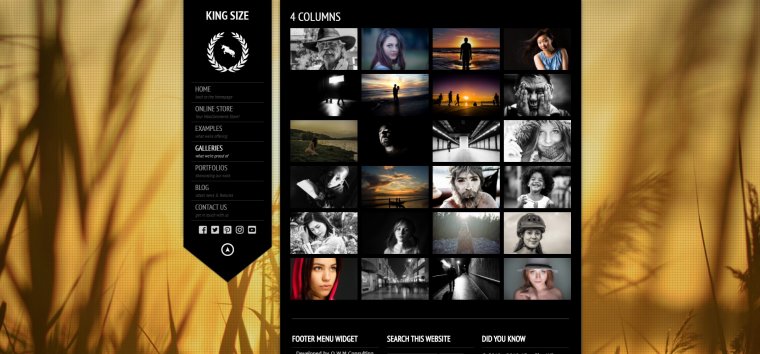 The colour scheme used for this theme doesn't necessarily have to remain as shown here, as this theme gives us plenty of options to fully edit it to our needs. Another benefit you can notice with this theme is that you get a footer menu that's entirely editable and can also work as an alternative sitemap in case your site has many different sections like a blog, e-commerce, portfolio, etc.
Speaking of e-commerce, again this theme shows full compatibility with WooCommerce as we've seen on previous themes.
In resume, what you are getting out of the theme is:
e-Commerce capability via WooCommerce
Responsive site design
Full-sized background image display in formats like jpg and mp4 (meaning you can add a video to your background – keep in mind the file size!!)
Customizable login screen
Image resizer included
Galleries, sliders and sidebars ready
Yoast SEO plugin compatibility
Check it out
#7 – Mono by Flothemes
Flothemes did an amazing job with this theme. It's simple, clean. The perfect aesthetic for those who define minimalism as their lifestyle. But what is in the Mono theme that can make the difference for our site?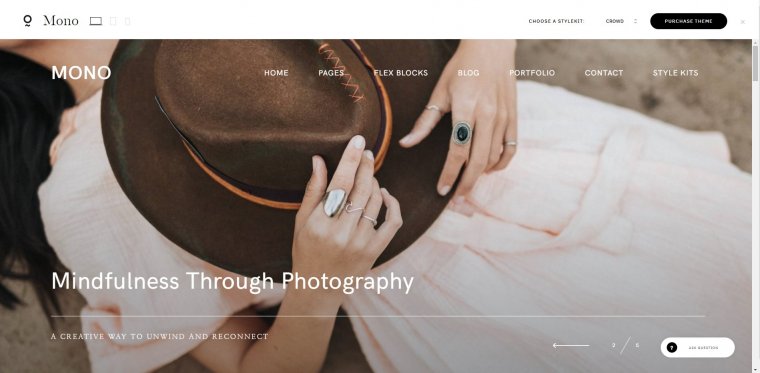 By purchasing this theme you'll get the offer of a freestyle kit, which refers to a full set of fonts combination, 20 blocks, and 2 colour schemes to customize your site. Also, you can customize the said blocks by the interaction with their Flex webpage builder.
The result is a highly-unique site; for most people it would be hard to tell if it's a theme or that you coded the entire site – a big plus if you ask me – and also it can be edited according to your personal style, further enhancing what your portfolio says about your work.
This theme was also curated to offer SEO-friendly options, compatibility with the most demanded plugins in the market, video support – all this without compromising the responsive design and retina-ready features we've also seen on the Velvet Theme.
This theme is simply amazing! Not only you'll see a fast interface but also you can customize it to obtain endless possibilities that make your site unique.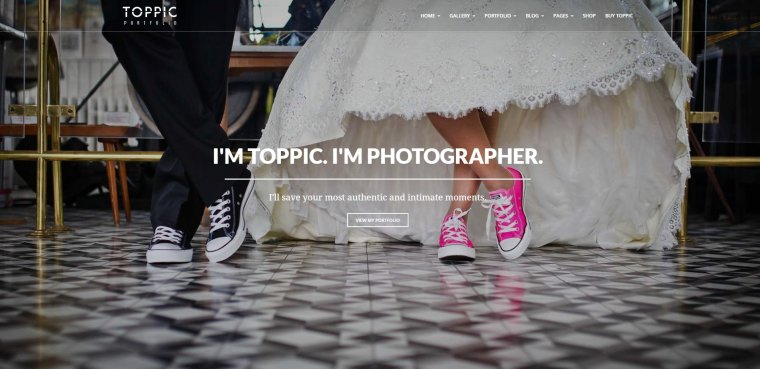 Let's discuss first the header menu. By accessing the live preview shown here you can see there are many options for this menu. You can opt for a single three-bar mini-icon that displays a full-sized menu – if your aim is to create a clean site look; that said icon can be placed on the right corner, the left corner, or somewhat near the middle section of the header menu area. If not, you can choose the traditional header menu format in full display, either in transparency mode or solid colour, for easier access to all the features your site has to offer. The final alternative is a boxed menu on either the left or right side, reduced in size but cascading the options towards the full-sized image background.
Thankfully, the theme is responsive and retina-ready, meaning you can develop your site with editing capabilities for desktop, tablet and mobile layouts, making it look absolutely professional. The best part of this is one feature called Advanced Adaptive Images, meaning that the theme is optimized to deliver an image file size depending on whether you access the content from desktop or mobile devices. This file delivery optimization does not compromise the image quality but does wonders when it comes to loading speed for your site.
Like what we've seen in other themes, this TopPic Portfolio Photography theme offers password-protection to create exclusive-access content. You can also use this feature to create content and demo-test it prior to its release instead of saving it as drafts.
The general features you get with this theme are:
Responsive & Retina ready design
Password-protection for your content
Live website builder
Advanced Adaptive Images
Fullscreen backgrounds in images, slides or video
Wide or boxed format for content
WooCommerce support
15 layouts for portfolio galleries
1K+ icons
SEO friendly
This theme is authored by the same creator of the TopPic Theme, kotofey, this PHOTOlio theme can be described as extremely minimalistic, with a thin-designed main menu that doesn't necessarily have to be placed in the usual header-menu position – it's mostly intended to be placed near centre-screen to boost the potential of a demo reel shown in the homepage as fullscreen size.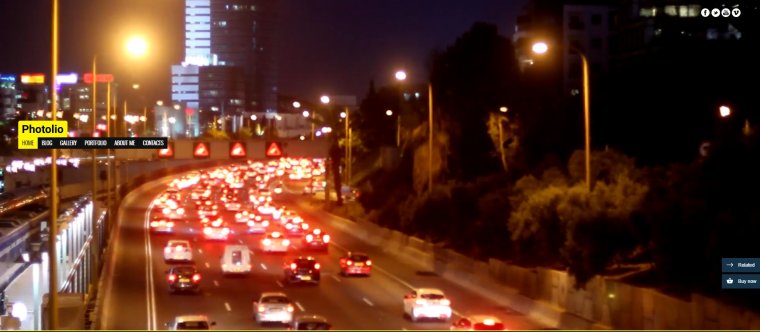 From a coding perspective, the site is optimized to reduce the loading time by instructing which jQuery scripts to load whenever needed, instead of loading the whole script pack as a whole. This can make a difference in loading time for mobile platforms.
The theme prevails the full display of background images, so you can certainly notice the content to best displayed under boxed format for this theme. As it was the case with the TopPic theme, the optimization for image display is also a feature for this theme with the Advanced Adaptive Images.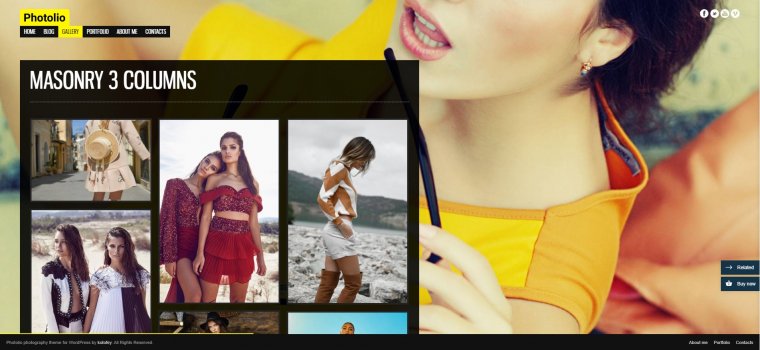 Another thing we truly liked was the accents in the loading bar that matched the colour layout for the site. That gives personalization to the design you are building and not an average-made solution.
We visit another option by ypromo. This theme is intended for those who seek clean solutions, with the emphasis on the content rather than fancy-looking colour schemes and display options.
The homepage gets presented in 10 different options that manipulate both the display of the photos (to favour portrait/landscape orientations or to retain image aspect ratio for the entire layout), as well as slight modifications in the menus and header. You can opt for a header cover image to brand your site, or instead place the menu, your logo, or whichever element of your choice while retaining the white background already in place.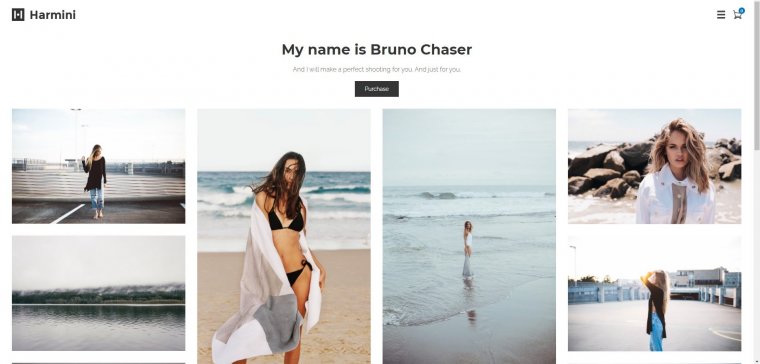 Contact form page has an integration with Google Maps to pinpoint the exact location of your business (this can be disabled in case you don't need to disclose your physical location or if you're an itinerant photographer).
When it comes to the blog, we have two style formats to use. For the extra pages as the "About Me" section or individual projects to be highlighted, there's a preference to showcase images in about 1/3 of the page height, retaining the clean aspect for the background and proper spacing between headings and paragraphs.
Features offered by this theme:
10 different homepage designs
Several gallery templates to choose from
3 different single page templates
Dark style available
Responsive design
Bootstrap 3
Retina Ready
Page Builder
Contact Form 7 compatible
WooCommerce ready
SEO-friendly
Custom 404 Page
Kreativa is the definition of photography website aesthetic that many photographers dream of building, all whilst packed with many features such as Events Booking, Photo Proofing, Portfolio, Galleries, and Shop.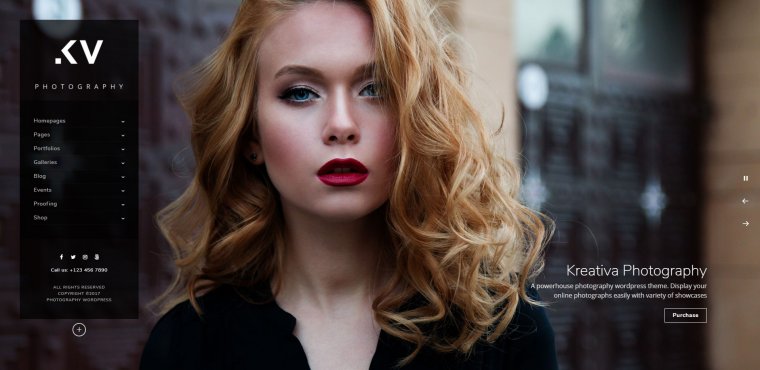 Let's explore the shop in the first place. You will notice there are two layout options for the shop; the first one offers a sidebar, which can be helpful to arrange different categories and subcategories for big stores. The second option is a fullwidth display for the shop, with filtering options to rearrange the listed items by ranking, price, or latest released. This second choice is more fitting for tiny stores, or for those who sell courses on their website that don't need to differentiate between product categories. Both shop styles show the "Add to Cart" button, for a faster checkout funnel.
The blog features four different display styles, the image preview sizes and text location being the elements that make them differ between each other.
When it comes to galleries and portfolios, the options are broad, from either column to grids, albums, download-image capabilities, and in case you're concerned about protecting your craft, this theme also introduces the password-protected content we've seen in previous themes. An extra layer of security would be a right-click protection plugin, which can also be added to this theme.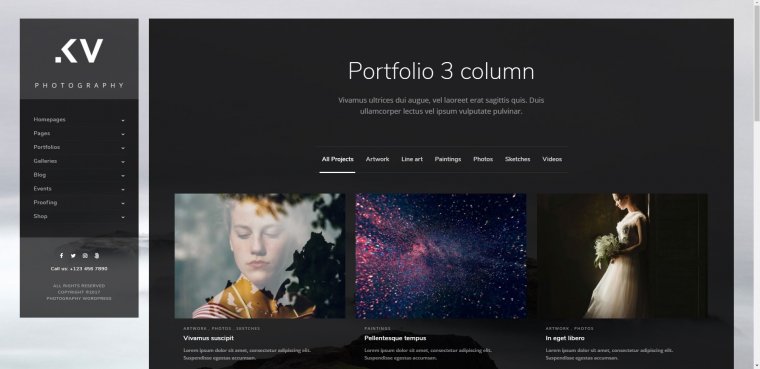 This is a theme mostly meant for those who wish to set up a store for selling their images online, and who don't wish to take part of other website platforms but rather have full control of transactions, royalties, etc. Also, keep in mind we can apply a light or dark theme depending on our preferences.
List of main features included in the Kreativa Photography Theme
Responsive design and Retina Ready
12 different homepage designs
Password-protection for content
Translatable content via WPML plugin
Bulk image uploading
WooCommerce Interaction
Event manager
Compatible with MailChimp
YoastSEO compatible
PageBuilder included
#12 – REEAL Photography WordPress Theme by SynergieDigitaleInc
We meet the final option in this list with a theme that can be easily described as versatile. In the first place, we are being offered three different styles for our homepage. Depending on the kind of content you wish to advertise you can opt between them – in general, the Kenburns style will mostly benefit those sites that are geared towards photo editing and video animations as the clean transitions help to give customers an understanding that you're well-versed on quality design and not flashy-trends.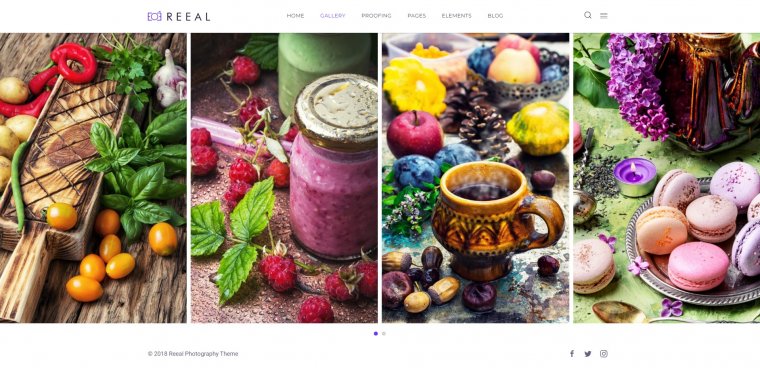 For content writing, you get six different heading styles, with also a paragraph style and dropcaps. Keep in mind the dropcaps colour will match the general colour layout for the site in the accents.
If you click the tiny three-bar button on the right corner you access a side menu, intended to display information about your brand, and also can nest social media networks previews or interactions with your online portfolios on Flickr/500px.
On what comes to the galleries, the options differ in the placement of each image. The Columns style may feel somewhat disconnected or unprofessional if you don't tailor the images selected with a very-clear colour scheme in mind; the reason for this is that you don't get spacing so images mix up with each other. Opt instead for the Masonry style for a safer bet if you're just starting or don't feel confident enough about colour theory. The Horizontal style is just gorgeous! Ideal for food and pet photographers as it allows you to display compositions of different sessions in a cohesive message.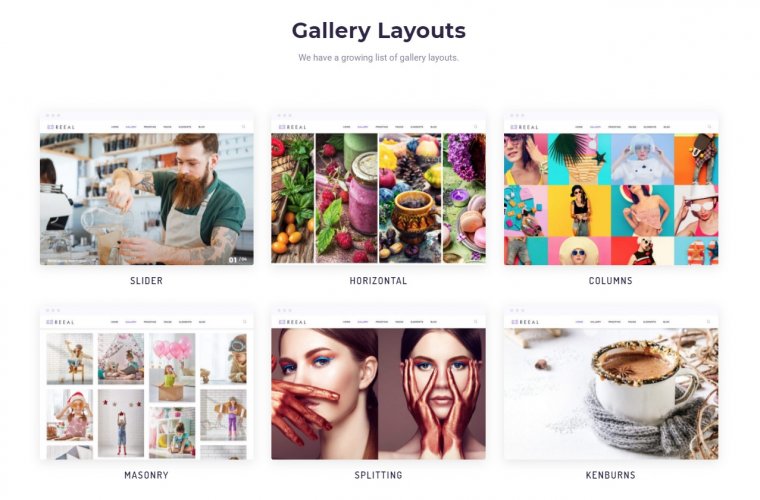 Let's end up this theme review by highlighting some of its features:
Fully responsive & Retina Ready theme
WPBakery page builder included
Optimized code for faster delivery times
Photo proofing ready with password-protection
100+ icons included
Premium Lightbox
SEO-friendly
Check it out
FAQs
Which PageBuilder to use?
If you plan to start from scratch, I'd recommend Elementor. The best option is to pair it with the Divi Theme or the Astra Theme. Keep in mind that despise it being a page builder, it will require many hours to fully adapt it to your idea, and some blocks you wish to use can also be listed as Premium options.
Browse the internet for a full list of resources – especially on the learning side – prior to starting a project like this.
Some elements give me errors in the display. Why is this happening?
If you're building the theme from scratch with a page builder, this is evidently related to CSS and you have two viable options to fix it.
Option 1: Seek professional help by hiring a freelance dev
Option 2: Learn it your way by asking on online communities, Facebook groups, subreddits, etc. It can be frustrating for the time it takes to solve it, but also you learn something new in the process.
Why does site speed matter?
Think about this: how would you feel if you worked with a 1998 computer these days? Annoyed, right? Well, the same principles apply to site speed. In a world where the estimated time span for customer retention is valued in 3 seconds, metrics matter a lot. Yes, just 3 seconds is what the average customer these days considers "enough time" to ditch a site if it takes longer to load – we can find the culprit in mobile devices.
As Google – considered the most important Search Engine these days – aims to deliver the best quality content for users worldwide, the metrics in site speed make an impact on rankings, killing your opportunities to release viral content if the pages take a huge lot to load.
Us, as photographers, suffer a lot from this as one of the easiest mistakes being made is to upload images in full-resolution, by neglecting the notion that web won't display a higher resolution passing a certain point (it's not as equal as with printing). To avoid this, be always sure to compress your images in lossless quality (to avoid pixelation), and also be sure to place the proper size (aspect ratio/resolution) at the proper places. Plugins also dramatically increase loading time for websites.
I have a right-click protection plugin available on my website, how can I prevent people from taking screenshots of my content?
The quick answer is: you can't. Screenshots today can even be managed by software as Lightshot (amazingly handy if you ask me, but a threat for photographers worldwide). Your best call is to include subtle watermarks, or if you feel threatened enough opt not to display images in full size.
Let's be honest here: it's frustrating I know, but also it speaks lengths about the people who "steal" other people's work. They simply feel they don't have the skills to produce the work you do, and by the end of the day you can even produce more high-quality content whilst they need to browse for another "source" to keep the constant flow of "original" work.
And yes, you can file a DMCA notice via Google for copyright infringement, as well as reporting social media profiles if they use your images and credit them as their own.
We hope this article can bring you some light on how to build your photography website in 2020. Themes are really fun and easy to use, so be certain that you are investing in quality resources. See you next time!
The following two tabs change content below.
Pia Lopez is a self-taught photographer, graphic designer and ArchViz artist. As Content Director of Sleeklens.com, her work is driven by her two biggest passions: technology and art.