BenQ SW271 27" 4K UHD Monitor Review: A Monitor for Photographers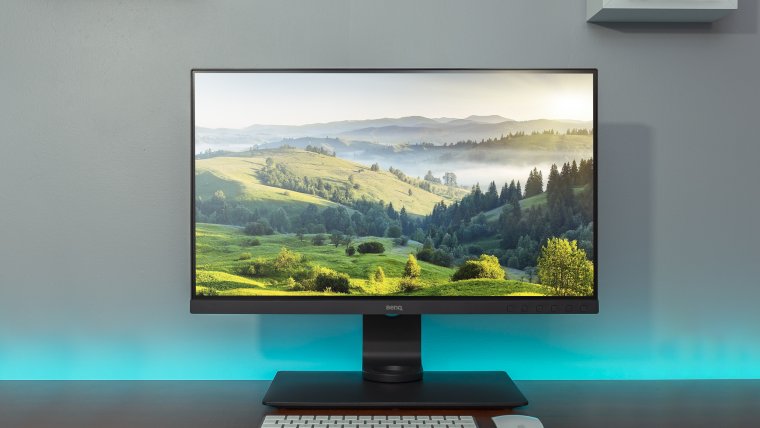 BenQ SW271 27" 4K UHD Monitor Review: A Monitor for Photographers
www.sleeklens.com
Many tools aren't as useful and essential for photographers these days as it is the case with monitors. Why? There's a simple way to answer that question: the natural workflow that photography requires these days. Back in the old days, darkrooms were 'the thing' as analog photography required that specific chemical method for developing images. With the introduction of digital technologies over two decades ago, it seems unreal to stick to those procedures, so the industry has taken digital postproduction as the workflow to follow in regards to getting the most out of the images that come from our cameras.
For those very reasons, counting with quality gear becomes essential. Not only a decent DSLR or Mirrorless camera are the standards for photography these days, but also postproduction software, a good computer or laptop, and also, a high-end monitor that grants us the reliability over the hues and tones we're working with.
In this article, we will talk about one of the most outstanding monitors we have checked so far, the BenQ SW271, a 4K Monitor with HDR technology and 99% AdobeRGB fidelity. Excited about this review? We are as well! Let's get started.
Overall Features
Like any quality gear, this monitor allows the user to adjust its height thanks to an adjustable stand, that works for both landscape and portrait orientation. Also, it's worth mentioning that cables are taken in consideration for this potential position switch by the user, featuring a route on the back side, as well as a socket for the remote control included with this unit on its bottom tray. Do keep in mind that the remote control isn't a huge device as seen with other graphics display gear as Wacom tablets, but intended as a hotkey command – BenQ even labels it 'Hotkey Puck' due to its circular shape.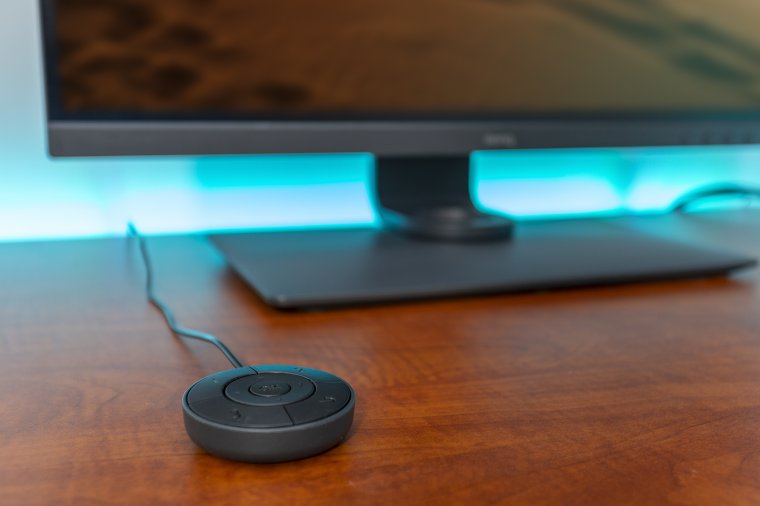 As image calibration is a must for these monitors, BenQ has decided to pair this monitor with its BenQ Palette Master Element software to allow users to calibrate this unit, though you will need to use calibration devices as the Spyder5 or the i1 Display Pro. Take in consideration that the monitor comes with a calibration config made in-factory, but it's a good practice to calibrate the monitor at least once every two months – especially if you happen to work with multiple monitors setup.
For this monitor, we will count on an IPS panel, with a max viewing angle of 178 degrees. The monitor has a 10bit color reproduction technology and its maximum brightness is rated on 350 cm/m2, offering a contrast ratio of 1000:1.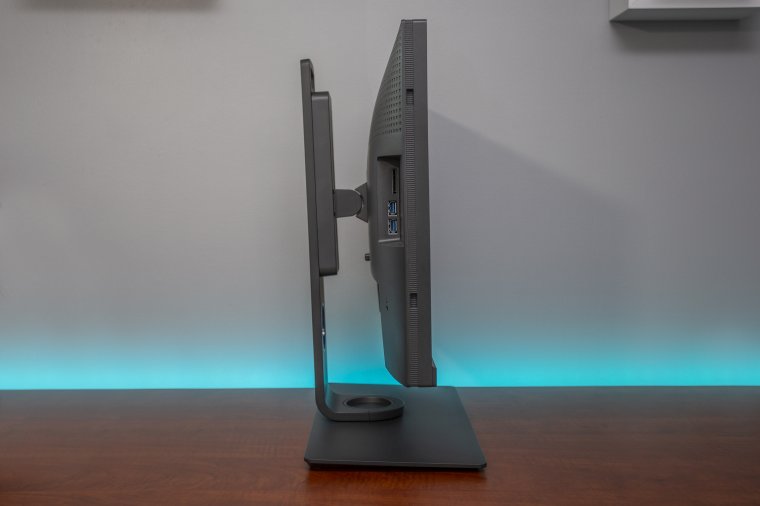 Response time for this monitor is 5ms grey-to-grey, more than enough for video as 8ms is considered a standard in the industry. With this monitor, you will also get two HDMI 2.0 inputs, DisplayPort, one USB-C port, two USB 3.0 ports and an SD card reader. We will now cover other aspects that make this unit so special, and for reader's information, we tested this unit as a second monitor using an iMac (2017) as the main computer.
Key Features Resume
27inch 16:9 matte screen
3840×2160 (4K UHD) native resolution
1000:1 native contrast ratio
350 cd/m2 brightness, 5ms response time
DisplayPort 1.4, and HDMI 2.0 inputs
BenQ Palette Master Element color calibration software
Black-and-White photo mode, Darkroom mode
Wide Colour Gamut (99% AdobeRGB, 100% sRGB)
14-bit 3D Look Up Table (LUT)
"Hotkey Puck" Remote Control
Shading Hood, with an opening for a calibration device
USB 3.1 hub, Headphone jack
Landscape / Portrait orientation
3-year warranty
Design Highlights
Like any other monitor meant for professional photography work, the SW271 won't disappoint its owners in what regards to design. Minimalistic no doubt, it has a sleek business-style embedded on it, with flat bezels that go all around the screen. Like what happens with big sized monitors, weight is something to consider, and though 16.4 kg is quite the weight to support, the stand is strong enough not only to hold it but also to allow adjustments as tilting, orientation change or height.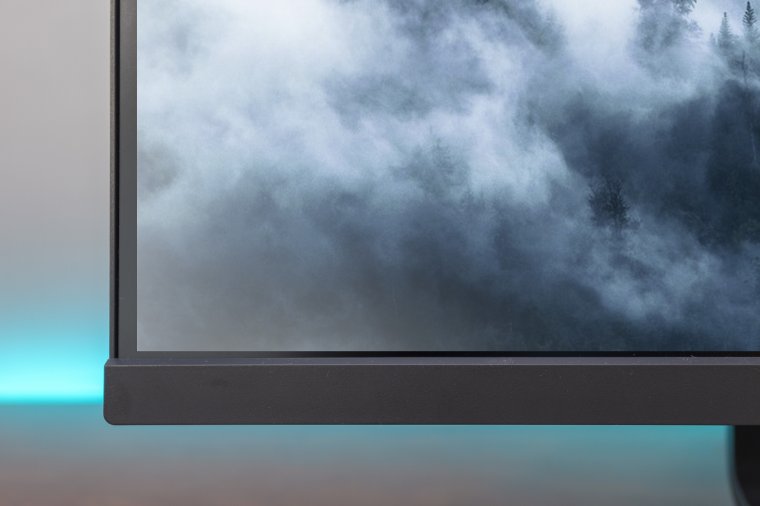 Cables are an issue, especially if you consider yourself a cleaning maniac, so BenQ has decided to place a routing hole through the stand, with a vivid blue cover, to let them through in an organized way. By doing so, they are also reducing the overall space this unit may take in our desk, and also competing with other displays that work with a minimalistic profile as the latest Asus monitors released to the market, or all-in-one pcs as the iMac.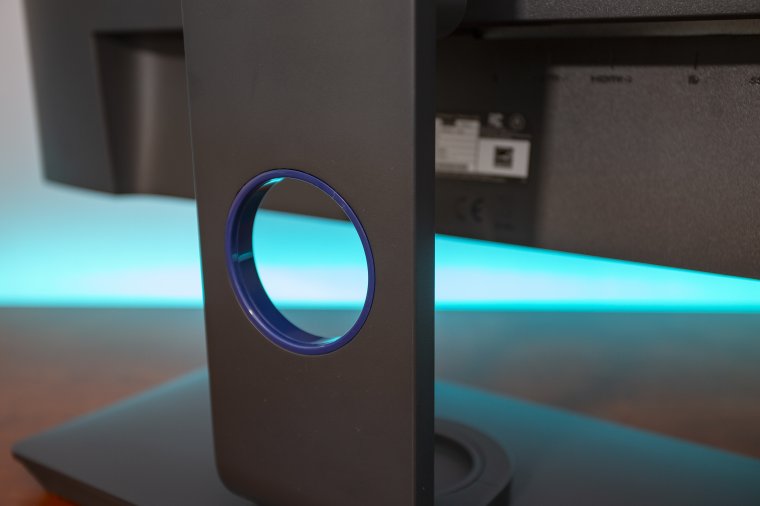 Rotation angle for the selected orientation is a 45-degree swivel to either left or right. Not that it's the most user-friendly when it comes to sharing your work with a colleague nearby.
There are five buttons on the bottom right part of this monitor, plus the on/off monitor. Buttons 1 to 3 are entirely customizable to your preferred colour modes, button 4 is the option list for adjustments, and button 5 to exit the options menu. The built-in colour modes are as follow: AdobeRGB, sRGB, B&W, Rec. 709, DCI-P3, HDR, DICOM, Darkroom, Calibration 1, Calibration 2, Calibration 3, Custom 1 and Custom 2.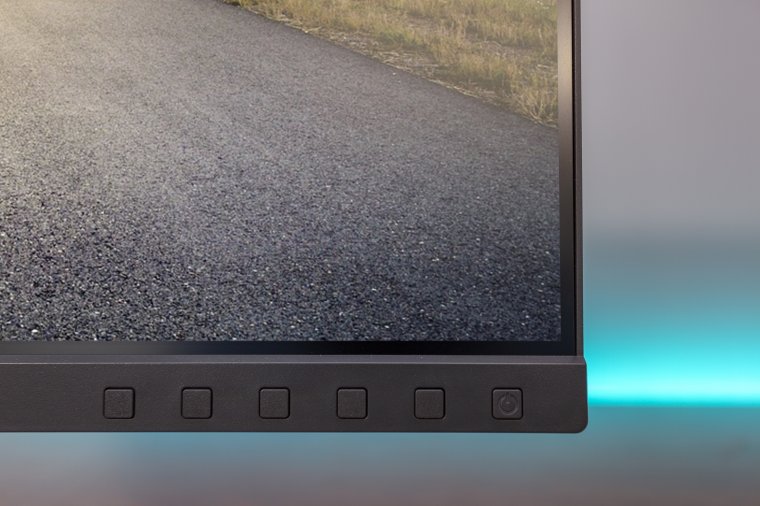 Given its weight, BenQ had to stabilize this monitor as the vertical handle isn't enough, so a strong plate was added at the bottom of the vertical holder, which also acts as a docking point for the Hotkey Puck.
Among the ports listed for this monitor, we notice that there's no option for VGA input, which means this monitor isn't compatible with an old graphics card. Consider this monitor as an option for a new computer rig or if your current computer has less than 2 years, otherwise your graphics card may not be able to work with this monitor.
We value a great deal the headphone jack, as it can be amazingly handy for film production when we are testing different sound effects, and it's way more comfortable than lengthy cables coming from the pc. The connectivity bridge included on the left side of the monitor is truly practical unless you are working with a multiple-monitor config. If that's the case, then you will experience some struggles with plugin and unplugging devices – mostly the SD Cards. Perhaps this tray could have been placed at the bottom tray of the monitor for easy access, that's something entirely up to the user if it's comfortable for them or not.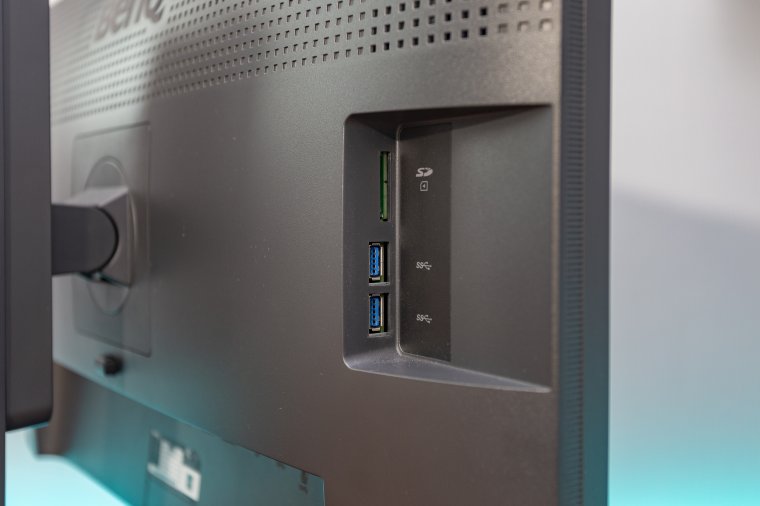 Performance & Calibration
The first impression we got by testing this monitor is that it comes as a powerful and reliable unit to help us in our daily work. Colour rendering is superb, and both brightness and details can astonish the most demanding user without any inconvenience.
One of the main advantages of being a 4K monitor is that we can work with 4K video and high-resolution photos in real size, but if that isn't enough, the HDR mode can take the post-production experience to the next level when it comes to working with video footages made in 4K HDR quality as is the case of the new Sony Xperia smartphones. You will also get a 60Hz refresh rate, which is acceptable as an industry standard for a photographer's monitor, though not surprising for a device of its price range.
Also, by pairing a matte screen surface the reflections are kept to a minimum; this comes extremely handy for those office areas in which we don't count with the proper lighting setup, or for reducing screen glare from window natural light.
The calibration software included with this monitor may remind you of the X-Rite i1 Display Pro, with more basic performance, but yet powerful enough to provide what this monitor needs.
Conclusions
We truly loved that this monitor is capable of working under HDR mode, as it's the latest trend for videography and smartphone photography thanks to the introduction of dual lenses for these devices. Though the refresh rate could be better, most users won't notice the difference on such aspect – the included calibration software is more than enough compensation for us.
What we didn't consider to be well-thought was the placement of the USB connections and, mostly, the SD card reader. Though headsets are, often, left untouched once plugged, SD cards and USB devices are things that we constantly carry around, so moving such a big monitor each time we need to pair the monitor with our gear is, undoubtedly, unpractical – not to mention that some may freak out on the mere thought of damaging the monitor in the process if an accident happens. Instead, a placement on its bottom tray would have been advisable.
The Hotkey Puck, despite being so practical, may go unnoticed by beginner users. Perhaps it would have been best to include something more interactive for the user, as not everyone is so well-versed in technology, yet this monitor is targetted mostly to advanced users.
The visor is extremely handy and helps not only to keep reflections at bay but also to enforce the whole "work-style" of this truly fantastic monitor.
We hope this guide has given you an insight on one of the newest monitors released to the market and keep in touch for upcoming gear reviews. See ya!
The following two tabs change content below.
Pia Lopez is a self-taught photographer, graphic designer and ArchViz artist. As Content Director of Sleeklens.com, her work is driven by her two biggest passions: technology and art.