Logitech MX Vertical Review: An Answer for Carpal Tunnel Syndrome?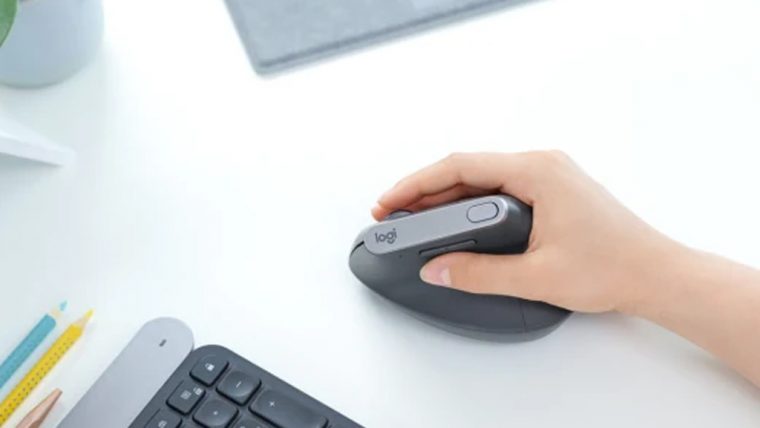 Logitech MX Vertical Review: An Answer for Carpal Tunnel Syndrome?
www.sleeklens.com
One of the worst things that you can endure when working in the graphics industry is enduring a period of tendonitis, or worse, carpal tunnel syndrome. We'll discuss that in detail later on, but today's post is on one revolutionary concept to help us improve the ergonomics of our workspace: the Logitech MX Vertical mouse – and as the name says, it's the first-ever vertical mouse made by Logitech, who has previously explored some ergonomics solutions for users with hand strain issues with the Logitech MX Ergo, the Logitech M575, and other previous trackball mouses that often doesn't end up pleasing users.
What is Carpal Tunnel Syndrome?
We often see blogposts or videos related to this topic. Carpal Tunnel Syndrome is the name given to a condition where patients suffer pain, numbness, and even tingling in their hands and can extend up to the arm (near the elbow area). It's a consequence of inflammation in your hand due to a constant effort – hence the reason why it happens in your dominant hand, but it can also occur after an injury, and the median nerve gets compressed through the wrist.
This condition, often ignored by patients and "treated" with the intake of NSAID meds, worsens over time, so it's crucial to get an early diagnosis and proper treatment to avoid the point where only surgery can fix the pain.
Why did I end up researching for this, and thus coming up with this topic today? Well, I happen to be one of those that unwisely ignored the condition, labelling it as simple tendonitis that would get better in some weeks, but ended up not being able to grab my mouse to work or perform simple household chores out of pain. Teacups would drop off my hand if I did certain movements, as the pain was instant, so after scheduling a doctor appointment this was the condition and it came with a series of recommendations to improve my lifestyle.
Why does Carpal Tunnel Syndrome affect photographers or graphic designers?
The simple answer to this question is a continuous effort in the same hand positions. Whenever we grab the camera – especially with DSLR heavy-bodied models + telephoto lenses – the wrist position is not a "natural one", and for that reason, we're adding strain to our wrist while keeping the camera under control. You can lessen that part with the usage of a tripod, but not all situations will allow you to depend on a tripod to perform your work (especially if you are a sports or wildlife photographer).
The second aspect is that constant usage of a mouse that's not fit for your hand size is the number one factor that leads to tendonitis or carpal tunnel syndrome. We ignore how many hours we spend working with our computers, and doing lengthy photo editing sessions alternating between keyboard and mouse. When working with a common mouse, the hand position resembles a claw – and that swells the tendons surrounding your wrist to the point nerves get compressed. One quick fix for this could be acquiring a palm rest – one of those models with gel pads that allow you to rest your hand right over it instead of an awkward angle for the wrist. If your hand condition happens to be long-term, as mine's, then you ought to consider more suitable mouse solutions for your workflow.
Gaming Mouses vs Vertical Mouses
The downside of vertical mouses is usually related to price. You can get high-quality solutions either by Logitech or other vendors, but for about 30% extra value of what you would pay for, say, a wireless gaming mouse bulky enough to be comfortable for your hand.
Vertical mouses are also not intended for gaming, so if you want a multi-use solution, consider either having two mouses or opt for the gaming mouse if gaming is a key element in your daily routine. The way a vertical mouse is moved doesn't make them suitable for MMORPG or any other shooter game that requires fast hand reflexes. Vertical mouses are intended for office usage, graphic design tasks, and anything related to the work environment.
Logitech MX Vertical Review
And here we get to the main point of this article: a detailed review after 2 months of constantly using the Logitech MX Vertical. Before purchasing it, I was debating between the gaming Logitech MX Master 3 and this mouse, and the reason being the vertical situation of this mouse which I feared would affect my workflow speed.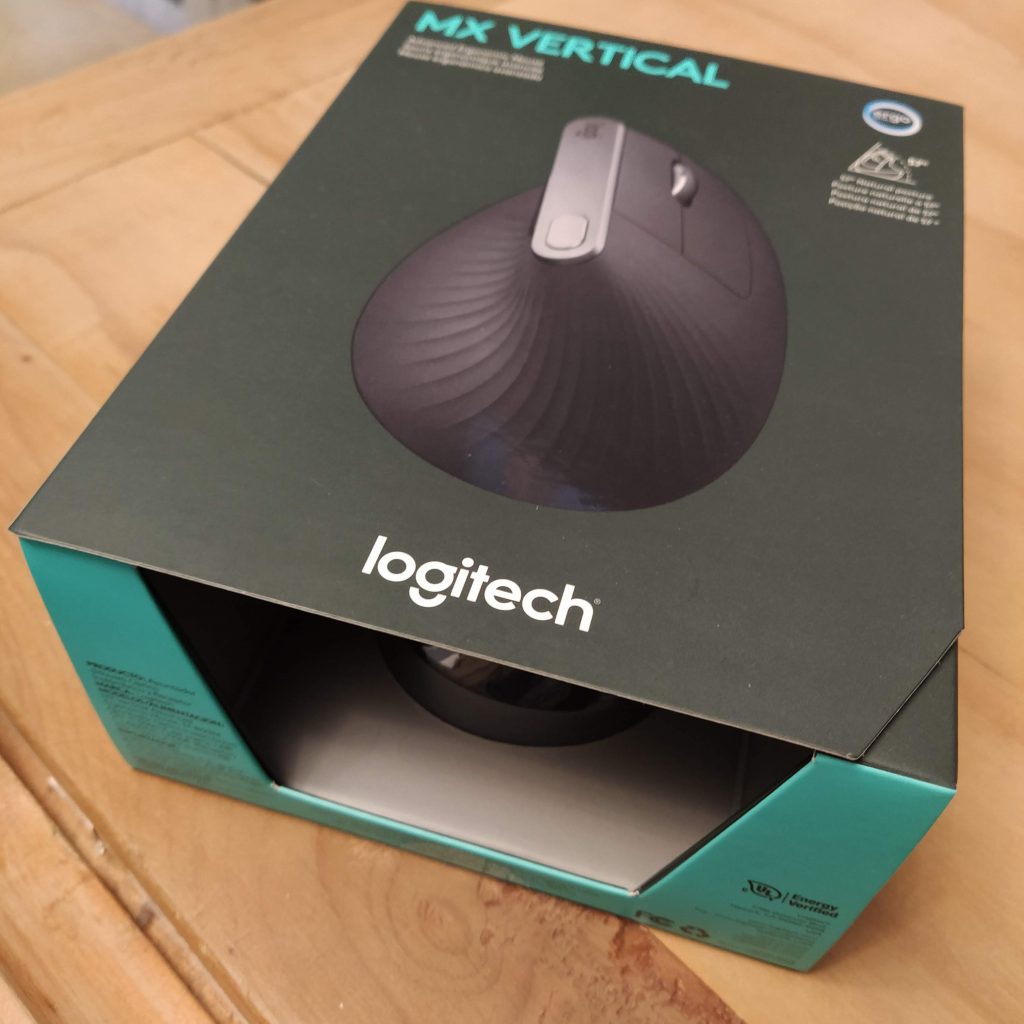 The box itself looks sturdy. For a mouse around $100, you somewhat expect good packaging and unboxing it was no issue. It comes with a USB-C cable, the Logitech Unifying USB dongle, and the mouse itself.
Since this mouse doesn't require batteries, you must keep the USB-C cable safe as that is the charging method; overall, the battery expectancy is rated in a month depending on its usage. Though some Logitech ads claim it to be as long as three months, I found that due to my daily usage that's not the case; and when doing a taxing editing session that involved hours and hours of input, the mouse battery ran out in about a week. Be mindful of those cases and have a USB port nearby (and avoid charging it via USB hubs, it leads to odd mouse performance).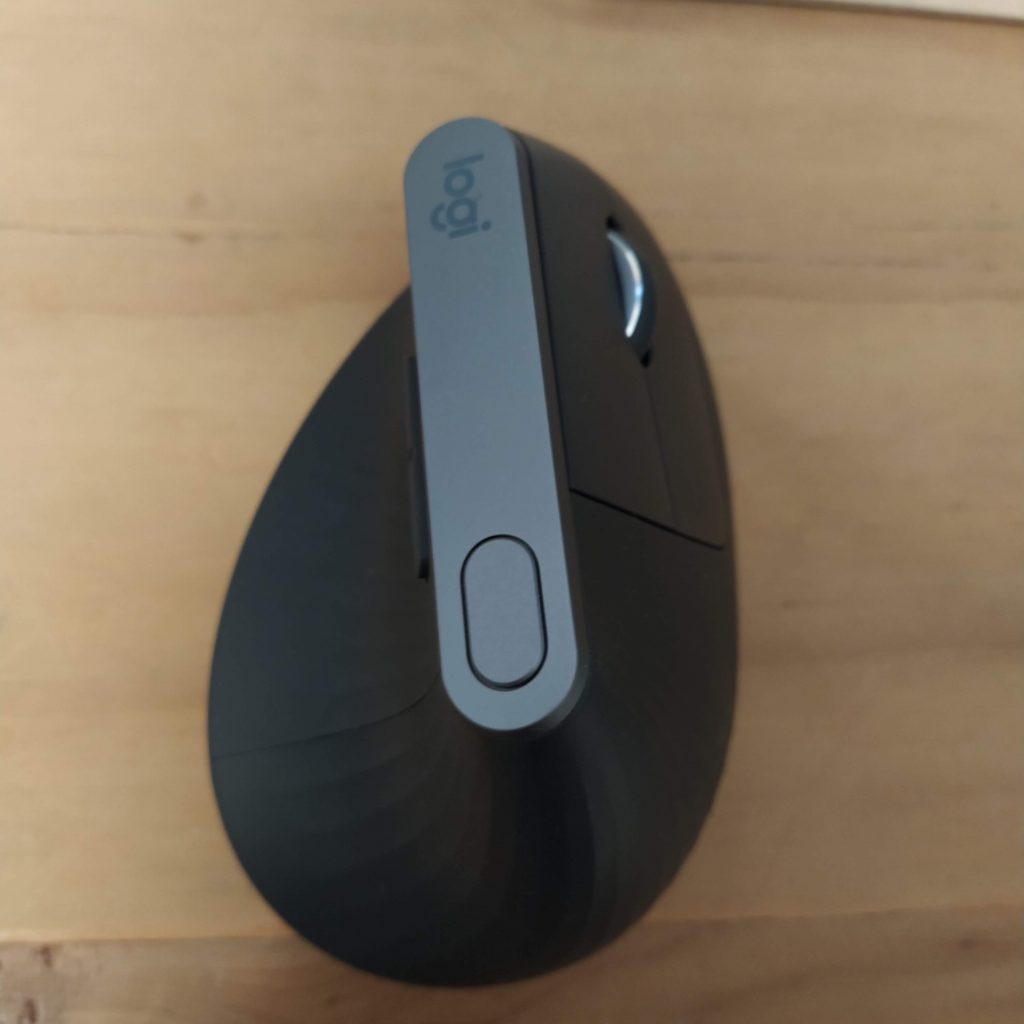 The first impression you get is how odd the mouse looks. The 57-degree angle is intended to perform like the natural hand posture when giving a handshake. On top sits a button that, after installing the Logitech Options app, lets you change the cursor speed between two user settings. To the thumb side, you have two buttons that, by default, are configured for Forward and Back – ideal for internet browsing and checking PDF files.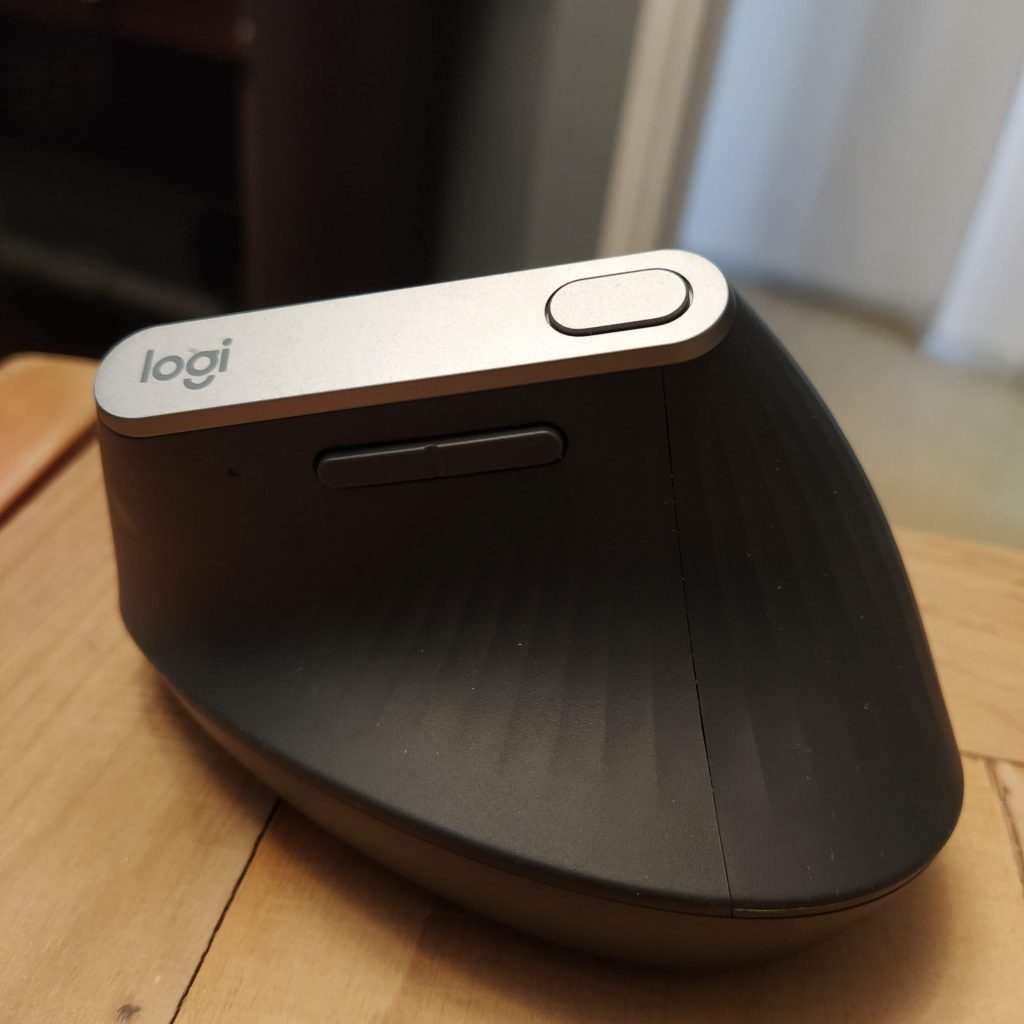 The scroll wheel feels a bit odd in contrast with common mouses – I had to manually reduce its movement capabilities via Windows settings – so maybe it's due to be too sensitive for the user input. The common left and right click buttons feel totally normal, and you don't even notice the change in hand position for using them.
Logitech MX Vertical Feel and Operative Performance
I'm truly pleased with this mouse's finish. It has a rubbery coating that prevents your hand from slipping around while grabbing the mouse, which is also enforced by some tiny lines that follow the curvature for extra grip. The click area is not cheaply made, as you could expect with some other old models, and makes almost no noticeable noise (which sometimes is a downside for gaming mouses).
One thing worth to be mentioned is how heavy this mouse is. In the past, I used the Logitech MX Performance and by no means was as heavy as this one. The laser sensor in the bottom seems delicate, so avoid messing around with it, and you'll see a three-option button setting right below it – it's a manual setting for switching between devices, a technology that Logitech has been implementing on many products as high-tier keyboards. Also, it's not a portable mouse given its size and lack of casing solutions built for it. Whenever I need to leave my office I have to dedicate a big portion of my suitcase to carry the mouse without any possible damage. Keep that in mind if you're constantly moving between locations.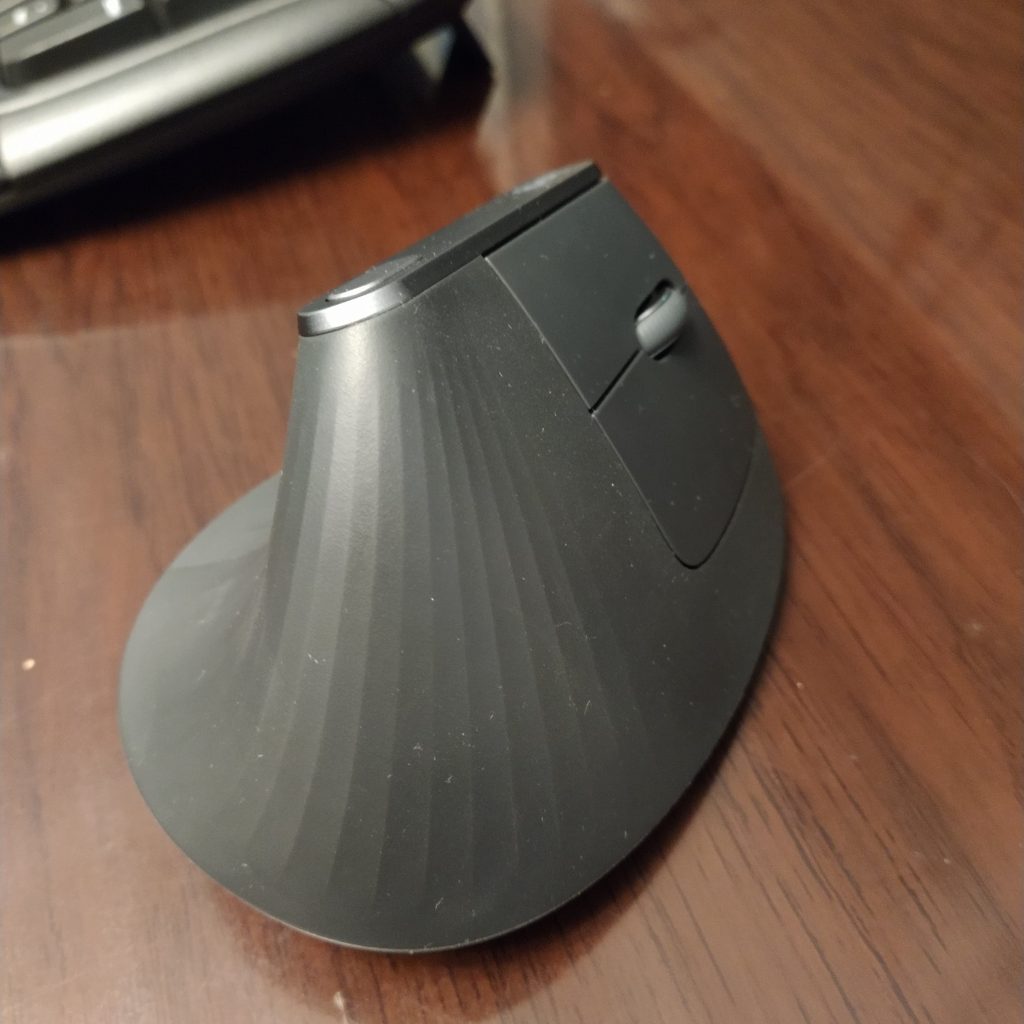 When it comes to the operative performance I want to be 100% honest: my testing experience with this mouse was a combination of heavy-duty AutoCAD plan drafting and Photoshop post-production. The first 1.5-2 hrs felt a bit odd, mostly for the clicking part, but the grip made my experience certainly enjoyable. Though I was almost stiff out of pain, I could gradually gain my usual, non-injury speed for graphic production in less than 5 hrs, and ever since then, I don't regret the purchase. It was expensive as a solution but way cheaper than relying on painkillers to numb the pain and keep working.
As my desk is a bit glossy, I preferred to use the gel pad after a day or two, it definitely made a difference so I think it's a must for those that work on glass desks (only the Logitech Anywhere MX can work without any trouble at any surface, hence the name). When using the mouse over fabrics (as when using your laptop in bed), it loses part of its accuracy, plus it's a bit odd the grip since your hand is not at the same angle as when working on a table. Maybe it was just my experience, but you get used to it after a week or two.
Logitech Options Software
This, as well as the Logitech Unifying Software, is a must to use this mouse. My install process implied first to pair it with the Logitech Unifying USB dongle I had in my laptop (originally from my Logitech K350 Wave Keyboard), then I installed the Logitech Options Software to fully control this mouse.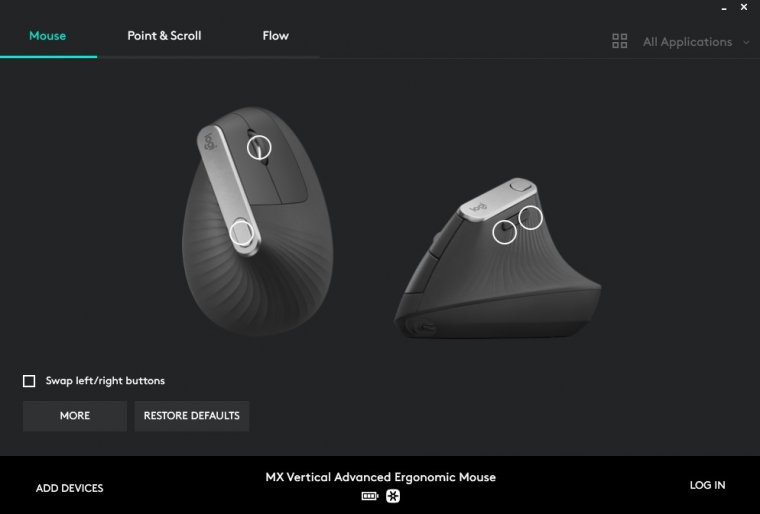 The first screen you get out of Logitech Options is the config area for the buttons. You can quickly add more devices if you have compatible hardware with Logitech Options, and also configure specific button mapping for certain applications. In my opinion, the two major downsides of this software are:
1 – Not being able to see the remaining battery as a percentage. It either shows Full or that battery level is critical. If you're charging it, or if you want to use this mouse as wired, the icon for the battery changes.
2 – How many times in such little time I've been asked to update the Logitech Options software. And after each time, it logs me out from my account. Annoying really.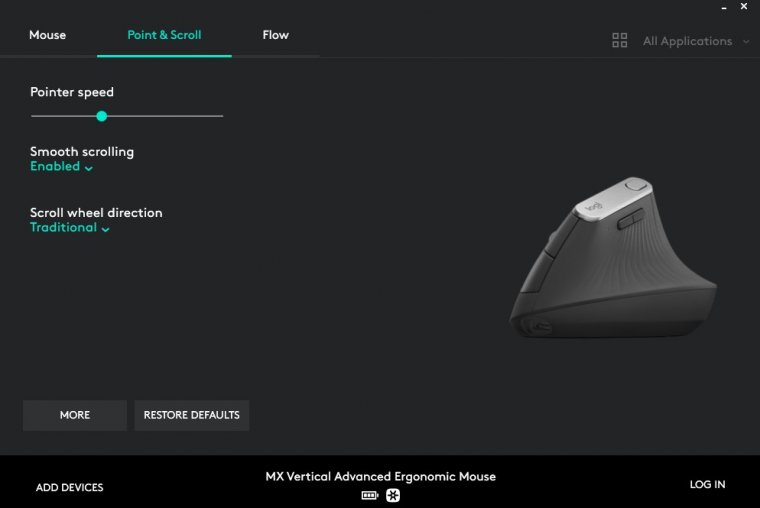 The second screen is related to the pointer speed, but if you hit the "More" button, you'll access a new menu offering you troubleshooting solutions for Bluetooth connectivity errors, software updates (to perform them manually) and the notification setting for low battery level.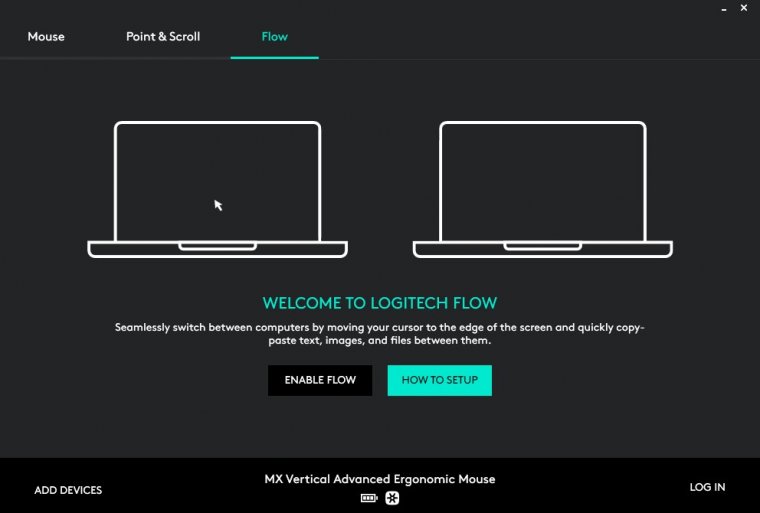 Finally, the Flow tab refers to Logitech Flow, which allows you freely move your cursor between different computers and copy content – given that I only use one computer to work, this is an option I didn't enable.
Conclusion
All in all, this is a mouse I'd highly recommend to purchase for any computer user that works over 8hrs per day with their devices. Hand strain is no joke, and it builds up silently to the point of no return.
The price may seem expensive, but considering that a gaming mouse is also around the same value – for a wireless, quality product – then is not that much of a big investment.
I would have liked to see the lateral scroll wheel as in the Logitech MX Master 3, which is a deal-breaker as it allows you to quickly scroll in horizontal – ideal for Photoshop editing sessions instead of zooming in and out (I'm seriously questioning the lifespan of my ALT key in that regard).
Its major downside is the lack of a proper casing solution from an official source, namely Logitech. But considering the fact that they sell the palm rest for the MX Keys as a $20 accessory, which is nuts if you ask me, then is not a surprise. Such as important it is to count with a palm rest for a low-profile keyboard, it is also important to have a sturdy casing solution to carry your mouse around. There are some options via Amazon, but I'm not seduced by them as they don't offer housing for the USB cable.
Keep in mind that this mouse doesn't host a carrying space for the USB dongle, so it's either having it plugged 100% of the time (my method), or finding another secure method to carry the Unifying USB around (and pray to have spare ones at home if you lose the dongle). Other Logitech mouses have that housing space intended to avoid that hassle, so the second downside for it.
Don't be scared of the vertical format. Depending on how intensely you work with the mouse, you'll get used to it in no time, and your hand will thank you for that.
So, that's all for today, see you next time!
The following two tabs change content below.
Pia Lopez is a self-taught photographer, graphic designer and ArchViz artist. As Content Director of Sleeklens.com, her work is driven by her two biggest passions: technology and art.