How to Take Good Mirror Selfies: 5 Creative Ideas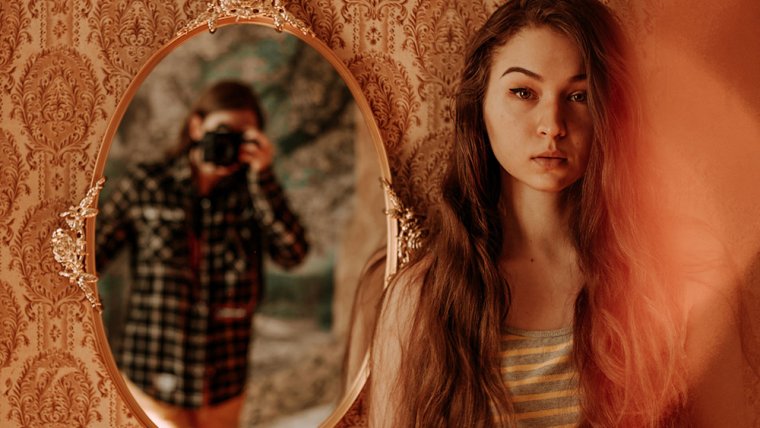 How to Take Good Mirror Selfies: 5 Creative Ideas
www.sleeklens.com
It's safe to say that there are probably billions of mirror selfies out there. Some are funny, some are creative, and some don't stand out at all.
Even though mirror selfies are usually associated with vanity, you can re-define this genre through your own photos. You can do so by experimenting with interesting concepts, poses, and locations.
Here are 5 mirror selfie ideas to get you started
#1 Take a Self-Portrait Within a Self-Portrait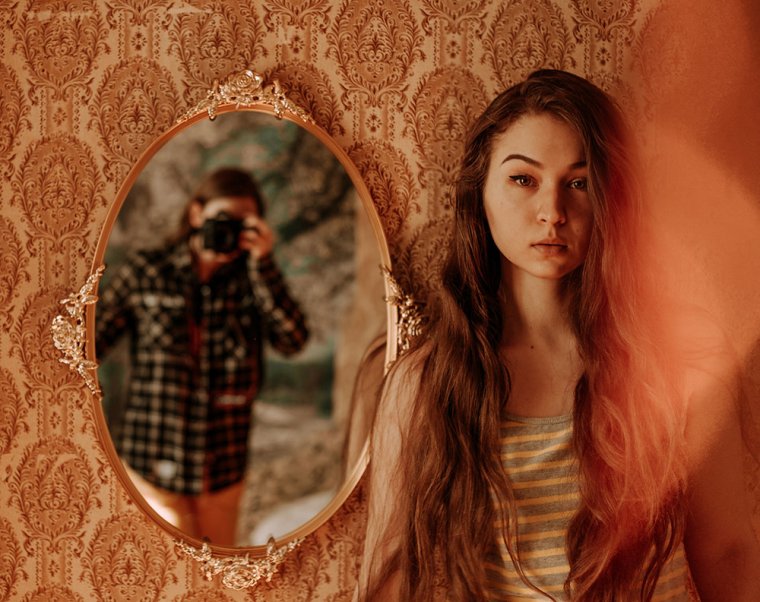 This step requires very simple Photoshop skills.
Take one photo of yourself standing next to a mirror. Make sure your camera is securely held on your tripod and that the focus doesn't change when you take your second image. I recommend using manual focus so that your camera doesn't independently try to focus for you.
Once you're done, go back to your camera and take another photo that features you in the mirror.
You can then merge these images in Photoshop and get interesting results like the one above.
If you want to make it clear that the photographer and model are both the same person, wear the same clothes. If you want to create the illusion of different people, wear different outfits.
#2 Use Interesting Background Lights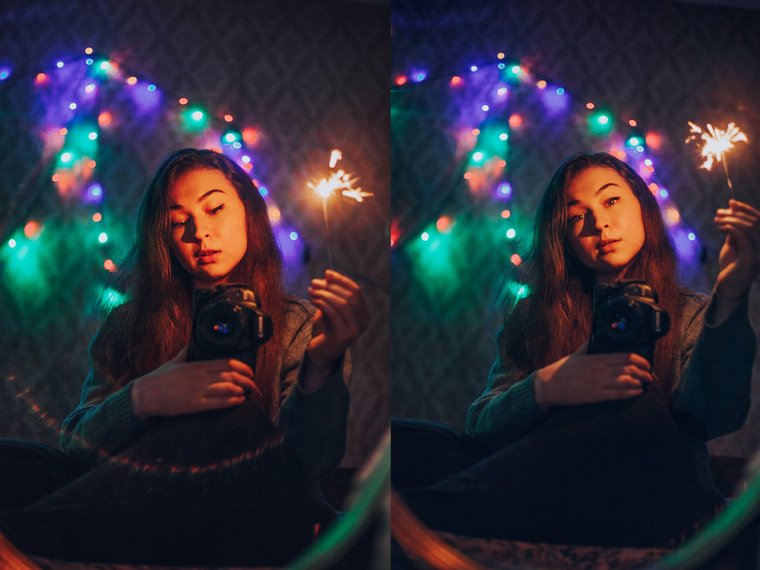 Mirror selfies are often simple. To give them a creative boost, add things like interesting background lights or foregrounds.
In the photos above, I used fairy lights to fill negative space and create colorful bokeh. If you want to create bokeh in your own shots, use a large aperture (i.e. a small f-stop). Examples of this are f/2.0 and f/1.4.
You can also photograph yourself holding different props, like sparklers, flowers, or any other objects that speak to you. These details will be able to transform your simple mirror selfies into captivating stories.
If you have pets, you can also include them in your mirror portraits for a touch of cuteness!
#3 Act like the Mirror Doesn't Exist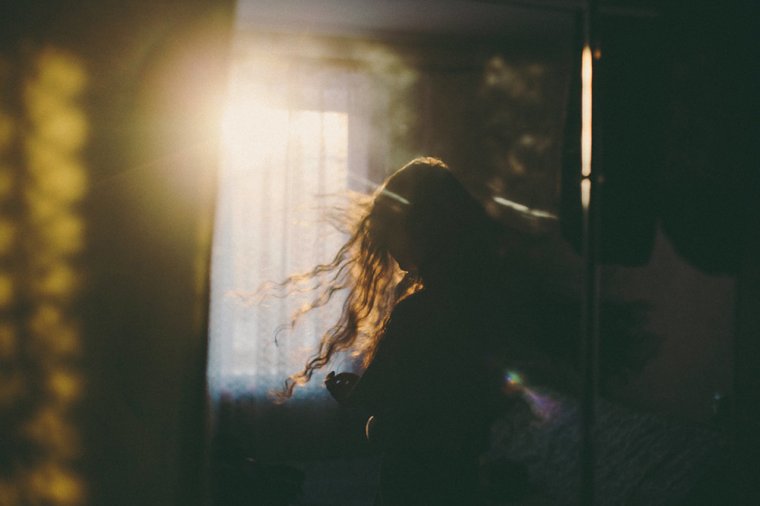 The natural response to standing in front of a mirror with a camera is posing. You don't have to do that all the time. In fact, the less you do it, the more natural your photos will look.
Instead of looking directly at your camera, look somewhere else. Dance, act silly or talk to a friend while you shoot. These moments of spontaneity, though not completely candid, will make your mirror selfies look both unusual and creative.
Don't be afraid of mirror distortions or textures. The vertical line in the photo above, though slightly distracting, beautifully reflects the golden hour light. This small addition to the composition makes the entire image look and feel authentic.
#4 Use Different Mirrors
The more unusual your mirror, the better. Experiment with shards of glass, wing mirrors on cars, and tiny round mirrors. Use anything that you see a reflection in.
You can take this further by taking abstract mirror selfies with cloudy or semi-reflective mirrors.
Of course, try to avoid mirrors that completely distort your face unless you want humorous results. Chris Hemsworth in Foxtel's 'Make It Yours' campaign is a great example of that.
#5 Take a Few Steps Back to Capture More of Your Atmosphere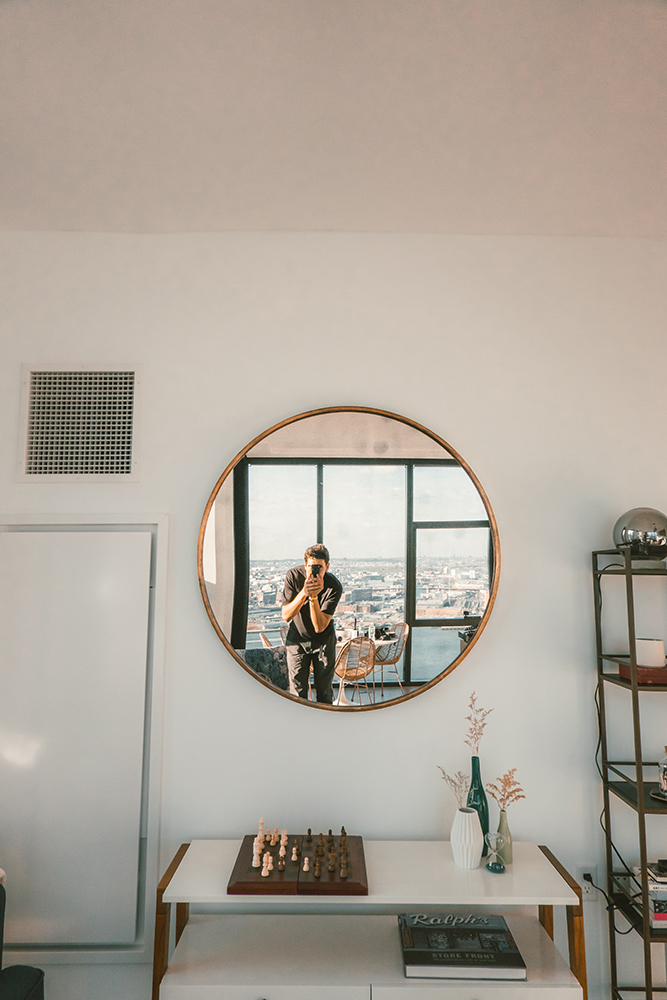 Your room, possessions, and home say a lot about your personality. You can express yourself through these things by including them in your mirror selfie. All you have to do is take a few steps back.
To include as much in your composition as possible, shoot in front of a small mirror and use a small aperture. This means you'll be working with f-stops like f/22. This will help you capture as many details as possible.
You can include your favorite items, hobbies, or pets in your frame for unique results.
Even though there are billions of mirror selfies out there, don't be afraid of contributing creative ones of your own.
You might feel awkward at first, but before you know it, you'll be taking funny, conceptual, and interesting self-portraits that stand out much more than an average selfie.
The following two tabs change content below.
I'm an admirer of nature, a photographer, and a curious reader. Writing about photography and helping others improve is a growing passion of mine. My constant wish is to inspire others to be creatively fearless and endlessly curious. "Always dream bigger is my advice to you, because you can have whatever your heart desires" - Ashley Graham