Photographer Spotlight: Interview with Greg Basco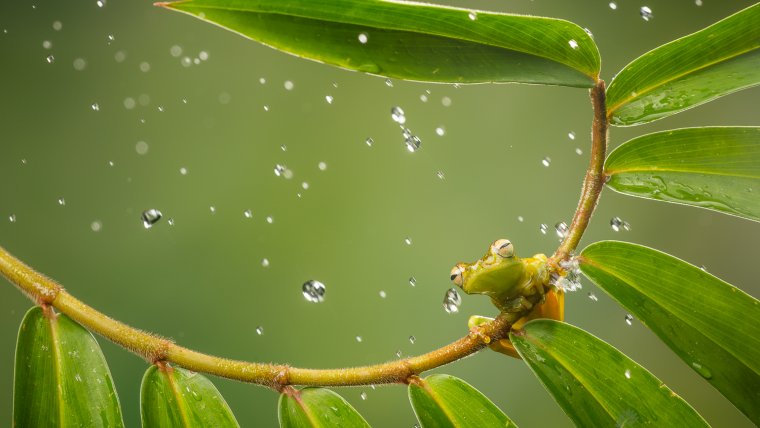 Photographer Spotlight: Interview with Greg Basco
www.sleeklens.com
Welcome to another Photographer Spotlight interview, this time I would like to introduce Greg Basco from Costa Rica to you.
Gregory Basco is a professional nature photographer based in Costa Rica.
After completing graduate degrees in political science and tropical ecology (his doctoral dissertation focused on the politics of ecotourism in Costa Rica), Greg worked in conservation before turning to photography full-time in 2006. His images have been awarded in the Veolia Wildlife Photographer of the Year and Nature's Best Windland Smith Rice competitions and have appeared in numerous magazines and books around the world. His latest major project was the publication of the large format printed book National Parks of Costa Rica.
His popular e-books include The Guide to Tropical Nature Photography, Lightroom for the Nature Photographer, and the upcoming Flash for the Nature Photographer.
Greg is also co-owner of Foto Verde Tours, Costa Rica's first travel company specializing in photographic tourism. Foto Verde Tours focuses on Costa Rica but is expanding its instructional photo workshops throughout Latin America, including Panama, Peru, Ecuador, Chile, Colombia, and Argentina.
Greg's latest project is a new non-profit organization called the New World Conservation Photography Group which will work to provide high quality photography in support of conservation, sustainable development, and ecological research projects in the Americas.
Tell us about yourself, where are you from? How and when did you get into photography?
I'm actually a political scientist by training. I've always been interested in nature and have studied environmental politics and biology. Right after college in the US, I spent 2 years in Costa Rica in the Peace Corps and fell in love with the country and one person in particular, my wife who is a Costa Rican native! We returned to the US for a few years where I obtained my graduate degrees in political science and tropical ecology. We then returned to Costa Rica so I could do my field research for my doctoral dissertation on ecotourism, and then I worked for a couple of years in conservation in Costa Rica.
But during that time, I was really getting into nature photography. I sold a few pictures and bought more gear. I sold a few more pictures and bought more gear again. And in 2006, I decided to move to nature photography full-time, selling my own images for books and magazines and co-founding Foto Verde Tours, Costa Rica's first and only travel company specializing in nature photography tours. I'm busy now with the tours I lead, trying to grow the company throughout Latin America, producing my own coffee table and e-books, and starting to build a non-profit organization (the New World Conservation Photography Group) dedicated to promoting conservation through photography.
So, it's been kind of a non-traditional journey to nature photography but one that I think is finally coming full-circle in a way as I'm now in a position to try to help give back to the forests that have allowed me to make a living for my family and me.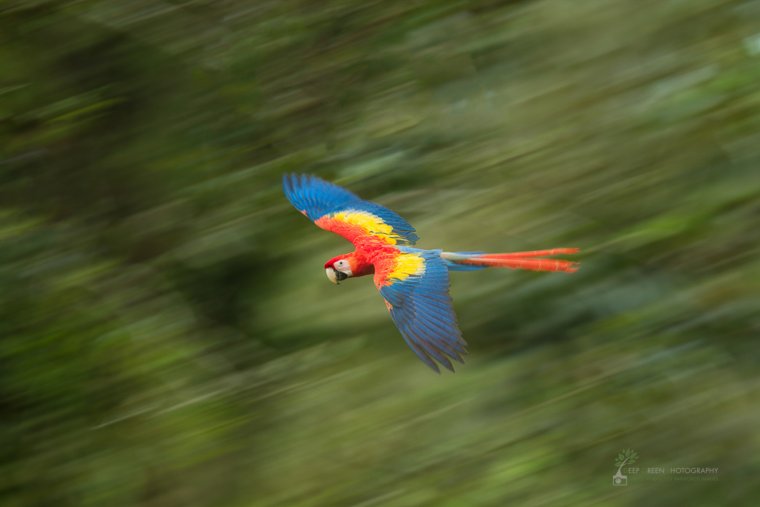 I love to mix blur and sharpness in my photos to portray motion and what better way to show off that technique than with a wild Scarlet Macaw in flight? By using a slow shutter speed while panning along with the bird as it flew, I created a blur effect on the background. A bit of flash on the bird helped keep my subject quite sharp.
Northern lowlands, Costa Rica. Canon 1D Mark IV, Canon 300 mm f/2.8, handheld, f/5.6, 1/50, ISO 100, flash in manual mode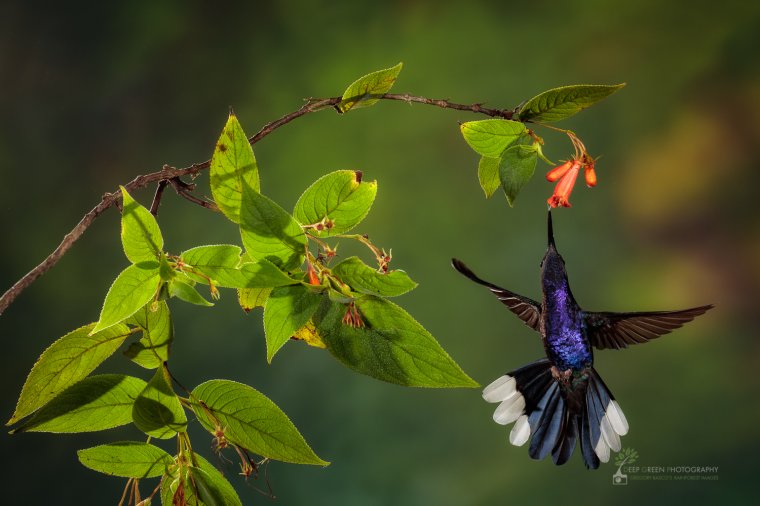 The Violet Sabrewing is one of Costa Rica's largest and most beautiful hummingbird species. I used a multiple flash technique to capture this image of a perfect male specimen visiting a Kohleria flower at the edge of a cloud forest near the Juan Castro Blanco National Park.
Do you have guiding principles that you follow when you're making pictures (image composition etc.)?
Not exactly. I certainly look for strong compositions and interesting light, whether natural or produced by flash. I'm simply always looking to do either do something different than what I've seen before or to take an image that reveals something our eyes don't see. That to me is the art of nature photography.
So, for instance, I'll take a common subject that's been photographed a lot and try to come up with a photograph of that subject that's totally different than what you've seen before. I did just that a few years ago for the photo included here (it's a single in-camera exposure) of the famous red-eyed tree frog, which has been photographed a million times. I wanted to photograph it in a fresh and interesting way and in a manner that was appropriate for a nocturnal frog in its rainforest habitat. It ended up being the cover of my recently released coffee table book on Costa Rica's natural wonders.
Declared a national park in 1972, Manuel Antonio on the central Pacific coast is one of Costa Rica's first and perhaps its most famous national park. Its most striking feature is the tombolo – a land bridge created by the historical build up of sand – that connects the mainland to Cathedral Point, which used to be an island.
For my coffee table book on Costa Rica's natural wonders, I wanted an iconic shot of this park that hopefully captured the essence of this protected jewel in one shot. I decided that an aerial photo was the way to go, and I envisioned a photo that would tell a little story but have an interesting graphic/geometric composition as well. So, I went up in an ultralight plane an hour before sunset to ensure soft light and had my pilot make a few passes over the park, tilting the plane sideways so I could shoot straight down, until I got the shot I wanted. Shooting on a Monday, the one day a week the park is closed, meant I had no people in my frame, just glorious unspoiled nature!
How important is post-processing for you? Can you tell us what kind of postprocessing you typically do?
I don't think that post-processing is very important to my work. I try to use in-camera techniques and single exposures to get what I want in my RAW file. But of course I do process my images as good treatment in the digital darkroom can bring out the best in any photo. I use Adobe Lightroom for 95% or more of my image workflow from import to output. The only time I really use Adobe Photoshop is for graphic design work for my websites and e-books or on the odd image when I need to blend exposures for a landscape.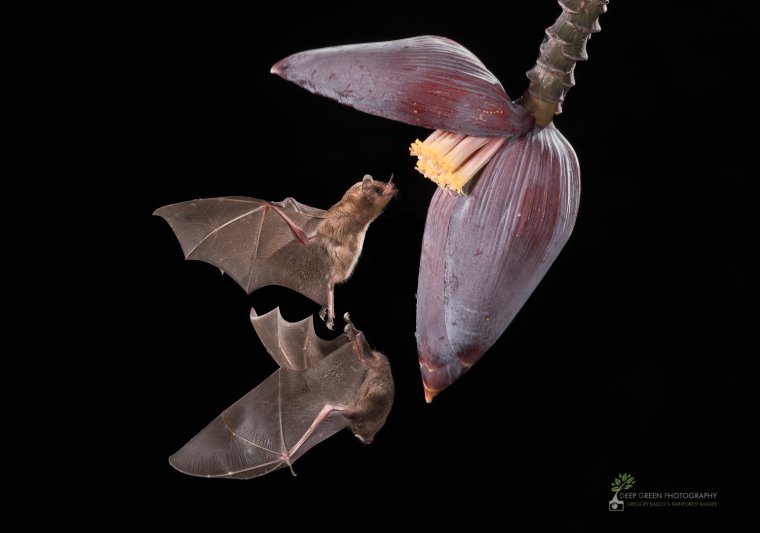 Pallas' Long-tongued Bats are incredibly acrobatic as they visit a banana flower, Costa Rica
Which gear do you mainly use / What is typically in your camera bag?
I started with Canon and shoot it to this day. I currently work with the Canon 5DsR (absolutely amazing!) and Canon 7DII bodies, which are a nice complement to each other. My main lenses are the Canon 300 mm f/2.8, the Sigma 150-600 mm Contemporary zoom, the Sigma 150 mm macro lens, the Canon 16-35 f/4 L IS zoom, a Rokinon 24 mm f/1.4, and a Sigma 15 mm fisheye. I use polarizing filters and graduated filters too for landscapes and wide angle wildlife. So, I'm pretty eclectic in terms of my gear choices but I like to shoot a wide range of subjects. Oh, and I never go anywhere without at least two flashes along with radio flash transmitters and light modifiers. I use flash a lot in my photography.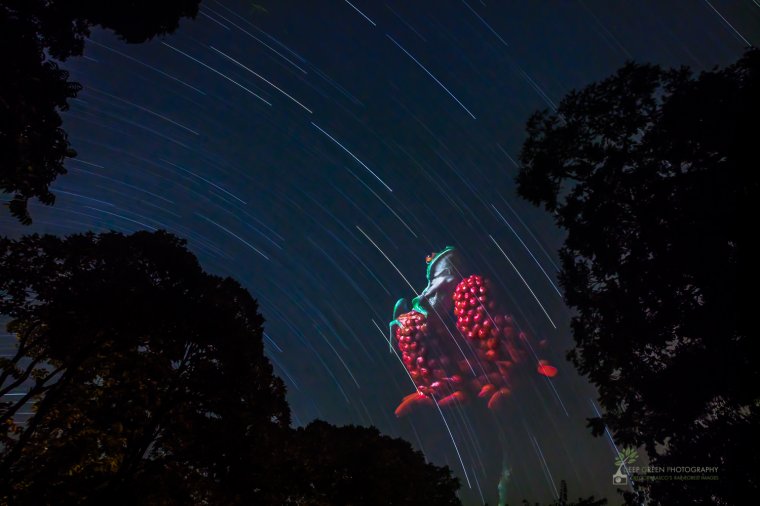 A nocturnal red-eyed tree frog (Agalychnis callidryas) is bathed in the rainforest starlight in northern Costa Rica during an hourlong exposure.
Red-webbed tree frog (Hypsiboas rufitelus) in lowland rainforest, Costa Rica. Canon 5DsR, Sigma 150 mm macro, handheld, f/11, 1/200, ISO 200, 2 flashes off-camera
Do you have general advice and tips for other wildlife photographers and do you have any recommendation on settings or gear for wildlife photography?
I think any nature photographer looking to make their photos stand out from the crowd should do three things.
First, try to really understand how your camera works and gain an understanding of the basics of exposure. Making the technical aspects of photography second nature will allow you to concentrate on light, composition, and behavior. I think that learning to shoot in manual mode is a great idea. There may be times when one of the automatic modes offers a good option for certain situations but relying only on auto modes will leave you ill-equipped to capture many of the most interesting photos.
Second, study painting to gain a foundation in composition and the interplay between light and shadow. I don't mean for this to sound pretentious but I really think that studying the great artists will help any photographer to develop a better eye. There are tons of resources online related to the great painting masters. Those are the western artists of course, but I also enjoy looking at the more ethereal style that's typical of eastern watercolors. Studying these paintings is something that I enjoy doing during my free time.
Third, I urge people to learn how to use flash. Flash will open your eyes to a whole new world of possibilities, allowing you to solve technical challenges in the field and to expand your creativity beyond what is offered by natural light alone.
Long-billed hermits love these "Sexy Pink" Heliconia flowers in northern Costa Rica. I liked this photo because it shows how the birds have to contort themselves to get their nectar reward. Costa Rica – Canon 5DII, Canon 70-300 mm zoom, tripod, f/11, 1/200, ISO 250, 4 flashes
Do you hold workshops? If yes where can we find the workshops you offer?
I do offer workshops, and they are run through my company Foto Verde Tours, which was the first company in Costa Rica to specialize in photographic tourism. We're expanding our offerings throughout Latin America. You can learn more at www.fotoverdetours.com.
Find Greg Basco on the Web:
www.deepgreenphotography.com
www.fotoverdetours.com
www.newworldphoto.org/
You can follow Greg on Facebook and Instagram
The following two tabs change content below.
Julian Rad is a self-taught award-winning wildlife photographer, who was born in Vienna, Austria in 1991. When he bought his first camera at the age of 20, he found an expression for the fascination he had about nature & wildlife. He already had many publications in national and internation magazines and newspapers (New York Post, Daily Mirror, Daily Express, The Times, GEO, Digital Photographer Magazine...). He has won several photo competitions such as the comedy wildlife photography awards in 2015.