Vincov Calgary Bag for Photographers: Camera Bag Review
Vincov Calgary Bag for Photographers: Camera Bag Review
www.sleeklens.com
Hello dear friends! Today we are delighted to share with you the experience we had with a quality camera bag from Vincov, the Vincov Calgary Bag for photographers.
Why is it important to understand the quality built of our camera bags? Well, putting aside the obvious fact that it happens to be the medium for carrying our precious photography gear around, it is true that the latest trends set us as photographers not just as artists but also as influencers – hence we have to take care of our personal style as another venue to market our work – but in case all that wasn't enough, ergonomics do play a key role when it comes to carrying our gear, especially for those who consider traveling photography as their lifestyle. Let's check why this camera bag should become one of the options to include in your potential photography wish-list for what's left of 2018!
A Travel Companion
When we decide to get a camera bag, ensuring that our gear can withstand any mean of transportation becomes essential. Of course, we do not expect a camera bag to behave the same way a camera trolley bag would do, as they are intended for different purposes, but to be able to pack our gear around in a comfortable, safe and, why not, fashionable way. Vincov, a manufacturer of camera protection gear, undoubtedly succeeds in bringing photography transportation gear a step closer to what one can dream of the so-called "photographer style"; yes, that very same fashionable look we can check at our Pinterest boards from time to time.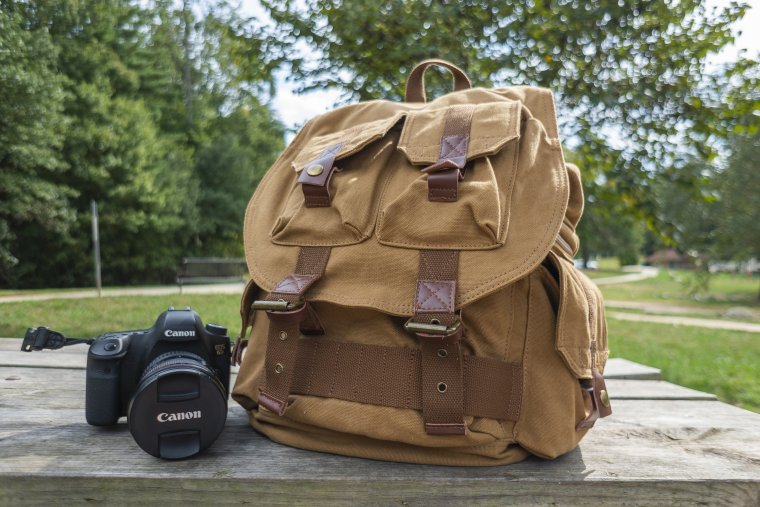 The Calgary Bag will certainly remind us of those old school bags. Sturdy, made from canvas with leather straps and metal clasps – something that I would like to highlight as I loved this config; you have no idea how many times I ended up frustrated when lovely bags I used to own had their plastic clasps broken, rendering them almost useless due to that single fact. Yes, this is a bag that takes usage into consideration, so we users can feel the benefits of a quality built out of it.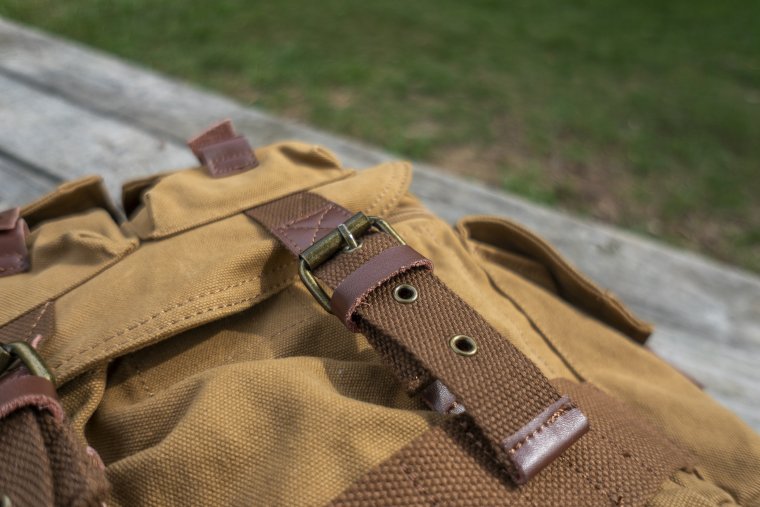 As opposed to what we are used to seeing in camera bags, this stylish bag can not only be used as a camera bag but also allows us to pack many different elements as a laptop up to 14″ size, clothes, documents and many other etcéteras that can come across without compromising the safety of the user – something we cannot guarantee in other bags that tend to explicitly broadcast that we are carrying expensive gear with us. In fact, unless you are carrying a lot of weight with you, most people won't even acknowledge that this backpack is a true camera bag: you may come as a university student traveling abroad with a good fashion sense. Once again, incredibly useful if we travel to not-so-safe destinations.
Carrying Capacity
The Vincov Calgary Bag has two main storage areas. The first one is your average bag pouch, accessible from the top after flipping over the cover – which is secured by both buckles and snaps – quite easy to tie and untie whenever needed. As the top cover protects the pouch you won't be risking your gear in what regards to unwanted access to the pouch. This part of the bag can hold up many elements, but mainly we tested this part with gear as external flash units, laptop battery chargers, documents, books… you get the point. I wouldn't advise carrying a camera lens in this part of the camera as it doesn't come with an extra cushion protection – that we will see on the bottom part of this backpack – so it's mostly intended to be an easy access pouch for those things we need to pick up in a hurry.
The bottom part of this backpack is a zipped-sealed section with a removable cushion protection for our cameras. It only includes two removable dividers, allowing us to have three different areas to carry gear, and depending on the size of the gear you carry you can pack up to three camera bodies (two DSLRs and one Mirrorless/Compact for example), but that won't give you extra space for the camera lenses unless you don't mind to pile them up your camera bodies (something we don't advise to do so). That may be seen as a drawback if not for the bag to feature spare pockets on its sides to carry the lenses. Yes, it's not as spacey as other bags you can check in the market, although those ones are way bulkier than what this particular bag happens to be.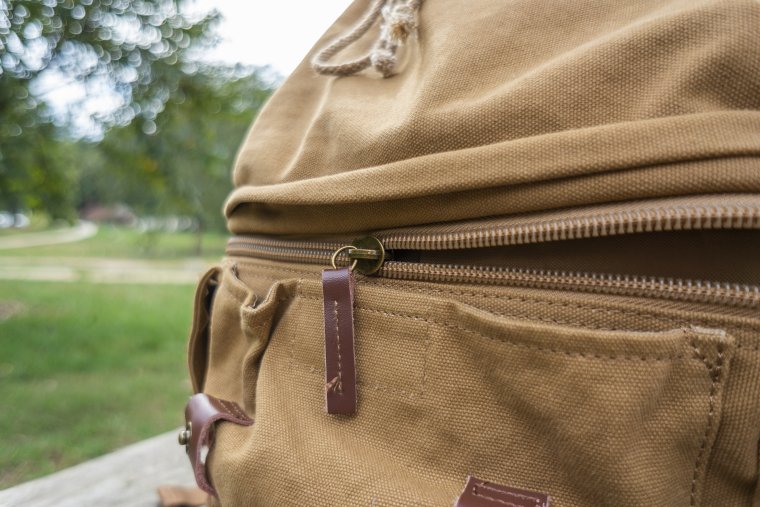 The two pockets on the flipable cover are small, intended to be used for carrying small accessories, whereas the two side pockets are more shallow – meant for camera lenses for example. The other front pocket is not also much bigger, but we can use it to pack many small-sized accessories that can take away room from the main storage areas. Do keep in mind that this extra front pocket comes sealed with velcro: ideal for protecting sensitive material.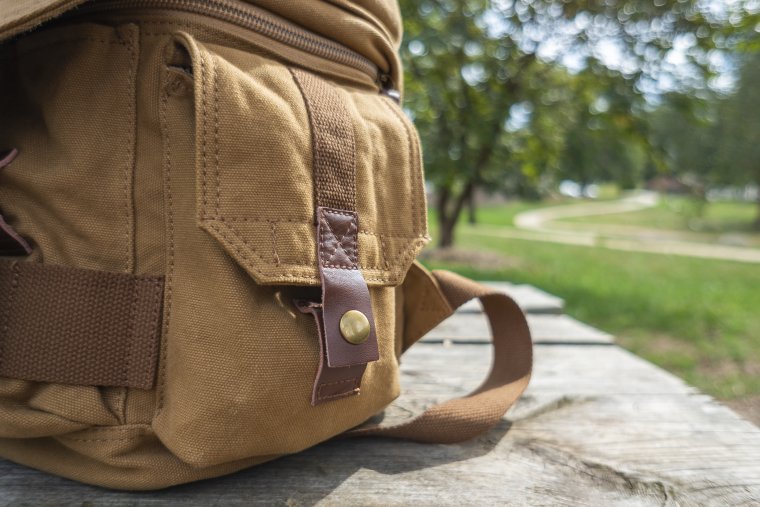 The Outdoor Experience
One question that can come across when talking about a canvas bag is what happens when it rains. Yes, some harsh climate conditions can be enemies for canvas not only for the bag but for the gear that's carrying. Vincov thought about this and included an extra safety protection on the bottom: a zipped pocket, right at the bottom, that stores a rain cover for the bag. We haven't tested it with snow yet, but for rain, it certainly does a fair job, and the best thing is that it comes almost unnoticeable.
As the bag comes in two colors, khaki and light brown, it's entirely up to the user which one may suit you best not only from a color scheme point of view but also which one resists more to dust and dirt without becoming too noticeable. We tested the light brown version, and yet despite using it in beach or forest scenarios, we didn't notice it caught that much dirt in contrast to what other bags may do, especially for a light color.
Conclusion
All in all, this is a bag that comes to change the average photography bag experience. It's not the usual black, extra cushioned bag that screams: "hey, there are a camera and lenses in here!", which we truly appreciate as it makes the risk of getting mugged way less probable. It's versatile, as you can pack a change of clothes, a laptop, documents or any other small-sized element you wish to carry around.
There are downsides, however. Firstly, as it's canvas-made, you cannot overload its carrying capacity. Also, linked to its material built, it won't hold up for rain or snow, though it packs a weather cap in a quite convenient way. In my opinion, I wouldn't risk the chance of damaging the gear weather cap or not. It's not a bag to carry around on a bad weather day.
The other thing we missed with this bag is a dedicated area to carry a tripod without it being uncomfortable. Some bags do feature an extra strap on the bottom or at one of its sides. That's not the case for the Vincov Calgary backpack.
We hope you liked this review and be sure to take a look at this awesome bag. See you next time!
The following two tabs change content below.
Pia Lopez is a self-taught photographer, graphic designer and ArchViz artist. As Content Director of Sleeklens.com, her work is driven by her two biggest passions: technology and art.