Top 16 Smartphone Photography Accessories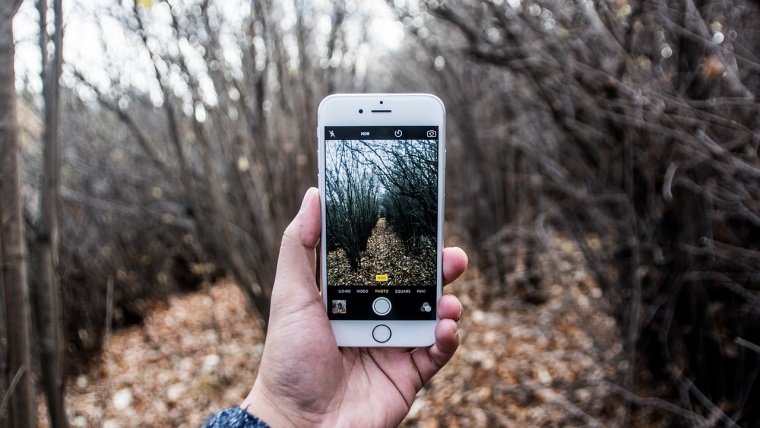 Top 16 Smartphone Photography Accessories
www.sleeklens.com
One of the advantages of modern technology is the ability to turn photography into a medium accessible to everyone, unlike how it was not long ago, where in order to take pictures it was necessary to have previous training, buy expensive equipment, or hire the services of a professional. I do not mean that nowadays we're entitled to dispense with the services of a photographer, quite the opposite, but such advances have allowed a plurality in this sense, extending the horizon of the world of photographers, making it a day-by-day competitive scope.
Our Top 3 Picks
[srpshortcode id="845986″][/srpshortcode][srpshortcode id="845991″][/srpshortcode]
[srpshortcode id="845992″][/srpshortcode]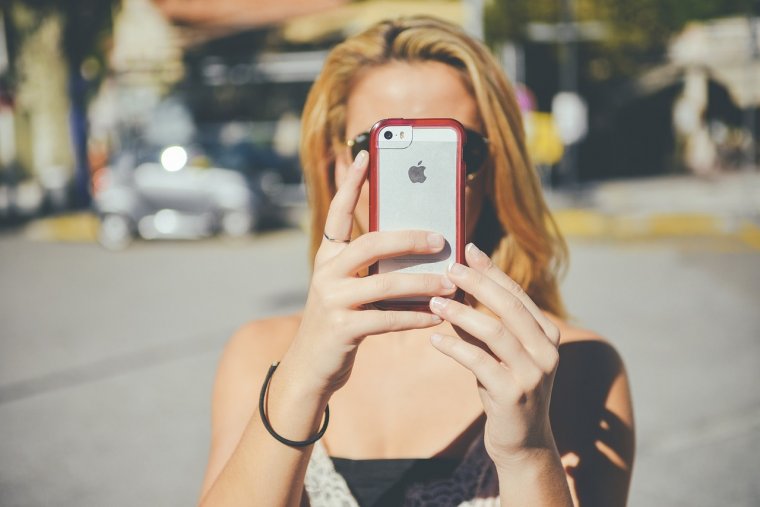 For this reason, and in order to stand out in front of such a growing community of photographers, it is necessary to resort to the use of other tools that can complement the work. Although the resources of post-production with both Photoshop and Adobe Lightroom can do wonders for our work, They do little to influence factors such as creativity, how to take a picture with the correct focus, composition, or even mere aspects of personal safety when, for example, taking a selfie. We must consider this process as a whole, so I would like to analyze a list of the 16 best accessories for smartphones, as key items that we should consider if we want to bring the experience of photography with smartphones into a more professional quality.
16 Smartphone Photography Accessories
1.- Sony DSC-QX100 [srp_anchshortcode id="845986″][/srp_anchshortcode]
Real camera lens
Increased mpx count
More precise sensor than smartphone's native one
Cons:
Pricey
May take a while to adapt to the newly added weight
For those who always felt that not having a real lens in your phone was a drawback, or for those who simply wanted to have a more precise zoom, with major features for focusing and a quality sensor, Sony presents a unique alternative.
Designed initially for their own models of Smartphones, and then adapted to fit phones of their competitors, this portable lens provides everything that a compact camera is capable, or even much more. We could say that this is one alternative to consider before buying a Smart-Camera like the Samsung Galaxy Cam 2 (which I have tested in detail and I can assure you is a good investment), capable of taking your device to the next level.
Equipped with an Exmor R 1.0 sensor type, which is approximately 4 times greater in size to the compact cameras, with Carl Zeiss Vario – Sonnar optics, with F/1.8 as max aperture value. The maximum resolution is located on the 20.2 mpx, being necessary to use either NFC or Wi-Fi to make pairing with this lens.
Another interesting aspect is that we do not necessarily have to have this lens attached to the back of our Smartphone: while in pairing mode, we can use the lens freely, visualizing what this focus on our Smartphone screen. A good choice if we think about the possibility of Selfies, given that it would be impossible for the weight of this lens to use a selfie stick with it.
Features manual focus controls, as well as the ability to set Exposure and Shutter Speed values, which makes it more than a simple compact camera, a direct competitor of the Bridge cameras.
It has no digital zoom; however, an optical zoom of 3.6 x is not bad at all if we take into account the original zoom of our Smartphone.
It also includes a timer release mode (for 10 or 2 seconds), image stabilizer, White Balance, ISO range between 160-6400 settings in Auto mode, and 160-25600 in Auto Superior mode. Added to this, the ability to shoot in Full HD, all under a suitable format of 179g with battery included. Their autonomy is around 110 minutes, resulting in about 220 pictures.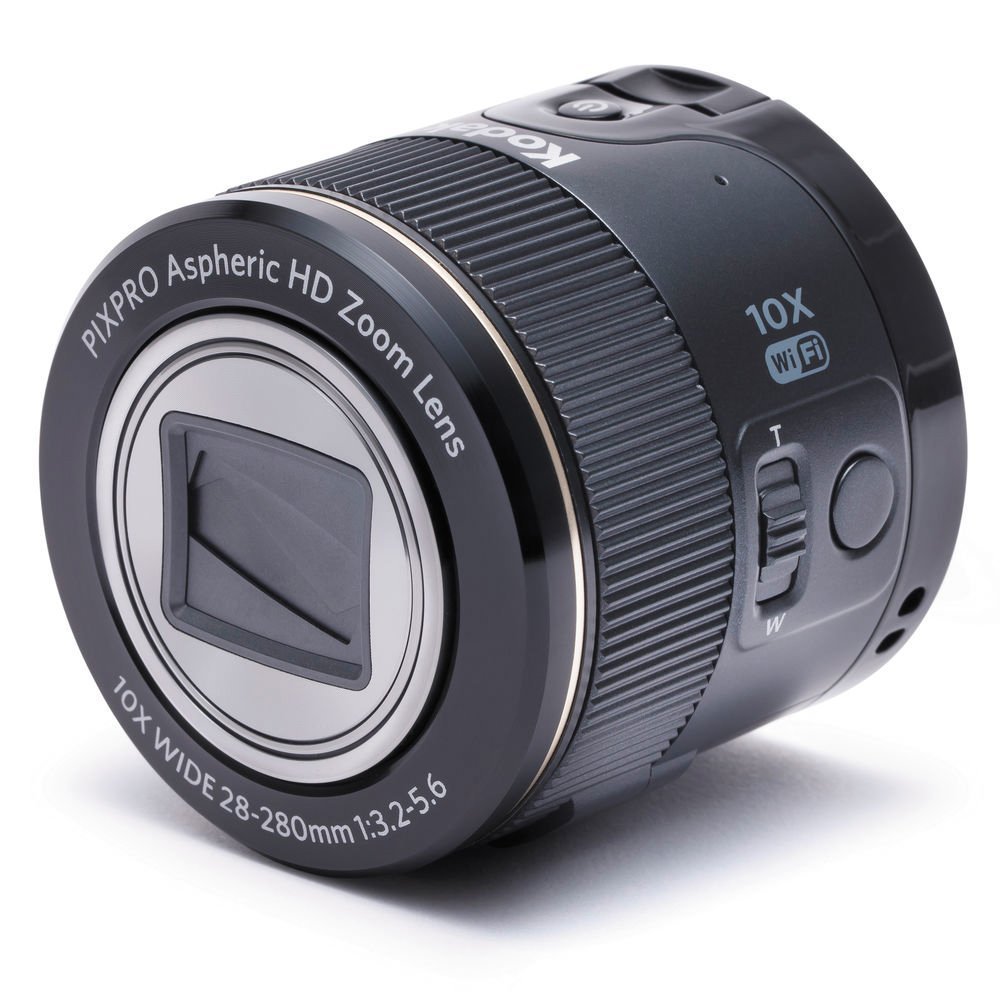 Pros:
On-camera shutter and zoom controls
10x zoom
Sharper focus than smartphones' native focus
Not as expensive as Sony's
Cons:
Bulkier
Doesn't support SDXC memory cards
If you are looking for an alternative to Sony's mobile phone camera lens, here we have another interesting product by Kodak. Perhaps considered as an idol of worship based the reputation of Kodak as a brand, more than by its performance, but still not without surprising us with a 10x zoom (especially if compared with the 3.6x offering by the Sony's model).
16.0 mpx is its maximum resolution, but nonetheless can say that it is a Smart Lens of lesser quality – its sensor is able to capture the clearest colors imaginable, working with or without being behind the Smartphone, which is ideal to get fantastic selfies.
It is also able to pull 6 FPS of continuous shooting. This is one step beyond if we want to use our Smartphone to take action photographs.
Its maximum F-stop is F/3.2 (in wide angle mode), and minimum value F/5.6 (in telephoto mode). It has a digital image stabilizer, and ISO sensitivity ranges from 100-3200.
One of the main cons of this model is its size, which makes a slow process when mounting this lens to the Smartphone device, and really not allowing us to keep it in our pockets with the lens attached; perhaps for women with large handbags this is not a problem, but in general it is not what is being sought in a Smartphone lens device. Another drawback comes from the fact that it does not support SDXC memory cards, which will limit the storage; still, its autonomy is valued at around 200 photos.
3.- DxO One [srp_anchshortcode id="845992″][/srp_anchshortcode]
Fashionable, compact design
You can easily flip your smartphone as if it was a compact video cam screen
Easy to grab
RAW format capable
Cons:
Really expensive
Only iPhone compatible
Not enough zoom
If you ask me what Smart Lens I'd buy, no doubt I say this model. Perhaps by having an iPhone, I'm not frustrated by the fact that this model is only compatible with iOS devices, DxO has done an excellent job with this Smart Lens.
More than a Smart Lens, this model takes a step beyond, becoming by all means into a Smart Camera, and, therefore, is also capable of operating in standalone mode. To make the pairing process with our device, you just connect it using the Lightning connector built into it. An advantage of this method is that it uses the technology of the iPhone to geotag to your photos.
It has a physical button for the shutter, which is a great advantage when handling the camera; and perhaps the greatest challenge is to adapt to capture pictures without covering the iPhone flash or dropping the device. In addition, considering that it will take two or three sessions to have complete control, there is no major drawback (of course with an iPad the task will be even more complicated – in this case, the size will be a drawback).
This device maximum aperture is F/1.8, adjustable to F/11, and its resolution lies in the 20.2 mpx. The ISO values range from 100-51200; While the shutter speed is 1/20000 to 30s. Another major plus is that this model features scene modes as any compact camera, these being: Auto, Sports, Portrait, Landscape, Night, Program, Aperture Priority, Speed Priority, Manual. It is capable of shooting in quality Full HD 1080 p.
But perhaps the main advantage of this model is the ability to shoot in RAW format, DNG or a native DXO format. Ideal for a post-production fully controlled by the user.
The only drawback? (besides only being iOS-compatible) The little zoom capacity, as the lens is not adjustable, it has a 3.0x digital zoom.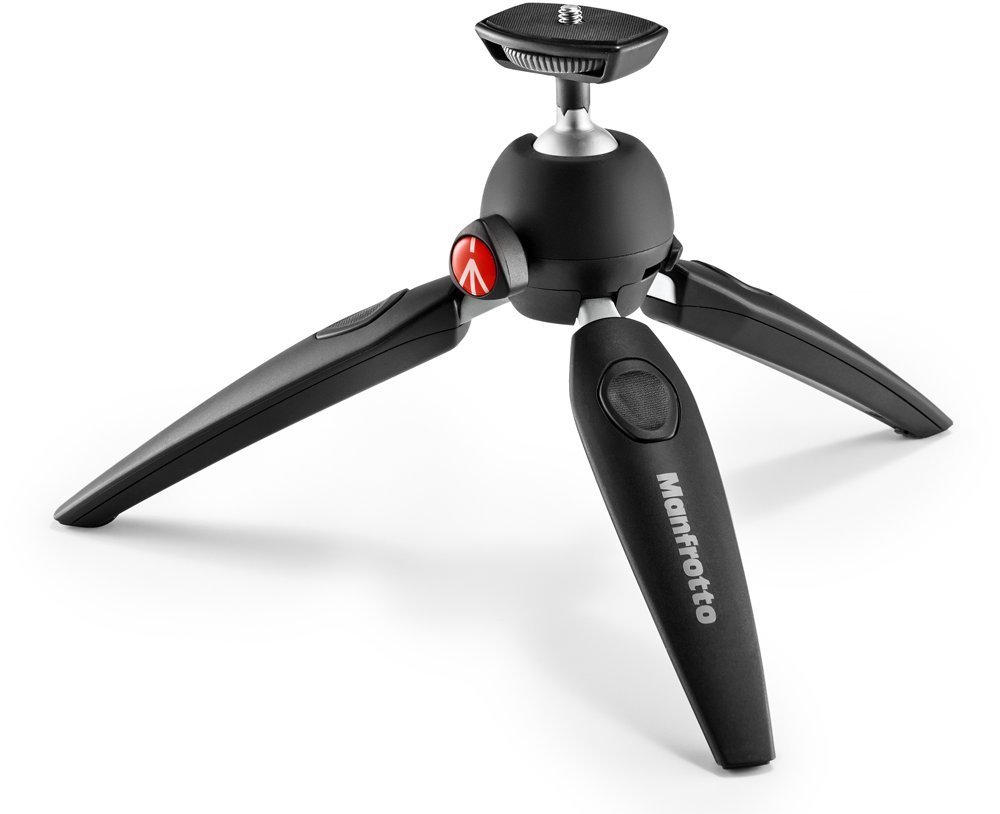 Pros:
Lovely Design
Two in one selfie/tripod solution
Pocket-sized
Cons:
With a very nice design, an intelligent solution when we are looking for an accessory that is a tripod for smartphones and selfie stick at the same time – it should be noted that in addition to being able to support the weight of a Smartphone, it is able to withstand low DSLR camera's weight, which speaks to us of their resistance, in contrast to many selfie sticks. (It supports a maximum weight of 1 kg.)
This tripod head allows a 360 degrees rotation, which is controlled by a small button that allows the movement.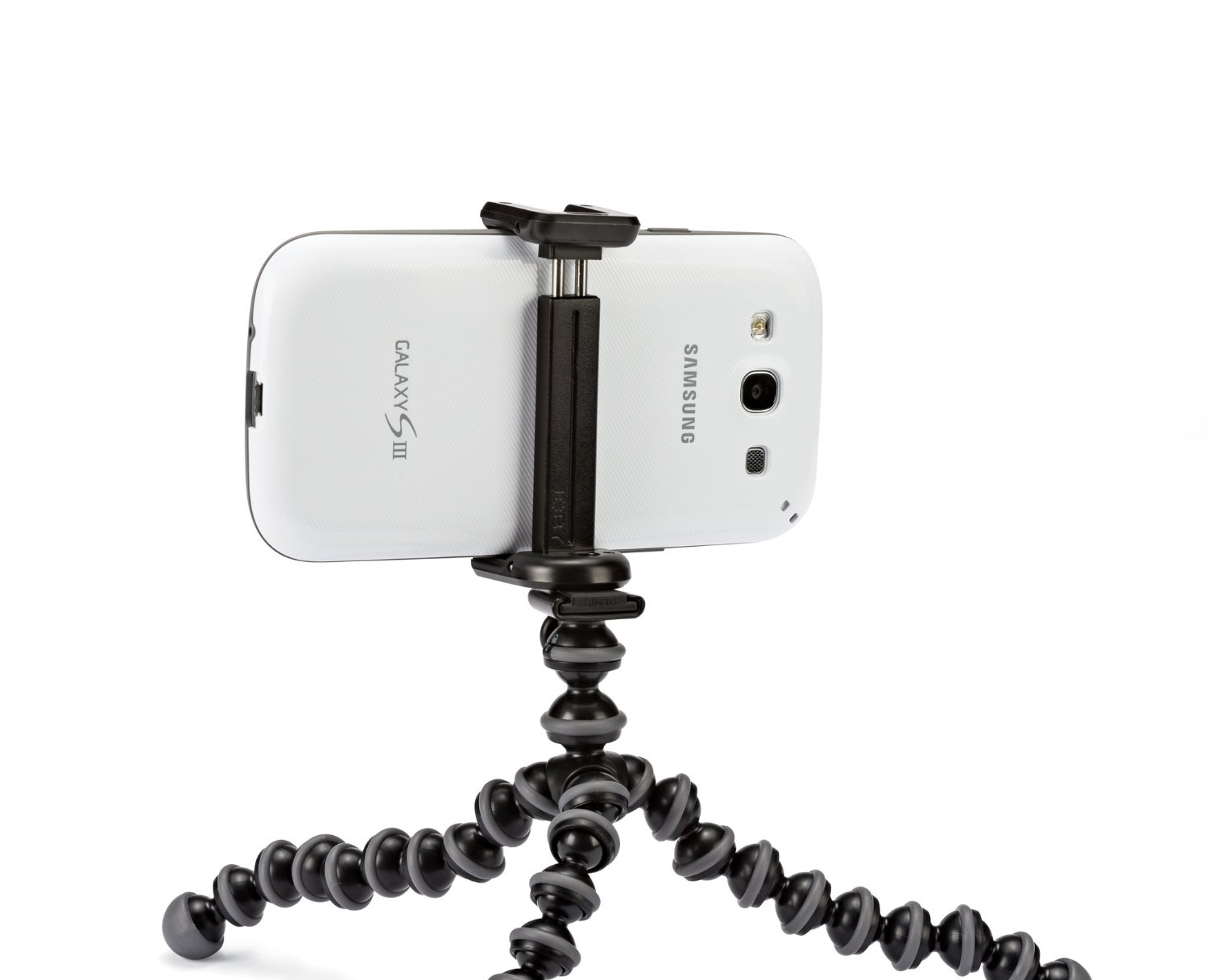 Pros:
Easily adapts to every kind of scenario
Sturdy built
Universal smartphone compatibility
Cons:
Love it or hate it. There is no intermediate point with GorillaPod products.
In my opinion, it is an interesting option to consider for any travel photographer, especially if it is in your interest to take landscape photographs since it is possible to put it in the trunk of a tree and enjoy angling impossible to achieve by ourselves.
From a safety point of view, it is a must-have accessory since it saves the trouble to expose ourselves in risky situations; and regarding what it can provide to our gear, the quality of construction of this tripod is astonishing: internal structure in steel, coated for maximum strength with ABS plastic, designed to withstand long photographic sessions as the daily work outdoors.
It is able to withstand weight over 1 kg, being possible to adapt them different sizes of grip mounts that fit both small or large size smartphones, as a small or large size tablets.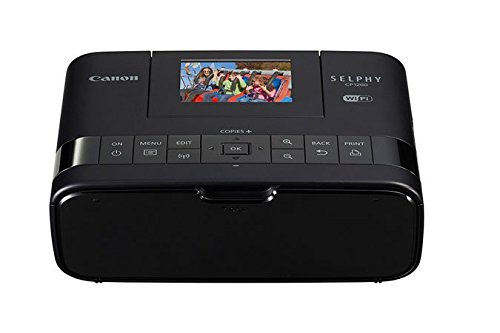 Pros:
On-the-go printer device
Good quality printing
Several formats available for printing your pictures
Cons:
Pricey ink cartridges and paper
Did you ever experience the situation of wanting to provide a beautiful photographic souvenir to a loved one and it was not possible? Or did you ever think of becoming a Street Photographer but the problem was where to print the photos?. Such problems have a quick solution thanks to Canon.
Thinking about the old and traditional way of some travel photographers to give the image to a client after processing it at the very same moment, or perhaps looking to compete with Polaroid and its instant-photo products, but with a format without a doubt more durable, Canon offers this versatile portable printer, whose only required to operate is WiFi, because it also packs a battery.
The print quality is very superior in comparison with some of its competitors in this format, as it can be the EPSON PictureMate – you just need to connect your Smartphone via WiFi to the printer and start the printing process with the Canon app. It is compatible with Windows Mobile or Android as well as iOS. It is a thermal printing, so waiting for the time recommended by the paper is a must.
The print speed will depend on parameters like quality that is intended to print, the type of paper, size of the photo, and quality of Wi-Fi access, as well as the same Smartphone that is connected to it, since it won't be the same performance from a Samsung Galaxy S3 to a Samsung Galaxy S7.
If we work with Canon cameras, it is possible to connect them by USB cable PictBridge mode; but it is possible to print directly from pen drives or SD cards.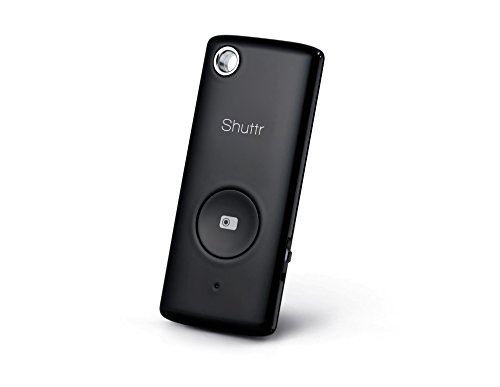 Pros:
Avoid using selfie sticks
Really comfortable to use
Cons:
Requires a tripod
Bluetooth connection can affect your overall battery life
This nice product reminds me of the controls of the car alarms, or small remote controls since the idea to follow is basically the same: have a shutter release in a practical and convenient format.
Presentation of white or black, Mukulabs offers a product capable of pleasing to users who hate the selfie sticks, but suffer from not being able to exit at your photos due to not use them; or even go beyond, being able to capture images at a distance range well above that can give a selfie stick, being ideal for photographs with spectacular landscapes such as The Great Canyon, or family events with many guests.
You don't even need an app to function: only active the Bluetooth of your Smartphone and enjoy capturing many pictures you want.
It has a range of about 10 meters, which is more than sufficient autonomy if we compare it with the scope of the shutter releases DSLR cameras.
Besides the selfies, it is an ideal accessory for testing long exposure photography without having to worry about accidentally moving the Smartphone.
8.- Solocam

Pros:
Studio quality microphone attached
Joystick for controlling the position at distance
Professional accessory for reporters
Cons:
Big device
Not Windows Phone compatible
That dream of becoming a real journalist is just a few clicks away! An innovative accessory that has two basic components: a selfie stick and a microphone. Combining both options, in a format that is tough and easy to maneuver, it is born Solocam, a cool smartphone accessory designed for all those who ever thought of producing videos in the style of a travel journalist.
The quality of the microphone is remarkable, being equivalent to a professional microphone, and has two handles on both sides that serve both to operate as to hold the artifact. With a comfortable joystick, we can adjust the position of the stick selfie for camera points in the direction that we want, within a range of 180 degrees.
It works thanks to Bluetooth technology; It is necessary to use an included application that supports both Android as with iOS, which allows us to make small adjustments of editing such as adding filters to our videos, and at the same time show a teleprompter on the Smartphone screen: ideal to not forget any sentence at the time of shooting our videos!
It is compatible not only with smartphones, but also with GoPro cameras, and has two presentations: Solocam and Solocam HD (the difference is in the quality of the included microphone.
Keep in mind that this accessory has yet for sale in the market, is a startup, but that is almost available for all audiences. Be the first to have it after exploring more detailed information on this link.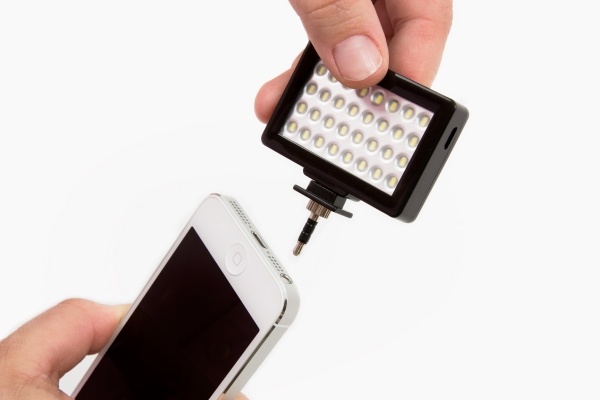 Pros:
Boosts your smartphone's flash capability
Great for nighttime photographs
Cons:
Delicate to handle
Lacks of an intensity adjustment
When we believe that already nothing can surprise us, comes Photojojo and presents the first spotlight for smartphones! All those who we have enjoyed good shoots with our smartphones, we know well how much need an external flash, especially if our main goal is to take pictures at night, or if we need to fill to environments of studio light.
With this interesting accessory by Photojojo, we say 'goodbye' to those tedious days in which images were not seen as they should be a bad lighting – despite its compact size, boasts 32 LED spotlights, capable of providing us with soft lighting and partner, which is powered by a battery that is charged via USB.
A problem that many users will notice is the lack of customization with this model; While we can adopt different mounts for use with our camera or our Smartphone, there is no ability to regulate lighting, which inevitably will lead us to do without Flash the phone in many situations. Furthermore, note that it is a breakthrough if we take into account that this accessory was intended for amateur photographers and not for professionals, so you learn photography, and above all things, lighting, will be a requirement. In some scenarios, such lighting conditions will allow us to longer shutter speed values, so use a tripod is going to become a current situation.
The tonality of these LED lamps leans toward cold values, hovering around 5200K, which in some cases will be necessary to compensate this lighting with White Balance controls of our devices or, after downloading the photos to your PC, using Lightroom or Photoshop photo editing software.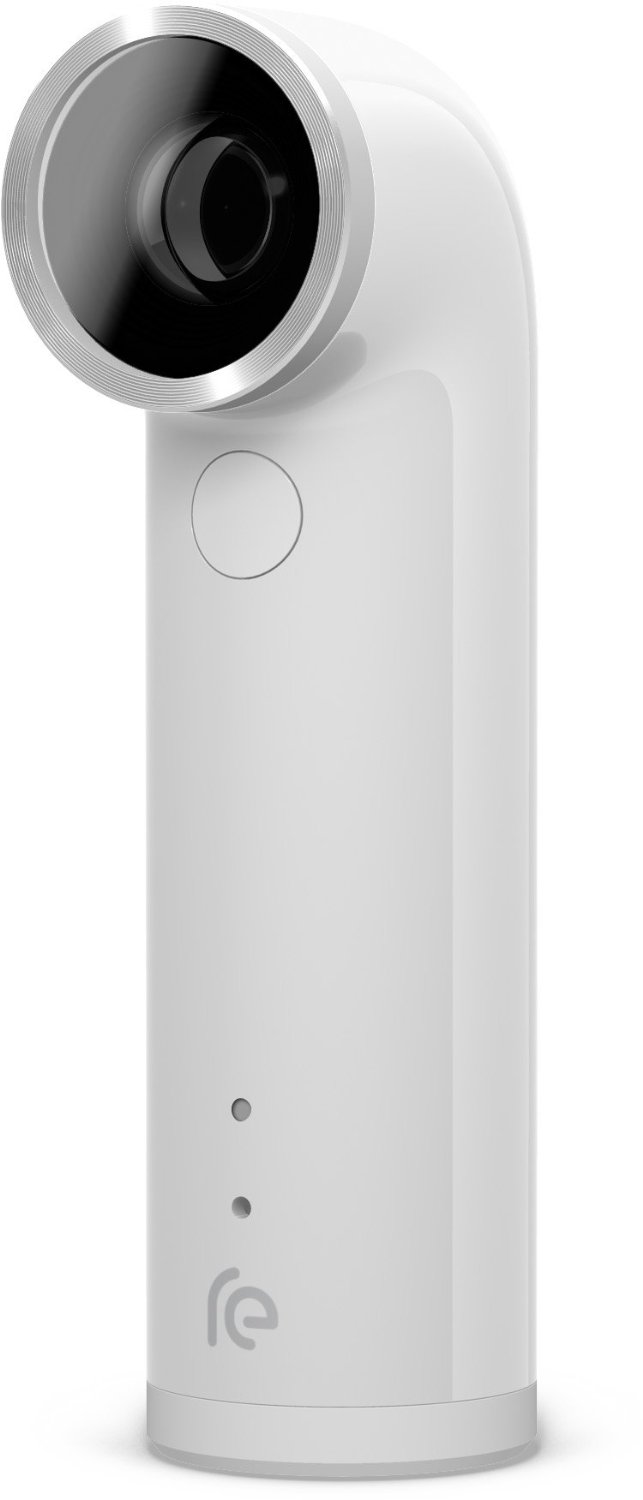 Pros:
Waterproof
Stand-alone action camera
Doesn't need to be attached to your smartphone
Cons:
Pricey device for what it has to offer
Perhaps a device that catches the attention of more than one amateur. It isn't a periscope, is not a handset or accessory doctor: is a hybrid of action camera designed by HTC to offer users the possibility of filming their daily life without being exposing their mobile equipment.
One of the biggest criticisms has received is precisely the fact that does not provide much more than what a Smartphone currently offers, however, in my opinion, I would be much more convenient to charge HTC RE to film activities of daily living that beholding with both hands on my Smartphone screen to avoid falling. Not to speak that it is waterproof, which we cannot say 90% of phones in the market (stating that such capacity to be waterproof is up to 1 Mt of depth for a maximum of 30 minutes).
The camera has a f/2.8 lens with a 146 degree ultra-wide viewing angle with a CMOS sensor 1/2.3 inch and 16 megapixels. The sensor that has equipped is somewhat larger than usual smartphone cameras bring, however, it is not enough to make shadow compact cameras or action as a GoPro camera.
If you press the button only once, the camera takes a photo of 16 mpx (or 12 MPX) If you opt for the format 16:9. If you press and keep pressing the button for a couple of seconds, the camera will start to record video at a resolution of 1080p or 720p at 30 frames per second. Another button which is located in the dub, below the lens allows you to switch to a time-lapse mode to capture video in 720 p resolution at 96 frames per second.
A button is not necessary to turn on: HTC RE ignites as soon as you lift up the camera, thanks to built-in touch sensors. You may use any button unlock or activate any app unless you want to see in real time what is filmed on the screen of your Smartphone.
Thanks to the App that offers HTC, you can edit your photos and videos in a few seconds to then share them with your friends on social networks. You will only need connection WiFi and a Mobile Android or iOS – Windows Phone is not supported for now.
Their autonomy is about an hour and a half into shooting 1080 p, which implies to capture photographs up to 1100.
Includes, at the time of purchase, a card 8 GB micro-SD, and supports up to 128 GB micro SDHC cards.
Pros:
Wearable camera
POV film oriented
Lightweight
Cons:
Doesn't allow the user to control the filming process
In a simple and comfortable design that many can remember to the iPod Shuffle, this accessory for smartphones is ideal for when our intention is to film every step we are giving on a journey and often have no opportunity.
It has a storage capacity of 8 GB to store either videos as FullHD 1080p or 5-megapixel resolution photograph. Its battery is capable of supporting two full days, being able to capture up to 6000 pictures in the process – only needing a USB connection in order to charge it back.
One of the aspects that do not make it the ideal accessory perhaps is the fact that is not waterproof; however, it is able to withstand conditions such as low temperatures, rain or warm temperatures above the normal average.
Using WiFi, we will be able to transmit what the camera to capture our Smartphone thanks to an app provided by the developers. The camera can be constantly filming or simply capture, automatic mode, a picture every 30 seconds; something quite interesting to capture details in an event, party, or in our daily life. It is without a doubt, an interesting alternative and less plaintiff that used a helmet with a camera action.
Take into account that it is a camera with a case of plastic, so it will not be able to withstand heavy blows. It comes in 3 versions: white, black and orange.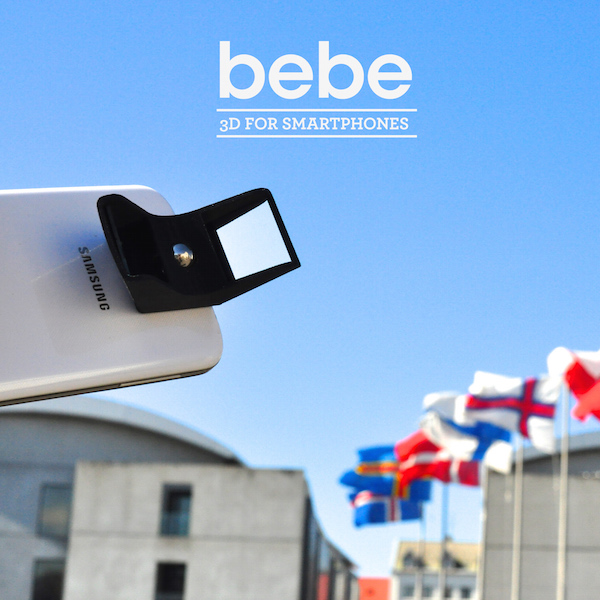 Pros:
Allows smartphones to take 3D photos
Compatible with many options for 3D visualization
Cons:
Did you think that only some smartphones were able to capture 3D images? Behold the proof that is not necessarily to have a high-end mobile phone to enjoy incredible creative effects as of this camera.
Equipped with quality lenses, this accessory works creating stereoscopic photographs, which can display in a variety of methods: from the classic anaglyph red/cyan glasses (included with purchase) to SmartTVs able to reproduce images in 3D.
It uses an application compatible with both Android and iOS, which allows us to control the display mode to be carried out.
NB: There are several other devices like this one to consider, but one stands out from the crew which is Bevel, an attachable accessory capable of creating 3D photographs that are ready for 3d printing.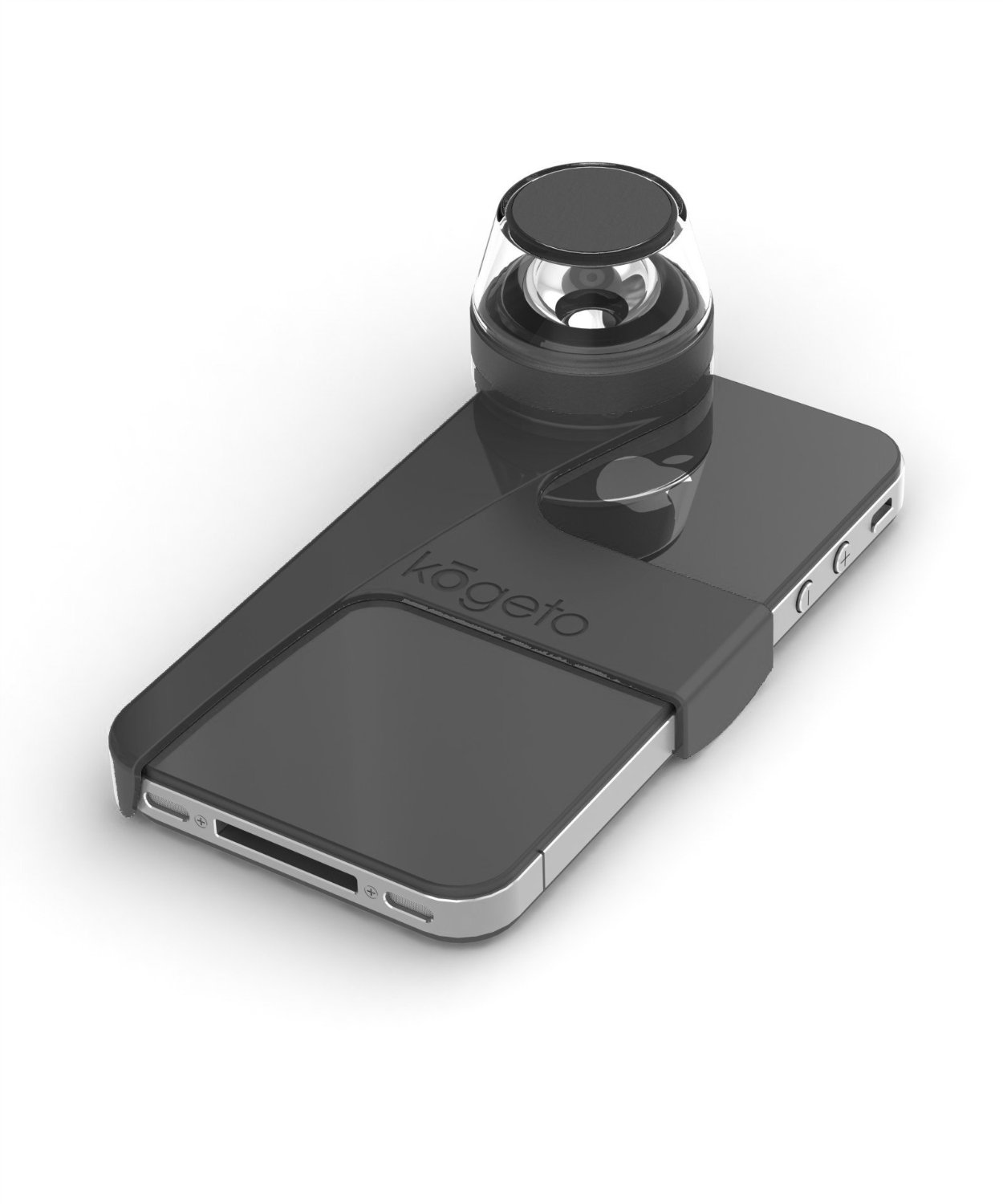 Pros:
Capable of creating amazing 360-degree panoramic photos
Attached to the smartphone via mount
Cons:
You can only shoot 360-degree videos with it
Only fits iPhone 4/4S size
A revolutionary concept, Dot allows us to create fun panoramic images 360 degrees with a system that fits our Smartphone lens. It has a double lens system, which we aim to a first lens, which is reflected in a mirror system that allows the largest possible image angle.
Using the app included with the accessory, you can view the videos recorded by Dot, or share your "Dotspots' with your friends on various social media platforms.
Pros:
Cons:
A bit pricey if we start to analyze cost-benefit relation
In a format that reminds us of Polaroid cameras, this portable printer for smartphones used cartridges that allow us to print up to 10 snapshots.
The idea came from disposable camera Instax, sold by Fujifilm for some time; however, the advantage of this idea part device to print photos that you already saved on your device, so there not any loss after printing such photo.
This printer works with two CR2 lithium batteries or via a transformer, which is not included. Batteries have a shelf life of 100 prints approximately.
Turn on the device, launch the app on your Smartphone and start to select the photo you want to print. From that moment you can apply to this photo minor editing adjustments as transform it as Black & White/Sepia, or apply the Intelligent Editing Filter by Fuji, which will provide greater contrast and enhancement to your photos in an automatic way (in a way, a filter a bit softer than the x-Pro II Instagram). Adjustments such as cropping, enlarging or rotating the image are done automatically by the app in order to match the printing size.
At the same time, you can add templates to your photographs, either by adding borders or text to them, so the printing process is more than just processing and printing a selected photo.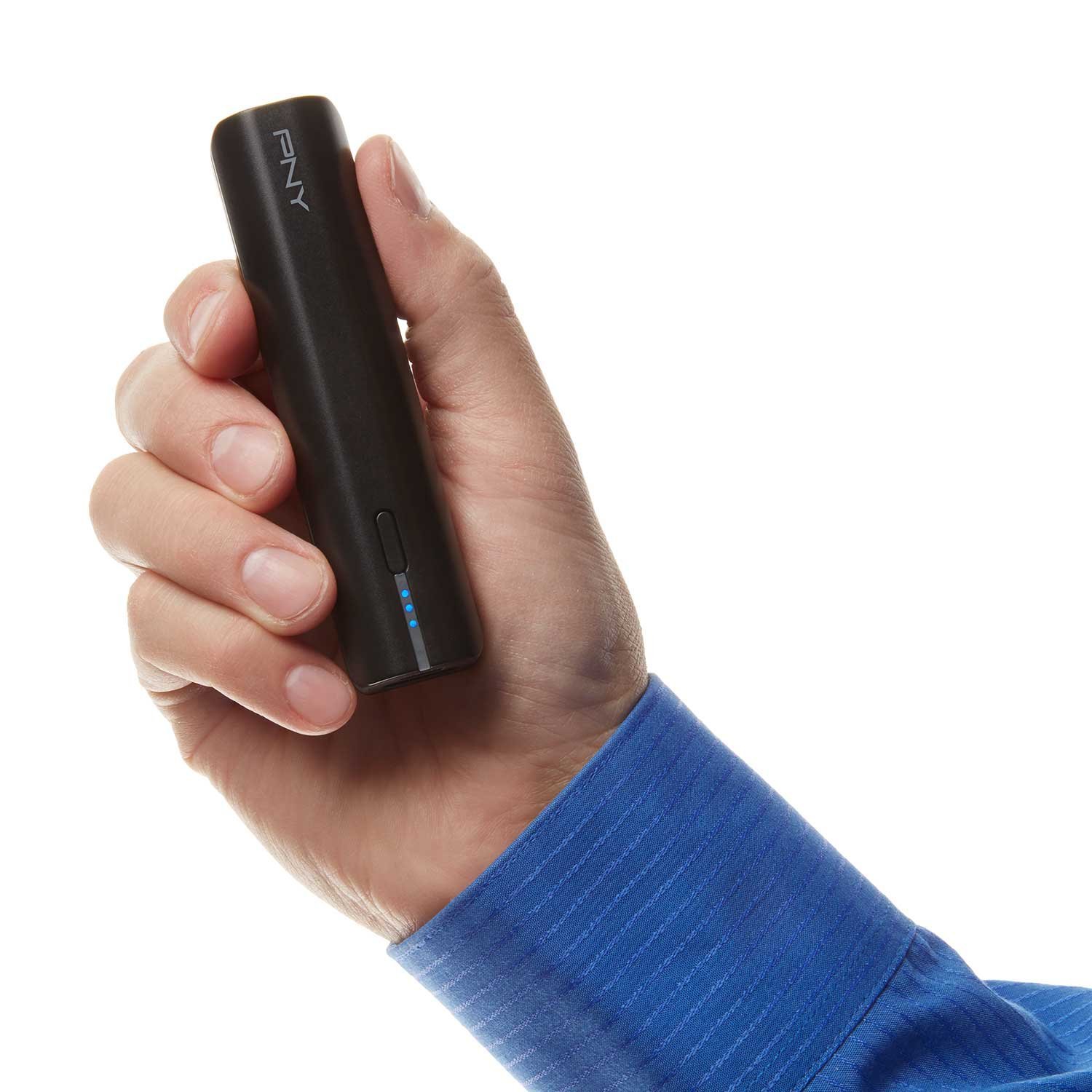 Pros:
Three-year warranty
Universal
Charges via Micro-USB cable
Compact and lightweight
Really cheap
Cons:
Only allows 2 full charges
Requires USB cable
Not waterproof
Doesn't have enough power to charge a tablet
If our intention is to become professional photographers and exploit the full potential of our Smartphone, sooner or later, we're going to face a cruel reality: our Smartphone uses battery – and therefore such battery will tend to wear out in greater or lesser degree depending on the use we give or the number of devices that we use as accessories.
At the same time, as time goes to our Smartphone, the minor will be the performance of the battery in comparison with whatever was in its best moments. This can occur because of natural wear that logically occurs with the passing of the years, or by a negligent treatment of the device over time (for example: have it connected all the time to the charger while we are at home, or buying non-original batteries – which is a huge NO!)
In cases such as long journeys, there is also the problem that the current regulations of the airports do not allow to enter devices to airports that may not power up due to lack of battery, for safety reasons. So it is then necessary to have battery backup as it can be a power bank.
PNY is one of the brands of the first level for these purposes, in addition to excelling in the field of memory cards and computer video cards, by which we would be acquiring a reliable product with a long life expectancy.
The main drawback that it has, besides only allowing two full charges because of being a 2200 mAh powered device, is that only a device can be charged at the same time, unlike other power banks on the market; however, this accessory compensates it with the fact of being portable and having practical size that allows us to carry it everywhere, either in a bag, purse or in our pocket.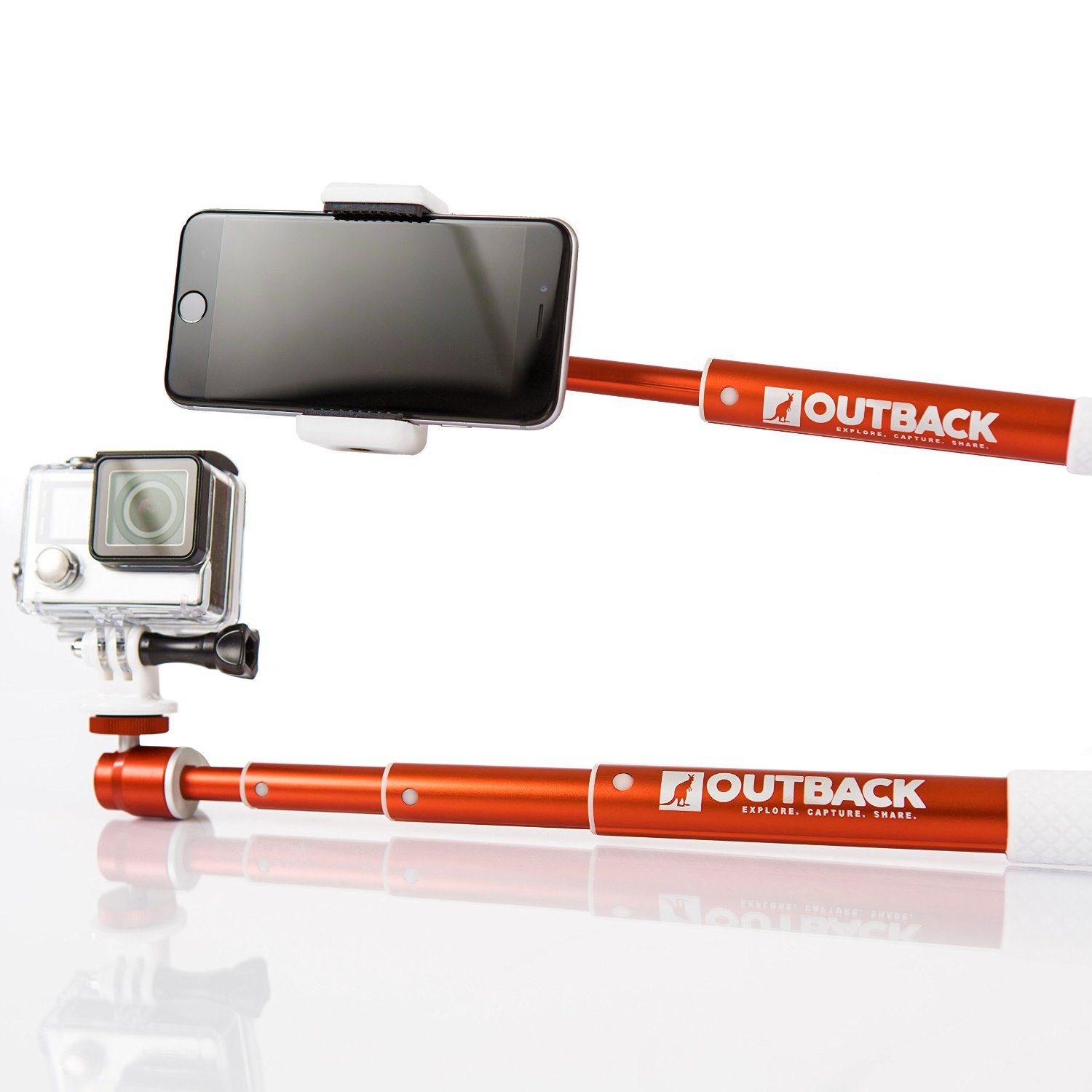 Pros:
Sturdy selfie stick
Does not require Bluetooth to work
Supports big weighted cameras
Cons:
Can't hold every single type of phones (some devices may find problems to be used with this selfie stick if they are wearing a phone case.
If you are looking for a selfie stick that is a proves to be a truly life companion, with The Outback Pole you can find all that and much more. Built with Anodized Aluminum, and a Rubber handle, this waterproof selfie stick is able to withstand heavy weights, and in turn, provide a versatile solution for the task of taking selfies.
By not having Bluetooth technology, it won't consume our battery as fast as it can occur with other devices; and most importantly: don't need to rely on other remote controls to operate it.
As we have seen throughout this list, there are various products that can be adapted to our needs as photographers. Certainly, many of them perhaps do not adapt to the daily life of an amateur photographer (for example, Kula Bebe), but it is interesting to take them into notice if at some point we think to expand our horizons as creative photographers.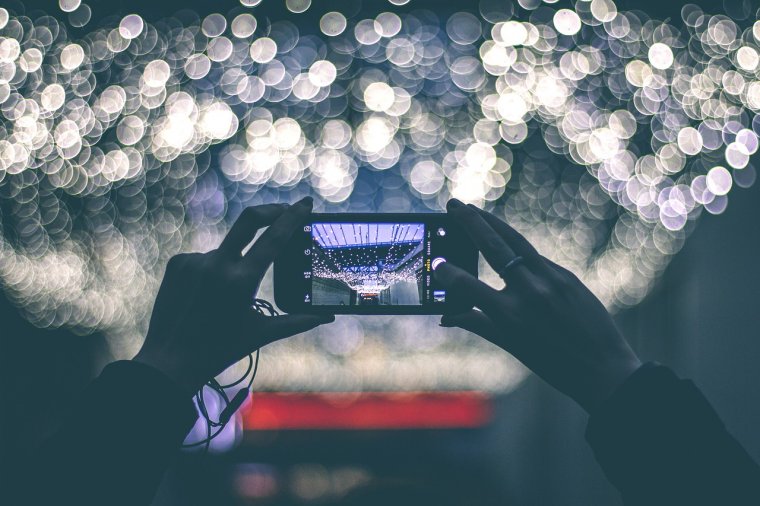 Bear in mind that although most of these artifacts are small, they tend to occupy space, or be easy to lose them, so take them in a bag, preferably waterproof, is a necessity. Another aspect to take into account, especially with printers, the smartphone camera lens or any other device that uses Bluetooth technology is the battery life. If you add them using the camera in the foreground on a constant basis, added to the regular battery consumption of our smartphones, and even also adding an accessory that consumes battery, whilst having WiFi or Bluetooth active at the same time, certainly the autonomy of our phone will decrease considerably, so it is necessary to carry around a Power Bank if our idea is to make shooting sessions with us for more than 3 hours. At the same time, Android devices tend to show a lower battery life compared to their Apple counterparts, by differences in the management of the software, which is another factor further to take into account.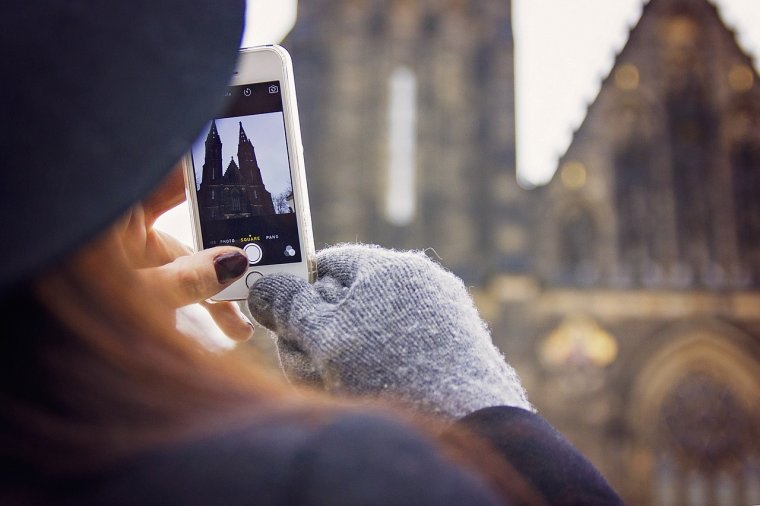 Remember: less is more – if you plan to purchase a large volume of accessories first consider if you are in a comfortable economic position to make the investment (especially with the smart camera lens), given that smartphones tend to be easy to be stolen before an oversight; followed if you really think to use that accessory in order to justify your investment (many of the accessories listed here point to complement the work of professionals rather than simple tools to experience such as an app purchased at the app store), and finally to establish a list of priorities or seek to prove these accessories before you buy: comfort, or rather ergonomics when operating device + accessory, may be a key factor when buying the gear mentioned above. The most important thing is to have fun and not let technology to condition our ability as photographers.
I hope you find this guide to be useful and see you next time!
SaveSave
The following two tabs change content below.
Pia Lopez is a self-taught photographer, graphic designer and ArchViz artist. As Content Director of Sleeklens.com, her work is driven by her two biggest passions: technology and art.