Photographer's Vests and Jackets: Fashion or Comfort?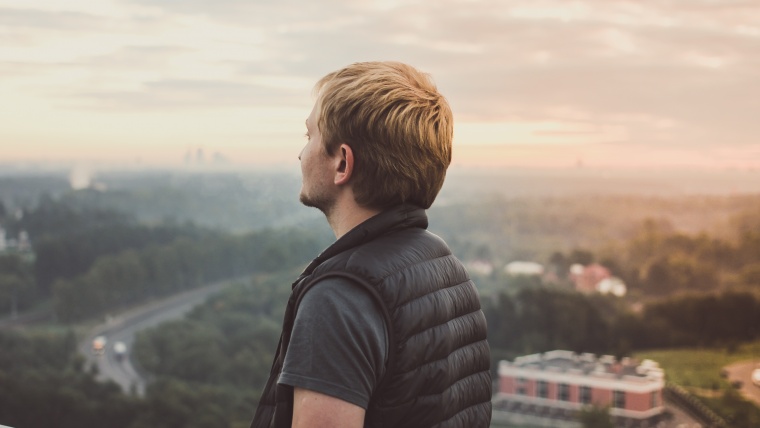 Photographer's Vests and Jackets: Fashion or Comfort?
www.sleeklens.com
There is a phrase that has no better application than in this case: "Lo que es moda no incomoda", which in plain Spanish can be referred to that in many cases we can resort to unconventional attires, and even impractical, in order to obtain a certain "fashionable look". We, as photographers, are not strangers to this; and being great members of the design spectrum, we can fall into that eccentric area wearing less comfortable clothes to give an image of "professional photographers".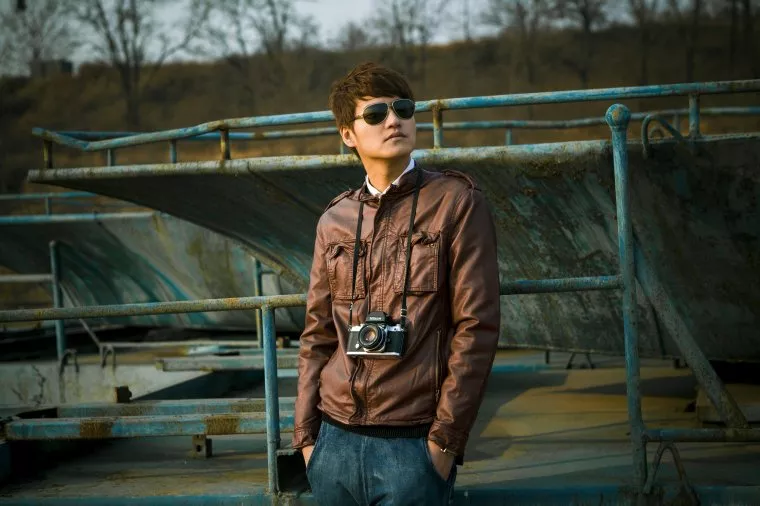 However, not all solutions have to be uncomfortable. In this case, we'll talk about a very practical clothing for some photographers. A matter of taste? Undoubtedly, but in this case, the styles can save us more than just a headache if we talk about an action or wildlife photography.
Reasons for using a Camera Vest
Unless you have a large enough budget to travel in comfort or hire the services of an assistant, the truth is that you tend to travel with heavy bags that hold just about all of your needed photographic equipment. Although in some situations you can actually trust that there will be a vehicle or an area where your equipment will be safe or easy to access, that may not always be the case – especially in situations like safaris or expeditions, capturing wildlife, live.
With many pockets in a variety of formats and sizes, photography vests allow us to carry several different types of lenses, filters, batteries, cases with SD cards, business cards, documents and much more that we may need along the way, while we are hands free to use our camera and capture amazing scenes.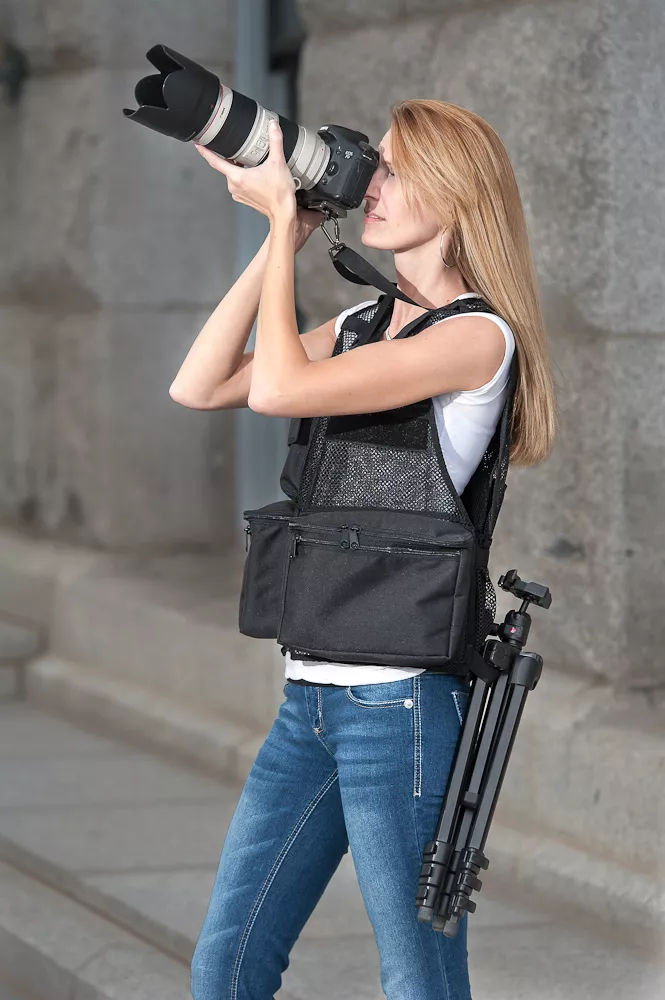 Photo courtesy of The Vest Guy
Reasons for using a Photography Jacket
If the camera vests are not your thing, or if weather not permitting, there is always the possibility of using photography jackets; which are no more than a vest but in a format with high quality and protection for the user. They generally tend to provide protection against rain (waterproof) and are designed to withstand the extremely low temperatures, which makes them ideal partners for the snow-covered landscapes.
The Downside of using Photographer Vest/Jackets
Like many things in life, there are usually some negatives that go along with the positives. While some may be based on simple prejudices related to the world of fashion, there is another rather more immediate problem on this issue – and no, I'm not referring to the price. This type of clothing, in general lines, tends to draw attention to ourselves by giving us the very cliche look of a "photographer"; so my personal recommendation is a big NO to using Photography Vests in urban areas unless it is your intention to capture the attention of others.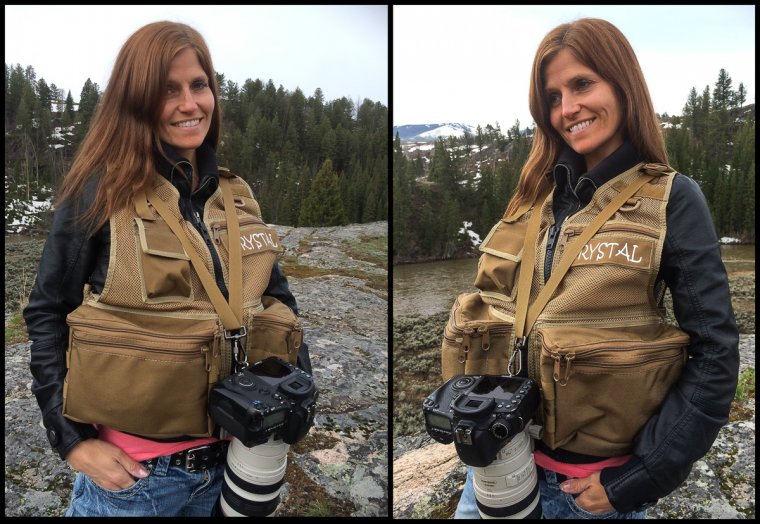 Photo courtesy of The Vest Guy
In addition, it is important to consider budget, and especially the quality of the vest/jacket to use, since we will be constantly carrying some heavy gear in the pockets.
Now let's move forward and analyze what I consider to be the Best 7 Photography Vests & Jackets available on the current market!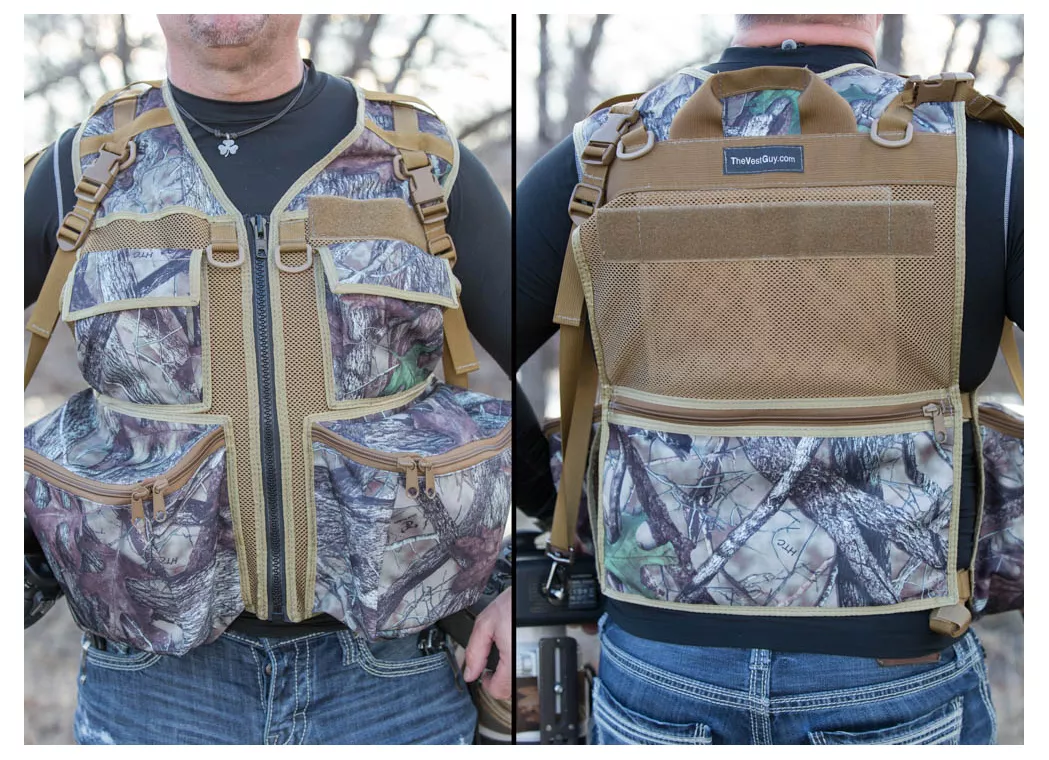 The classic vest with a perfect look for Safari with its camouflage design! Comfortable. with the expected quality for a professional product. (We would like to thank The Vest Guy for his images)
Pros
Design, Camo-inspired
Deep Pockets
Can be made by request
Resistant
Cons
Expensive
Camo design may not work well in most scenarios
Click to read the full Review
The first thing that we noticed in this vest is the quality of its production; with so many years of working in the industry by Serengeti are not possible to ignore, so we have a product that, while expensive, will be a long-term investment.
The design is modern and camouflaged at a time - with design camouflage designed for arid scenes such as a desert - allowing us to move with total peace of mind in environments such as the African tundras.

It has a camera strap on the shoulder, that allows us to carry our camera with comfort at the time that we can access it just a fast movement; the lower pockets, even though they may seem bulky, actually allow us to load several lenses and up to another camera body due to its resistance.

Top pockets are ideal for storing SD cards, documents, batteries, filters and anything else smaller without exposing any kind of risk. The back pocket can be used to save documents or any other element that does not have too much size.
With its completely secured seals, we should not worry about the influence of weather agents such as rain or dust, affecting our gear.
Classical black photography vest, with a lightweight composition. Ideal for any kind of event!
Pros
Lightweight
Weather-resistant
Velcro pads
Tailored
Cons
Can't carry heavy items
It is prone to breakage due being built in nylon
Click to read the full Review
This vest by Lowepro is a great investment for any
active photographer
. It is not as expensive as the model that we've seen from Serengeti, however, it provides us all the necessary items without compromising the quality of the materials for their manufacture.
Lightweight, with a classic black color that does not go out of fashion, with its different adjustment straps it gives us the feeling of a custom tailored vest, which will surely enhance the comfort of using it. Available in two sizes: Small/Medium and Large/XL.
On the back side has an open pocket, designed to carry clothing items such as a small jacket or blanket. In the front, two pockets are designed with loops on the sides, which allow us to pass through cables (such as headphones or remote shutters), securing them with the velcro pad.
While it is resistant, because of being built mainly in nylon it is not recommended to load heavy equipment in the pockets, such as heavy lenses or mid-sized camera bodies.
Designed for those who want to combine a classic style with elegance. This vest is meant for photographers as well as for other professionals.
Pros
Ideal for hot weather
Many pockets
Two color options
Cheap
Cons
Fabric is heavy
You may need to reinforce velcro stitches
Click to read the full Review
In this case, we have an economic and classic vest model: the stereotype of the vest for photographers.
Regardless of the climate that you visit, whether it's a desert or a humid place as some tropical regions, you will not find any discomfort in using this vest; however, a problem can be found if we must withstand long days of walking because the fabric tends to be noticed as somewhat heavy. This means that loading heavy equipment will become a difficult task.
As it is mainly made of cotton, in case of rain it won't be something extremely waterproof, so if we face a heavy rain situation, we ought to manually dry the pockets if we want to use the vest again - not to mention that if we had something delicate, such as
lenses
or other electronic equipment, it can surely ruin it.
The pockets are comfortable, able to resist a generous amount of weight - primarily are intended for tropical climates and people with adventurous spirit, so the size of the pockets allows us to carry binoculars, bug spray, lenses, extra batteries, etc.
Looking for the right middlepoint between vest and jacket? Don't miss the chance to dress up something with style and practicality.
Pros
Can be used as either vest or jacket
Many pockets
Weather resistant
Press pass holder
Click to read the full Review
This is perhaps something that we don't see every day. Many times we think of how comfortable it would be to get rid of the sleeves of the jacket and enjoy a bit of breeze. Well, in this case such dream becomes a reality.
With generous pockets on the front, we can carry larger sized equipment in the style of lens or battery grips. The top pockets are designed to carry numerous documents of identification, SD cards and even has a transparent pocket dedicated to the Press Pass - which makes it an ideal accessory for
formal photography sessions
or visits to museums. It also has a pen holder slot and a dedicated pocket to carry business cards.
In its particular style, is a jacket that comes to hip; which it makes it look elegant, and has strings to fit our particular size. It is mainly built in lightweight nylon, so it is weather resistant, however, it also has elements in cotton and nylon mesh, allowing adequate ventilation in summer and more shelter from the cold in winter. With a lightweight nylon hood, this vest/jacket allows us to be exposed to rain without any major drawback.
For those not-so-warm climates, this jacket does the job of keeping us comfortable while allowing to carry many photography gear with us.
Pros
Tough nylon material
Furred hood
Practical interior pockets
Deep exterior pockets
Waist draw cord
Windproof
Nice color range
Cons
Expensive
Heavy and bulky (especially for women)
Velcro pockets
Click to read the full Review
Although we can say that the typical is jacket winter, this fashionable jacket, clearly male-inspired, although we could categorize it as unisex, it can give us useful in the world of photography.

It is designed to withstand temperatures up to 20 degrees below zero, so for a snowy winter weather, it will be a great ally. Its quality can be noted just by the resistance of its materials, both in tough nylon as in the zips that close the jacket front.

Despite having large, deep pockets, perfect for loading equipment of larger size, or lenses, with its velcro closures rather than zips makes them notoriously unreliable, given that water, snow, or dust can easily access them.

The hood has a faux fur, which will provide more heat to the user, but as everything, it's a matter of taste.

It comes in a wide range of colors; and even though it is expensive, it is an investment for several years that will allow us to work with comfort even in the crudest fields.
An amazingly cheap jacket that won't disappoint us! Comes in a wide range of color choices.
Pros
Lightweight
Weather resistant
Cheap
Machine wash apt
Good range of colors
Cons
Not too much storage capacity
Buttons can come off easily
Click to read the full Review
If we are looking for an economical choice of jacket for the raw weather of winter, here we have an ideal model.

This jacket, 100% Polyester made, was designed for outdoor activities such as hiking, climbing, camping or hunting tasks, so we enjoy a comfortable experience in the field of photography.

Even if it doesn't have too much space for equipment, and tends to be a fitted jacket to the body, pockets are constructed of a resistant material with watertight zips, they will be a great advantage to carry sensitive pieces of equipment such as batteries, lens filters, sd cards and even business cards or important documents, without risk of being affected by the weather.

Lightweight and with a nice design, serves both for men and women. The inner layer of this jacket is designed with a thermal material, ideal to keep warm in unfavorable conditions.
Finally, our last option. Not meant as a storage solution but as a really rain resistant jacket for photographers by Manfrotto
Pros
Extremely lightweight
Weather resistant
Comfortable to carry around
Cons
Expensive for what it offers
No storage capacity
Click to read the full Review
It is perhaps the only jacket different from everything that we have analyzed so far. While it is not intended as a solution to carry photographic equipment, may result in the combo ideal if we take it together with our photography vest.

Designed by Manfrotto, leader brand in the photographic industry, is lightweight and resistant. The ideal choice for these situations of intense rain, and it can be stored in extremely confined spaces.

Features a hood with visor, which will facilitate our work and, in general lines, we can state that its materials are of excellent quality - although we can say that it is an expensive jacket for what it offers. In a classic black color, is a must-have for any intrepid photographer's kit.
Are you up to those scenic journeys that require quality equipment? Then take a look at our listings of SD Cards, Tripods and Lens Filters, for making your job a professional quality one.
See you next time!
The following two tabs change content below.
Pia Lopez is a self-taught photographer, graphic designer and ArchViz artist. As Content Director of Sleeklens.com, her work is driven by her two biggest passions: technology and art.