Photographing Puffins and Their Friends: A How-To Guide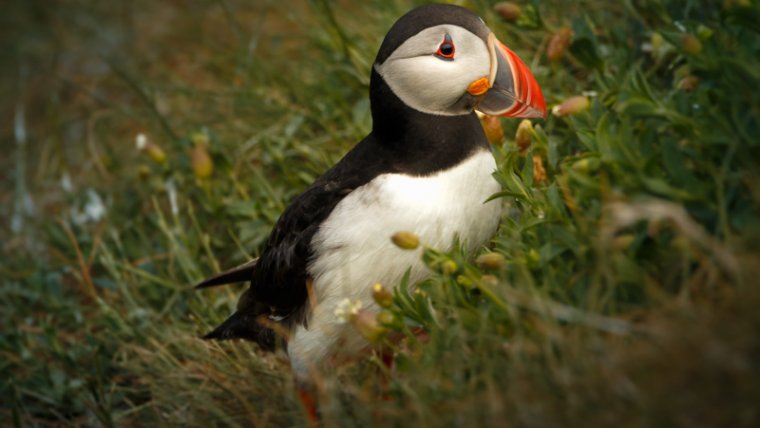 Photographing Puffins and Their Friends: A How-To Guide
www.sleeklens.com
Summer is the perfect time to get out to the coast and photograph seabirds as they come back to land to breed on the cliffs, stacks and rocky islands along our shores. You can witness enormous colonies of birds clinging to seemingly impossible places to hatch an egg and rear a chick. The sights, sounds (and smells) are breath-taking. If you are lucky, you may be near a location where you can get close to the birds to witness their mating rituals, their nesting behavior and see the chicks as they quickly fledge. There are many opportunities for great shots.
This article describes the kind of experience you can have in the north of the UK, but there are advice and tips for anyone thinking of going to the coast to observe their own local seabirds. I will describe some of the best locations, what to consider before you make your trip, and offer some practical advice on how to setup your camera for those difficult in-flight shots we crave.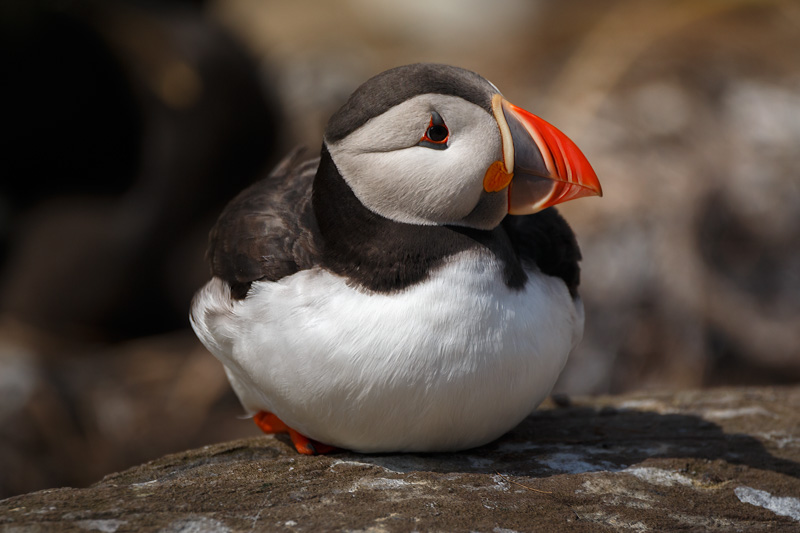 Canon 70D | Sigma 150-500 at 600 mm | f6.3 | ISO 400 | 1/4000 | Atlantic Puffin, Farne Islands, May 2017
The Farne Islands – A Puffin Paradise
Without a doubt, the Atlantic Puffin is one of the most admired creatures in the world. It has an almost comical appearance with its large brightly-coloured bill, red and black eye markings, and bright orange legs. Its round black and white body, short wings and clumsy movement on the ground suggest that it is the clown of seabirds. Far from it. Puffins are highly adapted to the harsh and windy shores of the North Atlantic and are superb underwater swimmers. Puffins have short wings to enable them to "fly" underwater, where they catch small fish known as sand eels on the seabed. This means that puffins have to fly at high speed to stay aloft in the air, and are one of the fastest birds in steady level flight. This makes in-flight shots very challenging, so you need to be smart.
Canon 70D | Sigma 150-500 at 531 mm | f8 | ISO 400 | 1/3200 | Tour boats prepare to take visitors out to the Farne Islands, May 2017
Puffins nest in soft underground burrows to protect their chicks, known as pufflings. This greatly limits the locations where they can breed and they often have to fly for several miles to catch their prey. There are excellent coastal sites throughout Ireland, the west of the UK, East Scotland and north east England. My favorite, by far, is the Farne Islands, a collection of 15 to 20 (depending on the tide) islands formed of volcanic dolerite lava. There are several well-organised boat tour companies that operate out of the small town of Seahouses. Many of the boat tours will take you around the different islands to see the 6,000 gray seals that make a home here and the birds that nest on the vertical cliffs of the islands. If you are staying locally, try and pick a day that is bright and not too windy. A hazy summer's day is perfect. Take travel sickness pills if you are susceptible as the tides rushing past the islands throw up quite a swell.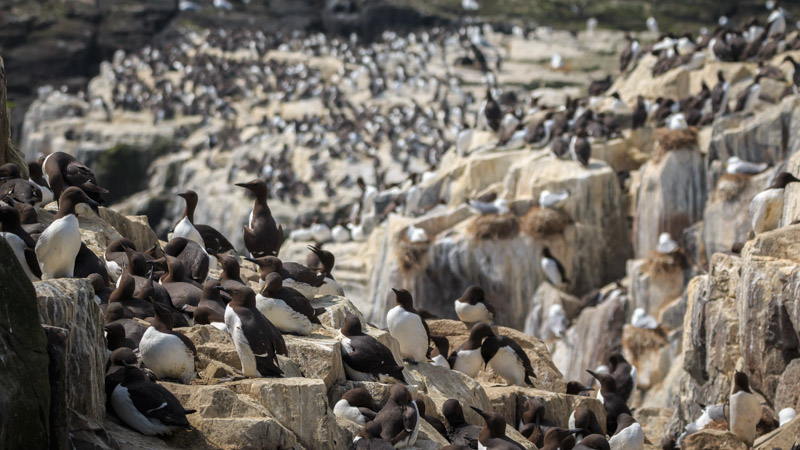 Canon 70D | Sigma 150-500 at 150 mm | f6.3 | ISO 400 | 1/2000 | Guillemot and Kittiwakes on the Farne Islands, May 2017
You do need to land on the islands if you want to take some good shots. The islands are owned and managed by the National Trust, and you can land on two of them. Staple Island is open in the morning and has very large colonies of puffin, guillemot, razorbill, kittiwake, shag, and cormorant. You have more space to move around on this island, and you can get very close to all of these species. You will not need a very long telephoto lens to get some beautiful portrait images of the birds on the ground. Note that most trips only give you one hour on Staple Island. If you are serious about your photography and love these seabirds, it will be over so quickly. Consider an all day trip. You can also land on Inner Farne in the afternoon. There are no facilities on Staple Island; there are basic toilets on Inner Farne. You should carry all your own refreshments.
Inner Farne has very good access to puffins, and the pufflings will be wandering about your feet in July, so tread carefully and slowly. You will see cliff nesting guillemots (murres), razorbills and kittiwakes, but there is a much smaller viewing area than at Staple Island. Inner Farne has the arctic tern, however. These remarkable birds live for up to thirty years and migrate between the summers in the Antarctic and the North Atlantic, with a typical convoluted round trip stretching over 50,000 miles. There are around 1,000 Arctic Tern nests, many of which are close to the landing area. Arctic terns are very aggressive once their chicks hatch. Expect to get your head clawed at from mid-June through all of July, so a secure hat or cap is a must!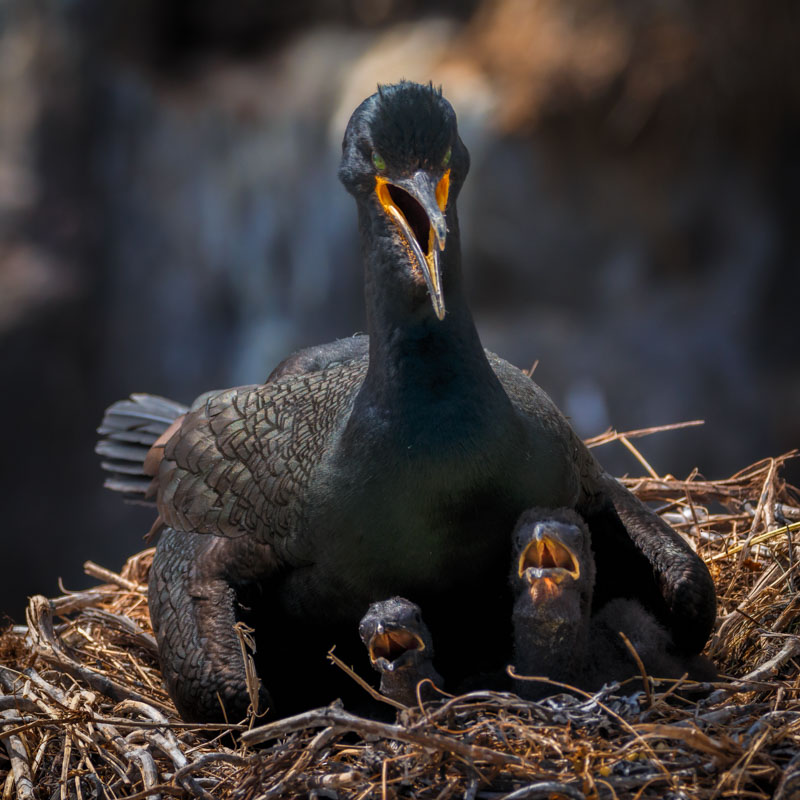 Canon 70D | Sigma 150-500 at 302 mm | f6.3 | ISO 400 | 1/2000 | European Shag on the Farne Islands, May 2017
Tips for getting the in-flight shots
Clearly, equipment will dictate how good your in-flight shots will turn out, but you don't need pro equipment to get pro results. Being able to control your shutter speed and having a good telephoto focal length is essential. Typically, you would need to be using a DSLR or equivalent camera body with a lens that is at least 200 mm. The best results will be had at 400-600 mm, where you can fill the frame with a puffin in flight. Note that the crop sensor cameras that many enthusiasts own are ideal as they effectively increase your focal length. However, it's not the size of your lens that matters; it's what you do with it!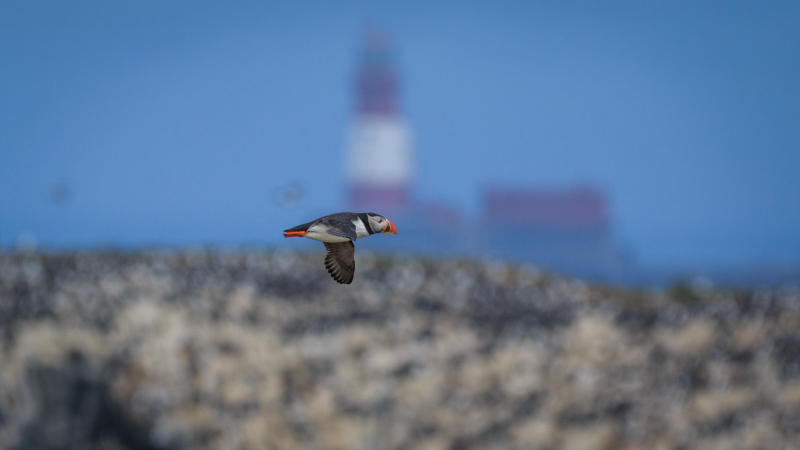 Canon 70D | Sigma 150-500 at 403 mm | f6.3 | ISO 400 | 1/4000 | Puffin flying past Longstone lighthouse on the Farne Islands, May 2017
Puffins will be flying at 45-55 mph with a very rapid wing beat. You need to be shooting at 1/2000 of a second or faster to freeze the puffin in flight. I always shoot in manual mode, fix my aperture wide open and turn up my ISO to 400 or so. On a bright day with a mid-range Sigma 150-600 mm lens, I can shoot everything at 1/2000 to 1/4000. Autofocus will be your biggest issue. You need to get to know your equipment and practice some simple techniques. Most DSLRs and equivalent bodies now have something called back button focus. This is where you can easily assign the autofocus away from the shutter button to a button on the back of the camera where your thumb rests. You can find plenty of guidance online with many excellent YouTube videos. You will shoot in continuous or burst mode, and you should set your focus to a single central AF point or a central zone of points. If you are new to this, practice at home. It is easy to get used to and the best technique you will ever learn.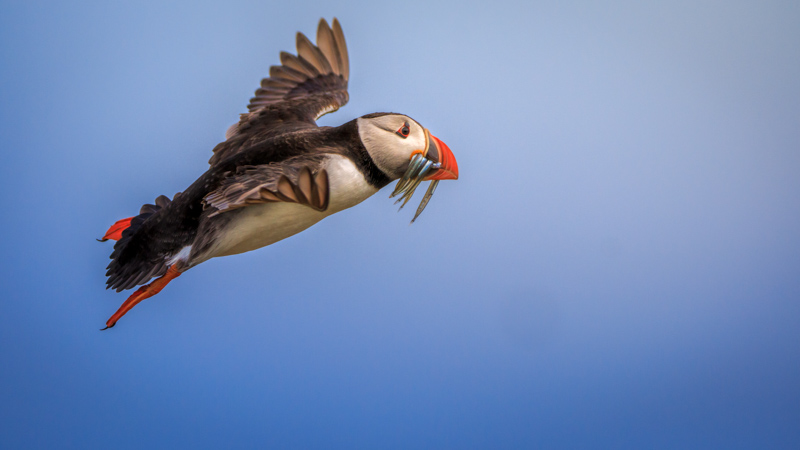 Canon 70D | Sigma 150-500 at 267 mm | f5.6 | ISO 400 | 1/4000 | Puffin in flight over the Farne Islands, May 2017
When on the islands, take some time to study the flight paths of the birds you are interested in. Many birds will follow the same tracks. Also, think about the wind and the angle of the sun. You want the sun to be behind you, and ideally, the wind would be behind you too. That way, more birds will face you and will be well lit without big wing shadows. On Staple Island, I recommend standing towards the top of the flight of stairs. On Inner Farne, I recommend walking to the opposite side to where you land. Puffins will repeatedly fly over you, many with a mouthful of sand eels. You don't want to be too low, but ideally, you will be shooting with the sky as a background. Your autofocus may frequently identify background land as the focus point, resulting in more failures. Set the autofocus switch on your lens to only hunt at longer distances (if available).
Set up your exposure time and check that the speed you have results in a 1 stop overexposure for the sky area you aiming at. This is a good starting point, which you may need to adjust. Use your histogram to routinely look for overexposed highlights. The white feathers easily get blown out in sunlight. To get your shot, you need to identify a puffin coming at you in the distance. You will have approximately 5 seconds before it is over you! You need to get the autofocus to lock onto the bird in this time, and you pan with the bird trying to keep it in the center of the frame. Most of your efforts will be awful. Don't worry, just keep at it. You do get your eye in after a while and will end up with shots you didn't think you could achieve. Try and keep your feet fixed to the ground and twisted your body for a smooth pan. If you are using a long and heavy lens, rest the center of the weight on your palm with fingers pointing forwards, which helps with a smoother panning action. Also, consider starting a shot zoomed out a bit to find a bird and slowly zoom in while shooting. It's good fun and action for you as well as the bird. Clearly, cameras with more AF points, dynamic tracking modes and lenses with faster glass will make life easier and increase your success rate, but they are not essential. A key tip is just to keep taking shots. Don't hesitate or give up. That one great shot will make up for a few hundred blurry shots that can be easily deleted.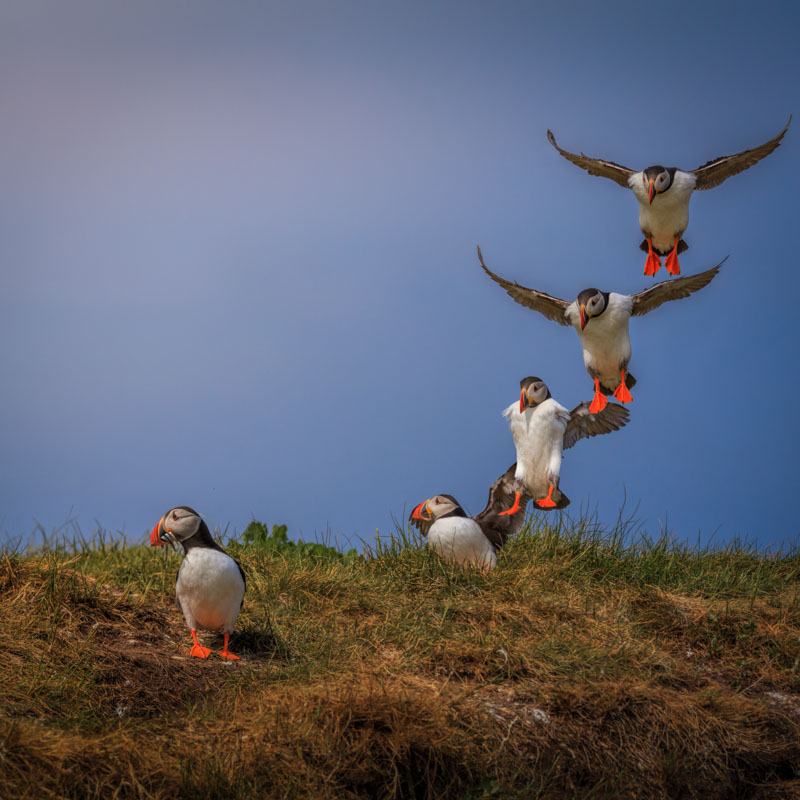 Canon 70D | Sigma 150-500 at 324 mm | f8 | ISO 400 | 1/2500 | Puffin landing on the Farne Islands, May 2017
There are many unique flight shots that can be had. You can capture puffins with a mouthful of sand eels or nesting material, and there are many wing shapes. I recommend spending some time on photographing their landings. If there is a breeze, the puffins will glide in, and their feathers will spread out beautifully. Try and face them head on when they land if you can. If you have quite a still summers day, then the puffins will land quite hard due to their short wings, which is fun to watch. You can assemble a unique action sequence in Photoshop if this appeals to you. The guillemots, razorbills, shags, and cormorants are also very beautiful in flight. You can also capture some of the other birds that frequent the waters, like this image of female Eider duck.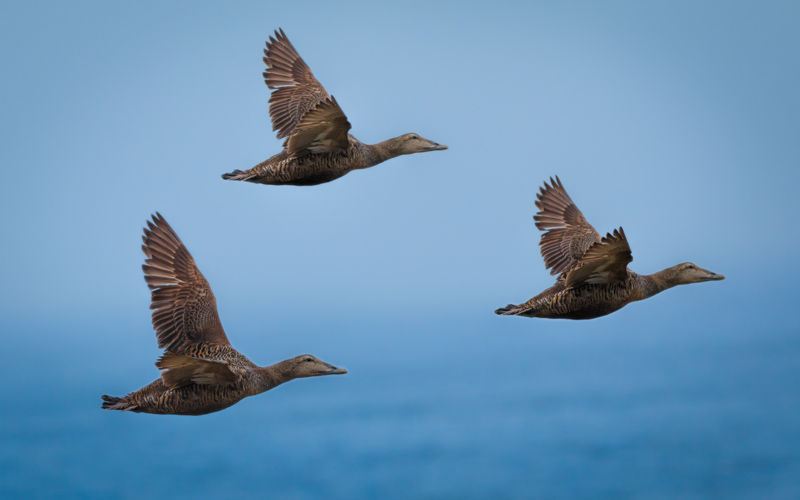 Canon 70D | Sigma 150-500 at 252 mm | f5.8 | ISO 400 | 1/4000 | Female Eider duck over the Farne Islands, May 2017
Photographing seabirds from the clifftops
You don't need your sea legs to photograph seabirds. There are many coastal locations with high cliffs that offer excellent homes for seabirds, including the puffin. Finding a location with a good vantage point that is safe is more challenging than traveling out to an island. One such location is St Abbs Head in the Scottish Borders. The head was formed from volcanic activity and has resulted in sheer cliffs and large sea stacks that are ideal for guillemots, kittiwakes, and razorbills in particular. Other locations may be home to gannets and large numbers of puffin. St Abbs Head is owned and managed by the National Trust for Scotland and offers excellent views down onto the seabird colonies.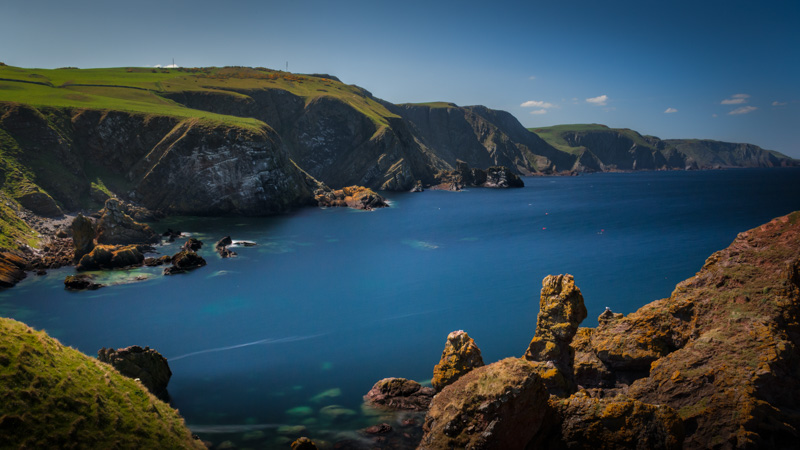 Canon 70D | 18 mm | f7.1 | ISO 400 | 30 secs | Coastline at St Abbs Head, May 2017
Canon 70D | 600 mm | f6.3 | ISO 800 | 1/500s | Guillemot colony at St Abbs Head, May 2017
You can explore St Abbs Head freely and you will discover a variety of seabird colonies on the cliffs or on stacks immediately offshore. If you do go to this location, I recommend walking north of the lighthouse to a headland where there are remains of a nunnery. There are splendid views down to a colony of tens of thousands of guillemots. There are also nearby cliffs where you can catch a glimpse of razorbills. Wherever you visit, take the time to carefully look for good lines of sight and a safe place to set down to take your images. Always take care of the cliff edge and unexpected wind gusts. I recommend going in the morning when most of the cliff faces are in sunlight.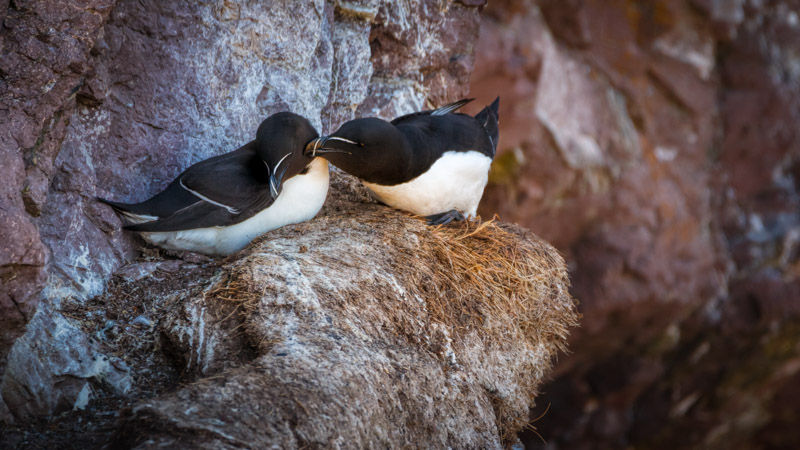 Canon 70D | 600 mm | f6.3 | ISO 400 | 1/500s | Razorbills at St Abbs Head, May 2017
Hopefully, this article has inspired you to get to the coast in the fine summer weather to see what is happening in your area. You can images of other seabirds on my website. The best times for seabirds in the UK is May to July. Most chicks will be visible in July then the birds will quickly go out to sea. However, you will have migrant birds in spring and autumn, so get some information from your local site. Always plan your trip. Think about how the weather conditions and tides might affect your day. Also, think about the angle of the sun and the strength and direction of the wind and how it may affect which directions the birds will fly in and whether you can get a nice shot from your vantage point. Hopefully, you will try and take images even if you are a relative beginner. While cameras with fast shutters and long lenses with fast glass are ideal, they are not essential for getting great shots. The most expensive kit primarily makes life easier and increases your success rate. One last tip, leave your tripod in the car – you won't use it. You probably won't be changing lenses either, so pack a rucksack with a nice drink, some warm clothes and a good bite to eat!
If you have been lucky enough to photograph puffins and their friends, do leave a comment below recommending where to visit in your area…
The following two tabs change content below.
Adam is a passionate landscape, nature and travel photographer based in Scotland. All of the images in this blog are the copyright of Adam West. Click on his name to see more of his work and get in touch.