Best Photography Classes & Workshops for Emerging Photographers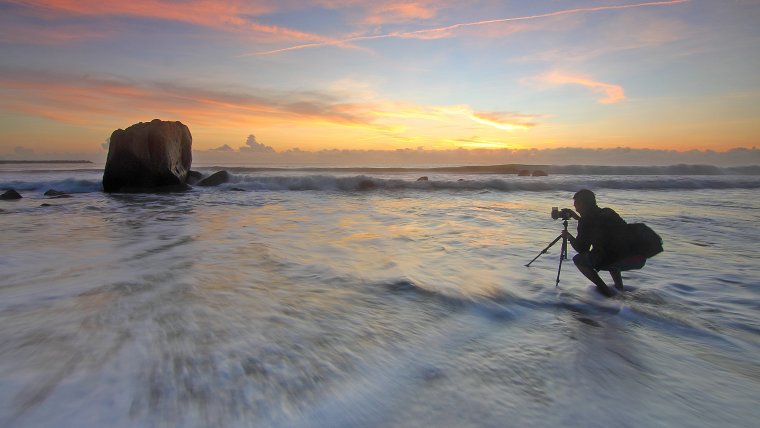 Best Photography Classes & Workshops for Emerging Photographers
www.sleeklens.com
People ask me why do I spend so much time watching video tutorials, seeking out new skills to learn or reading books, and the truth is there's no limit attainable knowledge these days. This is even more true when we consider the advantages that digital technology offers.
For those who haven't yet guessed what I would like to focus on in this post, let's put ourselves into this mindset: you can never really reach perfection, as there is always something new to learn. Either a tip, revisiting a technique you once practiced or further developing your post production skills, photography is a constant evolution, a way of seeing life through the lens; therefore, you need to give this passion time to develop and be in a constant pursuit of what might be coming next.
Within this guide I would like to take a look at several courses that I came across and have helped me to develop a further understanding of what photography is all about, making me consider new realities, while at the same time learning valuable knowledge with applications in multiple fields – valid for a lifetime! Let's get started.
Photography for Beginners Courses
Ah, the baby steps towards this fascinating world of digital photography! And the truth is, there's so much to learn that we can sometimes become overwhelmed or anxious about reaching the desired level. Well, being a professional photographer isn't something which can be achieved overnight. Therefore, we should be careful when picking our very first lectures on this topic, furthering our interest regarding photography and all that's linked to it.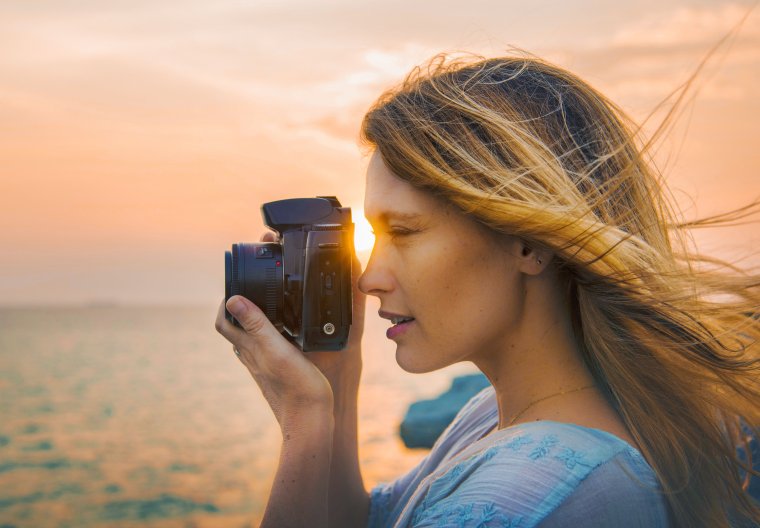 Delighted to present to you all our first introductory course in Digital Photography, in this course we'll review some essential aspects that explain the logic behind this art.
From the technical aspects that define a camera's behaviour like Aperture, Shutter Speed, how to control Exposure; to advanced settings for studying Focus Points, or even broadening our knowledge with real-case scenarios in which you will see how professionals handle the job, this course is specially tailored to meet your needs.
Over 8 hours of videos + extra content. Are you planning to miss it?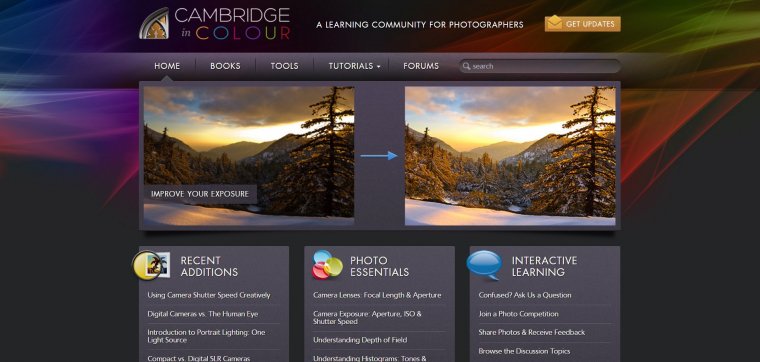 This is one of the very first sites that I used to introduce myself to the world of photography.There are plenty resources for learning at your own pace all that makes photography such a complex topic.
It was founded back in 2005 by professional photographer Sean McHugh; its main activity lies in the forum hosted by the site, as full-guide articles aren't updated as frequently as we would wish – yet, those guides prove to be lifelong resources as they cover all technical aspects of the photography process.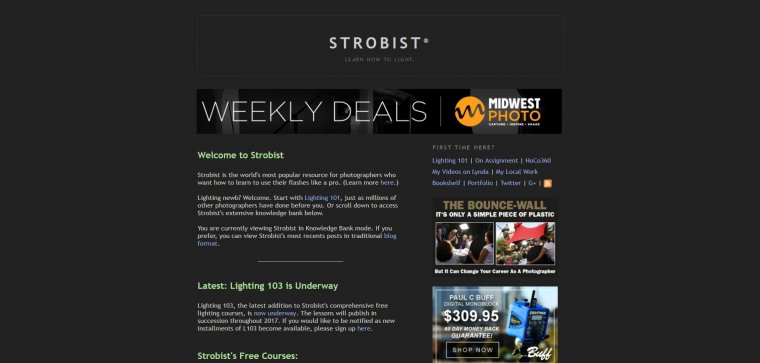 For many of us, a reference for learning how lighting is considered a subject of its own within professional photography, and the Lighting 101 series is worth every applause possible. Aside from providing us suggestions for gear or instructing us in techniques, author David Hobby also hosts a series of video tutorials via Lynda on several topics such as travel photography (with a broad range of locations to explore) and lighting: you can check them up at this link here.
#4 – Beginner Nikon Digital SLR (DSLR) Photography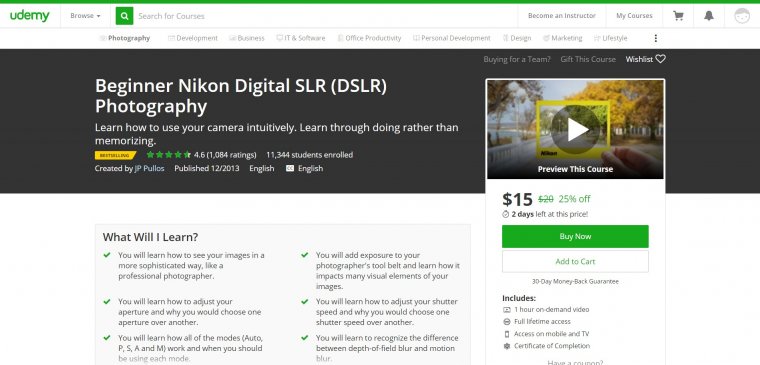 As a Nikon fan, undoubtedly I had to include this course as it proved to be one of the biggest references for learning how does a Nikon DSLR camera work, and how to work under manual mode with DSLR cameras overall – quite helpful considering that prior to this point I used to be an Auto-Mode photographer using a Bridge Camera.
Through some really quick lectures – the longest being 25:52 on Mode Dials and when to use each of them for your work, you will learn the ins and outs of taking the most of your Nikon Camera and how to set your path through professional work.
Also, the exercises included in this course, on Aperture and Shutter Speed are compelling enough to get you engaged in exploring new challenges.
Okay, really expensive course, especially for a beginner – but let me tell you is worth every cent spent on it!
You can choose to download the video files provided for this course, or directly get a DVD with all the lectures (I'd recommend the first choice as you can keep several copies of this course for a lifetime and not expose your single DVD copy to scratches, damaging the data for further use).
Crafted by National Geographic Photographer Joel Sartore, this course is the first part of two series of video courses designed to take you from beginner to advanced user, first by learning the necessary parameters, equipment to acquire, then techniques, fast workflows, to finally unleashing the camera's potential with the help of your creative flair.
Each lecture takes 31 minutes, and 24 lectures make this collection a complete success. Covering common-day topics like Family Vacations, Macro Photography, Wildlife and so on, a course worth the investment.
You can take a look at the second part of these series right here: TTC Fundamentals of Photography Part II.
#6 – Ditch Auto – Start Shooting in Manual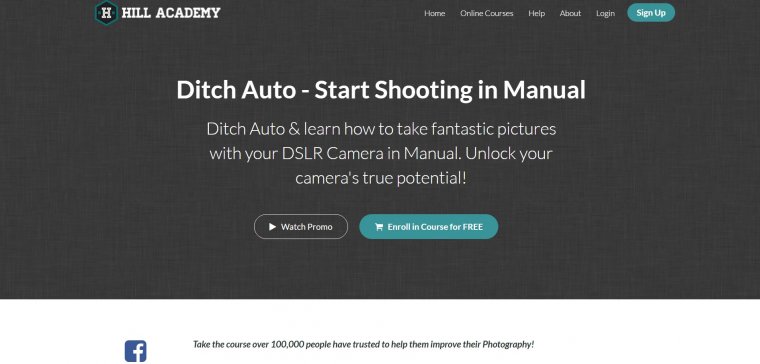 Hill Academy is another platform that works much in the fashion as edX, Lynda, Coursera, and so on. Despite having a limited amount of courses to date, the pace is quickening, and we can find some fascinating classes among photography and post production.
In this case, author Jerad Hill kept in mind the needs of those newcomers who happen to be scared of trying new challenges or dealing with Manual mode. A free (yes, entirely free) course of 4 hours in total you will catch a detailed understanding of how to work along the lines of different requirements for your job. Jerad's experience as a wedding photographer will gear this course mostly towards portraits, but yet is worth the time invested!
Art and Inspiration for Photographers
Because photography isn't just about learning techniques or how gear works, it's imperative to instruct ourselves among other disciplines such as arts, since there's plenty of material from which we can learn from. Starting from the History of Photography, Photography as a topic in Visual Arts, and the core of Photojournalism, there's plenty for us to learn.
#1 – Documentary Photography and Photojournalism: Still Images of a World in Motion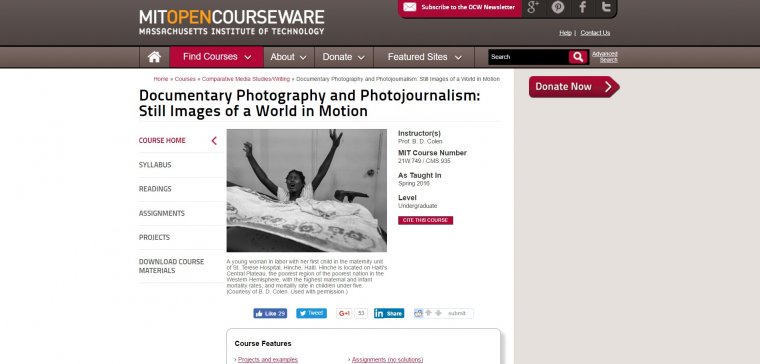 A fine course by B.D Colen, photographer, and writer with more than 27 years of experience working for The Washington post, along with other successful milestones reached throughout his career, the aim of this course is to teach you the process on how to become a photojournalist.
B.D. Colen shares his experience and insights at reduced groups of 18 students maximum, providing enough room for criticism of the work performed by the students of this course. Basic to advanced knowledge of Adobe Photoshop and Lightroom is required, as well as knowing how to work with a DSLR camera. Projects covered by this course range from framing moments at restaurants, courtyard and capturing the essence of a worker's common day routine.
#2 – The Art of Photography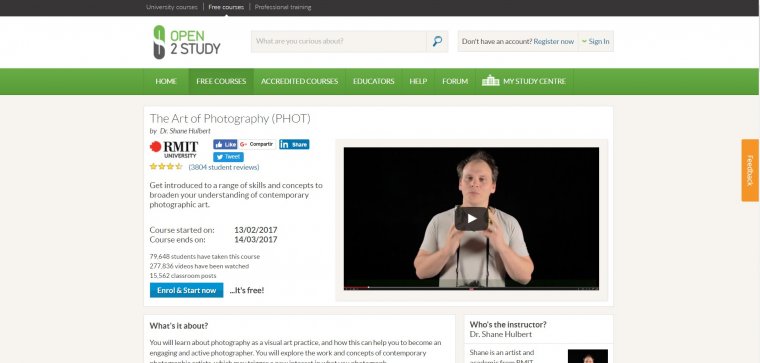 This course focuses on seeing photography as another form of Visual Arts, therefore engaging us to explore our creativity alongside with concepts of the work from contemporary photographers.
By enrolling this course, you will get a very clear idea of the fundamental elements of contemporary photography and photojournalism, helping us to reach more message telling compositions.
Also, it offers tutorials on key aspects of photography such as settings for Aperture or Shutter Priority Mode, post production techniques and helping hints for developing your own vision on what kind of photographer you aim to become.
The average length of this course is 4 hours, but it will require some extra time for studying in detail the concepts explained.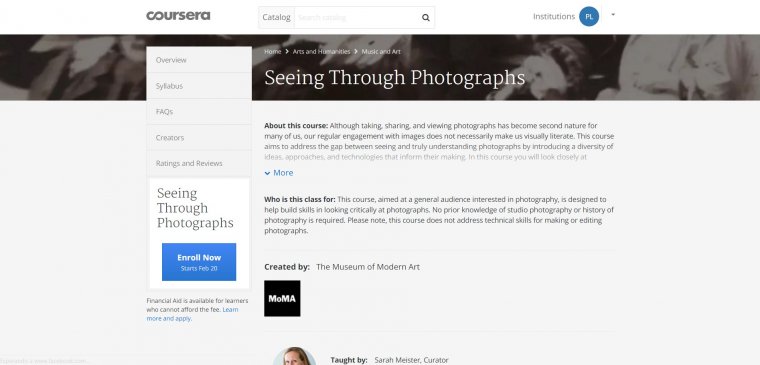 This course taught by Sarah Meister and hosted by MoMA will help us to develop a photographic vision, establishing a clear difference between photographs and photographic images. From the context where we plan our session, diffusion of those images and potential reception of the content by viewers.
An interesting choice worth the investment for building critical examination skills in this field, not even requiring previous knowledge of either techniques or history of photography. You can get an official certification after taking this course.
I would like to put emphasis on "series" as there's no specific tutorial above others worth taking. Each one of these video tutorials will give us further knowledge over specific topics like Flower Photography, developing your vision, thinking outside the box, Fine Art vs Fashion Photography, Fine Art Portraits and so on.
With a broad range of instructors offering their insights for reaching a better understanding of potential branches of this art, undoubtedly a selection of lessons worth watching.
#5 – Bachelor of Fine Arts (BFA) Degree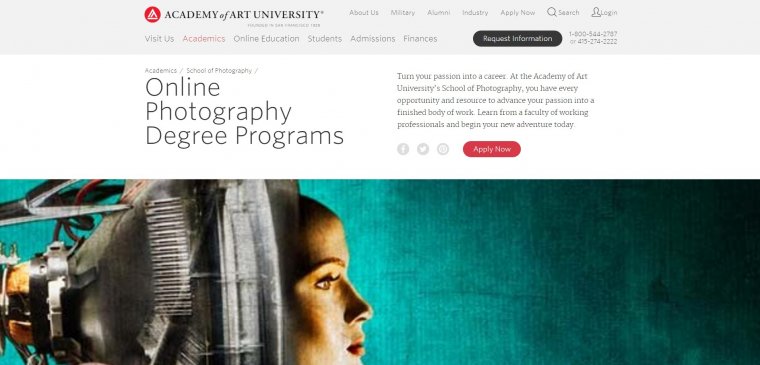 Much like what we can expect at a university facility, this Bachelor of Fine Arts Degree, despite being instructed in online mode, will give us a solid foundation in those critical skills that are needed for becoming a better art professional.
Emphasis is made in concept and approach to scenarios, seeking to teach students how to get the most of the common scenarios in daily life as well as high skilled challenges as fine art or commercial photography.
#6 – BA (Hons) Photography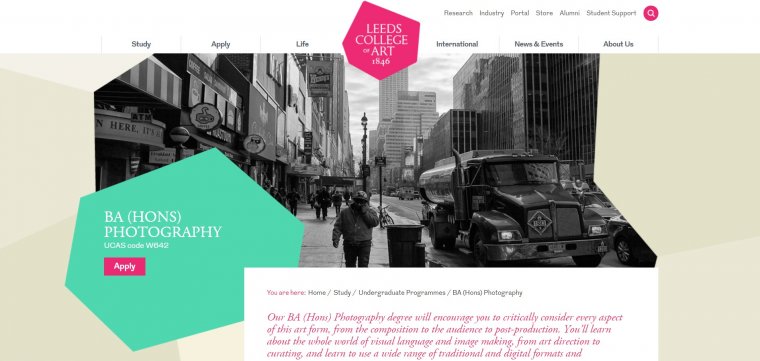 Instructed by Leeds College of Art, this course covers from composition to post-production from a very clear visual language approach in the image making process.
Aside from the essential aspects as technical skills or photography vision lectures, there's one really important component in this course and is the fact that it includes a module on business skills – covering copyright and licensing regulations. There's an implicit collaboration project crafted by this university where students will benefit their formation by sharing exercises and projects with students from other courses like Creative Advertising, Fashion or Graphic Design.
Being an undergraduate program taught at a physical institution, you don't need to worry about not having your own gear since Leeds College can lend students camera bodies, lenses, lighting gear, tripods and all other necessary hardware for covering the topics instructed at this course. Students will have access to either 35mm, medium or large-format cameras, as well as video recording means.
Most common Photography Topics
Besides covering the essential techniques or developing your vision as a professional, photography is also about focusing on one or several topics that have different requirements and challenges to face. In this section, I would like to cover the tutorials I consider to be some of the highest level resources for photographers that decide to ditch common point-and-shoot approach and focus on a specific topic for a lifetime.
# 1 – Seascape Photography Series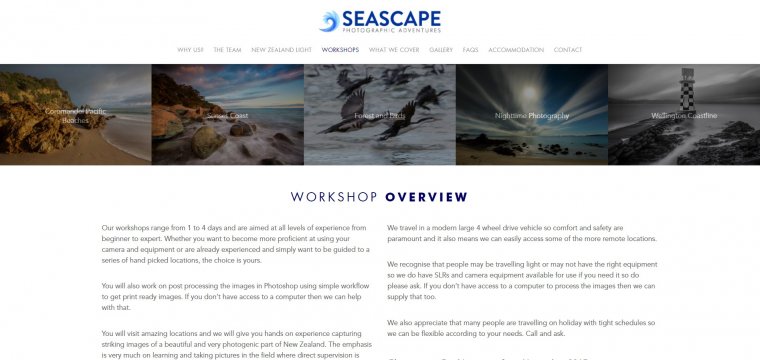 Taking a maximum length of 4 days, these workshops are crafted for taking our experience from beginner to expert level; yet, they can be taken by experts for improving their skills.
This New Zealand based studio has plenty experience on covering some of the most beautiful seascape scenarios we can come across through the net. Therefore these courses will provide us with the needed tools for accomplishing this challenge from technique to gear, plus instruction on post production workflow with Adobe Photoshop.
Courses have limited seating, taking a maximum of four students per group as a way to give an entirely focused course in regards to your needs and for troubleshooting student's issues as fast as possible.
It's required to head over their studio, but they also provide accommodation arrangements as well as necessary gear for the course – from cameras to laptops for post-production – in case you want to travel lightly.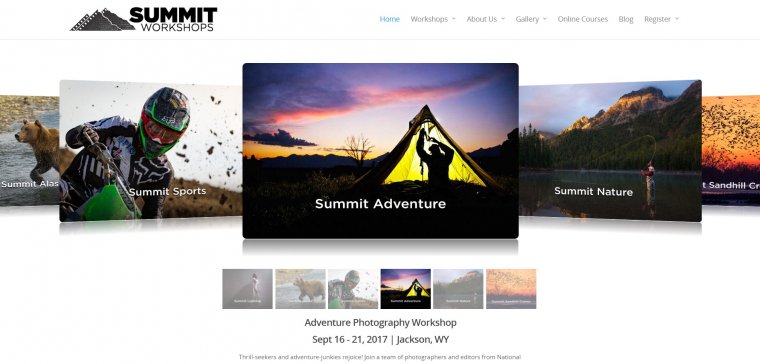 A fantastic resource for those who seek the best quality content for the price paid. Incredibly intense courses that require users to travel to Denver, Colorado, with some scary fees for the tuitions; but let me tell you that it's a lifetime experience.
Some of their most amazing courses are the Summit Sports (unique course detailing every aspect of how to become a professional sports photographer), Lighting or some of their "experiences", being the Alaska one a life changer.
Summit Photography Workshops is ranked among the very best educational resources worldwide, sponsored by brands like Nikon, Manfrotto, SanDisk, etc. You can take all the benefits of the experience of more than 15 expert photographers and 30+ years of expertise in the photography education field, either by attending their live courses or enrolling to their online classrooms.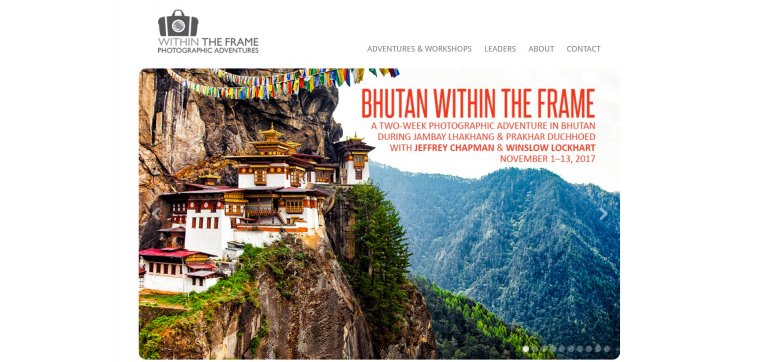 For those whose adventure happen to be their middle name, here comes a fine selection of courses covering some of the most exotic destinations like Bhutan, Ethiopia, Morocco, Venice or Vietnam for developing your skills as a respected travel photographer.
Within The Frame is a venue founded by and for photographers, with all the adventures offered tailored to the needs of photography enthusiasts, so we can safely rely on their experience to teach us the way to travel photography success.
All workshops are taught by recognized experts in their fields, who are anxious to share their passion with photography students, regardless if they happen to be beginners or experts.
Aside from the shooting sessions, image discussion groups are held to provide a further insight on what's needed to become a professional and respected travel photographer; plus also counting on individual assistance from team leaders into topics like techniques or post production workflow with Adobe Lightroom.
Seeking to present the best cultural immersion of your life, these courses will take us to a single location for a week, concentrating on experiencing all the aspects of what population experience on their daily routines. You can tailor this experience to your liking by joining a group or seeking a private course for your family or friends.
#4 – American Nature Photography Workshops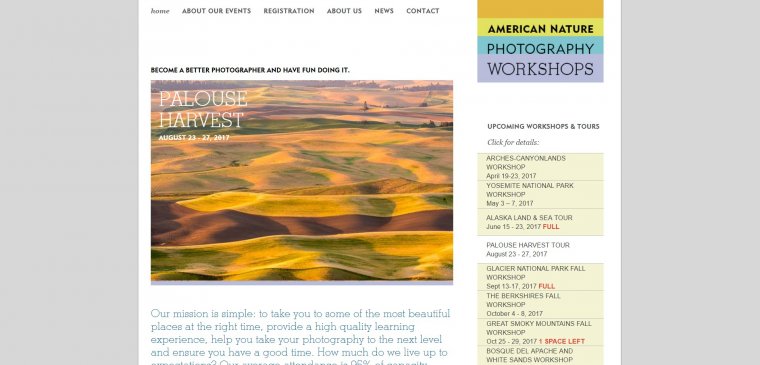 Instructed by Tom Bol and George Theodore, this company focuses on creating workshops and tours to some of the most exquisite locations in America and get us in touch with nature itself.
Students can learn from experts on nature photography as Tom, named one of America's top visionaries by National Geographic Adventure magazine, and contributing author to Outdoor Photographer Magazine; as well as from George, whose training and life-long hobby experience in photography (member of North American Nature Photography Association, Photographic Society of America, Professional Photographer's Association and ASMP) now turned into full-time profession can make the difference between what capturing the perfect nature scenario requires.
There are two modes for approaching this tuition experience: workshops and tours. All tours begin on Wednesdays at evening, ending by Sunday morning, limited to 14 participants – including the two instructors. Travel & Lodging fees are not included.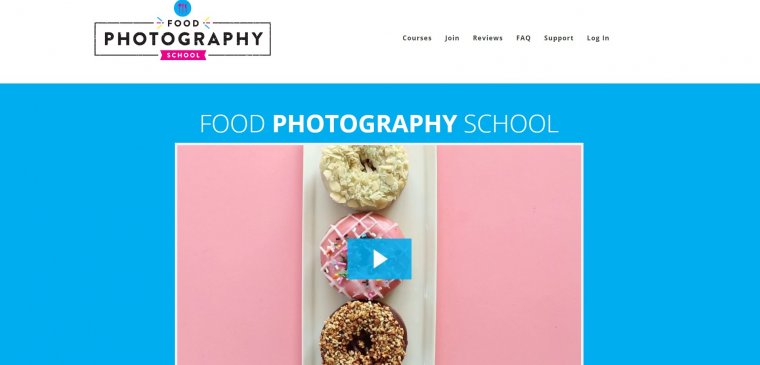 More than 130 video lessons on food photography covering topics from styling to composition and post production techniques, this course is an entire visual aid to craft our path towards food photography success!
We can get knowledge on basic techniques to use for capturing the studio shots or outdoor images of food photography scenarios, equipment to be used, key lighting techniques for this topic, and also how to work with artificial lighting.
From discovering how to make a dish seductive enough to look appealing for viewers to capturing action shots of beverages, this course will prove to be one of your greatest investments in your own career. Also, lessons on how to share your content through social media are included as part of boosting your food photography business performance.
#6 – Pet Photography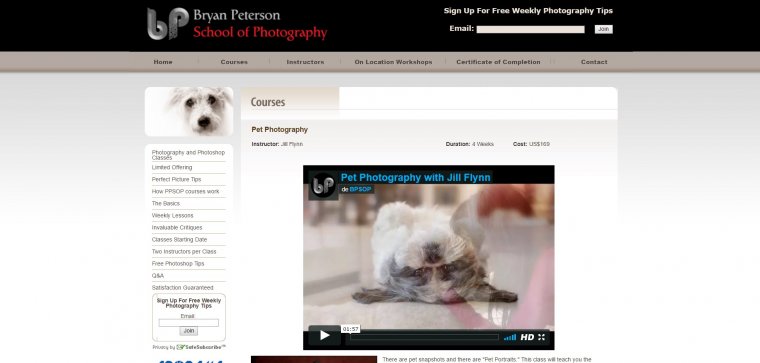 From the website Bryan Peterson School of Photography, this course taught by instructor Jill Flynn covers all the aspects of capturing unique moments with our furry family members.
In a 4-week course, Jill assures us that we will be capable of understanding the emotions behind the process of creating a pet portrait, putting our efforts in showing the pet's personality but also acknowledging the animal's behavior and giving a stress-free environment for performing the session.
There's plenty to talk about on how she prepares us for connecting and communicating with the animals we need to portray; but also on equipment choices, lighting, posing and finding your own style on a topic that is often neglected or viewed as nothing more than a hobby.
With further instructions on how to craft your own pet photography business or to cover post-production techniques, this is a course worth the investment for animal lovers!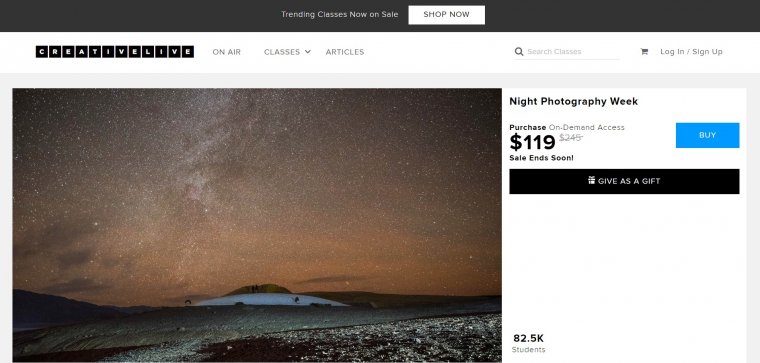 5 Lessons by 5 experts who will teach you to master Night Photography with ease in just one week. You will first engage in learning the fundamentals of night photography, from gear needed to techniques, to then move on topics like Astro Photography, Light Painting, Night Portraits and more.
If all these wasn't good enough for you, you also get instruction on how to critique night photographs and a professional feedback on the work you submit to the forum.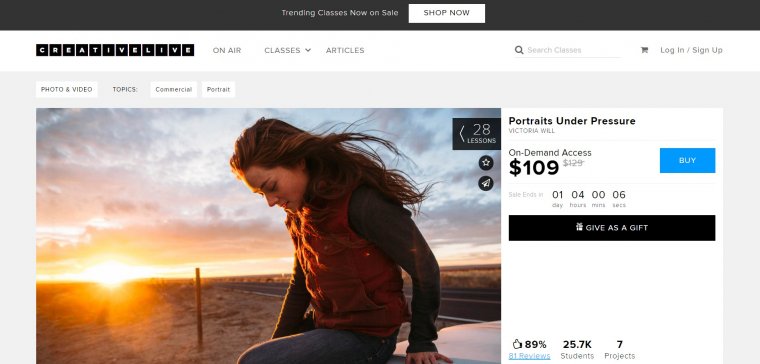 Victoria Will puts her experience and expertise as a photographer of some of the most prestigious New York magazines in teaching us how to create perfect portraits to impress our clients.
Through this course, you will learn how to develop your communication skills to reach a better understanding of your customers, lighting and gear techniques for taking the most out of your work, plus also how to use your environment to capture lifetime moments that reflects the personality of the person in such portrait.
Another plus is the module with successful strategies for starting your photography business, with some cool tips on how to present work to magazine editors and cope with pressure levels.
Some extra resources
After covering such a variated range of workshops and courses worldwide to take, there's also another valid approach if we don't feel ready to commit to a long-term project or if our agenda doesn't exactly allow us to enroll at a photography academy: online tutorials at blogs or websites.
And yes, at Sleeklens we know a thing or two on this behalf, but before showing our way through the contents published in the blog, we would like to invite you to explore this options by fine photographers and curators of several topics of our interest.
Petapixel: One of the most successful photography blogs online and, since 2009, an authority site ideal for those who seek to learn absolutely everything from the very basic adjustments of a photograph to in-depth guides, PetaPixel is your place to go.
Phlearn: Once a french-only resource, Phlearn has discovered its path to becoming a valuable resource for photographers worldwide, offering unique and detailed courses, in particular, their "Retouching 101-301" series.
KelbyOne: Another place to visit with plenty video tutorials; this site hosted by professional photographer Scott Kelby will give us the answer to many questions photographers tend to ask themselves. Just choose your topic and start watching top class courses!
LearnFoodPhotography: An interesting site with plenty tips & tricks on Food Photography, plus a sign up free course via mail on getting the most of your dishes, a place worth visiting no doubt.
LearnPetPhotography: A must-see site for those pet lovers who desire to improve their performance. Photographer Charlotte Reeves share her secrets with us in the blog hosted by this site, plus also offering a mentoring system for those who desire some extra tuition.
DPSchool: Another authority site with plenty tutorials to explore, plus some books engaging on a wide selection of topics. A resource worth checking for our formation as professional photographers.
Sleeklens Blog: Last but not least, you can find a vast amount of tutorials to help your journey in today's world as a photographer at our blog section. Our writers are eager to share their knowledge with you, but if you have any further question you are always welcome to contact us via mail and we will promptly answer your inquiries.
Sincerely hoping this guide proves to be a good resource for your first steps in this breathtaking activity or for furthering your knowledge of certain aspects, I wish you good luck and see you next time!
The following two tabs change content below.
Pia Lopez is a self-taught photographer, graphic designer and ArchViz artist. As Content Director of Sleeklens.com, her work is driven by her two biggest passions: technology and art.