Sony Xperia XZ2, XZ2 Compact & XZ2 Premium Reviews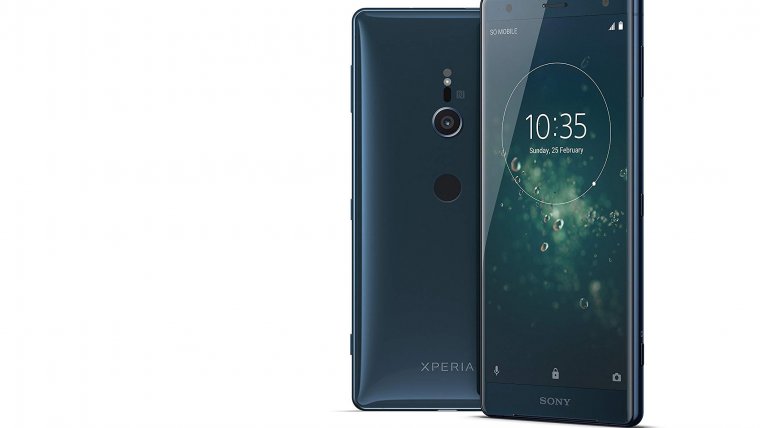 Sony Xperia XZ2, XZ2 Compact & XZ2 Premium Reviews
www.sleeklens.com
Hello everyone! Today we're truly excited to review the latest by Sony in regards to smartphones: the Sony Xperia XZ2, Sony Xperia XZ2 Compact, and Sony Xperia XZ2 Premium. Unlike the battle between Apple vs Samsung, Sony decided to take a shift in their approach to the smartphone market, offering one of the most reliable Android-based devices available in the market. Let's explore what makes these smartphones to shine!
Overall Specs
The most noticeable feature this smartphone has is the capability of recording 4K HDR videos, becoming the world's first smartphone to be able to do so. Though we can enjoy these incredible footages either in monitors/TVs with 4K HDR resolution or the phone itself, in general, it won't make a difference for users across social media as there aren't other smartphones capable of streaming the content on its full quality yet.
Dynamic Vibration System (DVS) is introduced in this model as well, reminding users of the DualShock controllers from the PS4. This is a feature most gamers are thankful for, but for other apps, it just feels plain odd. When watching videos, the DVS makes vibrations only for off-screen sound effects instead of situations that would demand it for like collisions or battles, and for music playback, the phone will start vibrating according to the beat.
Though you can control these vibration levels with 'mild', 'normal' and 'powerful' setups, in general, it doesn't pay the battery drain it does to the unit – at least it won't in long-term.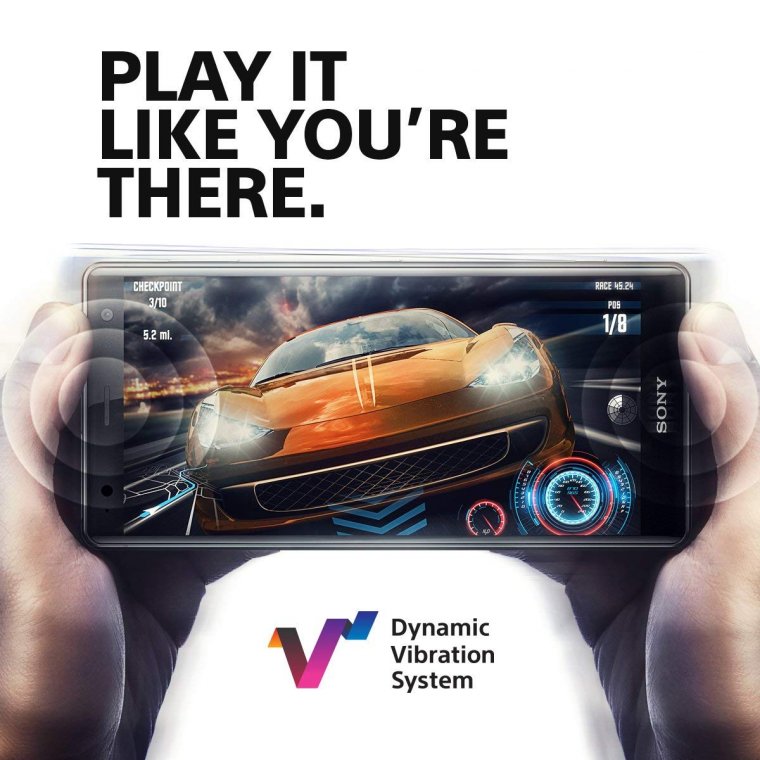 That being said, no doubt it's an interesting feature for those passionate for gaming with their smartphones, as experience will become undoubtedly more accurate to what you can feel when playing console games.
The other aspect in which this smartphone does shine is their Full HD slow-motion video recording, with 960fps frame rate, something that though being first introduced in 2017, Samsung decided to game on this competition with their 720p super-slow motion in their Samsung Galaxy S9 and S9 Plus. Sony leads the market on this behalf for absolutely stunning super slow-motion videos, and the quality of its camera works best for natural daylight setups.
Design
In comparison with its predecessor, the Sony Xperia XZ1, the XZ2 has a significant upgrade in both size and overall look. With a more curved rear and curved edges, the smartphone sits more naturally in our palm, whereas the camera, flash, and sensors have been moved to a vertical column on the back – following the trend that brands like Sony and LG.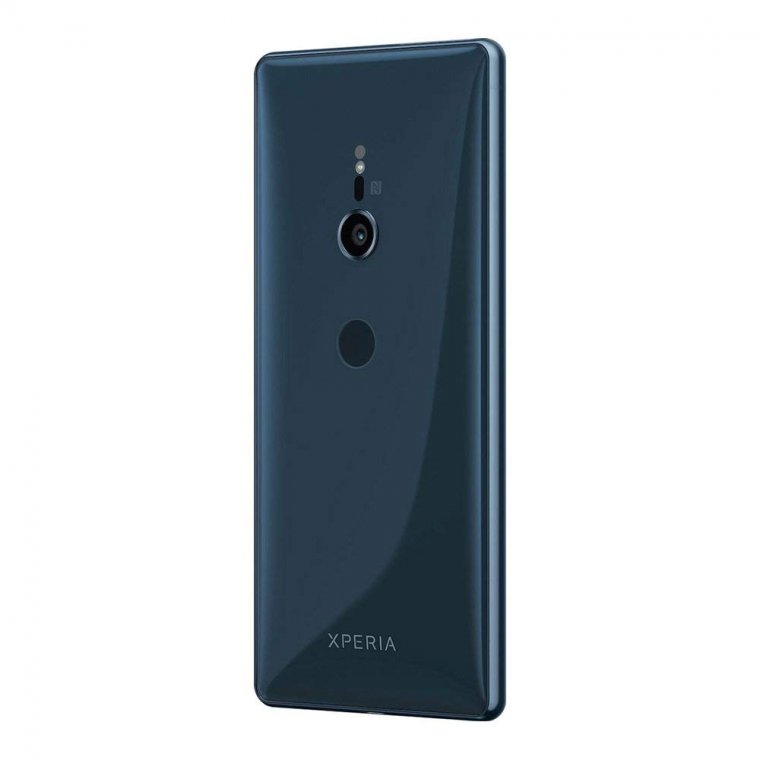 The rear is made from a high-quality glass, making it look absolutely stunning, but has two major downsides: becoming a fingerprint magnet and, as expected, being fragile when it comes to accidents. Now, we cannot expect other materials finish these days with the hype of NFC technology and wireless charging, and both Samsung and Apple have targeted their flagship handsets to meet this standard, but in general for the user this requires to pair a protective case to prevent the impacts from accidents, losing the premium-quality feeling of the metal frame running around the device. And, do keep in mind, it can be somewhat slippery if not being paired with a protective case.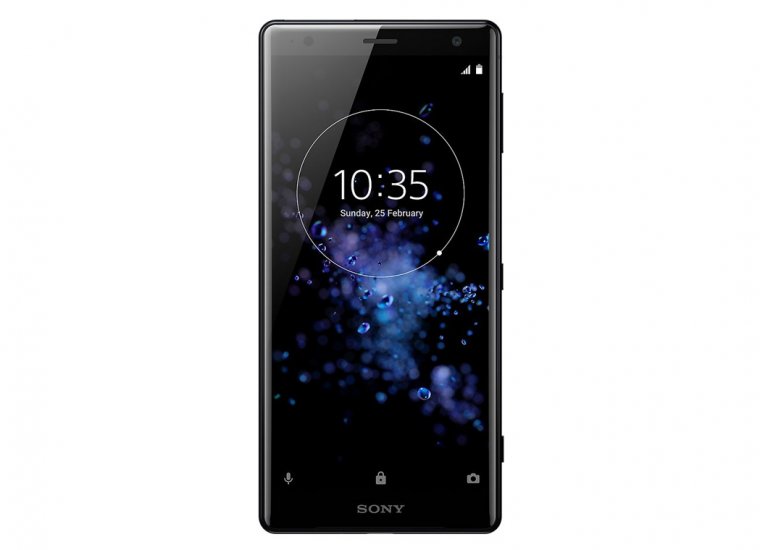 Bezels were also reduced in the front of this device, now sporting a cleaner look for a high-end smartphone. In size terms, with its 153x72x11.1mm the Xperia XZ2 still comes as bigger than the Samsung Galaxy S9 and the iPhone X for featuring a 5.7-inch display, whereas these other two phones have settled for the 5.8-inch one. It is also heavier than the aforementioned rivals, weighing 198g. You can get the Sony Xperia XZ2 in the following colors: Liquid Black, Liquid Silver, Deep Green, and Ash Pink.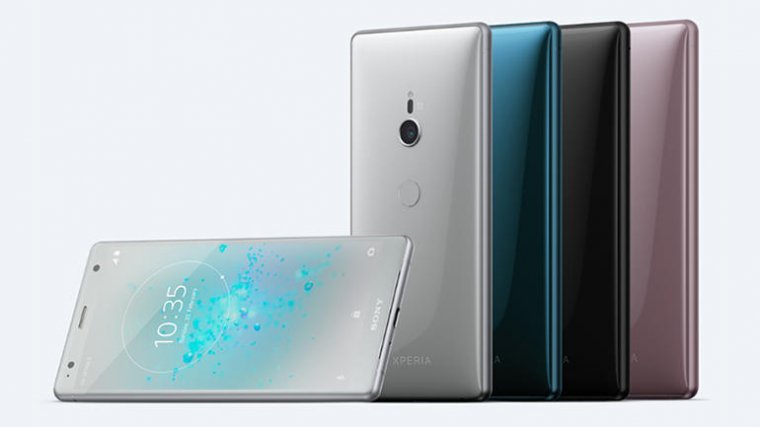 The fingerprint scanner, though placed correctly following the vertical line set up by the camera and flash for this unit still feels somewhat low on its placement. We would have hoped it to be closer to the camera as it leads to a more natural motion when using it. However, the introduction of biometrics for this scanner is a blessing, something that was a long to-do for the Japanese giant brand. Perhaps it would help the feeling for the user to make it more noticeable to not mistake it for the camera lens – and avoid fingerprint smudging due that, but that's something that users with protective cases don't have to worry about as there's a special care in most producers to make a noticeable difference between the two features on the back.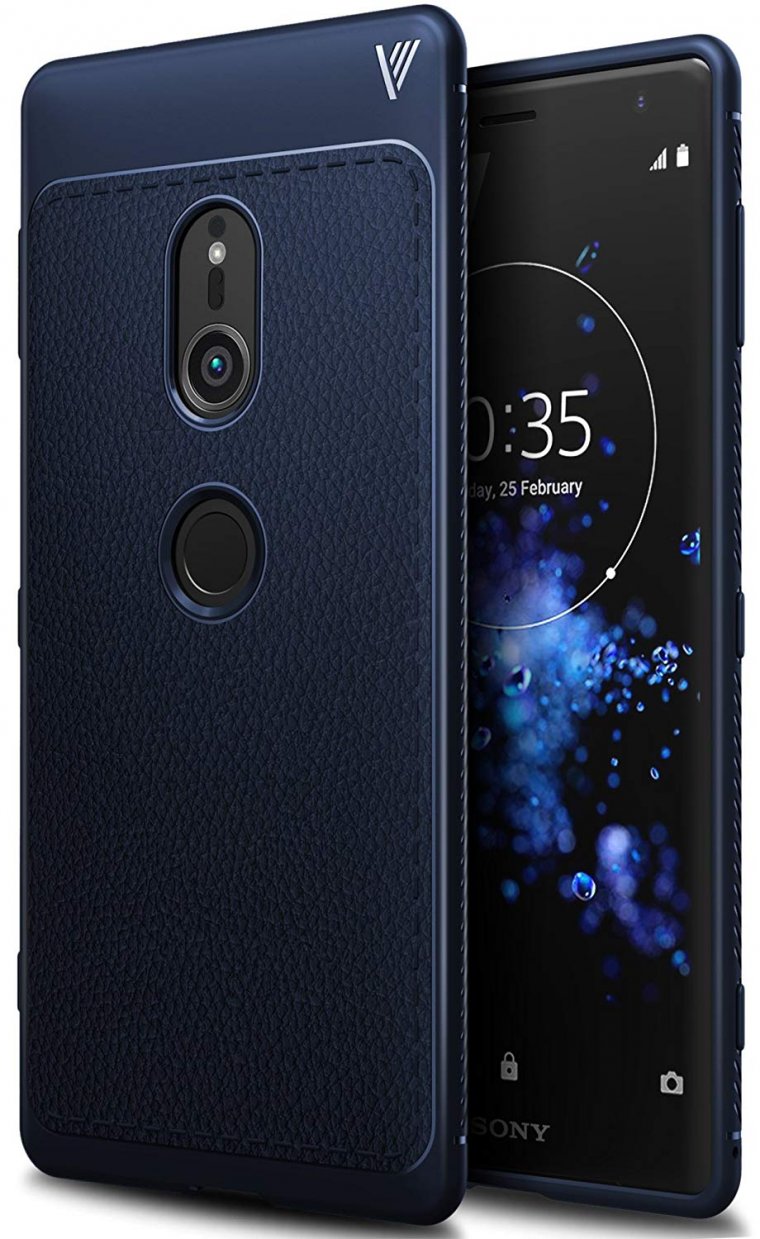 And personally, I love this whole navy look for such a stylish smartphone!
As usual, the power/lock key is located on the right side of this device, with the volume controls on top of it and a dedicated camera key below – ideal for us photographers. SIM card tray can be found on top of this unit and, with the removal of the headphone jack, we are welcomed by a USB-C port on the bottom.
Yes, Sony joins the trend of ditching the headphone jack to favor digital audio, but they do keep in mind their music-lover users with older generation headsets to include an USB-C-to-3.5mm adapter in the box.
Thankfully this premium device does come with an IP65/68 rating, ensuring both dust-proof and water-resistant capabilities, meaning that you can ensure the safety of your device under rain or tiny accidents, but it's not waterproof, it won't hold seawater exposure or chlorinated water (swimming pools), neither the spilling of liquids as soda drinks. If you want to take this cool phone for some underwater experience, a waterproof case is mandatory.
Display
For a smartphone that has much to offer to the user, the display can be somewhat disappointing. Sticking with a 5.7-inch FullHD+ LCD display, Sony does not have enough power to catch up with competitors boasting QHD displays with AMOLED technology. That being said, the adoption of the 18:9 is more than welcome, giving a pleasurable experience when using the phone in landscape orientation for video streaming, and more vertical area for placing apps. The color pump given by the HDR capable screen would have been incredible if paired with an OLED QHD screen!
The HDR capable screen unlocks content on service providers as Amazon Prime Video, YouTube, Netflix, etc. A great deal to use your phone as one media streamer for your video subscription services. But in fact, where it shines, is for both gaming and photography/video recording.
Its top resolution is 2160×1080, able to bring sharp images at 424ppi. We can also say it's a very bright device with a luminance value of 535cd/m2.
Autonomy
The Sony Xperia XZ2 includes a 3180mAh battery, absolutely great that can warrantee a whole day of heavy usage with just a single charge. On this regard, Sony does position themselves way better than Samsung (with a 3000mAh for their flagship Samsung Galaxy S9) and Apple (with a 2716mAh for their flagship iPhone X), and it's 100% worth mentioning given the fact how quickly do batteries wear out given heavy usage with apps and video recording.
That being said, the battery is able to hold video streaming sessions with ease, Spotify streaming services, social media apps, emails and phone calls + camera usage without much trouble. We haven't tested in detail battery-draining apps like Waze to give you a full report on that behalf, but our estimations are that this smartphone is well-suited for the power user on the move.
However, if your intention is to use your phone mainly as a video recording device we advise you to pack a power bank with you or a spare charger; the 4K HDR video recording or HDR movie playback is the worse battery drainers for this unit.
This smartphone also supports wireless charging via a charging pad that's sold separately. For those interested in this gadget, the charging area is located a tiny tad below the center on the rear side of the smartphone, so you need to place it a bit off-centered for the wireless charging pad to recognize the device.
Power saving modes are also introduced to the handset to last longer. The standard is the Stamina mode, automatically triggered when the battery hits below 15% – you can set it manually if you prefer. What this mode does is reducing background app activity, reduces screen brightness and limits wireless connections to preserve the remaining battery life. The other power-saving mode is labeled as Ultra Stamina Mode, which renders the unit to only use basic features: calls, messaging, web browsing and notes; the color scheme is displayed in black and white, so the battery usage is heavily reduced. Users can find this mode ideal when the battery drops below 10% and you are still on your way home.
Camera
Here's the biggest highlight for this unit. The Sony Xperia XZ2 is paired with the new 19MP Motion Eye camera, granted for top-notch quality photos and 4K video recording. This new camera boasts a Sony G Lenses, the Exmor RS sensor (mobile version of it), and the usual Bionz image processor that Sony cameras pair, but in the mobile version as well. That combo came as a surprise as, though the milestone for leading the market in what smartphone photography respects is truly a well-high cliff, Sony decided to take the bet higher and bring in their expertise in their professional photography division to this smartphone.
Predictive capture and autofocus burst are also available in this unit, an inheritance from the Xperia XZ1, which improves the low-light shooting conditions and helps with targets on the move – ideal both for candid photos and action photography.
Like we mentioned before, the 4K HDR video and Full HD super slow-motion (960fps) are among the biggest pros of this smartphone. The interface for setting the video recording quality has significantly improved from the previous devices, now with a slider in video mode to set the resolution (by default is settled for Full HD). Super Slow-Motion has not support for 120p and 240p continuous recording.
One thing worth mentioning is the warning that this unit does show when accessing the 4K video mode for the first time, which we will copy below:
"Note
If the device temperature rises, the app may close during use.
Your recording will be saved automatically"
Whereas is good to count with such warning prior ranting for odd behavior, in general, we didn't experience any of these downsides during our recording experiences in Denmark summer. Yes, it may be an issue for a warmer place, and the reason is that Sony has featured a security measure to avoid processor overheating, so we would expect that future updates can lessen the overheating issues for such a quality phone. In case you are wondering what can happen when the device starts to overheat when recording, you may experience issues in keeping the same framerate, or a non-desired lag in the controls shown in the display. Once again, it didn't happen to us.
Unfortunately, the display isn't capable of showing the true beauty of these videos recorded while doing a playback. The reason obviously lies on the lack of a 4K display for this phone, but with the HDR capable screen, it does look great for a handset streaming.
Still-Camera Performance
Moving on to photography itself, by default we work with an intelligent auto mode, something inherited from the compact camera series which photography amateurs will love.
The rear camera is truly amazing. With a sharp lens (25mm wide G Lens F2.0) and a 1/2.3" Exmor RS mobile sensor it is able to render a high level of detail and colour in daylight and artificial light conditions, but do not be fooled as its low light performance is undoubtedly clear and less noisy than previously seen on Sony phones.
There's a tiny lag between shooting and saving the image – about half a second – that can be a bit frustrating until you get used to it. Can it be something inherited from the compact cameras? We don't know for sure.
Do keep in mind that this smartphone works with a single lens, something surprising given the trend of dual camera setups to quickly switch from Wide to Telephoto mode. Yes, it's a huge downside if you already tested handsets with this unique camera setup; if not, then you won't find this camera that limitation. Sony has fixed this issue though with the release of the Xperia XZ2 Premium, which we will discuss later on in this article.
The native aspect ratio for the camera app is 16:9, which renders a 17MP image as a result. That can be changed to unleash the camera full performance at 19MP photos with a 4:3 aspect ratio.
We are truly impressed by its x8 digital zoom, which brings in detail without adding noise in turn (something quite frequent in smartphone photography as lenses do not work with optical zoom). Natural-looking colors are also warranted with this camera, either in normal mode or zooming in.
The front camera is disappointing though. 5MP selfies aren't enough for a trend that came to stay with us. We would have expected at least an 8MP camera for this unit, paired with extra features as exclusive portrait modes, or an improvement on the front camera lens that can manage the difference between foreground and background with much expertise.
Working in Low-Light Conditions
Noise reduction is handled with care, something that does tell us the experience Sony has when it comes to photography, and though we can appreciate noise at high ISOs values, there's a huge improvement from the XZ1 unit. The f/2 main aperture for this camera won't work as precise for low light conditions as f/1.5 lenses used in smartphones like the Samsung Galaxy S9, so do take that under consideration when planning your outdoor photography sessions as nature details as vegetation won't look sharp as tack as what we can get used in daylight conditions.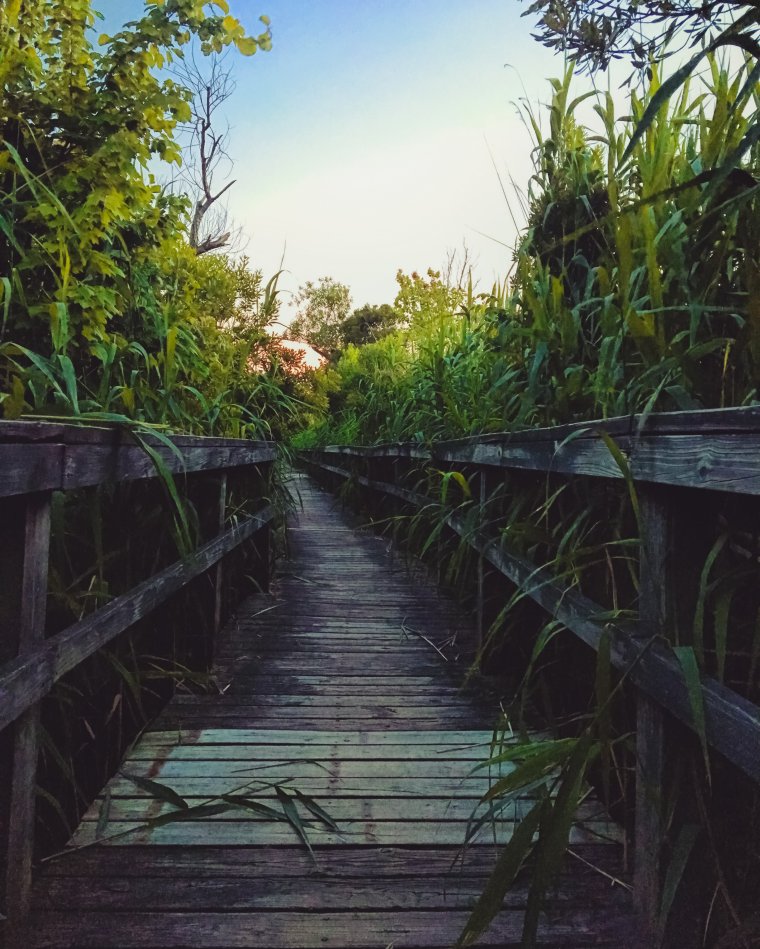 One way to counteract that is to work with a tripod. Manual camera controls allow the user to work with shutter speed values from 1 second to 1/4000s, which can do wonders to improve the quality of the taken images. For very dim settings you won't have much luck than to rely on flash usage, as the slowest shutter speed is limited to 1 second.
Exposure and Metering
Sony experience in photography is once again noticeable when it comes to getting accurate values for Exposure and White Balance when working in auto mode. Whereas manual mode gives you full control over ISO, shutter speed and white balance – no aperture control as it is a fixed lens – the Superior Auto mode come as a blessing for newcomers in photography.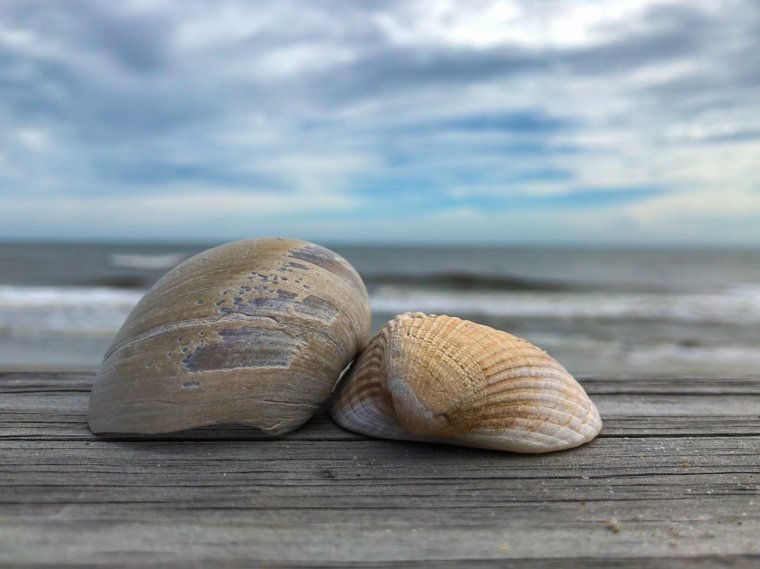 When using Superior Auto mode, a complex computational algorithm performs the calculations needed to adjust the camera settings for the best outcome. This can bring a minor lag, but the Superior Auto mode is capable of identifying different planes for sharp details and proper DOF calculations in both portrait and macro photography, framing movement for pet photography or action shots and bringing in every detail in landscape mode for both outdoors and architectural scenes.
Dynamic Range and HDR Photos
The reason behind this hype for HDR technology in smartphones is no other than the limitations provided by the small 1/2.3" sensors used within the smartphones' cameras. The limited dynamic range has to be compensated somehow, though HDR was the answer by combining multiple exposures to bring in enough highlights and shadows for sharp as tack details.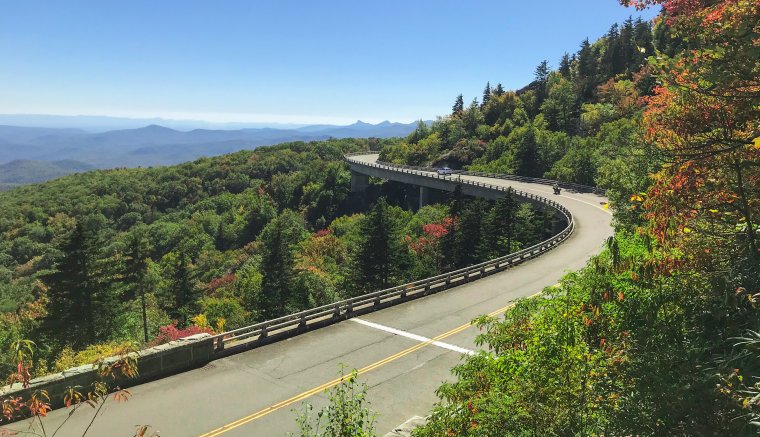 For the Sony Xperia XZ2, the addition of a 4K HDR Camera is no other but a step ahead in this direction. The results do not look oversaturated as a beginners' image would look under HDR-style, quite the opposite. Colors remain natural but boosting in vividness for the appreciator's eye. Highlights do not clip for extreme lighting conditions, which we thank, and detail quality is also preserved when zooming in.
When working under the Superior Auto mode, the camera will automatically determine if the scene demands HDR usage or not. Manual mode usage requires the operator to activate it manually as, by default, the setting for HDR is turned off.
Autofocus, Predictive Capture, and Autofocus Burst
Autofocus was greatly managed by the Sony Xperia XZ2. While we cannot expect the same results as with a larger sensor camera given the fixed lenses, this smartphone boasts face recognition algorithms to ensure that the camera tracks the subjects, putting them in priority mode while the background is softly blurred. When it comes to common photographs, you will certainly notice a difference in highlights for the objects in the foreground. The background remains in good quality but the illumination is somewhat reduced to help the image depth effect that Sony decided to use.
Predictive Capture works in a similar mode to the iPhone's Burst Mode: it captures a sequence of images, storing them in the internal memory as a temporary file, then the user needs to pick one image from that sequence – which in turn deletes the others – or preserve the entire capture sequence.
Autofocus Burst, on the other hand, creates a sequence of photographs of a moving object. You can get up to 100 images in full resolution so it's ideal for action photography. All it requires, after activating the Autofocus Burst mode is to hold the camera dedicated button to capture the action while at the same time tracking the subject manually.
Camera App Features
Like any other Android camera app, the layout is really compact, with tons of options available for the user to tweak, but not scary enough for beginners to mess up with the settings unexpectedly.
Grid lines are disabled by default as well as the sound for the shutter – which we recommend to turn off to be able to capture images wherever we like without bothering at people turning to look at us.
When switching to Manual mode the options for Autofocus, Shutter Speed, ISO, EV and White Balance are shown in a bar below, that we can quickly tune with the provided slider.
Special shooting modes as Bokeh and Panorama are only accessible through downloadable apps named AR Features. It's limiting and something we didn't appreciate as it requires an extra step, not to mention losing time to change among effects, and also reminds us of the failed attempt of the PlayMemories apps from the Alpha-series mirrorless cameras. Instead, Panorama mode could have been added as another option in the camera slider – as iPhones do – whereas Bokeh could have been implemented as a Macro Mode or an extra feature in a potential Portrait Mode – again, iPhone reference here. The worse part of these apps is that not only Bokeh results are not accurate due to the phone single wide-angle lens, but also the photos experience a downsizing to 8MP – a truly killer for the astonishing quality this phone can bring out.
We advise users to keep the images in either internal storage (64GB) or to get a hold of a high-class microSDXC card to avoid camera app freezing or lags when saving the files.
The Downsides
Are there disappointing aspects for this camera? Unfortunately, yes. As we been seeing through this review the camera freeze issue is noticeable when working under certain conditions. We can take preventing measures to avoid this, but overall it's something that should be fixed with the upcoming software updates.
RAW shooting isn't supported as well for this device, extremely disappointing for us. With the upcoming release of Lightroom Presets for the Lightroom Mobile app, one would have expected to see RAW support for a flagship device. In turn, we get a JPEG image output with a fair compression rate.
Super Slow-Motion for this handset is entirely manual, and you will require some time to get used to the procedure. For daylight outdoors, the results are absolutely breathtaking when the procedure is mastered, but interior slow-motion footages will struggle to meet clarity details out of them as the camera cannot adjust its exposure that quickly to keep the same quality output. And, like we mentioned before, the 120fps and 240fps continuous modes for Slow-Motion recording aren't supported, not even in 720p recording quality.
The AR Apps should be removed the sooner the better, revisiting the camera app to include both Panorama and Macro Photo modes. Do not expect quality bokeh effects from this camera given the single camera setup.
Performance and UI Experience
This smartphone speaks lengths on what regards to its power. Packed with a Qualcomm Snapdragon 845 chipset and 4 GB of RAM that's more than enough to run any app you can consider.
Benchmarks for this handset give an average score of 8420 for the CPU Multicore Geekbench test, that places it among the mid-point of the flagship products with the Samsung Galaxy S9+ (QHD+ version) as the top choice at 8923 and the Google Pixel 2 XL on the bottom at 6291 scores.
Running the Android 8 Oreo OS, the factory tune-ups made by Sony are not as heavy as previous OS versions, meaning you will get a more "Android feeling" plus a better management of the included resources. Some of the pre-installed apps are truly not needed, as music, video and email apps – as most users tend to use Gmail app these days for emailing and YouTube + Spotify for entertainment, not to mention that Amazon Apps as Kindle and Prime Video may not be suited for every market. Even though you cannot uninstall them you can get them disabled and hidden from view, but overall we would have valued the extra storage space that's taken by unneeded apps.
Internal storage is really good, meeting the 64GB standard and allowing users to expand it to 256GB with the microSD slot. An ideal device for both newcomers and power users.
Sony Xperia XZ2 Compact: Power in a Pocket Size
The Sony Xperia XZ2 family does offer three phones: The standard XZ2, the XZ2 Compact, and the newly-released XZ2 Premium. The Sony Xperia XZ2 Compact is a phone that keeps size in high regard, aimed to those users who do not like those bulky 5-inch+ screens, or for those with smaller hands who do not feel comfortable to operate such a big phone. However, despite preserving the power that its big brother the XZ2 does the design does not please the user. It looks way too fatty – perhaps as it needed to pack all the specs of the Xperia XZ2 in a much-reduced size – feeling cheaper than it actually is for a smartphone with great potential.
The bezels are more noticeable than with the Xperia XZ2, something that does not help the clear-screen feeling. You cannot consider this phone as a second-rate buy as the iPhone SE was intended to be, though it's this unit's main competitor in both size and price range. The Xperia XZ2 Compact is intended to be a pocket-sized version of the Xperia XZ2 for those who are still not ready to switch to the 5-near-6-inch screen new standard.
With a Qualcomm Snapdragon 845 chipset, the same 4GB of RAM and equal camera to the Xperia XZ2, this pocket high-end phone is also capable of playing HDR video, though the screen quality will not help the users to notice its top recording quality – it inherits the same 18:9 Full HD+ HDR LCD display, only in a 5.0" format.
The camera scheme was altered, now with the camera, flash and sensors being placed on a straight line on top of the unit, and the fingerprint reader way down below the camera location. The clear glass material finish is definitely ditched for this pocket phone, sticking to a plastic back cover that makes it look cheap, but in general, helps to keep resistance for this phone in what accidents refer. Colour options for this unit are Black, White Silver, Moss Green, and Coral Pink.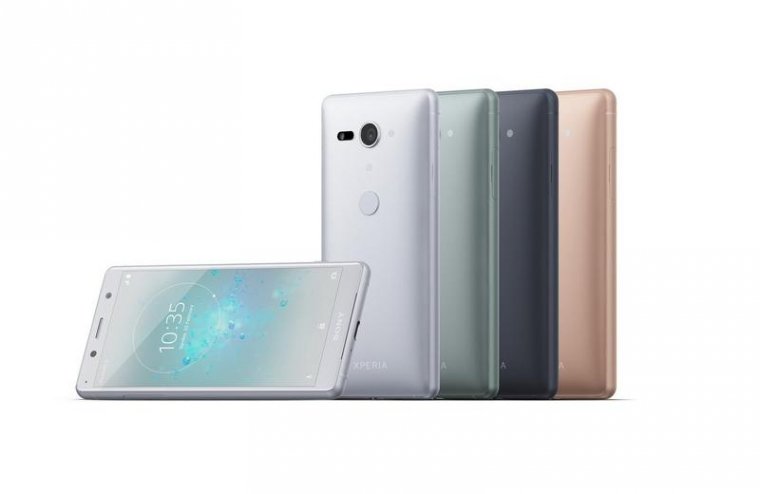 The battery used for this unit is a 2870mAh, a bit bigger than the 2700mAh used by its predecessor the XZ1 Compact. Seems big for a phone of this size – considering that the iPhone X uses a battery with almost the same capacity, but in fact, it has a huge drainer in its display. You can go through the day with this phone in more than average usage, but do not consider that given its small size it will last more than a day; you will have to charge it overnight. Also, this phone does not support wireless charging. There's an option for a fast charger but has to be bought as an extra accessory.
Like what happens with the Xperia XZ2, the headphone jack is removed, favoring a USB-C port for digital audio, though you will get a 3.5mm jack adapter to USB-C input.
Sony Xperia XZ2 Premium: The Much-Awaited Update
Roughly three months after the release of the Sony Xperia XZ2 its upgrade, the Sony Xperia XZ2 Premium is announced to the market. Yes, the July 30th of 2018 is the announced date for the release of this new handset to the US market, and it comes to fix up everything that we did not find to our liking with its little brother.
First of all, the screen is revisited. Now adopting a 5.8-inch LTPS IPS LCD display with 4K HDR quality, the Xperia XZ2 Premium takes a huge leap in quality. The pixel density moves up to 780ppi against the 423ppi that the standard Xperia XZ2 had, so the upgrade is no other but noticeable and also helps users to fully acknowledge the potential of the camera they have in hands.
The Xperia XZ2 Premium is 38g heavier than its little brother, and given the fact that it boasts a 16:9 display, the bezels are more pronounced, especially to the top. It pairs the same clear glass finish in two colors: Chrome Black and Chrome Silver.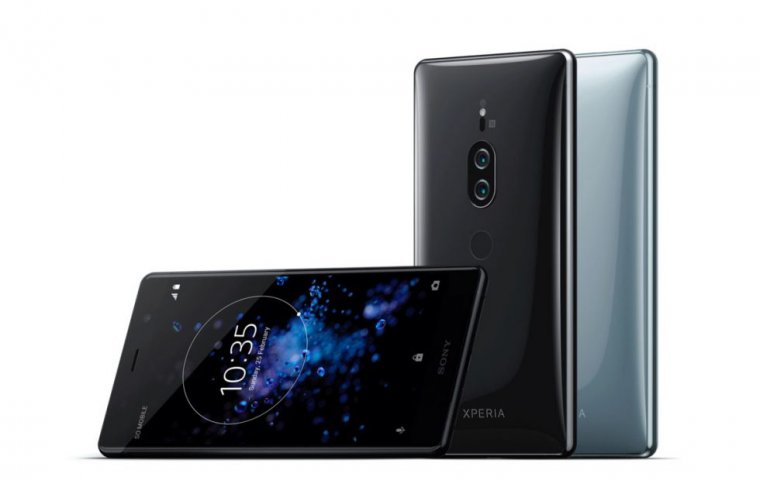 The most noticeable change is the incorporation of a dual camera on its back. The main one has an upgraded f/1.8 lens in comparison with the XZ2 f/1.2, helping the phone in low-light conditions. The new second rear camera is a 12MP paired with a f/1.6 lens. ISO is boosted to ISO 51200 for still images and ISO 12800 for video from the previous ISO 12800 for photo and ISO 4000 for video. The focus seems to be targeted into fixing the Xperia XZ2 low-light performance but we have yet to check what the actual performance in bokeh effects and quality for this new dual camera scheme turns out to be.
Another interesting update is with the front camera, replacing the unfitting 5MP camera for a 13MP f/2.0 camera. Yet again, we are anxious to check its performance in selfie mode or if it's planned to contribute in new login interface following the example of iPhone with FaceID technology.
On what regards to hardware, the Xperia XZ2 Premium sticks to the Qualcomm Snapdragon 845 processor, but now gets a boost of RAM going up to 6GB. Thanks to that, the battery had to be upgraded so we will see a 3540mAh battery for this device, though given the new display technology only time will tell if there is an actual increase in the autonomy for this device in comparison with the Xperia XZ2.
Sony Xperia XZ2 Family Lineup: Which one to pick?
Having seen the options that the Sony Xperia XZ2 family has to offer here comes a big question: which one should I pick as a potential customer? Well, thankfully there are several answers to that question.
If you are considering budget-options: Go for the XZ2 Compact. It will offer exactly the same as the XZ2 but in a cheaper build finish and without the wireless charging feature. Also, it pairs a smaller screen that can be attractive for some.
If you are considering power: The XZ2 Premium, as it has an upgraded RAM which will grant more performance, especially for video recording.
If you are considering a good camera but do not care about high-end specs: Go for the standard XZ2. The camera won't be as great as the XZ2 Premium but you will also save a good amount of money for those not-so-techy specs. The average user won't feel that much of a difference to use a 4K display in contrast with a Full HD+ as the differences are noticeable when putting the device to test for professional work – as photography. Also, if you don't count with a 4K HDR monitor or a 4K HDR television there's no point on the extra investment right now.
If you are a tech-lover that wants the 'ultimate' photography experience: Hold on until the XZ2 Premium gets to the market. The dual camera setup is divine, bringing a much purer experience for photography lovers as you will reduce the gap with actual DSLR cameras. Also, it is expected that the XZ2 Premium can work with RAW format. Low-light performance is significantly improved for this device as well, and the dual camera allows you natural bokeh effects. If all that isn't enough, the Front Camera is game-on for quality selfies, something the standard XZ2 performed very poorly.
We hope this article can give you a good insight on what these new Sony phones have to offer for us photography lovers. Stay tuned for upcoming gear reviews and see you next time!
SaveSave
SaveSave
SaveSave
SaveSave
The following two tabs change content below.
Pia Lopez is a self-taught photographer, graphic designer and ArchViz artist. As Content Director of Sleeklens.com, her work is driven by her two biggest passions: technology and art.