BenQ SW320 31.5″ 4K UHD HDR Monitor Review: A Dream Come True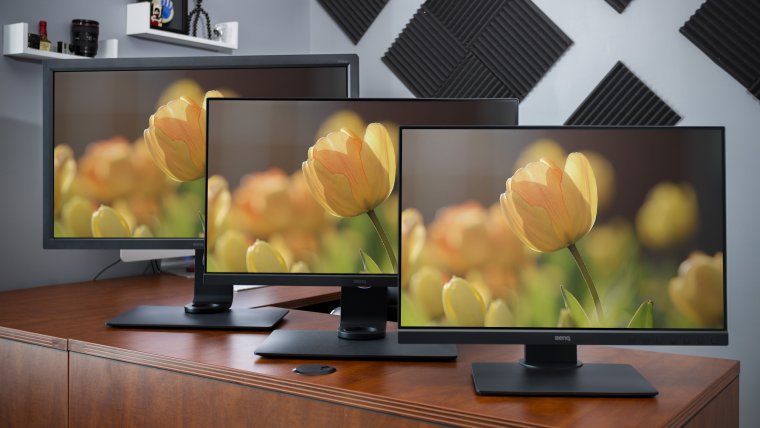 BenQ SW320 31.5″ 4K UHD HDR Monitor Review: A Dream Come True
www.sleeklens.com
There won't be any better feeling for a photographer than to have a spacey area to be editing your work while at the same time you can keep an eye on previous edits, add resources from external software, or start the layout process for albums, cards, etc without losing time at all. What would be the perfect companion for such a dream scenario? A big-sized monitor of course.
Through the course of this article, we will be analysing in detail the BenQ SW320, the big brother of the latest BenQ monitor lineup targeted to photographers. Coming as a high-end professional-grade monitor, there are many expectations for this unit from the market in general; thankfully BenQ seems to know exactly what their audience needs and how to deliver a quality product without lifting the price range way too high. Ready? Let's get started!
Overall Features
This monitor comes up as one promising beast. With a 31.5" 4K display, there's nothing much to add on professional photography work, but if we count with HDR colour rendering as well, the bar goes up much higher in what image quality refers, as it can help an immense deal to those videographers who now enjoy the benefits of 4K HDR video footages either from high-end smartphones or enthusiast video cameras.
It does keep the same viewing angle as the SW271, 178-degrees, and also inherits the 16:9 aspect ratio. For such a big screen, glaring can come as an issue which BenQ has sorted out thanks to a matte finish anti-glare coating.
The panel works with IPS technology with a 10-bit colour reproduction and 350 cd/m2 brightness; native contrast ratio is 1000:1. It does feature a wide colour gamut, going as far as to count with a 99% AdobeRGB accuracy and 100% Rec. 709. The 14-bit 3D LUT can also be truly appreciated by experts when it comes to professional work.
Like what we have seen with the SW271, the Hotkey Puck also makes an appearance for this monitor, something we valued a lot given its practical use to improve workflow speed when switching colour spaces, and also we do get the shading hood that works both for landscape and portrait orientation despite the massive size of this unit.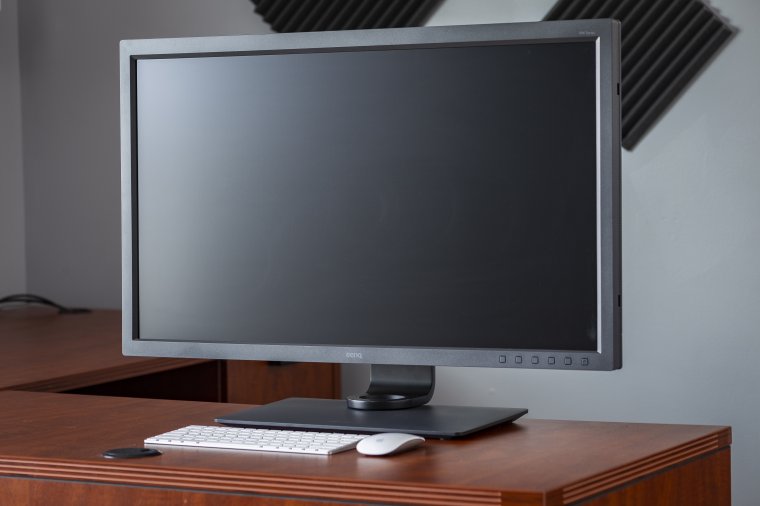 When it comes to image calibration, this device also includes the BenQ Pallete Master Element software for easy calibration process, and it's compatible with calibration devices as the xRite i1 Display Pro or the Datacolor Sypder5. This monitor comes factory-calibrated, but you need to acquire either one of those calibration devices to ensure the proper functioning of this monitor for the investment made.
Key Features Resume
31.5-inch 16:9 matte screen
3840×2160 (4K UHD) native resolution with HDR support
1000:1 native contrast ratio
350 cd/m2 brightness, 5ms response time
DisplayPort 1.4, and HDMI 2.0 inputs
BenQ Palette Master Element colour calibration software
Black-and-White photo mode, Darkroom mode
Wide Colour Gamut (99% AdobeRGB, 100% Rec. 709)
14-bit 3D Look Up Table (LUT)
"Hotkey Puck" Remote Control
Shading Hood, with an opening for a calibration device
USB 3.1 hub, Headphone jack
Landscape / Portrait orientation
3-year warranty
Design Highlights
The first thing we noticed with this monitor is how bulky it can be. It's clearly not intended for a multiple display setup, so being entirely honest it wasn't the wisest decision to test it with an iMac 5K 27-inch computer (we thank you a lot desktop for surviving the experience!). Its size is considerable, plus the monitor with the shading hood looks truly sturdy. If your aim is to acquire one of this monitors, do yourself a favour and consider your office layout first.
If we gave our compliments to the SW271 vertical handle, this one certainly gets all the rewards due to being able to support an almost 19-kilos monitor without much effort. The same support system is used for this monitor, placing a sturdy plate on the bottom of this monitor where also the Hotkey Puck is nested; the routing hole makes an appearance as well to ensure the minimalistic approach in such a big-sized monitor – believe it or not.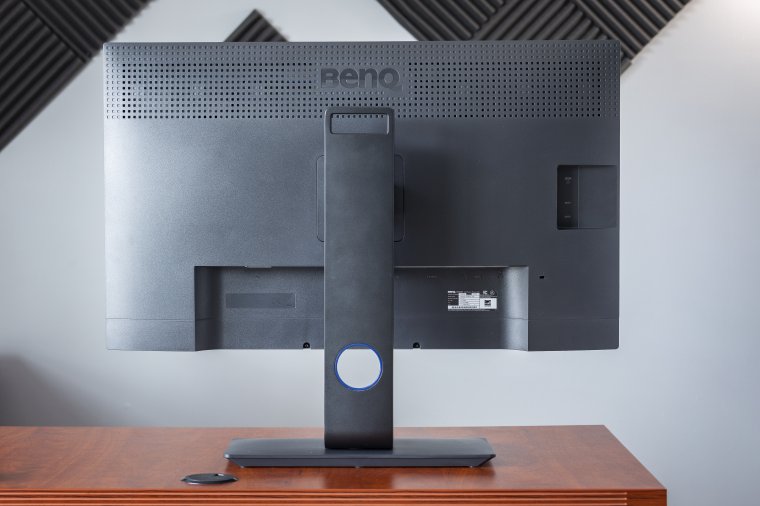 The rotation angle is set to a 45-degree swivel to either left or right for the selected orientation, and as you all have expected, it does allow – despite the massive size – to change the orientation to portrait mode. A word of warning: it's one of the most outstanding monitors you will see in this orientation not only because of the massive size but also for the clear sharp details of the 4K HDR screen.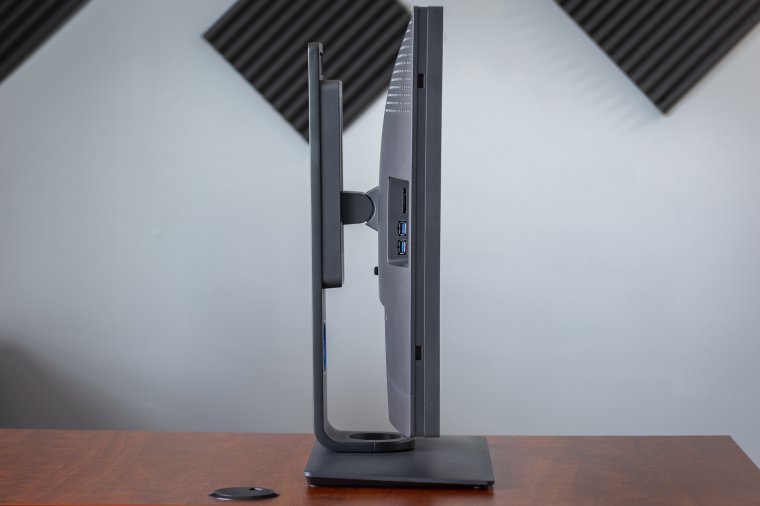 Bezels are a bit more pronounced than what we can find in both the SW271 and the SW240 – perhaps because of the weight of the screen itself. On the bottom right part, you will see five buttons that, from left to right are:
Buttons 1-to-3 for changing colour modes, entirely customizable
Button 4 for the adjustments menu
Button 5 to exit the menu
Button 6 – power ON/OFF
Built-in colour modes for this monitor are as follows: AdobeRGB, sRGB, B&W, Rec. 709, DCI-P3, HDR, DICOM, Darkroom, Calibration 1, Calibration 2, Calibration 3, Custom 1 and Custom 2.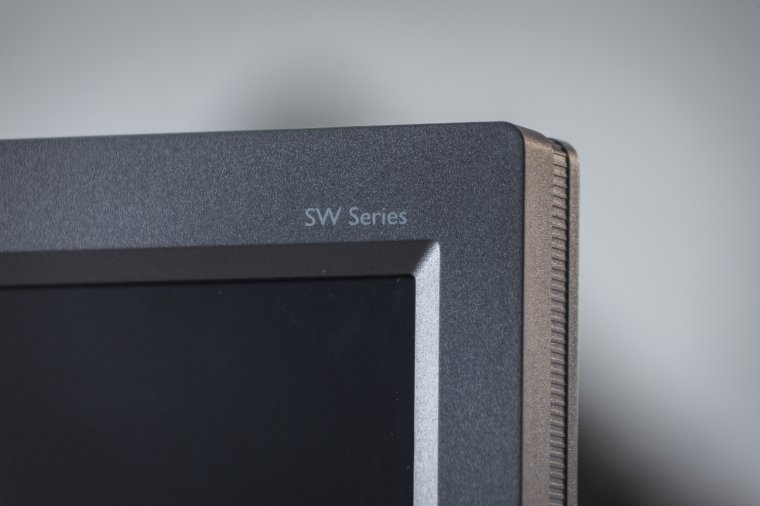 For this big-sized monitor, it's a bit disappointing to count with just one HDMI monitor on its input ports area. It's an HDMI 2.0 input, and we can also find one DisplayPort 1.4, a Mini DisplayPort 1.4 and a USB upstream input (for the USB hub) besides the headphone jack for 3.5mm audio and the Hotkey Puck input. It comes as a surprise not to find a Thunderbolt or a USB-C input. For us, it meant using a Thunderbolt to DP adapter, which can affect the overall image quality a bit. Considering the fact that the SW271 and the SW240 both count with those inputs, why not include them in their flagship unit? A mystery to be answered no doubt.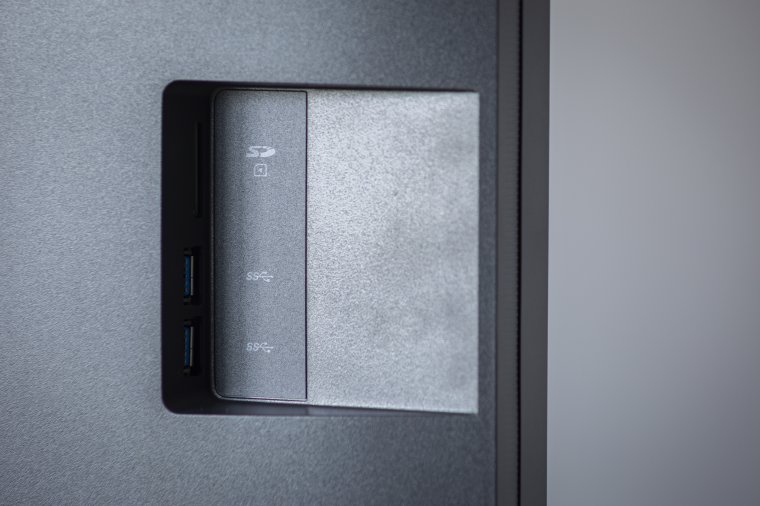 There's an SD card reader and a USB 3.0 hub on the left side of this monitor for easy access – not so easy in our opinion given the size of the monitor, it would have been best to place it on the bottom tray.
Performance & Calibration
This monitor is, no doubt, targeted for the enthusiast/professional audience given both its size and specs. Price range is a big question for users over if it's worth it to start working under 4K mode. If we take in consideration that full-frame cameras are now going beyond the 50MP line or that 4K video footages start to push as the trend to follow for professional videography, there are more than enough reasons to acquire a 4K monitors.
Unlike some other units that are available in the market, the SW320 answers the issues that the very first 4k monitors used to show: poor refresh rate and unwanted glares. The matte finish does a superb job for managing accurate results in both colour calibration and also for reducing eyesight strain on prolonged usage. If we compare the quality of the image reproduction between this monitor and our iMac 5K 2017 Retina display, no doubt this monitor is the winner thanks to its precise details and better gamut.
Obviously this isn't a monitor to consider in a side-to-side battle against insanely priced units as the NEC PA322 – there's a reason why the NEC one is over the $3k price range – but still this monitor does have plenty to offer and no user would find easy to complain about the reliability or the image quality offered by this monitor.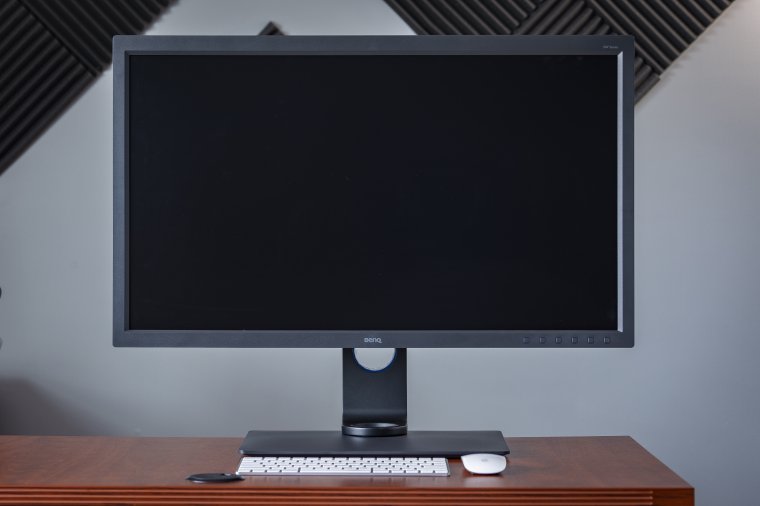 Conclusions
In general, this is a monitor that still has room for improvement. First of all, the lack of some connection inputs is disappointing, as there's a big market in the Mac side of the industry – this monitor almost seems as if was meant for a Microsoft Windows user – so be sure to acquire the needed cables for this monitor prior to getting ready to set it up at home.
As what usually happens with monitors over 27-inch size, the space they demand is considerable. This monitor can actually take as much room as two 24-inch displays in multi-screen setup if the SW320 is using its shading hood; so, perhaps, you won't find this monitor to be the best tool for your studio if you work at a truly restricted area.
The image quality is more than you would have imagined from 4K HDR resolution, making it look perfect for videographers or even computer graphics artists.
We truly hope to see an upgraded version of this flagship monitor that can fix all the issues mentioned, as it's far much practical to work with one big monitor than several mid-sized ones – it's a matter of personal preference of course.
And that would be all for this guide! See you next time for more exciting gear reviews.
The following two tabs change content below.
Pia Lopez is a self-taught photographer, graphic designer and ArchViz artist. As Content Director of Sleeklens.com, her work is driven by her two biggest passions: technology and art.