Best 2020 Black Friday Deals for Photographers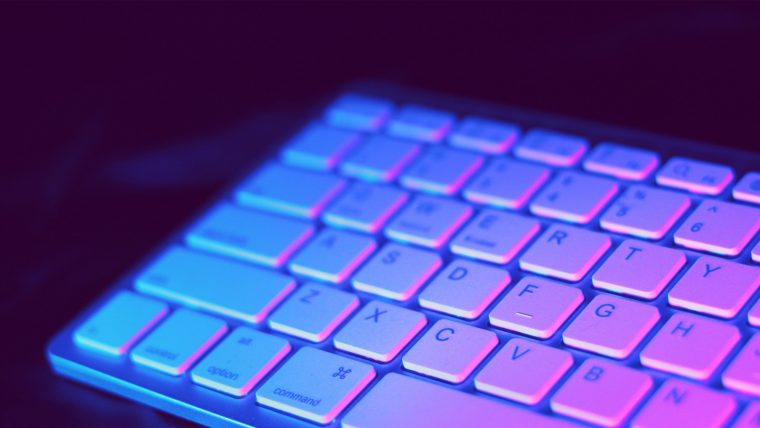 Best 2020 Black Friday Deals for Photographers
www.sleeklens.com
Black Friday is the main shopping event of the year that many photographers expectantly wait to happen. The reason? Gear upgrade within budget or reasonable prices thanks to the discount rates. In this article, we're going to cover a roundup of the best gear and software deals that 2020 has presented us. With you all, the Best 2020 Black Friday Deals for Photographers!
1. HDD Upgrade: Sabrent 1TB Rocket NVMe 4.0 Gen4 PCIe M.2 Internal SSD
One killer SSD drive to boost your PC performance. Sabrent is a well-known brand for its HDD and SSD bays and adapters used by tech crew, but also they been able to incursion the storage market as producers of hard drive units for desktop computers. The result of their expertise in SSD enclosures is the Sabrent Rocket NVMe M2 SSD drive: the definition of reliability and speed for any resource-demanding user.
The introduction of PCIe 4.0 implies a jump in the efficiency stair when it comes to speed in contrast to previous-gen NVMe drives, however, we should be aware these speed increases are only exploitable if you happen to be an AMD user – Intel still needs to tweak their technology to get the most of this interface for multi-thread.
Reading speed values are estimated at 5GB/s, with 4.4GB/s write speed. Its average latency only comes 2ms slower than the overkill Samsung 970 EVO Plus, which is the industry leader, clearly stepping on top of well-known and respected manufacturers like Western Digital, Toshiba and Seagate.
Why do you need to purchase it? The advantages of faster SSD drives are not only noticeable in reducing boot time but also for software launch in resource-demanding apps like Adobe Premiere, Adobe After Effects, and even Skylum Luminar. With the incursion of AI-technologies in the much-awaited Luminar AI, faster write speed is going to be a gamechanger for those who process bulky photo sessions to increase their speed efficiency.
Which size is recommended these days? These drives come in storage sizes as big as 2TB. Whereas this should be more than plenty for the average user, the tip we give you today is to aim no higher than 1TB as your SSD is mainly used as OS drive and scratch disk. Instead, opt to invest the money difference in extra storage – without NVMe technology – as independent storage drives for your reels and photos. 500GB should suffice if you don't overload your computer with software, 1TB is the sweet-spot.
Keep in mind this unit doesn't come with an in-built heatsink to dissipate heat, so it would be wise to opt for the extra M.2 SSD heatsink included offer. Operating temp must be kept below 70ºC.
2. iPhone Leather Cases by Mujjo
For any professional photographer, the smartphone isn't just a piece of technology but a tool for your trade. Given that aesthetics matter a lot to us, we want to present here what we consider is the best option in design + protection for your precious iPhone devices.
As you can see, the cases are gorgeous. Handmade, details as the stitches matching the case colour, high-quality leather on the exterior side and extra soft microfibre padding inside – to avoid any kind of scratches to your phone – this is what we mean when talking about professional quality smartphone cases. The sides were designed to absorb any kind of impact the unit may experience either from falls, usage, other object damage while clearing the area for the charger/digital audio port. The best part? You won't even need to use a glass protector as the leather creates a 1mm risen bezel around the screen, granting that if the phone casually drops, your screen will be intact. NB: In case your phone drops badly, and I mean horror film badly, the bezel won't be able to cushion 100% of the impact, but even in those cases we cannot be sure a glass can help either.
We loved the wallet cover design as it gives that minimalistic approach while travelling when every single gram matters. You can carry either two or three credit cards, your ID or driving license (depending on its size – consider the top size a credit card format) or simply some cash bills you want to carry around at a safer place than your pockets.
These cases, depending on the iPhone model and stock, can be acquired in colours Tan, Black, Monaco Blue, Alpine Green, Slate Green, Olive, Champagne, Gray, and Saddle Tan.
Access a 25% Discount as a Black Friday Deal with the code: #25off
3. Black Friday 2020 Sale by Flothemes
Our friends at Flothemes are one of the most respectable brands for website templates a photographer can ask for. Responsive design? Available. Minimalistic look? Of course. Fast and efficient galleries to display your portfolio? You name it.
Take a look at the wide range of solutions Flothemes has to offer. We included some recommendations in our Best 2020 WordPress Themes for Photographers buying guide.
4. ON1 Black Friday Savings
A mind-blowing alternative to Adobe Lightroom, ON1 is a brand with 15 years of expertise in the digital post-production niche. Its software is cutting-edge: professional results, easy-to-use, not resource-demanding from a hardware perspective, and the best of all, versatile solutions regardless of your niche.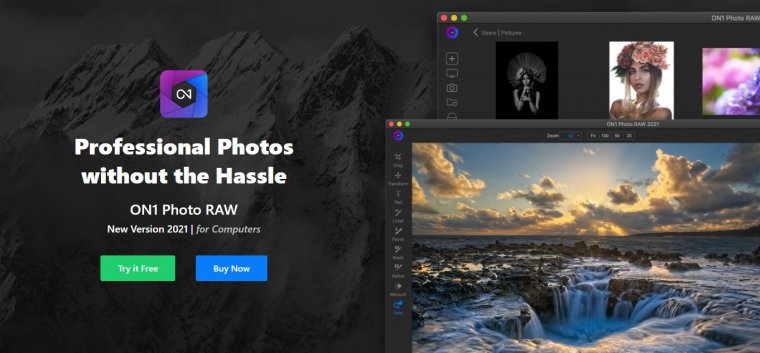 Not only you can acquire the current version of ON1 Photo RAW for desktop and mobile, but also you can explore new solutions as ON1 Portrait AI: an editing software geared towards portrait photography that can remove blemishes, sharpen details, enhance eyes and hair, create flawless skin and more, all while powered with AI-technology to minimize the editing time – something we all appreciate in contrast to countless hours of layers, adjustments and masking inside Photoshop.
By clicking the link below you'll access the Black Friday 2020 Deals, with savings up to 40%.
5. Topaz Labs Suite +60% OFF
As amazing as it may sound, it's true. Topaz Labs is offering their entire collection of plugins and software for the Black Friday weekend at a 68% discount. Yes, you're not dreaming.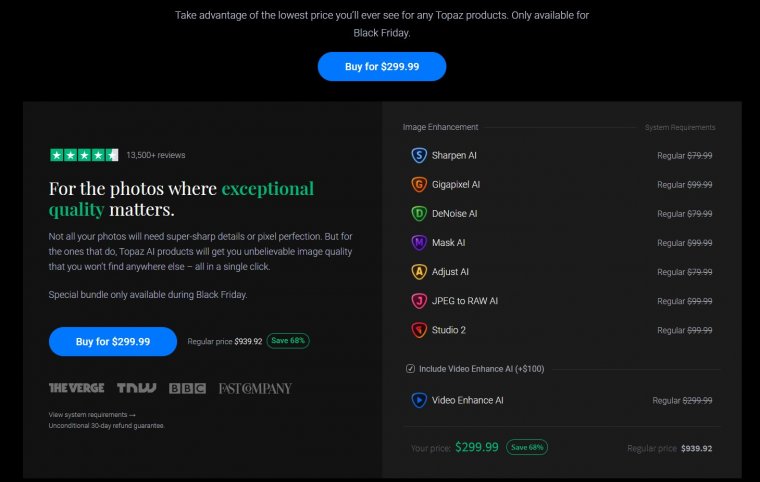 For just $299.99 you are accessing to leading industry solution such as DeNoise AI, which can make dramatic differences not just to RAW format photos but also to smartphone images. The newest version of the Topaz Labs Suite follows the post-production software niche trend of boosting its potential by pairing it with AI features. That way users get more freedom to edit images to professional outcome in half the time it used to take.
In case you're not interested in videography, you can exclude the Video Enhance AI software from the bundle, although we highly recommend you to give it a shot: it allows you to upscale video footage up to 4K quality while at the same time you get the benefits of DeNoise as a presets to even reach better results. Keep in mind this kind of software is 100% GPU dependant, meaning you need a powerful dedicated graphics card to make it work as it should (from the Nvidia GTX 1060 onwards). In case you don't count with such hardware specs, the interface can give you serious reliability issues, namely crashing randomly or taking up to 6-times more than it should for rendering a video.
6. Skylum Global Black Friday Deals
The company author of the photography-industry revolution, Skylum Luminar 4, is making a HUGE promo for us photographers. Not a simple 40% or an expected 55% discount but 80% OFF. Insane, right? Well, let us tell you some of the conditions.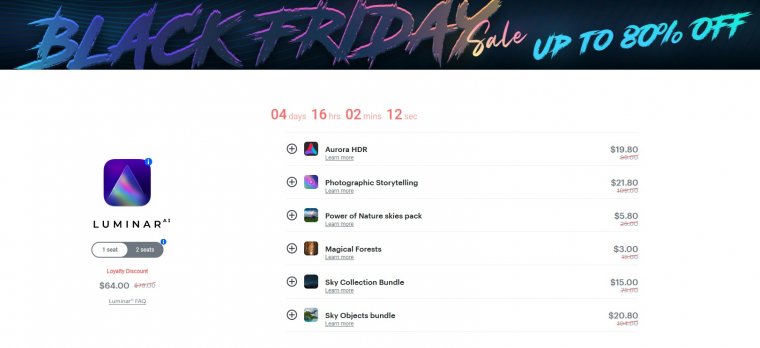 This offer is the much-awaited pre-release of Luminar AI, the software that will take over Luminar 4. For that reason, the promo is released via email to already-existing Luminar 4 users. The sweet-spot is the massive discount for Aurora HDR – which remains as one of the best software in the market to create high-quality HDR photos – and other official Skylum addons that we have seen in Luminar 4 before.
In case you're not already an owner of a Luminar 4 seat, you can also get some interesting deals by checking their Marketplace, or the Plus and Max Bundle options with a preorder of Luminar AI and discounts on both Luminar 4 and Aurora AI.
We invite you to check Skylum Global's website by clicking the button below. Our Camera Roll LUTS for Luminar are also awaiting you in there!
7. DxO Nik Collection 3.3 Anniversary Promo
Nik Collection is THE plugin collection for Adobe Photoshop and Adobe Luminar, plus being its own standalone solution. As DxO is celebrating the 25th anniversary of the Nik Collection, not only it gives us a revision of the bundle to grant compatibility with Adobe 2021 software solutions but also introduces new sets of presets shared between Color Efex Pro and Silver Efex Pro.
Wildlife Presets for Color Efex Pro (5 presets)
Street Presets for Silver Efex Pro (5 presets)
Light & Bright Presets for Color Efex Pro – landscape photography themed (5 presets)
Classic Portraiture Presets for both Color Efex and Silver Efex Pro (10 presets)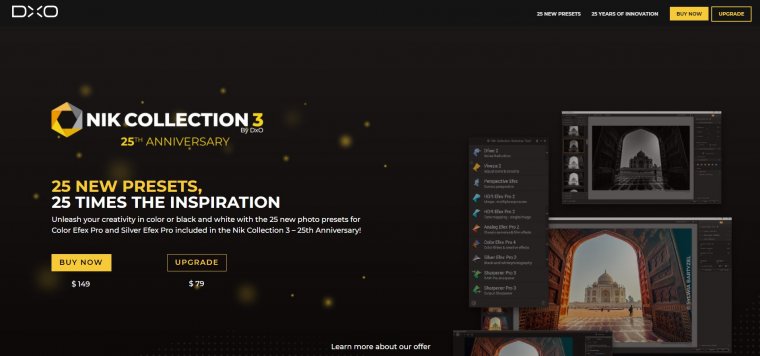 25 new presets to celebrate 25 years of expertise and service to the photography community. Are you going to let them pass?
8. Sleeklens 2020 Black Friday Deals
We also join the party! Sleeklens is making a very unique sale to provide the best 2020 Black Friday Deals for Photographers. Presets, Brushes, Actions, Overlays, Courses and more.
30% OFF Pre-Sale from Monday 23rd to Thursday 26th
45% OFF Black Friday Sale the Friday 27th – the highest discount rate of the year
35% OFF Post Black Friday Sale, Saturday 28th
30% OFF Post Black Friday Sale, Sunday 29th
This promo is valid for all products with the exception of our Photo Editing Service (we have some exciting news on that for the Holiday Season)
Don't let this chance go away!
9. Sigma Lenses Black Friday Deal
You may not know it yet but there's a Sigma lens eager to join your photography gear team.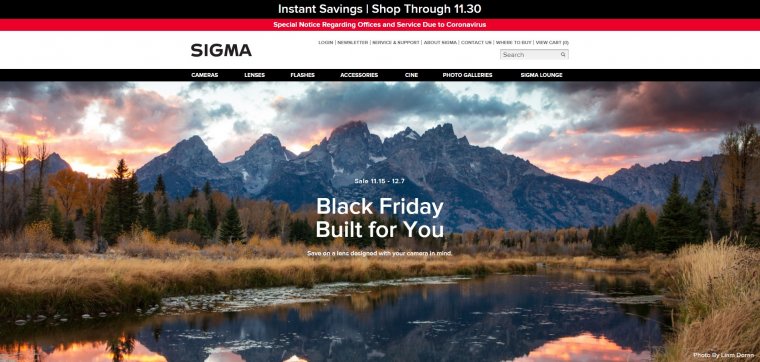 There are some pretty interesting choices for photographers – mostly intended for Landscape Photography – but the MC-11 Mount Converter and MC-21 Mount Converter stand out as the best deals you can get out of this promo. Almost a 50% discount over its usual price, a must-have for travel photographers that seek to pair their masterpiece Sigma lenses to mirrorless camera bodies.
See Offer Here
10. B&H Photo Video Black Friday 2020 Deals
A classic of every Black Friday to invest in quality gear. Please remember that B&H Photo Video creates time-expiring deals, so you have to hurry up and grab your chance of a magnificent discount on that piece of gear you craved for so long.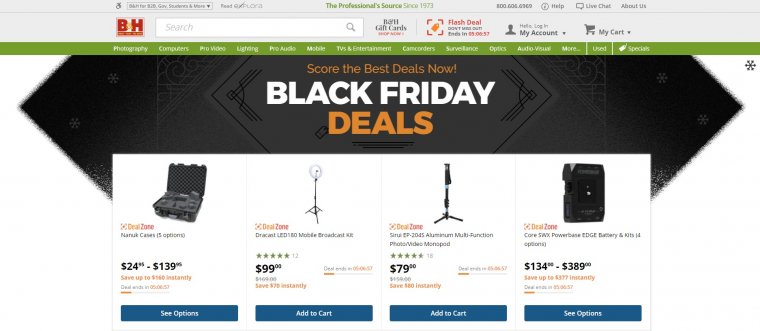 Some of our recommendations for this promo:
LG 27UK500-B 27″ 16:9 FreeSync IPS Monitor – $70 in savings
Samsung 1TB 860 EVO SATA III 2.5″ Internal SSD – $50 in savings
Apple AirPods Pro with Wireless Charging Case – $50 in savings
Canon EOS RP Mirrorless Digital Camera with 24-105mm f/4-7.1 Lens – $400 in savings
Nikon D850 DSLR Camera (Body Only) – $500 in savings
GoPro HERO9 Black – $50 in savings
Manfrotto Street Camera and Laptop Backpack for DSLR/CSC – $75 in savings
Apple 12.9″ iPad Pro (Early 2020, 256GB, Wi-Fi Only, Space Gray) – $100 in savings
Nikon AF-S NIKKOR 500mm f/5.6E PF ED VR Lens – $300 in savings
Godox XProC TTL Wireless Flash Trigger for Canon Cameras – $10 in savings
DJI Ronin-SC Gimbal Stabilizer Pro Combo Kit – $210 in savings
Ruggard Leda Memory Card Case for SD & microSD Cards – $19.95 in savings
Lowel TotaLED Daylight LED Floodlight – $150 in savings
BenQ TK800M HDR XPR 4K UHD DLP Home Theater Projector – $450 in savings
For all those offers and more, we invite you to click the button below. Keep in mind prices may change in the next hours.
11. Adorama Black Friday Deals
Just as we expected, Adorama also brought some exciting news for us photographers.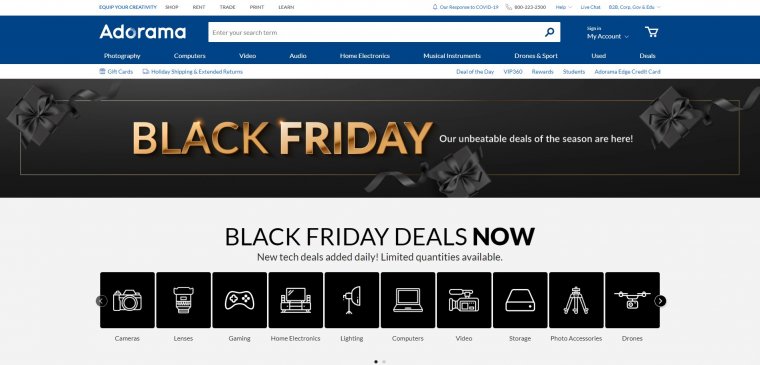 Some key products we recommend you take a look at:
MSI GS75 Stealth 10SFS-611 17.3″ – $170 in savings
Elgato Stream Deck Keypad with 15 Customizable LCD Keys – $10 in savings
Asus ROG Strix SCAR 17 G732 17.3″ – $200 in savings
Flashpoint XPLOR 600 HSS TTL – $220 in savings
Flashpoint XPLOR 400PRO R2 TTL (Kit With Glow ParaPop and C-Stand) – $349.90 in savings
Apple Macbook Air 13.3″ with Retina Display (Early 2020) – $100 in savings
Hollyland Mars 300, 300′ Dual HDMI Wireless HD Video Transmission System – $29 in savings
Seagate 10TB 3.5″ Expansion Desktop USB 3.0 External Hard Drive – $90 in savings
Manfrotto 190 3-Section Aluminum Tripod with XPRO Ball Head – $140 in savings
DJI Mavic Air 2 4K Drone Fly More Combo Bundle with Smart Controller – $338 in savings
For more outstanding deals as the ones we've seen above, please click on the button below. Keep in mind prices may change in the next hours.
12. PeakDesign Black Friday Deals
A brand with a well-known reputation among photographers. You have to be mad if you don't feel excited about the idea of owning an everyday PeakDesign bag to carry your gear around. Stylish, discrete for not exposing your craft while you travel to unknown locations, strong to safeguard your investment. What else can you ask for?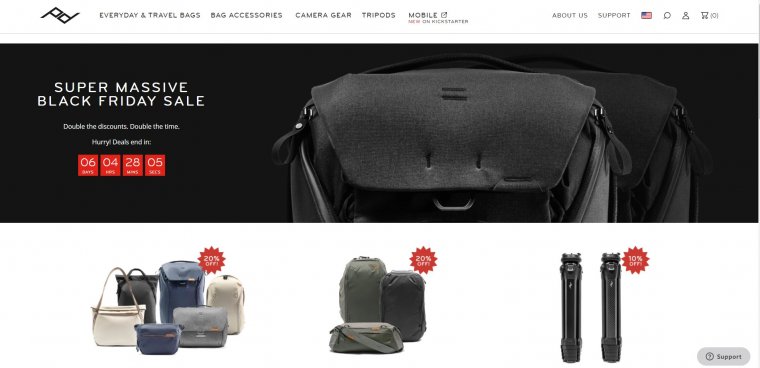 The offer expires on December 1st. Bags, travel bags, pouches, tripods, straps and more. Don't miss this chance!
13. VINCOV 2020 Sale
You may remember VINCOV, the European-based vintage bag manufacturer from our review on the VINCOV Calgary Camera Bag. They not only bring us these fashionable bags that make us feel back in the 50s, but also handcrafted camera straps, leather cases for cameras, and laptop cases.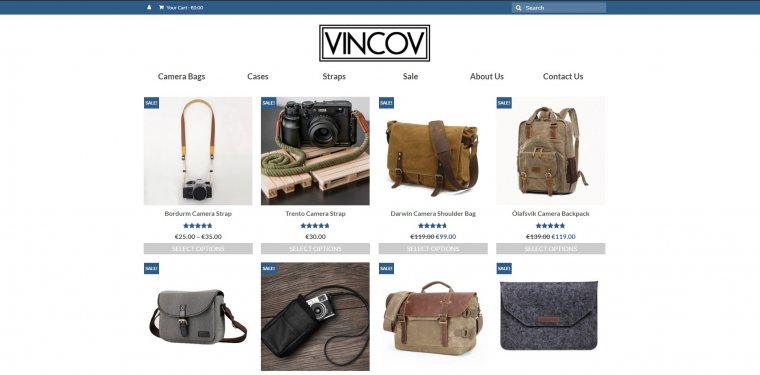 These are by far the most beautiful camera bags you can find in the market if – like me – you happen to be a vintage lover. That said, the invitation to check their site is extended by clicking the button below.
The following two tabs change content below.
Pia Lopez is a self-taught photographer, graphic designer and ArchViz artist. As Content Director of Sleeklens.com, her work is driven by her two biggest passions: technology and art.