Macro photography in Winter: How to photograph Snowflakes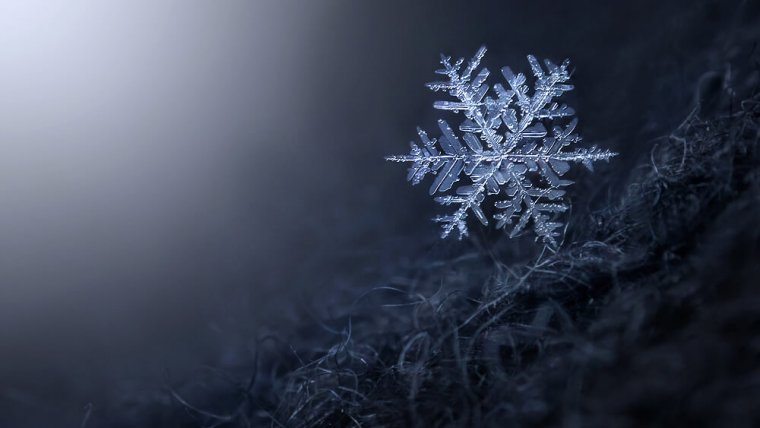 Macro photography in Winter: How to photograph Snowflakes
www.sleeklens.com
The winter months are pretty unspectacular for macro photographers, because all the macro photography subjects like insects, bugs and flowers are missing during winter. But taking close-ups of snowflakes can bring some stunning results and it isn't as difficult as you might think, with the right gear and knowledge you are able to take fascinating images of those tiny ice crystals.
Snowflakes will come in many sizes and shapes and it's said that there is no infinite number of snowflake shapes – there are 35 different shapes and they vary according to temperature and humidity and what all snow crystals have in common is a six-sided symmetry.
You should know that snowflakes have a brief existence, as they melt within a few hours when they land on the ground, therefore I would recommend photographing snowflakes during a snowfall. Furthermore, the wind should not blow; it will make it impossible to photograph snowflakes, but you can try to isolate the snowflake with a piece of cardboard or something similar.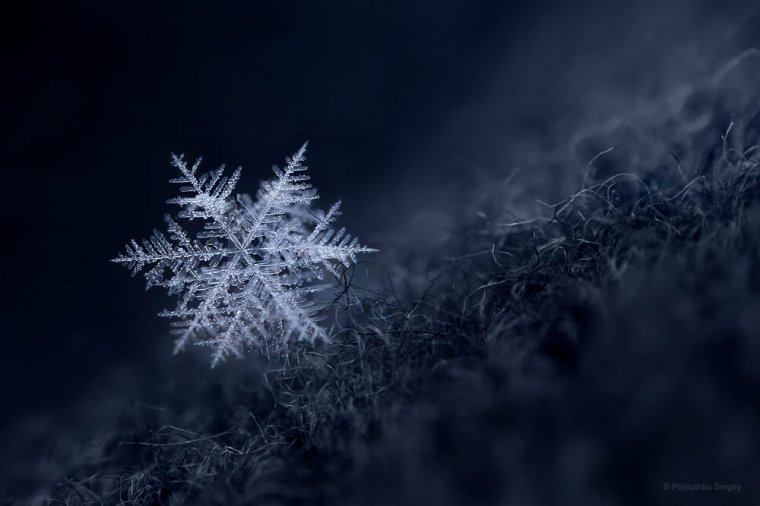 Choose the Right Lens:
In order to increase the magnification to get a snowflake, you should choose the right lens. I personally would recommend the Canon MP-E, It is extremely sharp and its maximum aperture is f/2.8, so it's perfect for low light conditions and to receive a smooth & clear background. The only disadvantage is that this lens is pretty expensive, as it costs around $1,000, but quality has its price as we know.
For low-budget photographers there is a great way to achieve really nice results, just use the reversed lens technique. You just mount your lens backward on your camera. All you need is an adapter to mount your lens on your camera body. A 50mm standard lens will become a great macro lens and will let you explore all the details of a snowflake.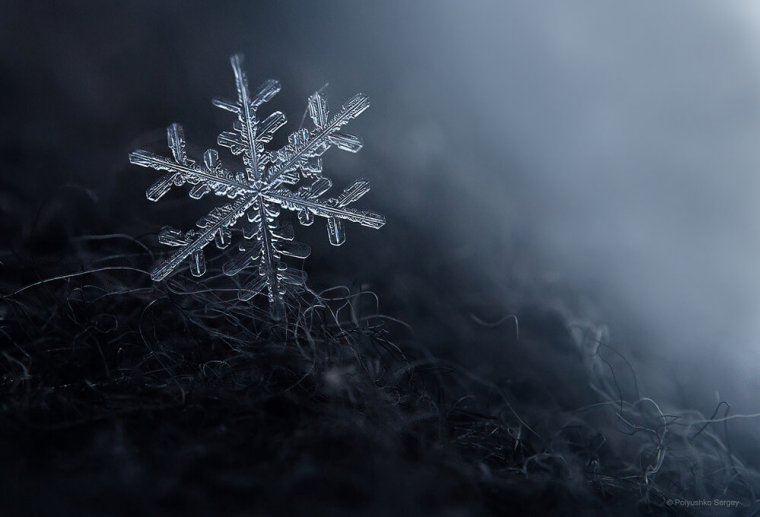 Use a Focus-Rail:
You can try to photograph snowflakes using a tripod or you can try to photograph them hand-held, that's an individual thing I guess. I personally prefer to use a tripod to have more stability and more control while I am focusing the snowflake. If you decide to use a tripod I would recommend mounting a focus rail to your tripod, it will help you find the right focus point. With a focus rail you are able to slide the camera back and forth and let you get the focus point just where you want it to be. I personally would recommend the Novoflex Castel-Qwhich works really well, it costs about $280 and its worth every cent, a focus rail makes everything easier, you have to try it out!
Use a Tripod:
If you decide to use a tripod for photographing snowflakes then it's important to look for a steady and robust tripod, it will help you to receive much sharper images. Just choose a basic tripod, it should be solid and stable, but it shouldn't weight too much and it should hold up your camera equipment weight. For macro photography, I personally use and can really recommend the Manfrotto MT190XPRO3 3. It's built very solid and has an excellent performance. A remote shutter release is another great accessory, it will prevent camera shake caused during the exposure and your images will be more sharp in conclusion.
Use Live View:
If your camera supports the live view function, you should turn it on. It will help you to get more control over focus, because you can easily zoom in to test your image sharpness and to see where your focus point is. In the live view mode you are able to adjust your focus point precisely while using the manual focus ring of the lens.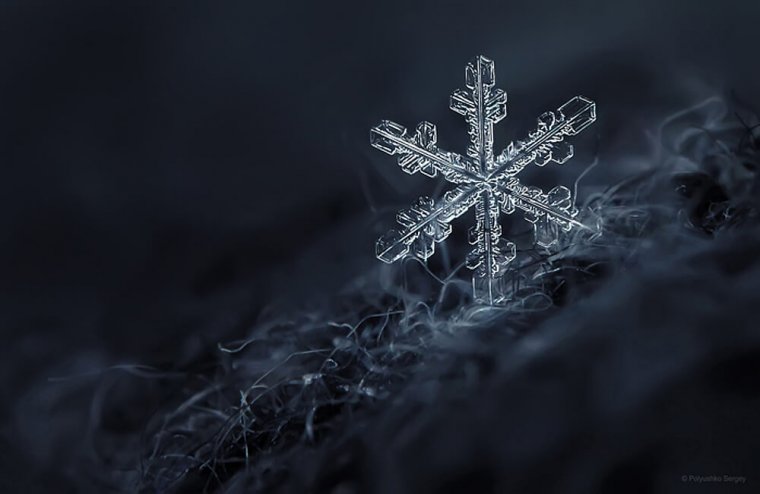 How to Stay Warm:
Winter can be really harsh and cold, just make sure to bring along gloves in order to keep your hands warm. There is nothing worse than taking images with freezing hands. Find yourself a nice pair of winter gloves which are water resistant and are able to keep your hands warm. Don't be afraid of the cold conditions and of the snow, modern camera gear is very robust and weather resistant. But mind that batteries tend to drain faster in colder temperatures, so I would recommend to bring along an extra back of batteries. Furthermore, it is really important to make sure that when you arrive back at home to leave your camera in your bag to let it acclimate to the room temperature. That is necessary in order to avoid condensation, it could be really harmful to the electronics if you will not let your camera the time to acclimate.
That's it! With a little preparation, some practice and a good macro lens, you are able to capture the beauty of snowflakes.
We hope you enjoyed this guide! See you next time!
All images by Sergey Polyushko.
Find Sergey Polyushko on the web:
https://www.instagram.com/sergey_polyushko
https://www.facebook.com/psfoto.com.ua
The following two tabs change content below.
Julian Rad is a self-taught award-winning wildlife photographer, who was born in Vienna, Austria in 1991. When he bought his first camera at the age of 20, he found an expression for the fascination he had about nature & wildlife. He already had many publications in national and internation magazines and newspapers (New York Post, Daily Mirror, Daily Express, The Times, GEO, Digital Photographer Magazine...). He has won several photo competitions such as the comedy wildlife photography awards in 2015.