8 Celebrity Photographers Whose Photos Will Astound You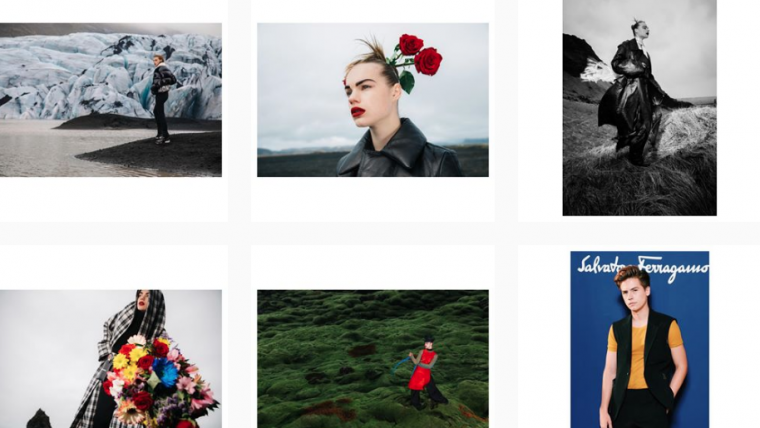 8 Celebrity Photographers Whose Photos Will Astound You
www.sleeklens.com
When we look for inspiration, we often use other people's photos as references. Celebrity photographers are a fantastic source of inspiration for artists of all kinds.
Celebrity photographers can either be ones who take photos of celebrities or famous people who enjoy taking photos on their own.
Here are 8 famous artists who can teach you something new, give you creative ideas, and provide you with many photos to fangirl over.
#1 Cole Sprouse
Cole Sprouse is an actor who has been famous ever since his debut in The Suite Life of Zack and Cody. He now stars in the CW drama series "Riverdale."
What some people may not know is that he's an avid photographer who often takes photos of himself and his co-stars. Using both analogue and digital cameras, he takes surreal, candid, and thought-provoking photos.
Fans of writing will love Cole's work even more because of the short stories he adds to every post.
You can join his 26 million followers on Instagram.
#2 Helena Christensen
In addition to being a supermodel, Helena Christensen is a portrait photographer. When you look through her portfolio, you'll notice certain confidence that requires true talent to work. As a supermodel, she understands her subjects and is able to create thought-provoking images as a result.
Helena's work has been exhibited all over the world and featured in magazines like Vogue and Rika Magazine.
You can find her work on Time Management's official page.
#3 Mert Alas
Mert Alas has photographed a countless amount of celebrities throughout the years. You've probably seen his photos on the covers of Vogue, INTERVIEW, and Love magazine.
Mert often collaborates with his business partner, Marcus Piggott. Together, they take bold and vibrant pictures. Check out their work if you're a fan of striking fashion portraits that have no limits.
Check out his work on Art Partner.
#4 Annie Leibovitz
Annie Leibovitz is undoubtedly one of the most well-known photographers today. Her photographs are often conceptual and look like they've been taken out of a fairytale picture book.
The lighting, posing, and framing are perfect for those who want to get better at understanding what makes a portrait special.
She's currently offering a photography course on Masterclass. You can check out her work on her unofficial Instagram page.
#5 Norman Reedus
To many people, Norman Reedus is just the star of "The Walking Dead," a gory and zombie-filled show. In reality, he's an eclectic mix of things: motorbike enthusiast, father, and photographer.
Norman's work is very similar to his role in the Walking Dead universe. His images are dark, moody, and high in contrast. Instead of seeking perfection, he embraces the flawed side of humanity.
You can buy prints on his website, Big Bald Head.
#6 Peggy Sirota
Peggy is the perfect example of persistence and making the most of what you have. While working at a store and worrying about her income, she was told to buy a camera and take photos of her actor friends. From there, she built her portfolio and was discovered by a photojournalist.
She's now one of the most famous photographers in the fashion industry, with a very impressive portfolio.
I try to communicate with the people I photograph that I want images that are real. If they are feeling sad, or angry, if they are feeling happy – that's what we want to get to.
#7 Tim Walker
Tim Walker's photography is the real-life version of Alice in Wonderland. His concepts are something you'd see in a movie or daydream about.
Many of Tim's scenes are real, which helps the models easily immerse themselves in his world. His work is a fantastic example of independence, styling, and surrealism. Even if you prefer taking simple photos, you'll learn something from him.
Tim's official website is filled with recent and archived photos that are guaranteed to impress you.
#8 Patti Smith
Patti Smith is known for her inimitable music, but she's also a poetic photographer. She often uses a Polaroid camera to bring herself back to the present moment.
Sometimes, if I crave silence I turn to my Land 250. The experience of taking Polaroids connects me with the moment. They are souvenirs of a joyful solitude.
Even though Patti doesn't share much of her work on Instagram, you can find some of her photos in this interview with Vogue.
I hope at least one of these photographers inspires you to pursue your passion, try out something new, or get into a new genre of photography.
Which one stood out to you the most? Let us know in the comments!
The following two tabs change content below.
I'm an admirer of nature, a photographer, and a curious reader. Writing about photography and helping others improve is a growing passion of mine. My constant wish is to inspire others to be creatively fearless and endlessly curious. "Always dream bigger is my advice to you, because you can have whatever your heart desires" - Ashley Graham