Photographer Spotlight: Interview with Tristan Quevilly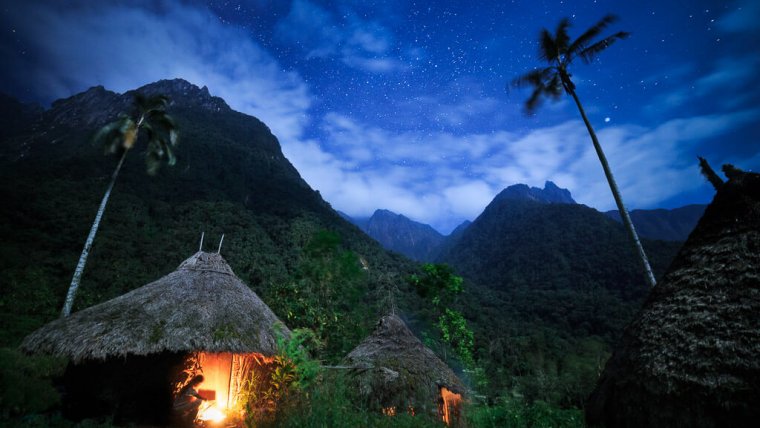 Photographer Spotlight: Interview with Tristan Quevilly
www.sleeklens.com
Welcome to another episode of photographer spotlight! This time I had the great honor to interview Tristan Quevilly. Tristan is a very gifted nature photographer from Colombia. In this exclusive interview, you'll find out what it is that makes him so good in his field.
1) Tell us about yourself, where are you are from, what got you into photography and how long do you have done photography?
Tristan: I am from a small town of Brittany, west part of France, but I've been living now in Colombia for 2 years. I started to work in the travel and tourism industry 15 ago and it leads me to work in almost 20 countries, without counting my travels. I discovered such wonderful places, that I thought it was a pity to take pictures with a bad camera. Since I choose a life of experiences, and not material things, photography was the best way to bring back the best from each place. I started taking photography more serious like 5 years ago when I bought a 5D Mark III. From then I started to study lots of books and to watch a lot of photography tutorials.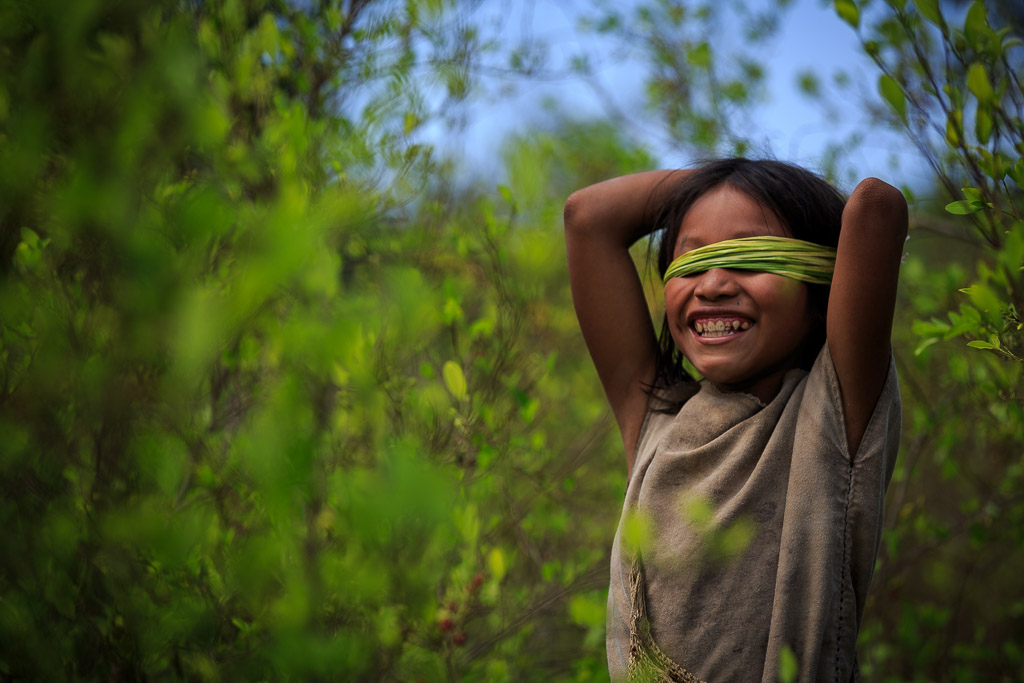 Photo of a young Kogui child taken in the coca leaves. I just had an idea to take a pic in this coca leaves one day, as this plant is so sacred for the Kogui Tribe. I had in mind the old album Front Cover of Peter Tosh taken in Jamaica. Indeed, this little friend did naturally a better pose that I could expect. I really enjoy the result and the soft light on this one.
2) How much time do you spend on photography on average?
Tristan: I think it almost became an obsession because I'm spending now at least 4 hours a day after work.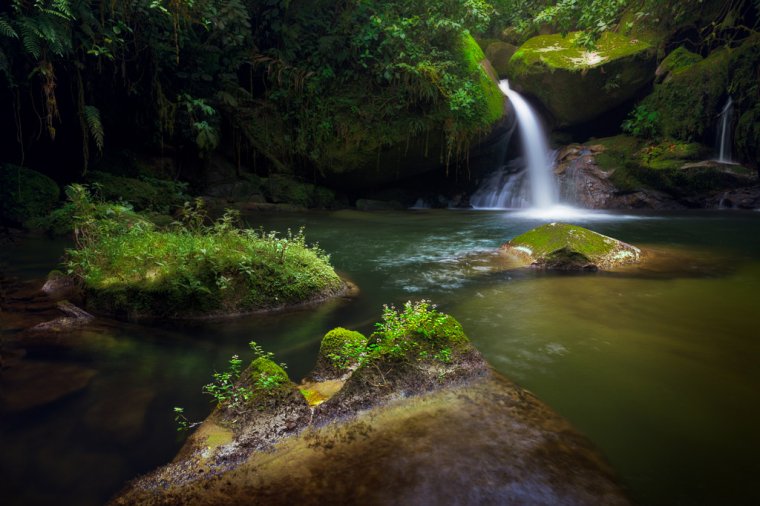 This was a lost waterfall. Only an expert can find its location. To arrive there we had to climb down nature, their were no existing path. Then arriving at the river, we have to come a across a tunnel o vegetation, before arriving to this kind if circus. Just a small hole in the trees were letting the soft light enter here. A really amazing place, and really cold water, this time I got a bit lazy and didn't swim there.
3) What is the favorite photo you took and why?
Tristan: I heard recently « which one is my favorite? The one I 'm going to take tomorrow »
I think every time I make a step further, I'm even more happy than last time. Nevertheless, the photos that more moves me are actually a serie of photos I took in Sierra Nevada de Santa Marta in Colombia. It is not so much associated with the photos themselves, but to the experience I had there. It completely changed my way of thinking and I remained mind blowed months after this experience.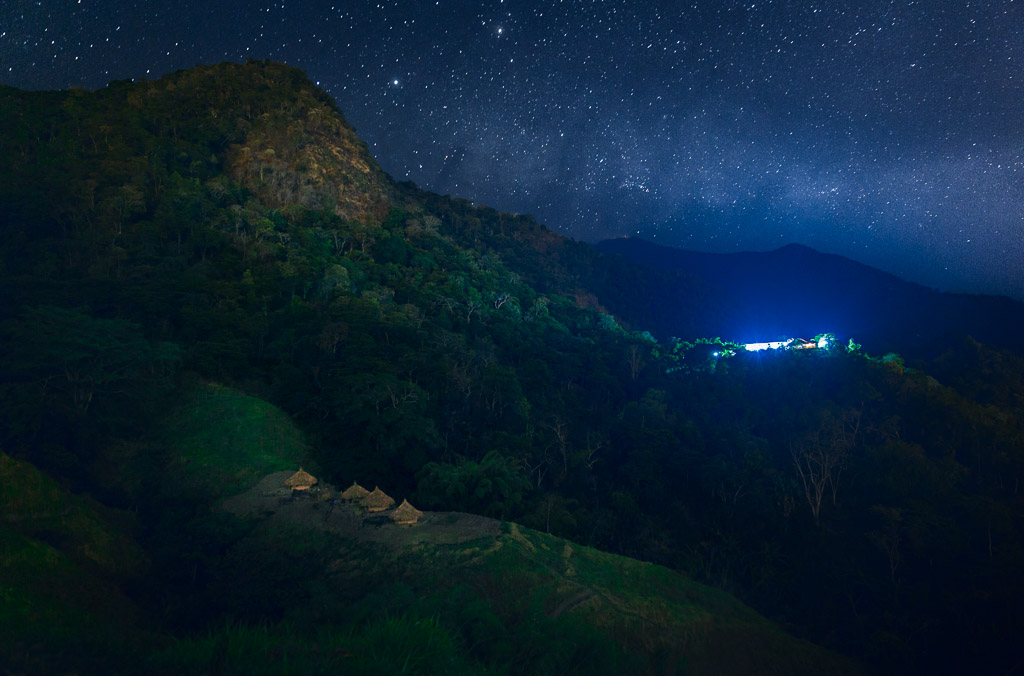 It means Mundo Nuevo en Wiwa indigenal Language. I really like to spend time over the hills of Minca, my friend is running a permaculture project. The idea is to create a farm where they teach people how to live in autosustainability, Agriculture knowledge is also shared directly from our indigenal friends wiwas. The place and their project are just incredible. More info: Mundo Nuevo Minca on Facebook.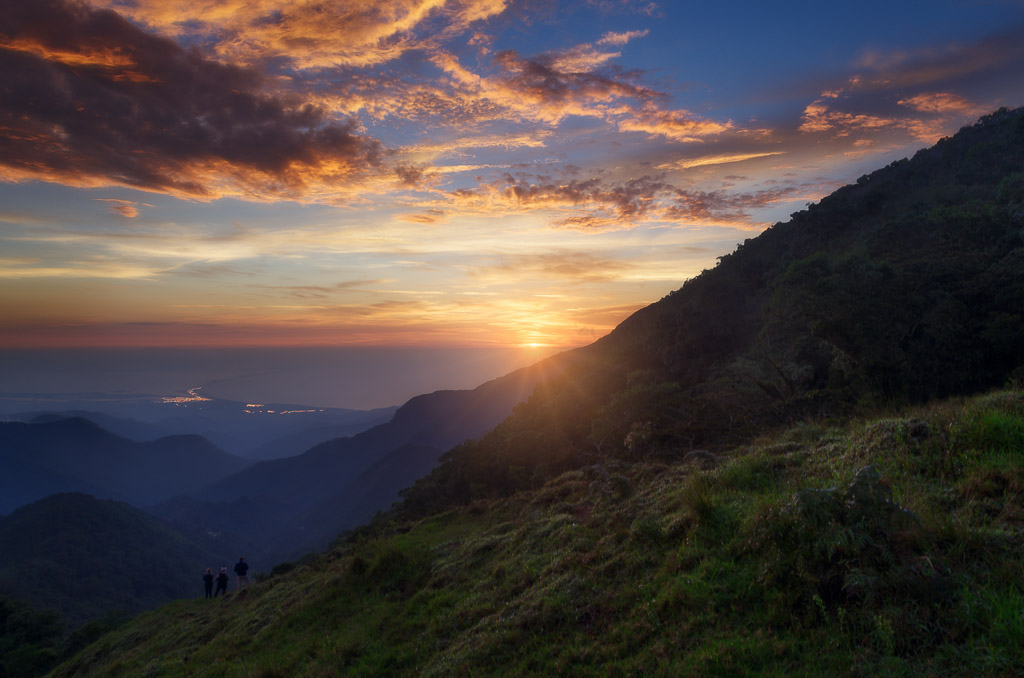 Sunset from Cerro Kennedy – Sierra Nevada de Santa Marta – Minca – Colombia
4) Which gear do you mainly use / What is typically in your camera bag?
Tristan: I use a Canon 5D Mark III , which is an absolutely amazing camera. For Landscapes I had a 24-70mm 2.8 L II from Canon. Unfortunately it broke 2 months ago. Now I plan to get the Canon 16-35mm 2.8L II which seems to be perfect for landscapes, and more affordable for me. For portraits my favorite lens is the 70-200mm Canon 2.8L. Well it is very heavy but it has a very fast autofocus, the bokeh is just exceptional, and especially for travel portraits, I think it doesn't break people's intimacy. I mean we don't need to get so close to people, so they don't feel bothered by the camera. Even in low light condition it really makes wonders. Generally I take everything in my backpack. Even if all is very heavy, I don't want to make compromise for quality in such a wonderful place like Colombia.
A Dreamy Vision from the Lost City Trek. On the way, in Sierra Nevada, this is the kind of pure landscape you can enjoy. Pure beauty in these virgin mountains! Happy to see there still exist wild places like this!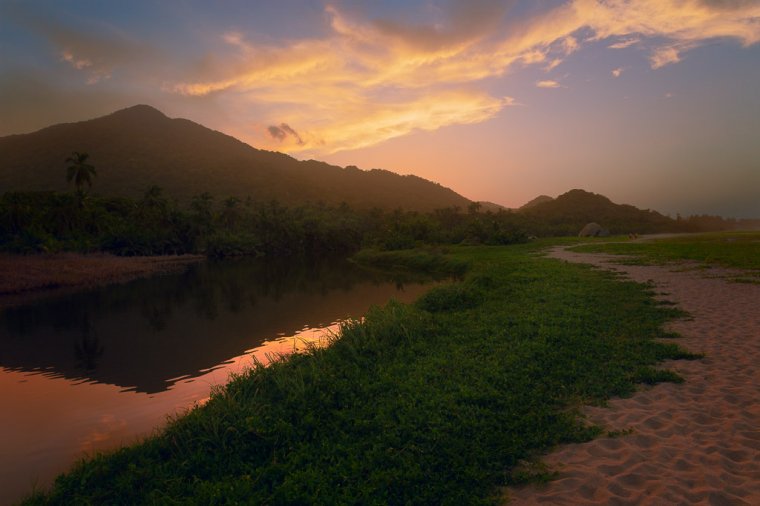 It was a very long day before arriving to this beach, coming from higher mountains of Sierra Nevada. It was an 8 hours walk by 35 degrees and almost 90% of humidity. We were all dreaming of this beach before arriving. Entering in Tayrona Park we had to hike 1 hour more before arriving there, and it was almost night, but our dream lead us to the end. Exhausted, we had to cross this entire wonderful beach before taking a bath. Couldn't swim right there because there is still crocodiles living around, but it ads strength to the place. This shot was taken hand held without tripod, so a bit harder to process, but I really like the result. It was so amazing to walk in this serene atmosphere, enjoying even more as we were being tired.
5) How do you prepare for an image?
Tristan: I bought an application called "Photopills" which is really revolutionary. It helps to plan everything years in advances, directly on a map. I also try to look on the internet to find photos which were made at that places, to check the best point of view and then I try to be there at the magical hours.
At the moment I lead groups as the touristic guide and unfortunately most of the time I don't have the possibility to take quality pictures, but I can't complain: I have a perfect job!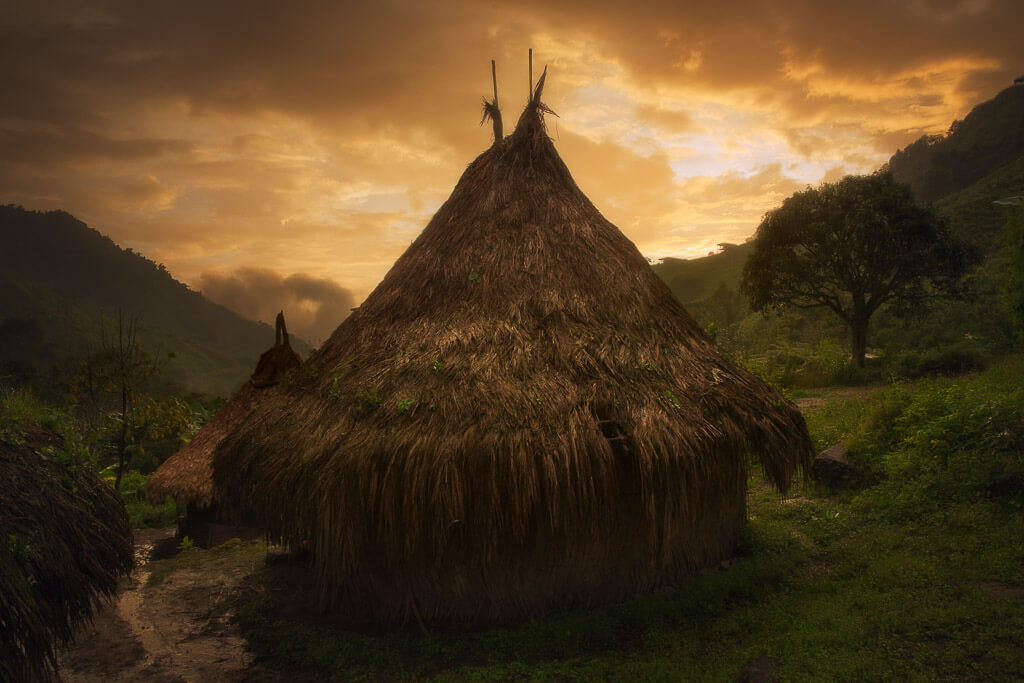 In every village, the Mamo has a bigger house because he receives people in order to teach life, educate, heal, and to give advice, and many other things. Let's try to enter in the White house, just to see how Trump would receive us, hahah ! 😉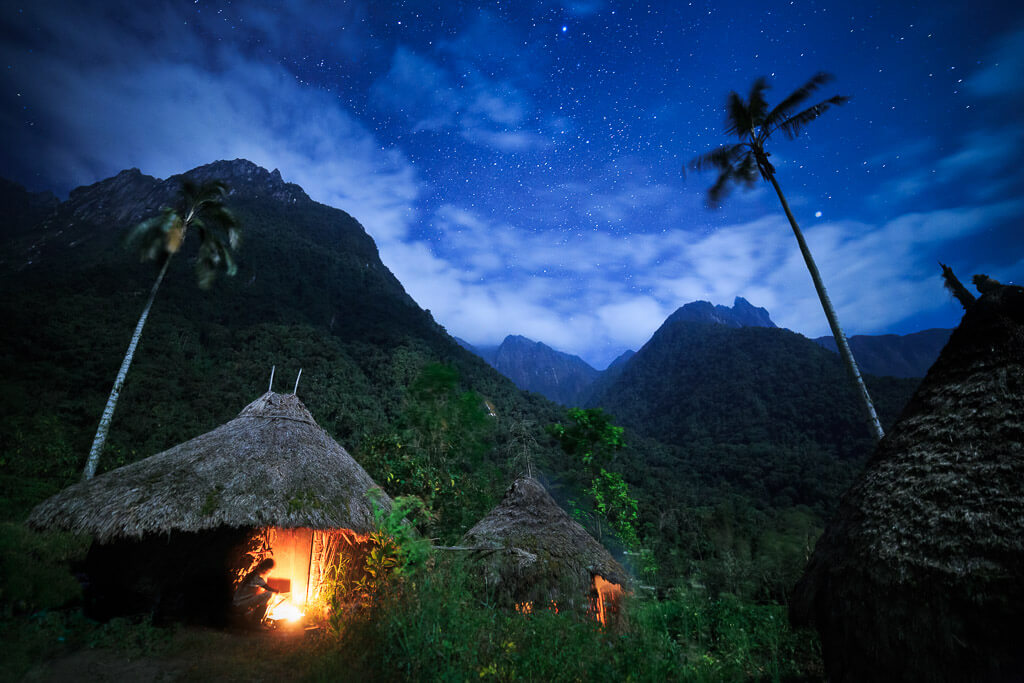 In a period where we are connected all the time on mobile phones, there exists another kind of Wifi which works much better! I wish everybody to travel a bit without using any mobile for few days. Connection with nature has a magic power and also allows to reconnect with ourself .This picture was blended with several exposures, main exposure at 30sec 2.8 1600 iso and a tripod.
6) How important is post-processing for you? Can you tell us what kind of post processing you typically do?
Tristan: Post processing is like revealing a landscape slowly, as they did before in the darkroom. I use techniques based on luminosity masks, and I mix lots of different methods I learnt everywhere. I start from a quite neutral raw before moving to Photoshop. I also try to use non-destructive editing in order to be able to re-edit after a while. I let my photo rest a bit before I publish them, after a time we see better the details to fix.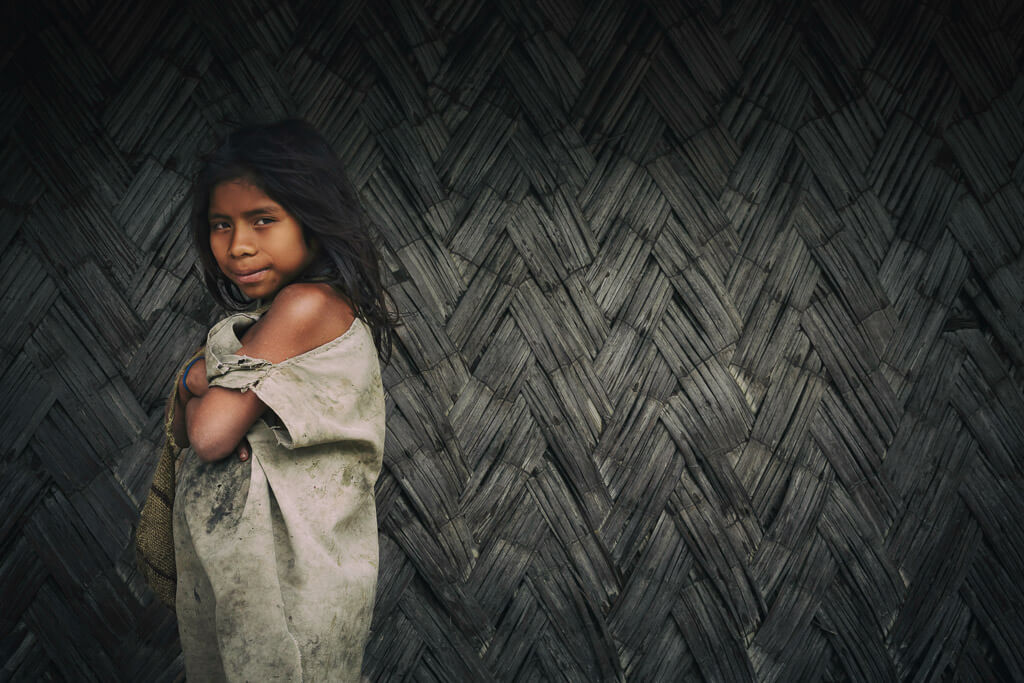 It has been a very strong trip to visit this village. People there decide to resist leaving in consumption world, and still leave in perfect harmony with Mother Earth, la Pacha Mama! They have few but leave happy. When they go down to the cities, they only see pollution and destruction and really don't understand our world. I highly respect their culture, and wish they can buy their land back, because civilisation world took a lot in order to cut trees and settle big farms. From these photos I printed a kind of album book that I will transmit to the village in a way to thank them.
7) What's the most challenging part about being a photographer?
Tristan: The most challenging part about being a photographer is to live from it. Photography is so expensive. To become a professional photographer, it is quite complicated: you need to learn digital marketing, SEO, design, being a webmaster, accounts, printing, laws, and so on… All this is very time consuming (You understand why I spend at least 4 hours per night now? 😉 )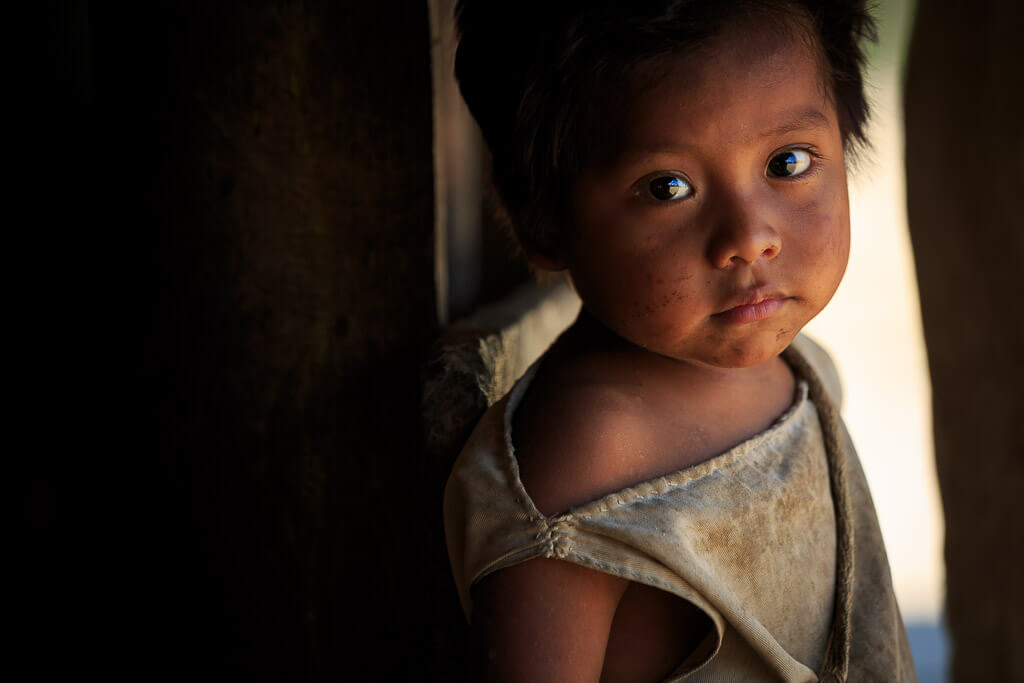 Portrait of a little kogui Childe taken in Sierra Nevada de Santa Marta.
8) Do you have general advice and tips for other photographers?
Tristan: For Beginners, I would say: take pictures, pictures, pictures all the time, learn your camera perfectly, and study hard.
For professionals, I would say: explore! Many photographers go to the same iconic places, but there is so much to discover on earth!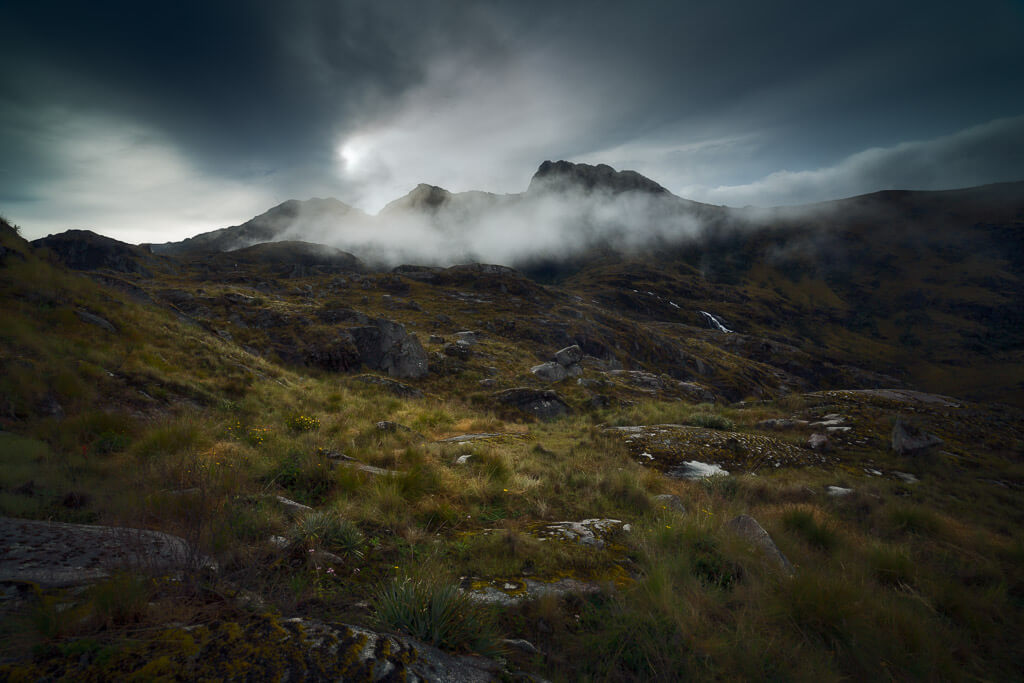 This is one of the sacred places in Colombia, where the sky refills its energy in the Lagunas. During the night it makes an incredible show of light and mysticism. Here, they say that people can transform in a cloud and travel everywhere! Hope you like my visual interpretation of this place.
9) What are your future photography goals?
Tristan: For holidays I plan a trip this month to Cuba I hope to bring back nice portraits.
Professionally I plan to create workshops in wild places of Colombia. I work for an adventure travel agency and part of my job is to create new tours, so I would like to develop this before the end of the year. Then my dream would be to be back on the roads to visit a lot of countries!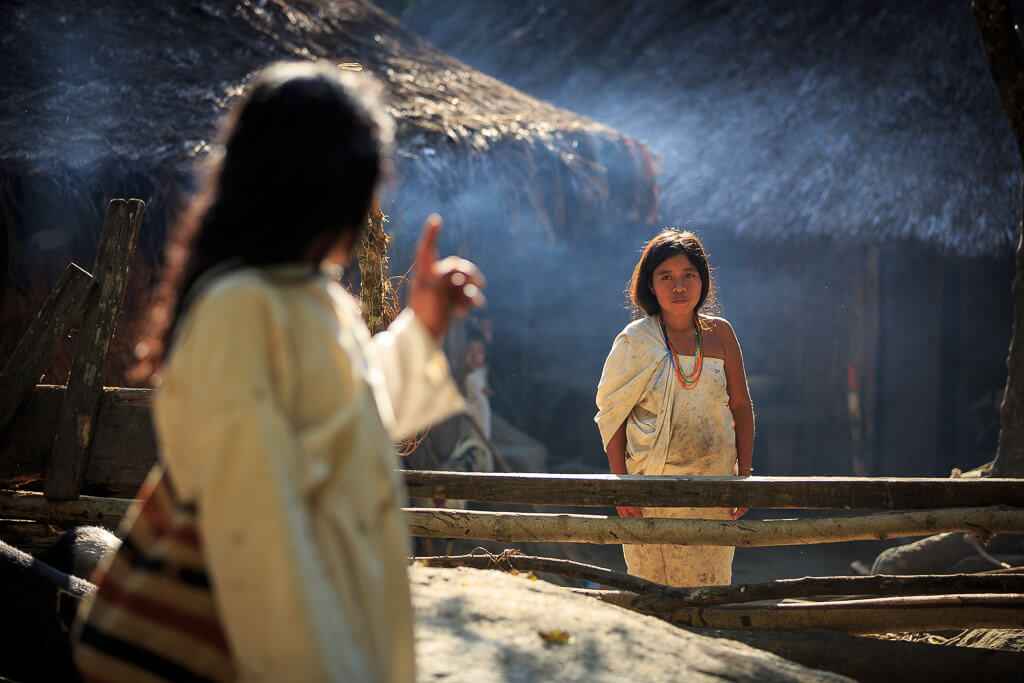 Today, no story on this scene, your imagination will tell you more! 😉
10) Is there anything else you want to tell us?
Tristan: I would like to say « Bienvenidos a Colombia! » , this is definitely a perfect place to live, and a true paradise for photographers!
If you like Tristan's work visit his Website and feel free to follow him on:
INSTAGRAM | FACEBOOK | 500px
Website: Tristan Quevilly – Landscape and Portrait Photographer in Colombia
The following two tabs change content below.
Julian Rad is a self-taught award-winning wildlife photographer, who was born in Vienna, Austria in 1991. When he bought his first camera at the age of 20, he found an expression for the fascination he had about nature & wildlife. He already had many publications in national and internation magazines and newspapers (New York Post, Daily Mirror, Daily Express, The Times, GEO, Digital Photographer Magazine...). He has won several photo competitions such as the comedy wildlife photography awards in 2015.