8 Architectural Photo Opportunities in Amsterdam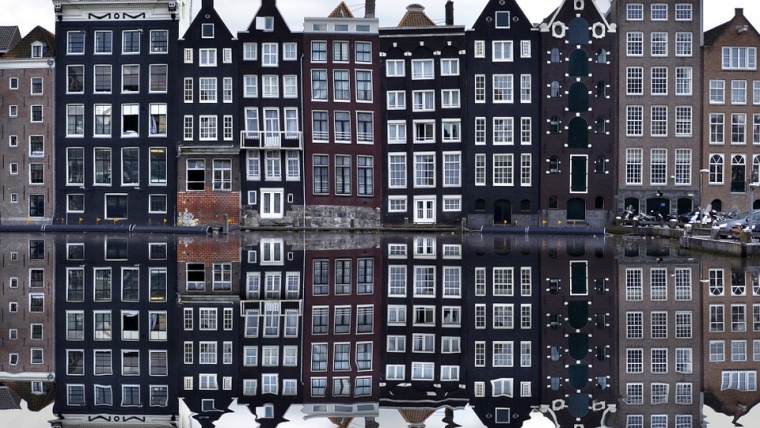 8 Architectural Photo Opportunities in Amsterdam
www.sleeklens.com
Architecture in Amsterdam
Amsterdam is famous for its canals, but it's also filled with an abundance of architecture; everything from Renaissance style to contemporary and modern. There are so many amazing photographic opportunities; I'll share 8 of my favourites with you:
Canal Houses
These picture-postcard homes line the banks of the many waterways of the city. Although plenty of the homes are still lived in, many have now been turned into offices, museums or places to stay, so there's ample opportunity to take a peek inside one.
Photographically, these stunning pieces of history are best viewed from the canal banks. Hopefully, you'll get the right sunlight and weather to capture them reflected in the water.
The Royal Palace
Originally designed and built in the 17th century as the City Hall, the Royal Palace can be found in the heart of Amsterdam, at Dam Square. After Louis Napoleon became the King of Holland, he redecorated the hall in Empire style. Since then, the changes have been undone and the building more closely represents its original state.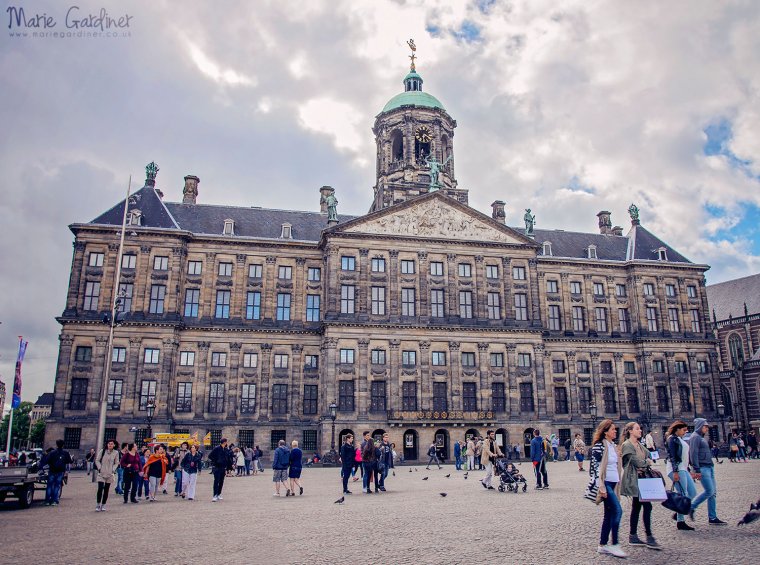 Use a wide-angle lens to get this whole magnificent building in and then capture some of the ornate details around the top with a zoom. Try a long shutter speed to blur the people in the foreground if you'd like a less 'busy' shot.
Old Meets New
There's a pleasant mix of old and new in Amsterdam and sometimes the two meet:
This modern façade can be found on Rokin rod­ not far from Dam Square. Built in the traditional shape and style of the other canal houses, its additions of glass and colour really make it stand out. While some may deem this an 'eye sore', with its interesting glass reflections, it's certainly worth a photograph or two.
Where there are canals, there will be bridges and Amsterdam and with over 2000 across the city, you really can't turn around without seeing one of them!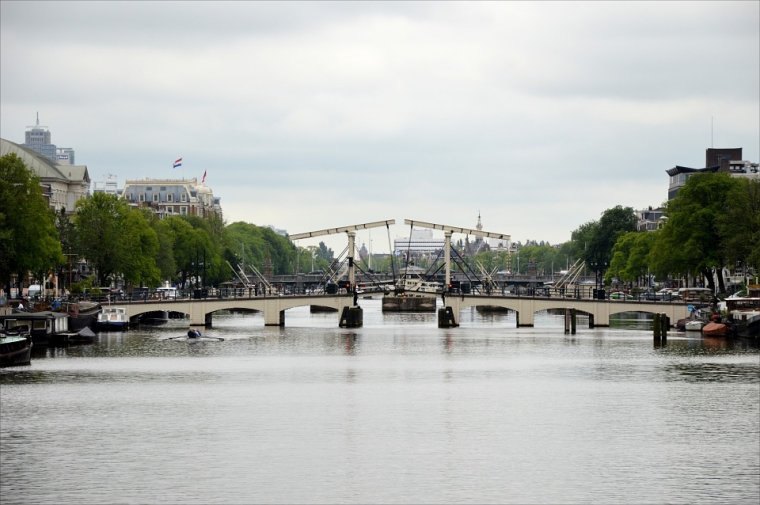 The Skinny Bridge (or Magere Brug) is amongst the most famous – you may have even spotted it in a film or two!
Windows and Shutters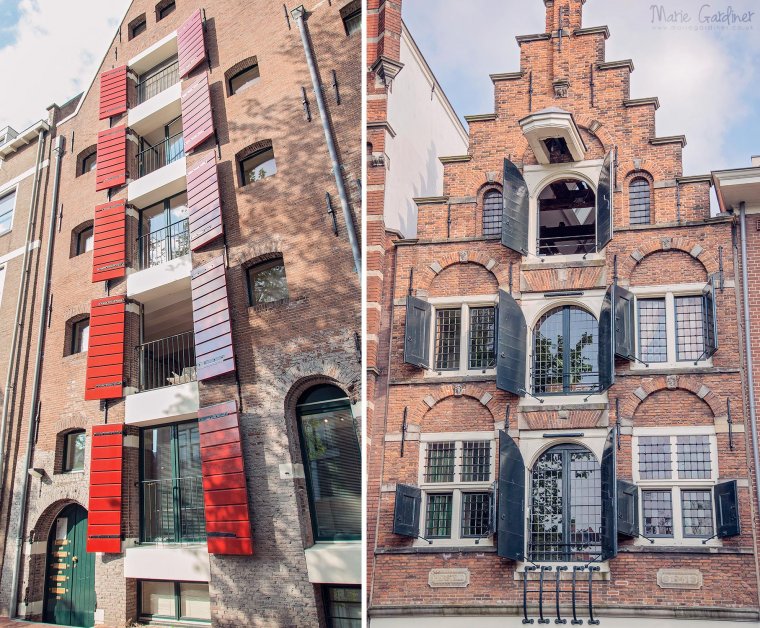 Shutters are a big part of Amsterdam's architecture and you'll find a weird and wonderful array of them as you walk around the city. With so much glass used in the design of buildings, coupled with glare from the water, houses can get really bright and hot, so shutters provide an important function as well as looking pretty.
Lamp Posts
Looking up can get you some new takes on architecture, but what about the things we tend to ignore or take for granted?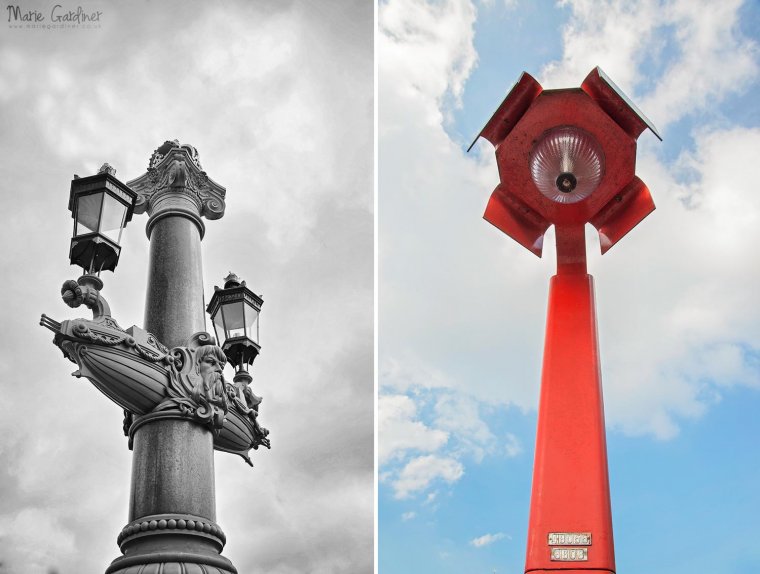 It never fails to amaze me how many different styles of lamp posts there are around cities and Amsterdam is no different. They range from the stark and imposing red of the picture above on the right to the ornate, carved grandeur of the one on the left.
Monuments and Memorials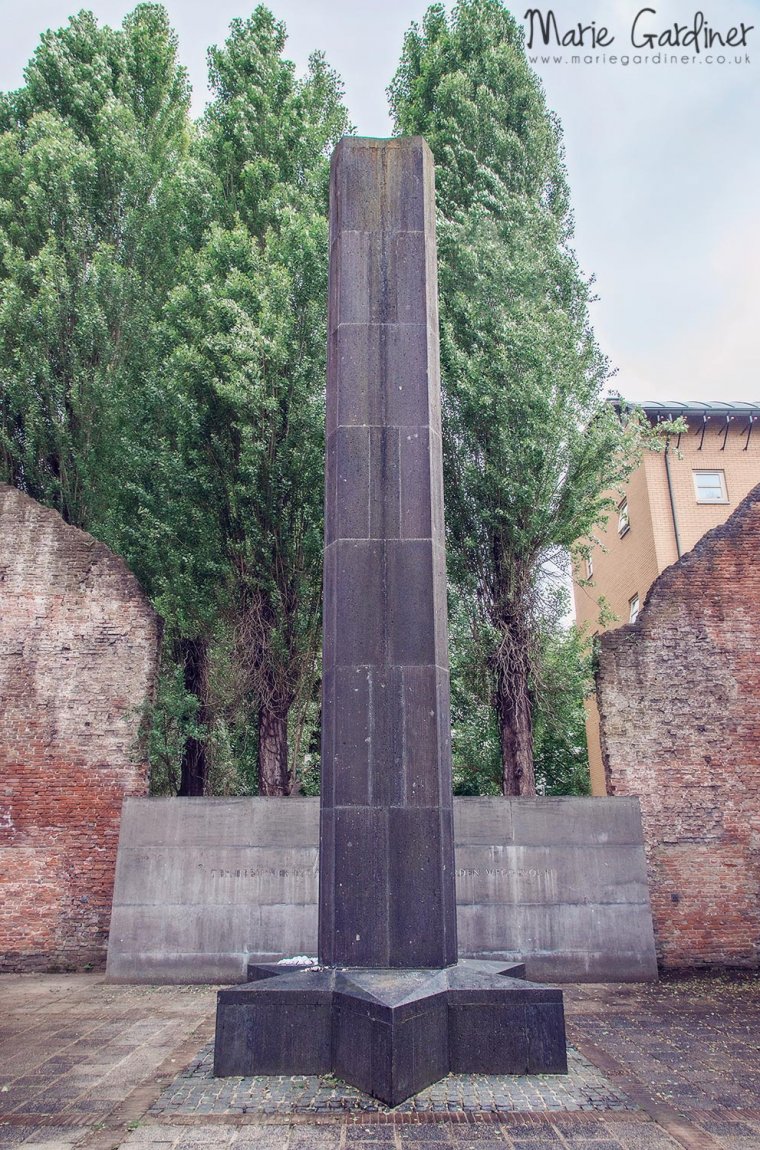 Like most cities, Amsterdam has its share of memorials. A particularly stark looking and touching one can be found in the Holland Theatre in the Jewish Quarter. Entry is free and the memorial pictured above can be found at the back of the museum where the old theatre itself once stood.
Churches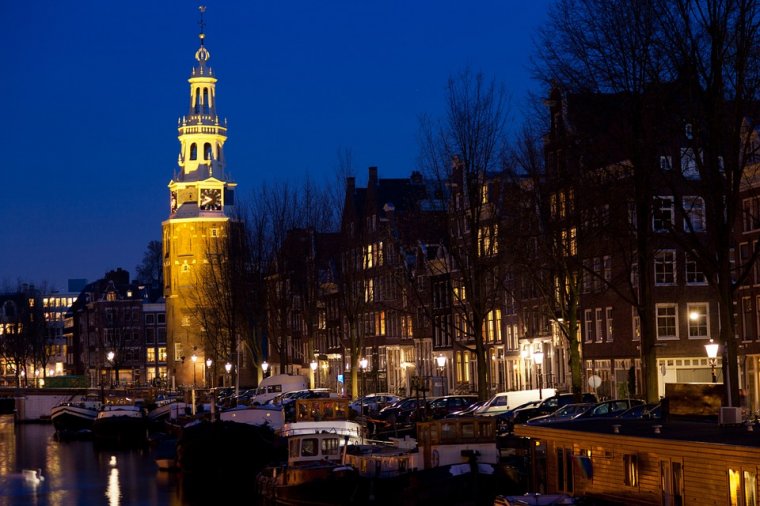 There are churches and places of worship to reflect many religions, in Amsterdam and each one has special photographic appeal.
Some particular churches of note are the Oude Kerk (Old Church) in the now Red Light District, the Nieuwe Kerk (New Church), a 14th-century church where many Dutch monarchs have been crowned; and the various synagogues in the Jewish Quarter.
If you're visiting Amsterdam, I hope this article gives you some photographic inspiration and to finish, here are my top tips for getting some great photos of buildings:
Do research before you go to make the best use of your time once you arrive.
Take a wide lens to capture buildings with their full drama.
Try a long shutter speed if there are lots of people cluttering the shot.
Remember to look up and see if there are any new angles to take advantage of.
The following two tabs change content below.
I'm a photographer and writer living and working in England. I love travel, adventures and coffee... Lots of coffee. I'm also part of Lonely Tower Film and Media where we make documentary films.