Best 6 Sony Cameras Tested & Reviewed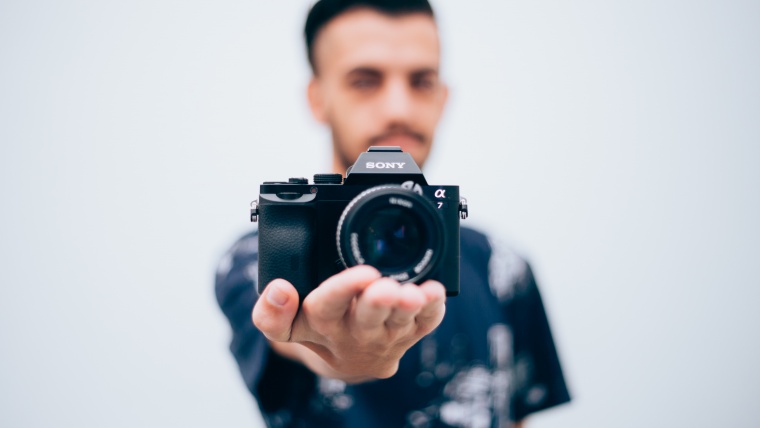 Best 6 Sony Cameras Tested & Reviewed
www.sleeklens.com
Certainly, when we talk about cameras the first brands that we think are Nikon and Canon. Limiting ourselves to only these two options would simply be a negligence since we would be denying the attention that some of the other cameras out there deserve. An example of this are the models offered by Sony. Why not take a look at Sony Cameras?
In this guide we will take a detailed look at various Sony camera models, each focused on different levels of users: from semi professional cameras, mirrorless full frame, to Smart DSLR lenses.

A detachable camera or an innovative lens kit? Let's see what's coming next for Smartphone Photography!
Pros
30x Optical Zoom
Superb image quality for a smartphone
Remote usage
35mm film equivalent
Easy to use
Individual buttons
Cons
Pricey
Depends on the smartphone's battery
ISO 3200 onwards may produce a good amount of noise
Click to read the full Review
Moving on from the traditional DSLR cameras or even from compact cameras, Sony has become a pioneer in the market of these brand new "Smart Lenses".

Is this a camera or is it a lens? That may be the first question have when first analyzing this camera. As an attachment designed for Smartphones, the main idea was to release the full potential of smartphone photography without relying solely on the default camera apps from the particular OS.

The first aspect to highlight within this camera is its 30x Optical Zoom, which would provide us the equivalent of 35 mm to a focal length of 24-720 mm - Keep in mind that we are talking about optical and not digital zoom, in which the image quality is not compromised by the zooming process. Being somewhat wider than its predecessor, it can be a bit deceiving with regards to its portability; however, this lens fits nicely in a pocket, usually without any problem.

Another remarkable aspect of this Smart Lens is the ability of using it remotely, just as we would with a remote flash. This allows a whole new range of opportunities for creative photography: either a selfie without the selfie stick, using the lens with a tripod, or simply placing this lens on any surface. But of course, by using the lens in remote mode the unit will operate in the same way as a camera on timer mode - meaning you won't see what the lens is capturing on your Smartphone until the photo is taken.
This Smartlens requires of an app called PlayMemories to access its controls in a Smartphone; this app is currently available for iOS and Android, which can be a bit of a constraint if you work with Windows Mobile.

The pairing is done through two options: NFC or WiFi. For gaining a connection via WiFi, you can find a password in the inside the battery compartment. With regards to storage, this lens can synchronize photographs with a Smartphone using the PlayMemories app mentioned above, while keeping the high quality files on a memory card located near to the battery.
We cannot find any major disadvantages with its user interface, and is actually pretty straight forward in its operation: it has an on / off button, a shutter button and the zoom selector.

Image quality is more than acceptable for a Smartphone linked device, widely surpassing the quality that any of these mobile phones can provide solely with their default camera. ISO settings do not produce a significant amount of noise unless you exceed an ISO value of 3200.
The main disadvantages of this lens are linked to the strict workflow constrained to: the device is not compatible with apps like Instagram, Snapchat, etc.; therefore, the PlayMemories application should be used to capture photos and then edit or import them from the library.

At the same time, there isn't a fully manual mode like we would have with a Bridge or DSLR camera. It allows images to be captured in Aperture Priority, Shutter Priority and some automatic scene modes.
However, the biggest drawback of this device lies in the amount of time i takes or errors that may occur when pairing the connection. There is also some lag between captures. Another aspect than is a bit negative, besides the size of the lens when deploys its zoom, is that its operation completely depends on the battery of the Smartphone, which of course drain more of your phone battery while using this camera.
A camera designed for those just getting started in the world of the photography, equipped with a precise zoom without greater scope. This one has exactly what is needed to capture quality images, without all the extras.
Pros
Compact
Lightweight
Cheap
Features some basic manual controls
Acceptable performance
Cons
Poor performance in Low Light
Restricted zoom range
Click to read the full Review
The W800 is an entry level compact camera with a discreet design is able to equip a CCD 20.1 mpx sensor with ISO 100-3200 sensitivity and films in 720p.
Overall, the style is professional and lightweight, with metallic finish that gives an appearance of brushed metal; however, that appearance not is more than painted plastic, so be careful to avoid scratches or marks.

Given its compact size, it is ideal for carrying it in a pocket of our pants or jacket. That makes this camera an ideal choice for those travel days, urban photography scenarios, or even in those situations where it seems safer not to carry around bulky, more expensive camera.

The controls were designed with a minimalistic profile, simply offering what is strictly necessary to have. This enables the camera to be used as a good starting point for learning the basics: all the customization options are contained within the 5 buttons that operate the camera.

The optical zoom lens has a maximum range of 5x, which is really disappointing for everything that this camera could otherwise offer. Its focal range is equivalent to 26 - 130mm, with 5cm minimum focusing macro - without offering any image stabilization system, which is expected since it is a budget-minded camera.
Despite the fact that this camera is designed to work in automatic modes, with a wide variety of preset scenes, it also allows the of handling White Balance, Exposure Adjustments and ISO sensitivity. 4 preset filters allow creative adjustments to be made within the camera, also allowing the user to capture images in 360-degree panoramas.

In broad terms, this is a camera that offers a basic and comfortable interface. Additionally, it has a pretty good battery life, as it operates with a rechargeable Li-ion battery instead of the traditional AA batteries. The greater disadvantages with this camera are experienced in poor lighting situations, as this is where you find its limits. The quality of its LCD screen is not quite at the same level of Sony's standards that you will find with their other products, but, as we mentioned before, this is a budget option. The image in the screen tends to get get washed out when viewing in situations where there is intense lighting, as well as a reverse effect in areas of low light.
Even with its compact size, this camera is a powerful piece of gear for any photographer who wants to maintain a fair balance between quality and portability.
Pros
42MP Full Frame BSI CMOS sensor
4K video capable
Sturdy construction
5-axis image stabilization
Compact format
High speed AF
Cons
No direct AF point control
Small buttons
No in-camera RAW conversion
Limited battery life
Expensive
Click to read the full Review
Don't let the size of this camera fool you into thinking hat it doesn't hold up to the more robust DSLR models. This mirrorless camera is capable of maintaining an excellent balance between function and portability.

As a camera itself, it is a considerable step forward in comparison with its predecessors; the main reason is made clear by the change in the sensor technology, outfitting this model with a BSI CMOS - which greatly improves the quality by pixels. The improvements include the enhancements made to the Autofocus system, which not only behaves way more agile and effective with Sony lenses, but also with lenses from other manufacturers.

The first impression that this camera gives is that it is put together quite well, with solid construction. Its body is composed of weather-sealed magnesium alloy, which improves its ability to withstand different conditions, and strengthens the frame enough to allow the mounting of larger lenses.

We count with two dials: one on the top and another on the back face of the camera. There is also a third control next to the LCD screen. The shutter button was moved from its original position from previous models, now located on top of the camera's grip - which was redesigned to offer greater comfort when holding the camera for prolonged lengths of time.

The LCD screen is articulated, which will allows the user better access in complicated scenarios; however, the control that determines if the display mode is for LCD screen or the electronic viewfinder is particularly sensitive, which will result in an occasional mode change without intending it.

This model offers 10 entirely customizable buttons, which, while it can seem like too many at first sight, it would actually be nice if there were more for more convenience to a professional photographer. As a drawback, the menu seems to be a bit disorganized and even negligent: basic options such as the management of the SD card are in an awkward position making it difficult to access. And, if we have to do it quickly, it will lead, in general, to more time taken than necessary for the user. The options are simply not optimized for quick access. While the Fn button gives the ability to assign "shortcuts" to many of the options from the menu, there are a large number of important options that are not possible to assign as shortcuts. One of those shortcuts which is an important one to assign is the of Auto ISO, since the controls of ISO are highly editable in this model.

The Sony Alpha a7R II is considered to be within the range of ultra-high resolution cameras, competing with models from Nikon, Canon and Pentax in the same category. Compared to its predecessor, the improvements to the image quality are obvious: Sony managed to implement an in-body image stabilization (IBIS) system, designed to reduce the shock that was that was a big problem in the previous version's shutter.

Regarding its performance in poor lighting conditions, Sony introduces their backside-illuminated CMOS sensor (BSI) system. This reduces the requirements for the electronic implements per-pixel, leaving more area for the process of capturing light. With a more advanced electronic system, in addition to better performance in low light conditions, we are also able to increase the shooting speed without compromising the overall quality of the image; i.e., all without increasing the levels of noise to those assigned ISO values.

In general, Sony made some great new advancements to this model, considerably improving the menu of options in a vaguely similar style to the format of Nikon camera's; however, this is still not as efficient as what you would get with a model from a Nikon. The improvements implemented both in buttons, dials and the grip ensure a more reliable handling ability for the user, avoiding unnecessary accidents while capturing photographs.

The shutter lag has been considerably reduced as well, enough to compare it with the acceptable levels set by Nikon and Canon; however, there is room for improvement, mainly if we focus on subjects such as sports photography.

One of the largest drawbacks to this model is the battery life, which not is as long-lasting as we would like to have. So, for longer sessions is recommended carry two extra batteries in order to avoid running out of power. Another aspect which is worth considering is that some of the Autofocus modes are not available with compatible lenses, which (considering the price of the original lenses by Sony) can be quite an inconvenience if we have a budget-minded view with respect to this camera.
A upgrade to the 2011's Sony A77 with interesting features that we will bring us closer to professional photography.
Pros
12 fps burst mode with AF-C
Steady-Shot technology
Articulated LCD screen
Good quality build
Weather-sealed
Cons
Considerable amount of noise in high ISO settings
Burst mode doesn't allow control of shutter speed and aperture
Controllers can experience some lag
Click to read the full Review
Despite not being a professional-line camera, according to its manufacturers, the Sony A77 II is gradually taking a good position in the market, and can compete without greater problem with some mid-level DSLR of both Nikon and Canon.

The first aspects to highlight of this camera are the improvements that Sony introduced in relation to its predecessor in what to Autofocus refers. The Eye-AF mode comes as an upgrade of the Face Detection system, allowing us to avoid pictures of subjects with eyes closed. Meanwhile, the Sony A77 II us allows determine how persistent it must maintain the Autofocus sector assigned - something that usually available within professional-range DSLR cameras. The 79 AF points cover almost the greater part of the sensor of this camera, with which can obtain accurate results even for photographs in unexpected moments without too many concerns.

Another technology that Sony implemented both in this model as in its predecessor is the system known as SLT or, according to its acronym, Single Lens Translucent. What does this mean? That Sony opted for a system of a unique semi-transparent mirror (Yes, despite the name the mirror is in fact semi-transparent, as if it was translucent the image would be diffuse), which simplifies the task to the electronic level in comparison with the cameras with multiple mirrors. The cost of this, for technical purposes, is to sacrifice part of the storage capacity for lighting, which is compensated by ISO - thus adding noise to the image, which in moderate values of ISO is not notorious.

In what the SLT technology affects us as photographers? The light that enters to the objective is directed simultaneously to the sensor and to the Autofocus motor, by which both components process the image at the same time, reducing the traditional lag in this process in that we can experience in single mirror cameras. In few words, it means that we have an electronic viewfinder (EVF) working with a traditional Autofocus system, which could be defined as something quite exotic for a camera, and that without any doubt improves the precision level of the focusing interface. For those most passionate for other focus modes, this camera also has developed a fairly advanced Lock-On AF, thought for scenes with nearly-still subjects rather than scenes where the action is a component.

With respect to the physical composition of this camera, the Sony A77 II has a strong body, resistant to most of the conditions that we can face thanks to be weather-sealed. Despite the large number of buttons that this camera has, the grip is comfortable, so we will not find (unless accidentally) situations in where for holding the camera we actually activate unwanted options.
With an articulated LCD screen like its predecessor, we can access a wide variety of challenges given comfort by this display system; But if this was not enough, this model shows clear improvements regarding to the visualization of that very LCD screen under harsh lighting conditions.

This camera replaces the GPS technology with its newly developed WiFi bridge connection and NFC technology, leveling this camera with most high-end DSLR cameras.
As is customary in Sony cameras, and I would like to emphasize this as a personal critic, the menu is disorganized. In the particular case of this camera it can be amazingly frustrating since the controls are very sensitive, by what we can easily pass by any option and spend a good time until we find the very adjustment again. We can store some of these settings to our convenience in the button dedicated for user customization (Fn menu button).

The Auto-ISO operates in two modes: the traditional ISO and a mode exclusive to JPEG format, where it combines three images with the same value of ISO selected, as a way of reducing the amount of noise retrieved by image.

The performance of this camera for situations of poor lighting is more than acceptable, considering we have settled a proper configuration of the ISO values, thus not adding more noise to the photo than desired.

To do a brief summary of this camera, it is, without doubt, a model that deserves the chance to be tested. The areas where this camera will highlight are Sports Photography, Adventure, Wildlife and Portrait Photography given the features of its Autofocus system; however, the Lock-On AF mode can be imprecise in a large number of situations, especially if we have a great amount of subjects in movement at the same time - the camera tends to change the focus point from one subject to another with relative ease, which can be immensely frustrating.
Impressive image quality for a Bridge camera, capable of competing with entry-level DSLRs; not to mention its 24-600 mm F 2.4-4 lens.
Pros
Comfortable handling
4K Video recording capable
Weather-sealed
Improved battery life in relation with its predecessor
Stunning zoom
Cons
Lens loses its ND-filter coating
Messy menu
Pricey for a Bridge camera
Bigger than most Bridge cameras
Click to read the full Review
For many, a Bridge camera is the first step towards professional photography; however, in cases such as the Sony Cyber-Shot RX10 III it can be considered as a long-term investment, since it is able to compete with entry level DSLR cameras such as Nikon and Canon. And, as it is well known in the case of Bridge cameras, we cannot exchange the lens, so equipping this camera with a lens that sports both wide-angle and telephoto with an impressive zoom range is a true success by Sony.

Compared with its predecessor, this camera was able to increase in size, so while it could be received as a negative aspect into what the average size of the Bridge cameras are concerned, it is actually a gain, and we'll get a more comfortable handling, and the enlargement in turn facilitated adding more buttons to control the camera on top of it.

The menu, following the same guidelines we've seen in other cameras tested, remains shockingly disorganized, where dozens of options will be deployed for no apparent logic, which can intimidate the user who not only has not previously experienced using a Bridge camera but is also not familiar with this "organization" of Sony.

Ironies aside, the Auto ISO mode allows us great freedom if we talk about camera settings, being even possible to select shutter speed values ​​automatically in relation to the focal length you are using.
The Sony Zoom Assist system will facilitate the task of not losing focus precision when working with focal length values ​​in telephoto zoom mode (which in 600mm focal length is more than assessable).

Despite the level and quality of this camera, the typical Fn button is not part of the configuration of this camera, bringing the already tangled menu affair only worse. Sony made considerable progress in battery life for this camera, which will make it a great tool for the intrepid photographer. The Lock-On AF remains as vague as we have seen in other models, so it is not recommended for situations with many subjects in action.

A more than recommended for a travel photographer camera looking forward to a practical solution for various scenarios without needing to exchange lenses in the process.
Despite being a relatively old model (dating from 2012), remains a classic for Sony users, and to-do for future upgrades as photography forums have been talking for a long while about the Sony SLT-A99 II
Pros
Dual SD Card Slot
Articulated LCD screen
Built-in GPS
Full HD video recording
Solid build
Great image stabilization system
OLED EVF
Cons
Autofocus not compatible with manual exposure control in video mode
Live View not available in continuous shooting mode
Messy menu
Click to read the full Review
Considered as an already outdated for the taste of some users, this camera is the second model from Sony to be considered within the category Full-Frame Reflex (the first being the Sony A900), and at the time of its release was focused on competing with the Nikon D800 and the Canon 5D Mark III. These two cameras differ markedly in the amount of megapixels, the Sony one featuring a maximum resolution of 24 megapixels, while also equips an Electronic Viewfinder instead of an Optical Viewfinder.

It was one of the first Sony cameras to implement the SLT technology, with relatively silent controls. Its body is resistant to weather conditions and dust given the fact that is made of magnesium alloy.
Sony had also made sure to include a hot shoe compatible with the ISO 518 standard, ideal for adding an external flash. The battery life is estimated at about 500 photographs.

Operating controls of this camera are easy to use: first we have a dial with lock-mode to select between automatic modes, priority or manual, as well as to enable us to shooting mode. The top LCD plate will indicate both settings as well as the remaining battery charge. Both ISO and Exposure values are perfectly adjustable since their buttons are located at the top of the camera, next to the shutter button. As for the controls deployed in the back of the camera, the classic Fn button here to display the functions; and in front of the camera two completely editable buttons are displayed to store shortcuts.

The menu should not be a surprise at this point, still unclear, streaky and tedious to explore. It is divided into 7 sections, organized in 21 pages total.

Despite having a comfortable handling, this camera also allows adding a battery grip, which will not only increase the autonomy of the camera but will also allow more comfort for long work sessions.

It has several modes of internal adjustment, as it can be options HDR, Sweep Panorama Clear Zoom; which is expected for a flagship model as used to be this camera.
Selection Criteria
There are a lot of important factors to consider when complaining a list like this one and picking the best cameras out of the bunch isn't always an easy thing to do. The first thing we had to do is to figure out the most logical way to separate each camera into a set number of points that perfectly describe its feature set and overall capabilities. After a long thought process, we decided on a list of nine most important factors that will allow us to easily differentiate one camera from another and let you choose the best one for you with more ease. Let us examine each of those in more detail, so you can get a better understanding of how we decided what cameras deserve to be on this list.
Design – While it may sound like something that is purely subjective and only relates to how good are the looks of a particular camera, it is also something that relates to how its built and is it comfortable to use. It's important to find a camera which has the right balance between an attractive design and comfort, but since your camera is primarily a tool for taking photos and videos we will always favor functionality over good looks in our reviews.
Price/Product rate – It's true that there is a number of professional users out there who aren't worrying too much about the asking price for their cameras because they need the best of the best for their work and can't satisfy with anything less. Most of the users, however, are always on a look out for a product with great price to features ratio and we will gladly help them in making the right decision. When choosing a camera to feature on a particular list, we are always looking for a product that offers enough compelling features no matter its price point, so the end user ultimately feels happy about their purchase and that they are sure that their hard-earned money was well spent.
Weight – While it's not the most important factor when choosing a new camera, it certainly is when you're buying one that you're planning to carry with you often or if you're, for example, travelling a lot and you don't want to be burdened by the weight of your camera too much and enjoy your trip instead. This is especially important in the case of a compact and mirrorless camera, where portability is one of their main selling points. You also need to take into account the build quality, which will also add some grams to the total weight of the camera. So, you'll need to decide if you want a camera that's lighter and easier to work with or you want a more durable and substantial camera that will be slightly less portable.
Waterproof capabilities – Protection from the elements may not be the first thing on someone's mind when buying a device with electronics inside of it, but many advanced and professional users who are always shooting in different weather conditions find this an important factor when buying a new camera. To keep things in the right perspective, we usually won't judge an entry-level or even a mid-range camera on the account of its water or dust proof capabilities, but we certainly will for a more expensive one where it's expected that it has enough protection to be able to withstand any shooting scenario you throw at it and work its magic any time of the day.
Grip – One of the most important things to consider about your new potential purchase. It's of utmost importance that the camera is designed in a way that it fits comfortably and securely in your hand without any chance of being dropped while you're shooting with it or simply holding it while walking or taking a look at the scenery. This is where some manufacturers drop the ball when designing a camera with
all metal or all plastic construction, but without the necessary parts that provide a good grip like some rubber or faux leather accents on the front and the back of the camera. What's also important, especially with larger cameras, is that it has a deep enough grip on its front and the one that allows for your fingers to comfortably wrap around it and allow you to hold your camera with confidence and without the fear of dropping it.
Image quality – This is possibly one of the main reasons to why someone decides to buy a dedicated camera. While there are many other benefits to buying a camera, as stated on this list of different metrics, image quality may be the one that takes the cake. It's true that our smartphones have become very capable in taking decent looking photos and videos, but a lot of them still haven't come close to most compact cameras in terms of image quality, let alone more advanced ones. So, there's a big chance that you're looking into buying a dedicated camera to get even better quality photos or videos and you'll want to know how capable each model of camera is in this regard. When examining image quality of a particular camera we are always taking into account things like sharpness, color balance, noise performance, dynamic range, JPEG algorithms, lens quality and sometimes even of features that allow you to tinker with the look of your photos directly from the camera itself like different filers and picture styles. You can rest assured that you'll easily be able to pick a camera from our list if image quality is one of your most important factors when buying a new camera.
Adaptability – The importance of adaptability varies from one type of camera to another and so does its importance as a factor to take into account when purchasing a new camera. So, it depends if you're buying, for example, a compact camera which usually isn't very expandable and are made to work out of the box and with almost no input from the users aside from using the camera. On the other hand, mirrorless cameras and DSLRs are a completely different story. It's important that they don't come with proprietary, but with universally compatible connectors for accessories like flashes, microphones, headphones or memory cards, so a lot of choices can be given to users in choosing the right one for them. Even more important is the choice of lenses that are given at your disposal. While most of the camera manufacturers offer a decent selection of first-party lenses, some of them don't offer much in terms of alternatives coming from third-party companies. We will certainly take something like into account when choosing the right camera for you and make sure you'll cover as much as possible in this regard.
Ease of use – Making an intuitive user interface that's easy to navigate and a control layout that won't require you to relearn everything you already know about using a camera should be a top priority for every camera manufacturer out there; yet, it isn't. For this reason, we will always carefully examine each and every camera and make sure that using it won't become a chore no matter if you're a beginner or an advanced user. We will also see how much the camera offers in terms of customization and how well it can adapt to your certain needs. This is especially important for mid-range cameras and above, where having a lot of programmable controls and different quick menus is always a desirable thing to have. If we're talking about a beginner's camera, we will make sure it has enough modes and features that will help you learn your way around photography and figure out how a particular camera works. No matter the camera type, this is certainly one of the most important things to look for and we've certainly got you covered.
Availability – Since we are always dealing with products that come from very respectable and globally familiar brands, availability often isn't a big issue, except in the case where the camera becomes outdated and it stops being manufactured. When that happens, we'll make sure to update our articles to bring you the newest models possible, so this potential problem can be avoided in its entirety. Other than that, all of our cameras can easily be purchased online and so can every important piece of gear that they can be equipped with.
FAQs
Why are Sony Cameras so popular?
Is there a short answer to this question? Indeed: Carl Zeiss lenses. If this does not say much to you, then consider a good combo in image quality/price, a large range of products to choose from, constantly revisited models, etc.
Why is the DSC-QX30 considered a camera?
If you think for a second about the fact that this lens kit features its own software to work and that can be used without being attached to the phone itself, then we're talking about a camera and not simply a lens kit. The sturdiness of this lens built is also telling that multiple hardware layers make possible for this tiny camera to work.
Which camera would be best for beginners who seek a long-term gear to use?
Our recommendation would be to go for the Sony Cyber-Shot RX10 III. It's a bridge camera, meaning that you cannot swap lenses, although the quality is able to compete with most entry-level DSLR cameras, just for an adequate price. Do keep in mind that, unlike most bridge cameras, this model happens to be weather-sealed, thus bulkier.
The following two tabs change content below.
Pia Lopez is a self-taught photographer, graphic designer and ArchViz artist. As Content Director of Sleeklens.com, her work is driven by her two biggest passions: technology and art.