How To Sell Your Fine Art Photography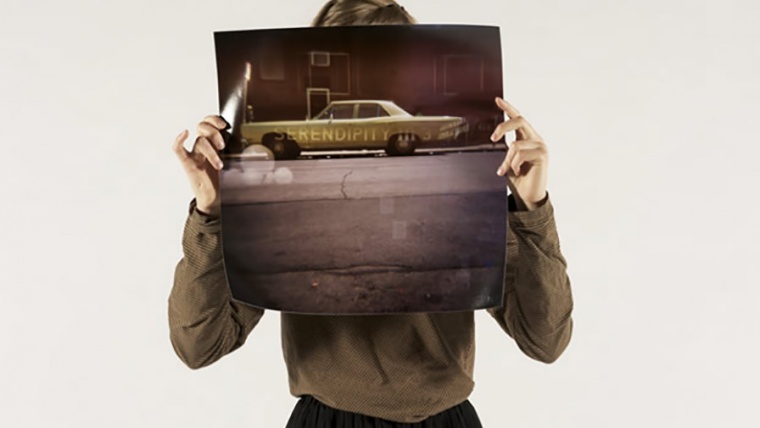 How To Sell Your Fine Art Photography
www.sleeklens.com
I've been selling my fine art photography prints for a few years. The first few of which were spent experimenting, looking to see what works and what doesn't. Lucky for you, I bring you the ins and outs of the where and how so you can get directly to work!
Is your work sellable? Finding your market
Before even looking to sell, ask yourself: "Is my work even marketable?" Whether you shoot landscape photography, professional nude photography, or make surreal photo manipulations, it's always healthy to be aware of the demand. Even if your work is marketable, finding the right clientele might take some time. You could start off by making a small batch of prints. Then asking those around you if this is something they would want to put on their wall. Consider offering them at low prices, or even give a few away to those who are interested. Your mom will always love your work, now it's time to make personal connections with experts like gallery owners and art buyers. When I say personal connections, I mean to meet them in person. These people are too busy to take cold calls from a stranger. Ask them if they know of the right platforms for your work. Remember that not all art types will have a same marketing strategy.
Sell your photography online
Selling prints online are becoming more and more common. The advantage to this is that you can sell artwork directly from your studio. One obvious element to selling more work is to get more people to visit your website. Consider getting your work on other art related websites with a link to your own website. This could increase traffic to your website.
Automated Online Stores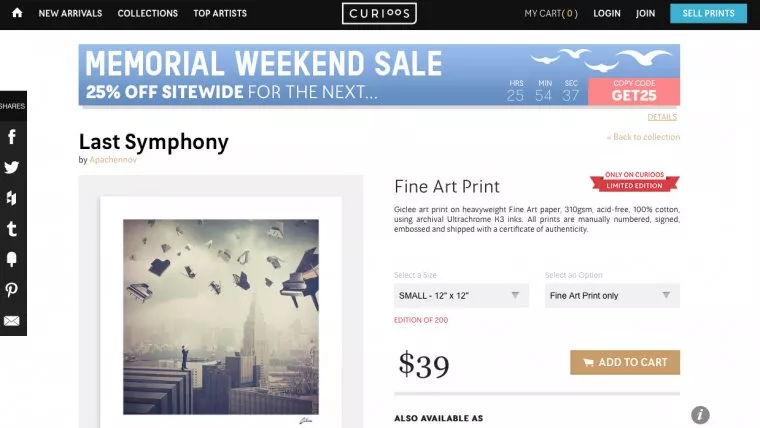 There are websites you can upload your prints to that do most of the work for you. Customers can buy prints, and products made automatically from the uploaded artwork in the form of mugs, t-shirts, laptop and cell phone skins, clothing and so on. This can be a great source of passive income. A percentage of sales is paid to the artist automatically once products are sold. The disadvantage is that these sites typically sell open edition prints at cheaper costs, decreasing the value of your photography. The percentage the artist makes this way is much smaller than selling independently (around 10%) so even if your products sell in large quantities, you're not making millions here. My recommendation is to create or choose work from your inventory especially for these websites in addition to your limited edition prints which you can sell using other platforms.
Some examples of automated art print stores are Curioos, Society 6, Zazzle, Red Bubble, Cafe Press, Threadless, iCanvas, Eye Buy Art, 500px, and Art of Where.
Curioos specializes in producing gallery-quality prints designed by graphic artists. A quick glance at their selection of wall art will show you a range of styles that would fit very well in a Bohemian gallery in SoHo. Shoppers can choose from canvas, aluminum, acrylic glass, and even aluminum disks, integrating unique and stylish textures with grassroots artistic expression.
Curioos also makes it very easy to browse through artistic themes and genres that you like, with an alphabetical sidebar menu ranging from abstract to vintage and everything in-between. For artists and photographers, it just takes a few minutes to set up a free and mobile friendly shop.
Society 6
Society6 is one of the names in the print on demand marketplace that has been established for years. Artists and photographers will be amazed by the wide range of different products on which their design can be printed, from furniture to laptop cases to throw pillows to rugs.
One of the best features of Society 6 is that artists can choose the markup, allowing them to balance out pricing with royalties in order to maximize sales and profit. On the homepage Society 6 features some of their favorite artists, which of course can bring additional traffic to their shops. Setting up a free online store just takes a few minutes. Artists should keep in mind that different items have different file requirements in terms of quality and size for uploading.
Zazzle
Zazzle has also been around for a number of years and has a slightly different business model than many custom printing shops. Zazzle will pair artists with independent manufacturers. Another great thing about Zazzle is that they have partnered with many large companies in entertainment and media along with sports teams to create collections that vendors can also sell, such as Disney (however, there are specific rules you have to follow if you're selling this merchandise).
Of course, if you're mainly interested in selling your own art or photography, there are dozens of different products. Zazzle claims that there are over 300 million different unique products on their site.
Red Bubble
RedBubble is a publicly traded Australian company. Some of the artists on there have sold parody material with envelope pushing content, leading to a somewhat edgy reputation in the past. But RedBubble has certainly moved on from that controversy and become a venue where artists can sell their art around the world.
There are 70 different products from shirts to mugs, allowing artists and photographers to put their creativity out there in a way that appeals to almost any online shopper. Shoppers can also filter art by category, price, and medium, which can make it easier for potential customers to find your work.
CafePress is America's largest customized product marketplace. Founded in the San Francisco Bay Area (like many other tech companies) it has since moved its headquarters to Kentucky, and become highly rated in the world of ecommerce vendors selling their own merchandise.
For graphic designers who are not so savvy with their own software, CafePress has a tool that can help layout designs for the variety of products they offer. Although artists can set up their own shops, CafePress also partners with retailers like Urban Outfitters, which can bring some foot traffic to your own offering of printed fine art.
While many artists and photographers who view their work as falling into the fine art category would like to focus on prints, they should not overlook the market value of selling their creativity on wearable products!
Threadless is probably the best venue for selling apparel. The prices are good and the selection is very broad, with dozens of different shirts, sweatshirts, and other types of clothing that come in a variety of colors and fabrics. Threadless also has periodic contests, and also allows artists to submit work for Threadless to sell as featured designs. Threadless also doubles as a sort of social media platform where other creators can become potential buyers, if you like their products and follow their store.
iCanvas is the best place to buy art prints and works on canvas. While a number of automated art print stores sell a variety of products, and some even focus on other types of products like home decor and apparel, iCanvas is truly dedicated to two-dimensional displays of your best work. Customers can enjoy a very easy shopping experience, browsing by topics, themes, and genres like pop culture, motivational art, and scenic landscapes. Another great benefit for customers and for those looking to start a photography business is that shipping is free, making a purchase more enticing.
With a name that has such an avant garde spelling, you can be sure that Eye Buy Art is the venue into which you will want to put your photography and artwork if you want to build a reputation as an artist. Unlike some of the other venues listed above, you Eye Buy Art is not a dropshipping or print on demand type venue selling a variety of products. This is, rather, a true distributor of fine art from both up and coming and established artists.
Eye Buy Art has been featured in PopSugar, Architectural Digest, Fashion, and InStyle, in addition to other industry publications in the art and design space. Marketing fine art photography can be a challenge for some creative spirits, so a venue like Eye Buy Art as an established name in the fine art photography space can go a long way toward getting your fine art photos out there.
500px is a venue for stock imagery, which may not strike you as appealing as putting your photography or artwork onto a print or canvas or merchandise – but in many ways, is an even better way to get exposure and monetize your work. One of the struggles of freelance photography is the fact that sometimes your hard work can be appropriated by website builders and bloggers without your approval. Putting your images on a venue like 500px can watermark them so that anyone using them will have to pay, which means you collect royalties. You can also build up a reputation in stock photography via commercial licensing.
Art of Where
Art of Where may not be the best place for selling stunning landscapes or nude photography, but it's a great venue for monetizing photos turned into patterns via lots of consumer friendly products…shirts, backpacks, and masks, for example. Art of Where integrates with Etsy, Shopify, Squarespace, WooCommerce, and other online ecommerce platform options. It also facilitates the creation of customized shipping labels, allowing you to create an immersive purchasing experience. Turning your photography into a print pattern or something fitting for home decor might be a little out of the box for you, but ultimately you could find it very rewarding creatively and financially.
Limited Edition and Online Art Stores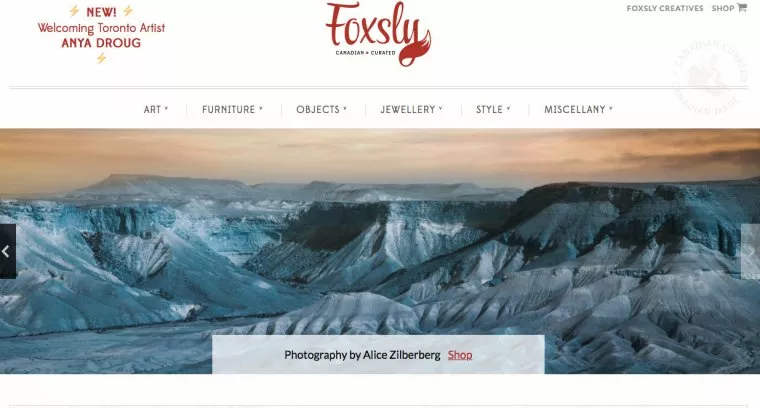 Unlike the stores above, these are stores that sell limited edition prints, typically at a higher price point. The sales are often handled by the artist, meaning that when an item is sold, you are is responsible for printing, framing, packing, sending, and handling client requests. You can set your own pricing, edition number, and keep a larger percentage of the sales.
Some examples of Limited Edition print websites are Etsy, Saatchi Art, 20 x 200, and Art Fido.
Etsy is the name in art online. It's a sort of art fair and art show combined, where everything from digital art to homemade crafts is available to a potential collector. Artistic photography certainly falls into the categories of items sold on Etsy. Etsy does not do any printing or fulfillment for you, so if you are turning your fine art photographs into something like framed prints or a gift card set, you will have to manage that yourself. However, Etsy does integrate with some sites that can take your photo prints and put them on merchandise or a fine art print, the most popular one perhaps being Printful.
In terms of selling fine art photography, Etsy can also be a very useful tool because it's one of the largest and most popular marketplaces for art. Because it's not a print on demand venue you can sell specialty items like a limited edition print that you sign and ship. Another great thing about Etsy for fine art photographs is that reviews are applied to your entire store and displayed by every product, making it much easier to accumulate a positive look for your beautiful fine art photography.
Saatchi art is a sort of combination of the fulfilled-for-you platforms and the curated online art exhibits. The look of the site is very much like Fine Art America (another venue for purchasing established pieces of artwork by famous artists) but it's free for anyone to sign up and collect 65% royalties on each and every fine art photograph or piece of art you sell.
If you are doing fashion photography, nature photography, or street photography, for instance, this can be a great venue to display your work in a context that positions them as a fine art photography print. This is because the layout and look of Saatchi is much less geared toward merchandise seeking consumers or those looking for commercial photography, and more towards those looking to engage in the purchase of art or art photography.
The minimalist look of 20 x 200 makes it clear to browsers from the get-go that they are engaged with a curated collection of a particular aesthetic…modern, sleek, simple, and possessing a touch of the Bohemian.
At the time of this article, a fine art photographer or artist might be disappointed to learn that the website is not currently accepting submissions, but it would not be a bad idea to periodically reach out and see when they are.
Art Fido is more than a place to buy or sell fine art photography online. You can buy and sell artwork by communicating in the forums. Often, the transactions are auction-style. It is actually also a sort of curated museum space with articles and interviews and engaging content about the world of contemporary art and photography, and the artists and photographers who make it. It's also very much a sort of social media posting and blogging space for creators, which can translate into building a following through the greater community of artists and photographers. Art Fido is less about making direct sales and more about marketing fine art photography.
Your website
You should always have the option for clients to purchase from your website. There are many website templates that allow you to build an online store, like the Squarespace E-commerce store which looks great and is easy to set up. Whether you choose to have an online store page or a contact page about prints depends on what works for you and your photography. It should be clear to your customers that the photography on your website is for sale.
Sell your photography at Art Exhibitions
Art Fairs
One of the best ways to sell your work is through different Art Fairs. You can start locally and perhaps expand internationally if and when you see there's a demand for your work. Art Fairs are different than gallery exhibitions because they are typically a few days long, have more traffic, and are held at a large public space like a square or a convention center. There are Art Fairs exclusively for galleries, and others dedicated to individual artists. The summer season has the largest amount of outdoor art fairs for individual artists, and the outdoor shows are typically cheaper to sign on to than indoor ones. One advantage to Art Fairs is that after paying the booth fees, 100% of the sales go to the artist. These shows could be attended by just about anyone: art buyers, gallerists, artists, and much more. This makes Art Fairs a great way to get connected to people in the art scene. You never know who is going to walk into your booth. Furthermore, longevity pays off in this situation. Showing up year after year can help legitimize your work, showing buyers that you are consistently making art and that purchasing from you is a good investment.
I strongly recommend researching Art Fairs in your city and even contacting participating artists who have similar work to yours, asking about their experience.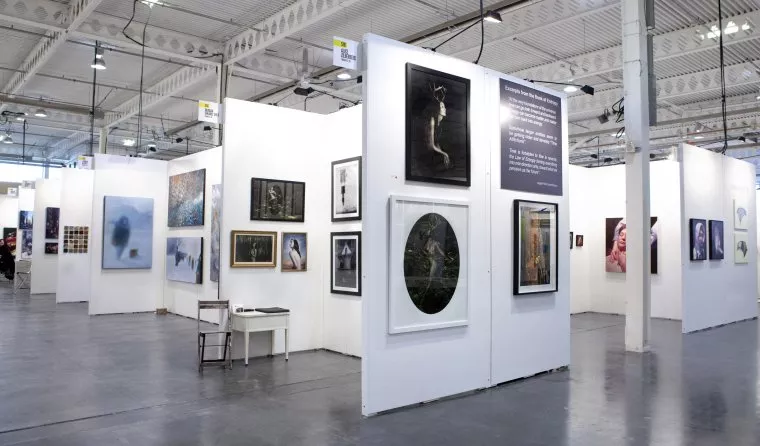 Commercial fine art Galleries
Commercial gallery representation is often the first thing artists think about. Finding a commercial gallery can be a long process, and there are many things to consider before signing a contract. Having a source that sells your art for you is certainly an advantage. The gallery could an increase the exposure to your work by showcasing it in auctions and Art Fairs for galleries. However, galleries take a large percentage (typically 50%) of the sales. With additional costs like printing and framing, this leaves the artists with even less at the end. This model can work if the gallery sells a large volume of work. Some galleries have exclusive contracts, meaning that clients can only purchase work from them and not from the artist directly. Non-exclusive contracts allow artists to continue selling work independently or through other galleries in addition to the work sold at the gallery.
Choosing a gallery is a completely individual process and can take some trial and error. Remember that reading the fine print, keeping control over sales, and understanding legal issues are your responsibilities when partnering with a gallery.
Individual art dealers
Aside from galleries who have a physical gallery space, there are also individual dealers who may represent your work and put you in different spaces like group shows. They may also sell to clients of their own. Sometimes they take a smaller percentage of the sales than commercial galleries do.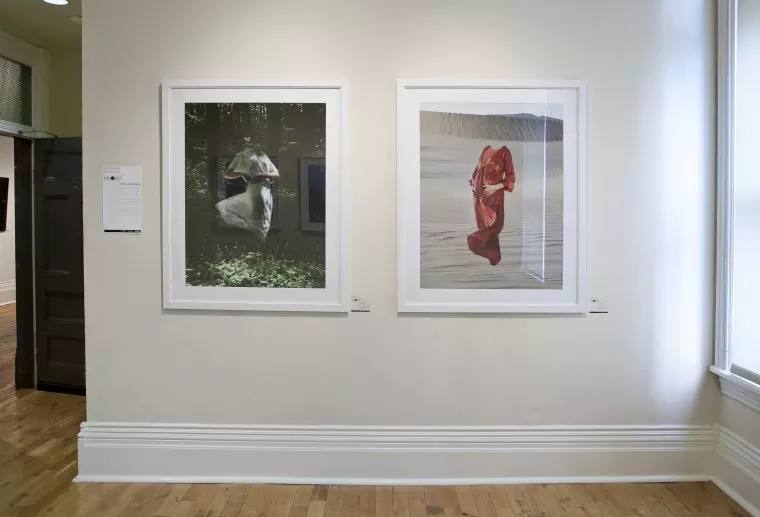 Auctions
Auction houses and charitable auctions are a good thing to try. Some ask artists to donate a piece of art, or take a percentage of the sale. An advantage of auctions for photographers is that if your print sells, the losing bidder might come directly to you to purchase the next available print in the limited edition for that piece.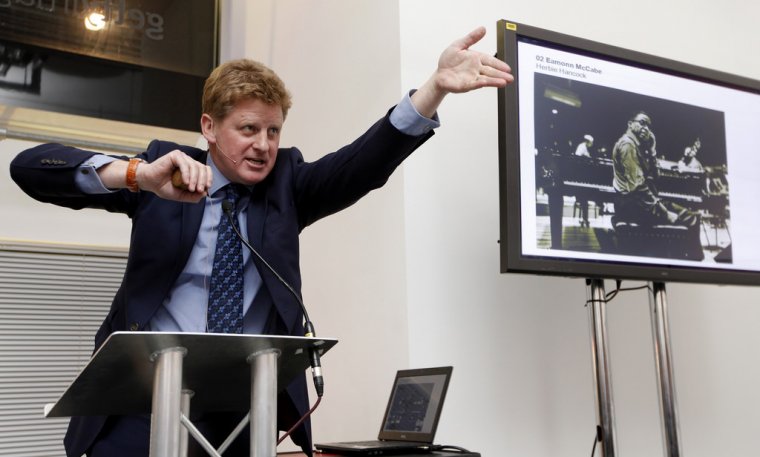 Think Outside the box
You're not confined to the platforms above. Be innovative! think of other ways to sell your work. Is your work tied to women's issues? Maybe you can contact a women's hospital to see if they're interested in buying your work for their space. Do you shoot travel photography? Maybe a travel related company is interested.
The following two tabs change content below.
Alice Zilberberg is an award-winning photographer and visual artist, born in Estonia, raised in Israel, and now based in Toronto, Canada. A graduate of Ryerson University's Photography program, she has exhibited in galleries across Canada, the US and Japan, and published internationally, most recently in PHOTO+ Magazine in Seoul, Korea. Her work has sold in auction houses and charity auctions, including Waddingtons, Snap! and ORT. Zilberberg merges traditional photography and computer illustration, creating images that bridge the platforms of photography and painting. Her work marries reality and fantasy, echoing elements of surrealism and baroque art. Her work has explored the intersection between femininity and the essence of female power linked to the natural environment. Examining traditional female iconography, the work strips these narratives of outdated notions of women as a weaker sex and emphasizing female empowerment. Her latest landscape series explores themes of identity, displacement and belonging by fusing images of the two places she's called home.