Using Photoshop to Retouch Mature Skin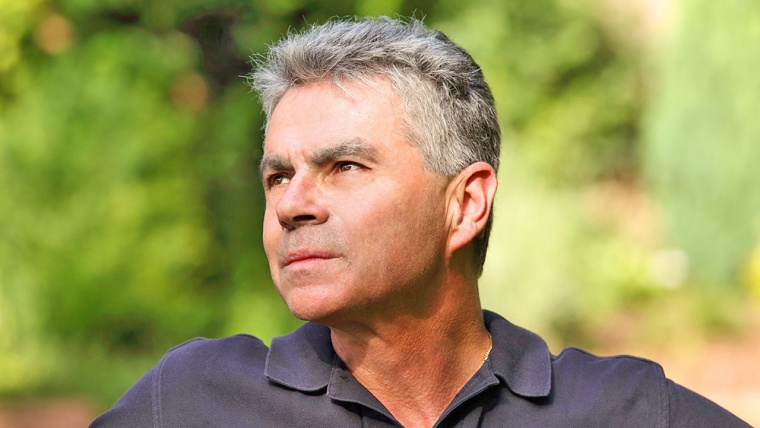 Using Photoshop to Retouch Mature Skin
www.sleeklens.com
Hi all, welcome back to another exciting tutorial brought to you, courtesy of Sleeklens.
Today we're going to be taking a look at how to retouch a more mature man, usually and I think most of my tutorials so far have been aimed at the younger of us due to the high amount of attention this gets for selling products for clothing companies, perfumes, aftershaves and all that sort of stuff.
So I'm going to go against the grain and do something a little different, a little more difficult and retouch an older gentleman and bring a bit of youth back to his flesh.
We'll be taking a look at working with dark shadows, reviving a little colour back in as well as using our spot healing Brush Tool which is somewhat of the fountain of youth when it comes to Photoshop, so lets get right to it.
Here we have our subject that we'll be working with today, if you can get something similar then you will be able to apply this tutorial.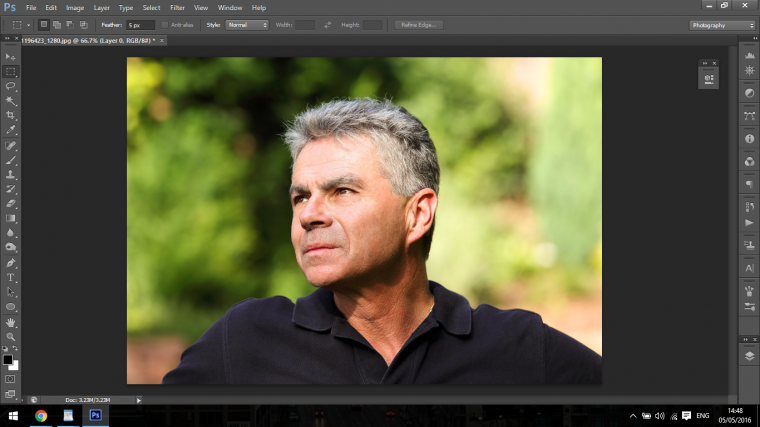 First thing to do it duplicate our layer, click and drag your layer to the area highlighted below and release, you will now have two layers with the same picture, it's always a good idea to do this so you will have the original in the background if something goes wrong.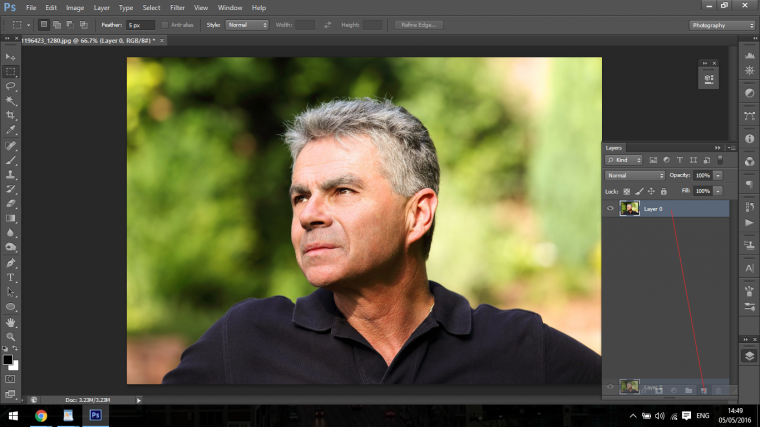 You can also use the shortcut Ctrl + J, I always try to add shortcuts as it's more profession and faster in the long run.
First up we're going to fix up the shadows, so click on Image – Adjustments – Shadows and Highlights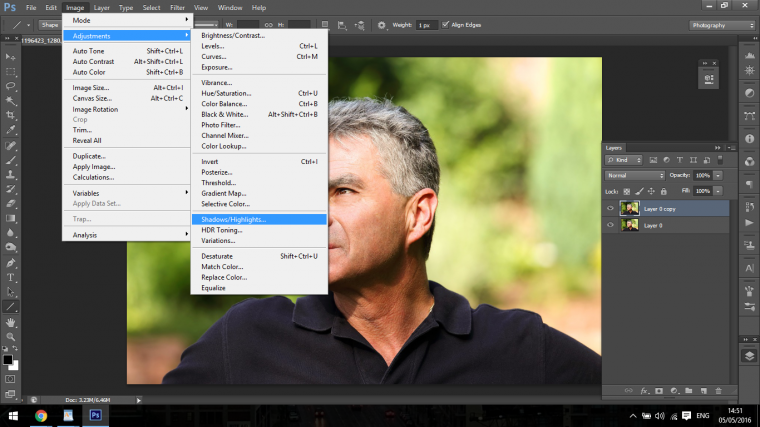 Ok so now that that's up change everything in Shadows and Highlights to Zero as shown below and I will explain this tool for you, and make sure that you have Show More Options clicked so your panel looks like mine below.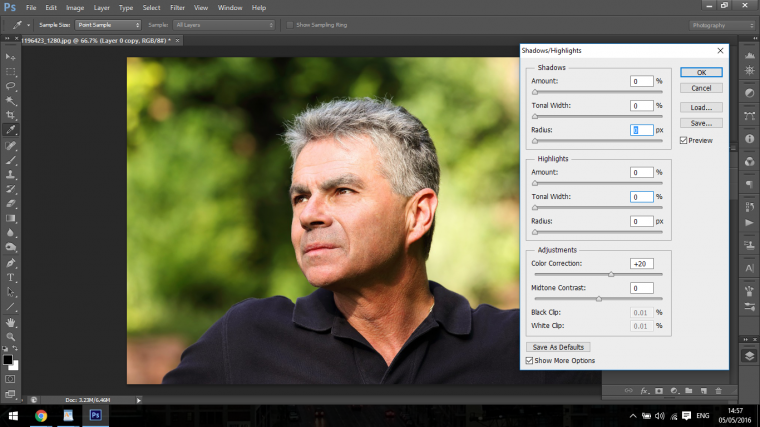 In the first section under shadows if you move the amount slider to the right it will start to add more details, and if you do the same with Tone and Radius it will add to it further.
So similar can be done with the highlights, the only problem is that increasing this will add to the wrinkles and not improve your situation one bit.
In general I wouldn't touch the highlights so we'll leave them as is.
For the Shadows bring everything up to around 40 or whatever works for you.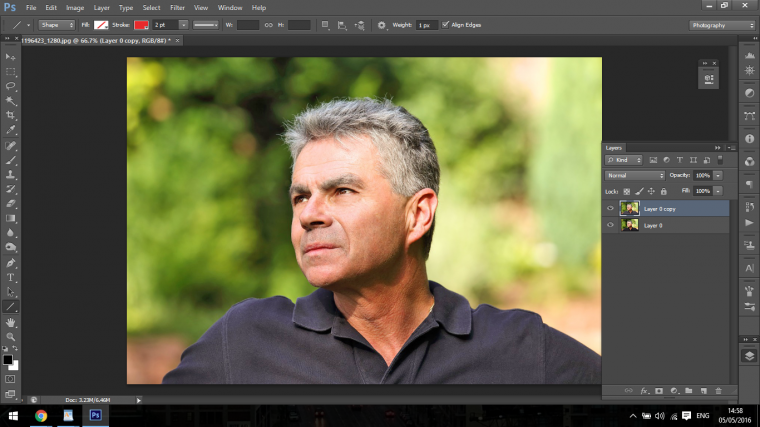 Next up we'll go to the bottom of our panel to where it says Adjustments and bring our Colour Correction up just a little bit at a time till we get to where we feel it looks right, if you go too far it will look too saturated so try to make it look natural as best you can.
Ok so great by now we will have our image adjusted a little so the shadows are not so strong and the colour added back in to give it a little bit more life.
On to the retouching portion of our tutorial, click on the Tool indicated below.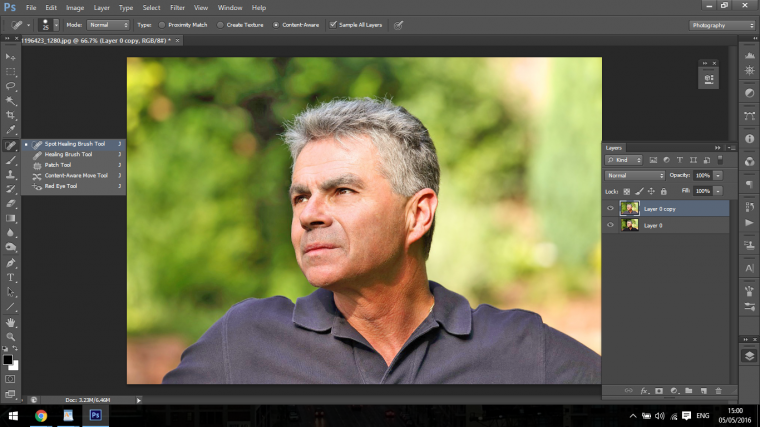 This Tool is called the Spot Healing brush Tool, if you are unaware of what it can do hold tight because this is a great little tool and I use it A LOT!!!!! it's one of my main retouch weapons for sure.
But just before we jump right in click Ctrl + J to create a new copy of our 2nd layer.
Make sure to have content aware if it is not already checked.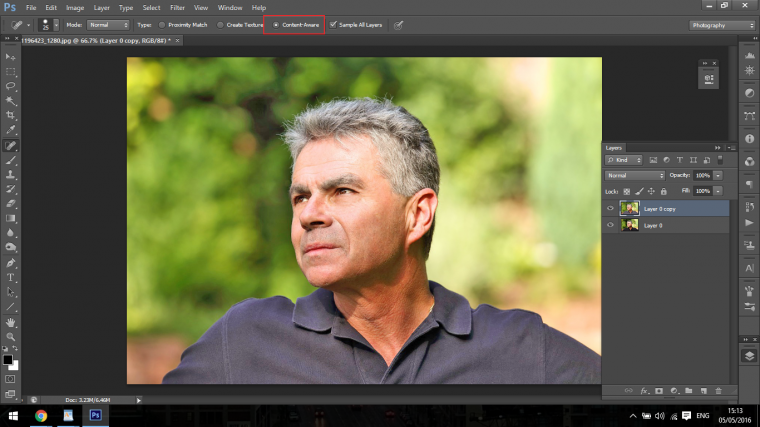 Then you start to click and draw over the wrinkles, for this I make sure to have a soft brush choose because we want everything to blend and with a hard brush you will see the hard edges.
While doing this you can use your bracket keys to increase or decrease the size of your brush [ & ]
When you are doing this you want the brush to be a little but bigger than the area you are drawing over.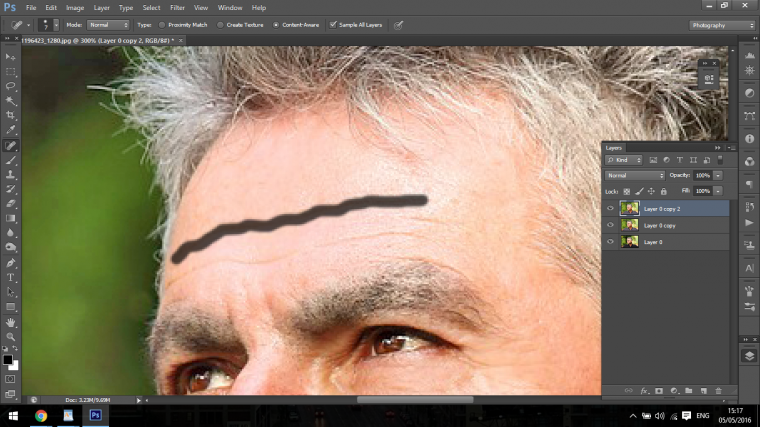 A retouch tip is that we are aware that our subject is more mature so don't go overly crazy with this, I've talked about this before in previous tutorials and it's a big point that a lot of so called Retouchers seem to miss out, and that is that you want the subject to still remain real, don't go to the point where the skin looks ridiculous and plastic, that's totally amateur hour right there unless that's the AI Android look you're going for.
Check our my before and after for reference to how you would want your finished picture to look like.
One last thing I did was to lower the opacity of my top layer to blend better with the one below that to give it some more realism.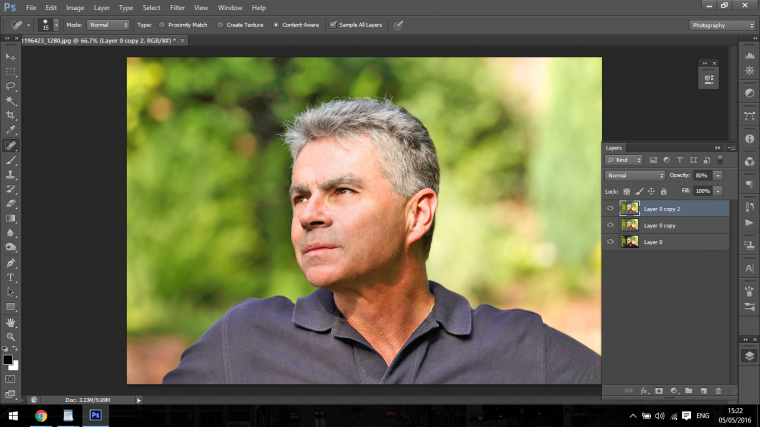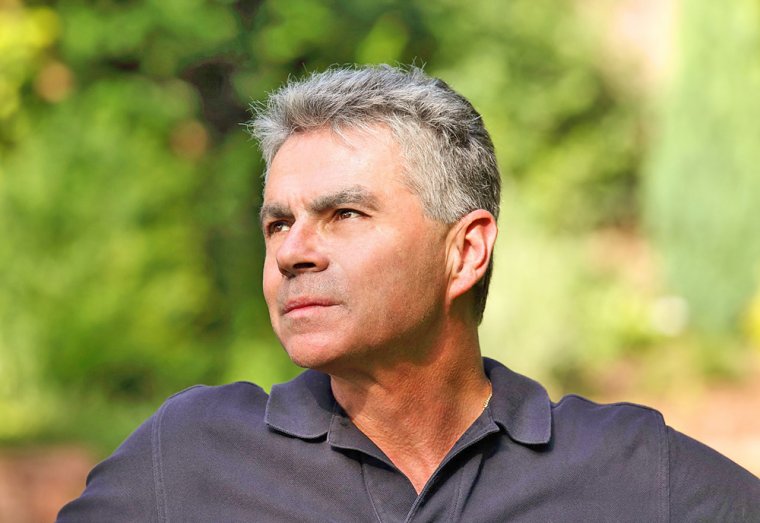 The following two tabs change content below.

Graduated from college in 2002 with a degree in Art & Design, I started exploring my way in Graphic Design and Professional Post Production. Full-time freelancer since 2011.