How to remove Color Cast using Photoshop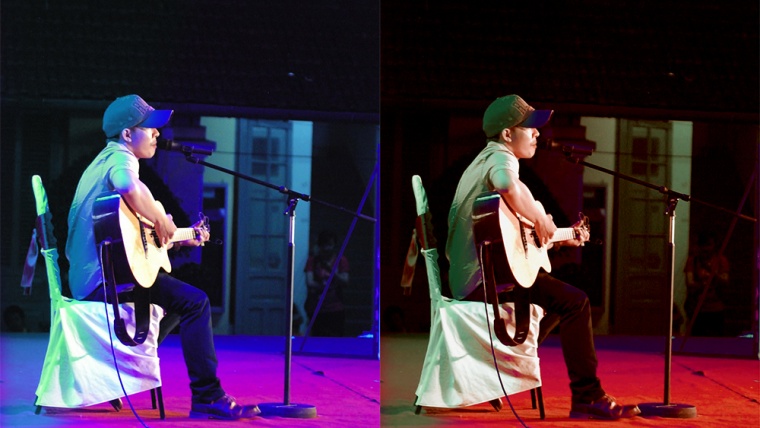 How to remove Color Cast using Photoshop
www.sleeklens.com
Hi
Got another great tutorial for you today and this ones for all you music lovers and concert goers out there today.
We'll be looking at removing Colour Casts.
In concerts the lighting is usually pretty intense and it can ruin some images if it's not the look you are going for.
You can get several different light sources all competing with each other till the image becomes a giant mess.
So I'm going to show you how to get rid of those Colour Casts or at the very least reduce it a great deal so that it's at the very least bearable.
First hit Ctrl J to create a duplicate version of your layer.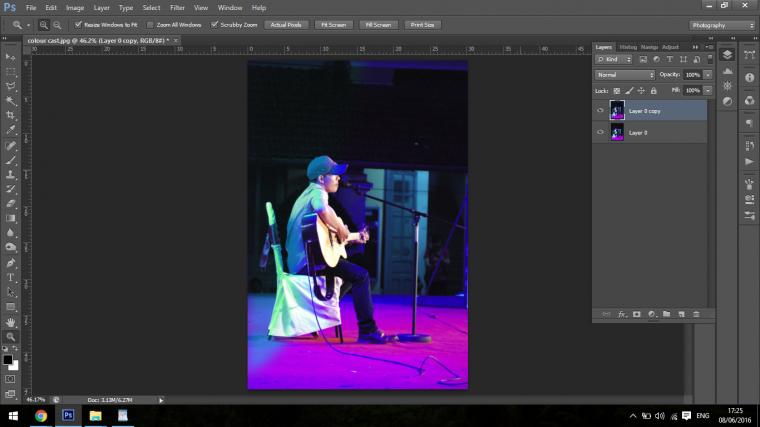 I always promote non destructive editing, I really want you to get into the habit of this kind of editing, because if you do everything on your first layer and you make a mistake… well you could ruin hours of work, and that can be heartbreaking to say the least given the amount of time you have spent.
This is not good for deadlines.
So first hit on your keyboard (Ctrl I) this is the shortcut to invert your layer and it will now look like so.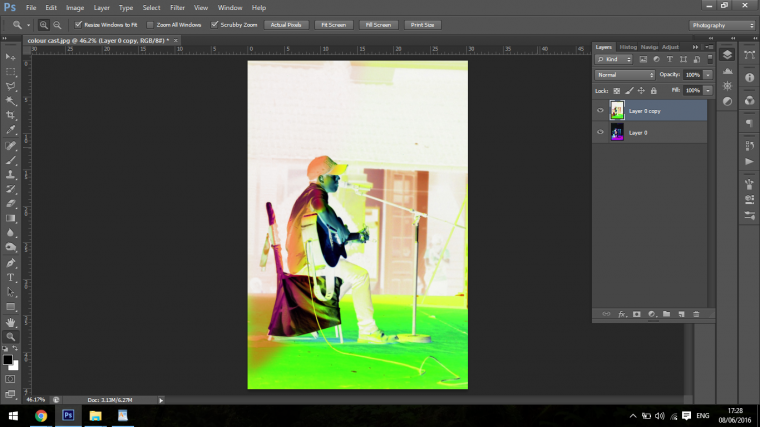 Then change the Blending Mode to the option Color.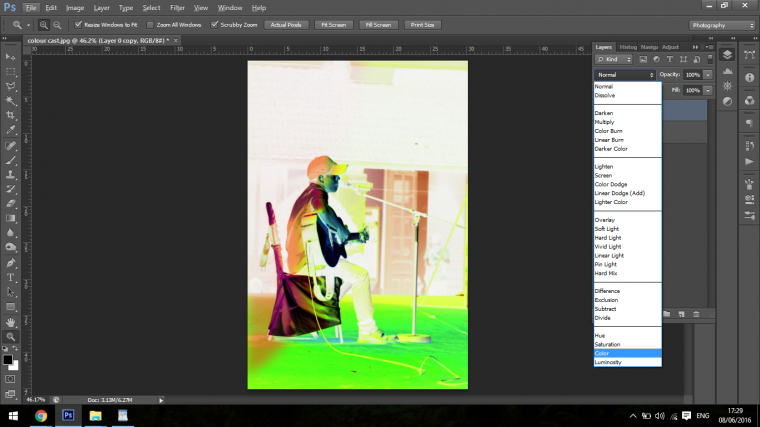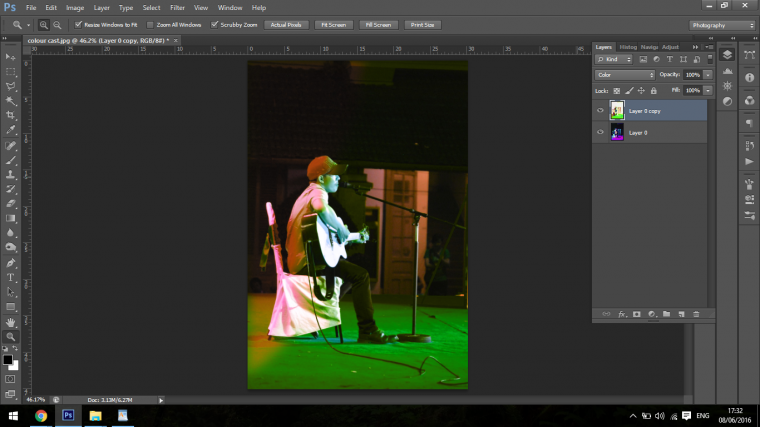 And then change the opacity of that layer to 50% and what you have on your screen should be looking something similar to mine.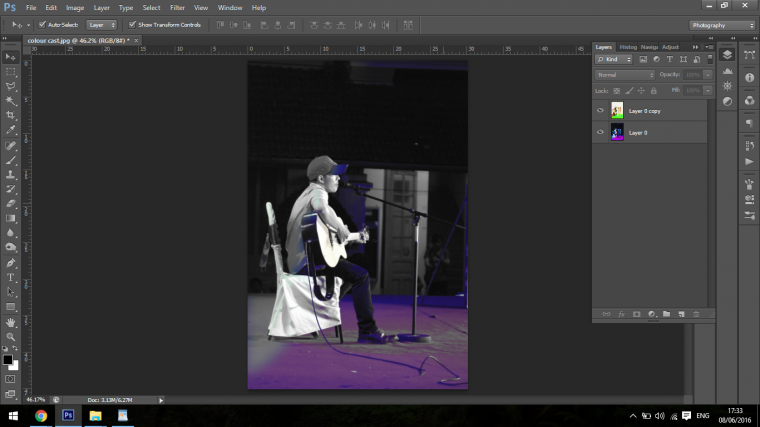 Ok cool, now I want you to click on that layer twice, fast and the layer style panel will now appear.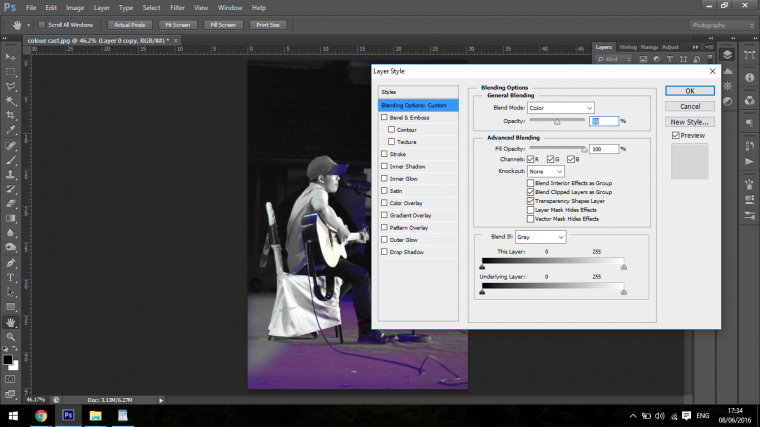 If you look in the Advanced Blending option right in the center of that Panel you will see R G B which represents Red Green Blue.
Those are your colour channels, so all other colors are created through them.
So now click on the channels we want to effect our image, what I needed was only the G and B clicked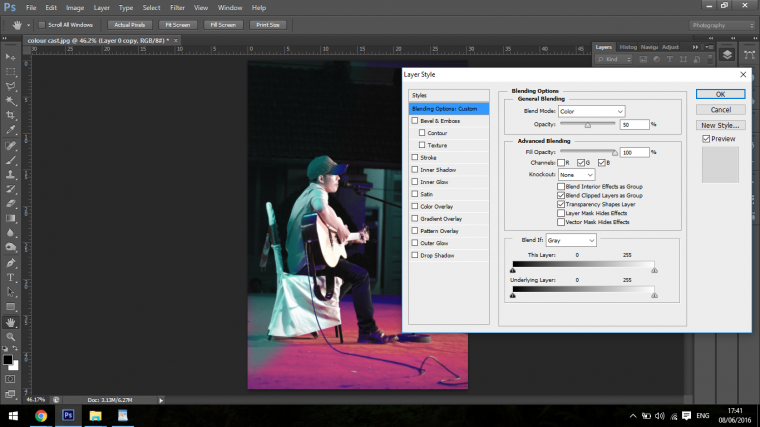 Then I create whats called a stamp of what we all have so far by clicking on (Alt + Ctrl + Shift + E)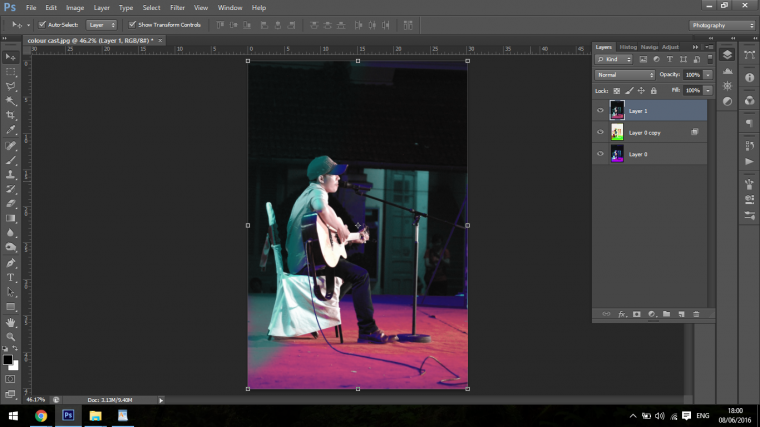 This way we will be able to repeat the process all over again to reduce the colours further.
You will now have 3 layers.
Then you need to create another, so once again hit again Ctrl J and a 4th will now appear, invert the just like you did before.
Ctrl I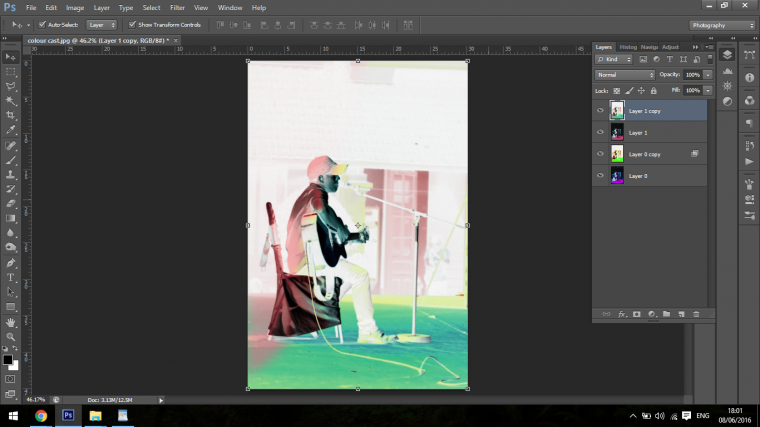 As you can see you are just repeating the process again, just like before reduce the opacity of the 4th layer (The newest layer) to 50% or whatever percentage that works in a way that the color of the light is reduced but the entire image is not completely grayed out.
So bare this in mind that you can go back and adjust the opacity of original inverted layer.
Then change your blend mode again to colour.
The next step is we can start to play with the colours a little now instead of just wiping them out completely as we did in the previous steps.
So open up a Curves Adjustment layer.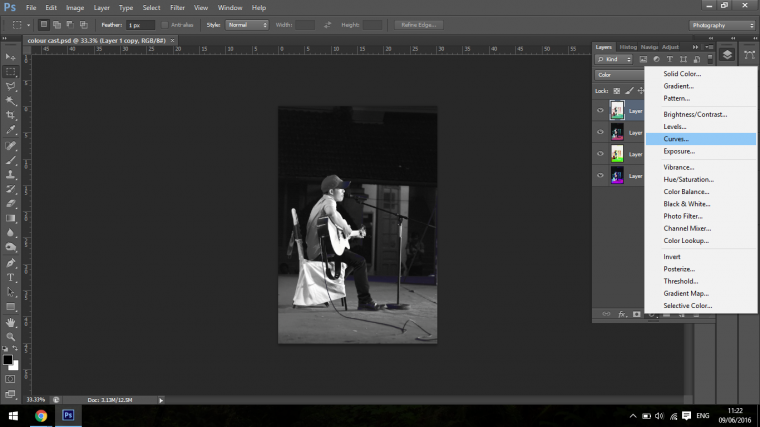 In the Chanel you can choose R G B once again.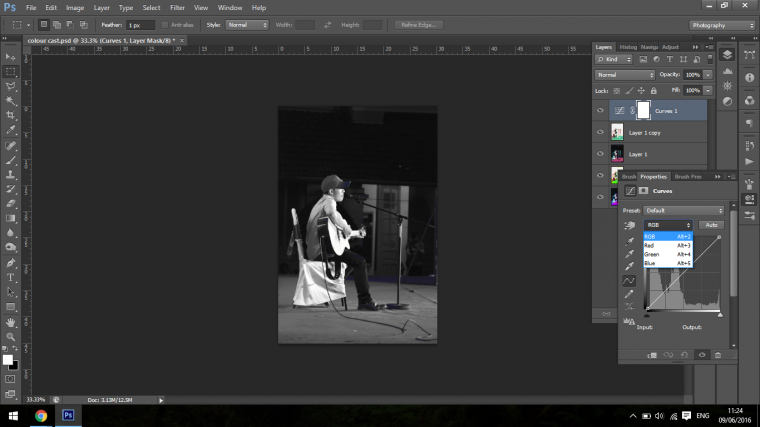 Being familiar with this area of color (in other words with what R G B is and does) will know that when you select these channels individually it will adjust that color when you play around with the curves histogram.
The last steps is to select out the skin tones a bring them back into the mix as they have been reduced in the saturation process.
So click on select and choose Colour range.
Then with the eye dropper click on the skin area, preferably on the face and bring your fuzziness up, that will now select all the areas that we want to bring back to life, so the skin.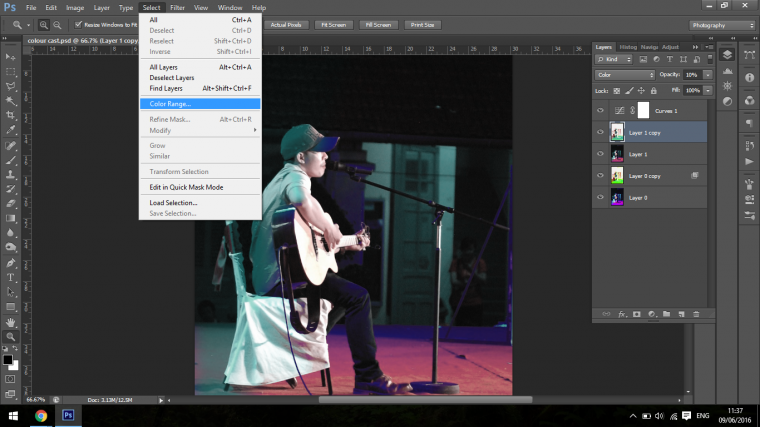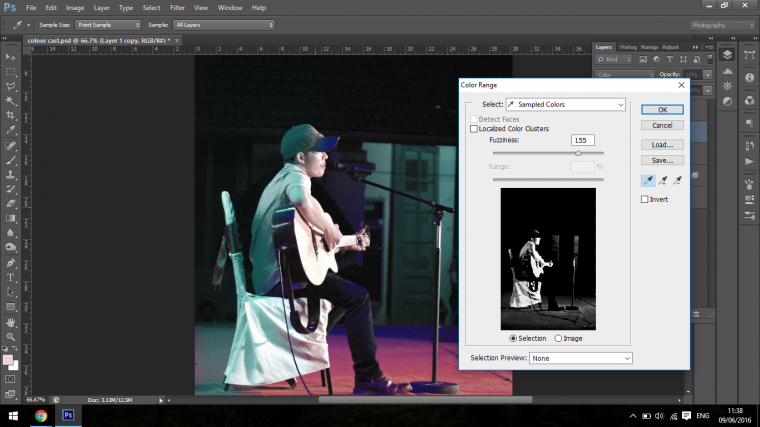 You can use the Fuzziness slider to reduce the selection or increase it.
Then you can use the Curves layer we have to change the individual Channels (R G B) to adjust.
You will have to play with this till it looks good to your eye.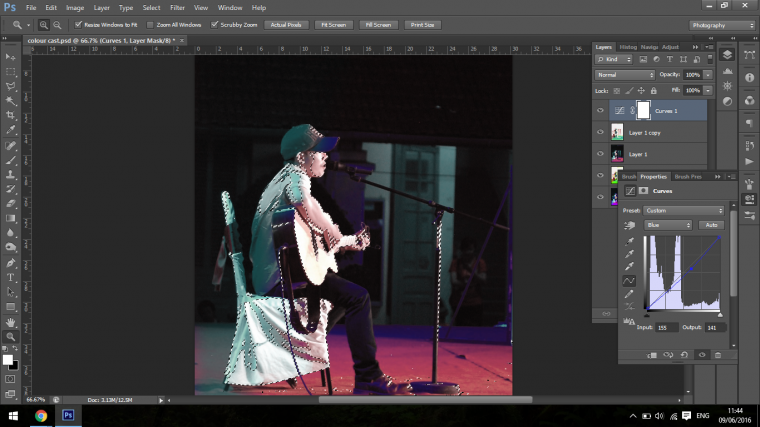 Once you have gotten this far the next part to this puzzle is to create a Colour Balance Adjustment Layer.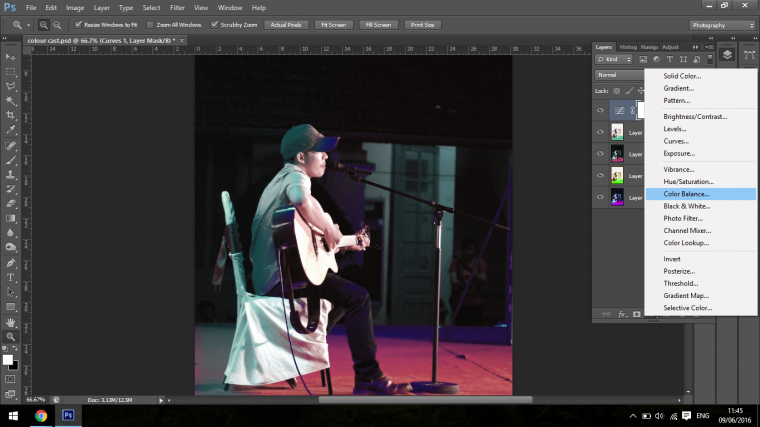 You will want to be adding in Red, Magenta and Yellow, the last two you will be sliding to the left and Red which is the top slider to the right.
Now you will see the colour floating back into the skin tones and at the end your image should look like this.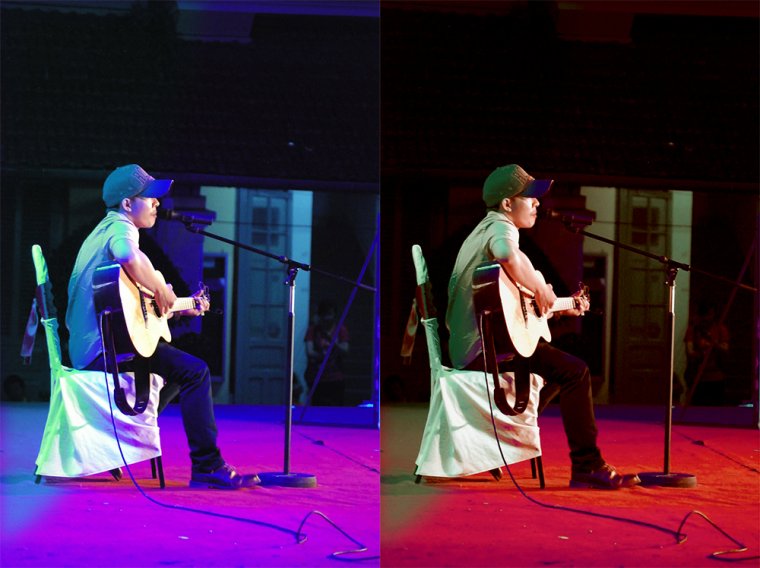 The following two tabs change content below.


Graduated from college in 2002 with a degree in Art & Design, I started exploring my way in Graphic Design and Professional Post Production. Full-time freelancer since 2011.