Pregnancy Portrait Photos with Adobe Lightroom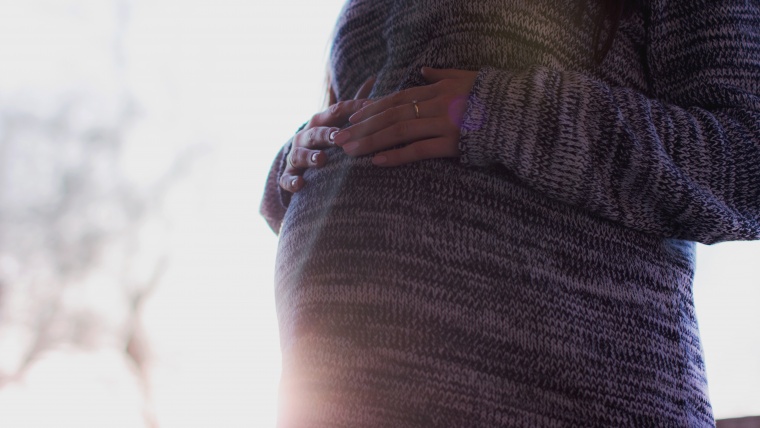 Pregnancy Portrait Photos with Adobe Lightroom
www.sleeklens.com
Pregnancy shoots are fun and for the parents, it is all about portraying the love and excitement about the baby that is to come into the world in a short while. For the photographer, it is to show the world about the love the mother and father have over the baby and to capture that. Maternal photography is also a fast growing market for professional photographers as parents want to cherish the memory forever. As a photographer, there are many creative ways to showcase and retain this love in pictures and highlight in each picture, what we want to portray using the right edits. We shall see in this post, about how to process a pregnancy shoot photograph in Adobe Lightroom by taking a picture that we have with us as an example.The photograph below was taken in a seaside resort in the evening.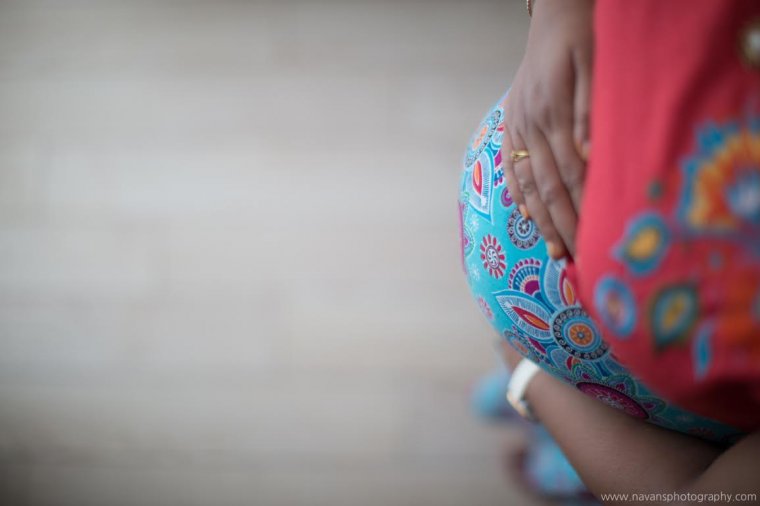 The settings at which the shot taken was:
The Shutter speed being 1/750 sec, with an aperture of f/1.2 and an ISO of 500. The lens that was used is a Canon 50mm (to be more specific, a 50mm f/1.2L USM) and the make of the camera used is Canon 5D MK III.
As already mentioned our earlier posts, we can instantly tell by looking at an image that the photo is a little underexposed and also, that there's a blue tinge is present all over the frame. Here's an article about exposure by us. We will work on these first before anything else as soon as we import the RAW file into Lightroom.
We shall start by fixing the White Balance in Lightroom by adjusting the Temperature slider in the Basic panel that appears on your right side in the Develop module.The Temp of the "As Shot" was 4600 and tint was +21. We now change the Temp to 5590 and bring down the tint to +10 from +21. The bluish tinge of the image has been now removed, making the picture look better than it previously was. The next thing to fix would be the Exposure, we have just increased it by a little, to be exact by +0.36 at which we thought it was just perfect and hence we stop there.
Next, we fix the colours in the picture and the feel of it as well. We can do this by adjusting the Clarity slider towards the left.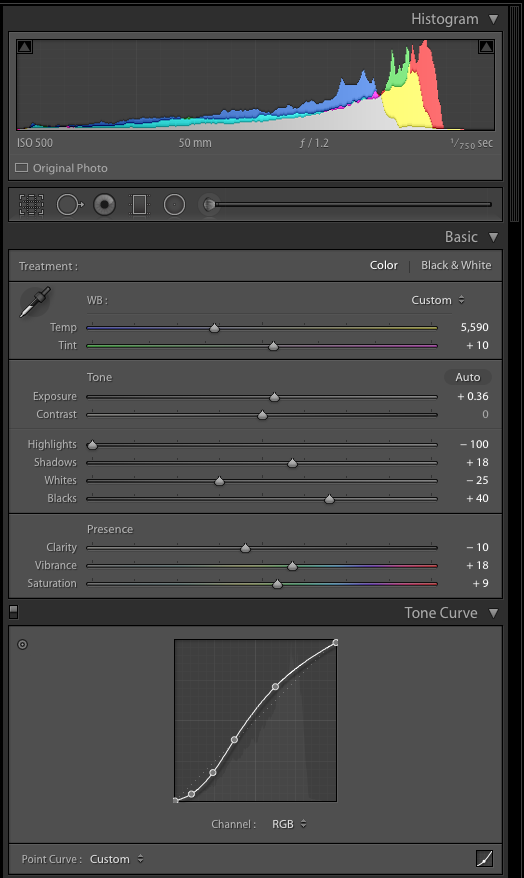 You can bring in some softness & smoothness into the image through this, hence we bring it to -10 in the Clarity slider. We can also make the colour in the photograph pop a little more by using the Vibrance slider to make particularly less intense colour to pop and the saturation slider for a general colour intensifying.
Taking a look at the Black and Shadow slider in the picture below, you will notice that it has been brought down a couple of notches. This is to bring down the strong contrast in the image. We have also used the tone curve panel to reduce any more contrast in the picture.
Another major edit you should be looking into for your picture is the the colour correction through the HSL colour panel.
We however as you will notice, that colours have also been increased or decreased accordingly to orange to a -17 Hue, a saturation of -32, green's to a Hue of -6. We have also brought up blue's Luminance to a +11. We also applied light shades of Split toning colours to highlight a certain colours and tone down a few others. These colour settings can be shifted according to your personal preferences to get your desired picture. You can always play around a little with these settings to tone down a few specific colours and vice versa. To get a little more insight on this, you can glance at the picture below: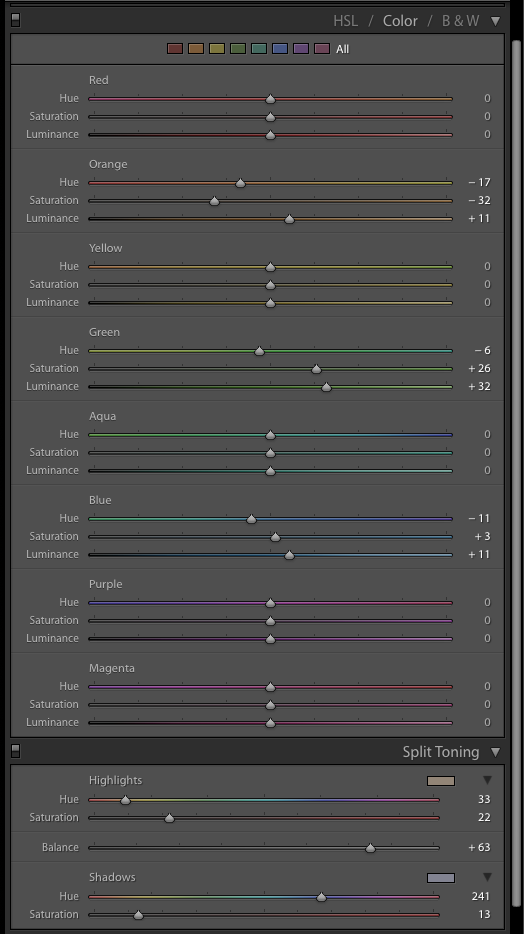 After this, applying the Lens corrections and the Sharpening tool will be the final step in the editing of the picture. After this, your image is ready and good to use.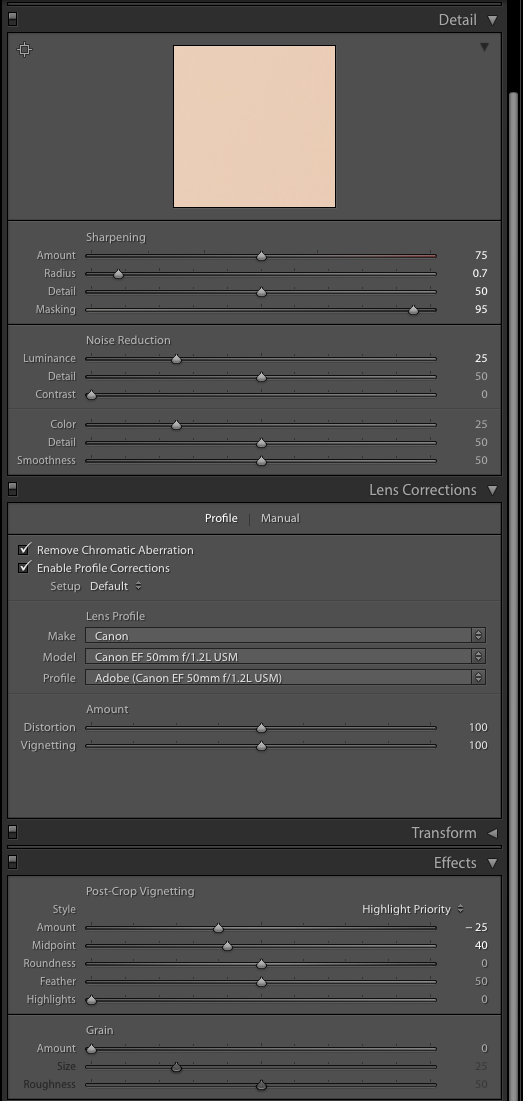 You can take a look below at our final output after all the editing steps we just told you about.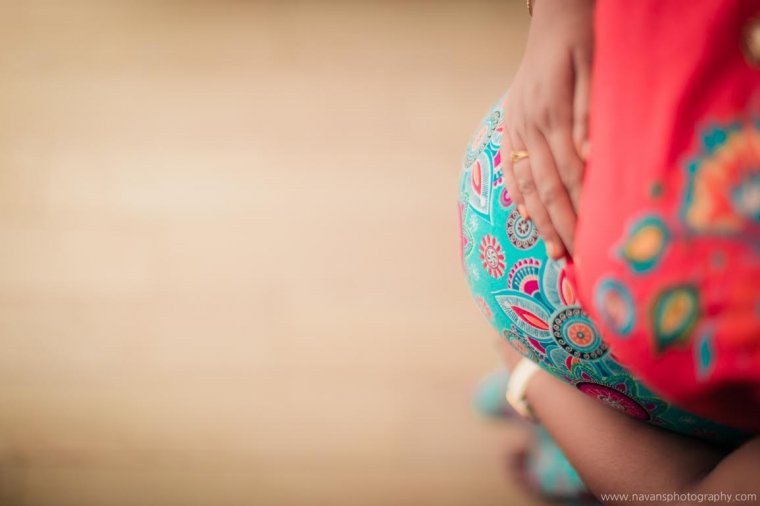 This article has dealt with the step by step editing of the picture a family that is soon to be completed and we hope you get a good picture out of this that will be treasured by either you or your client for a long time to go!
The following two tabs change content below.


Navaneethan Viswanathan (best known as Navanee Viswa) is a professional photographer based in Chennai. After completion of his Engineering and Management degrees he worked as a Civil Engineer for almost 10 years and slowly realized that his true passion was in building good photographs rather than building a structured construction. This made him quit his job and become a full time photographer to pursue his passion. Now he specializes in Candid Wedding photography primarily, he also does Product photography, and Industrial photography. Navaneeth is a trekker and a traveller, who enjoys photographing things he comes across during his travels. He contributes articles regularly to photography websites like Digital Photography School , and he also maintains a photography blog which is followed by many. This blog has lots to talk about photography and the techniques involved. His works have been exhibited at the photography exhibition organized as part of Art Chennai 2012. Many of his works have been chosen as best entries in on-line galleries like One Eyeland . Navaneeth is also well known in the industry for his photography related workshops.