Portrait Lighting Effects in Photoshop: Part 1
Portrait Lighting Effects in Photoshop: Part 1
www.sleeklens.com
Today I'm going to be starting a nice Tutorial showing you how I created this Portrait using Photoshop.
So the Effect that I'm going to show you today can be used on any portrait so if you wis to keep this PSD file safe so you can use it in the future.
You can use this cool Image Effect on your Portraits for your portfolio or alternatively you can use it for say a poster to some event it would look good representing.
The first thing we're going to do is to create a new document.
For this tutorial, we're going to assume that the final image is for print.
A print is a little different that regular web based images, normally for web based images the resolution is set at 72 Pixels per Inch.
But for Print we need to change this to 300 Pixels per Inch.
I will set the size to A4 (2480 Pixels Width x 3508 Pixels Height) and I will name it Awesome Sleeklens Lighting Effect.
File – New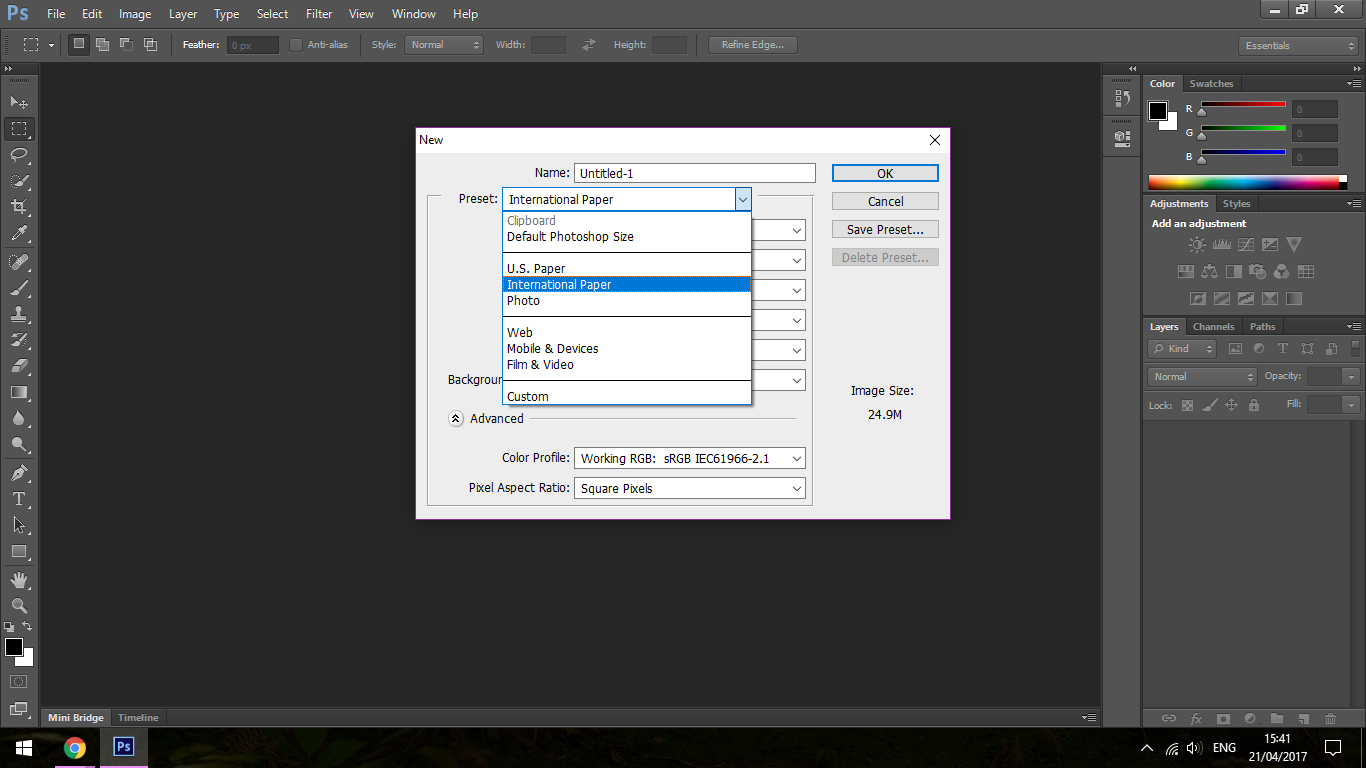 Preset to International Paper.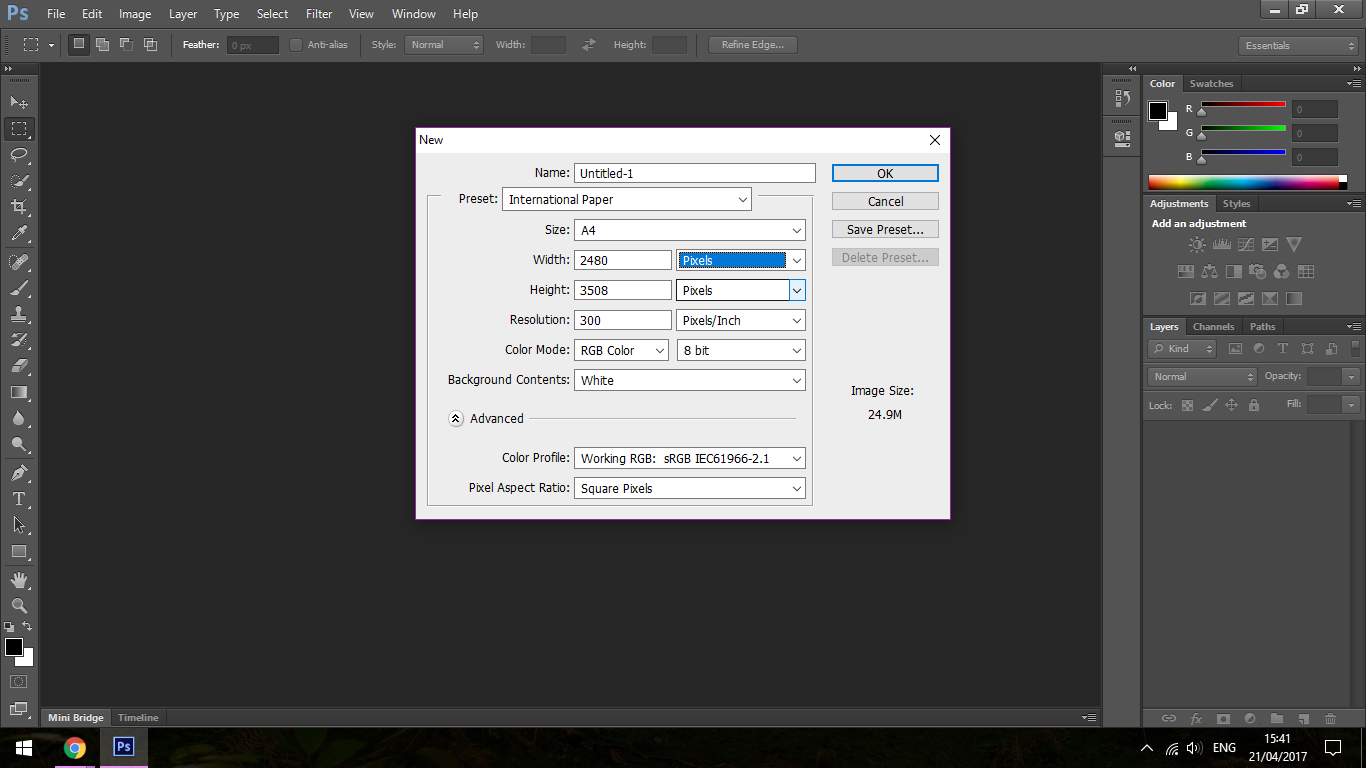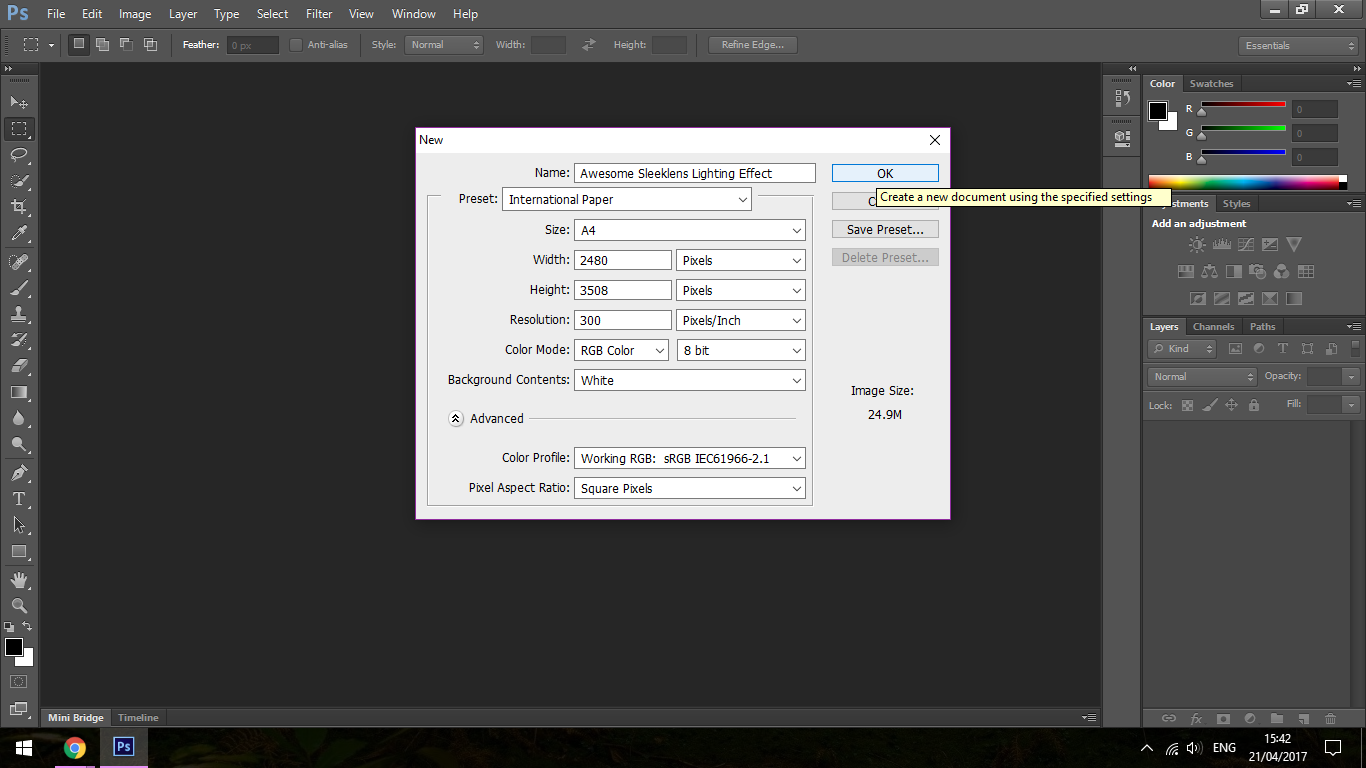 Then I double click on the Layer titled Background to the middle right of the image below, and Press Ok.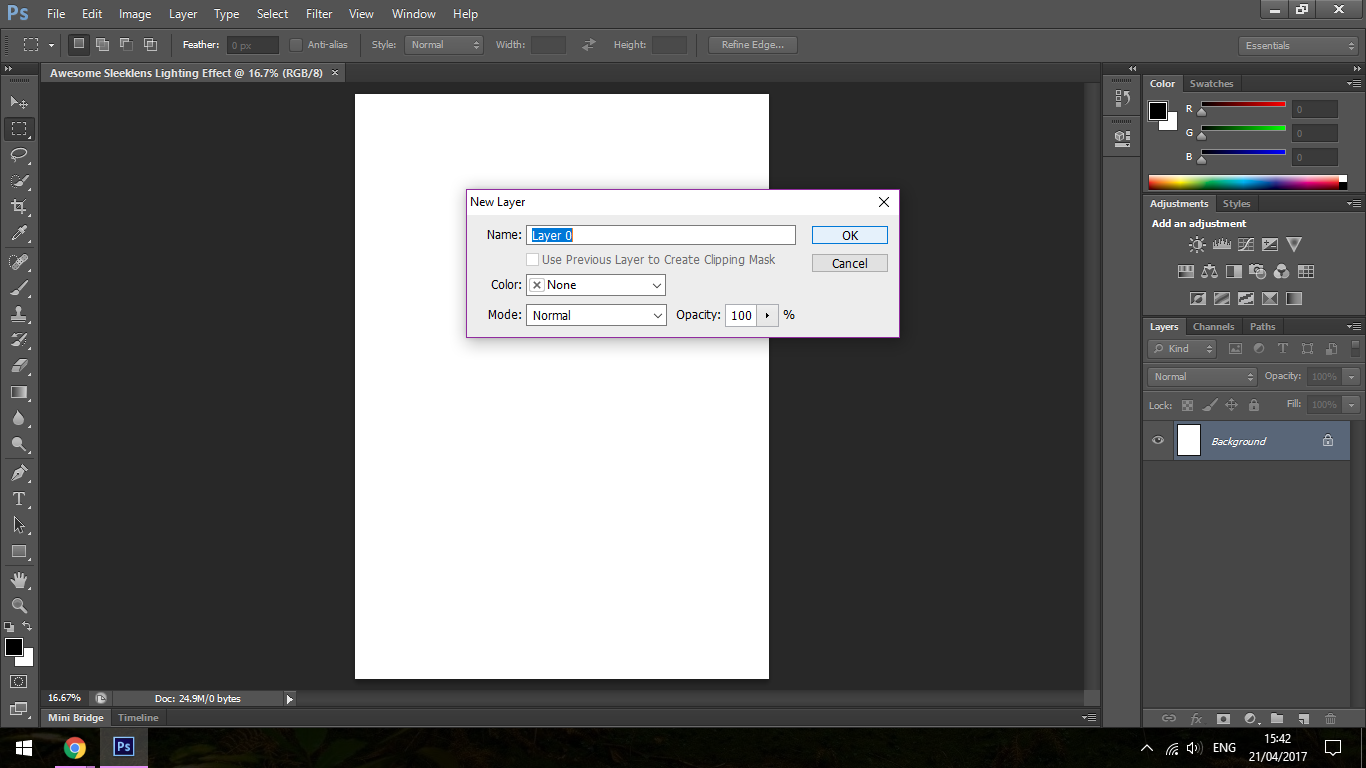 Now I'm going to add my first image, I'm going to add a Textured image, you can find these under the Keywords of Grunge usually.
For my Texture I got it from a website I use that has copyright free images called pixabay.com I used to use straight images from google which leads to problems when the work you are creating has to be used for commercial purposes, I would to save you a lot of headache find sources such as pixabay and keep a list, trust me on this, it will save you a whole lot of hassle in the future and it's always good to say to clients when they think they have to go and buy stock images that you can get royalty free ones, I'd say this tip alone has gotten me plenty of Freelance jobs that without mentioning that could get these free images I think I may not have got.
If you know of any other sites such as pixabay then please add them in the comment section below, I sure plenty of people would much appreciate having free sources such as this.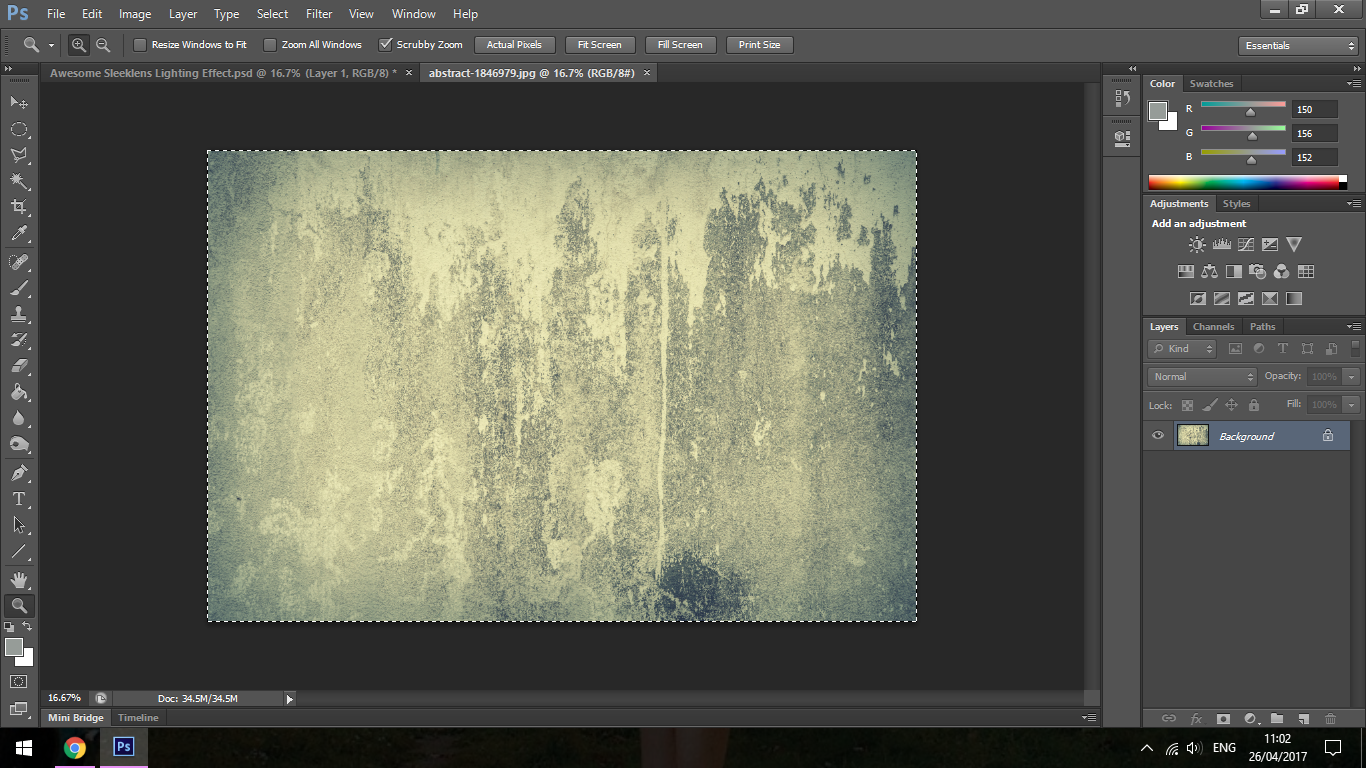 I then go to Select – Select All – Edit – Copy, and paste it into my set up document.
Then resize to your desired fit using the Free Transform Tool (CTRL T)
If you also wish to do so you can tidy up your grunge a little using the Spot Healing Brush Tool or the Clone Tool etc on areas such as the line running down the image or the likes of the dark patch at the bottom.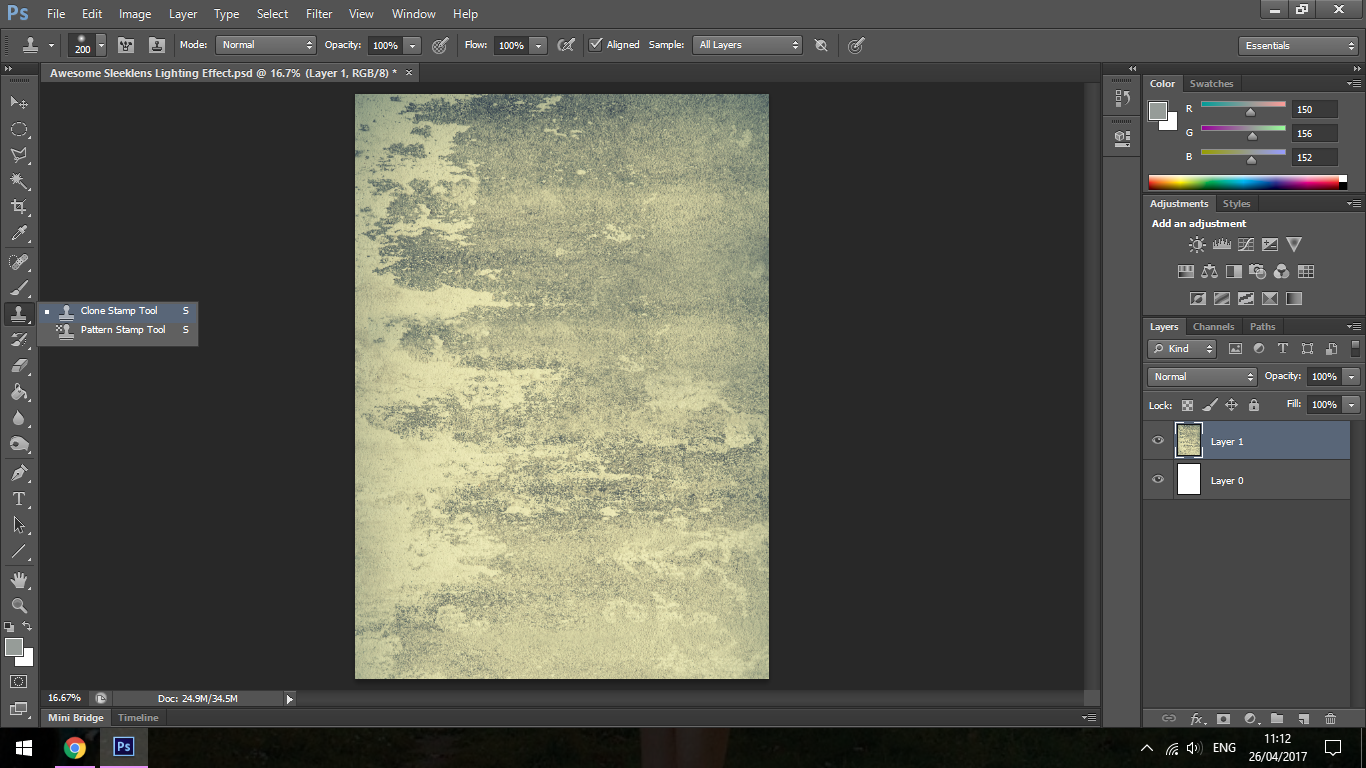 Now that you have your Grunge source image we'll get our models image in the exact same process using out Free source sites to keep us right.
You can use any Portrait for this.
Resize it so that the face is roughly in the middle.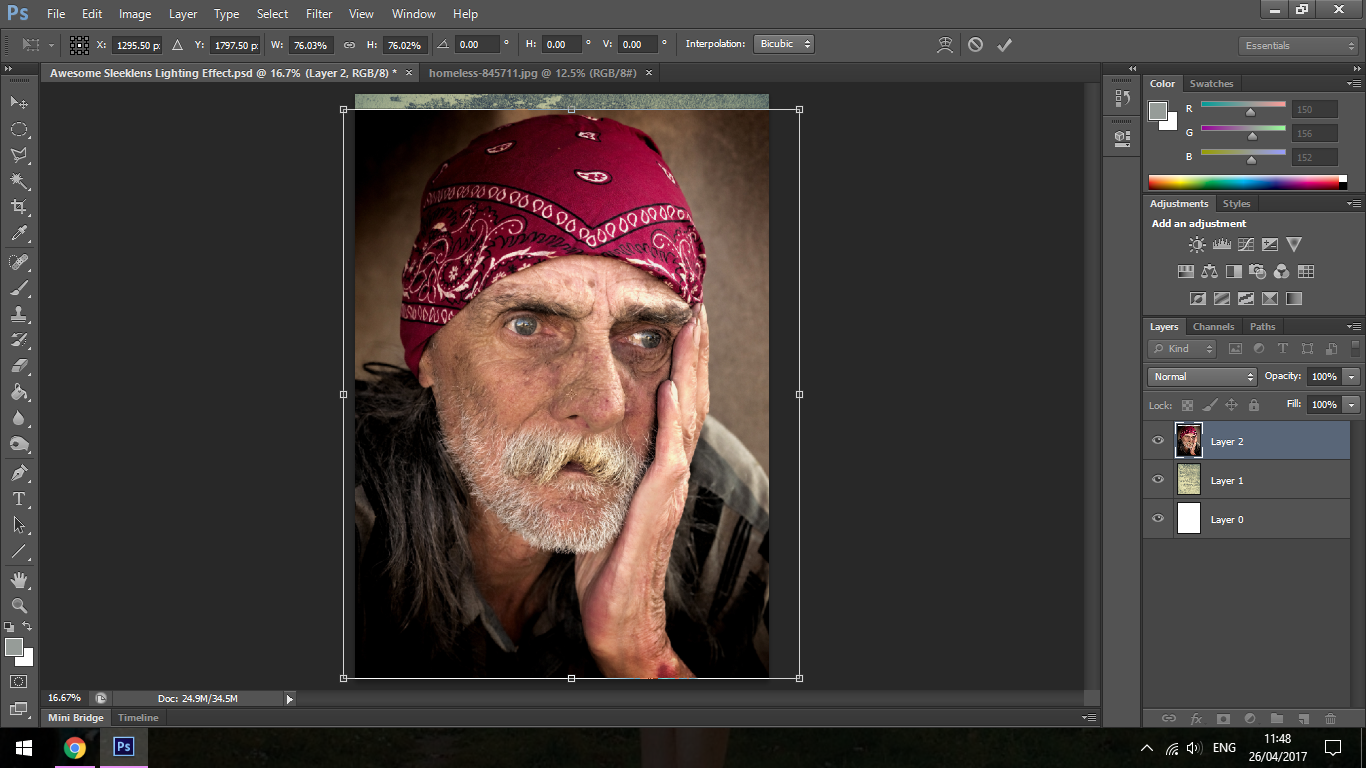 Then create a Layer Mask.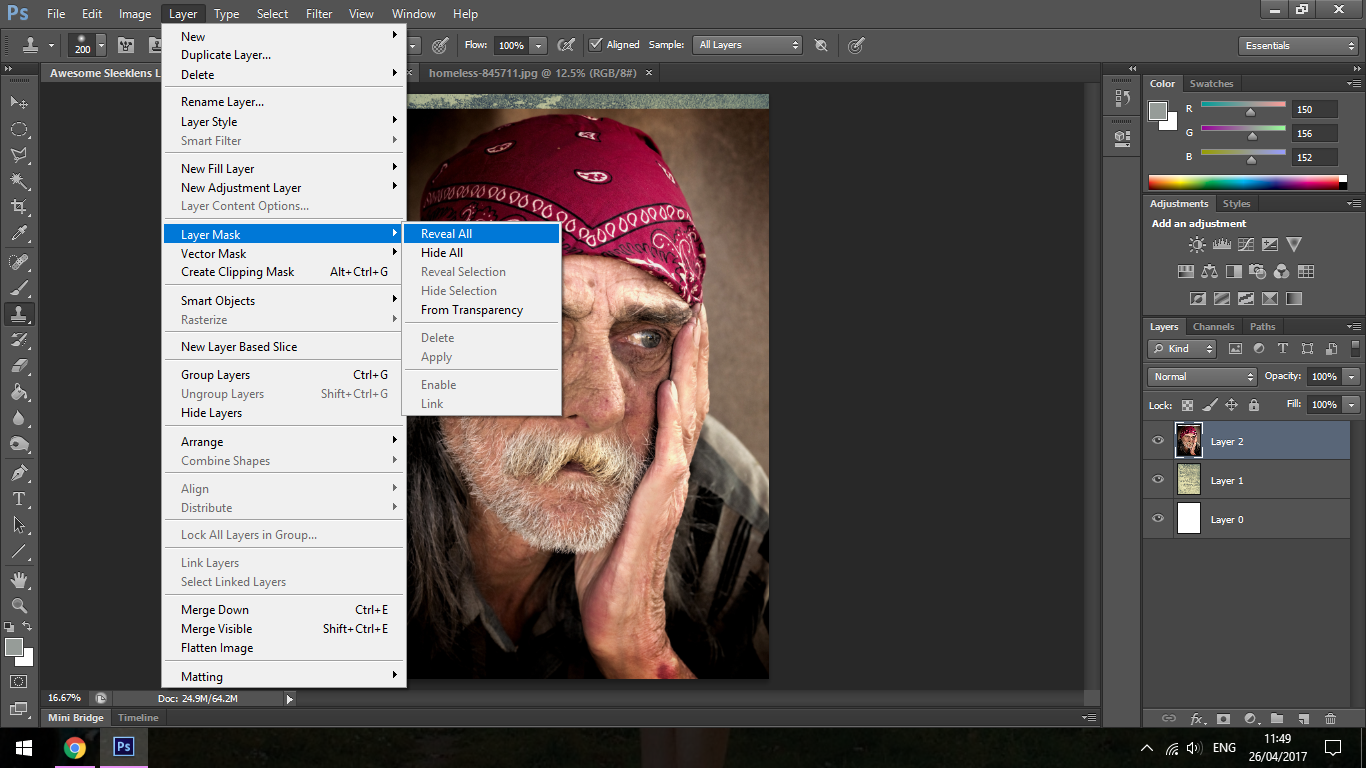 When you create the mask you will see the square appear on the right hand side on your layer.
It should be white, this means that when you paint over it with Black on your Brush Tool it will hide where it's painted on, you can make it reappear again by painting on White.
You don't have to be anywhere near precise when doing this just enough that you can see the targeted area which for me it the hand and the head.
Close enough with this task is good enough.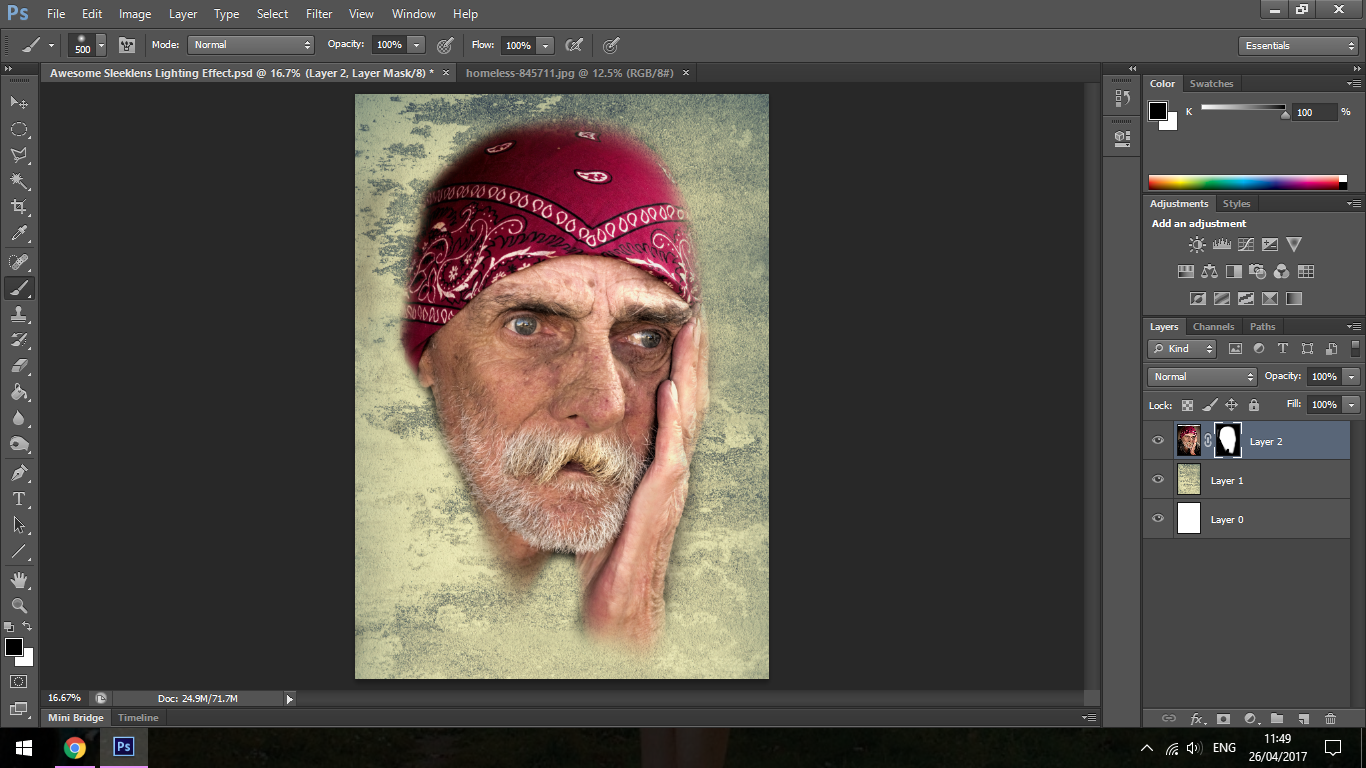 Last few steps for this part of the Tutorial is to create a Black and White Adjustment Layer and a Levels Adjustment Layer.
If you already know how to do this then cool if not then go to Layer – New Adjustment Layer
In there you will find both Black and White and Levels.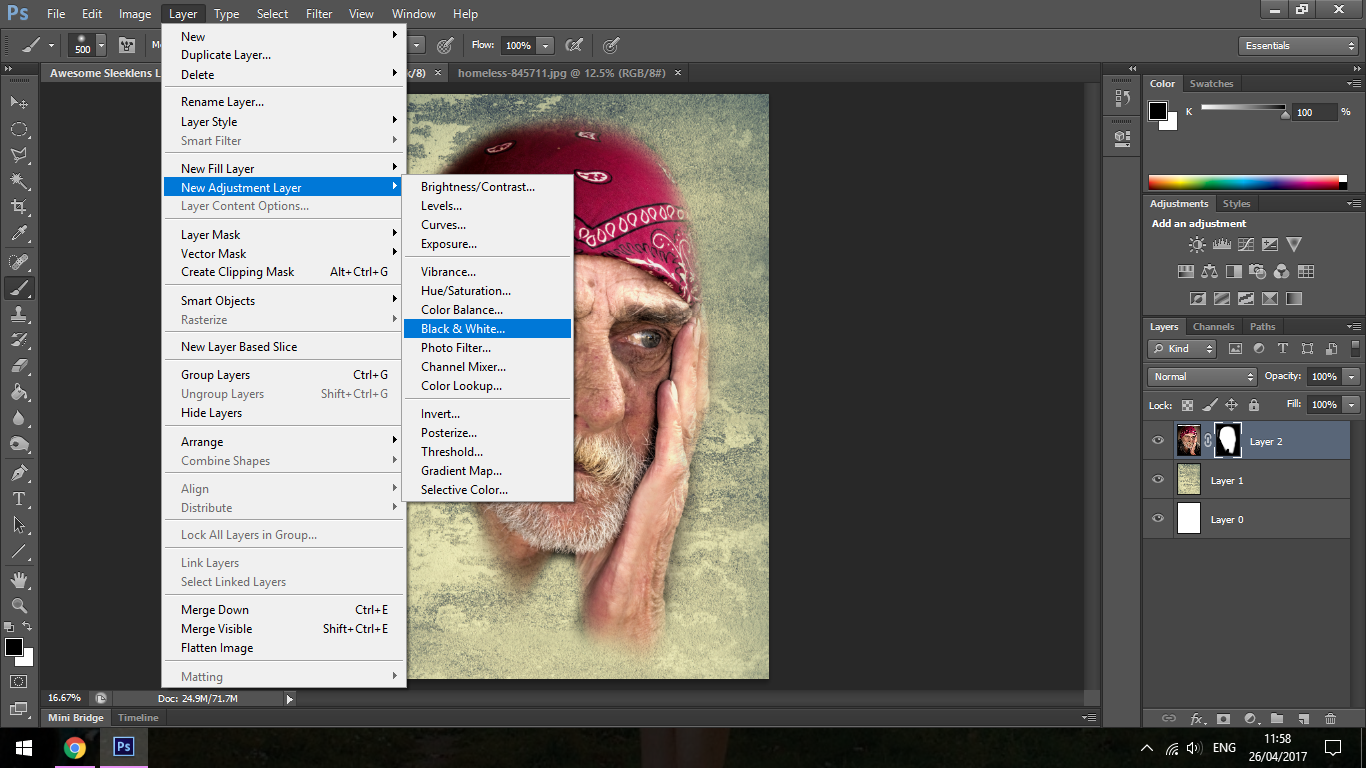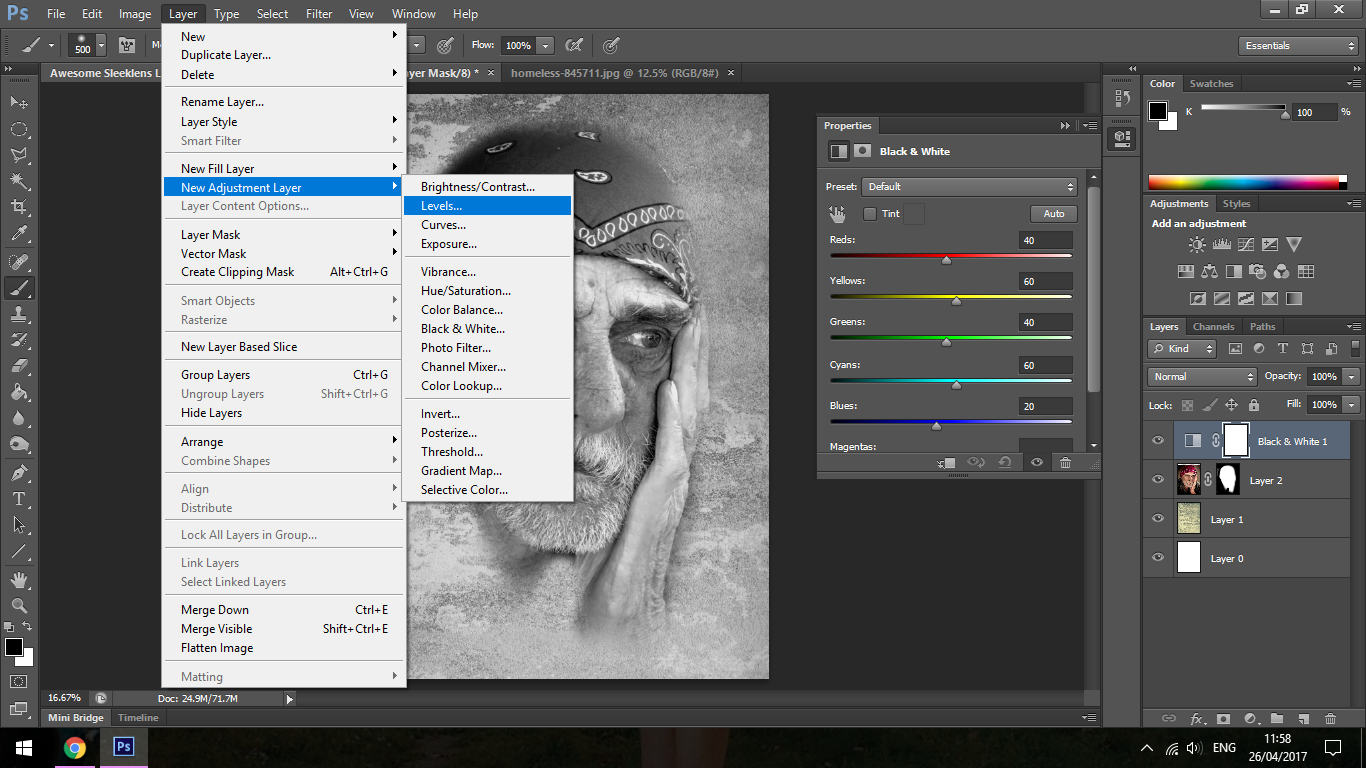 I wouldn't do too much with Black and White, if you'd like you can play around with the sliders but try to keep it looking good with no details lost.
With the Levels all I do is take the two ends of the slider and slide them in just a little fraction.
And that's all for Part 1.
The following two tabs change content below.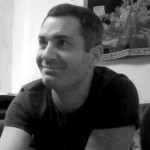 Graduated from college in 2002 with a degree in Art & Design, I started exploring my way in Graphic Design and Professional Post Production. Full-time freelancer since 2011.