How to work with Strike a Pose: Editing Hair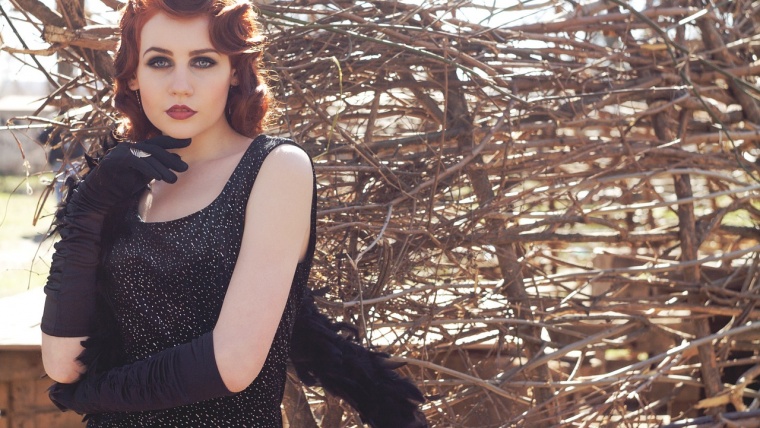 How to work with Strike a Pose: Editing Hair
www.sleeklens.com
Welcome back, today we have a tutorial on how to define and enhance hair in your portraits with our "Strike a Pose Workflow". Now I have my photo pulled up, let's get started.
The first I am going to do is go to my brushes, click New to start a new brush, then scroll down to the Strike a Pose brushes. The first brush that we're going to use will be Define Blonde Hair in the Strike a Pose HAIR brushes, since our subject has blonde hair
Once that brush is opened, you'll see that the settings will be adjusted for you. Also, if you open the colors, it will be in the blonde color range. This will help add color and definition to the hair.
Now, we will run this brush all around her hair. Keep in mind, that as you apply this brush to the hair, you can adjust the brush size to suit your needs.
Once you have run the brush through her hair, we can go over to the panel and use the sliders to change the setting a little bit. For this brush the Contrast was set all the way down, but for my photo, I'm going to turn it up some. I will also pull the Exposure up a little, because I want to lighten her hair as well.
I will also move the Clarity up, but just a bit.
Now that we have applied changes with the Define Blonde Hair brush, you'll notice that we just basically add color and light to her hair, but It has really changed the overall look.
So now, I will move on to another brush and delete the one that we just used. Go ahead and click New, to start a fresh brush.
Now we will go back into the "Strike a Pose" HAIR brushes, this time we'll go with the Add Shine brush. You could use this if the subject in your portrait had dull or flat hair. You'll see that with this brush, the highlights and clarity are turned up a bit, pulling out the shine and the light reflecting off the hair, really enhancing the look.
After you have applied this brush to the areas that you want to affect, You can move the hand cursor over to highlight and see where you've run the brush.
The before and after shows a lot more light has been added, and those shiny highlights have really been brought out.
Now, we will move on to another brush. Go ahead and delete the changes just made, then start a fresh brush by clicking New.
For the next brush, we're going to go back into our "Strike a Pose" brushes and select the Define Hair brush. The effects of this brush will really up the clarity and adds just a little bit of color, giving more overall definition to the hair. Even though it is a yellowish color, you could use it on a subject with darker hair. This is a brush that you may want to use if the hair on your subject is slightly out of focus or simply need a bit more definition and texture to add to the photograph.
The changes that I'm applying to my photo are very subtle, but if you wanted to add more definition you could push the Clarity Slider up some.
As I said, it is a subtle change, but it really does make a difference in the photograph.
We have gone over the Define Blonde Hair, Add Shine and the general Define Hair brushes, so now I'll change to a different photograph, this one time where the subject has dark hair.
Let's go back to our brushes and this time, we'll choose the "Strike a Pose" Define Dark Hair brush. Unlike the Define Blonde Hair selection, there is no color attached to this brush, but instead the contrast has been turned down, which will help bring out the darker tones.
If while applying this brush, you decide that you want the hair to be even darker, you can go over to the right panel and turn the Exposure and the Highlights down.
Now that we have applied that brush, we can see that we have really darkened the hair, especially closer to her head.
You may notice that it has taken some of the definition and contrast, making it a little bit of a flat black color. To fix that we can go into our "Strike a Pose" brushes and use the Add Shine brush. We'll run this brush through the flat areas to bring back some of the contrast and highlights that I lost before, making adjustments in the panel to Exposure, etc. Along the way.
In the after effect you can see that the subject's hair has been darkened and a little more defined than before.
After deleting those previous effects, let's go to another brush. This time we are going to use the Add Punch, again in "Strike a Pose". Add Punch helps to add shine, contrast and clarity all at once, giving your subject's hair an overall boost. It won't make a huge difference, but it is going to add something to your portrait. When photographing people, hair can be a defining trait that you'll find your photos.
Go ahead and run this brush throughout the hair.
You'll see that the changes made are very subtle, but what it has done is brought contrast and clarity and added a lot of definition.
There is one last thing that I want to show you, using the "Strike a Pose" workflow. For this we'll go back to the first Portrait that we were working with and go into the "Strike a Pose' COLOR brushes.
With these I want to show you how to slightly change the color of the hair, so in the "Strike a Pose" COLOR brushes, we'll choose the Warmer brush.
The girl in my photo has blonde hair, but I would like to change it to a more brown color, with the Warmer brush we can do that.
Once we select this brush, we will then go into the colors and move it up into the darker orange range, then start applying the brush to her hair.
I am going to go over to the panel and turn down the Exposure, to give that darker orange more of a brown tone. When running the brush through the areas of the hair that you want to affect, you can also play with the colors to find the effect that works best for you.
For my photo I'll move it back to the more reddish orange range, then turn the Exposure and Shadows down. To get less of an orange color, I will also turn down the Saturation to make it more of a natural color.
Now that we have changed the hair color from blonde to more of a brunette color, I will then go into the "Strike a Pose" LIGHT brushes.
I will show you how we can use the LIGHT – Brighten and LIGHT- Darken to add highlights and lowlights.
We will make the brush really small and start with LIGHT – Brighten, to add highlights. Since my subject already has some natural highlights, we will just go ahead and apply the brush along with those. We can even move up the Exposure Slider to make them a little lighter.
Now we will use the LIGHT – Darken brush, to add lowlights to her hair. With this brush we can use it to go over the natural lowlights in the hair. It also helps when we want to darken the hairline as well. Darkening the hair around the face is especially helpful when you want to make the face really pop out in the photograph.
So, there you have it. The before and after of this photo shows that we have started with blonde hair and given our subject a slightly darker brunette color that still looks natural. We have also added more highlights and lowlights. And that's how you can use the Hair brushes in the "Strike a Pose workflow" to add color, contrast, shine and overall definition to hair in your photographs.
I hope you've all found this tutorial helpful and can try it out for yourself soon. Don't miss our other guides on Strike a Pose Workflow for enhancing eyes, fixing skin tones, or achieving perfect facial details
The following two tabs change content below.


Brian, formerly a member of the corporate world, is now a writer living in Europe, covering different topics regarding life, art and photography.