How to use Export Presets to save time in Lightroom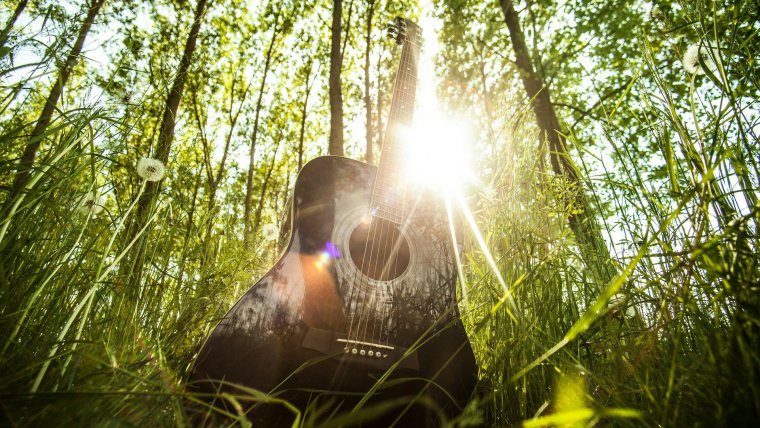 How to use Export Presets to save time in Lightroom
www.sleeklens.com
So I'm going to show you some tips today to help you in saving some time and hassle by learning how to do Export Presets.
Lightroom is awesome for this and once you learn this it should speed up your workflow by quite a bit when it comes to saving for different formats.
This will be an info packed Tutorial so sit back and prepare to learn.
So before I learned this I was really making life hard for myself when it came to exporting files, I would have the same image to be added to several different platforms and I would do them each individually which isn't the best idea.
Each time I'd go to do this exporting I'd have to start from scratch again and do it all over which started to get pretty tedious.
You're probably thinking, well that doesn't sound like the best way to work and yes, I admit you are 100% correct, which is why I want to share this tutorial today so you guys don't have to do the same sloppy workflow that I used to do, unfortunately.
You all will be masters from the start instead and hopefully spread the word in future yourselves to those who do not know yet about Export Presets.
Ok so if you know how to Import your files already then please do so if not then follow below.
Make sure you have clicked on the Library Tab at the top right, it's the first one on that row of options.
Then you will see at the bottom left the Import Button, click on that.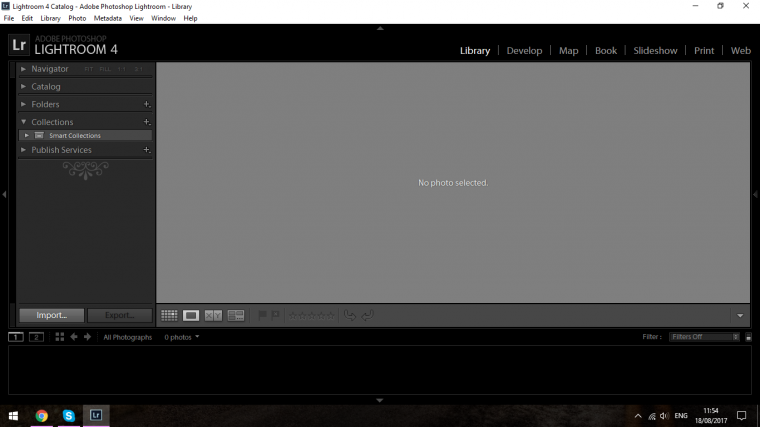 When the Popup appears click on Select a Source, this is where you will be able to access all the files on your computer.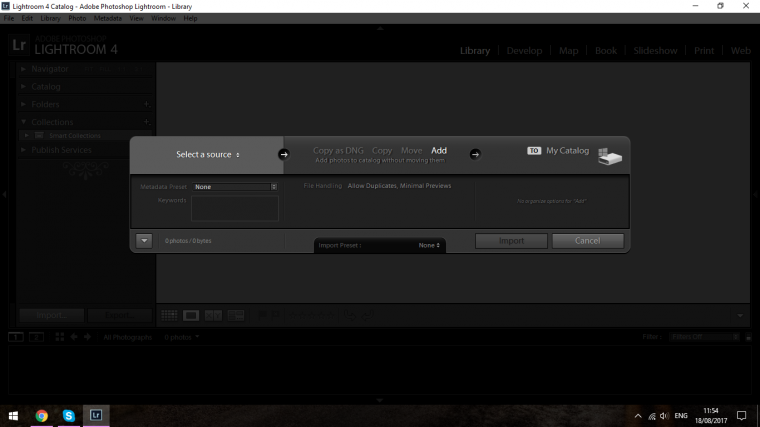 Once in there click on Other Source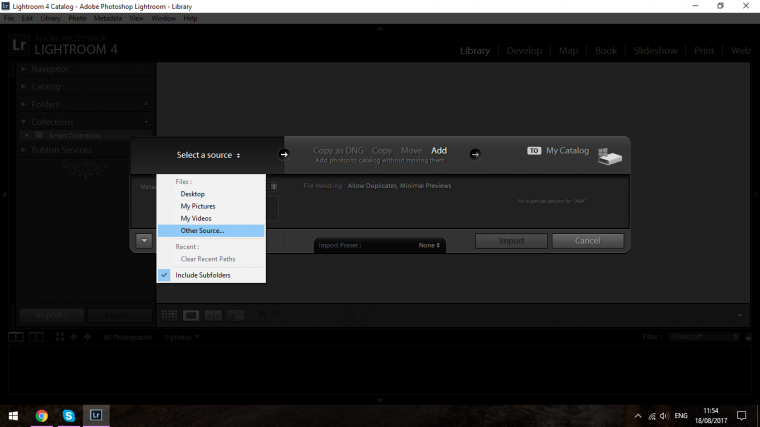 Now it's just a matter of locating your files as you would normally, clicking on the folder and then clicking on Select Folder.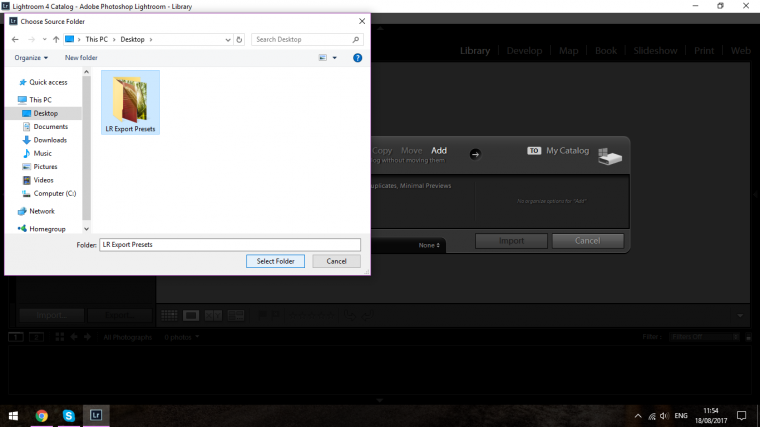 When this has been sorted you will get prompted onscreen again with the same menu bar if you could call it that to do one more task, and that task is to click on Import.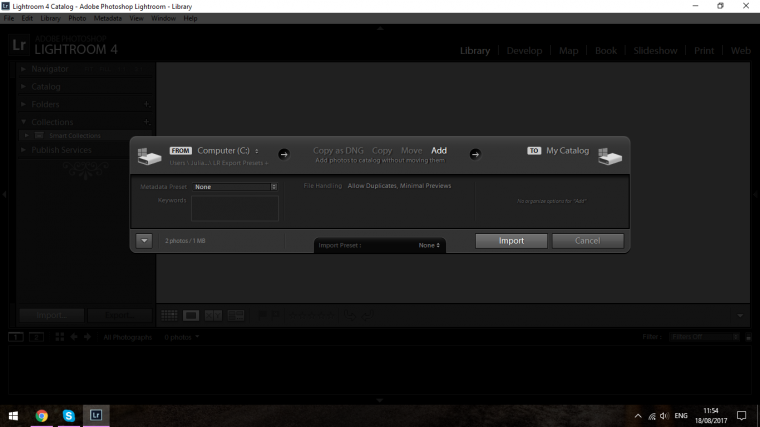 Now your files are in Lightroom and you're ready to rock, so as a wise Woman once said in a favorite Movie of mine "Let's Rock!" PS huge points if you know what Movie this is from 🙂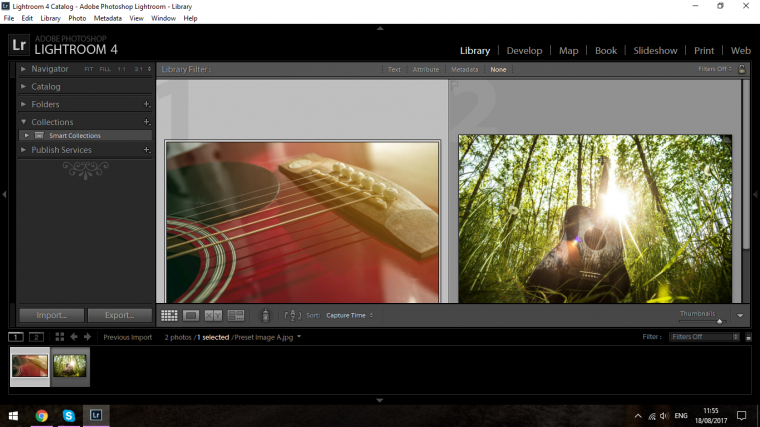 So previous if I was to Export these this is what I would have done
Once you have this all complete and everything has been nicely exported into Lightroom, right click on the image and you will see a pop-up.
On a quick side note just to be aware of, you can use this technique in batch editing, I'm only showing 2 images as an example, but this will work on as many images as your Lightroom will take, again cutting out an absolute tonne load of unnecessary waste time.
At the bottom of this pop-up, you will see Export.
When you click on that another pop up will appear to the right-hand side, you will then see Export once again.
Click on that.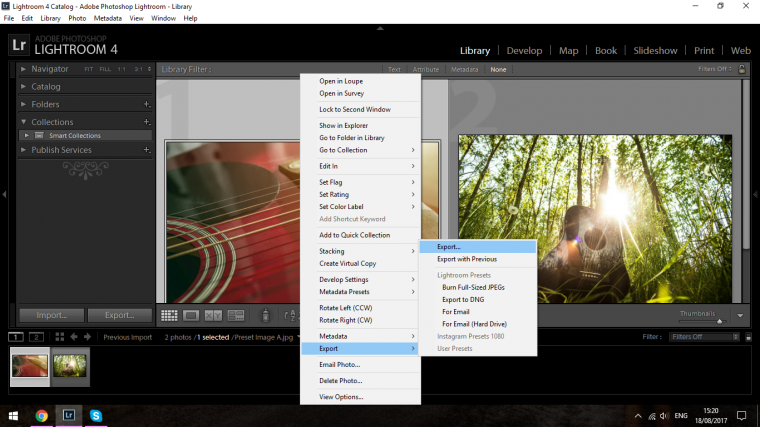 Now the Export Panel will appear.
Take a few minutes just to scan through this thoroughly and get your self-comfortable with it.
Don't worry about memorizing it or anything like that, just look through it, click on the drop-down boxes and have a good nosy at all the available options within it.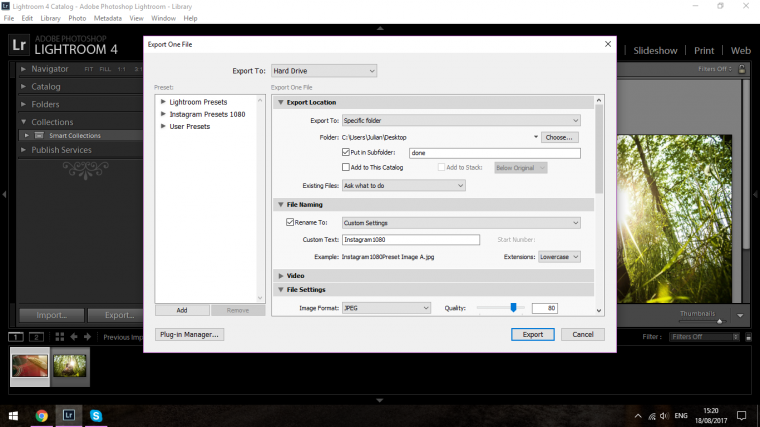 Now looking at it you can understand what a pain it is to constantly go back and forth from this to change up all the options every time we want to export to Instagram or Facebook etc.
Unfortunately for us, all these media platforms require different settings, so no one setting will work for them all.
So what I'm going to show you here is how to do a Preset for Instagram, then you'll take that knowledge from here to be able to figure out how to do for other platforms such as Facebook.
The process is the exact same with a few very very little changes here and there.
Next, we go to The Develop Module and press (R) on your Keyboard.
This will open the Crop Tool.
Resize your image to 1×1 by clicking on the Dropdown Box beside the Padlock.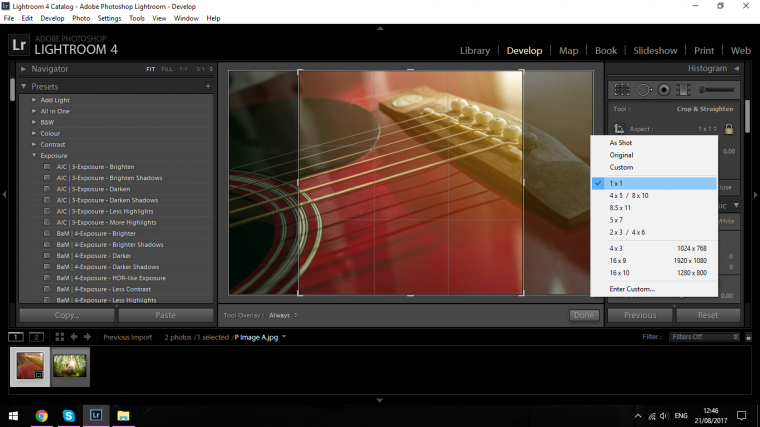 Click Done.

Now holding Ctrl you can click on the other thumbnail to select it, and over on the bottom right you will see Sync.
Note: you have to do this when you're Exporting, so if you don't want to just Export one at the end, Click on the First File hold Ctrl and click on the last File on the thumbnail list so it selects all.
Click is and make sure that when the panel appears you have Crop checked on the right-hand side.
Click Synchronize.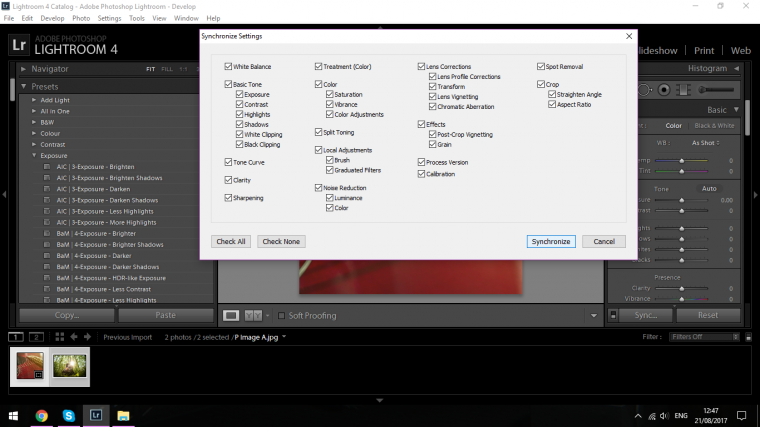 So what we have done so far is we have changed the ratio to fit Instagram, learned all about why we should be doing this and the basics to what we will be working with.
We are now fully prepped and ready to go so we will now start to look at how to actually create this presets.
So the first thing that we are going to do is to get that export panel up again that I set you the task to look over in our last tutorial.
If you did that then good you should be pretty knowledgeable on what all is inside it.
OK now that we have this up, I'm going to create a folder on my desktop called Lightroom Export Presets.
This is where I will be keeping all my Presets, normally I would keep this somewhere like a hard drive, so just somewhere where you keep your actual work images etc.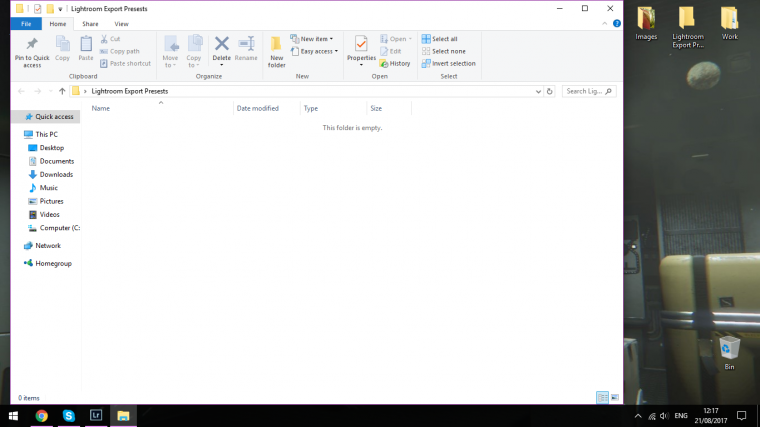 So if you're not sure yet about the Export Panel then not to worry, what you do is either go back and take a look at that tutorial or right click on the image while in the Library tab.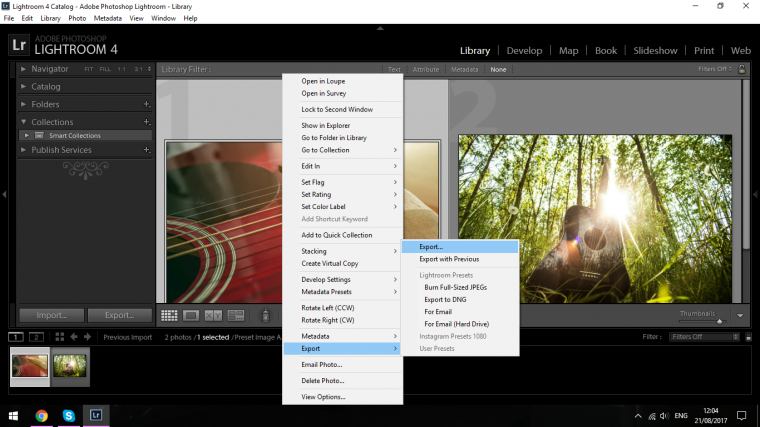 Now I'm going to click on Export to and find my folder on my Desktop or wherever you have it saved to.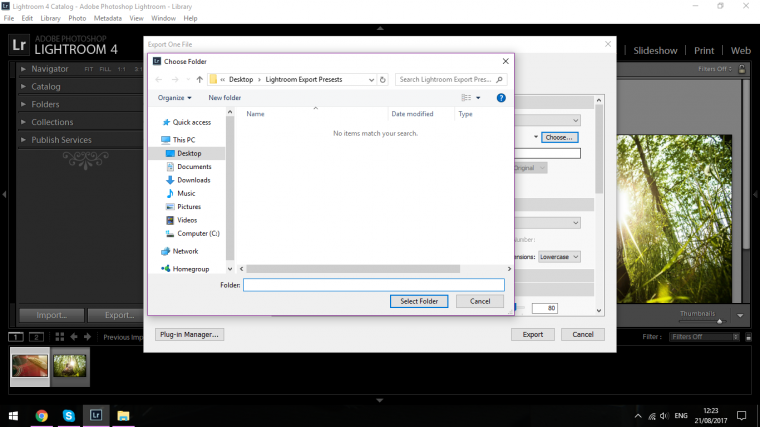 Then I'm going to click on Put in Subfolder and name that Instagram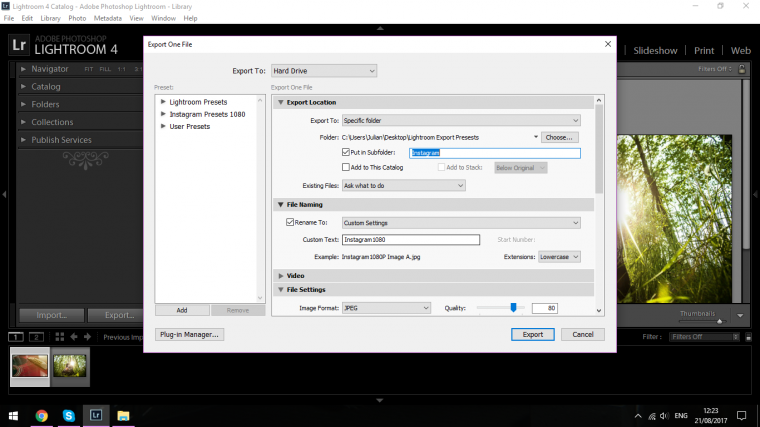 Now in the section below that you will see File Naming, I'm going to add where it says Custom Text, Instagram1080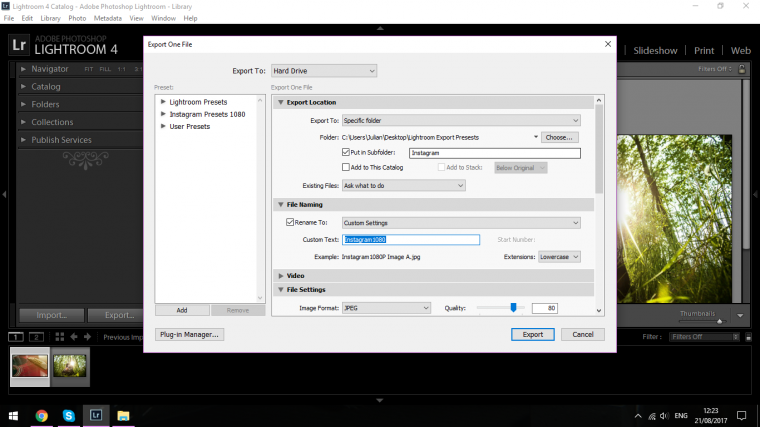 Now slide down to File Settings and you will see where it says Quality.
Change this to 90% as you wont have to worry too much about it being too detailed as the final image is just for web.
Next below that you will see Image Sizing.
I make sure that Resize to Fit is click as well as Don't Enlarge.
Change the Width and height to 1080 as this is the size used for Instagram.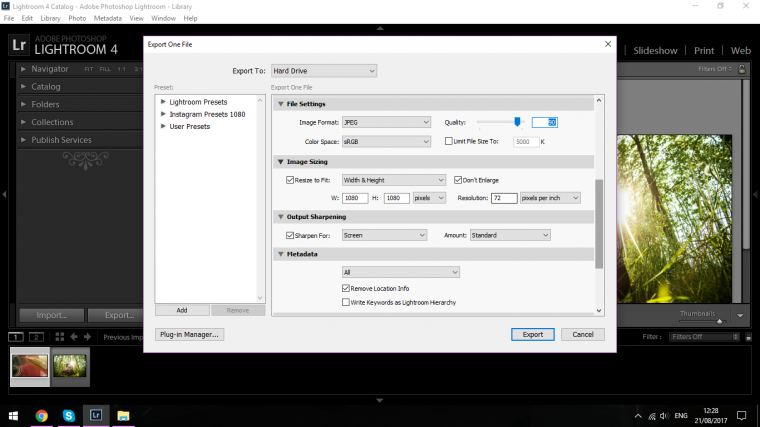 Make sure to uncheck Don't Enlarge, this is very important because you can have files that are smaller that the current settings and if you don't enlarge them they will not resize to you current Instagram size.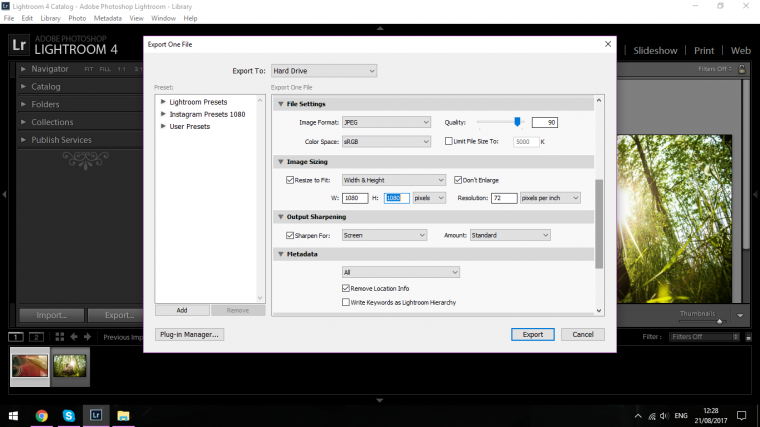 Another thing that you need to do is change the Resolution to 300.
The reason I do this is because when the file is resized I want it to retain it sharpness.
Usually when you change the Resolution you are changing it for Print or Web, Print is 300 and Web is 72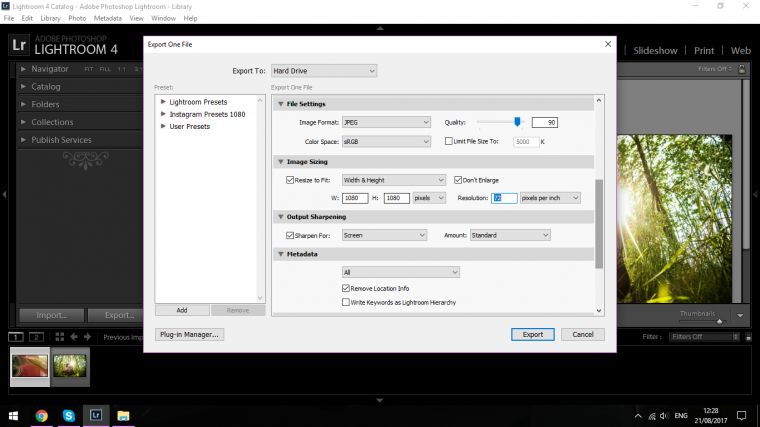 Once you click on Export you can check in the folder you set up and you will see your files in there with the correct size all sorted and ready to be added to your Instagram account.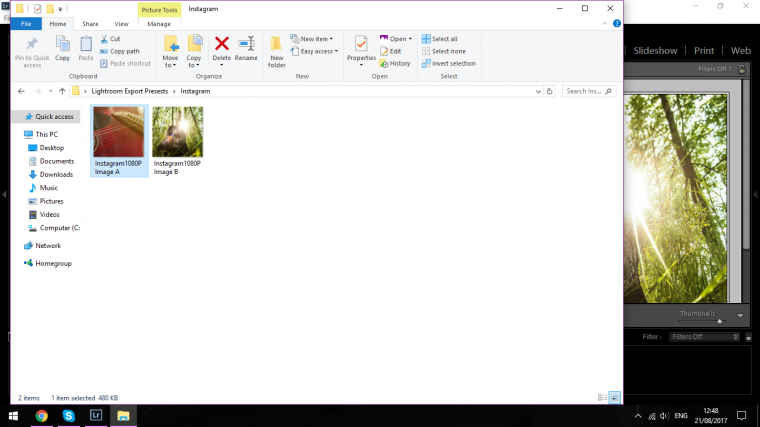 So if I wanted to do this for Facebook what I would do is, go back to my Develop Module.
Then I change the ratio back to As Shot and then Sync the images again just like we did previous.

Now all you have to do is find out the dimensions that are used for Facebook, add all those to your info as you did with the Instagram set up.
Rename everything.
Then as before click on Add so that it is added to your User Presets.
Note: That you wont have to change the Ratio all the time, I only did it for Instagram because it's set up is Squared.
Hopefully now you will make good use of these Presets and they will save you a whole bunch of time.
The following two tabs change content below.


Graduated from college in 2002 with a degree in Art & Design, I started exploring my way in Graphic Design and Professional Post Production. Full-time freelancer since 2011.