How to Remove Fringing After Cropping Hair in Photoshop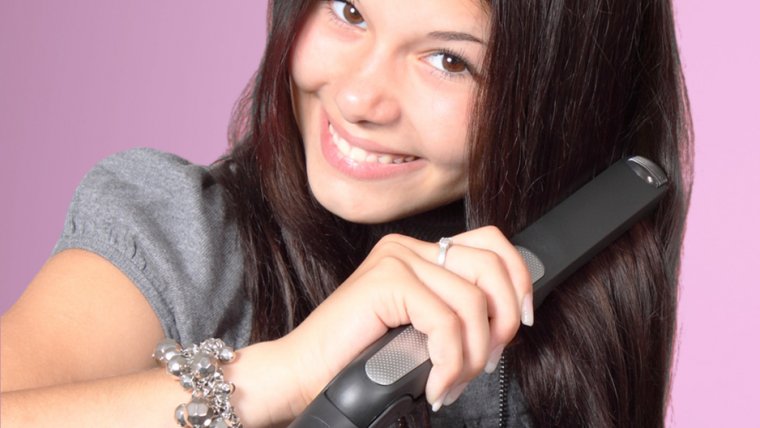 How to Remove Fringing After Cropping Hair in Photoshop
www.sleeklens.com
Hi everyone, hope you are all well and ready for some Photoshop-style learning!
So for this tutorial, we are going to take a look at removing Fringing, so what is Fringing???!
Well, take a look at the Image below.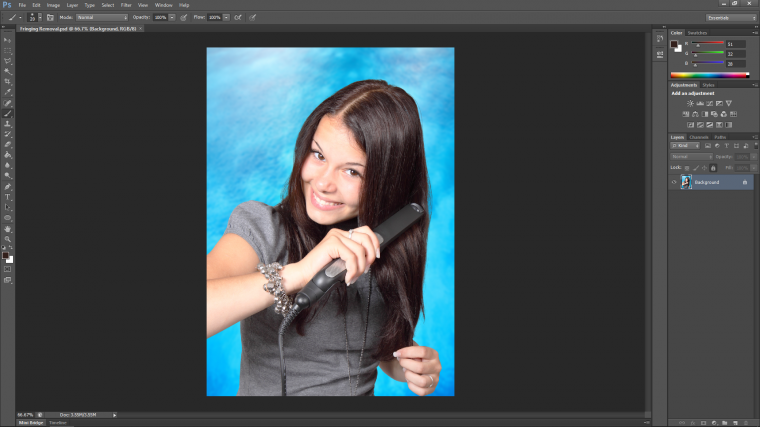 So as you can see with this image I have a large portion of background that I would like to remove, so there are many ways to do this but the main problem generally is the hair, this is a whole different technique/subject in on itself, you can find some of my Tutorial links on this Subject below…
The first one would be a standard industry way to crop hair, you may have your image at this stage already if you know what fringing is and you just need a refresher guide then you can move on.
Or you are starting from scratch and have happened upon my tutorial or if you are just interested in learning, in general, you can have a look at that tutorial.
How to Crop out Models with Curly Hair in Photoshop
So either prepare your image crop out or if you have one already ready let's go.
Once you have your cropped image ready, create a new layer and move that in between your two images layers.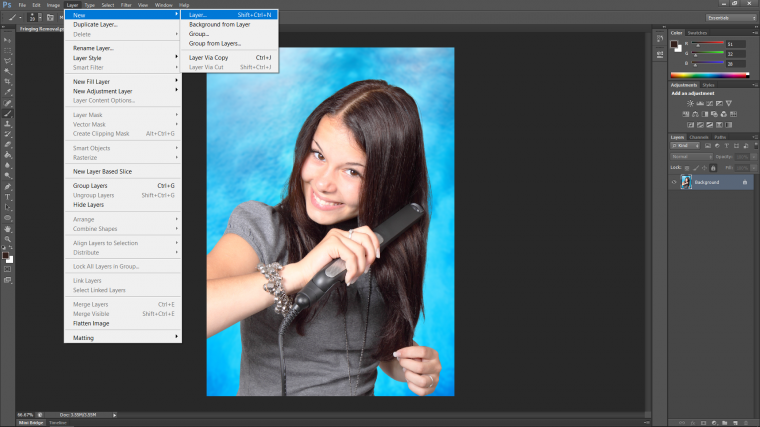 Then go to the Tool Bar on the left-hand side and choose the Paint Bucket Tool making sure it's Black.
You can change it to Black if you look down a little bit on that Tool Bar and see the two little Black and White squares overlapping each other, either click on the little curved layer on top until the black square is on top or double click into it and click on the color graph right at the edge so it's black, then simply click using that Tool on your image and the layer will now be completely black.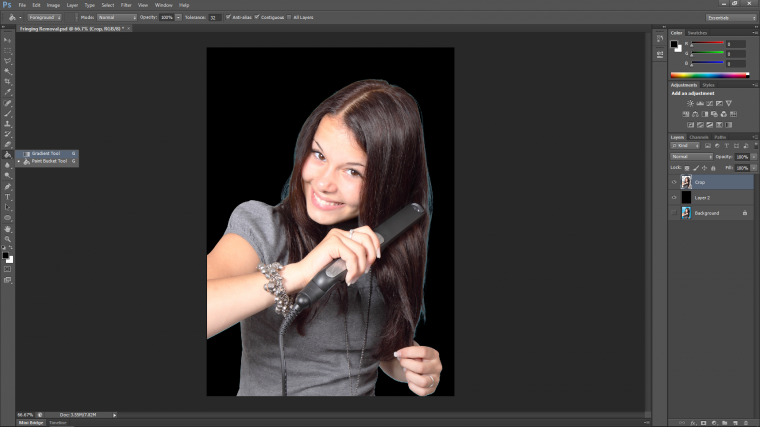 Now, look at your image by zooming in, so to zoom in, in case you don't know how to yet either use the magnifying glass that you will find on that left-hand side toolbar, I'll give you a hint, it's just below the paint bucket and if you hover over the icons they will tell you what they are.
If not no worries just key in on your keyboard Ctrl + The Plus or Minus Key to zoom in and out, you find them generally at the top right of your keyboard beside the delete tool.
And to get everything back to normal key in Ctrl + Zero and you will see your image zoom back to the full Photoshop Workspace size…just so ya know!
So as you can see from the images below now that we have all that done, you can see that pesky fringing that has remained around the body of the hair itself! this is what we're going to remove!!!
In case you still don't really know what it is, it's that light line of pixels that looks really off at the very edge of the hair, kinda like a border.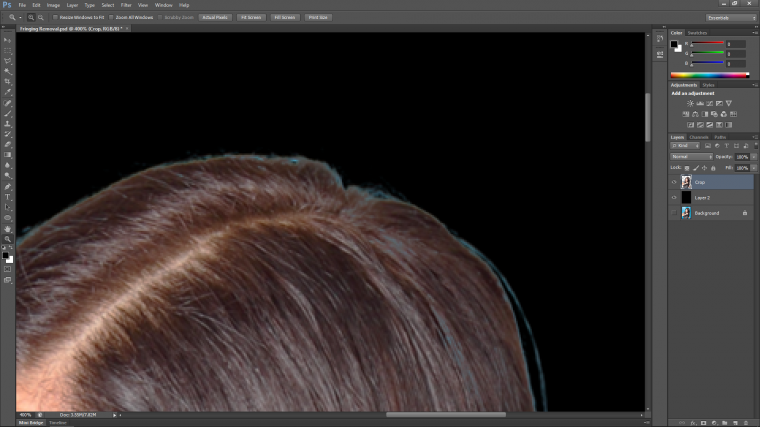 Now, you may have to do a little bit of fixing of the hair which, to be honest, was always a thorn in your side.
In all my experience no matter what they tell you out there when it comes to fixing hair I believe that my solutions are far more practical and the results, in the end, are generally better so long as you have the PNG's to back it up, I have left the two links below.
My Solution to Cropping Long Hair in Photoshop
My Solution to Cropping Short Hair in Photoshop
I've tried them all and I'd say the standard Photoshop program solutions generally only get you to about 80% at best, yes there will be acceptions here and there but I've found that percent to be somewhat true, and unfortunately sometimes to be even lower…
Sometimes you just gotta get your hands dirty and get practical, but this is Photoshop and there are a million different ways to do things so whichever combinations works.
As you can see from my Image below I now have my new background in place that I 'originally' wanted my image to be on, so we can imagine this was to be a staff photo or some sort of advertisement or poster or manipulation or whatever…
I'm sure you have your own background that you'd like to add in so take a sec to find something or if you have one already then cool, even better, add it in there.
So open your Photoshop and sort that all out quickly first so we will know what our image is going to look like on the actual background we are going to use instead of the all-black background which was just for demonstration purposes for this Tutorial.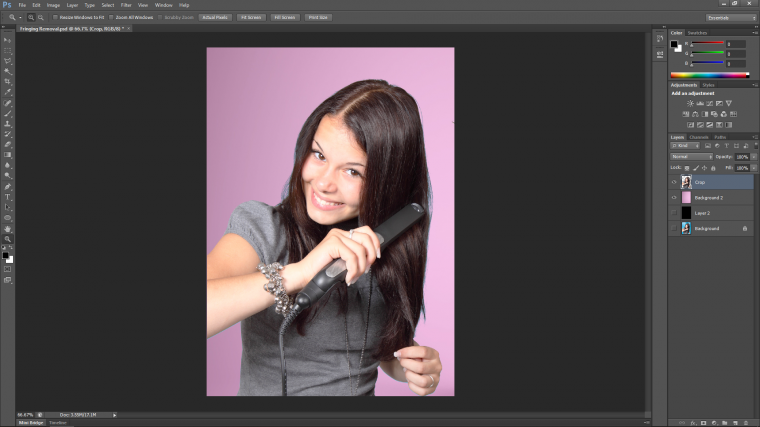 Even just with that small crop the image doesn't look that bad already, but I can defiantly still see a lot of the fringing and from a professional stand point this wouldn't be acceptable at all.
So to fix this first we have to create a new layer on top of our cropped layer, so that will be a layer on the top of the stacking order, this will be the layer that all the work will be done.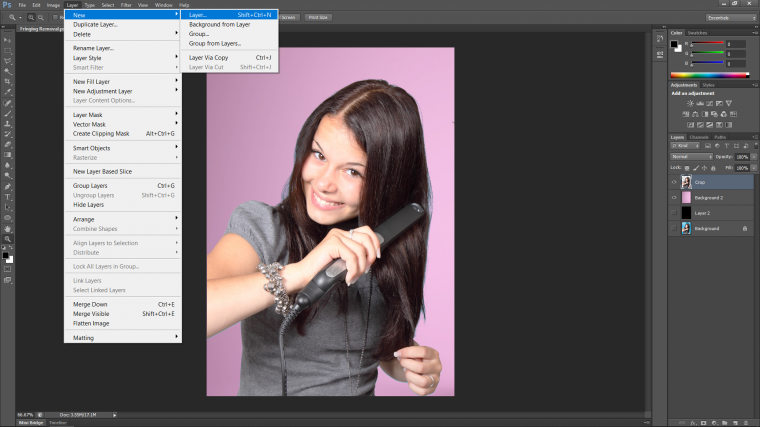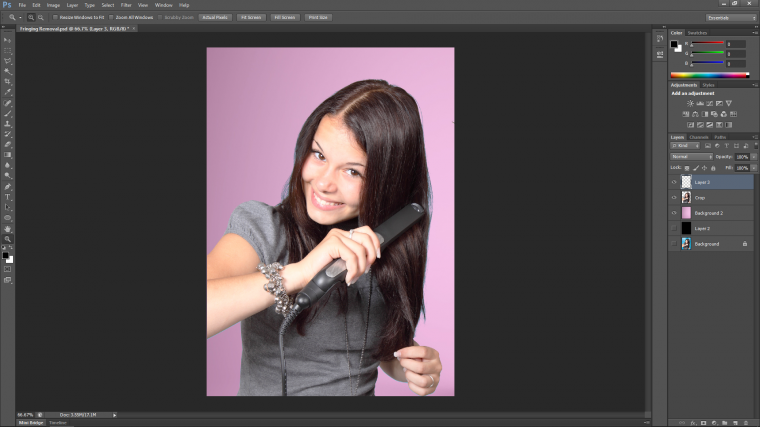 Next you have to right click on your layer and click on Create Clipping Mask.
So that layer is now joined to the layer below it and anything you do on that layer will only effect the layer that it is joined to.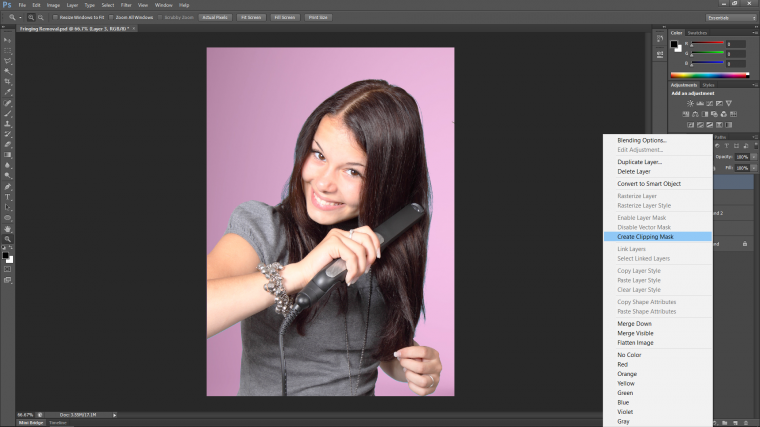 You can see in the image below the layer is now just slightly off to the side of the cropped out image.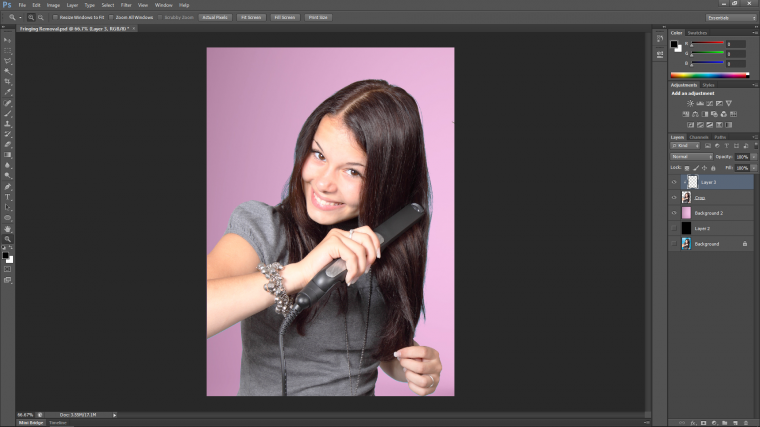 What this also means is that anything that you do in that layer will now assume the shape of the image cropped within the layer too, so if we wanted to we could paint a perfect black silhouette onto that layer if you needed to.

You can also click and move that layer about as well if you wanted to, this seems pretty insignificant now but it will be good to remember this sort of stuff as it might work for other things you are looking to do, such as a Double Exposure image for example…

But anyway, so back to Fringing.
Blending modes is what we're going to look at now, to in the layers panel you will see the word normal in a drop down box just beside Opacity, you will see it on my example image below to the right hand side towards the middle.
Click on that and a large menu will appear, look for 'Hue' which is pretty much at the bottom there.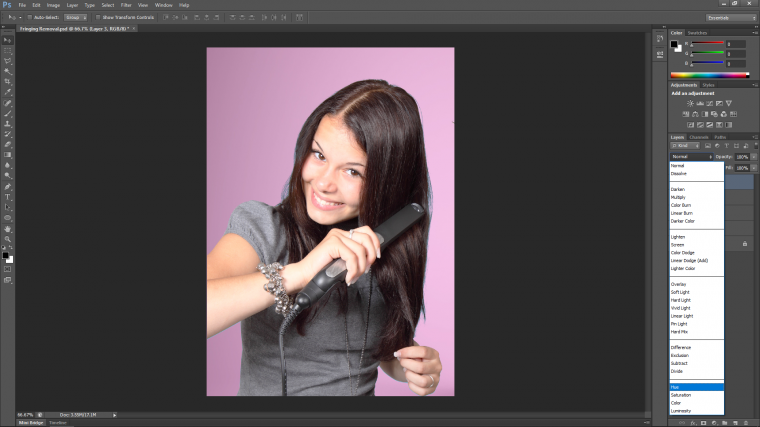 Now zoom inn on the area that you want to fix so you can start from one end and work your way to the other.
Make sure you are clicked on the top layer also.
Then grab the Brush Tool.
When you do go to the area right beside the Fringing, what you are going to do here is to hold Alt on your keyboard so that the little Eye Dropper Icon appears and you are going to click on the color that you want to replace the Fringing with.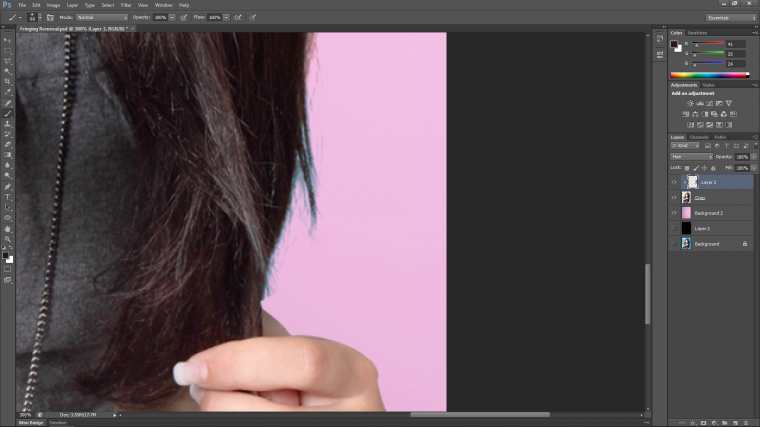 Then on that layer you start to paint over the area that you want to cover, because it is the same color as the hair it will replace the Fringing color, in my case it was Blue with the Red Brown color of the hair, you keep doing this all the way around until you are finished and you will see that it has made a world of difference to your image.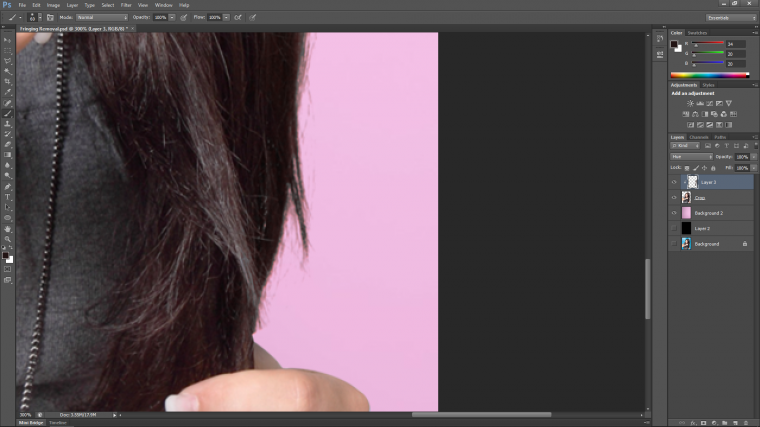 You can then zoom out and take a look.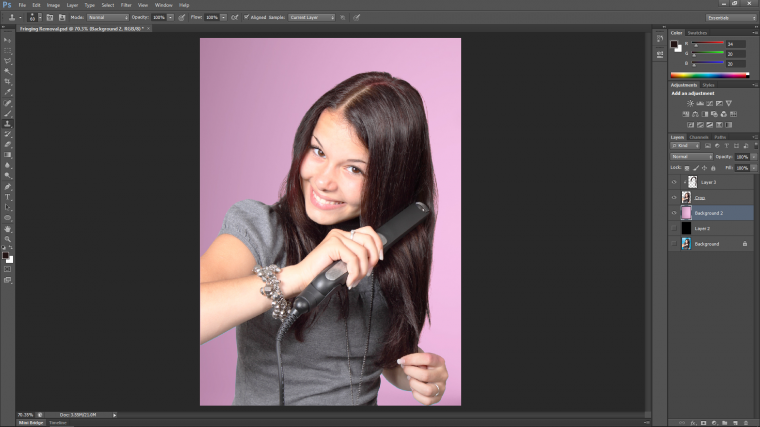 One last little touch you can do that I usually do it to create a slight blurred layer in behind the main one.
So holding shift on your keyboard click the Cropped Layer then the Clipping Mask layer that we just painted on.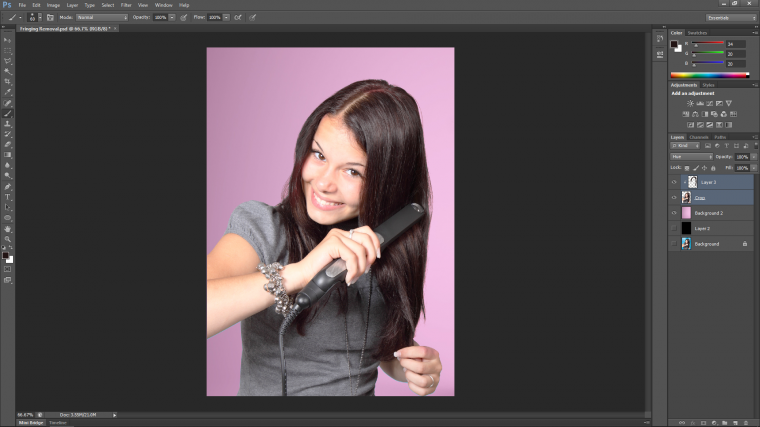 Then duplicate them.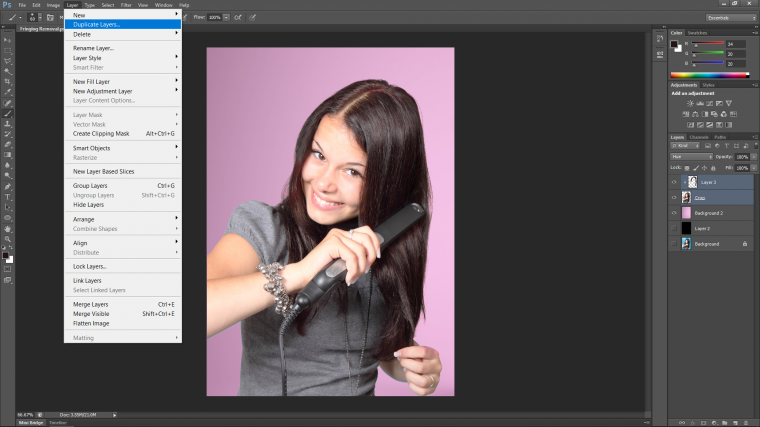 Once you do that right click on the duplicate layers in your layers panel and click on Merge Layers so that they become one layer.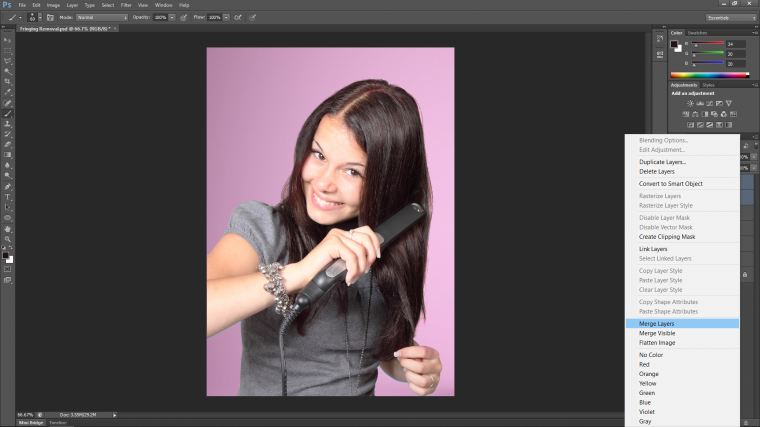 Then go to Gaussian Blur and add a 1 to the Blur.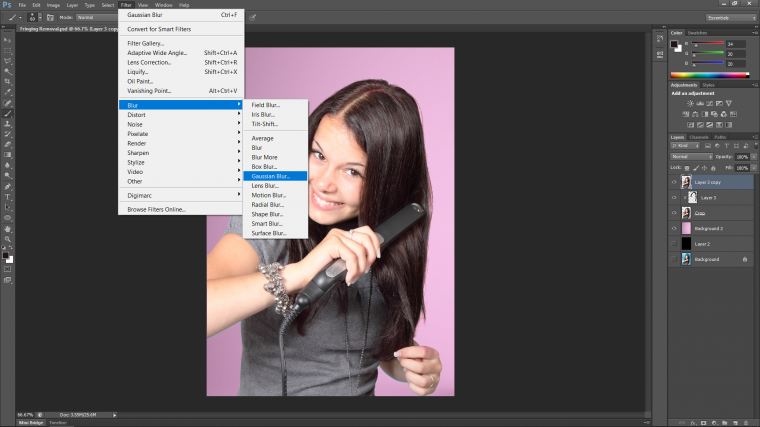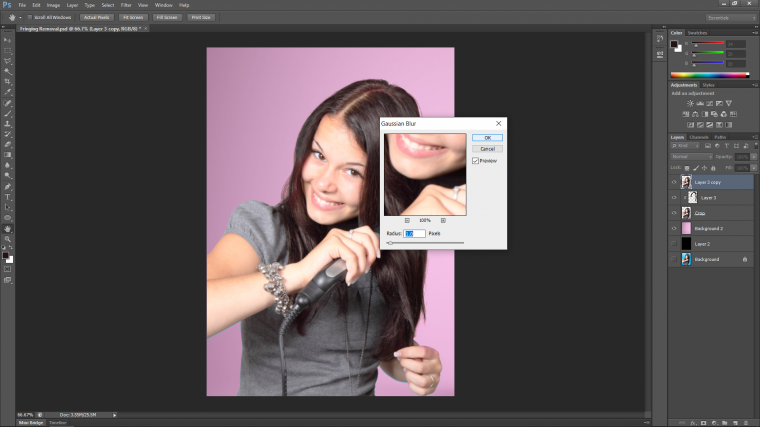 Then just pop it in between the Cropped layers and the new background and you are done 🙂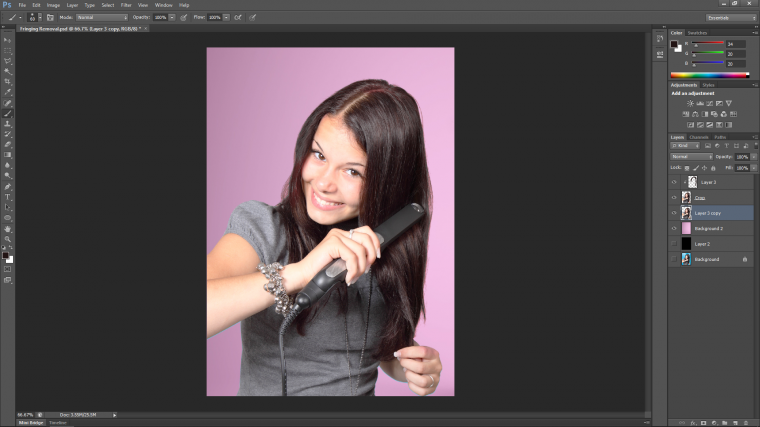 The following two tabs change content below.


Graduated from college in 2002 with a degree in Art & Design, I started exploring my way in Graphic Design and Professional Post Production. Full-time freelancer since 2011.