How to Find Hidden Detail in your Exposure in Photoshop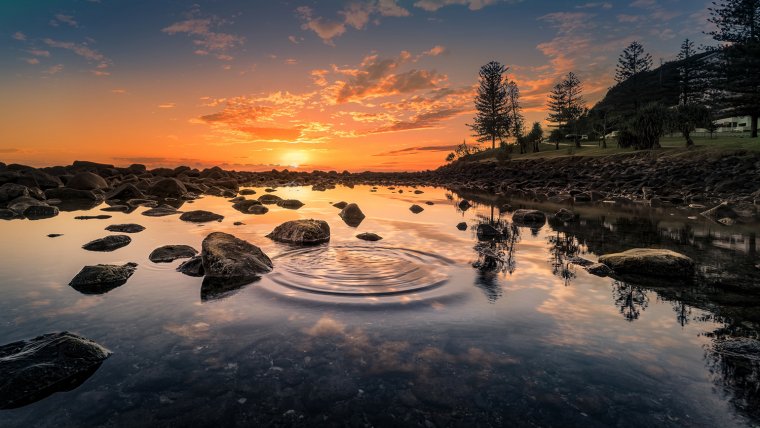 How to Find Hidden Detail in your Exposure in Photoshop
www.sleeklens.com
Hi everyone, today we'll be looking at how to find hidden details of your Exposures using Photoshop.
When you take a picture and it looks good you think, cool, that' looks cool I'll settle for that, but what if I was to tell you that there could very well be a whole lot more in your image than you actually think, and with just a few tweaks you could end up with an image that's like 20% better… haha I don't know the actual percentage but! if we get just a few more cool looking details out of our image that's good right!?
Ok, so this is the image that I'll be using today.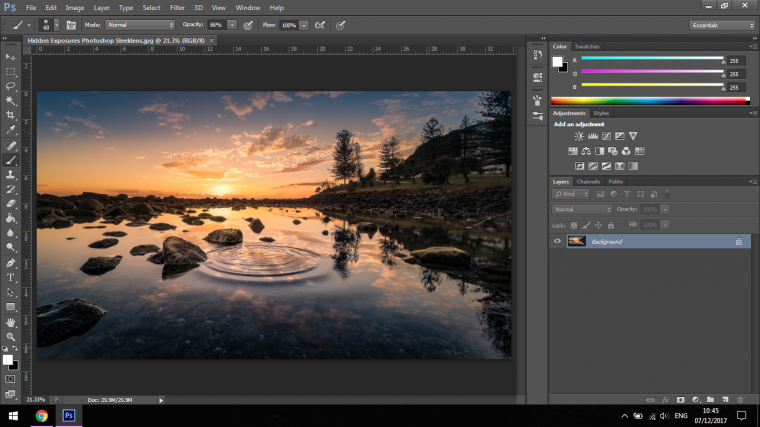 As you can see from this image there is a lot going on with the exposure, loads of little details in the water and the rocks and the sky, so I think we should be able to draw a good bit extra out of this image.
So this image is actually the large size image direct from the camera so there will be a tonne of information on it, but you will still be able to do this with a web size image, my file is about 19MB at 8000 + wide, but you will be able to do the same with an image 10 times smaller, even as low as 800 wide and not even a megabyte in size.
The first thing we are going to be doing here is to create a Curves Adjustment Layer.
So on your top menu bar where you will see 'Layer' click on that and go to…
'New Adjustment Layer' then choose 'Curves'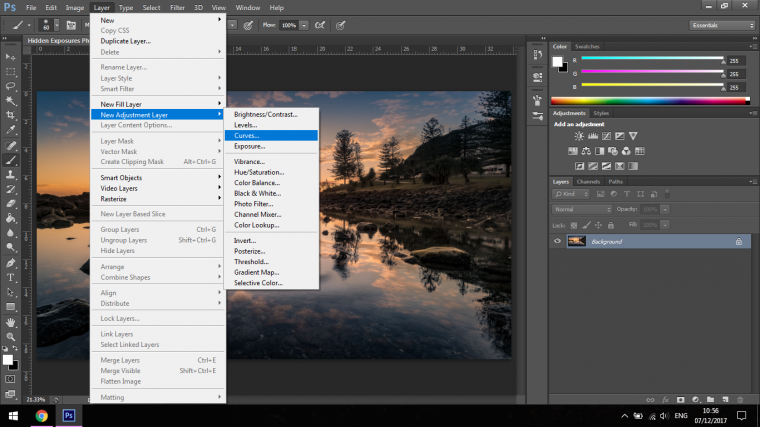 When that panel appears you will see the histogram with the line running through it, click that line roughly in the middle and drag it down to the bottom right-hand side just as I have in my image below.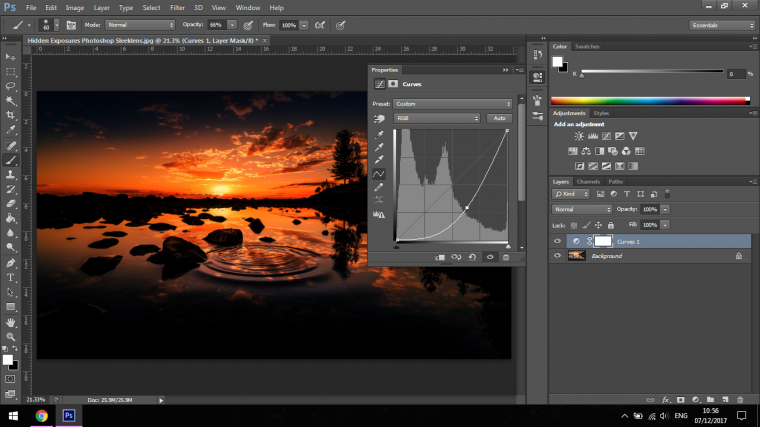 Once you have done that and your image is darker we want to go to Image – Apply Image…
What this will do is it will hide all the darkened areas but keep the enhances sky etc.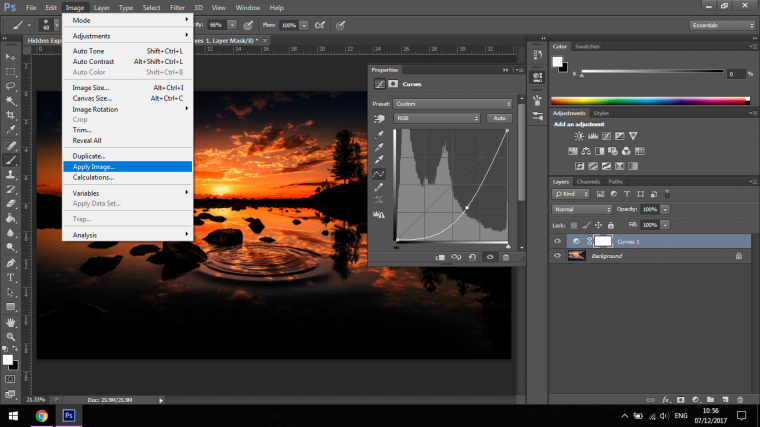 Make sure your setting are as follows in the image below.
They should be that way anyway automatically but just in case here they are…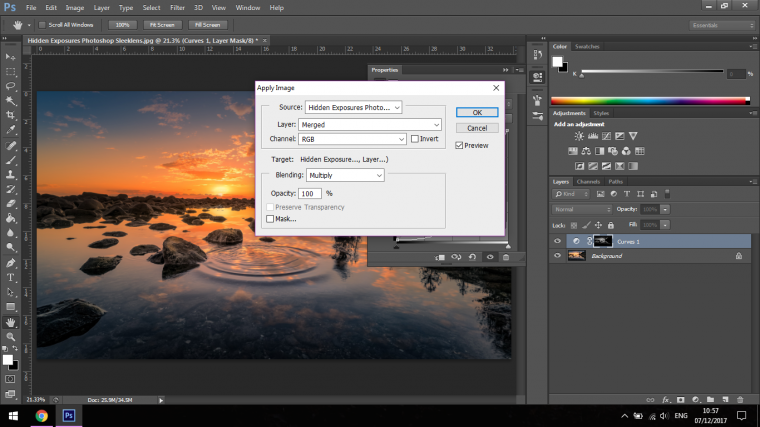 Now click ok and you will see the enhancements made to your image already!
My sky has become a lot more detailed and the color quality has changed for the better also.

Now if you wanted to you could do another Curves adjustment layer just to see if it has any more effect on your image but I think where my image is, is great and I don't want my sky getting any darker or the colors to become too over saturated.
Also what you can do because you have an automatic mask with your Curves Adjustment Layer is you can making sure you have clicked onto the Curves adjustment layer is you can take the Brush Tool with Either Black or White and Hide areas or Reveal areas.
Using Black on your Brush will Hide
Using White on your Brush will reveal and Bring them back.
You can use all sorts of Blending methods here but using soft Brushes or different shaped Brushes depending on what you are trying to achieve as well as changing the opacity to build up layers slowly and get a better more realistic Blend.
So say I wanted to hide the Curves Adjustment on the Rocks etc.
I would click on the Layer Thumb Nail as indicated below, that little Thumbnail is your actual Mask and you want to have it activated to be able to paint onto your image with your Brush Tool so you don't end up just painting Black/White direct onto your image.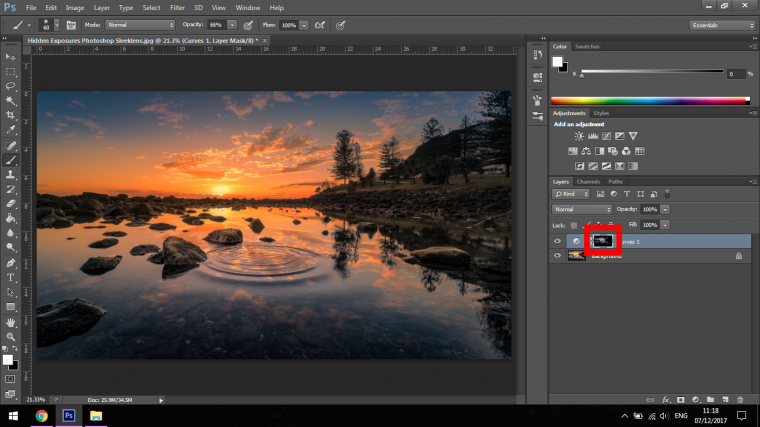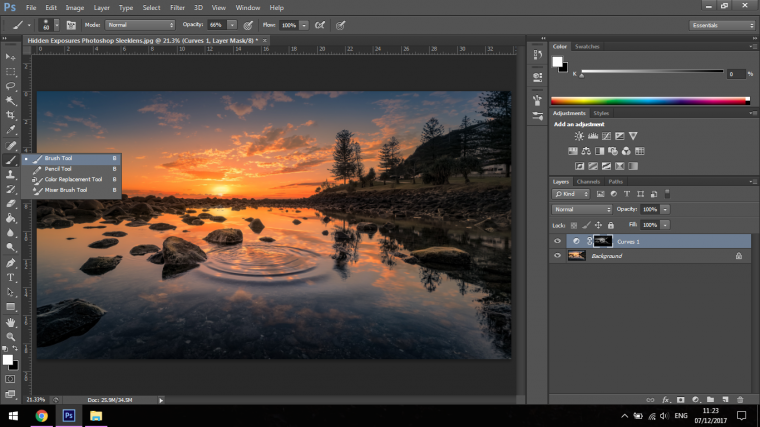 When you right click on your screen when you have your Brush Tool Activated you will open up the options panel, use the First Brush option there, that's the Soft Brush, I use it all the time for Blending I don't really bother with any other Brush option unless it's for a very specific task that I'm doing.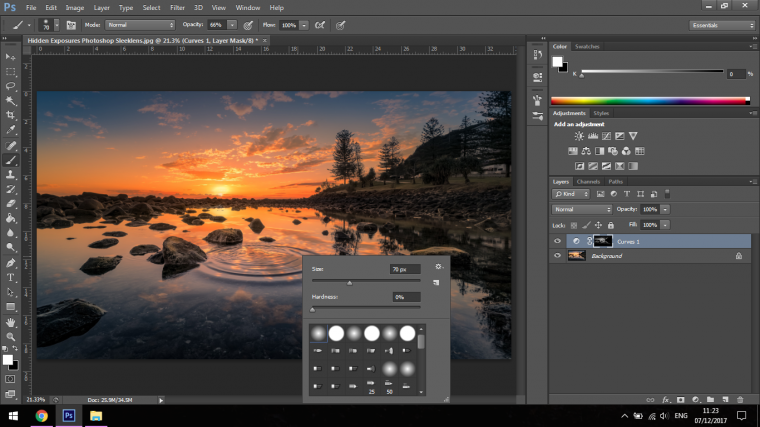 Then I just paint over the area that I want to get rid of, I use the Bracket Keys on the Keyboard to increase or decrease the side of my Brush as I see fit.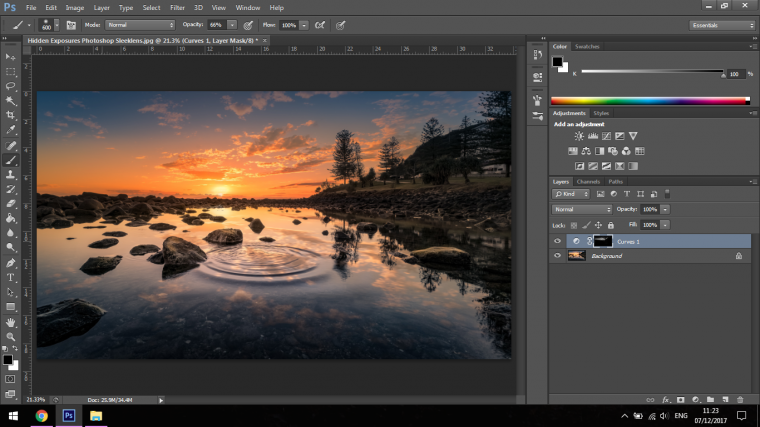 The next thing that I want to do is I want to add some details to my water and to the rocks on either side of the water.
I just want to affect the rocks directly in front of us in the water so I'm going to have to blend those into the water as we move further towards the sunset.
So before we Create a new Curves Adjustment Layer, go to your already existing Layer and right click on the layer tab.
Click on Create Clipping Mask, and what this will do is it will attach that layer directly to your original background layer so anything that is added above will not affect it.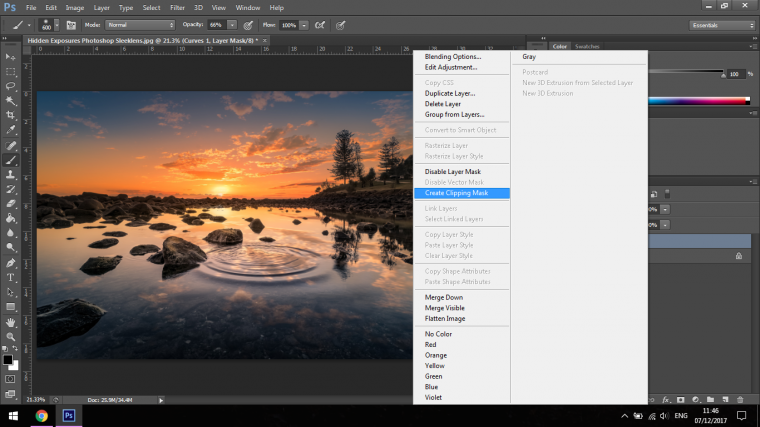 Ok now create a Curves Adjustment Layer again.
Now this time I'm going to go the opposite way than what we went the first time remember when we pulling the line down to make the image dark.
I'm just going to pull it up slightly so I get some more of those details on the rocks.
Be careful not to go too far and blow out your rocks and end up losing details.
So if you want you can zoom in on the lightest area just so you can keep track of how the adjustment goes.
To zoom in I press control on my keyboard and use the plus and minus keys.
Another little tip here is you can press the Spacebar which will allow you while holding the Spacebar down to click on drag around your image moving freely.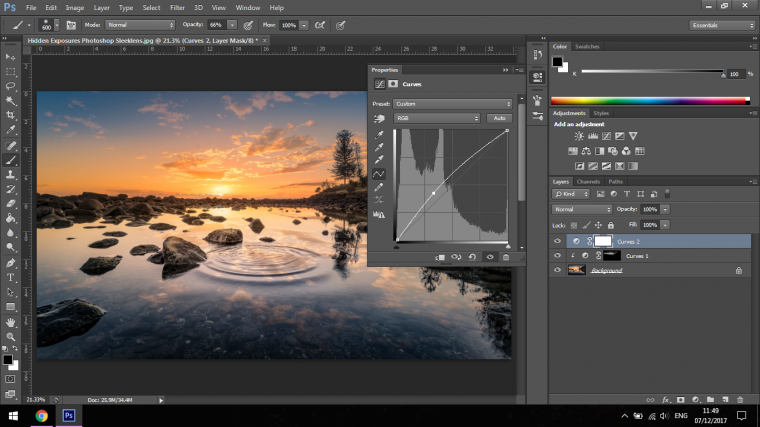 Now I'm going to again go to Image – Apply Image as we did in Part 1 of this Tutorial with the same setting as before.
Once again Create a Clipping Mask to attach the Adjustment Layer to the Background 'Original' Image.
Then I'm going to start to paint the areas that I had already enhanced using my Black Brush technique on the Layer Mask.
So make sure you have clicked on the Layer Thumb Nail.

Next, I'm going to put some of the Greens into the trees and grassy areas, I think they looked very saturated so I'm going to see what I can do about it.
Note: Saturated means in the simplest terms the subject, in this case, looks more Grey.
So there is two way you can try to do this, the first is by using a Vibrance Adjustment Layer.
All you do with Vibrance when the Effects Panel Appears is drag the top slider to the right-hand side all the way.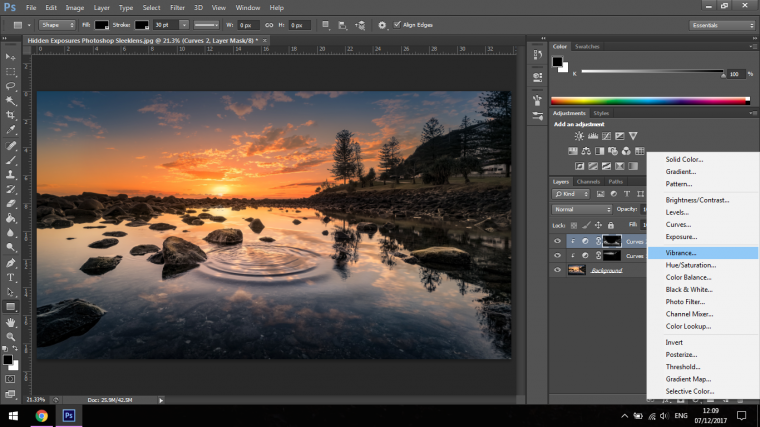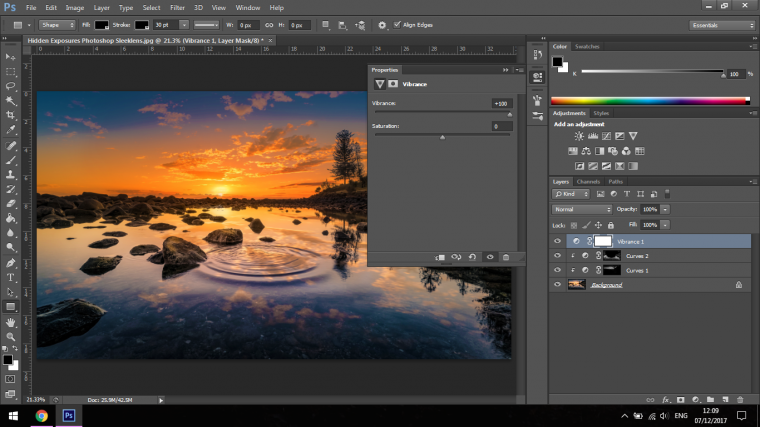 Then using our masking Technique paint Black over all the areas that you want to hide.
You don't have to be precise with this either, it will blend in enough and nobody is going to notice so don't worry about taking a lot of time over this.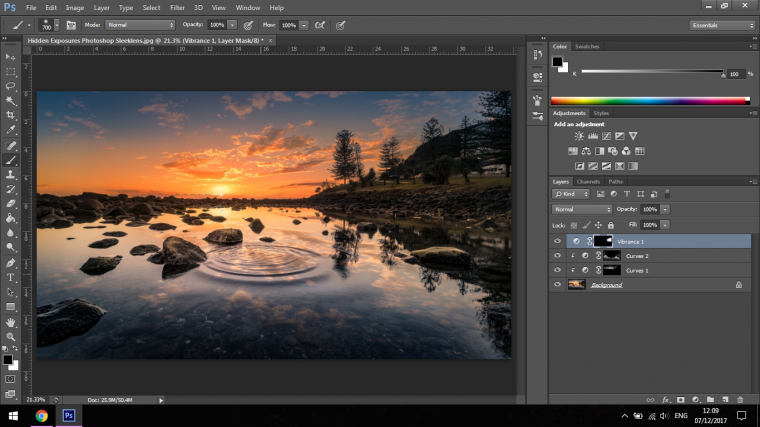 Next, we are going to be doing the exact same with a Curves Layer, so turn off your Vibrance layer by clicking the little Eye Icon in your layer panel beside the Vibrance Layer and Create your Curves Layer.
Now look at the panel and see where it says RGB?
Click on that and a drop down box will appear, click on Green.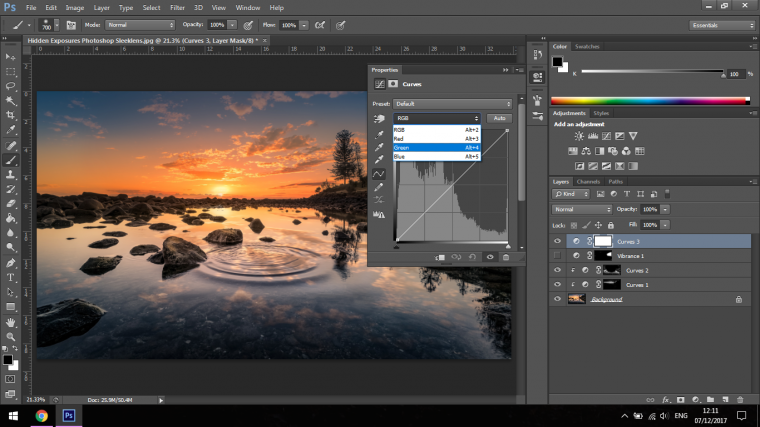 Now depending on your image and the lighting, you can either pull the line up to the left or down to the right-hand side.
Again mask out all the areas that you don't want the effects to take place, so that would be everywhere else that's not the grass area.
I just want to add here you could do the same with a Levels Adjustment Layer, I wont go into it as it works basically the same way and will have the exact same effect but just wanted to mention it in case you are already versed with Levels and maybe wanted to try it, who knows it might work out different on your image…
This is Photoshop and there is a whole lot of different ways to do the one thing so whatever you like best.
So check out my image below, I think you'll agree, the change isn't drastic, but we definitely made a few areas a lot more interesting and nicer to look at.
Hope you enjoyed.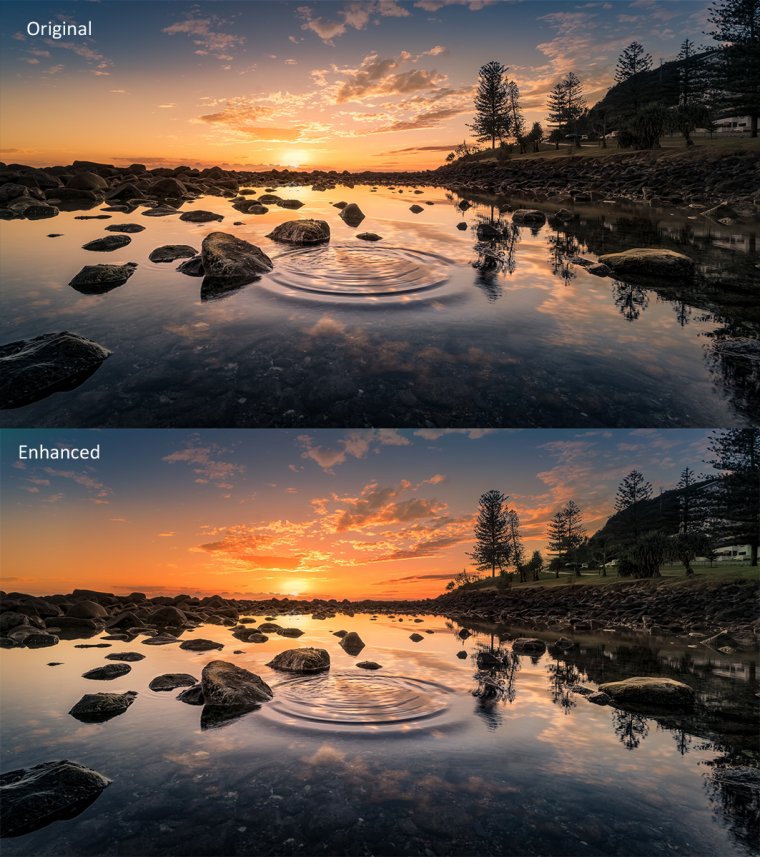 The following two tabs change content below.


Graduated from college in 2002 with a degree in Art & Design, I started exploring my way in Graphic Design and Professional Post Production. Full-time freelancer since 2011.