How to do Red Skin Correction using Photoshop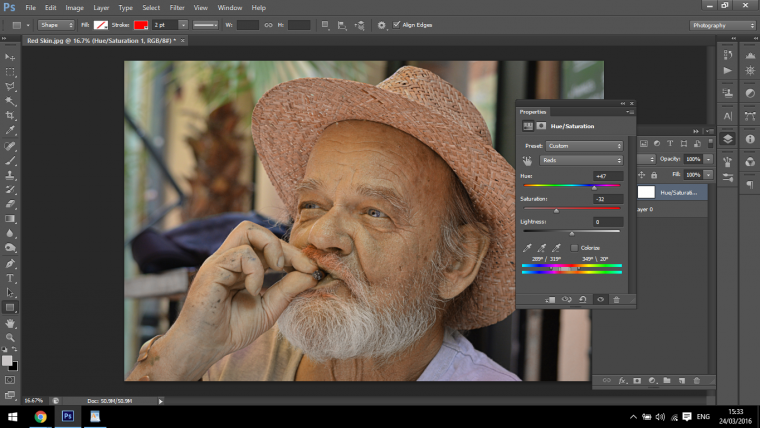 How to do Red Skin Correction using Photoshop
www.sleeklens.com
Hello everybody, in this very very exciting new Photoshop tutorial we'll be having a look at how to do some red skin correction for our images.
This can happen in photography when you are taking photographs outside in the cold or… surprisingly if people are embarrassed in photographs.
This is one you would not really think of, however in public events such as weddings and birthday parties this actually happens a lot in Photography.
I remember from my friends wedding, the photographer had some very novel ways to embarrass us while taking his photographs and I think I had a little bit of a red complexion myself in a few of those shots, if I remember correctly, while having to do my groomsman duties along with my other friends.
So the easy Photoshop steps to fix this are very simple, and that is what we try to do here at Sleeklens, in offering free tutorials to help you improve your photography skills in the most simplistic and straightforward of ways.
With all of that being said lets take a look at what we can do for our image here.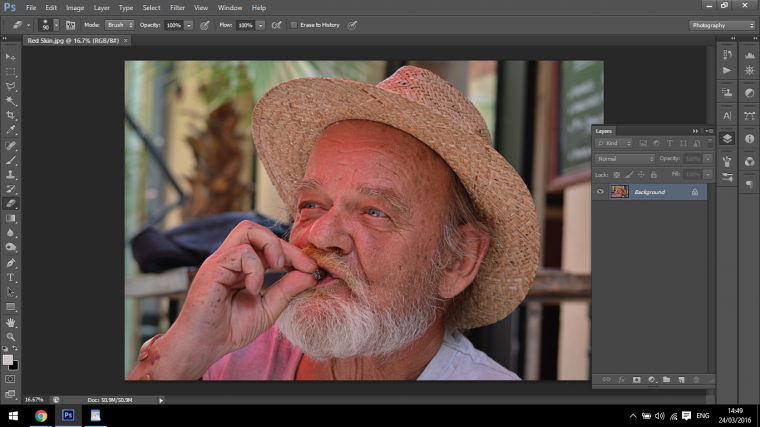 First open up a hue saturation layer, you will find this were I have indicated below, so fourth along in your Layers panel, and nine down.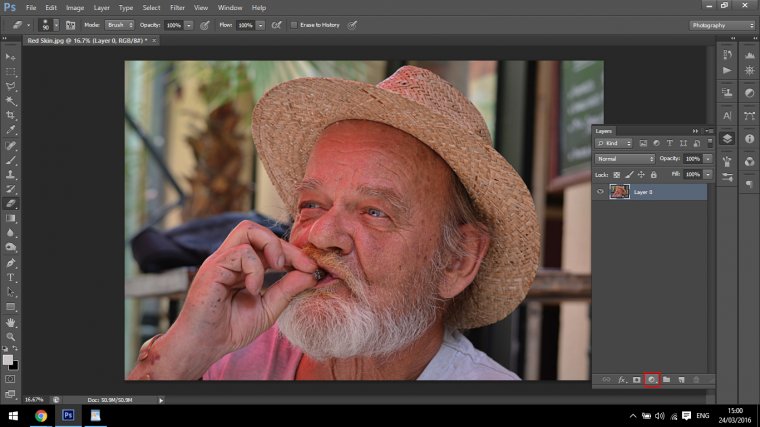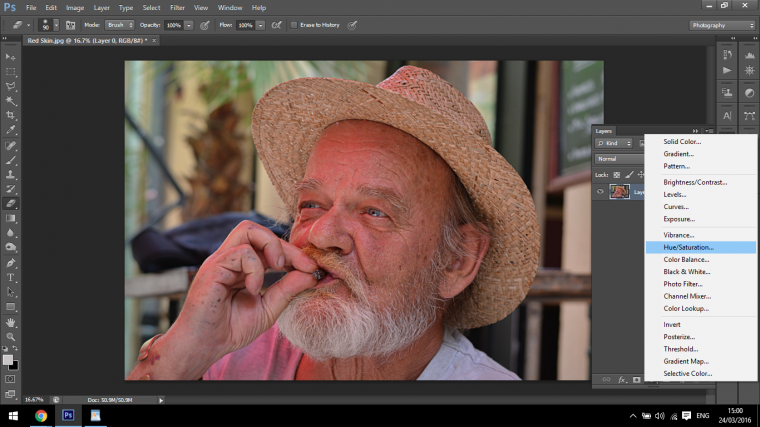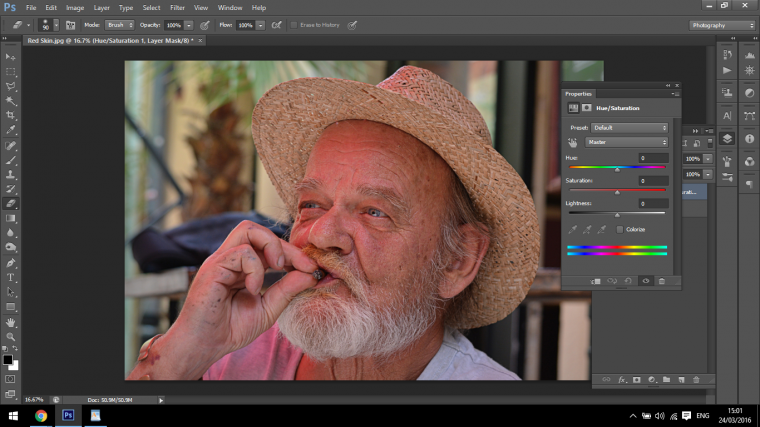 Click on that and it will appear above your initial layer panel with your image on it.
So if you move the hue slider you will see that it affects your entire image, not good for this one, but take note of what that slider does.
Set it back to zero.
One way you can do this quickly is to click where it says master (shown below), then select your red channel (Shortcut – Alt 3).
You can move the hue slider around to lessen the red, then after that, lower your saturation slider which is just below that.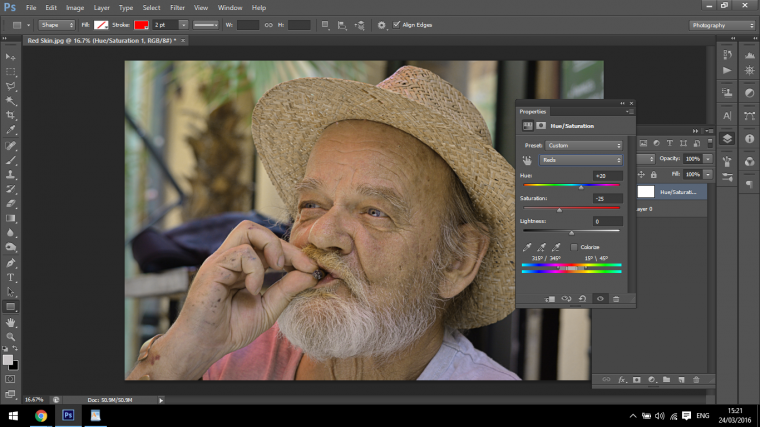 This is okay and can work well at times, but is not a guarantee. However, as usual with Photoshop, there is always another way!
Take a few minutes just to check out this solution and see what it does for you, this may be good enough for your image, it really just depends on individual circumstances.
I think if the Red in the image is all over then it is probably best to employ this technique as it covers a broad range.
If there is other Red areas in the image that you just want to target, this is probably not the best choice, as you will loose Reds elsewhere.
Ok, so I'm sure you're very familiar with that at this point as it's simple enough, right?
The next technique as we said is far more targeted and is a bit more professional and accurate to be honest.
So if you look at the bottom of your Hue and Saturation panel, you will see two bars with the colour spectrum.
In between these, there is a slider that you can use by clicking in the middle by moving it left and right.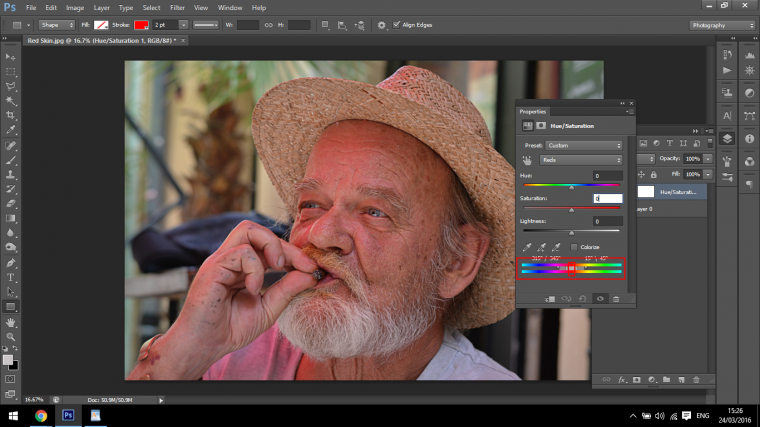 To use this, increase your saturation on that red channel up to maximum, so you can see the areas that are being affected. That is step one.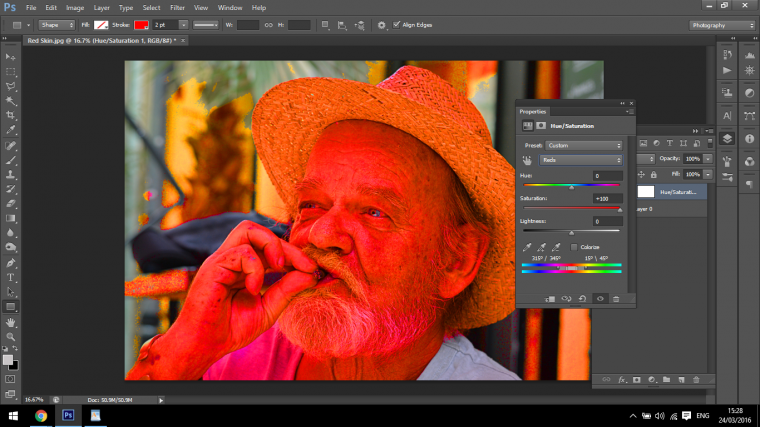 As you slide it to the left you will see it start to highlight the areas that are red on your image.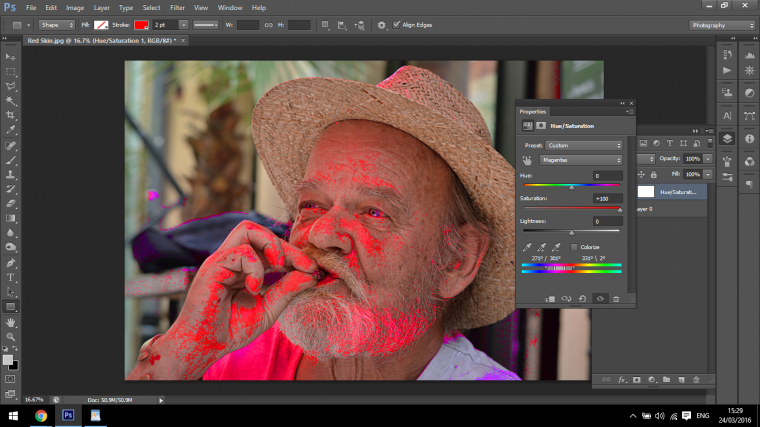 Then, you can go back to your saturation slider and decrease the saturation. As you do this you will see the red colour drain out of the skin, giving you a much clearer complexion.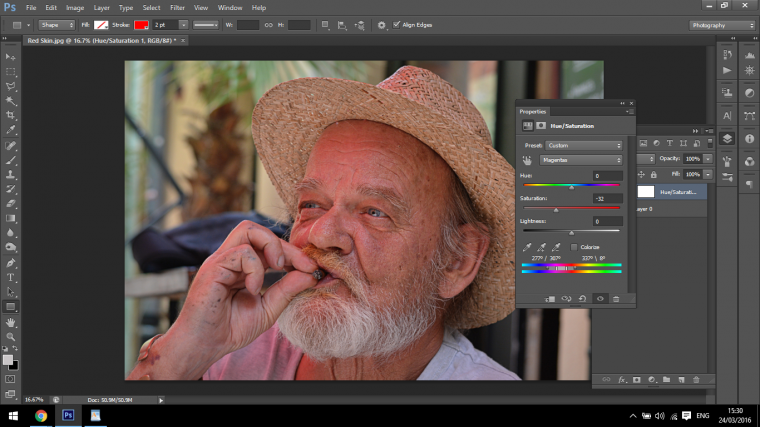 You probably shouldn't move the saturation slider past zero, but as always, it really does depend on your image.
I would perhaps nudge it a little past that, but the real magic will happen when you use the Hue slider.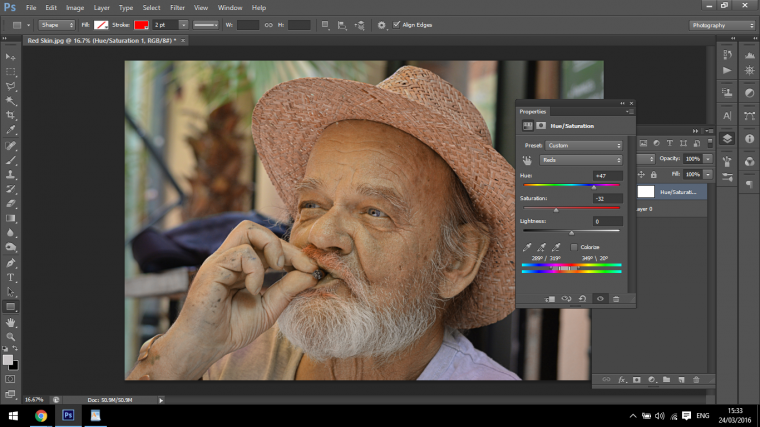 This will change and match the colour properly while still retaining the colour stretch, as the saturation tool grays some colours.
That is what saturation does, saturation drains your colour and adds in grey.
So I hope you really enjoyed this tutorial and learned a lot from it and are able to use it effectively, that is two very fast a simple techniques for you to use in a matter of minutes that will make you look like a pro!
See you next time 🙂
The following two tabs change content below.


Graduated from college in 2002 with a degree in Art & Design, I started exploring my way in Graphic Design and Professional Post Production. Full-time freelancer since 2011.