How to Create an Awesome Black and White Portrait in Photoshop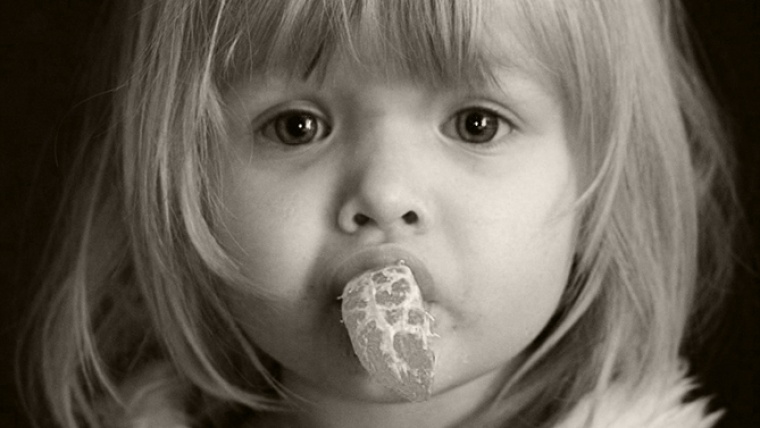 How to Create an Awesome Black and White Portrait in Photoshop
www.sleeklens.com
Hi everyone, hope you are all doing very well indeed.
Today I am going back to the basics a little bit and I am going to show you how to make a awesome Black and White Portraits in Photoshop.
Black and White Portrait Photography is a huge area and there is more than one way to do it, but for today I'm going to be taking you through exactly what I do to make my images look really cool.
I'll be taking you through The Black and White Adjustment layer.
We will take a look at the Sliders in there.
We'll also be taking a look at how to Tint and use different Blending Modes.
So check out my image from today which I got on pixabay.com where you can find loads of free images to practice on.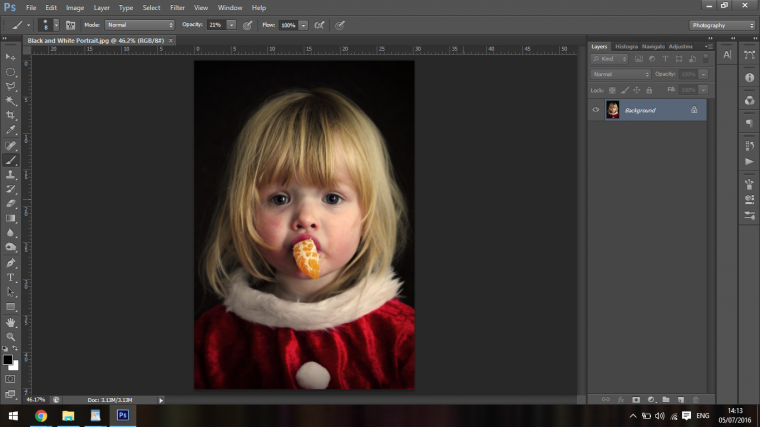 So the first thing we're going to be doing is to convert out colour image into Black and White.
You do this by clicking where I have indicated below and then click on Black and White, your image will now be converted and you will see slider bars with colours on them.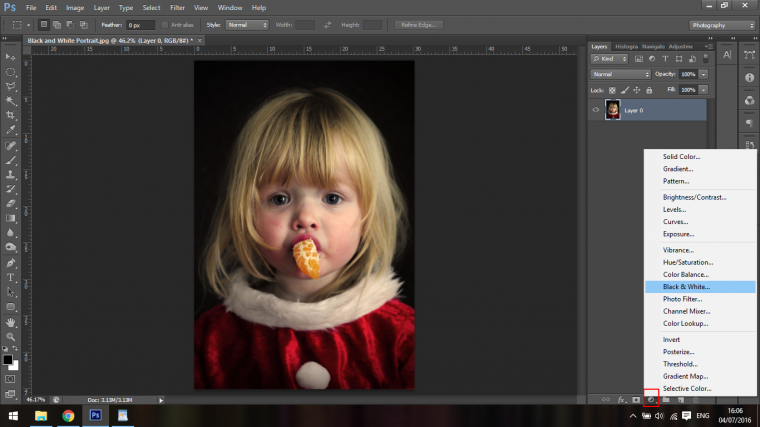 So if you only wanted to convert your image to Black and White you'd actually be done right now, but that would mean you haven't applied any of the effects that will enhance your image greatly.
So we'll be taking a look at the features that the Black and White adjustment layer has to offer.
Now looking at your adjustment layer as previously stated you can see the sliders, those sliders indicate the colours on the image, so even though the image is in Black and White when you move these sliders you will be changing the the Brightness/Darkness of that colour.
For example if you look at the two images below you will see that the first image has not been tampered with, but the second image has had the red adjust to make it for more Darker.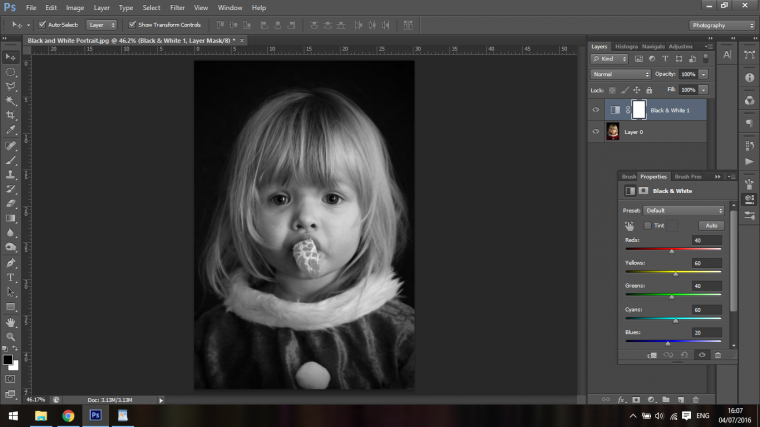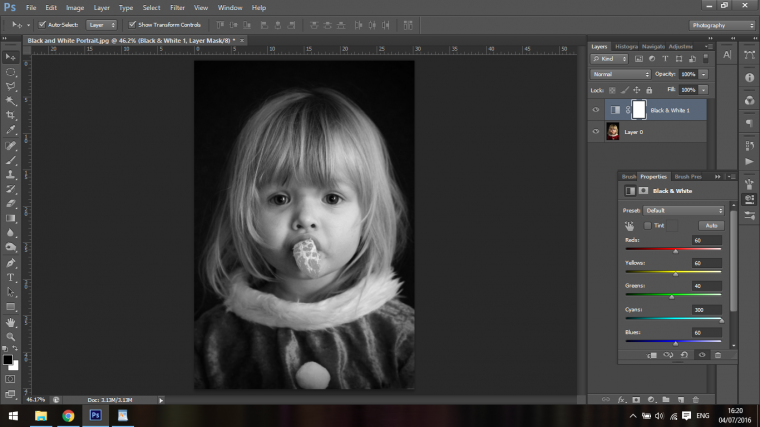 So you see how that works.
You can then do the same with all the other colours.
On a side note, since we are working with portraits the flesh tones are mostly affected with red and yellow, sometimes blue aswell but that's more for cooler coloured skin.
When using these two colours to enhance the skin tones play around with them for a little bit going from one extreme to the other if you want to and try to find a balance of what looks best and most natural.
With my other colours, I didn't have any Green to speak off so sometimes you will just slide a colour and you wont actually see anything happen and with the Blue and Cyan, more the Blue though it enhanced the eyes a great deal.
Another more pin point way to change colours is to click on the little icon I have highlighted in the image below.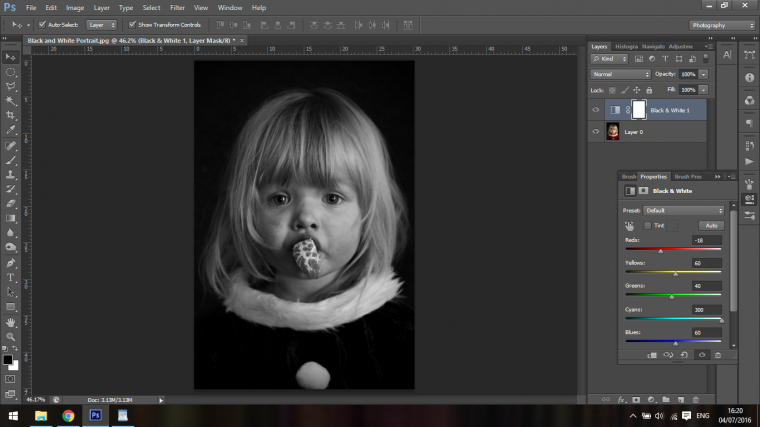 Your mouse pointer will then change into a little eye dropper and you can them simply click and hold on the area that you want to change the colour on and by moving your mouse left or right you will see that area start to get darker or lighter.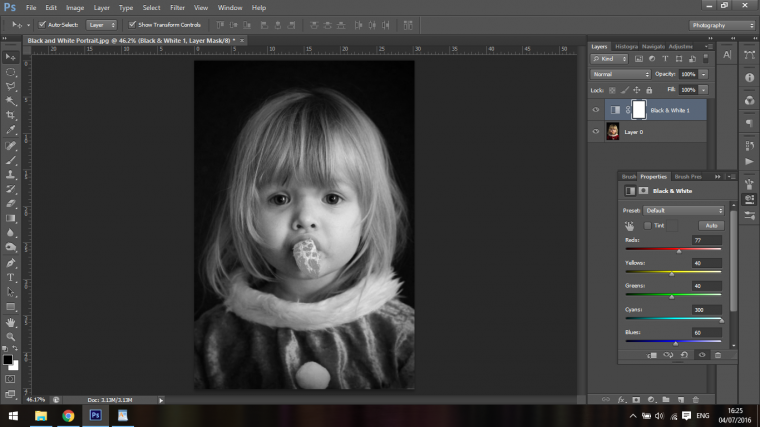 Word of warning, when you use this adjustment option be aware that it is not confined to just that one area, but rather it will change everything that is that colour, but you can always use layer masks to only target specific areas.
Next up we'll be taking a look at how to cast a tint over your images.
This is very easy and it does now effect the underlying colours as it lays over the top of the image.
So right beside the slider we just used you will see a little box that you have to click, called "Tint"

And the Box to the right of that if you double click on it will allow you to choose what colours you would like to use to Tint your image.
The colours you use are completely up to you so go mad if you have to.
The look I'll be going for in this image is a Dark Black and White with a hint of Sepia to give it that real old time photo look.
So following my steps you should have an image that looks something like this.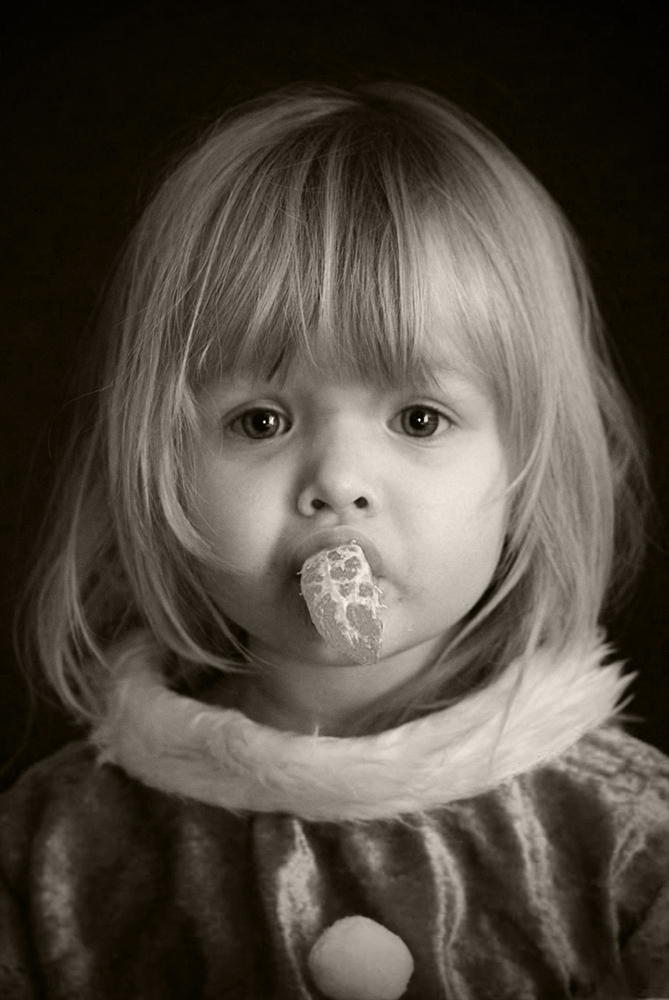 Hope you find this tutorial useful and see you next time!
The following two tabs change content below.


Graduated from college in 2002 with a degree in Art & Design, I started exploring my way in Graphic Design and Professional Post Production. Full-time freelancer since 2011.