How to Create a Cross Process Effect in Photoshop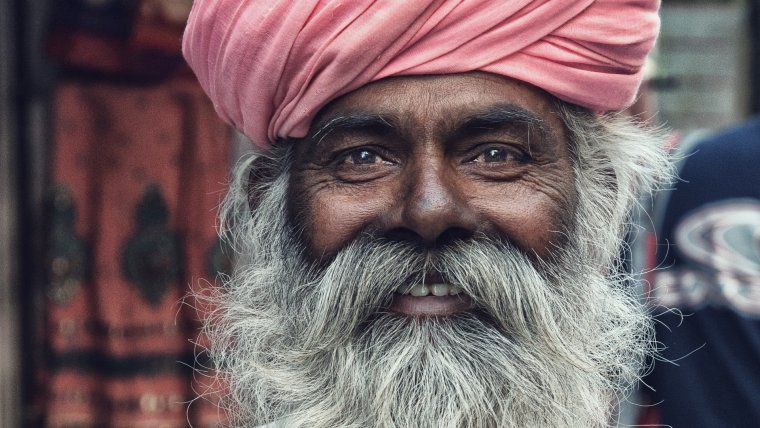 How to Create a Cross Process Effect in Photoshop
www.sleeklens.com
Today we're going to be taking a look at a really cool effect for Photoshop today that I love and that is perfect for your portraits.
So follow along with this easy tutorial and you'll be able to make your portraits look like they were taken by a professional that works for a fashion agency.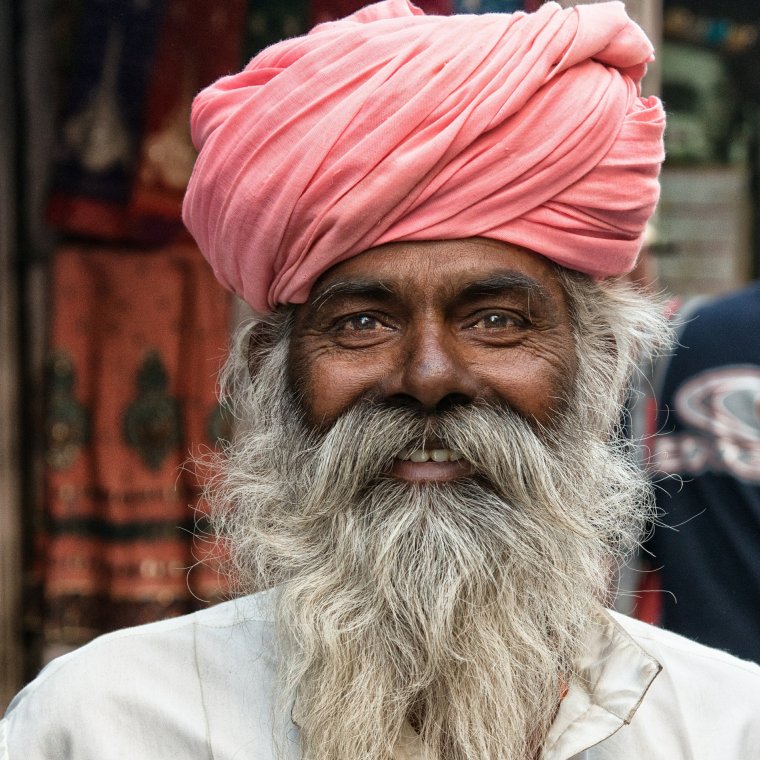 I think that with his headdress, the colors should stand out and look brilliant, so when you go to choose your own image to use for this effect look for Portraits with interesting colors, not that you actually need them but it will look a lot cooler 🙂
So what we'll be mostly using today which is a huge part of Photoshop, one that you will be using time and again is the Curves Adjustment Layer, what I mean by Adjustment Layer is, if you just take the image as is and go to Edit – Adjustments and apply Curve you if will be an editable action.
But if you use an Adjustment Layer (Which can be found at Layer – New Adjustment Layer) you will be able to go back to it at any time you like and Adjust it.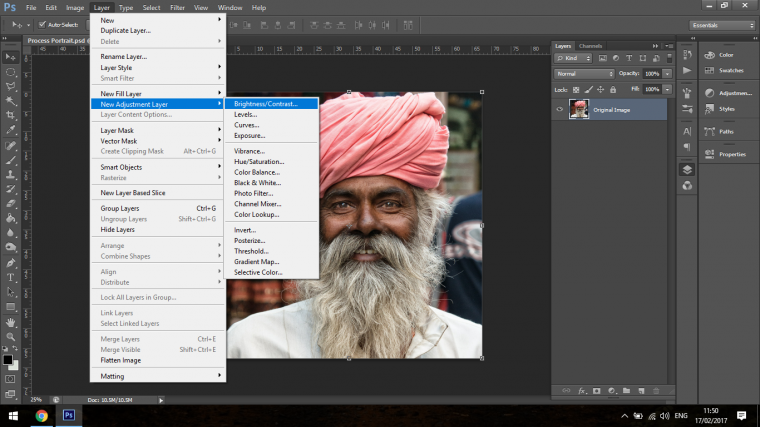 Click on Curves to create the layer and press OK.
The curves layer will now be available on the right-hand side of your Photoshop worktop.
Yo will see the graph with the line running up the center from bottom left to top right and at the bottom the two indicators, one in black on the left and one in white on the right.
These are what you use to adjust but more on that in a little bit.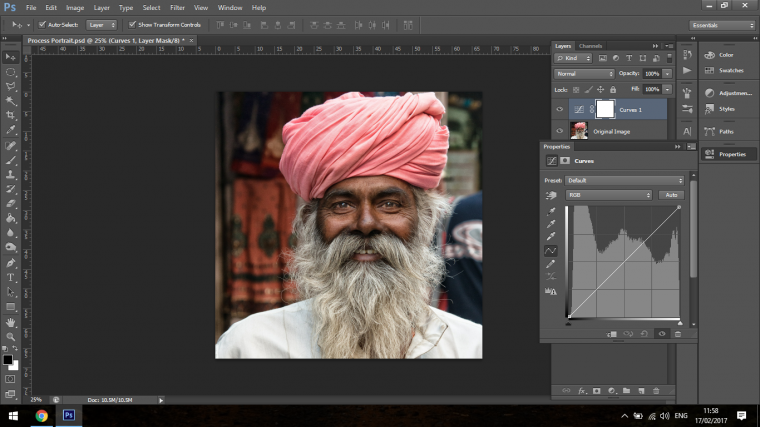 First click on that panel the little box at the top right hand side, choose Auto Options.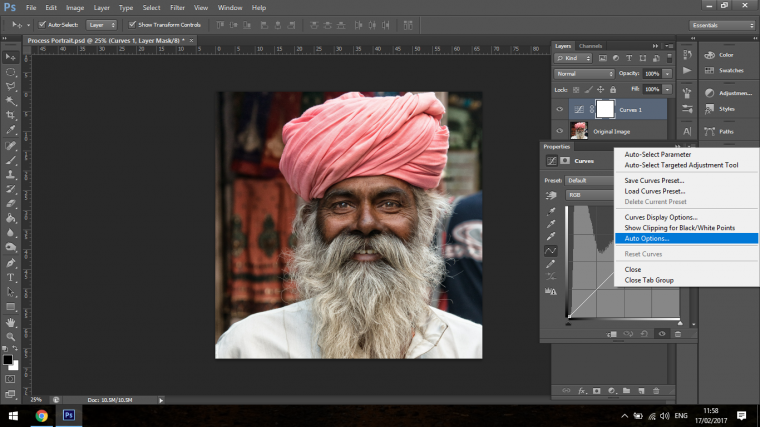 Then click on Enhance Per Channel Contrast and click OK.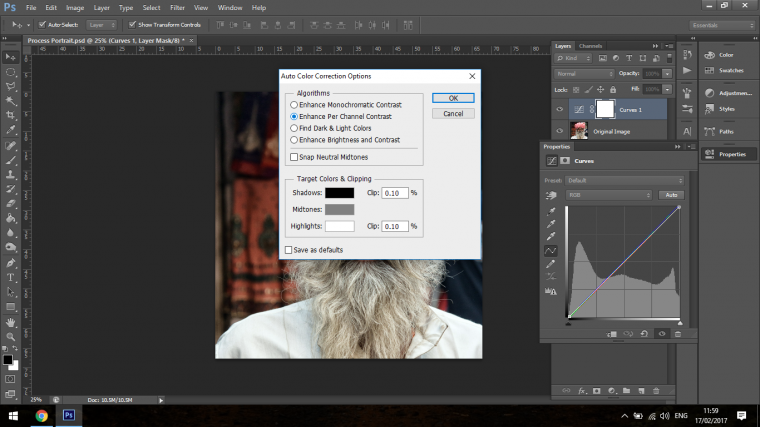 Ok so now we do the exact same thing, following the same steps except this time instead of clicking on Enhance Per Channel Contrast we click on the top one, Enhance Monochromatic Contrast and click OK.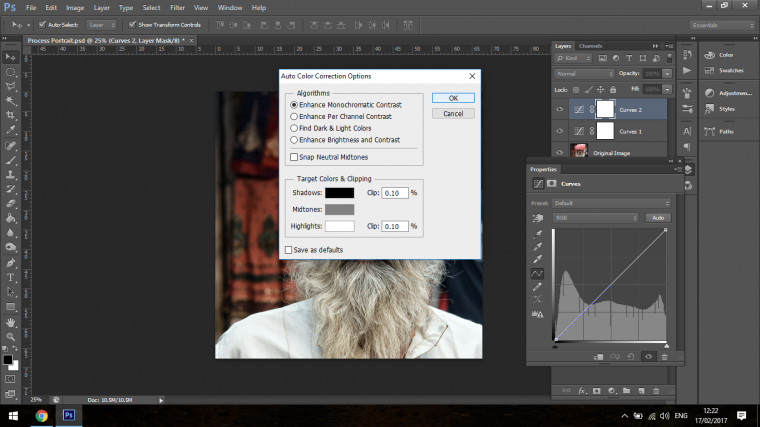 The next thing we are going to do is to Brighten the image up a little using another Curves Adjustment Layer.
So create another layer just like we have been doing minus all other steps we took apart from just creating the layer for the minute.
Ok so once you have created the layer, on the diagonal line running through the graph, click on that as close to the middle as you can, this should be easy as it is divided up into squares.
Once you do this click and drag the line to the top left-hand side very slightly just to lighten up the image.
We can always adjust this later as said.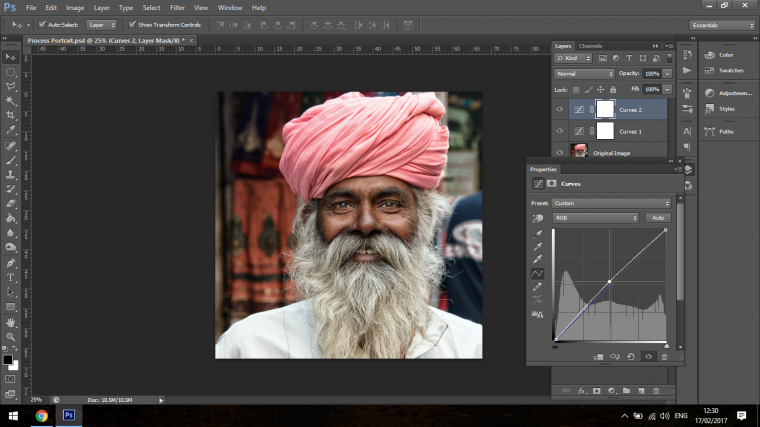 Right now we're going to get into the real meat of the tutorial.
We have to create a new Adjustment Layer but this time we are going to go through the individual Red Green and Blue Channels.
I have a basic set formula for this that you can apply but feel free to experiment with this also if you'd like.
So you will see under the drop down box saying 'Custom' in the Curves Adjustment Layer RGB.
When you click on that you will now be able to go through each individual Colour Channel.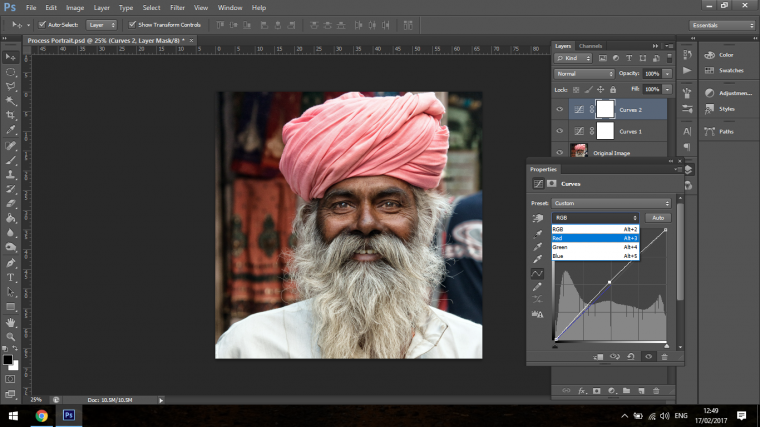 What you do with each of these is, you take the bottom part of the line running through the middle and you drag it slightly up, you then do the opposite with the marker at the top right dragging it down.
Do this to all three except when you do it to the Blue channel you can drag the bottom left marker a little bit higher.
You can also raise the line up in the middle a little if you'd like just like we did when we lightened the image.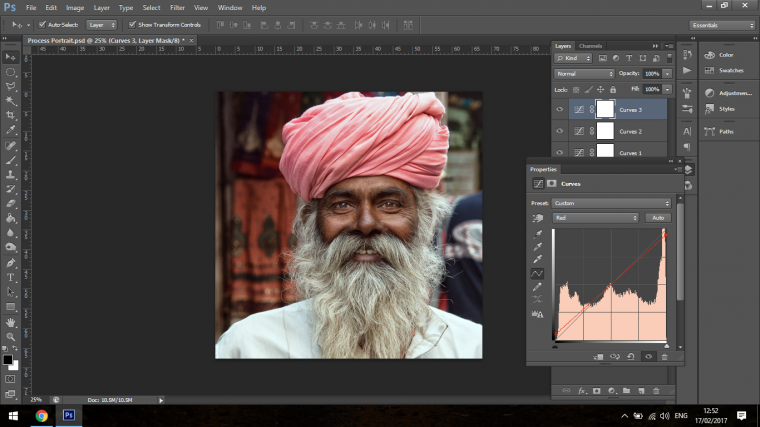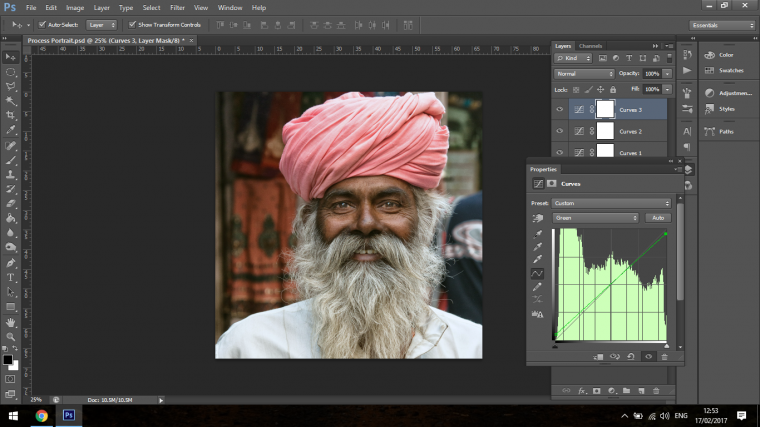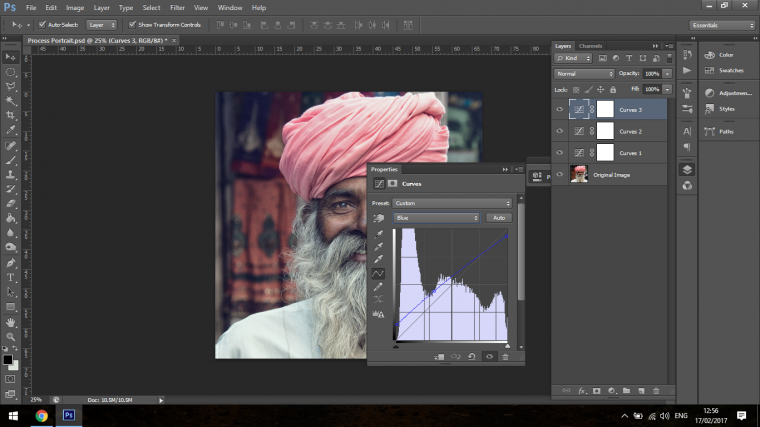 We have two more steps to complete this Tutorial.
The first of the last is to create one last Curves Adjustment Layer.
We are going to click about 1 3rd the way in on our horizontal line and drag it a slight bit to the bottom.
Then we do the same about 2 3rd's the way up that line and drag it towards the top.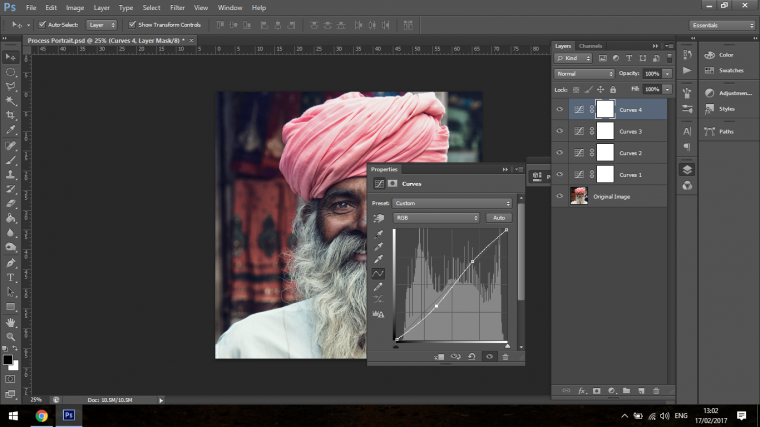 The last thing we are going to do is to create another Adjustment layer only this time we are going to create a Vibrance Adjustment Layer.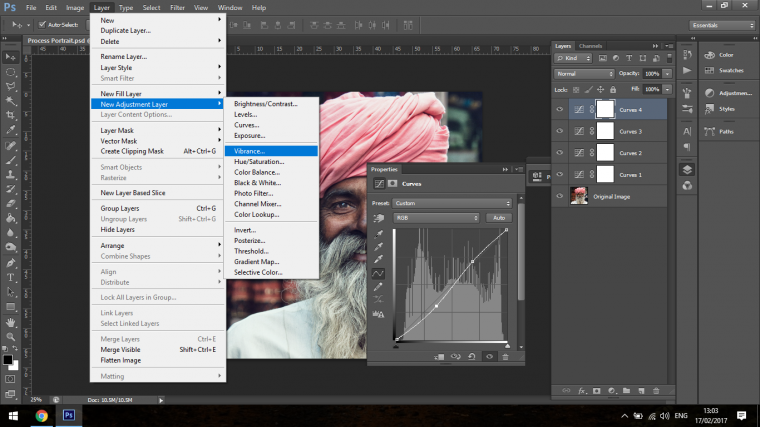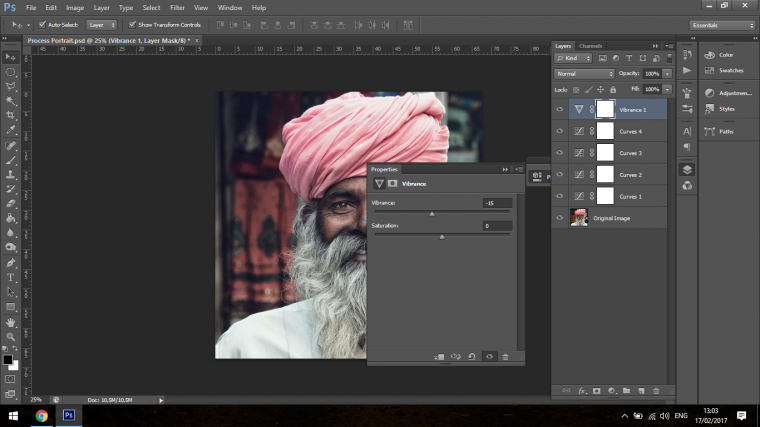 We are now done.
Check out the final image below 🙂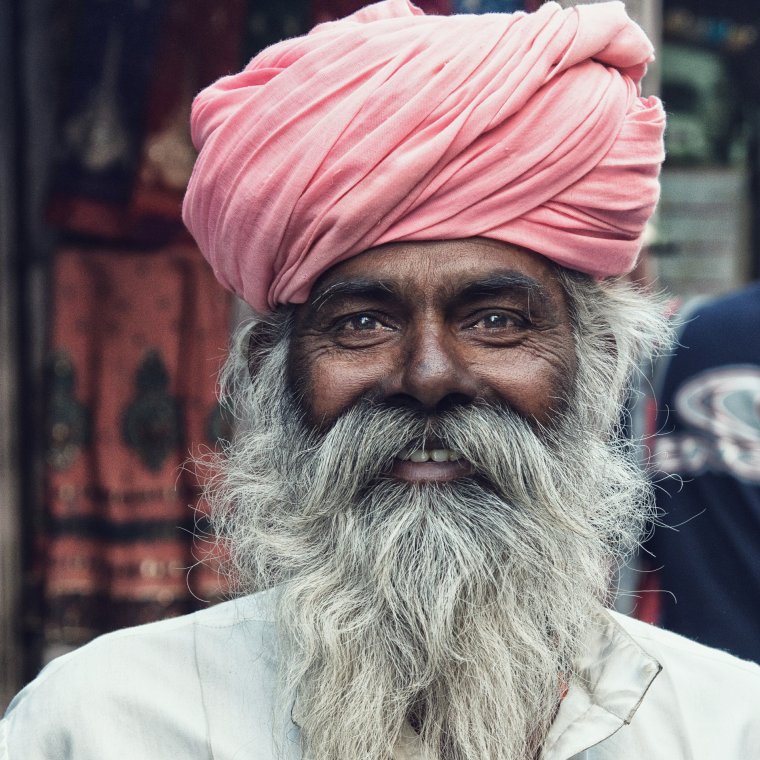 The following two tabs change content below.

Graduated from college in 2002 with a degree in Art & Design, I started exploring my way in Graphic Design and Professional Post Production. Full-time freelancer since 2011.